In this One Pot Jambalaya, a blend of shrimp, andouille sausage and cooked chicken combined with rice, the holy trinity vegetables in a deliciously spiced tomato broth. Served best with homemade cornbread and Louisiana hot sauce. Yields 6 generous servings.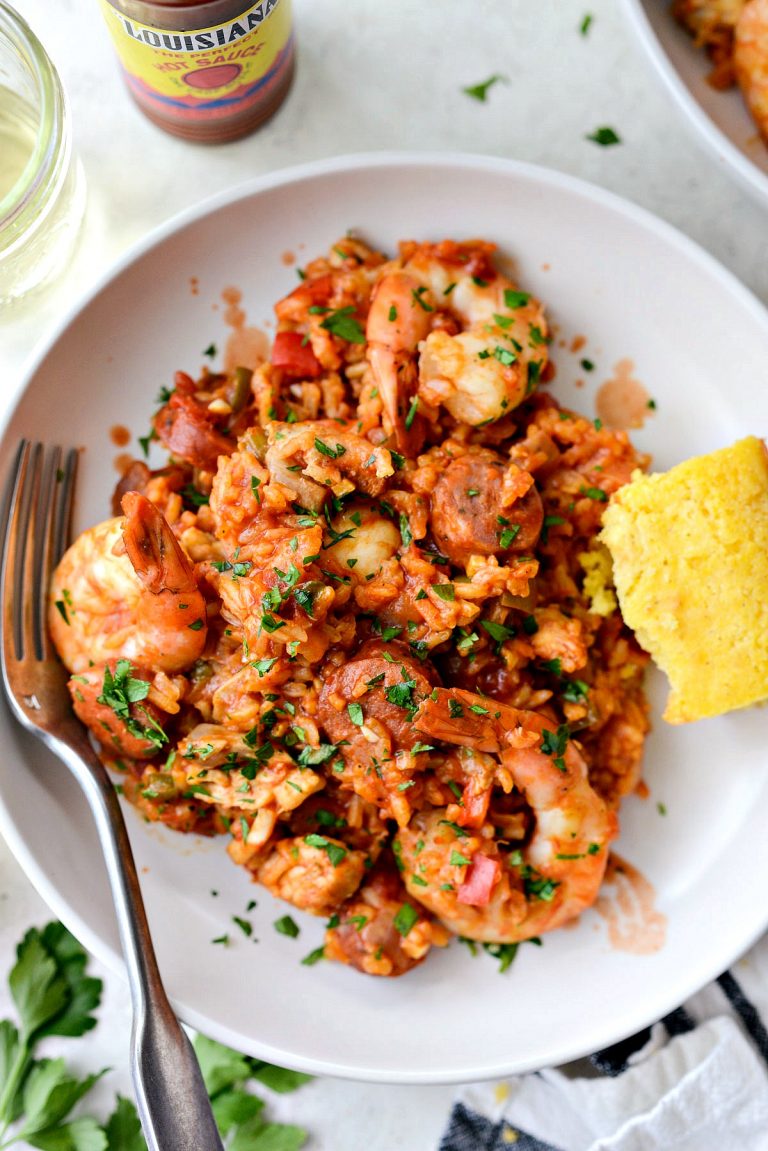 We love spice in our house.
If you were to open our fridge, I can guarantee you would find at least 8 different bottles of hot sauce in there. We have Franks, Topatio, 4 of the Siete brand hot sauces, a few street taco sauces and Louisiana hot sauce. While Topatio and the Siete sauces are mostly for tacos and nachos, the Louisiana is for anything creole or cajun and well, Frank's is for everything else. 😉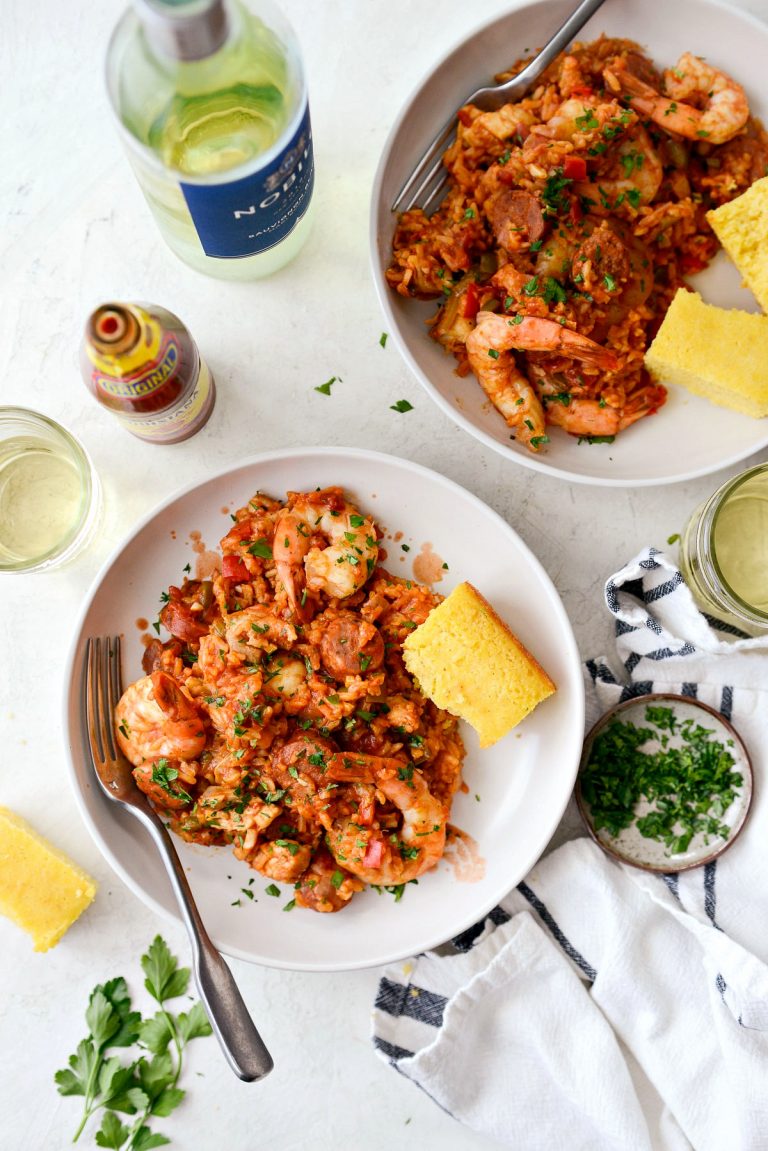 Speaking of creole –> Jambalaya. Made in on pot, this perfectly spiced dish is loaded with lots of veggies, sausage, shrimp and chicken. With so many different jambalaya recipes out there, I wanted a simplified one that any one can make. And you guys, it's delicious. Especially served with a side of cornbread and hot sauce.
To Make This One Pot Jambalaya You Will Need:
extra light olive oil
chicken thighs
kosher salt
chicken andouille sausage
green and red bell pepper
celery
onion
jalapeño
garlic
kosher salt
tomato paste
smoked paprika
crushed tomatoes
petite diced tomatoes
unsalted chicken stock
bay leaves
long grain white rice
uncooked shrimp
As for serving, I like topping mine with minced parsley and green onions, a few shakes of Louisiana hot sauce with a side of cornbread.
First things first, preheat your oven to 350°.
Heat 1 teaspoon extra light olive oil in a very deep skillet (like a 3-1/2 quart brasier) or regular dutch oven over medium-high heat. Once hot add in 1 pound diced chicken thighs and season with a pinch of kosher salt.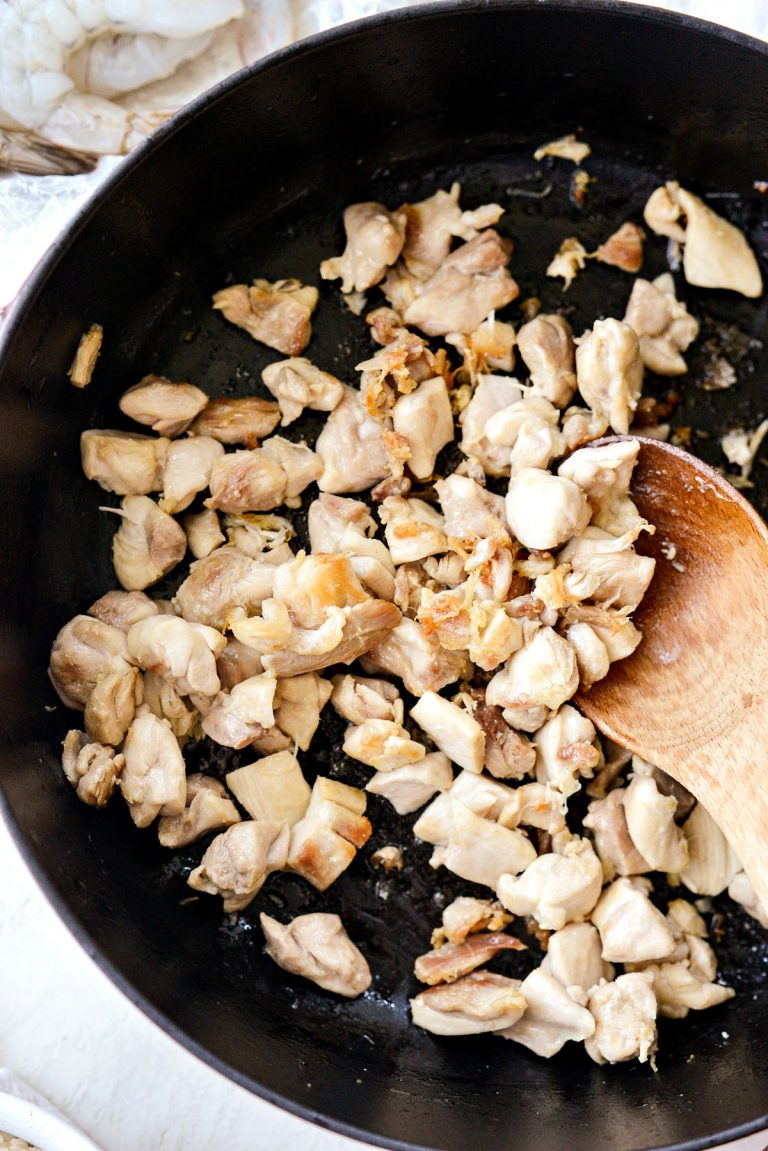 Stir and cook until browned and no longer pink and fully cooked. Remove and transfer to a large clean plate.
Add a splash of oil (if needed) to the same pan and add in 4 chicken andouille sausage (mine was a 12 ounce package) that has been sliced into coins. Stir and cook until browned, then transfer them to the plate with the chicken.
Why chicken andouille? Great question. I love it, it's lighter and the flavor is incredible. Fee free to use whichever andouille you like and/or can find.
While the chicken and sausage are cooking, prep the veggies. Dice up the red and green bell peppers (3/4 cup of each), celery (3/4 cup), 1 medium onion, 1 jalapeño (remove seeds and ribs for less heat or don't) and 4 cloves of fresh garlic.
What is a holy trinity of creole and cajun cooking?
Many cuisines call for a Mirepoix or "holy trinity" of diced vegetables. For creole and cajun cooking, those vegetables would be onion, celery and bell pepper. These vegetables cook low and slow to both sweeten and deepen their flavors.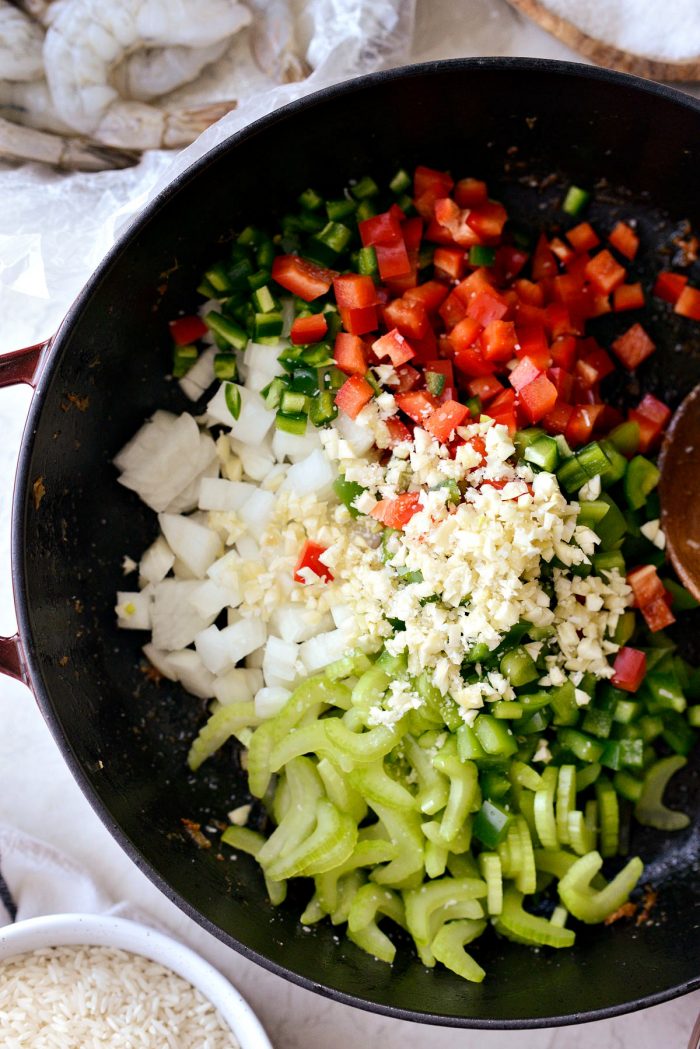 After transferring the andouille to a plate, reduce the heat to low and add in all the prepped veggies, including the garlic, into the pot with a pinch of salt.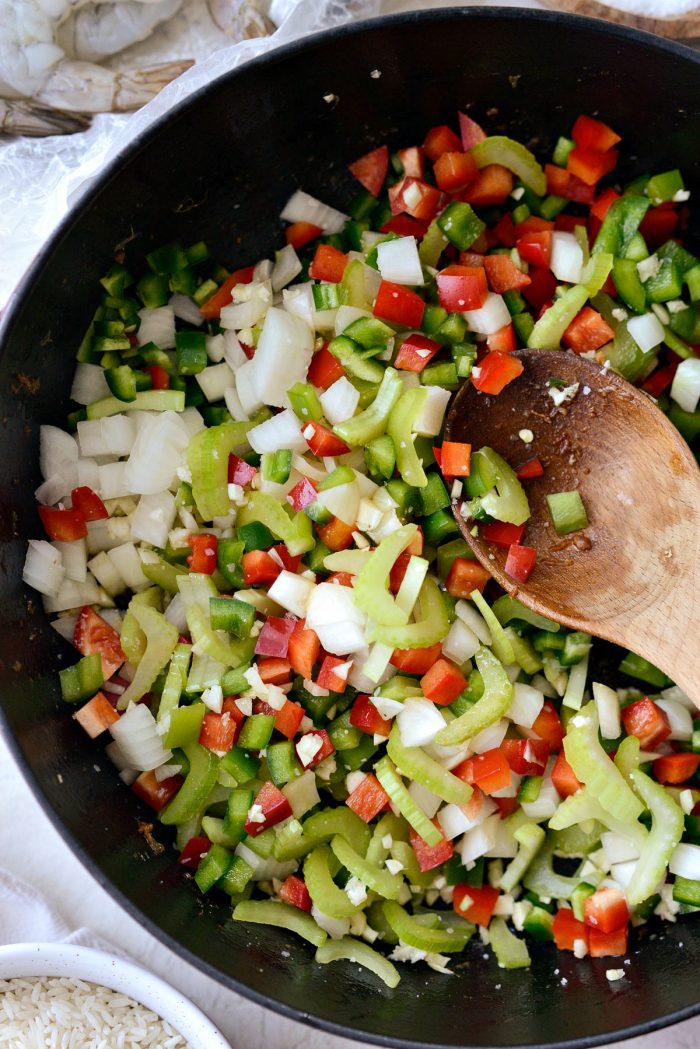 Toss them in the oil and leftover sausage fat in the pot.
Cook, stirring occasionally until the veggies have softened. This should take about 10 to 12 minutes.
Smells so good!
Next add in 1 heaping tablespoon tomato paste, 2 teaspoon cajun seasoning ( I used my homemade recipe because I know and trust the heat level) and 1 teaspoon smoked paprika.
Stir and cook for 1 minute.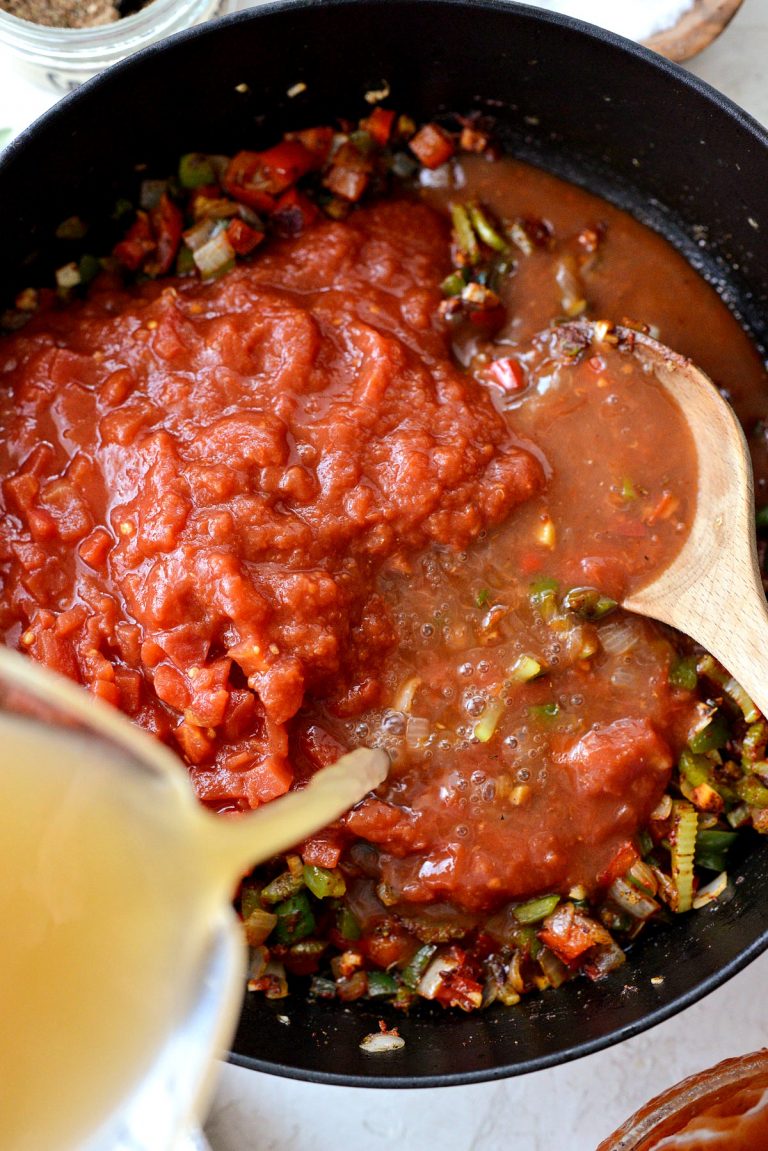 To the pot, add in 1 (15 ounce) can of crushed tomatoes and 1 (15 ounce) can of petite diced (including any liquids) and 3 cups unsalted chicken stock.
Don't forget to throw in 2 bay leaves as well.
Cover, increase the heat to high and bring to a boil.
When the liquids are boiling, immediately stir in 1-1/2 cups long grain white rice.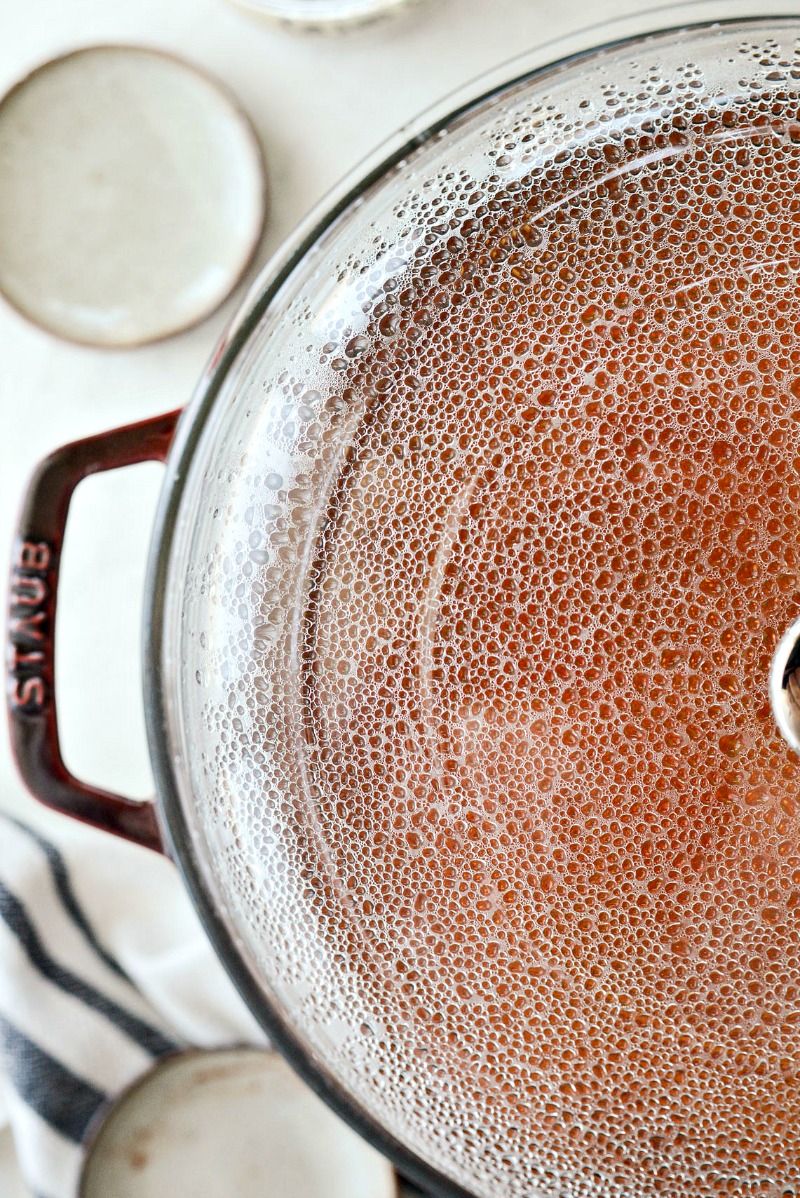 Again, cover and cook on the middle rack in your preheated 350° oven for 30 minutes. After 15 minutes give it a stir.
Gorgeous! After 30 minutes, the rice should be fully cooked. Remove both of the bay leaves because they have done their job.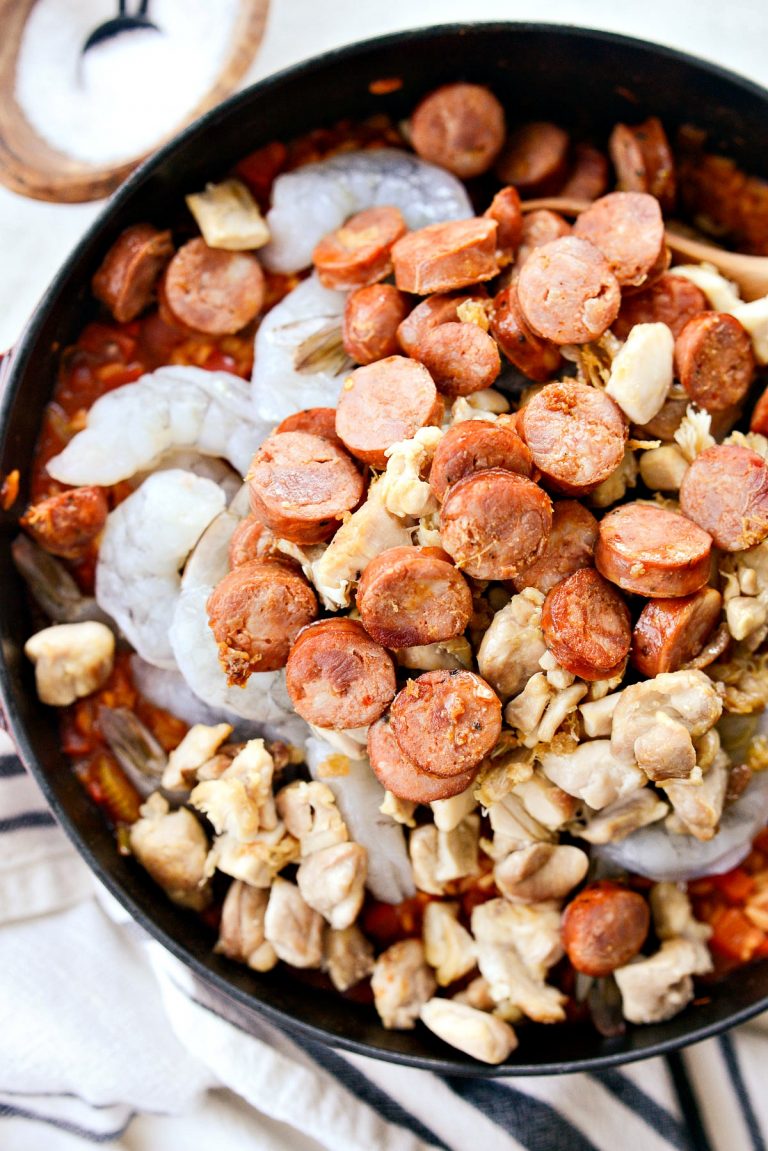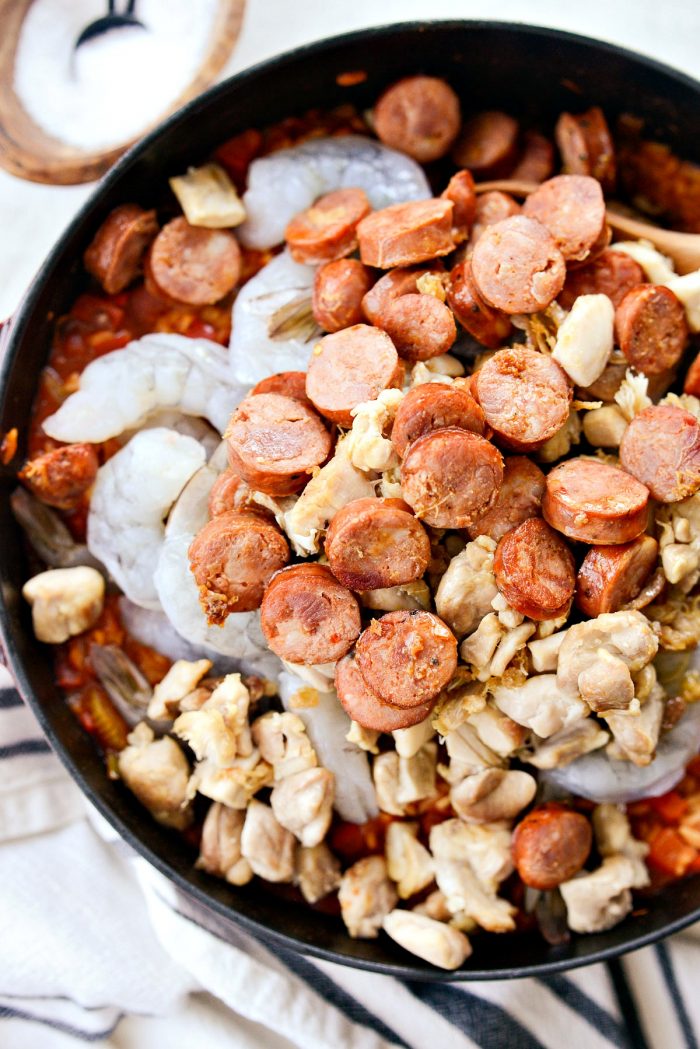 Add in the raw shrimp, cooked chicken and andouille sausage.
Carefully stir until thoroughly combined.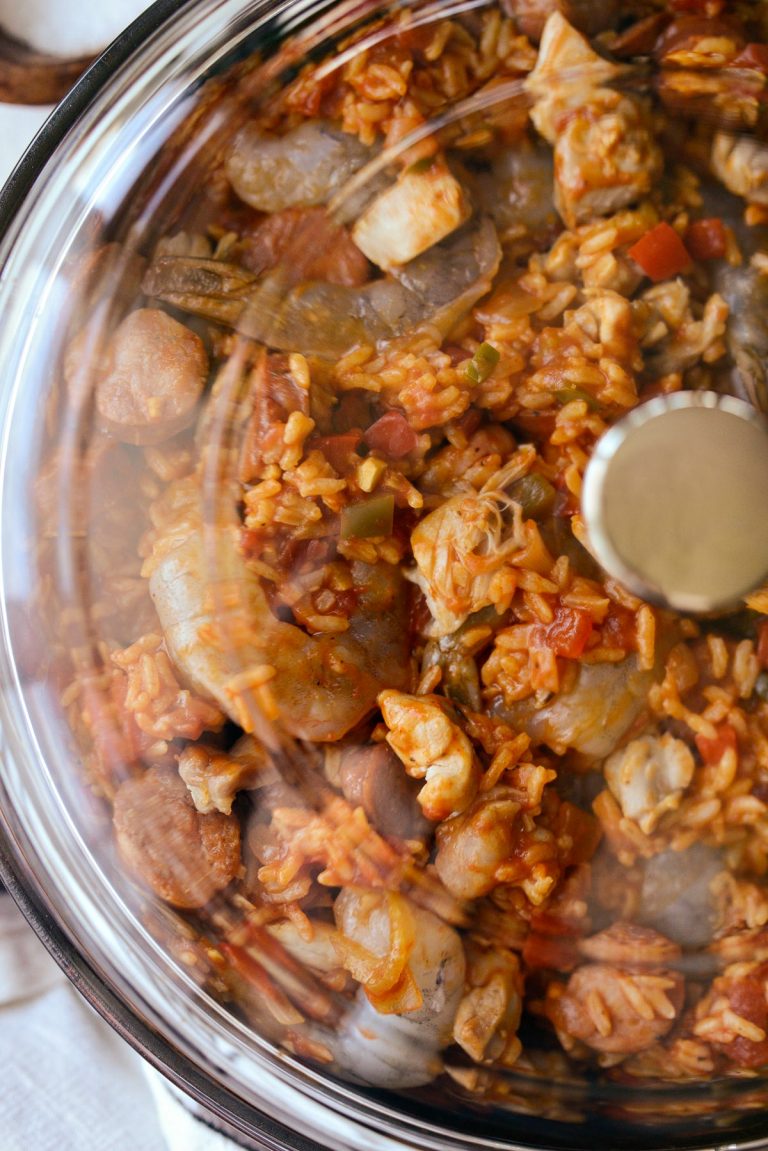 Return the cover to the pot and bake for an additional 8 to 10 minutes (depending on the size of your shrimp) or until the shrimp is opaque and cooked through. Season the one pot jambalaya with kosher salt to your preferred taste, for me it was 1-1/2 teaspoons but add and taste as you go.
Hello gorgeous, spicy, one pot jambalaya!
My kitchen is smelling pretty darn good right now.
Tender shrimp. Smoky andouille. Spicy saucy rice. This recipe checks all the boxes.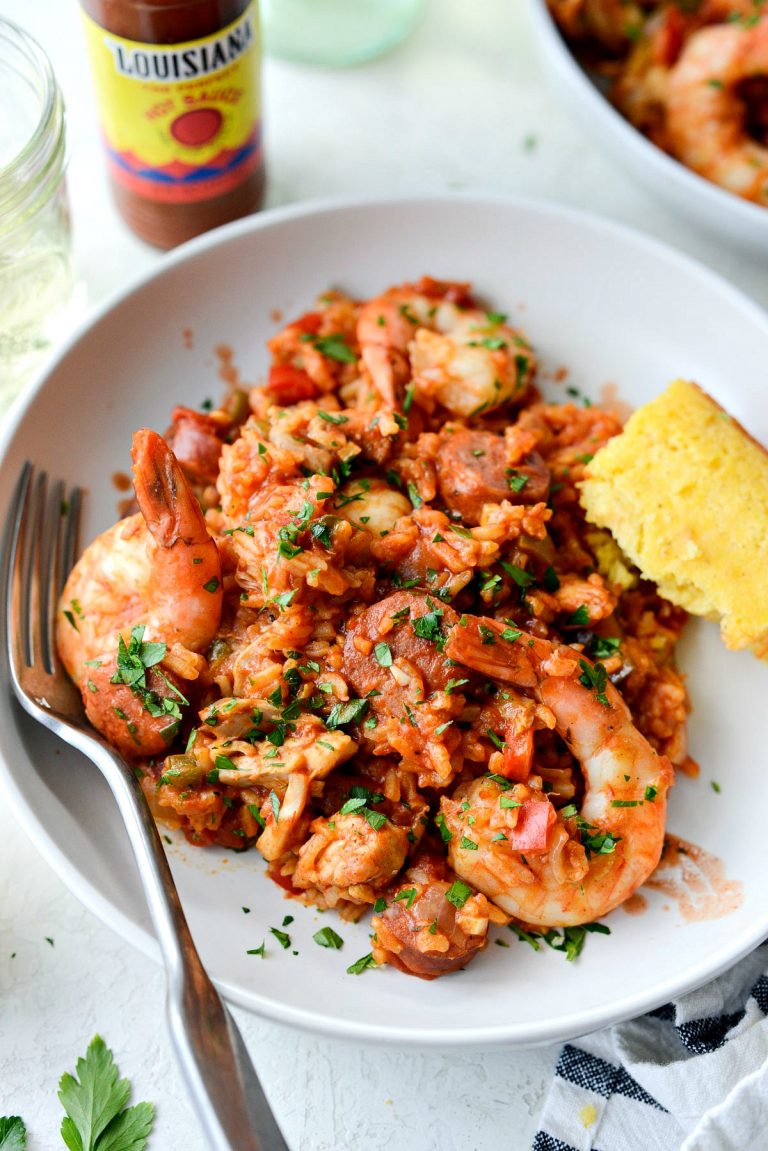 Serve with a side of homemade cornbread, a few shakes of Louisiana hot sauce and glasses of crisp white wine or your favorite beer. If I had green onions, I would have sliced them and sprinkled them on top too. Such a shame.
Come back Wednesday, I'll be posting my easiest and most basic cornbread recipe!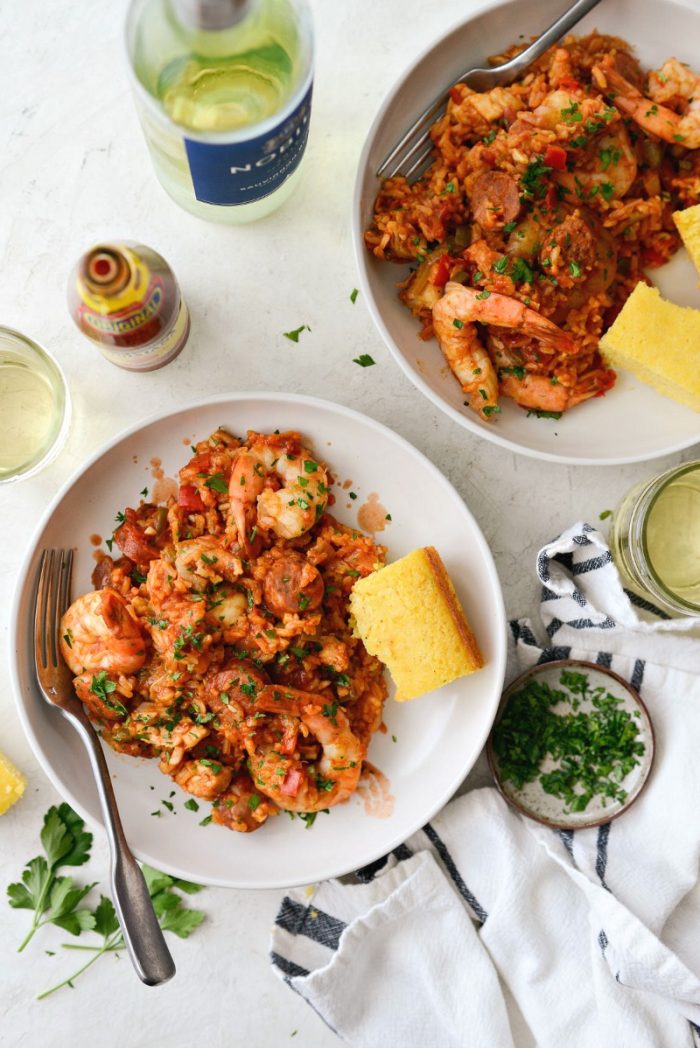 Enjoy! And if you give this One Pot Jambalaya recipe a try, let me know! Snap a photo and tag me on twitter or instagram!
This post may contain affiliate links.
Buy the Cookbook: Simply Scratch : 120 Wholesome Homemade Recipes Made Easy Now available on Amazon »
THANK YOU in advance for your support!