These Deep Dish Black Bean Chicken Chorizo Nachos are 2 layers loaded with fresh toppings and lots of cheese. Perfect for a fun night in or watching an afternoon football game on the tv.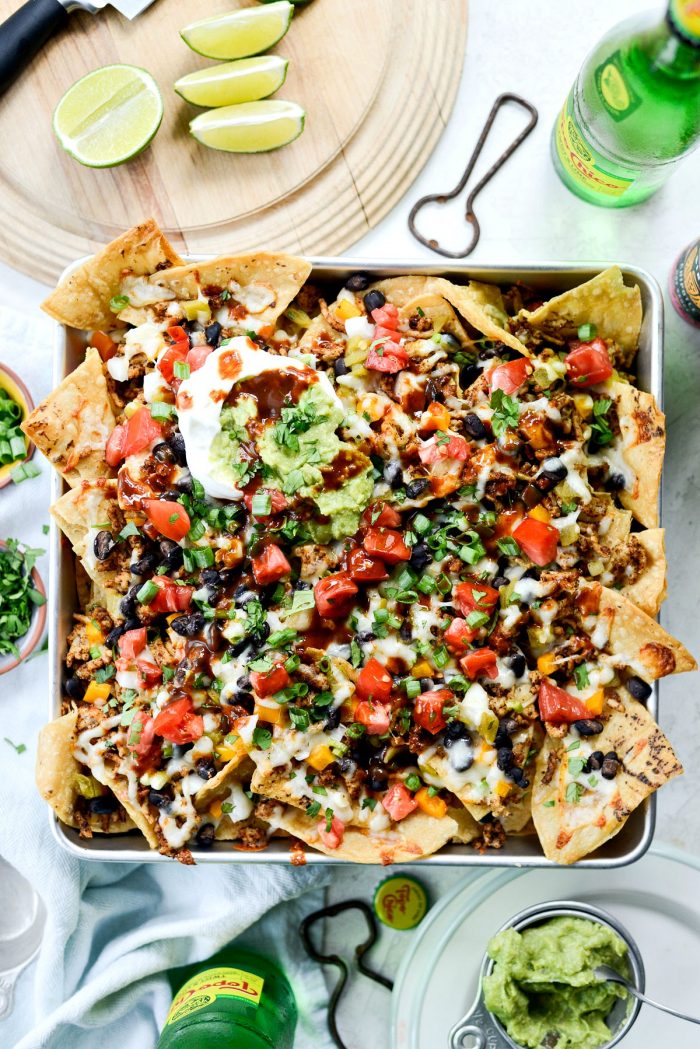 I remember being little and my mom would make a two-layered nacho and called it Mexican pizza. Call it nachos or Mexican pizza… I don't care. But double decker nachos are the BEST kinds of nachos. Amiright?
Truth: As of late, I always have a bag of La Fiesta chips on hand. They. Are. The. Best. Chips. EVER. Better than any restaurant tortilla chips I've ever had and I've had a lot. Anyways, I've had this recipe jotted down in my 5 Star notebook and I'm so glad I waited until these chips came into my life. Because these nachos require a sturdy chip. And the aforementioned chip is just the chip for the job, because TOPPINGS.
These nachos have lots of toppings. Goodies like chicken chorizo, muenster cheese, black beans, loads of veggies and, did I mention cheese??
Yes. We're doing this.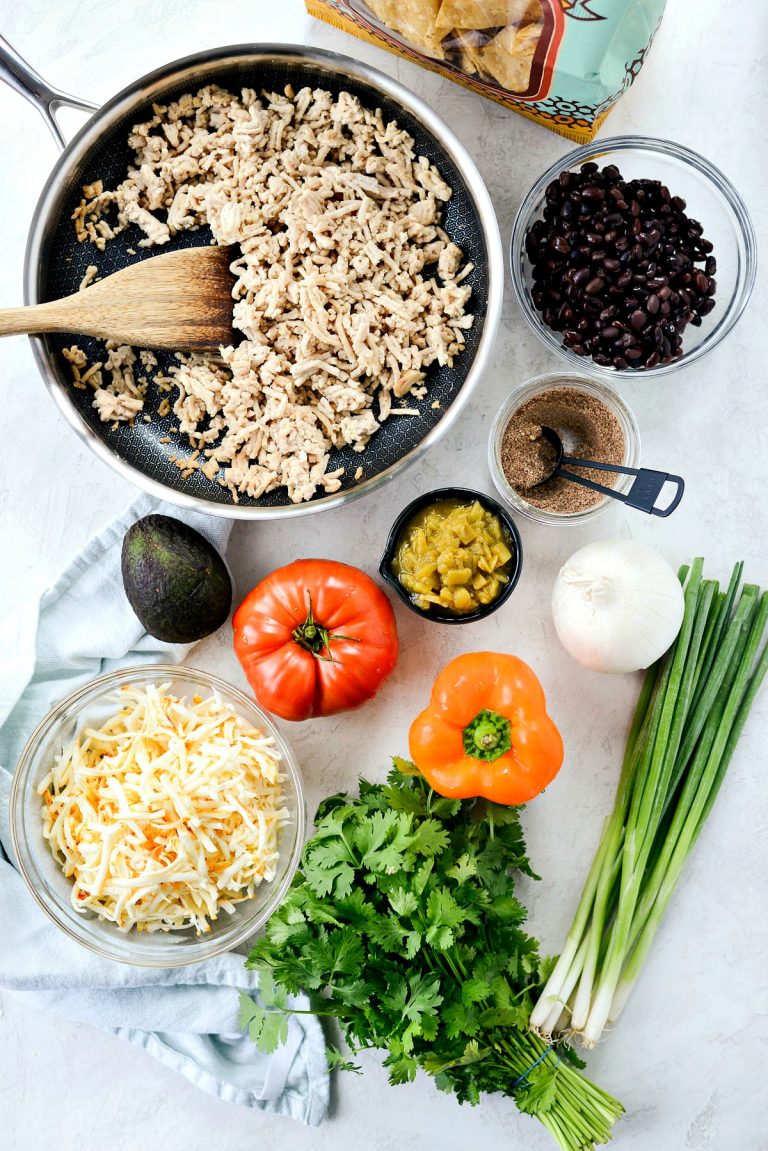 To Make These Deep Dish Black Bean Chicken Chorizo Nachos You Will Need:
lean ground chicken
homemade chorizo seasoning
thick cut tortilla chips
muenster cheese
black beans
orange bell pepper
diced green chiles
white onion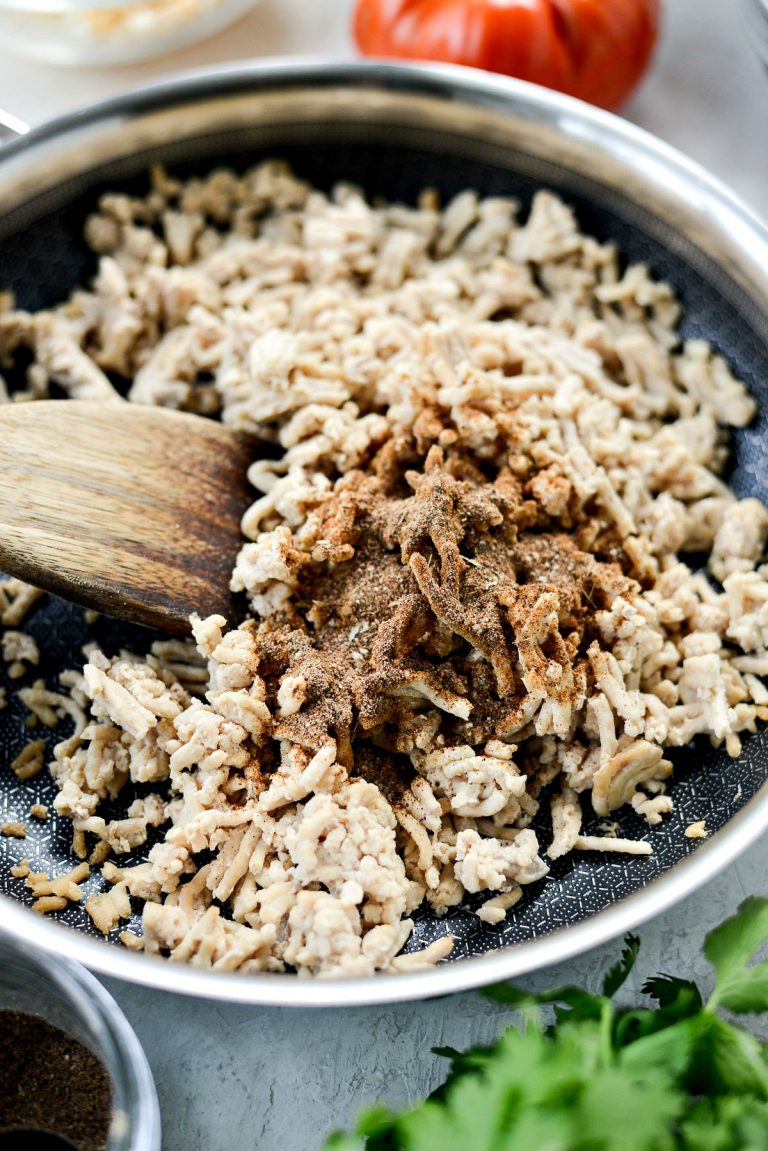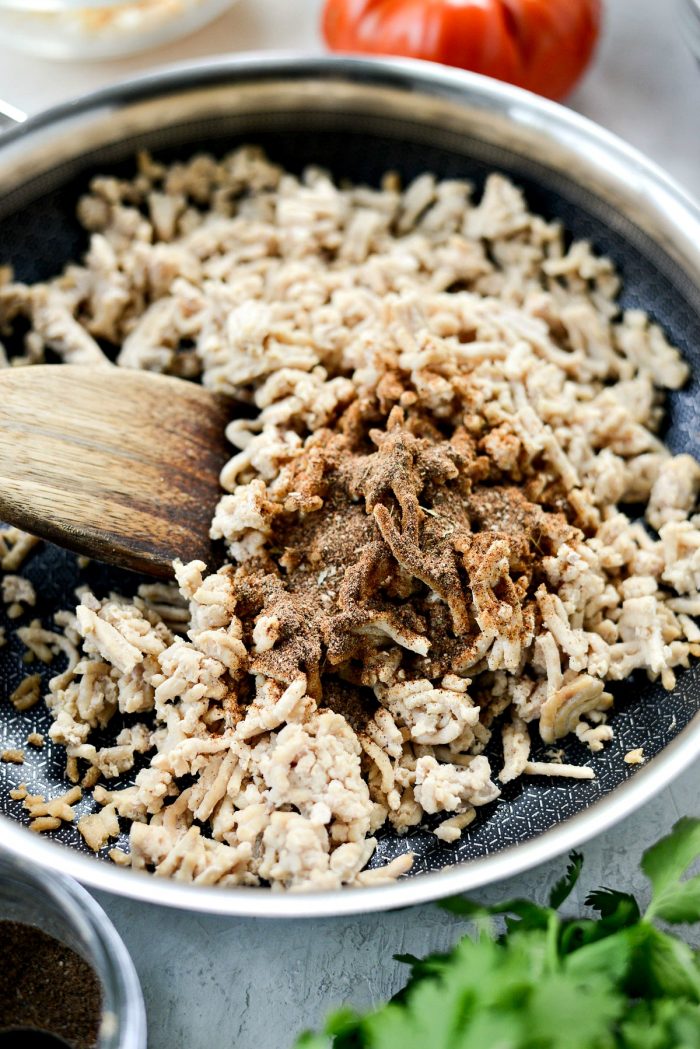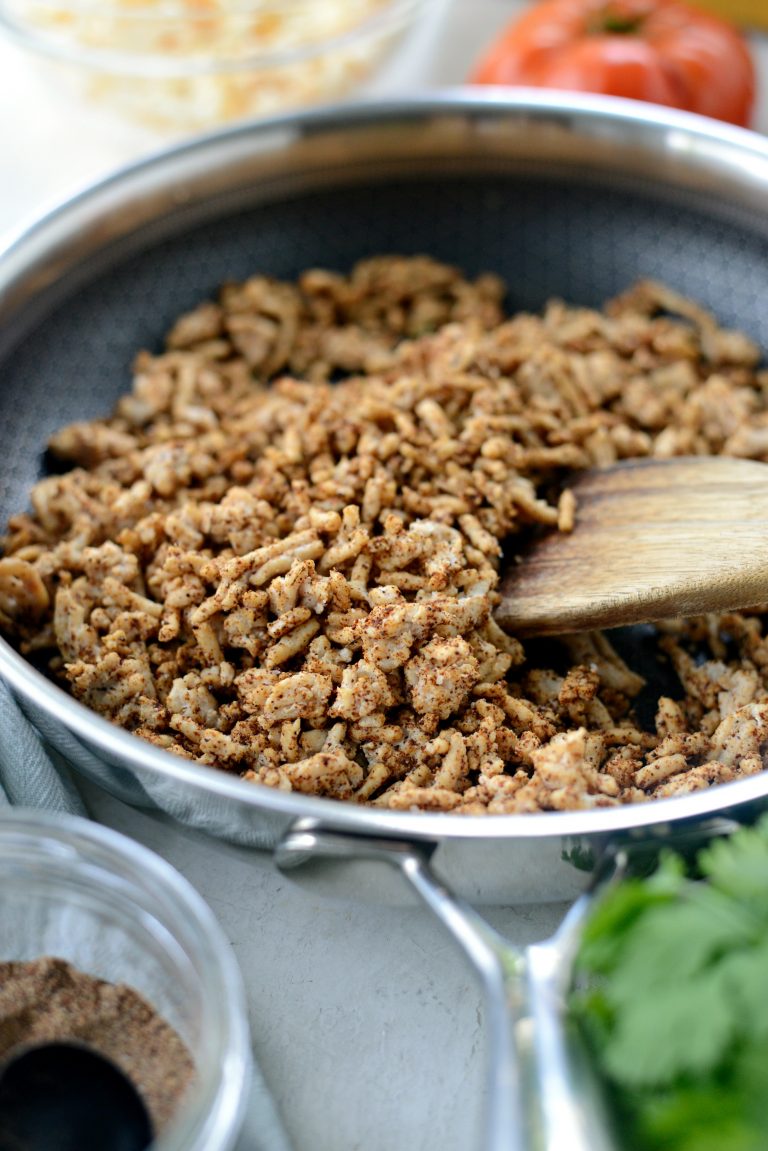 In a medium sauce pan, cook the ground chicken until no longer pink. Drain liquids that accumulate, if any at all. Then season with 1-1/2 tablespoons of chorizo spice blend and set off to the side.
Please note that since making lots of chorizo-y things, I now omit adding ground clove to the recipe. My tastes have changed and I personally don't like it in there.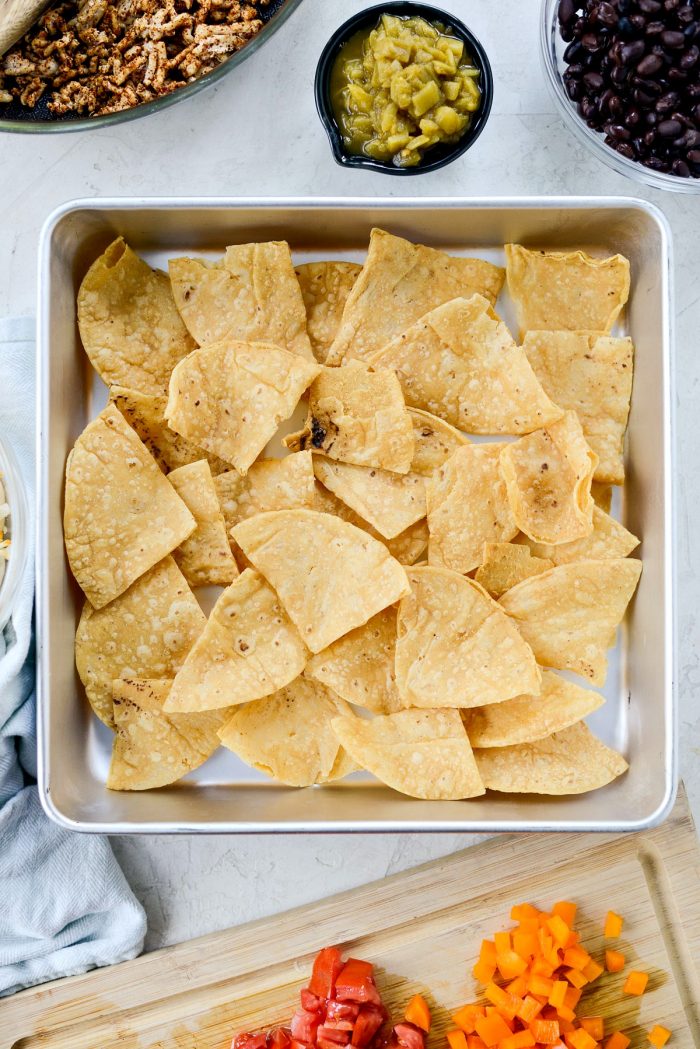 In a deep sided pan, place a layer of tortilla chips down. I'm using an 10×10 cake pan and will link it below in the recipe printable.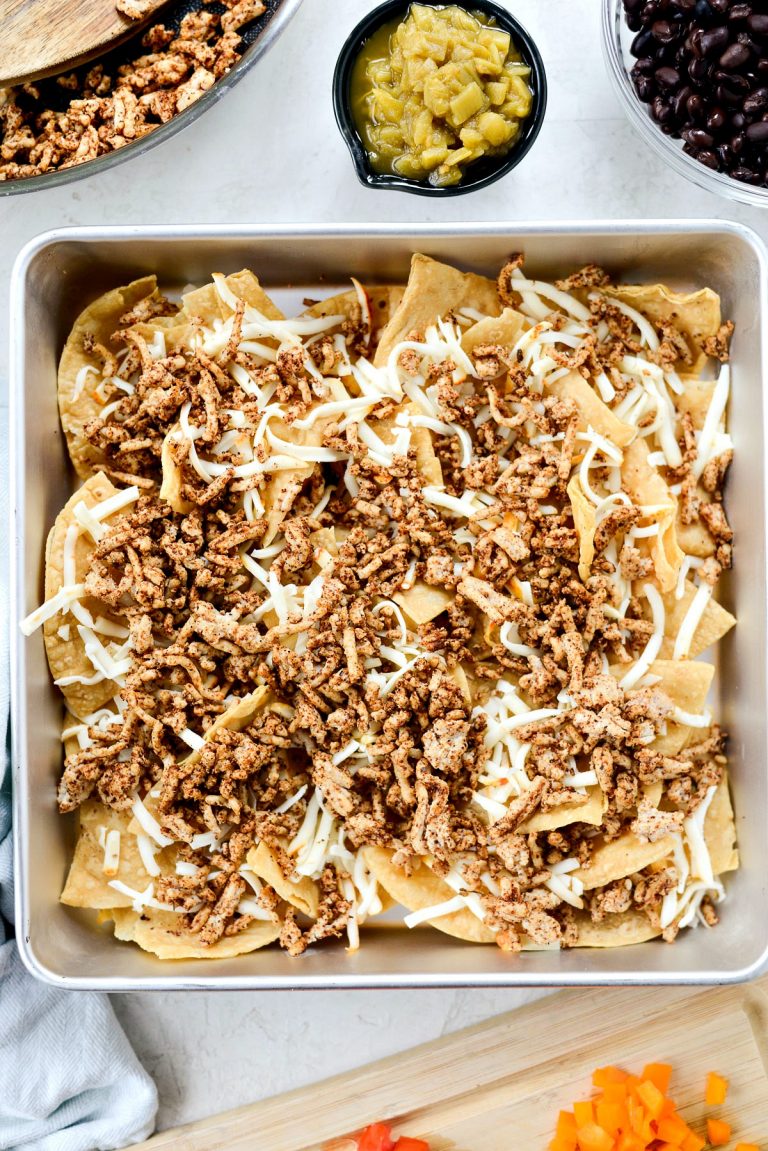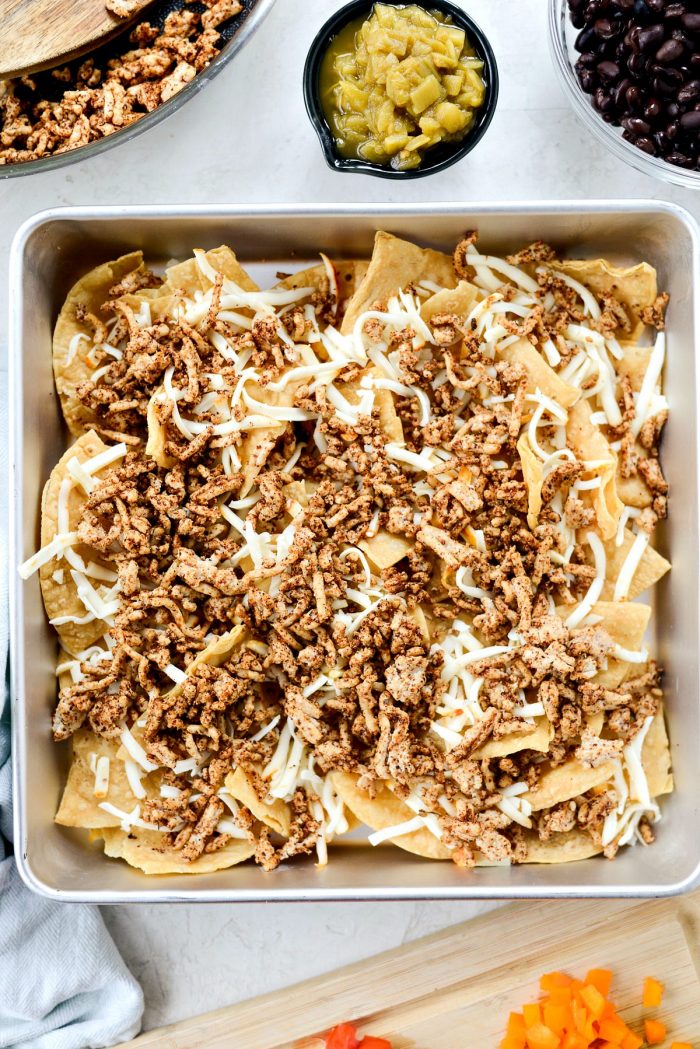 Sprinkle with some of the shredded muenster and half of the seasoned ground chicken.
Top with some black beans, peppers, green chiles, half of the light green parts of the sliced green onions (saving the dark green for garnishing), half of the tomatoes and white onion.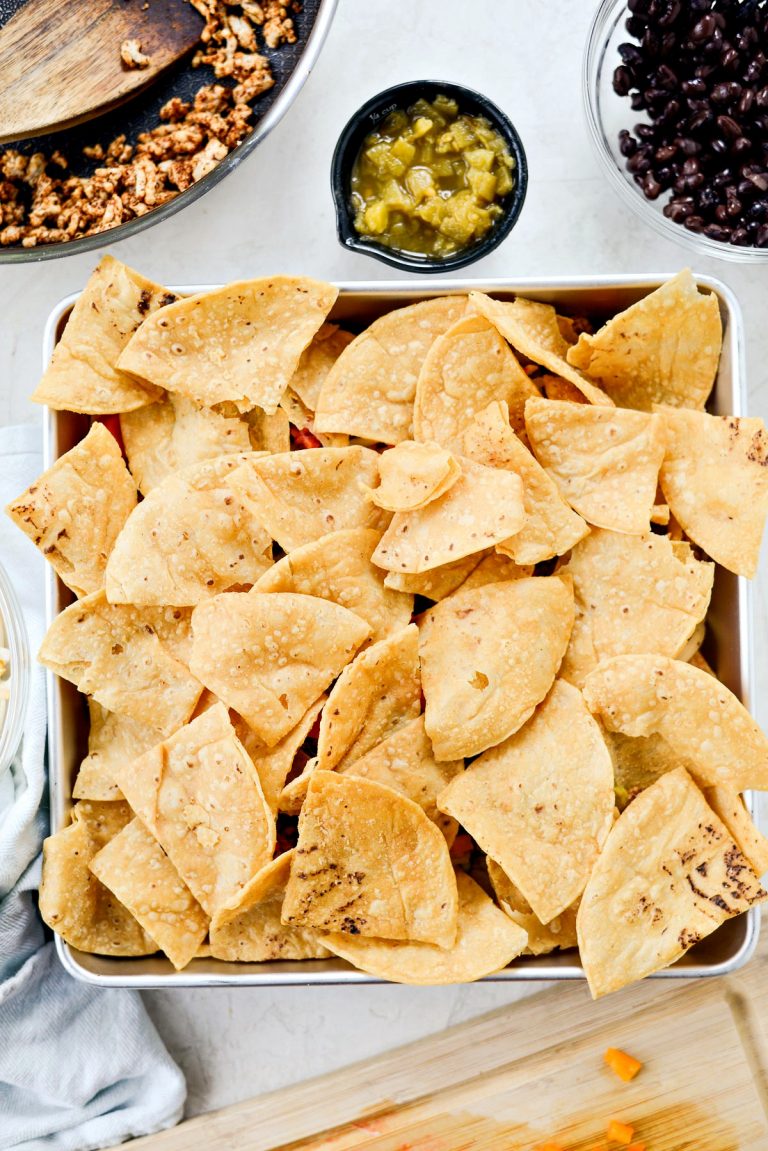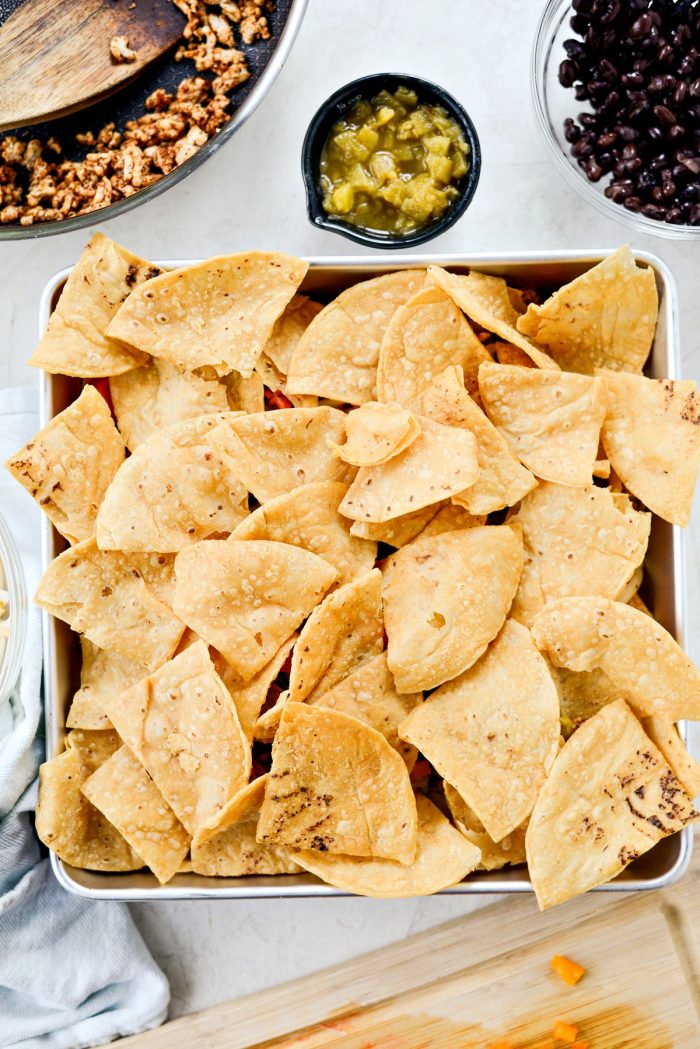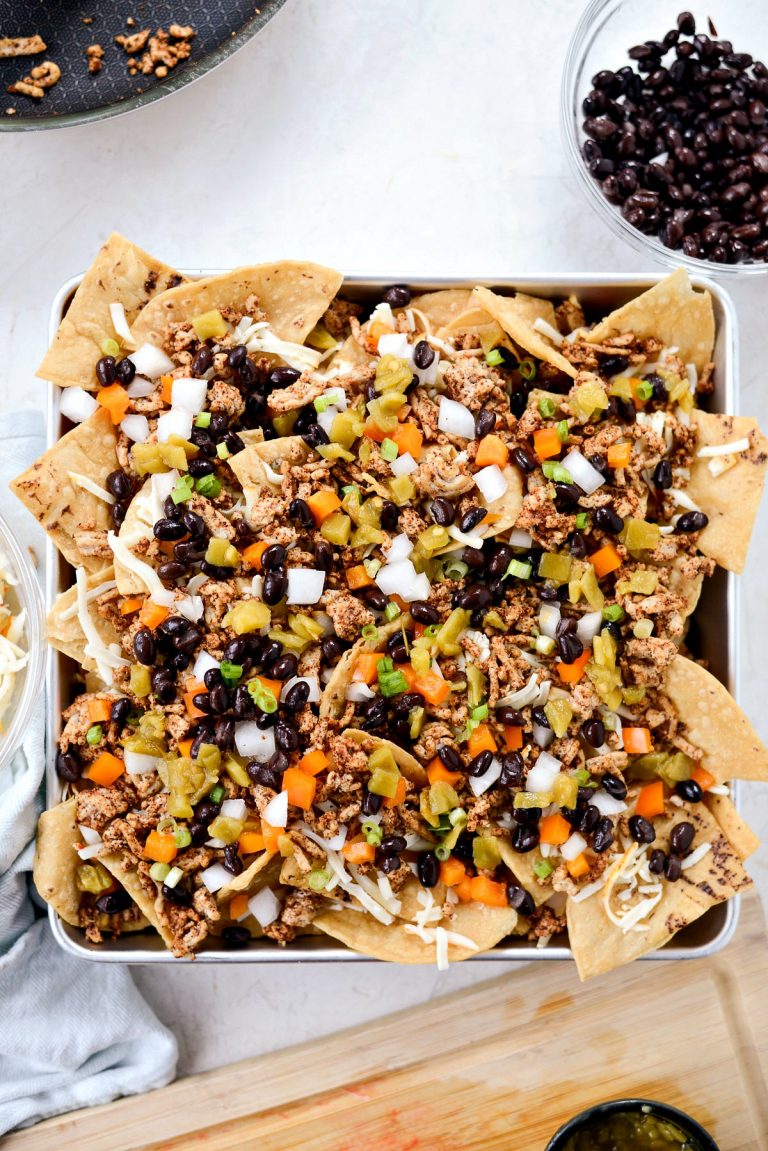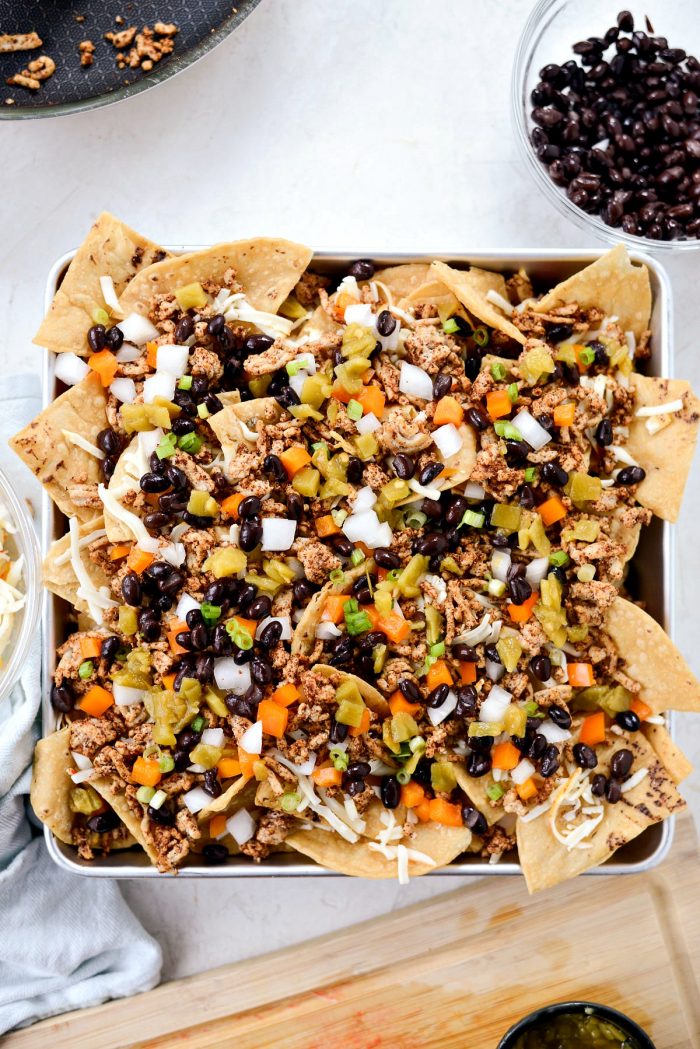 Then top with a second layer of chips, some of the cheese, remaining chicken, black beans, peppers, onions (both white and green) and green chiles.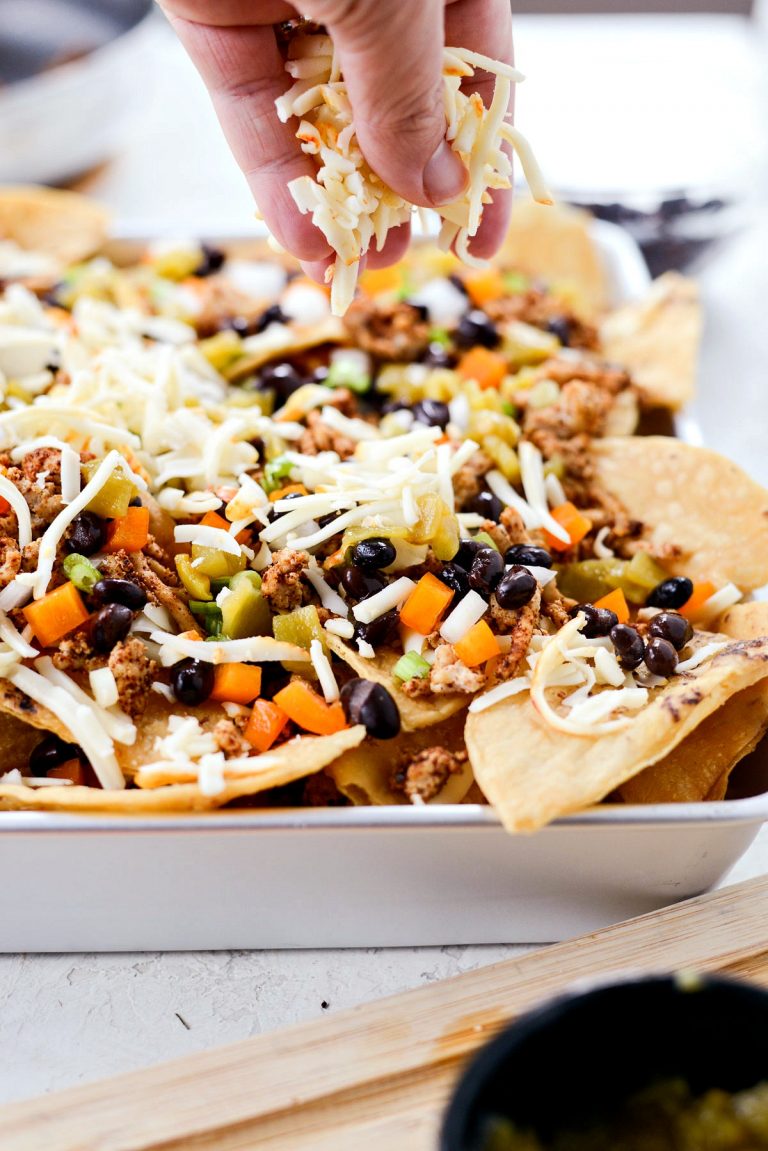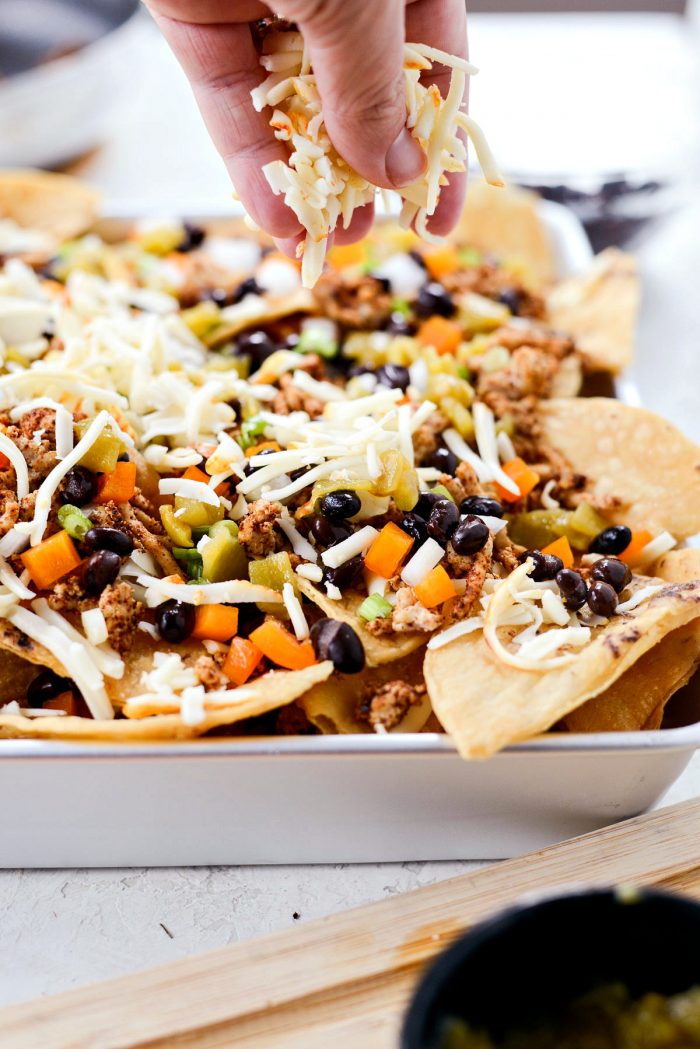 Lastly sprinkle with the remaining shredded muenster and bake for 8 to 10 minutes in your preheated 325° oven. I leave off the tomatoes purely because I like the pop of color when serving.
Once baked and the cheese is melted throughout, top with remaining tomatoes, the dark green parts of the onions and minced fresh cilantro.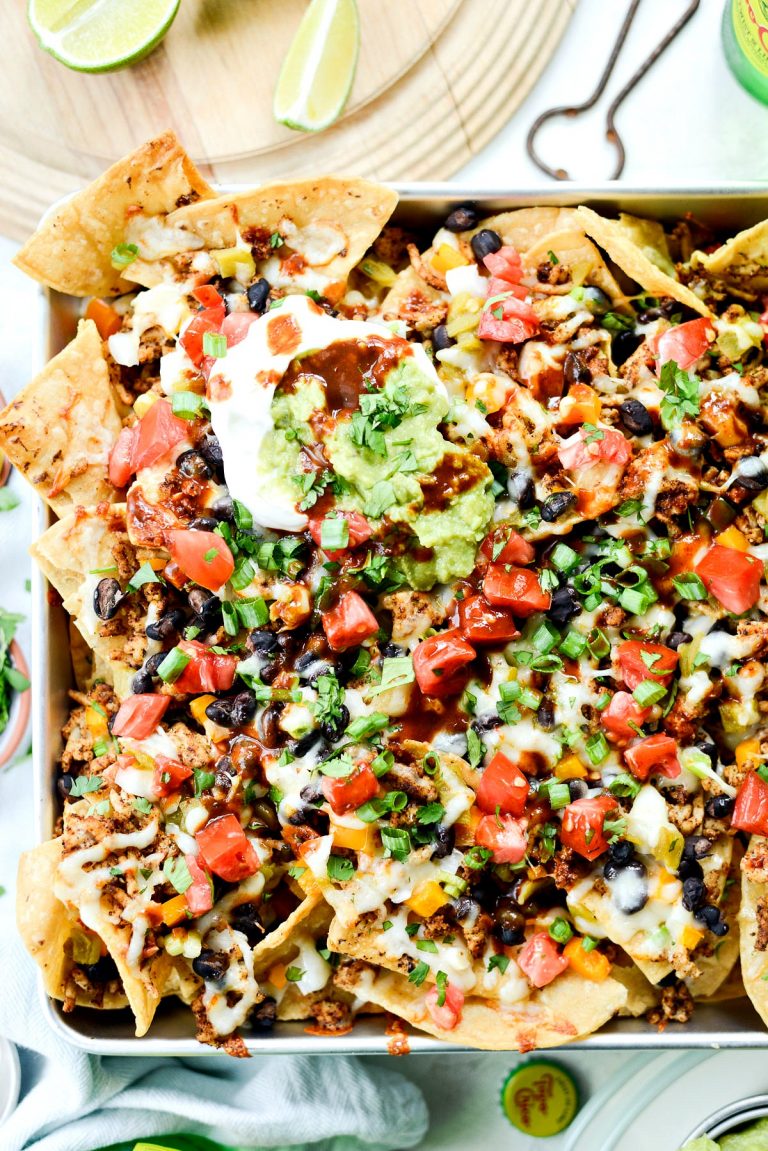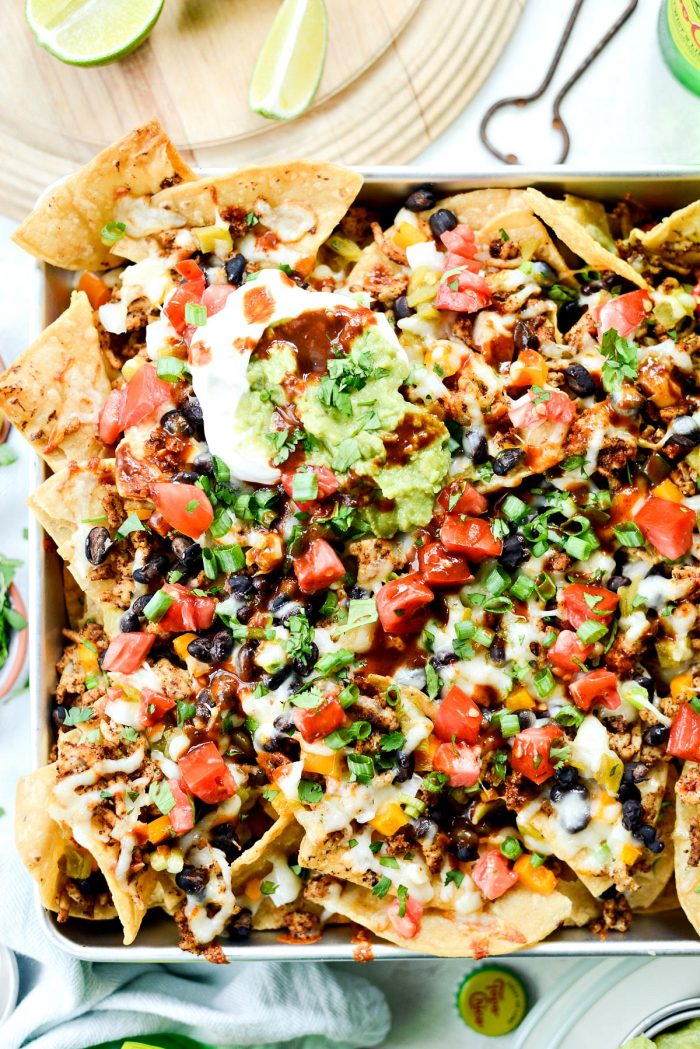 I like to serve these black bean chicken chorizo nachos with plain nonfat greek yogurt (or sour cream), guacamole and a smoky chipotle hot sauce. Siete makes one (actually all their hot sauces are phenomenal) that I absolutely LOVE! #notsponsored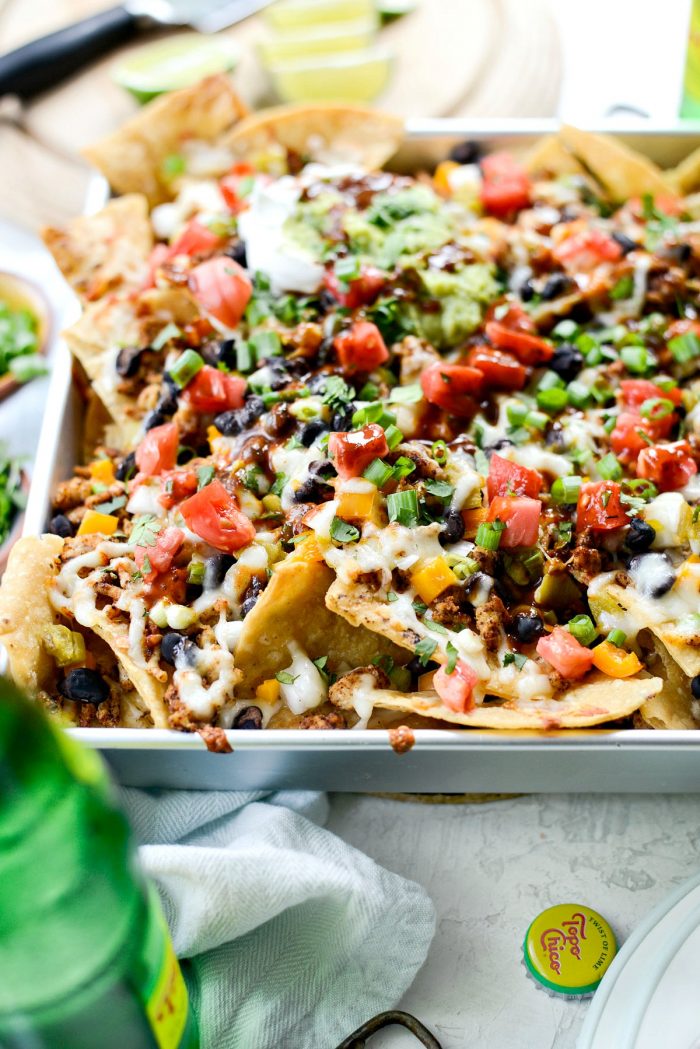 Glorious!
Enjoy! And if you give this Deep Dish Black Bean Chicken Chorizo Nachos recipe a try, let me know! Snap a photo and tag me on twitter or instagram!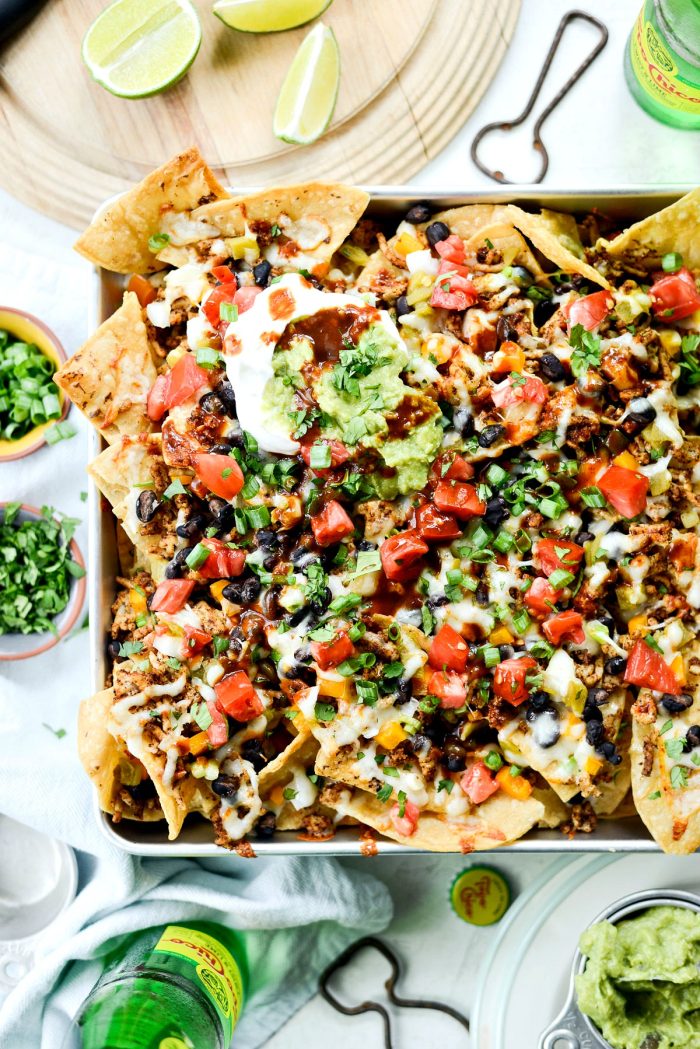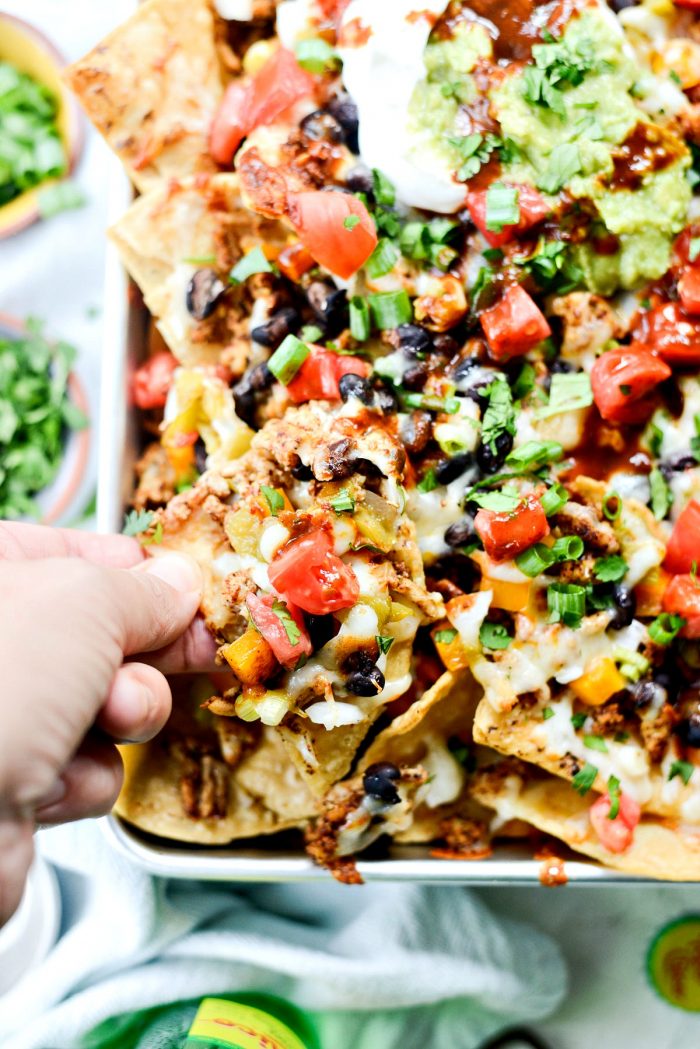 This post may contain affiliate links.
Buy the Cookbook: Simply Scratch : 120 Wholesome Homemade Recipes Made Easy Now available on Amazon »
THANK YOU in advance for your support!