This fall treat yourself to a homemade Pumpkin Spice Chai Latte! Spiced pumpkin puree is first caramelized before being whisked with milk. This is infused with Chai tea and vanilla before being poured into mugs and topped with frothed milk.
Hug in a mug. That's what this pumpkin spice chai latte is.
On any given day, I'm a cup of coffee with creamer kind of gal, but every once again I make chai lattes. They are a special occasion beverage that I truly don't mind putting in the minimal (yet still some) effort for. As you're aware, fall is right around the corner, and pumpkin-everything is all up in our faces. I thought I would join in -because why not?- and share my recipe for homemade pumpkin spice chai lattes!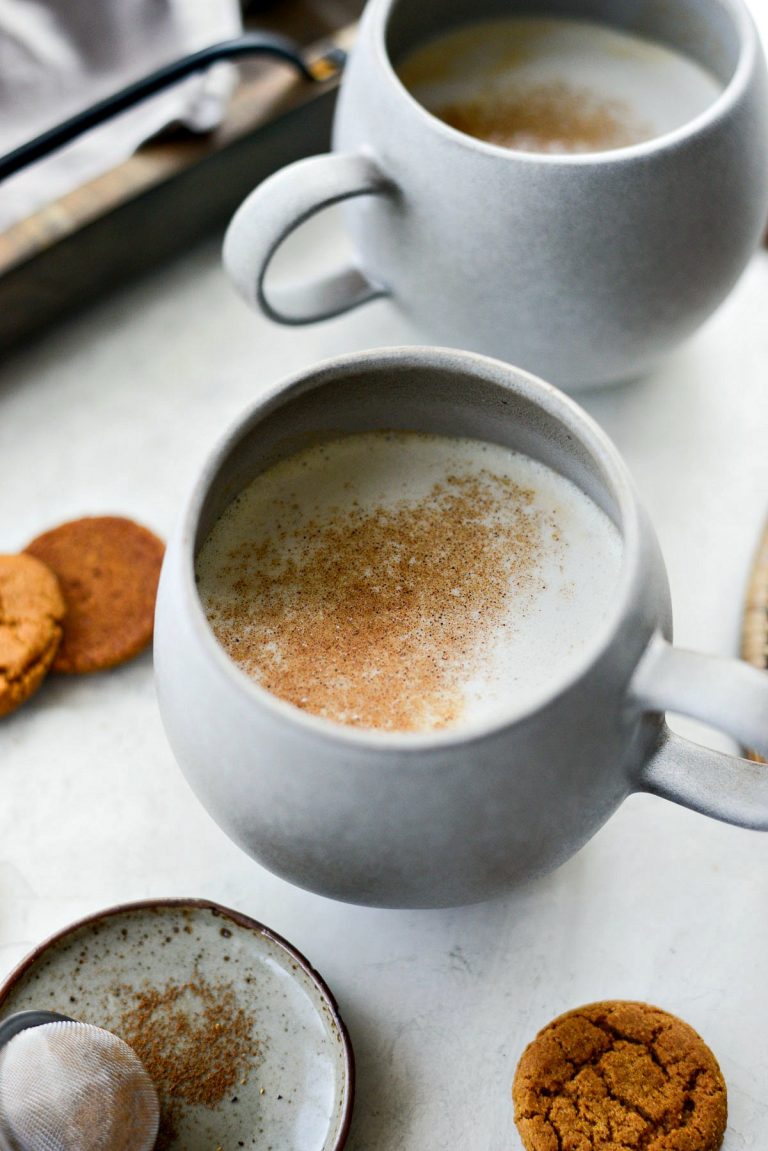 As you know I love chai! The spice and the tea. I've steeped the tea into ice cream, and baked the spice blend into pumpkin pie and into apple pecan rolls! Today I'm combining chai latte with pumpkin and pumpkin spice for a milky, cozy beverage collaboration!
To Make This Pumpkin Spice Chai Latte Recipe You Will Need:
pumpkin puree (not pie filling)
light brown sugar
milk
chai tea bags
pure vanilla extract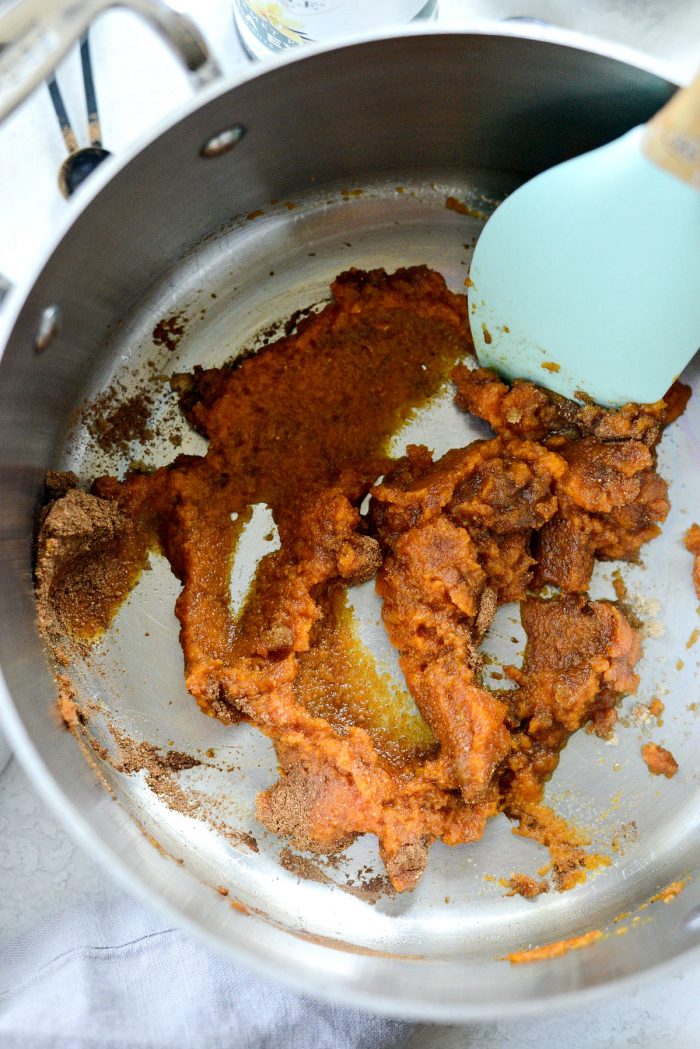 In a medium saucepan, add the puree, light brown sugar and pumpkin pie spice and heat on medium-low.
I'm using canned pumpkin for this because the thought of roasting a pumpkin for 1/3 cup bums me out. However, you can bet on me making it as soon as I have a stock pile of puree in my freezer.
Moving on.
Continuously stirring for 5 minutes or until the puree is thick and caramelized. It should resemble tomato paste.
Pour in 2 cups milk. I'm using whole milk, but I would like to think any milk you prefer would work.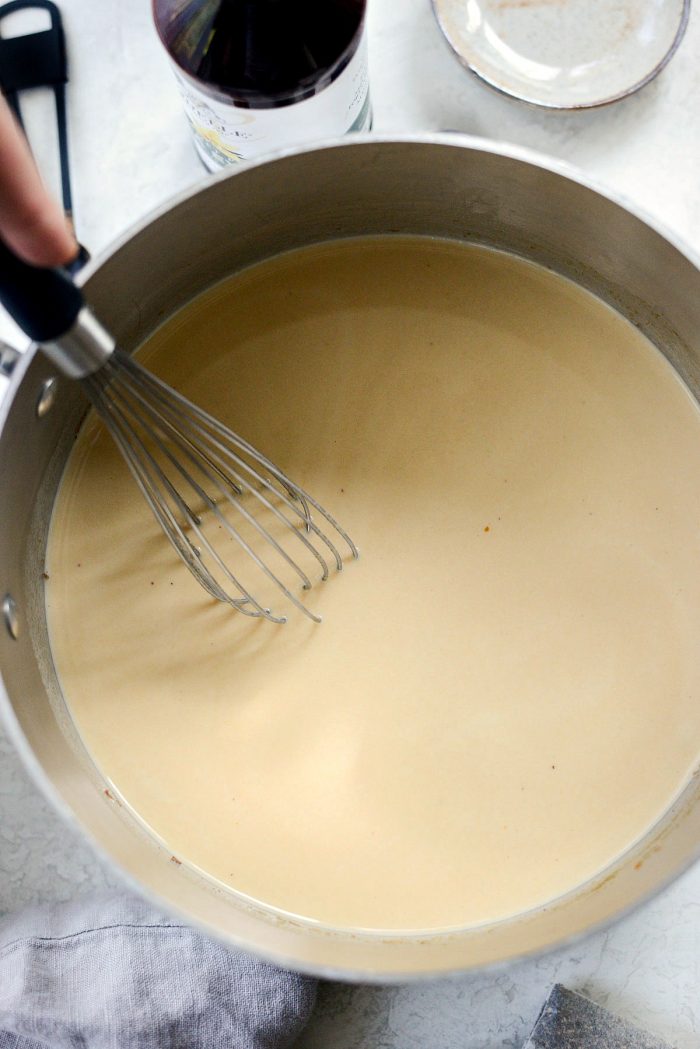 Heat on medium, whisking constantly until hot. Do not let this boil or scotch on the bottom. I gauge it by when it starts to steam.
It's Beginning to look a lot like a latte!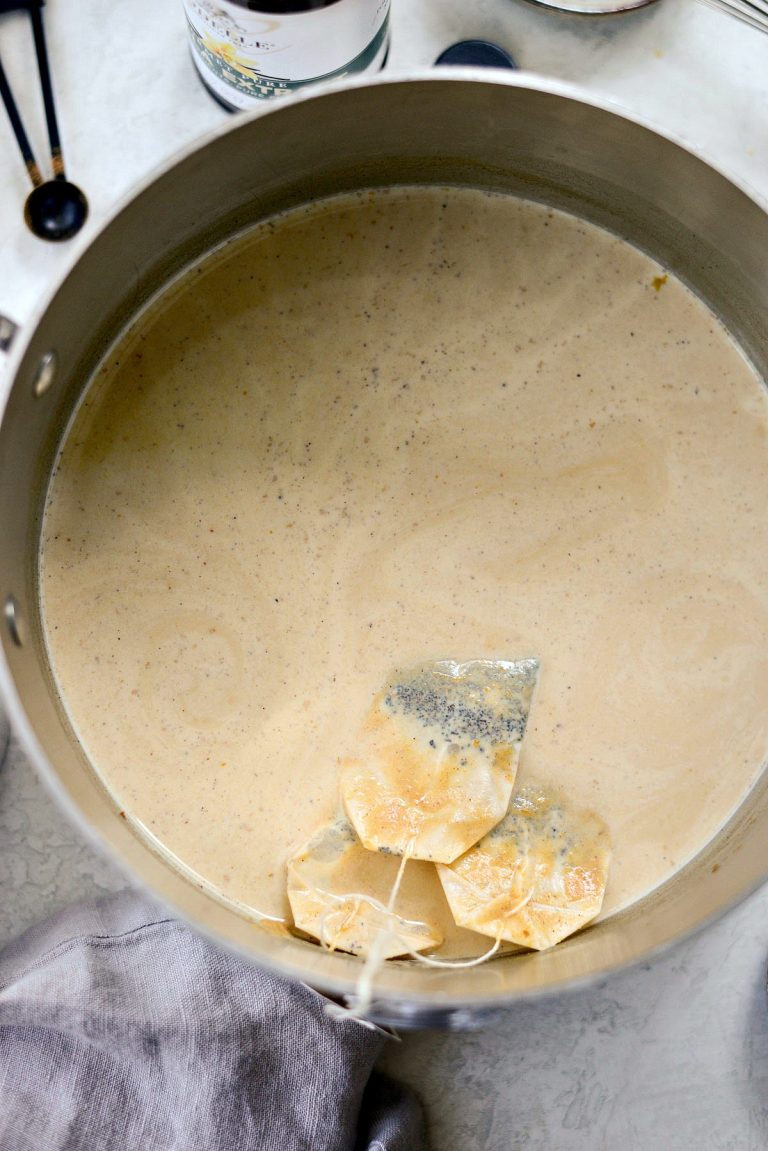 Steep 3 chai tea bags into the hot milk for 5 minutes.
Pro Tip: I use a magnet to hold them in place. #lifehack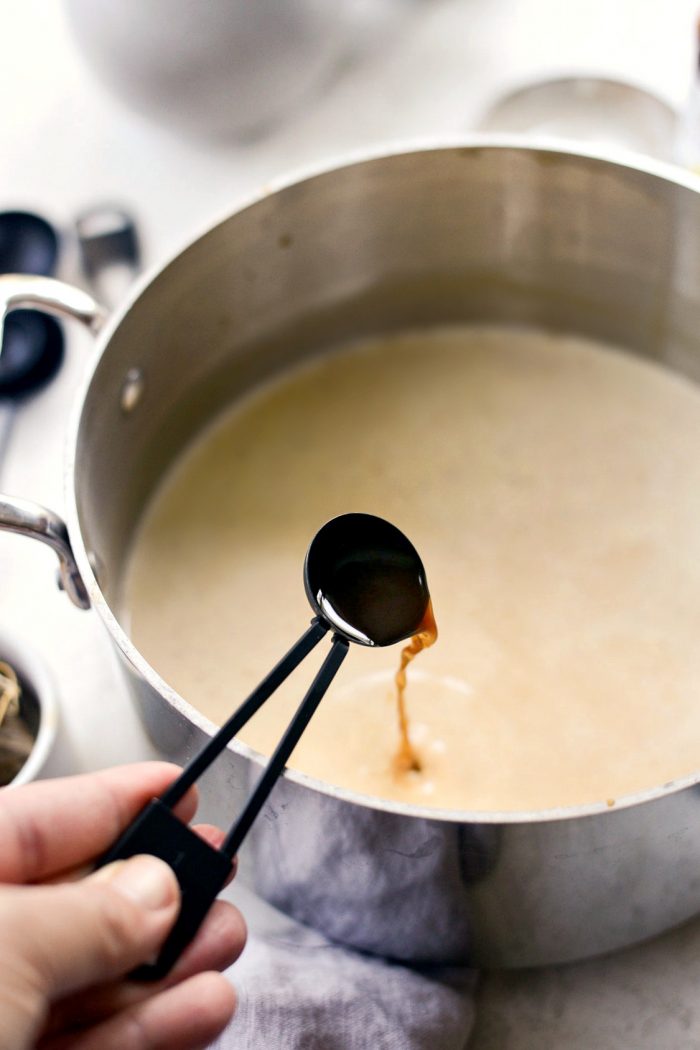 Squeeze out the tea bags before discarding. TO do this: 0ver the pot, use a spoon to hold the tea bag and then I wrap the string around it and squeeze
Lastly, add in 2 teaspoons pure vanilla extract.
Keep warm on low heat while you froth some milk.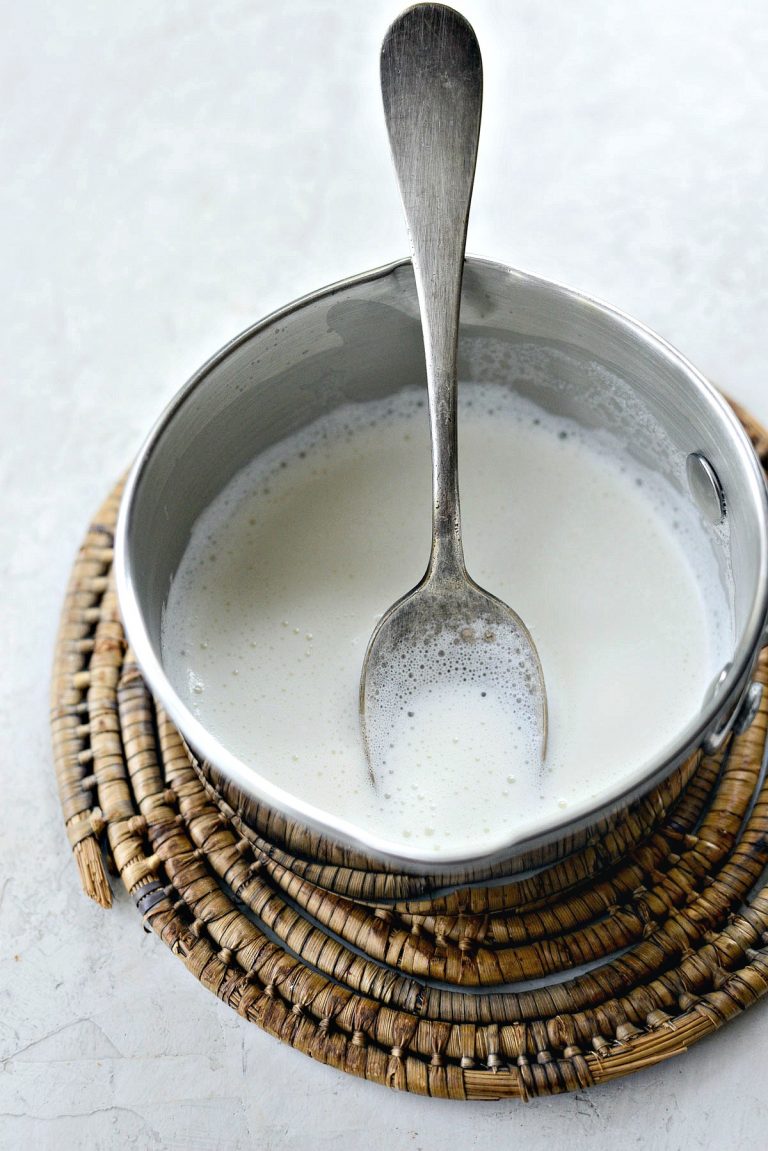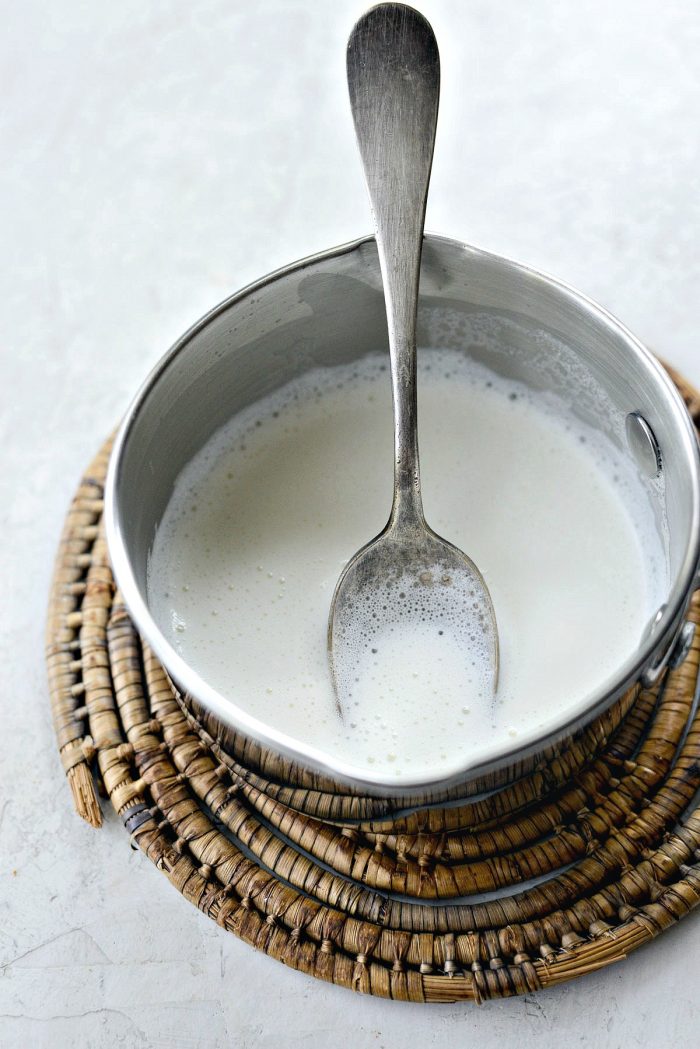 Add 1/3 to 1/2 cup of milk to a small sauce pan. Heat on high while vigorously whisking. It doesn't take long for the milk to froth. Keep whisking.
Note: I haven't tried this with any other milk but whole, so I'm unsure of the results. If you happen to know if frothing almond, cashew or any other milk can be done, feel free to leave a comment down below! 🙂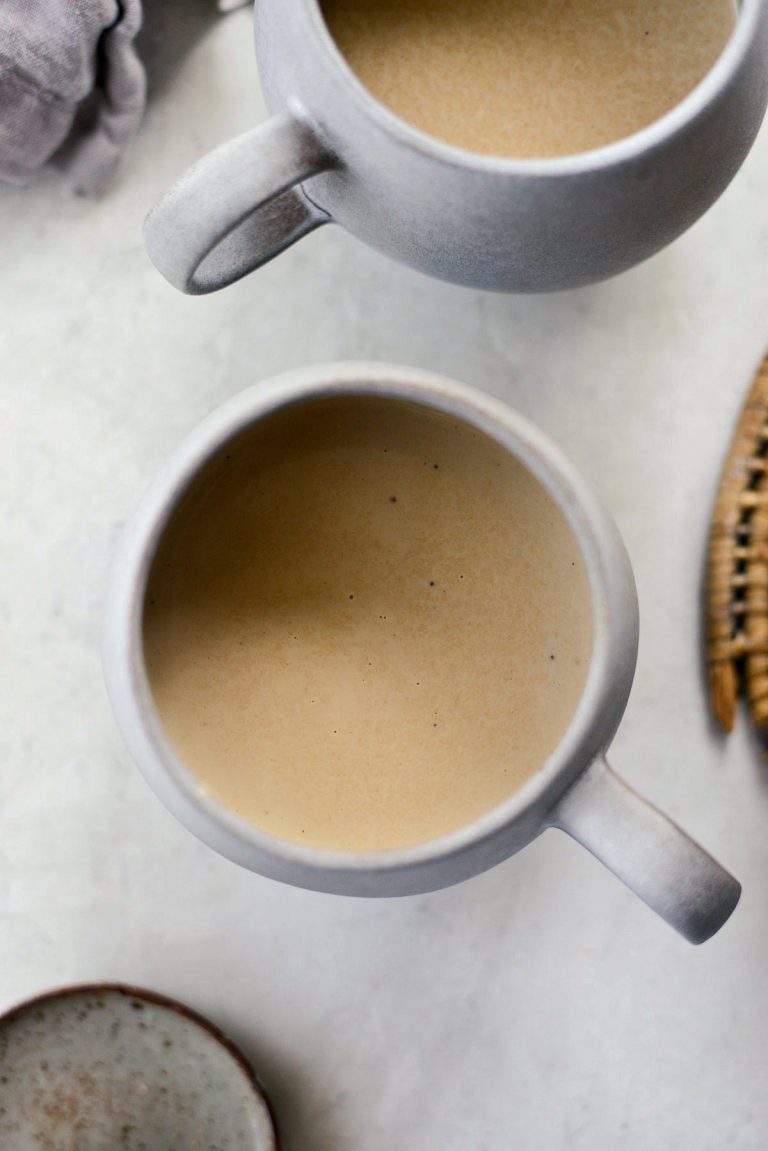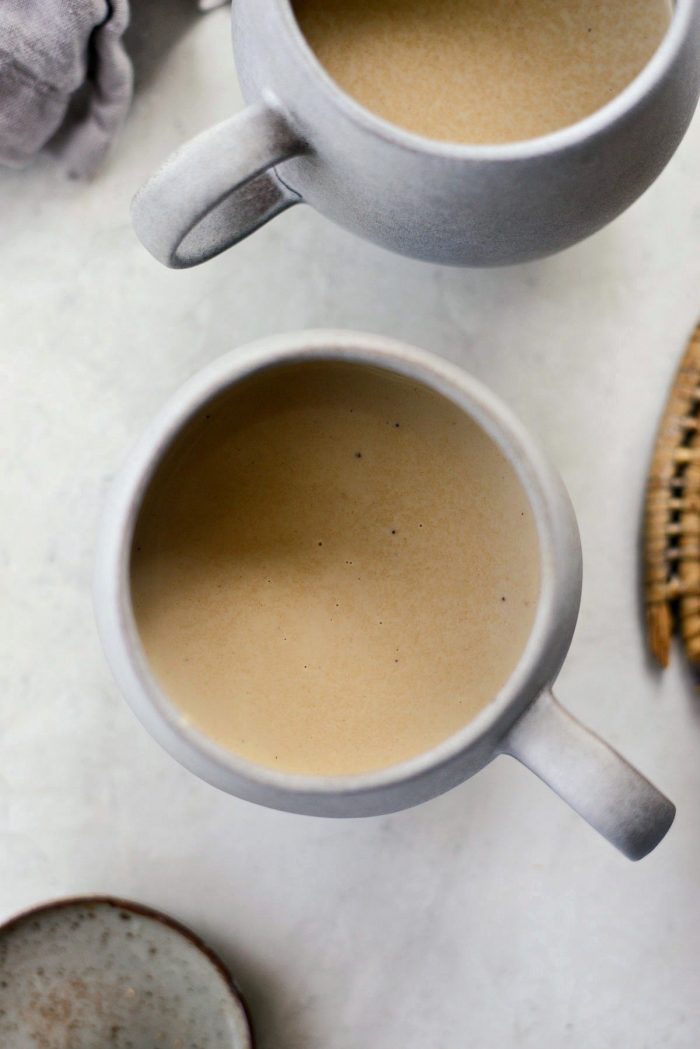 Finally, pour the pumpkin spice chai latte into two mugs.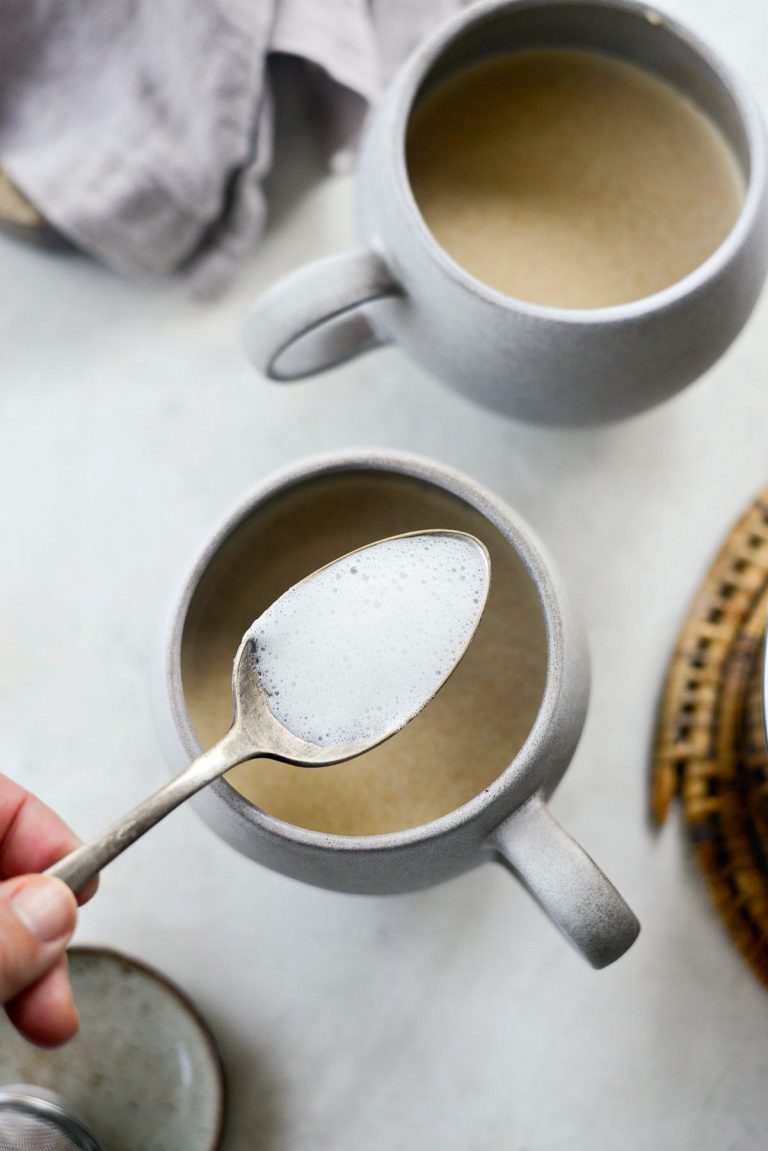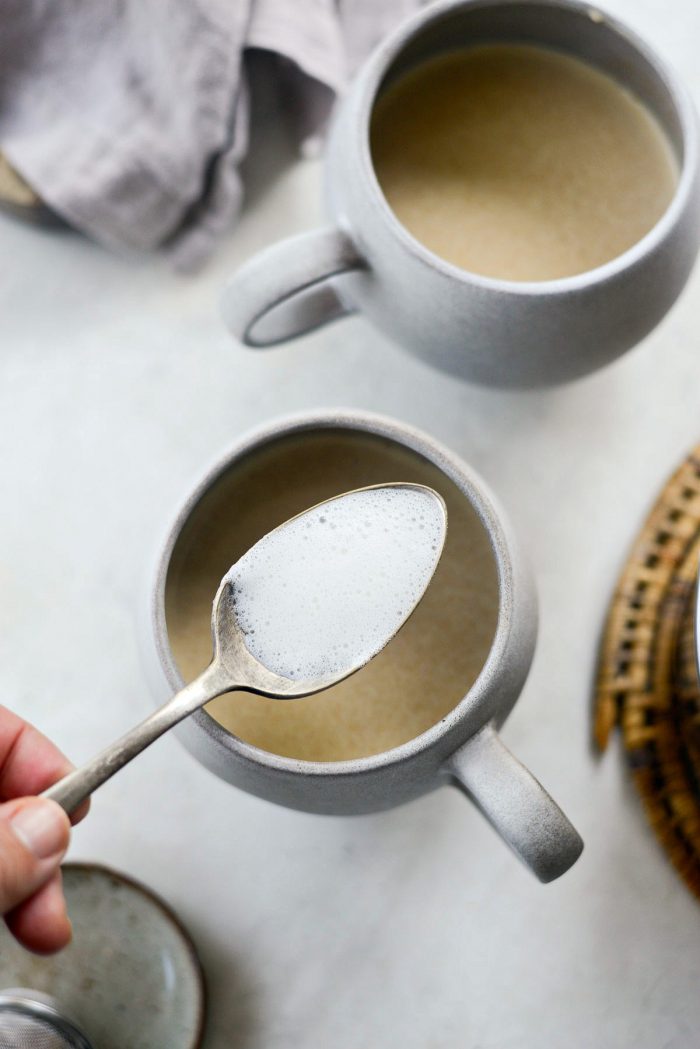 And spoon the frothy milk over top.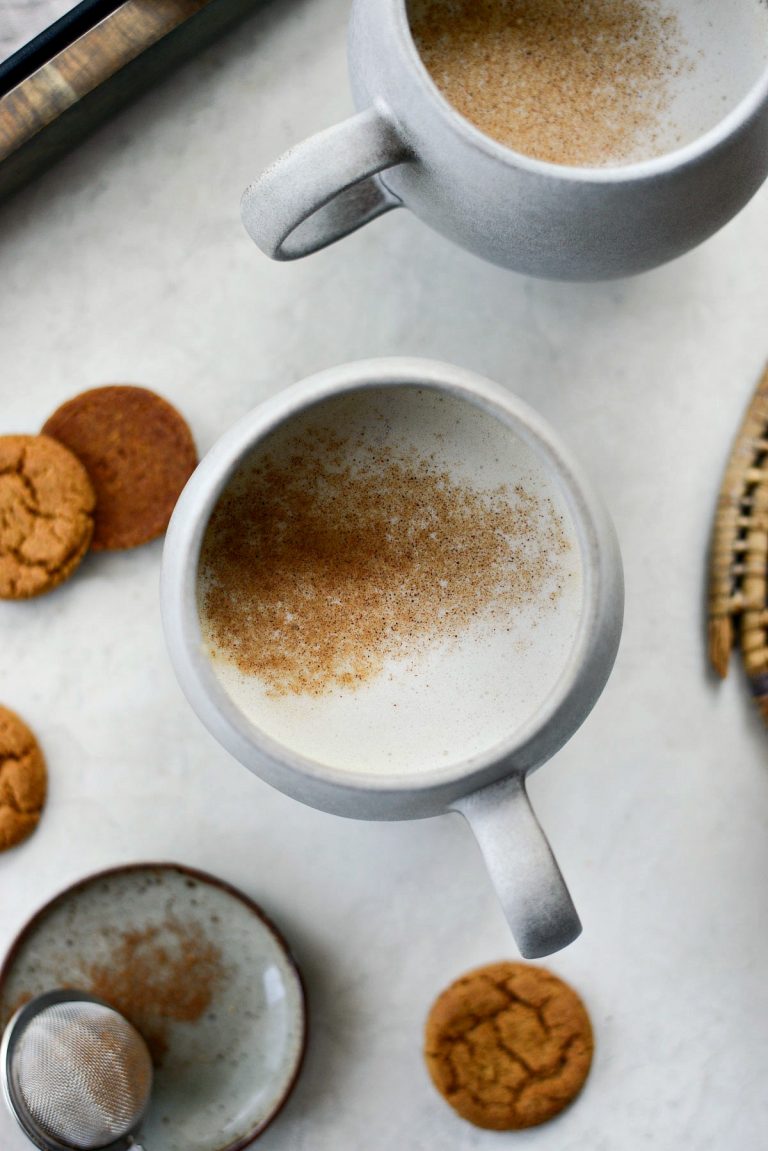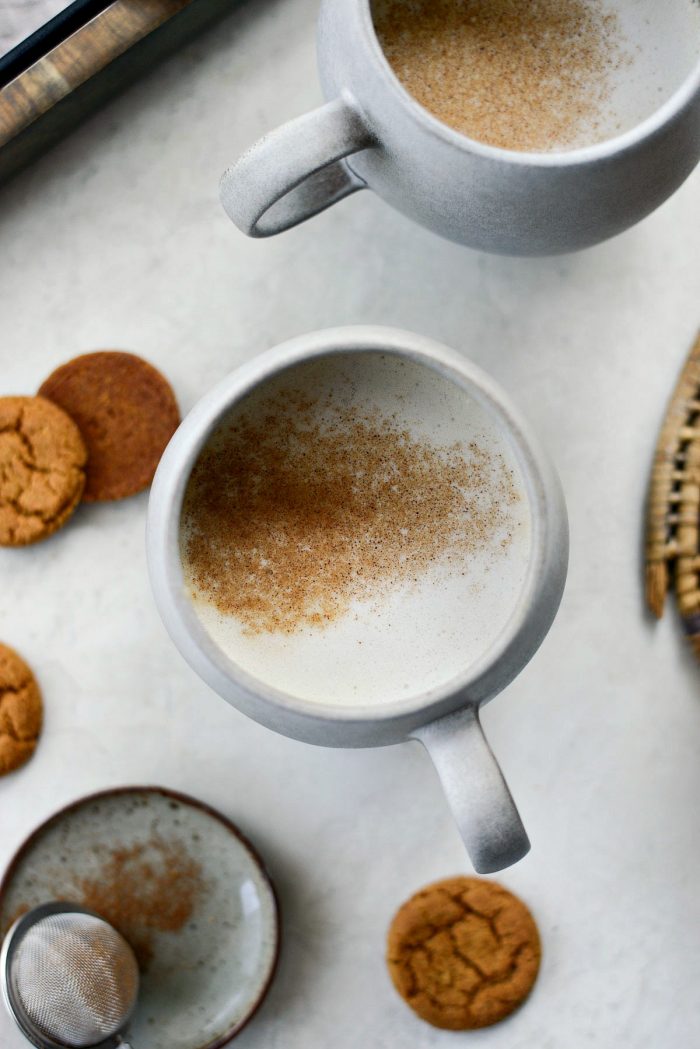 Something to keep in mind; if small pumpkin fibers and/or the collection of spice at the bottom of your mug weirds you out, you may want to pour it through a few layers of cheesecloth before pouring it into mugs and serving.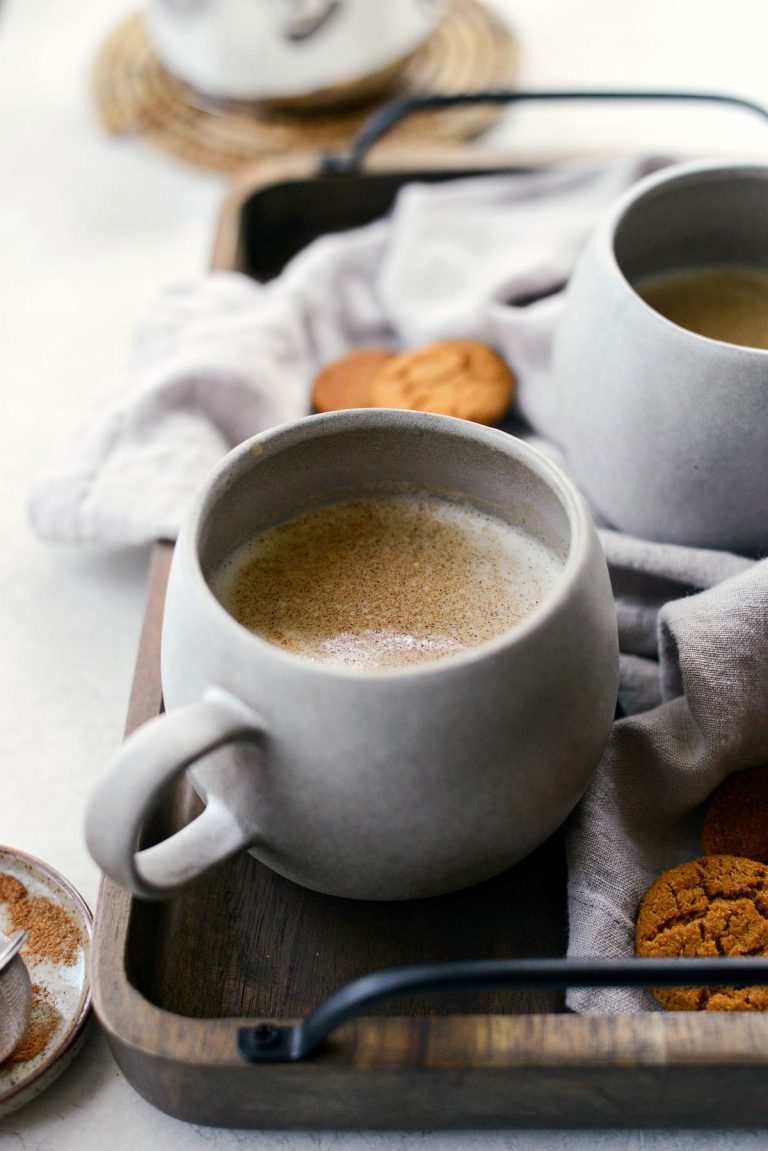 Dust with a little extra pumpkin pie spice and serve with snappy ginger cookies!
Enjoy! And if you give this Pumpkin Spice Chai Latte recipe a try, let me know! Snap a photo and tag me on twitter or instagram!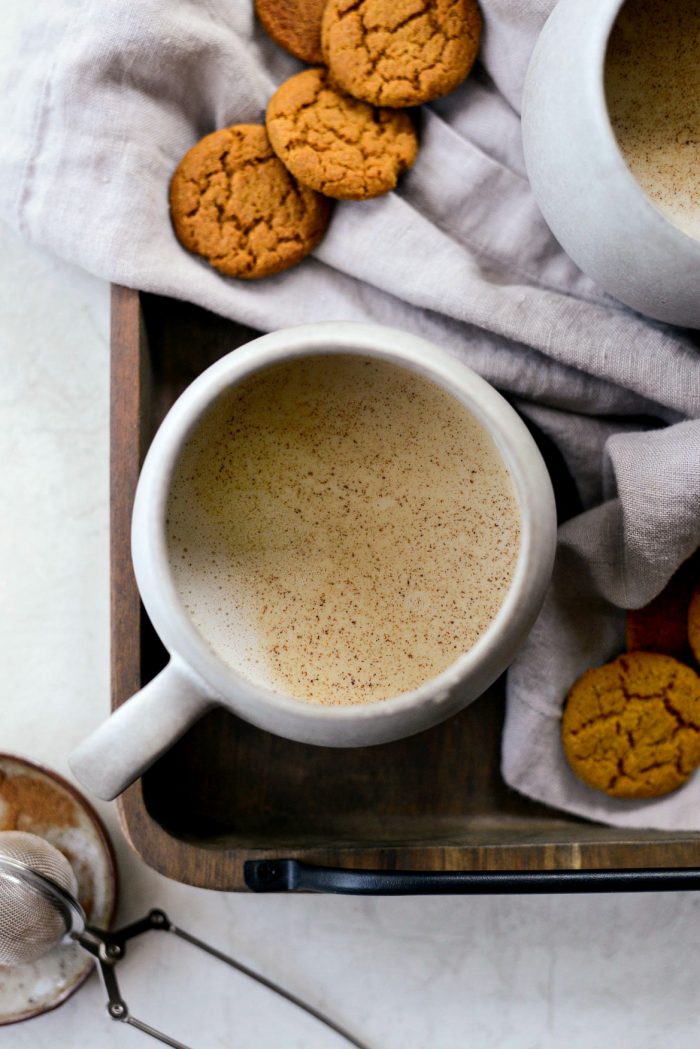 This post may contain affiliate links.
Buy the Cookbook: Simply Scratch : 120 Wholesome Homemade Recipes Made Easy Now available on Amazon »
THANK YOU in advance for your support!