This Pesto Chicken Ravioli Lasagna makes for a delicious, comforting dinner. Layers of pesto chicken, cheese filled raviolis and ricotta bake in a béchamel sauce. Easy and impressive. Serves 6 in about an hour.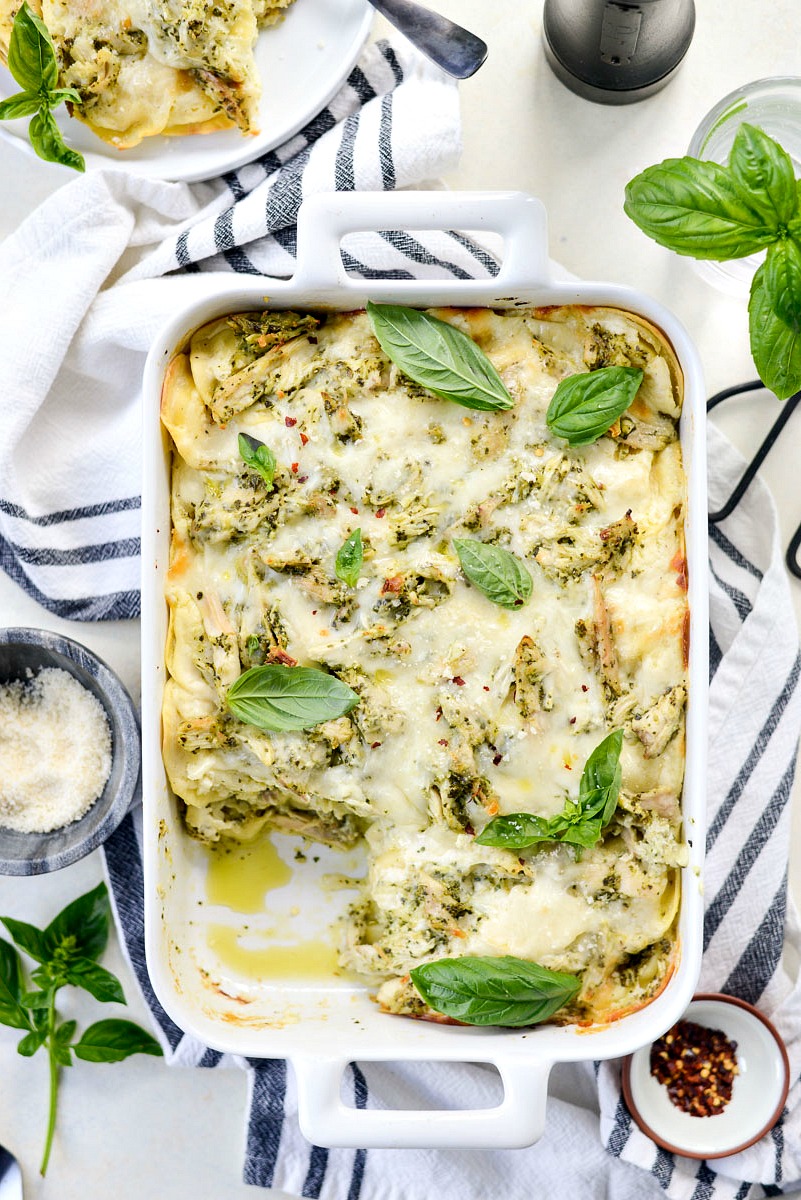 Last week I made a batch of homemade basil pesto in hopes to use as much of my basil plant before it's gone for the year. I froze most of it, but reserved some to make this pesto chicken ravioli lasagna.
Back in 2017, you may recall, I shared a recipe for easy ravioli lasagna. It was a hit and spurred me to create a "white" version using chicken instead of Italian sausage and basil pesto and béchamel (white sauce) instead of the traditional marinara. The results were delicious. Layers of béchamel, cheese filled raviolis, basil pesto chicken and ricotta.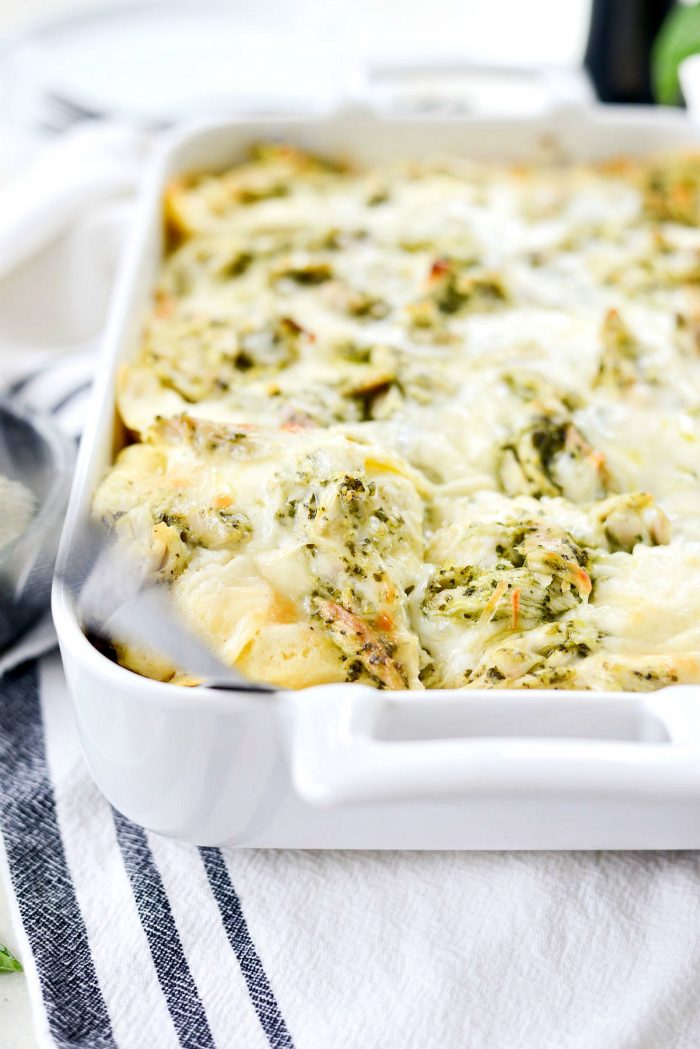 Translation: flavor layered with flavor topped with flavor.
To Make This Pesto Chicken Ravioli Lasagna You Will Need:
béchamel sauce (double recipe!!)
leftover shredded cooked chicken (home roasted or rotisserie)
ricotta cheese
parmesan cheese
egg
raviolis
mozzarella
fresh basil
First things first, make the béchamel sauce. You can get the recipe and see step-by-step instructions here. For this pesto chicken ravioli lasagna in particular, I double the recipe because the pasta will absorb majority of the sauce as it cooks.
What Is Béchamel Sauce?
A béchamel or "white sauce" is one of 5 classic "mother sauces". It consists of simple ingredients like; butter, flour, milk and a pinch of nutmeg.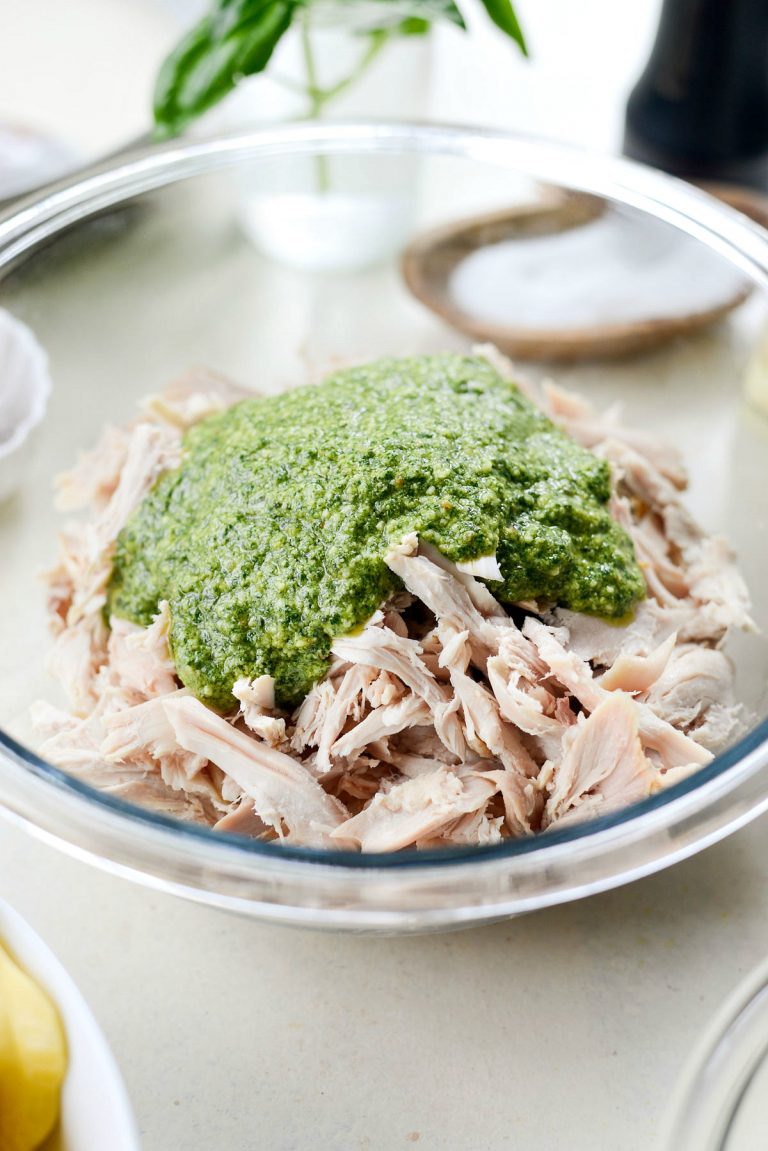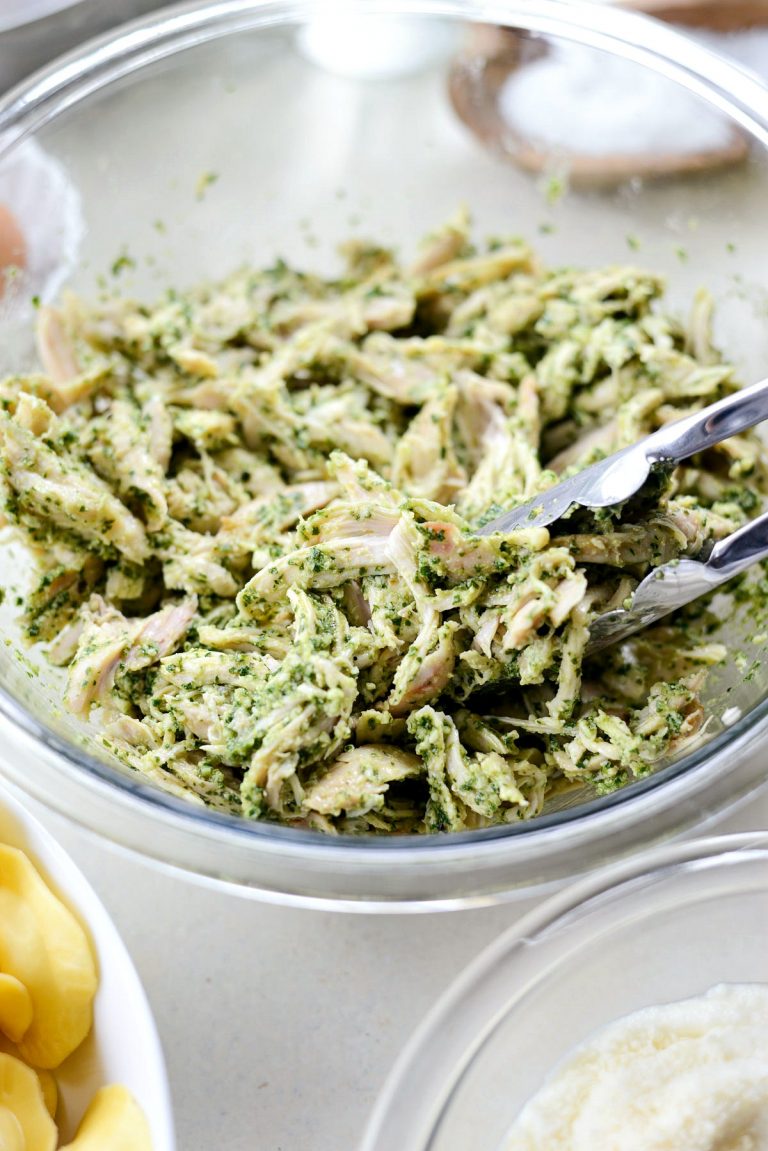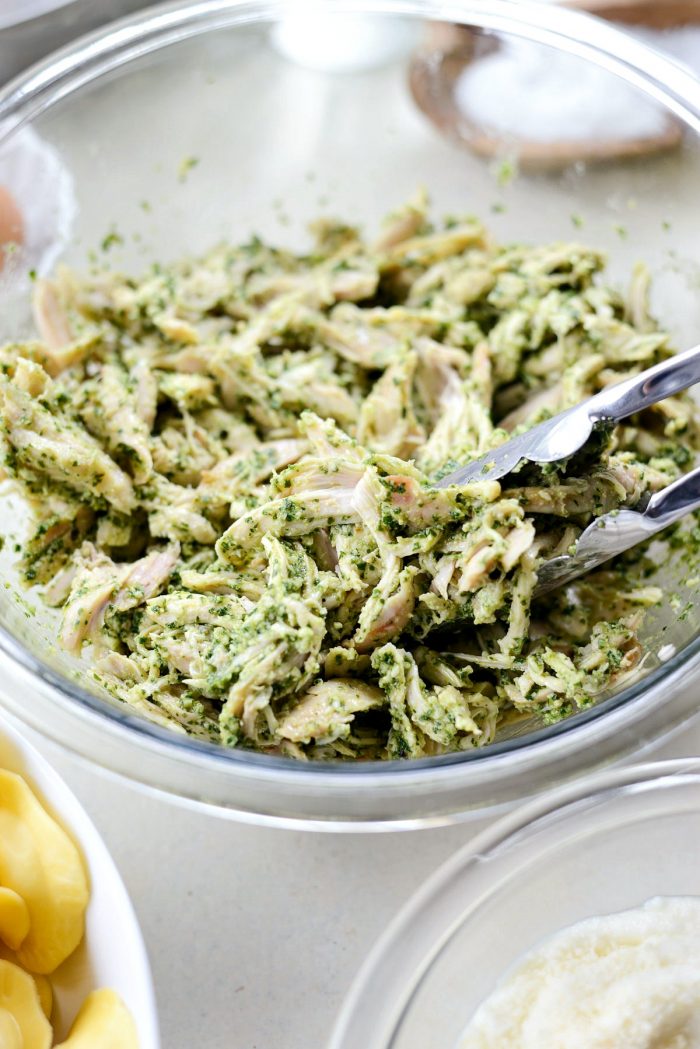 In a mixing bowl, combine 4 cups shredded cooked chicken with 3/4 cup basil pesto. Toss well to combine and set aside.
Next in a separate mixing bowl, combine 15 ounces ricotta with 1/3 cup parmesan cheese and an egg. Mixing well until combine.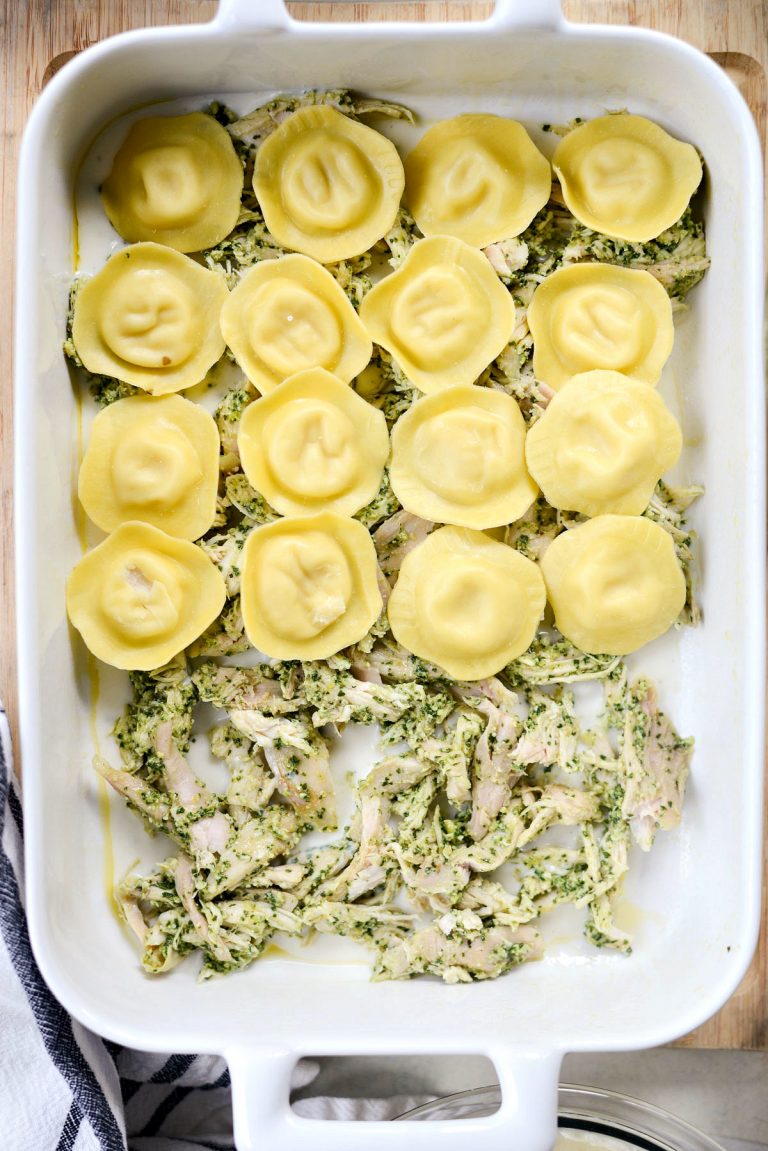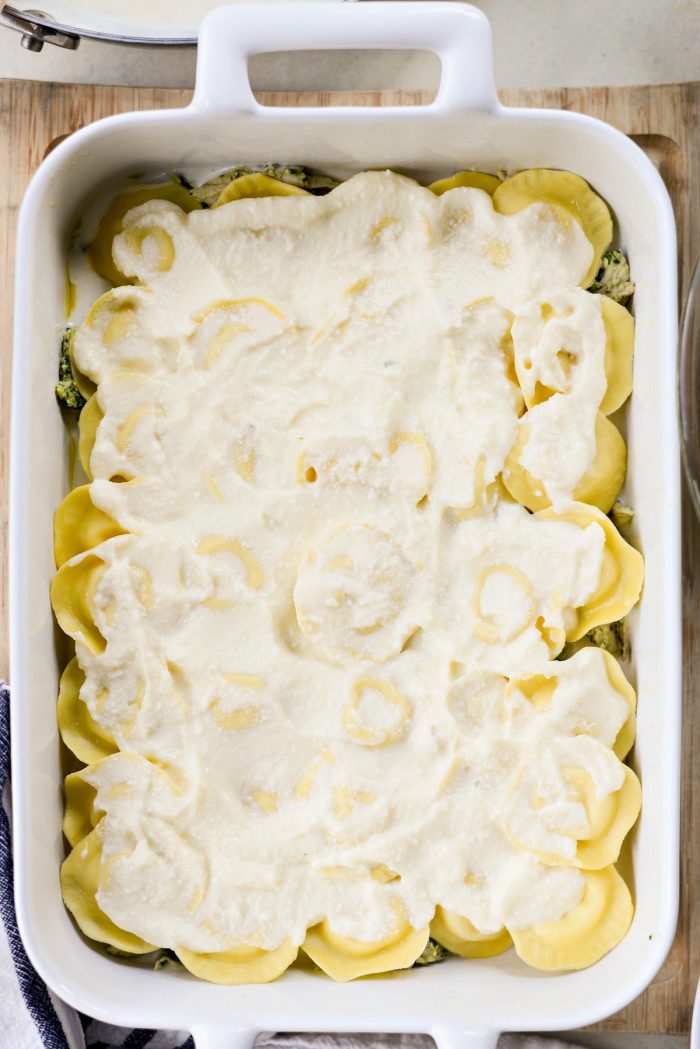 The First Layer:
1/3 of the béchamel sauce
1/3 of the pesto chicen
1/2 of the raviolis
1/2 of the ricotta mixture
Lightly spray a 8×10 or equivalent baking dish with olive oil. Spoon 1/3 of the béchamel sauce into the bottom of the prepared dish. Add 1/3 of the pesto chicken, place 1/2 of the raviolis in an even layer and spread 1/2 of the ricotta mixture over top.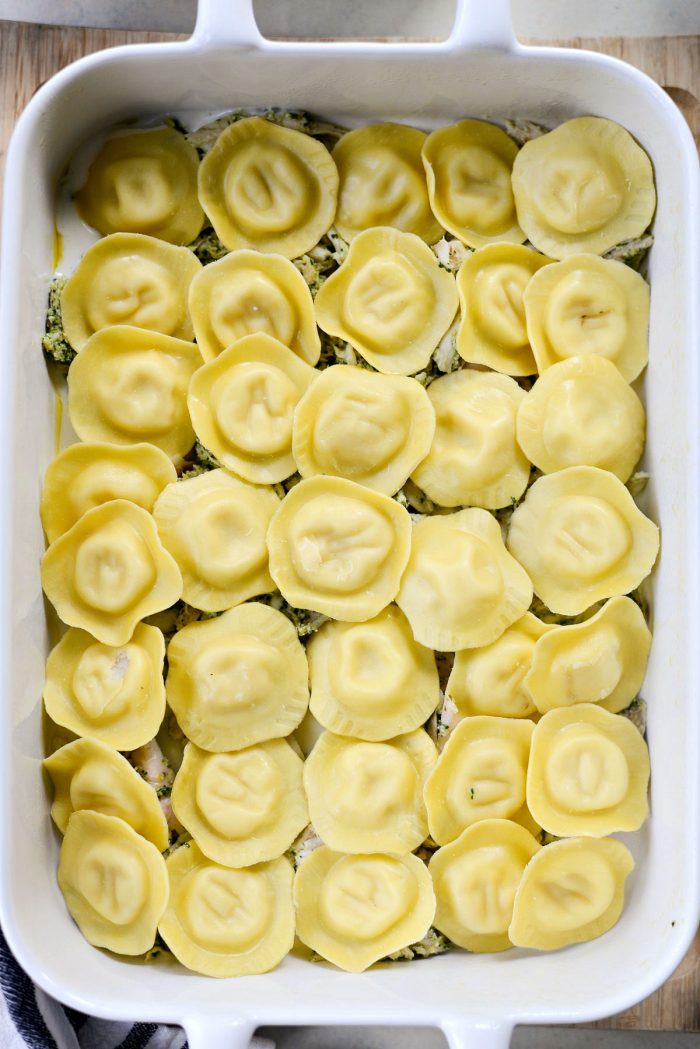 The Second Layer:
1/3 of the béchamel sauce
1/3 of the pesto chicken
remaining raviolis
remaining ricotta mixture
Spoon second 1/3 of the béchamel sauce over the ricotta mixture and top with the second 1/3 of the pesto chicken. Place the remaining raviolis in a single layer, top with the remaining ricotta and spread evenly.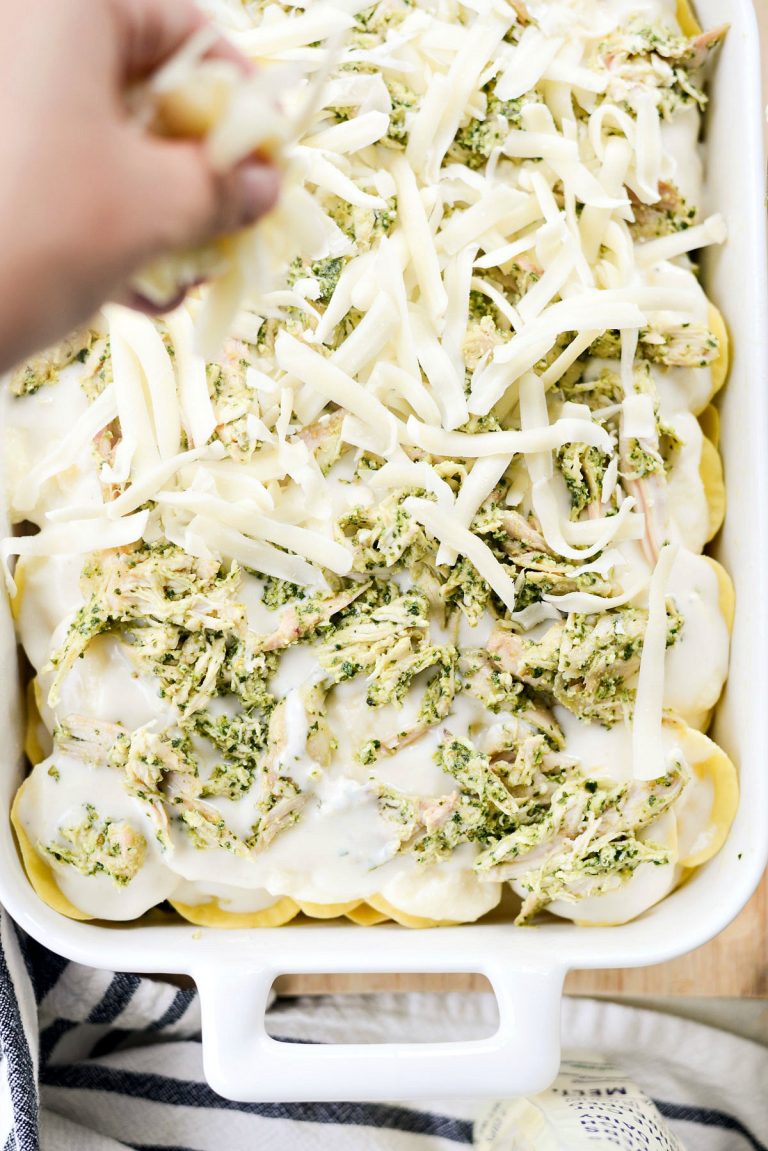 Third Layer:
remaining béchamel sauce
remaining pesto chicken
1 cup shredded mozzarella
Pour the remaining béchamel sauce over top, and top that with the remaining pesto chicken. Sprinkle the mozzarella cheese over top.
Cover tightly with aluminum foil and bake on the middle rack of your preheated 350° oven for 40 minutes. Uncover and continue to bake for 15 more minutes or until the top of the cheese is golden brown.
Pro Tip:
Lightly spray the underneath side of aluminum foil with olive oil before placing it over the lasagna. This will help keep the cheese from sticking to the foil. 😉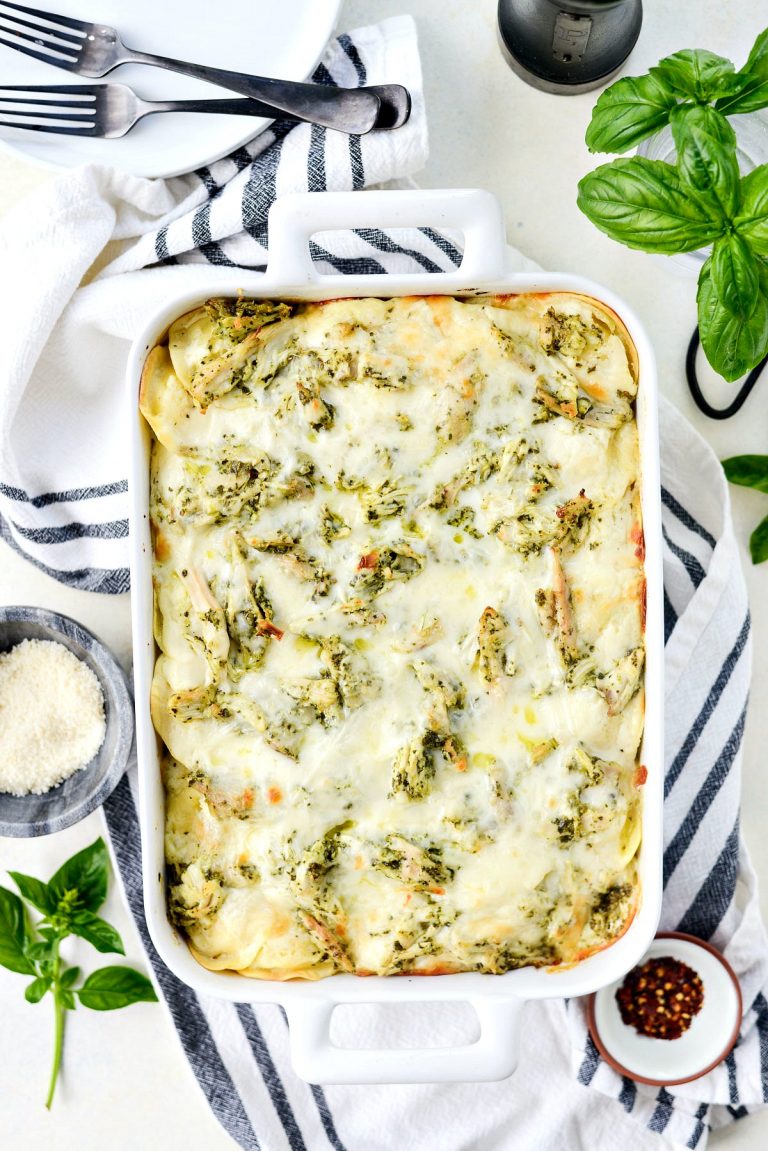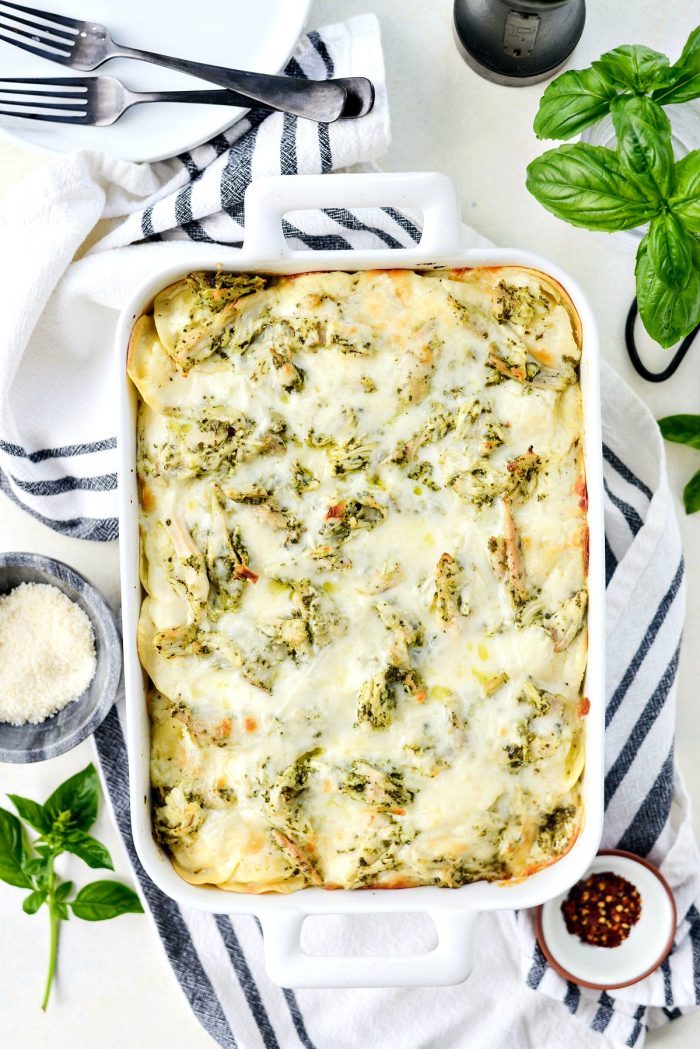 Gorgeous! And it smells heavenly.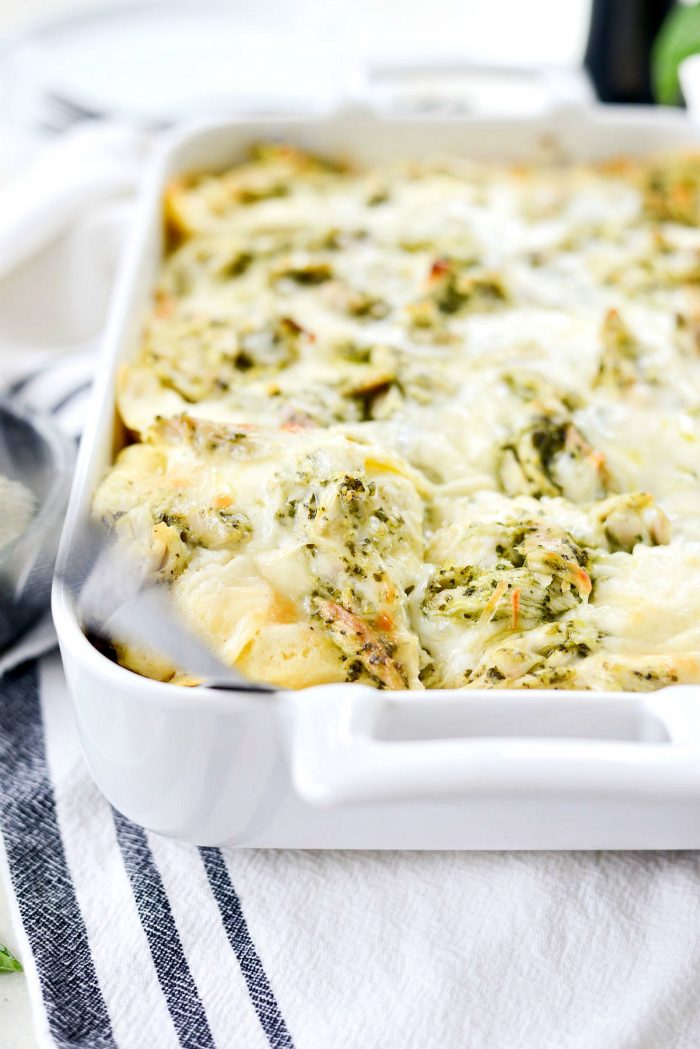 Slice and serve with a green salad and garlic bread! The creamy sauce, ricotta cheese and pesto is a match made it ravioli lasagna heaven.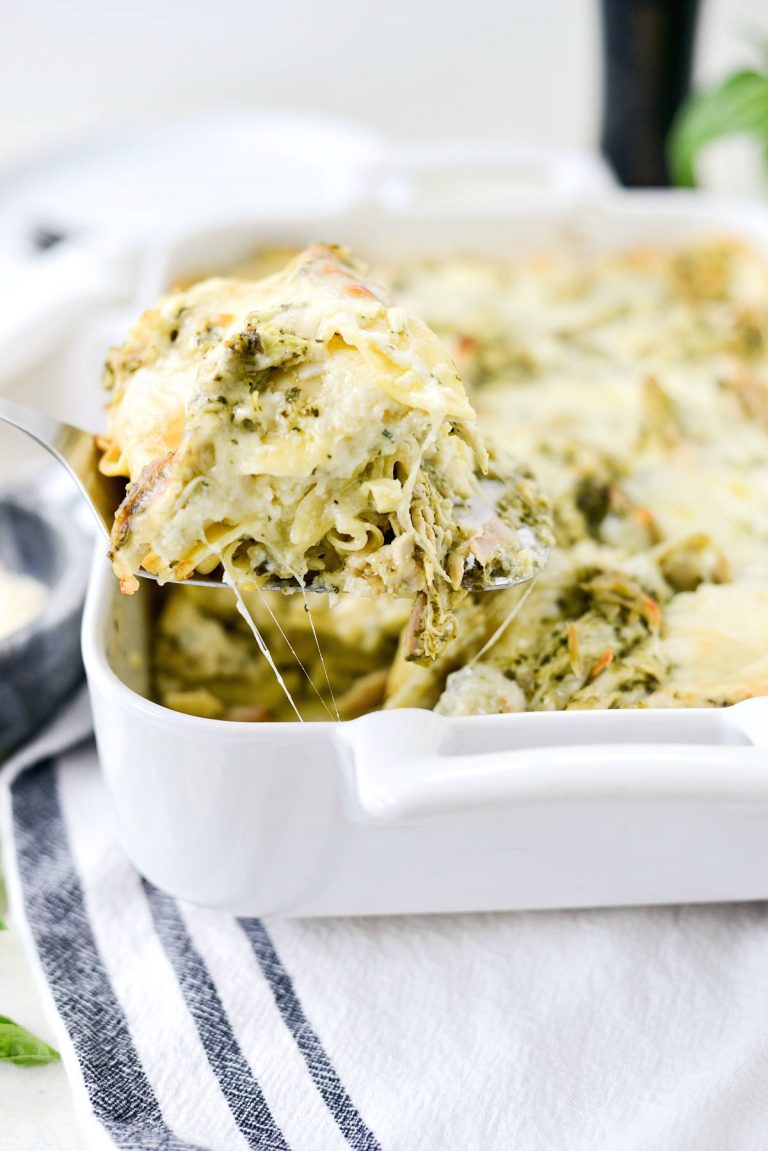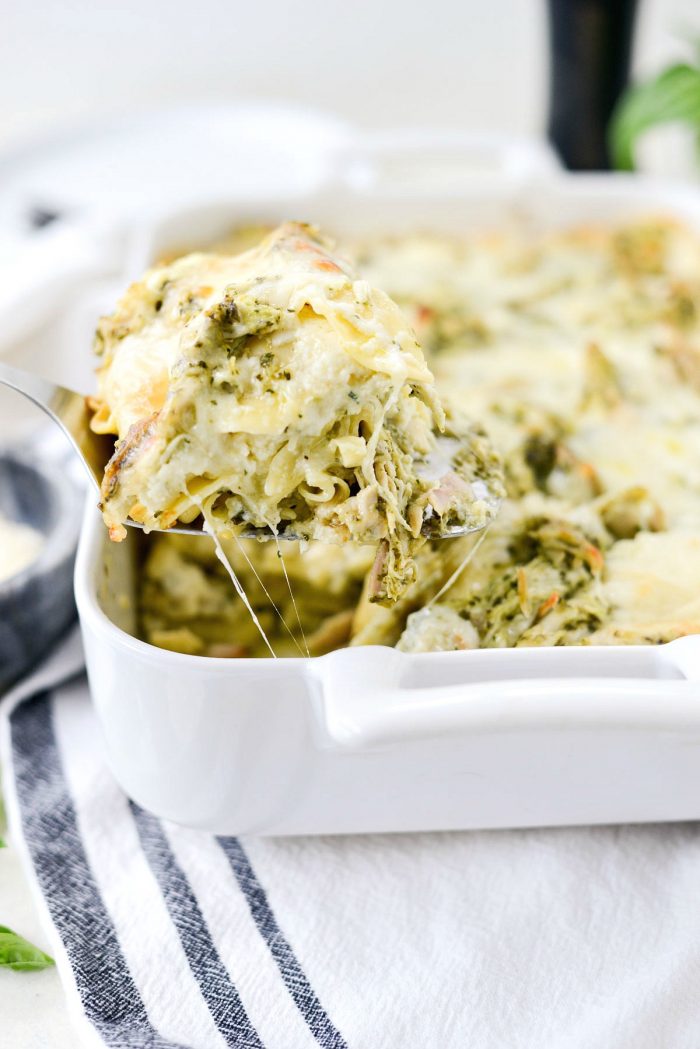 Please note, that the olive oil in the basil pesto will still be there once baked. If that bothers you, this might not be the recipe for you and that's okay!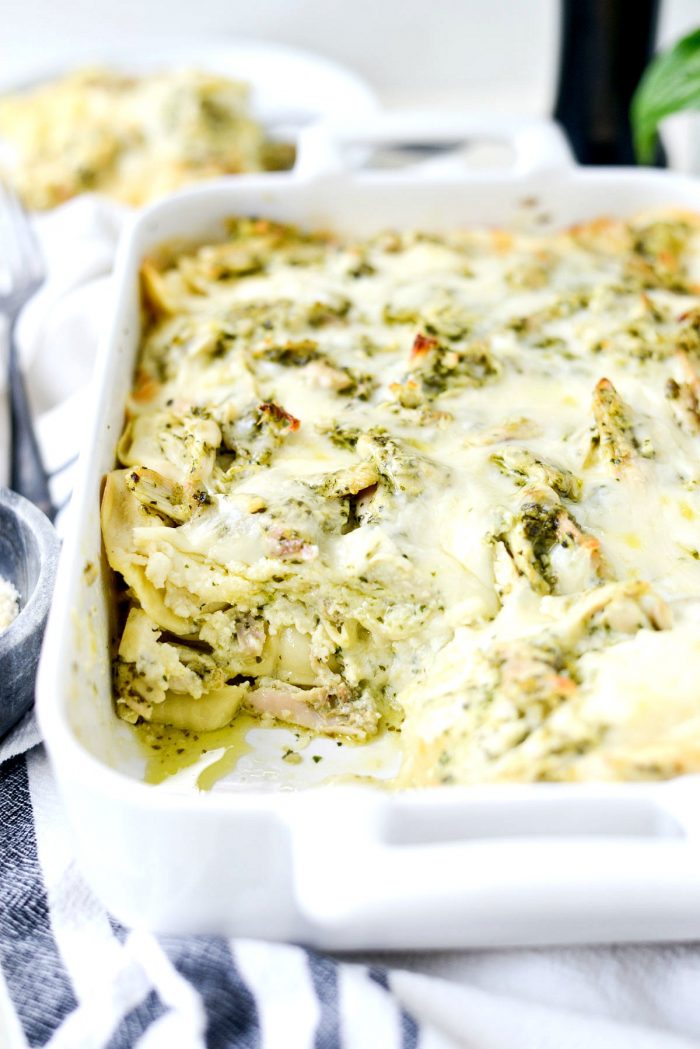 Enjoy! And if you give this Pesto Chicken Ravioli Lasagna recipe a try, let me know! Snap a photo and tag me on twitter or instagram!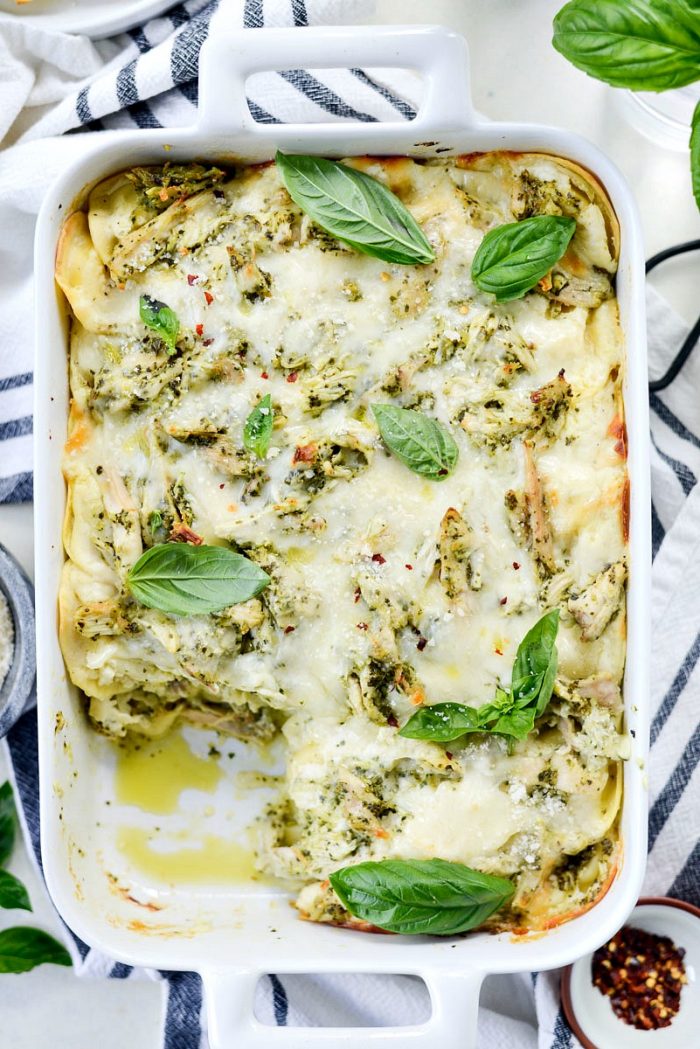 This post may contain affiliate links.
Buy the Cookbook: Simply Scratch : 120 Wholesome Homemade Recipes Made Easy Now available on Amazon »
THANK YOU in advance for your support!