This Ravioli Lasagna is both easy and delicious! Under the golden bubbly mozzarella is layers of Italian sausage and marinara, fresh raviolis and a basil ricotta. So much flavor and perfect for any night of the week!
How was your weekend?? Did you plant, relax and generally eat all the grilled food?? That's exactly how our weekend went as well! Friday Pat golfed while I laid in bed all day, the past week wiped me out. SO I did work from the comforts of my bedroom. Saturday we went to a friends, grilled and chatted and played a little PIG which I've concluded I've lost my basketball touch –not that I'm sure I had it to begin with.
Then on Sunday we went to Bordines and got our tomato and pepper plants, I picked up basil (purple and regular genovese) and a rosemary plant to complete my herb garden. We weeded, rototilled, planted and spent most of the day outside until a storm rolled in. Once it passed we grilled burgers and watched a movie.
On Memorial Day we spent the afternoon on the lake before heading in to grill steaks. Afterwards Pat and I went out on an evening boat ride to fish. I caught 3 to his 2 (in your face Pat!) and it was the perfect evening to conclude a even more perfect weekend.
Now it's Tuesday (which feels like Monday, big time) and I'm still riding the relaxing weekend high. Haileigh has her softball districts tonight so cooking dinner probably won't be happening. But if it was, I would happily pull together this easy ravioli lasagna. These last few months I've really had to get creative in the dinner department. Meals that I could make a head or at least prep ahead of time were my BFF to avoid picking up a pizza or worse. I still have a few recipes yet to share, but first up is this cheesy beautiful meal.
It's not really hot yet in Michigan, so turning on the oven isn't a sweaty job– yet. So a meal like this, with a Caesar salad is still occurring and happily so.

As I've mentioned, we've been busy. I'm either in the kitchen cooking or washing dishes or at a softball field watching Haileigh or Malloree for about 4 to 5 hours an evening. SO easy is using store-bought (fresh) raviolis. One day I'll make my own. I've been saying that since my girls were 9 and 6 but it's still on my to-do list.
Other ingredients include, 2 cups homemade marinara (or your favorite store-bought, is fine too) I'm using the recipe from my cookbook (affiliate). You'll also need; 1 pound hot or mild pork sausage, 1 cup diced yellow onion, fresh garlic, 1 cup low-sodium chicken broth, 2 cups ricotta cheese, an egg, parmesan and Mozzarella cheese, fresh basil, parsley, salt and pepper.

I first cooked the Italian sausage with the onions in a 10-inch skillet until the pork was no longer pink and the onions translucent. Then added in the fresh garlic and cook for 1 to 2 minutes.

Then pour in the homemade marinara and chicken broth. Simmer for 10 minutes and then remove off of the heat and set off tot he side.

Then in a medium bowl combine 2 cups whole milk ricotta cheese, a whole egg, 1/3 cup freshly grated Parmesan cheese, 2 tablespoons finely chopped parsley and 1 tablespoon sliced fresh basil with a few pinches kosher salt and freshly ground black pepper. Stir to combine

Lightly spray a casserole dish with olive oil and gather the ricotta mixture, marinara meat mixture, 2 cups freshly grated mozzarella and the raviolis. I'm using 20 ounces, one package or cheese filled and the other is spinach and cheese filled. Use whichever filling you prefer!

Spread 1/3 of the sauce in the bottom of your baking dish and add 1 layer of raviolis.

Then top with half of the ricotta mixture and spread it evenly over the raviolis. The ricotta mixture is easier to spread if not super cold.

Then add another third of the sauce and spread it over top. Top with remaining raviolis, ricotta mixture and the remaining sauce. Sprinkle the mozzarella over the top, cover with foil and bake in your preheated 350° oven for 40 minutes. Carefully uncover and continue to bake for 10 to 15 minutes or until the sauce is bubbling and the cheese is golden brown in spots.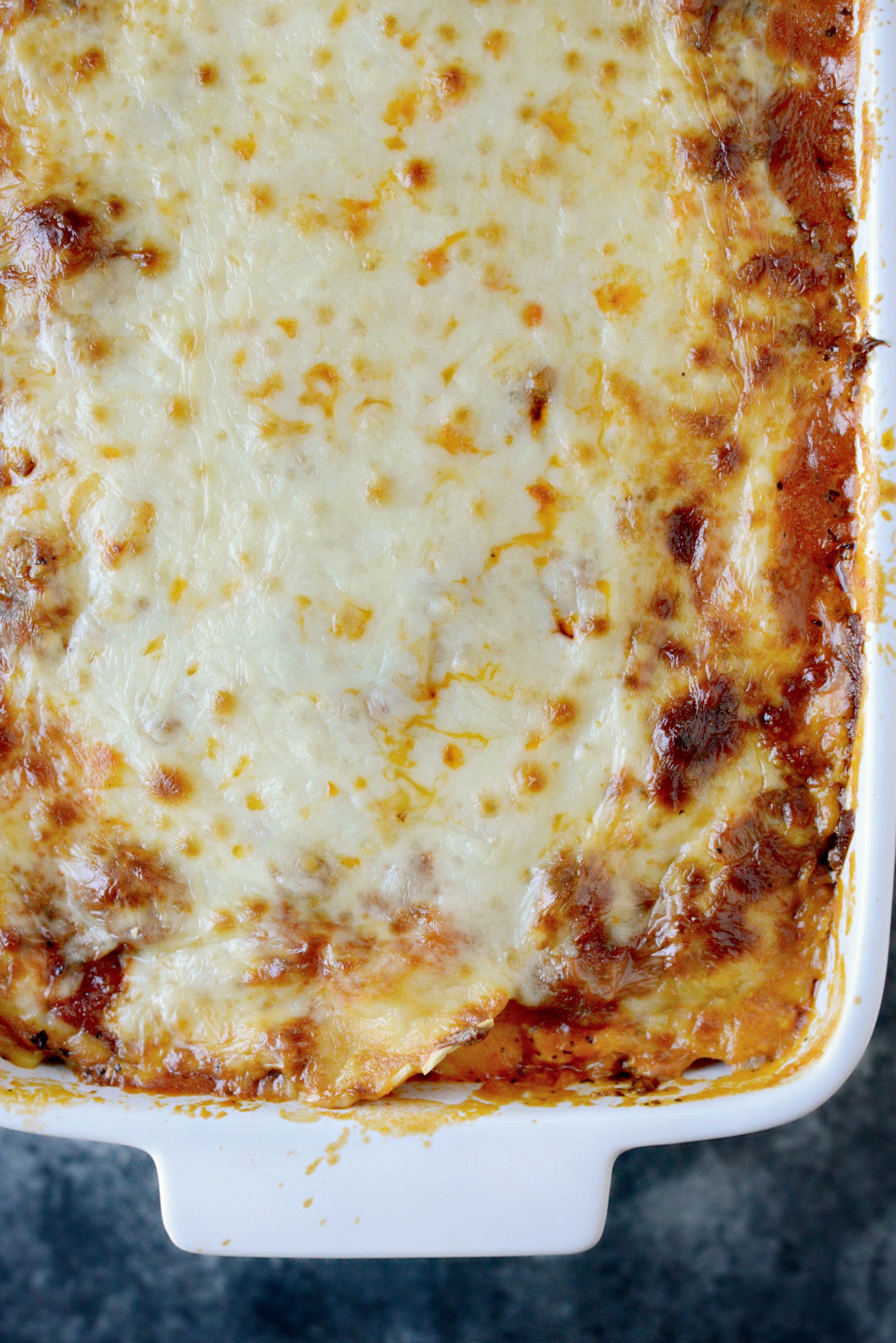 Allow the ravioli lasagna to cool for 10 minutes before serving.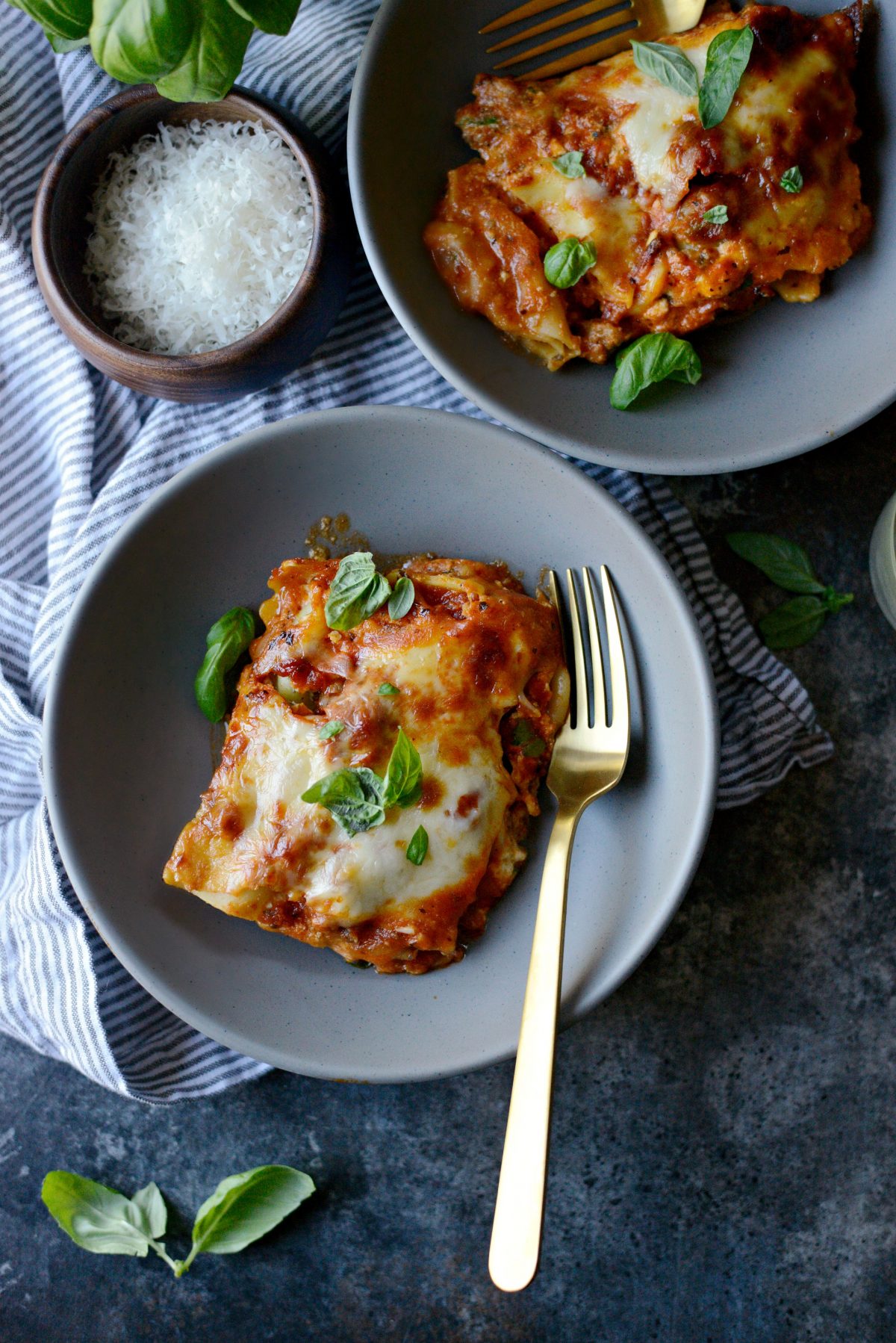 Serve with a few basil leaves and extra grated Parmesan cheese.
This easy ravioli lasagna is a family favorite and perfect for any night of the week. There's no fighting with lasagna noodles, just a quick throw together meal that is cheesy and delicious. If you're not in the mood to cook but want a comforting meal, this is your jam.
Enjoy! And if you give this recipe a try, let me know by snapping a photo and tagging me on twitter or instagram!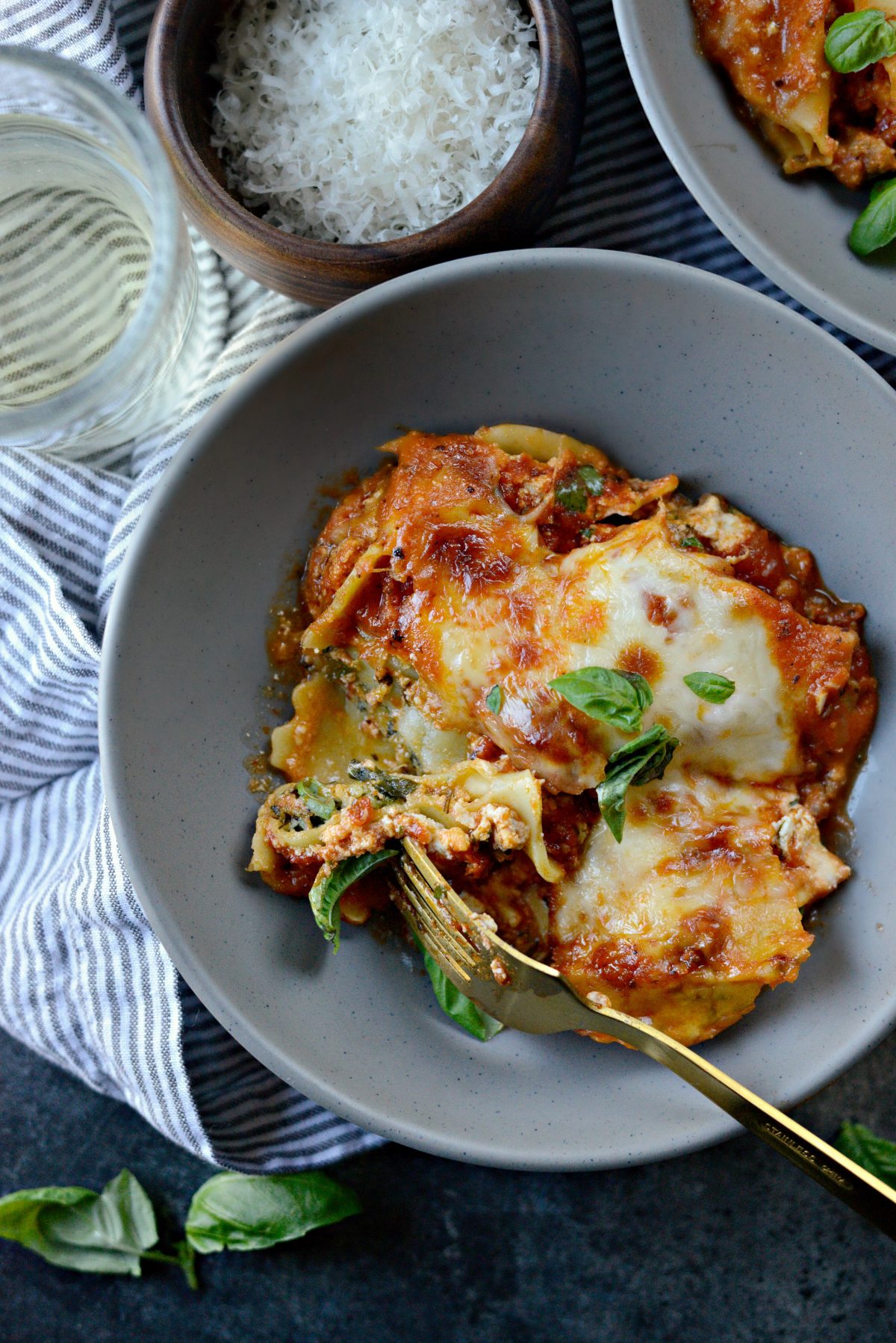 My cookbook Simply Scratch : 120 Wholesome Homemade Recipes Made Easy is now available! CLICK HERE for details and THANK YOU in advance!
[this post contains affiliate links.]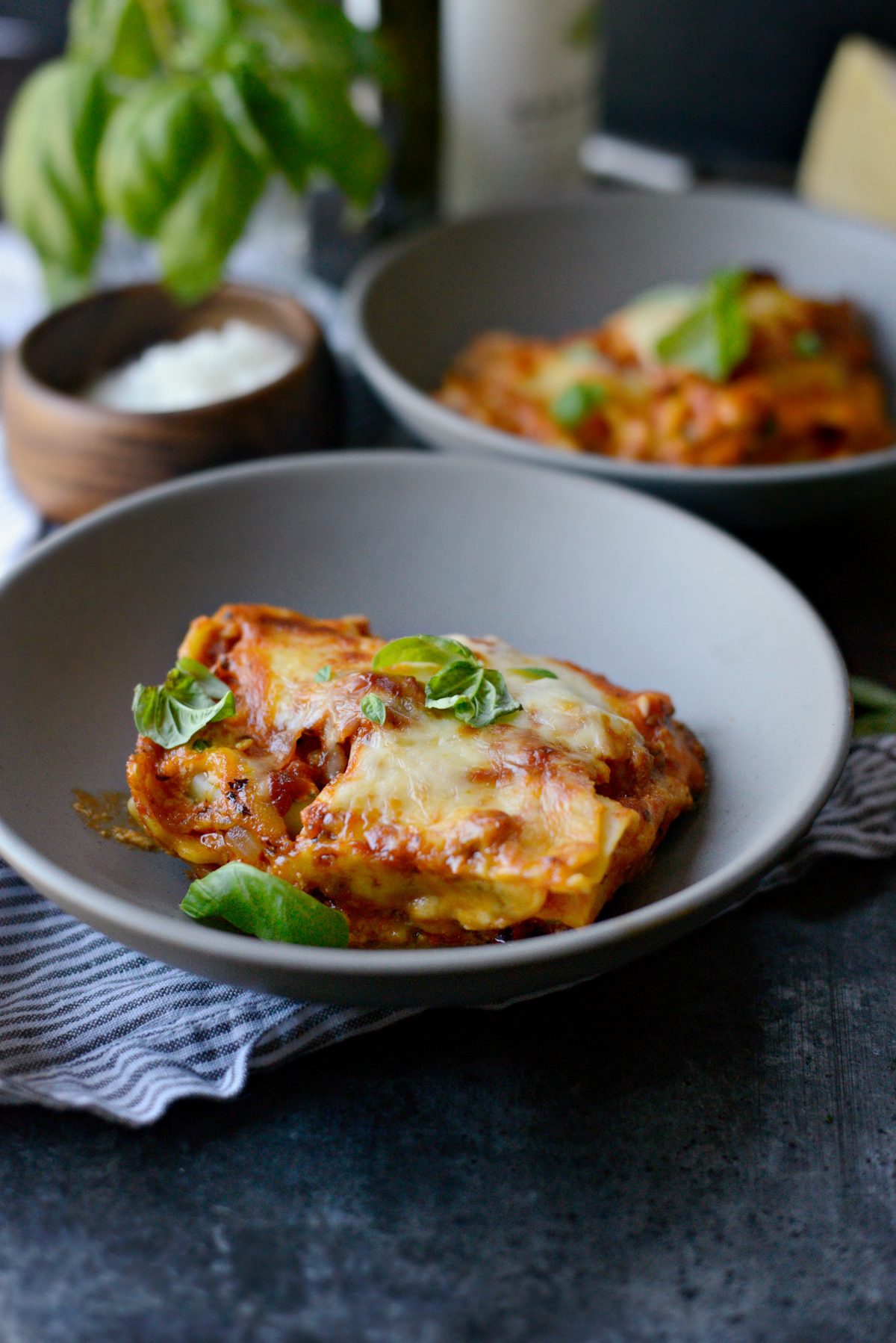 This post may contain affiliate links.
Buy the Cookbook: Simply Scratch : 120 Wholesome Homemade Recipes Made Easy Now available on Amazon »
THANK YOU in advance for your support!