This Strawberry Shortcake Cake is a two-layer dessert consisting of layers of homemade pound cake, whipped cream and macerated lavender strawberries. A gorgeous, show-stopping dessert for any occasion!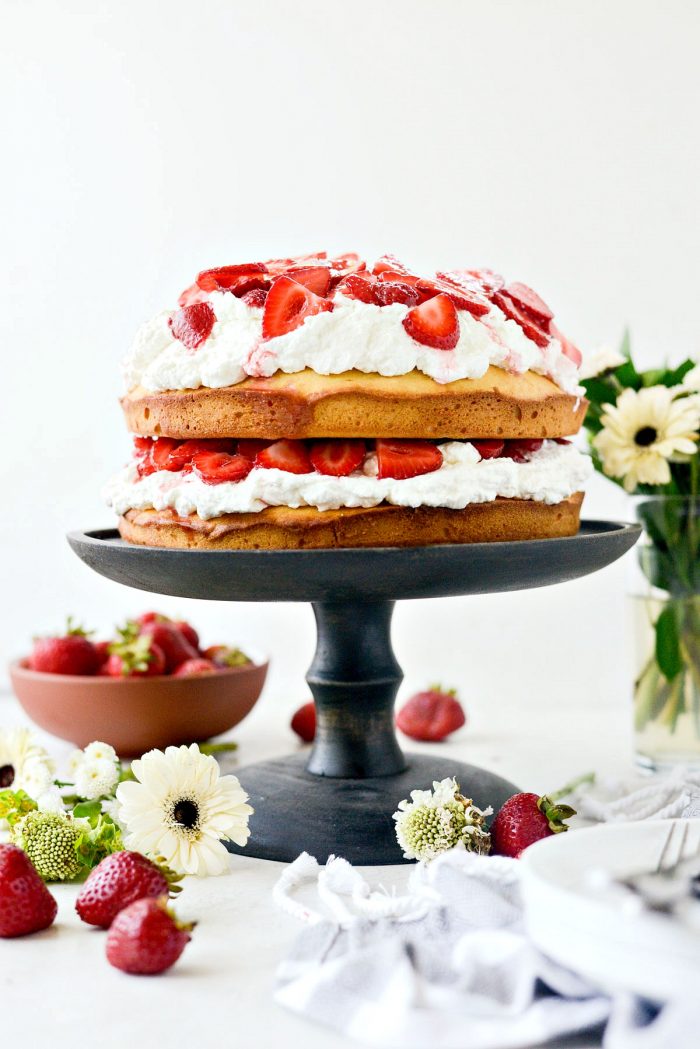 After working tirelessly all summer to get our house and yard ready for not one but TWO parties, I feel like I can finally breathe. Although SO much fun, two parties in two weeks is ridiculous and I don't recommend it. Last weekend was the first weekend we literally had nothing to do. No weeding, staining, remodeling, shopping, party planing… not. a. thing. So we did just that. Nothing.
Now I celebrate here with all of you by way of cake. A strawberry shortcake cake.
I absolutely love strawberry shortcake. The dessert and the character – if I'm being honest. And in our house "shortcake" can be biscuit-y (which isn't my first choice) or it can be angel food or pound cake. I'm sure all the shortcake purists are shaking their heads at me right now, however to each their own amiright?
For this recipe, I made a buttermilk pound cake and baked it in 9-inch cake pans. Then topped it with lavender macerated strawberries and layered those with homemade whipped cream. Sounds heavenly, doesn't it? It was.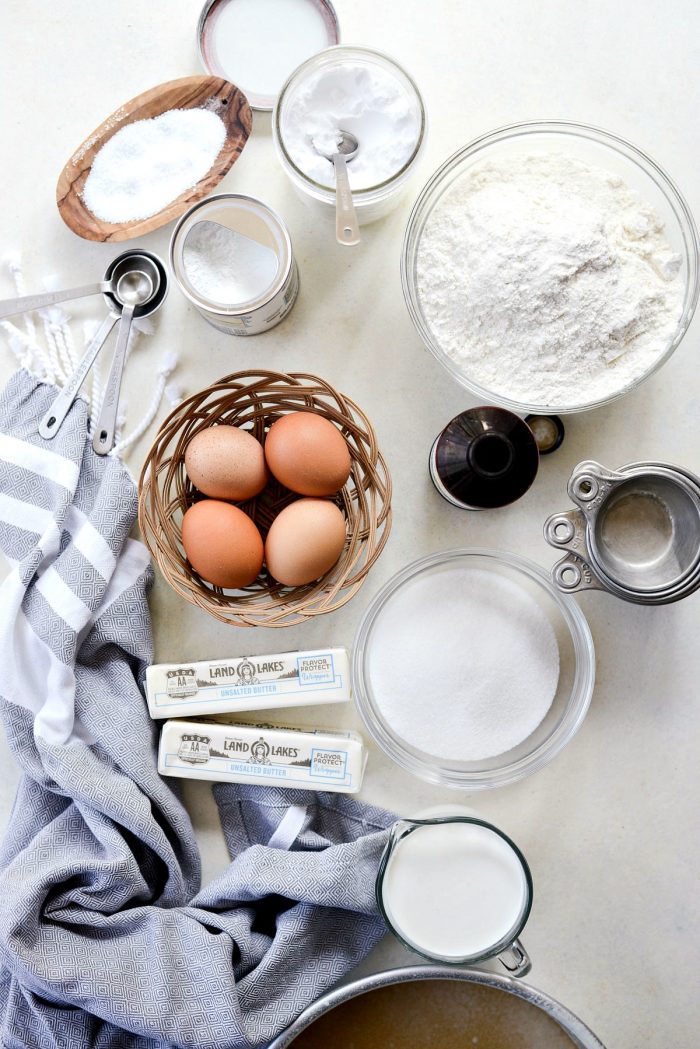 To Make The Buttermilk Pound Cake You Will Need:
buttermilk
vanilla
flour
baking powder
baking soda
salt
softened unsalted butter
sugar
eggs
Start by preheat your oven to 350° and line and grease two 9-inch cake pans.
First whisk together 3 cups unbleached all-purpose flour with 1/2 teaspoon baking powder, baking soda and then 1 teaspoon kosher salt and set off to the side.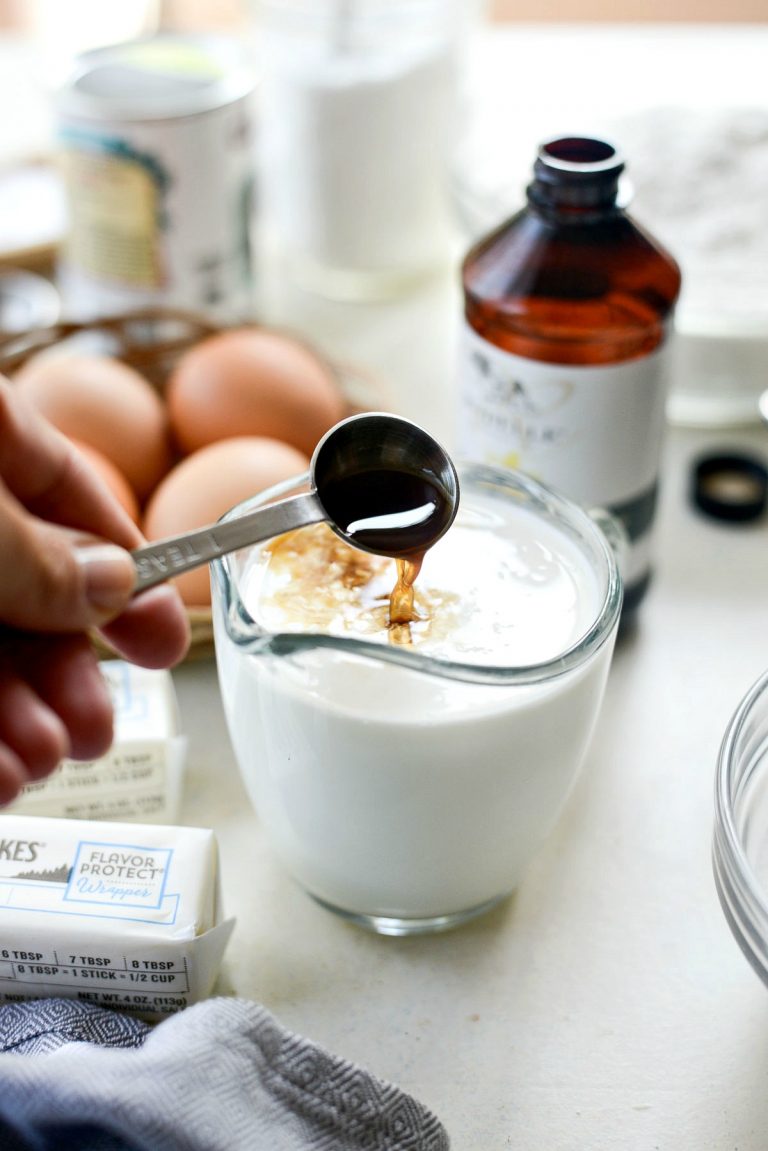 Then add 1-1/2 teaspoons vanilla extract to 1 cup buttermilk. If you can't find buttermilk, you can stir in 1 tablespoon white vinegar or lemon juice into 1 cup whole milk or half & half.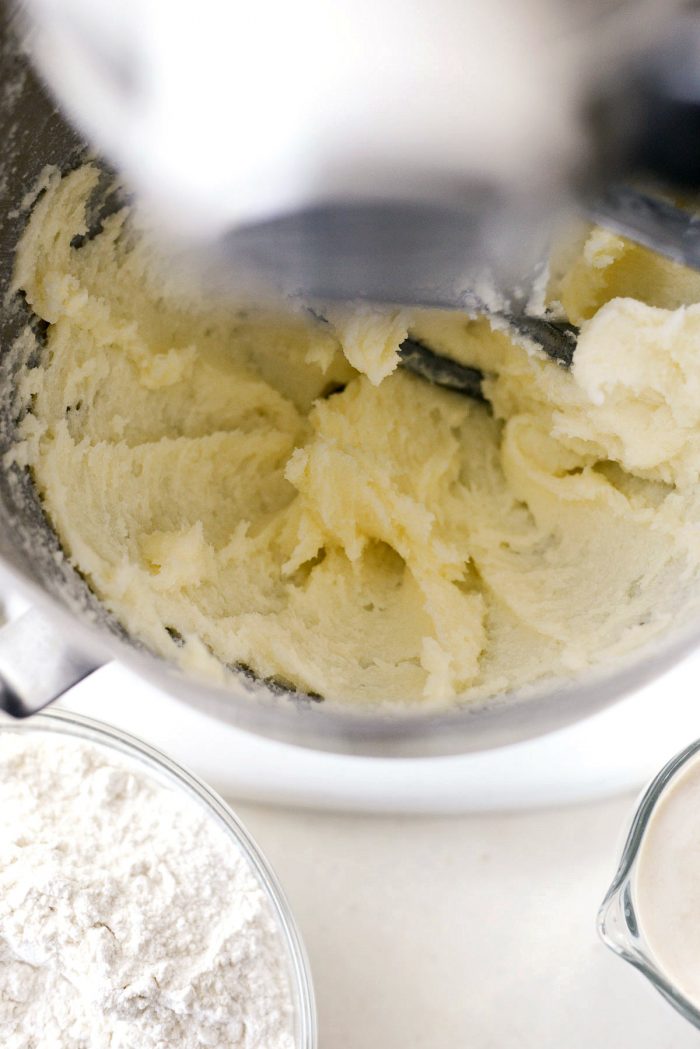 In the bowl of you stand mixer, fitted with the paddle attachment, cream the softened 2 sticks (1 cup) unsalted butter with 1-3/4 cup granulated sugar. Do this on medium to medium-low speed for 5 minutes until the mixture is creamy and light in color.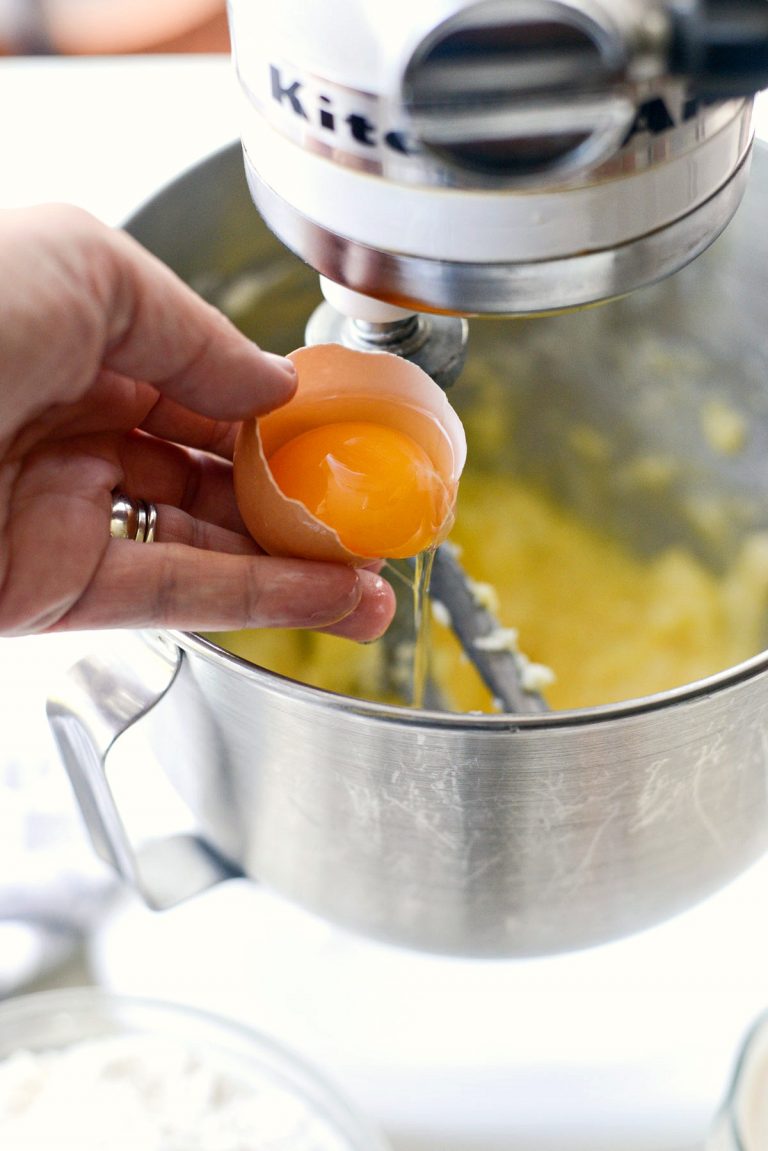 Next add 1 egg at a time, mixing well after each additional egg.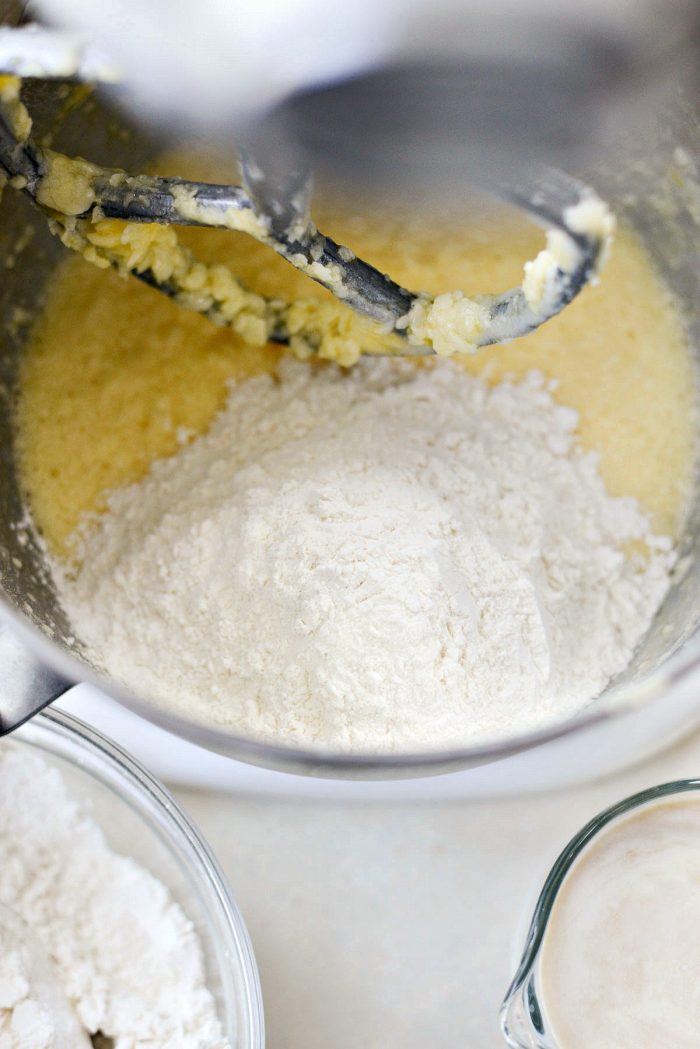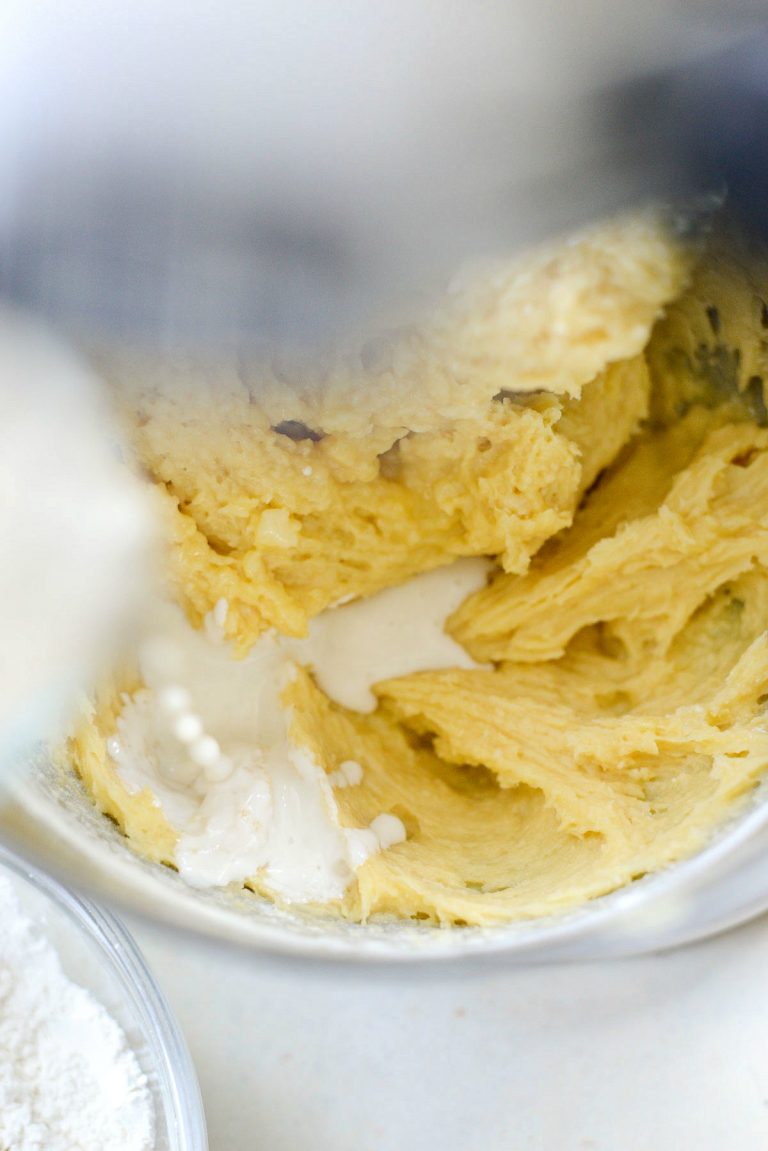 Alternate adding 1/3 of the flour mixture and 1/2 of the buttermilk mixing until just incorporated after each addition and repeat. Starting with the flour and ending with the flour.
Be careful not to over mix.
Divide the cake batter among the two prepare pans. It's a little over 2 cups of batter per pan. Using an offset spatula to carefully spread the batter, then tap each pan a few times firmly on the counter to rid the batter of any large air bubbles. Finally slip the pan onto the middle rack of your preheated oven and bake for 25 to 28 minutes or until a tester comes out clean with only a few crumbs attached.
Allow the cakes to cool for 10 to 20 minutes or until cool enough to handle and remove them from the pan and transfer to a wire rack to cool completely.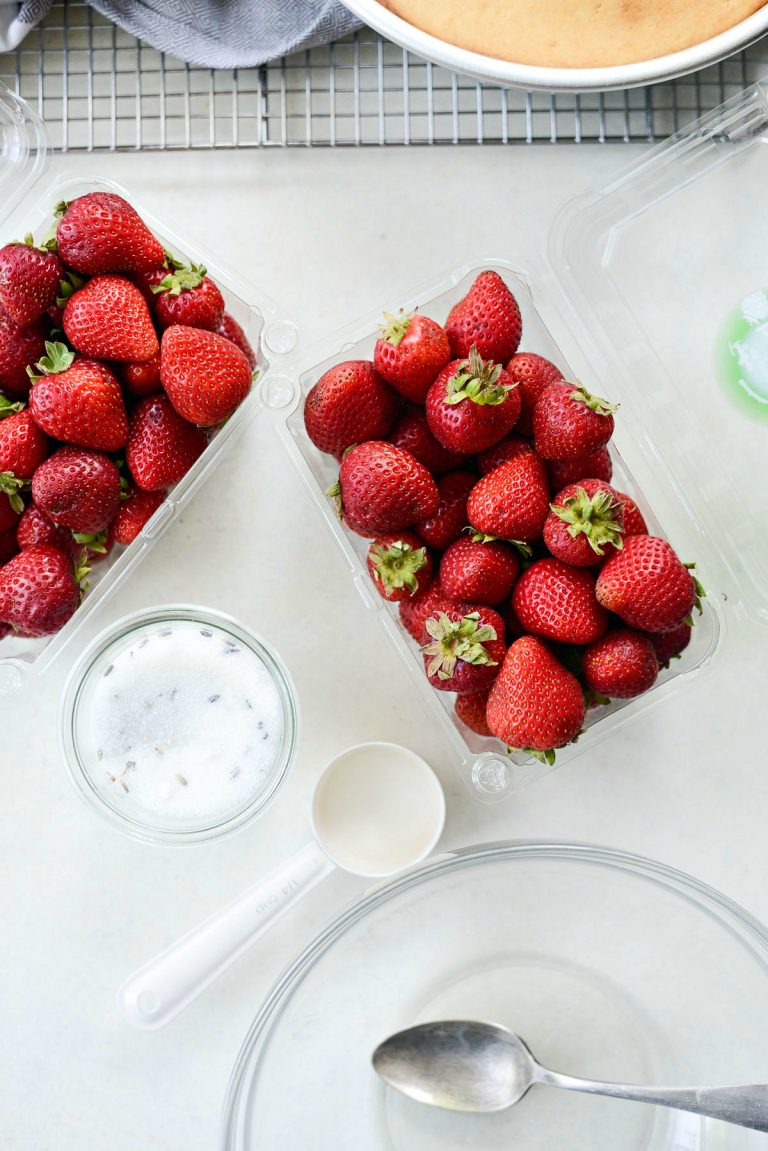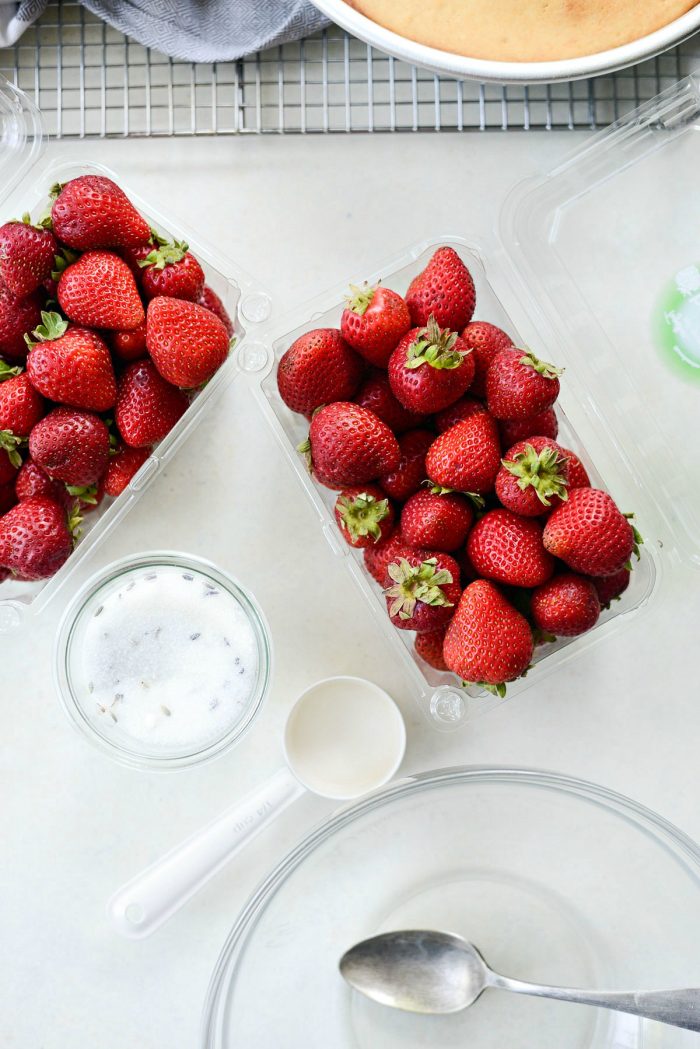 To Make The Macerated Lavender Strawberries You Will Need:
I'm all about that lavender sugar, however I've macerated strawberries with granulated sugar and even light brown sugar. Any of these will work just fine.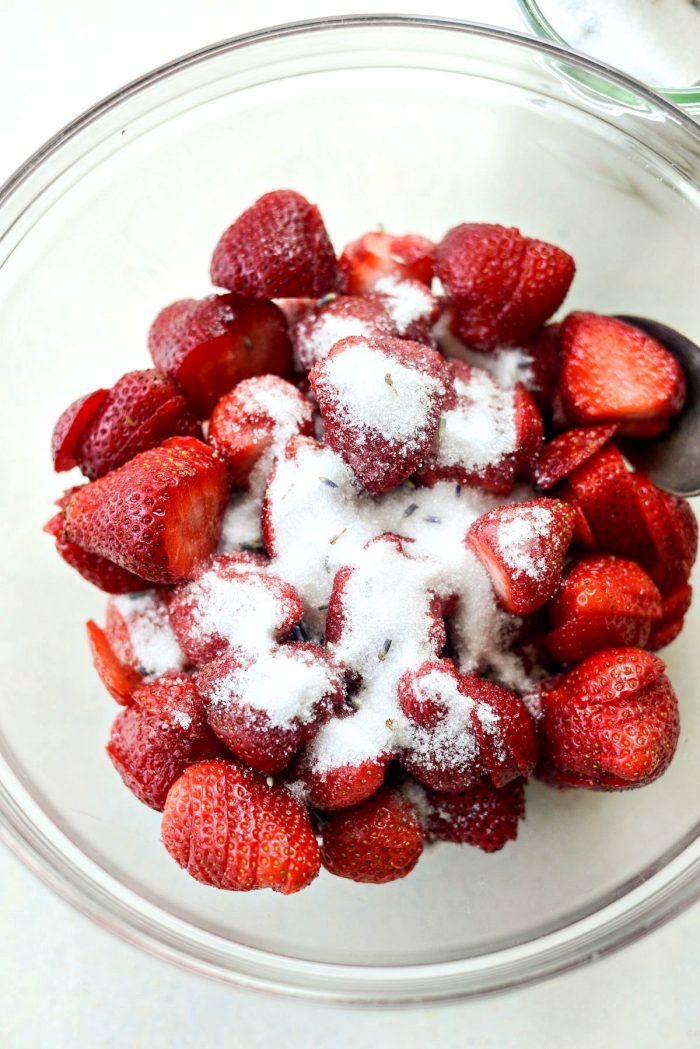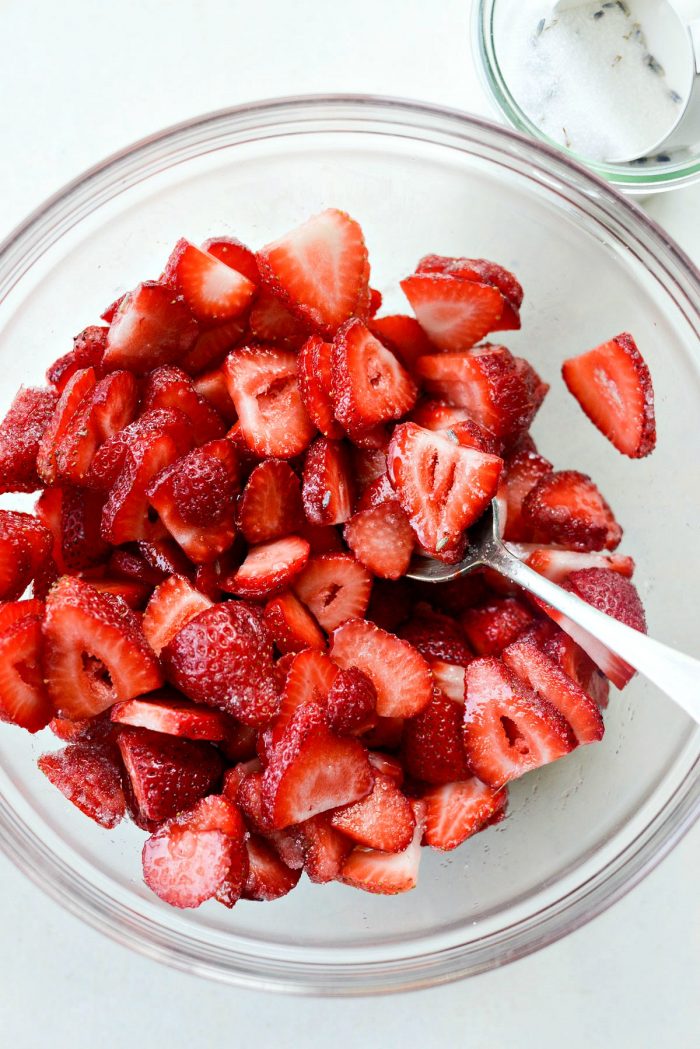 Place 1-1/2 pounds of sliced strawberries into a large mixing bowl. Add 1/4 cup of sugar and toss to combine. Let this sit for 30 minute to overnight (depending on timing and preference) stirring every so often.
What Is Macerating?
In food preparation, it's the softening of something by using a liquid. In reference to strawberries, tossing them with sugar draws out their natural juices in which they will soak and become soft. And delicious. 😋
To Build The Strawberry Shortcake Cake You Will Need:
two 9-inch pound cakes
macerated sliced strawberries
Once the cake has cooled, use a chopstick or wooden skewer to poke holes in the top of both layers of pound cake. Use a spoon to scoop up the strawberry liquids and carefully drizzle over the cake.
Top the first layer with half of the whipped cream. Spread it out to the edge of the pound cake.
Then carefully top the whipped cream with half of the strawberries.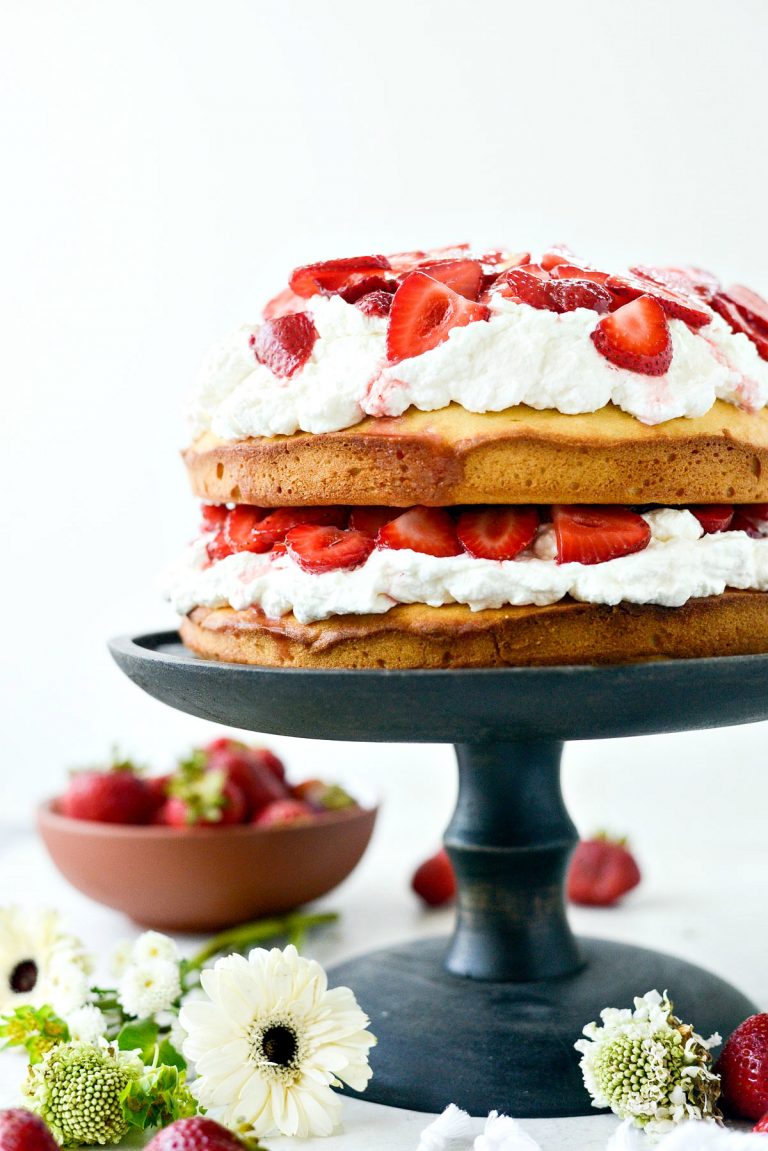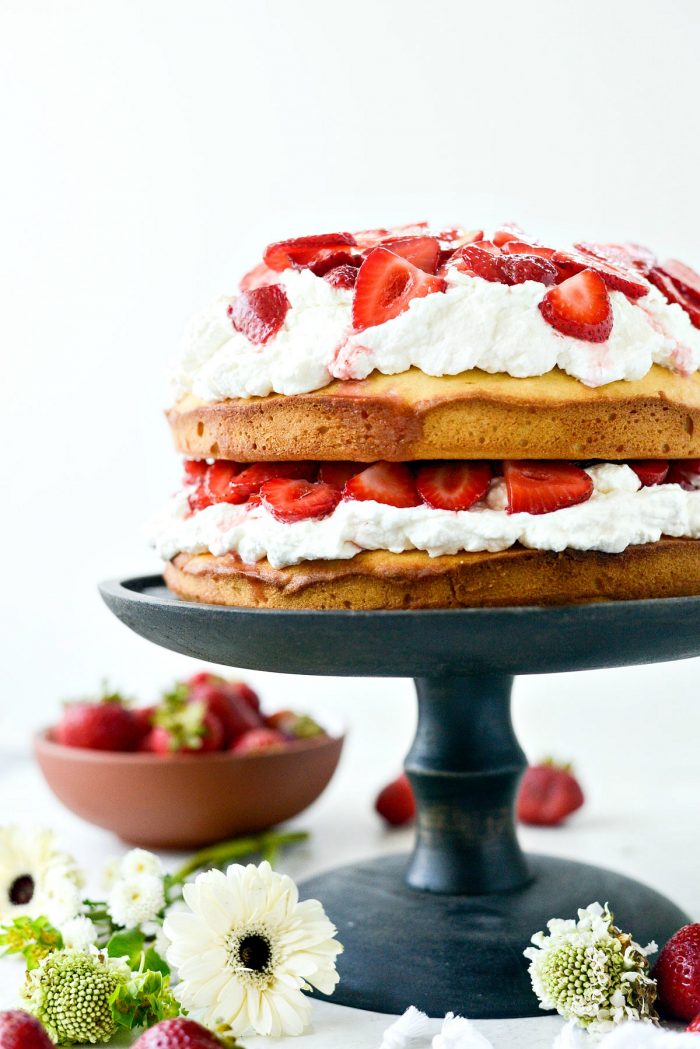 Then repeat with the second layer of cake (poked and topped with strawberry liquids), whipped cream and strawberries.
This strawberry shortcake is a stunner! You will want to keep this chilled until ready to serve.
So simple and the perfect combination of cake and fruit. And those strawberries are so delightful with the subtle floral note. Totally obsessed.
Makes you want to face plant right in the middle or is it just me?
All that's left is to slice and serve!
Enjoy! And if you give this recipe a try, let me know! Snap a photo and tag me on twitter or instagram!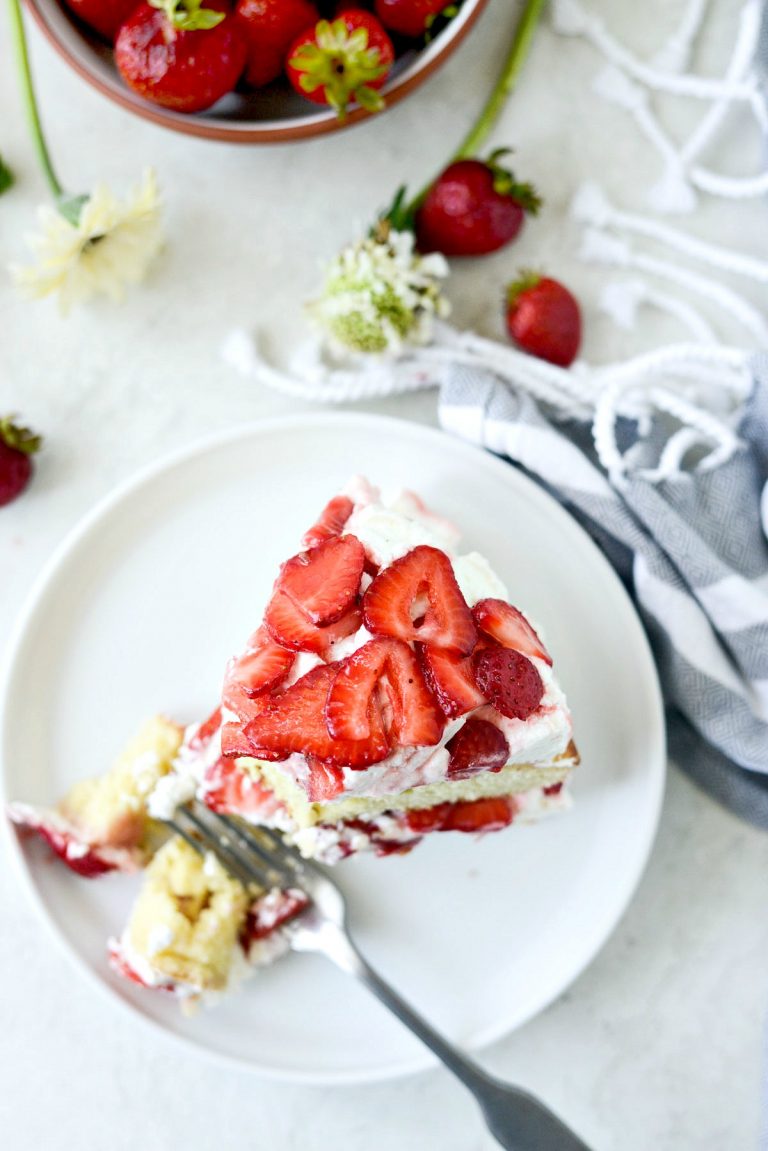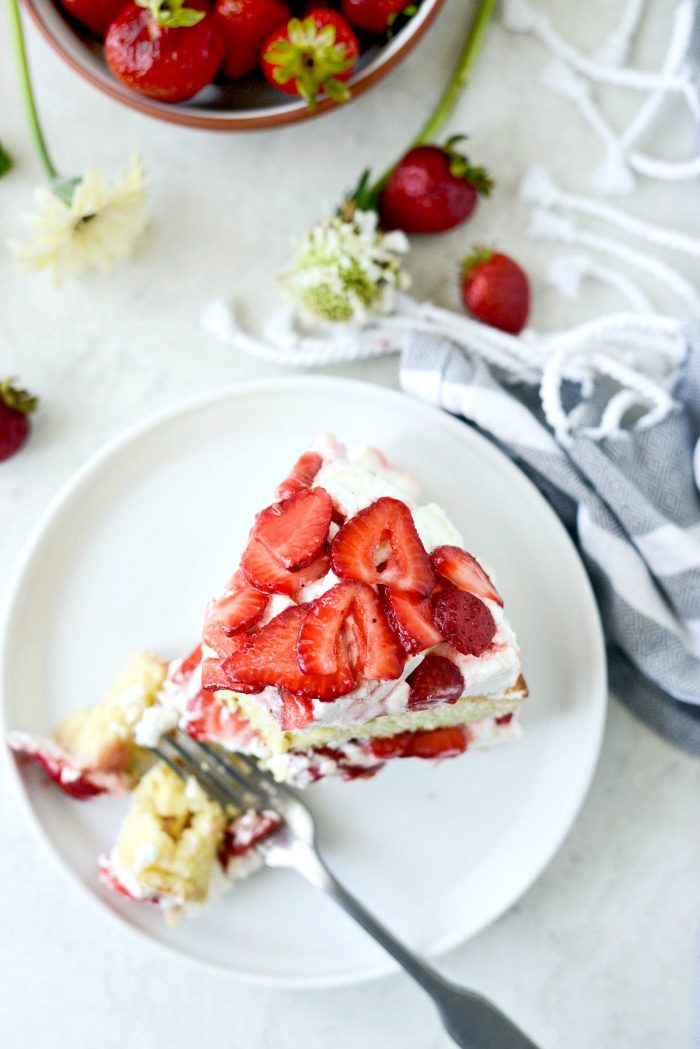 This post may contain affiliate links.
Buy the Cookbook: Simply Scratch : 120 Wholesome Homemade Recipes Made Easy Now available on Amazon »
THANK YOU in advance for your support!