Easy dessert alert! These Blueberry Lavender Pastry Pies are so simple and delicious! Puff pastry, fresh blueberries and lavender sugar (instructions included) are the secret to making this beautifully rustic dessert! Serves 4 in about an hour.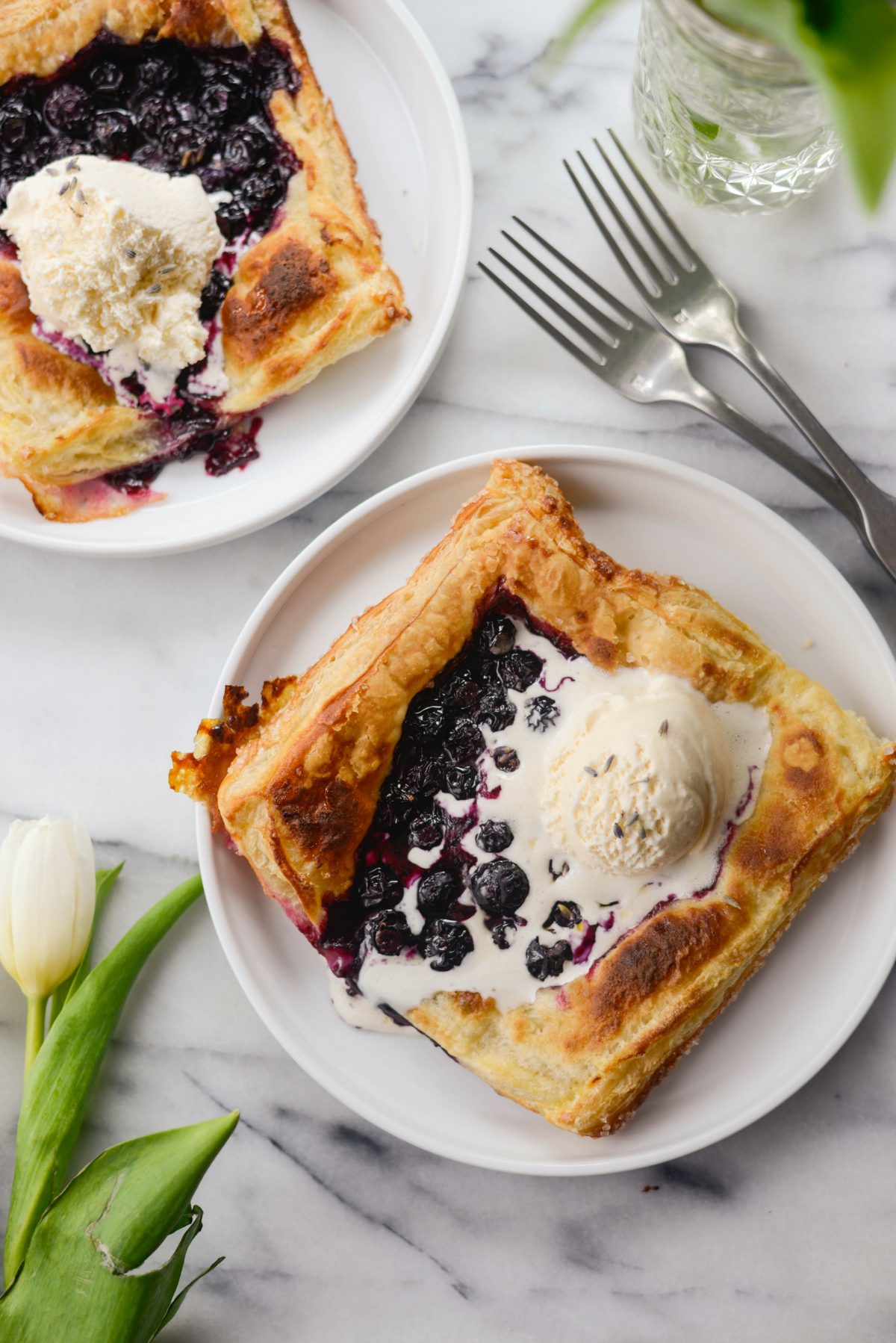 After making pigs in a blanket, I had a sheet of leftover puff pastry and once I saw the container of blueberries in my fridge, I devised a plan.
A few days before, I made lavender sugar. At the time I was simply testing it out to see if it would actually work. Every once and again when I would walk by the jar on my counter and shake it. Two days later, I opened it and was greeted with a wonderful floral-y aroma. It was then that I decided to test the lavender sugar in this blueberry pastry recipe. I was still a bit skeptical and of course curious to see if the lavender would come through.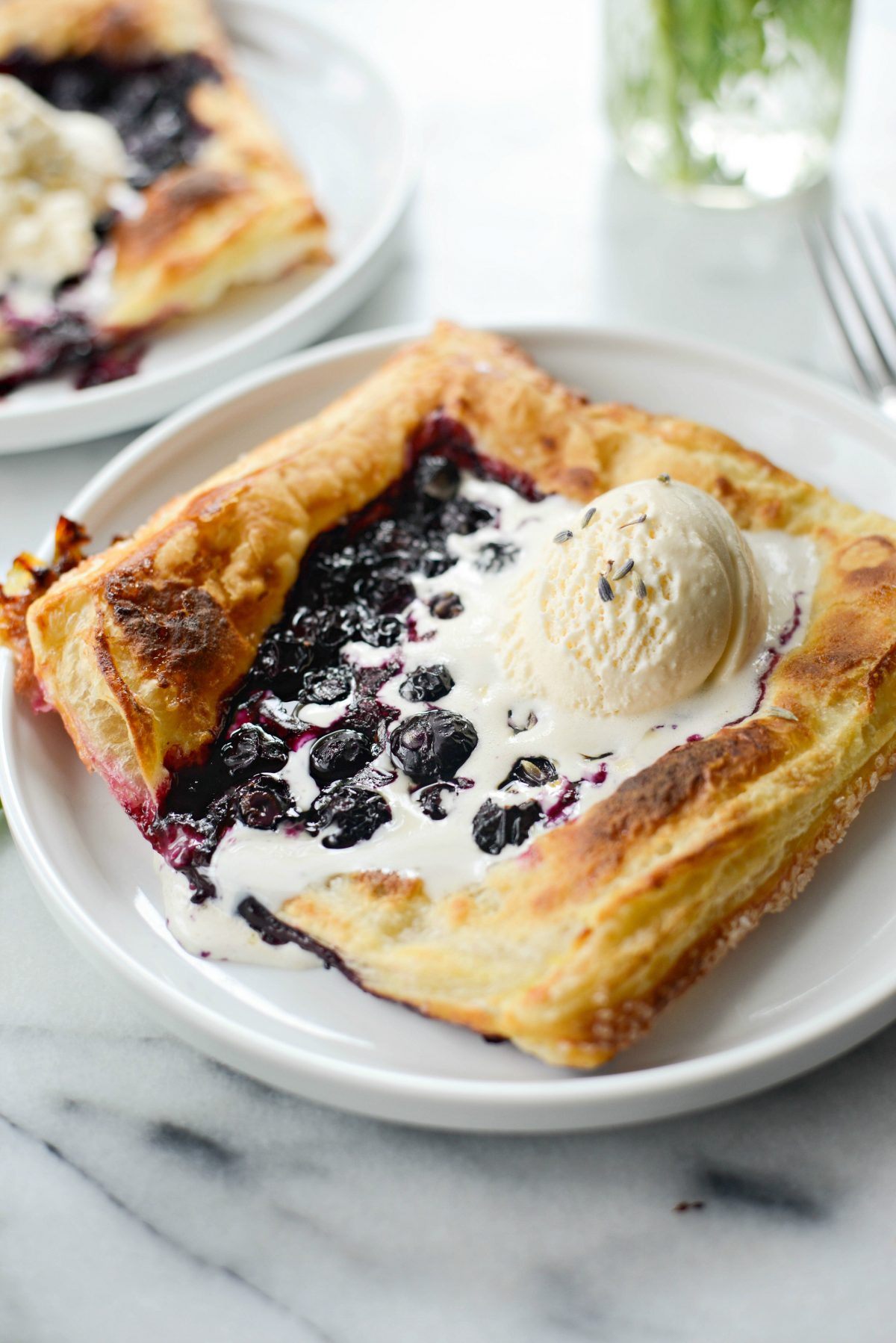 It totally did and was the blueberry and lavender combo was a surprisingly delicious combination. I'm officially a fan.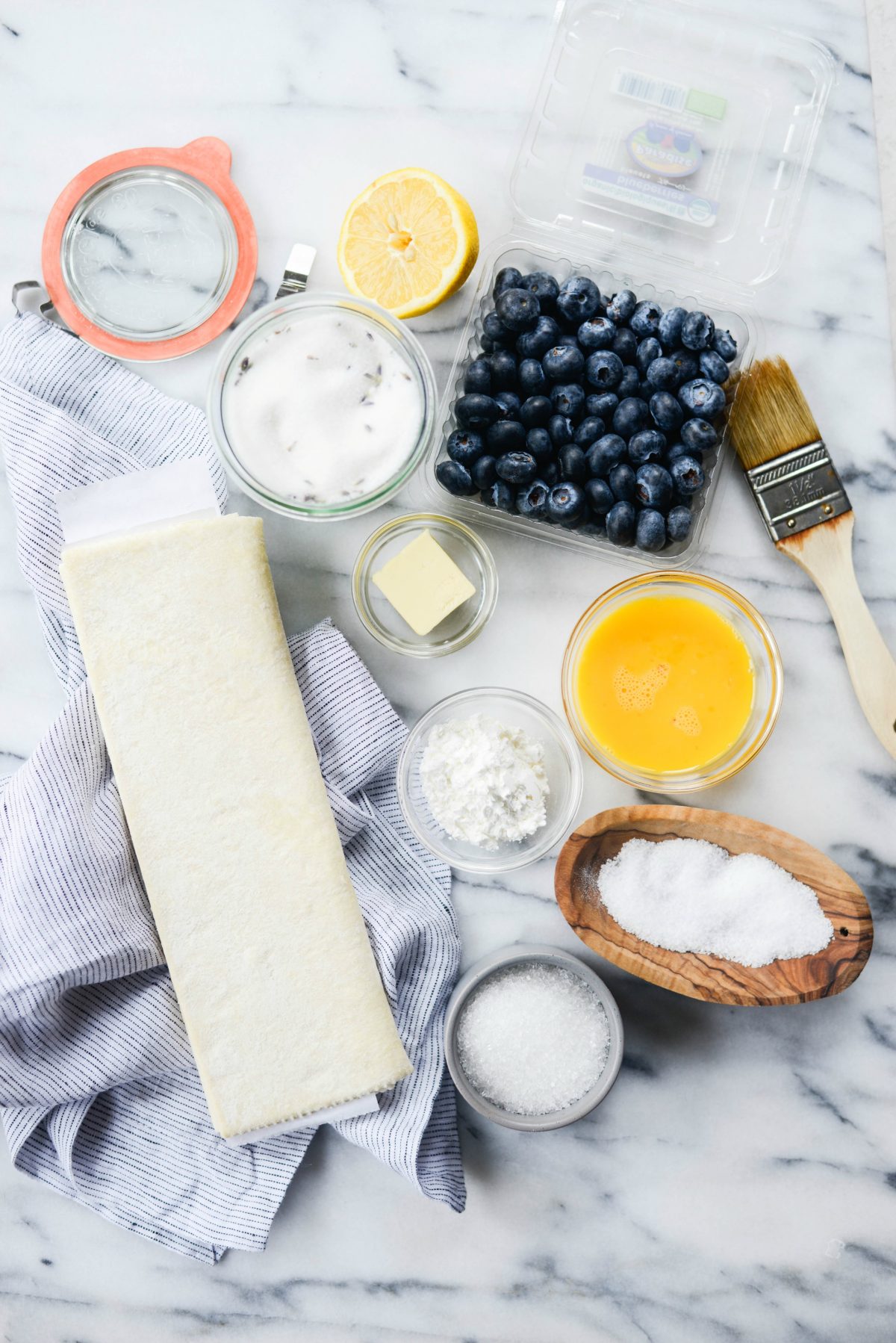 For this Blueberry Lavender Pastry Pies, you will need:
1 sheet (half a box) of puff pastry
flour, for dusting your surface
1 [beaten] egg
6 ounces fresh blueberries
3 tablespoons lavender sugar
juice from 1/2 a lemon
1-1/2 tablespoons cornstarch
1/8 teaspoon kosher salt
1 tablespoon butter
coarse sugar, for dusting pastry
vanilla ice cream for serving.
First and foremost make the lavender sugar!
In a glass jar with a tight-fitting lid, measure and add 1 cup of sugar and mix with 1-1/2 teaspoons dried lavender buds. Cover and let sit for a day or so, giving it a shake every so often.
Then before you being, make sure to remove your puff pastry from the freezer 20 to 25 minutes before unfolding. Next, once thawed a bit, sprinkle a little flour onto your clean work surface and roll the dough out to a 12 x 12 square. Then cut into 4 equal-ish squares. I do my best and yet still can't manage it. 😂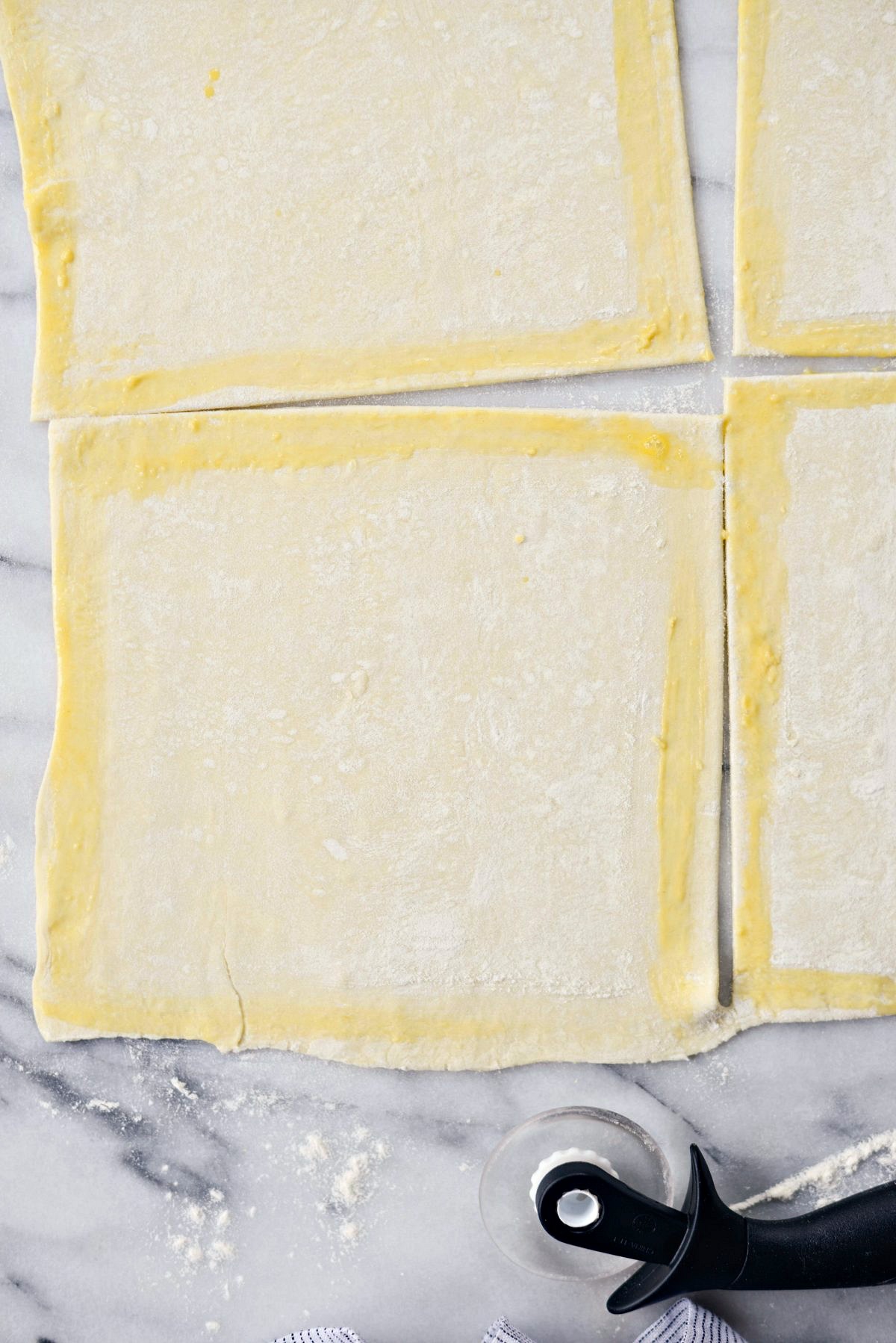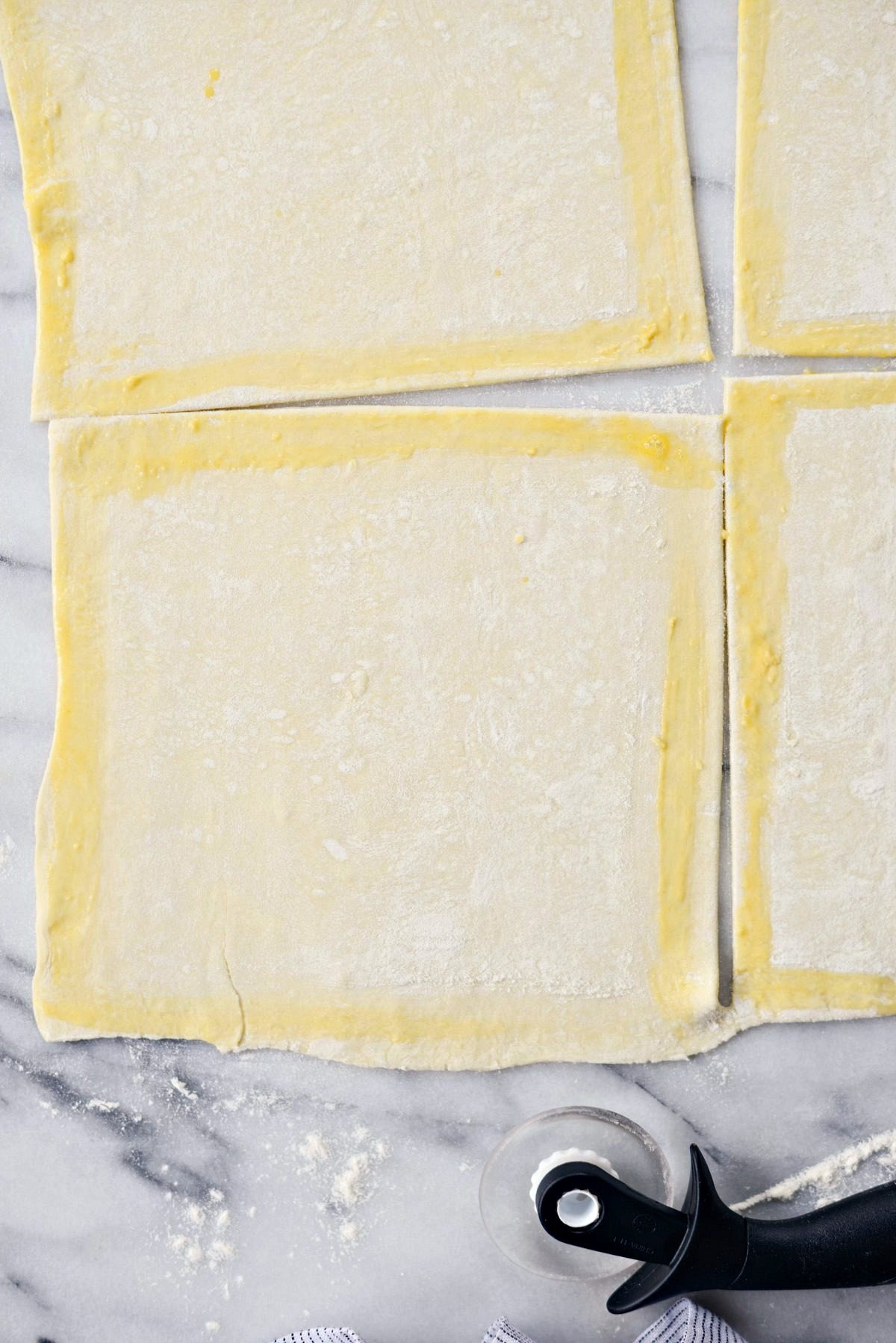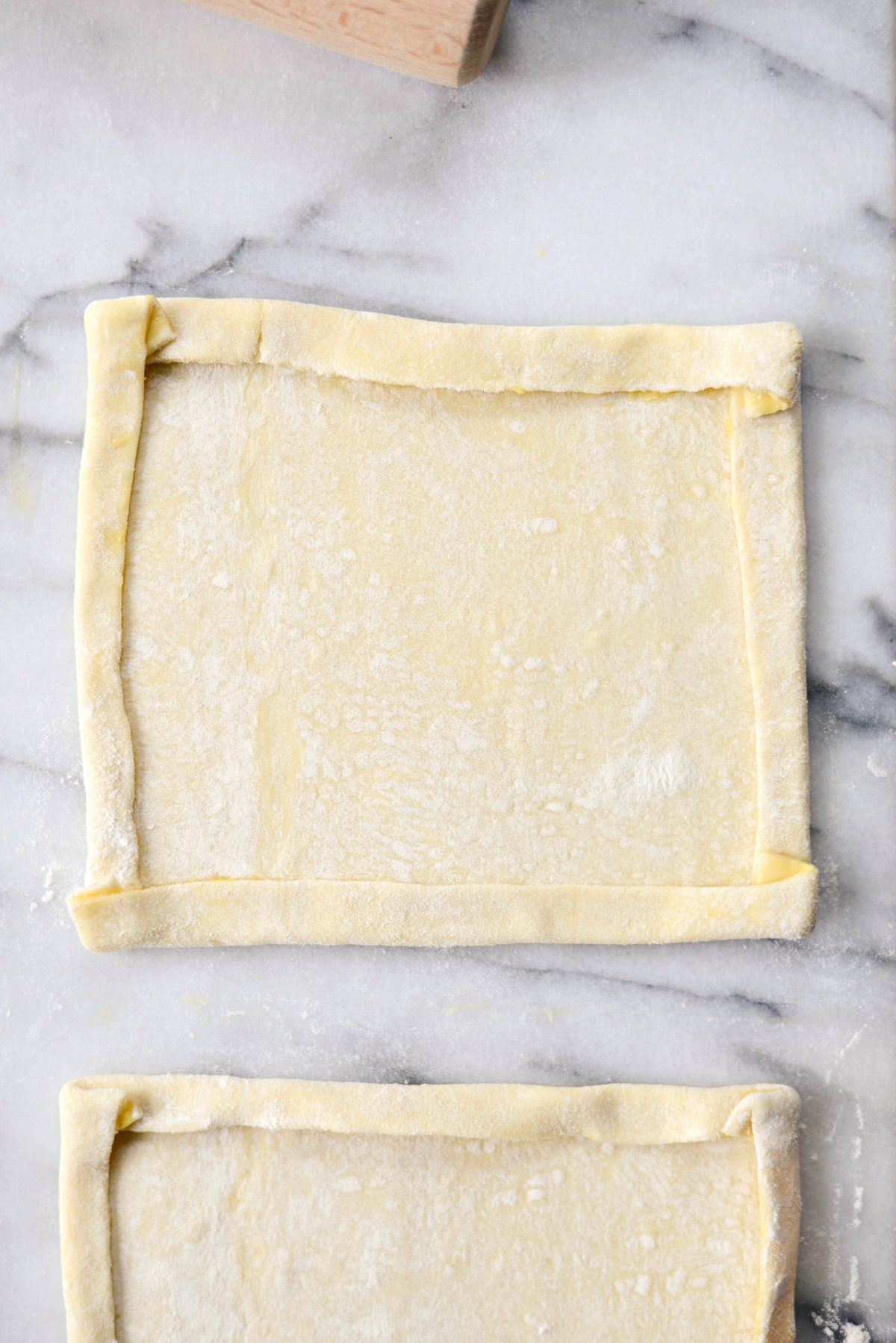 Next, use a pastry brush and brush a little of the beaten egg on the outer edge of each square. Then fold the edge in, to create an edge or crust.
NOTE:
I would also recommend docking the puff pastry center with a fork a few times. I totally for got to and these puffed up pretty well where ever the blueberries weren't. However, if you want to risk it and see what kind of rustic beauty comes out of this, by all means.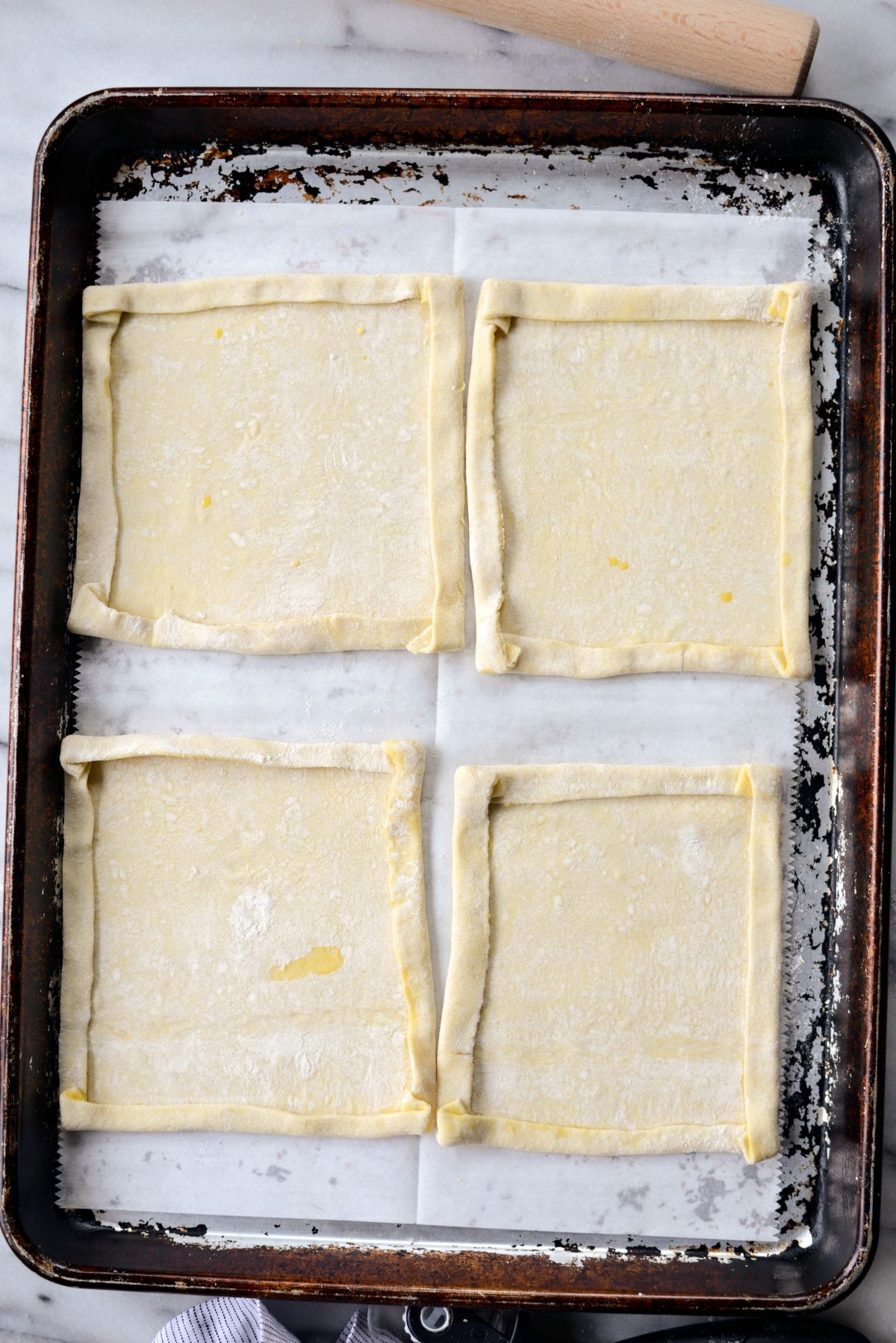 Transfer each puff pastry pie crust to a parchment-lined, rimmed metal baking sheet. Slip this into the freezer for 20 to 25 minute or until the dough re-freezes.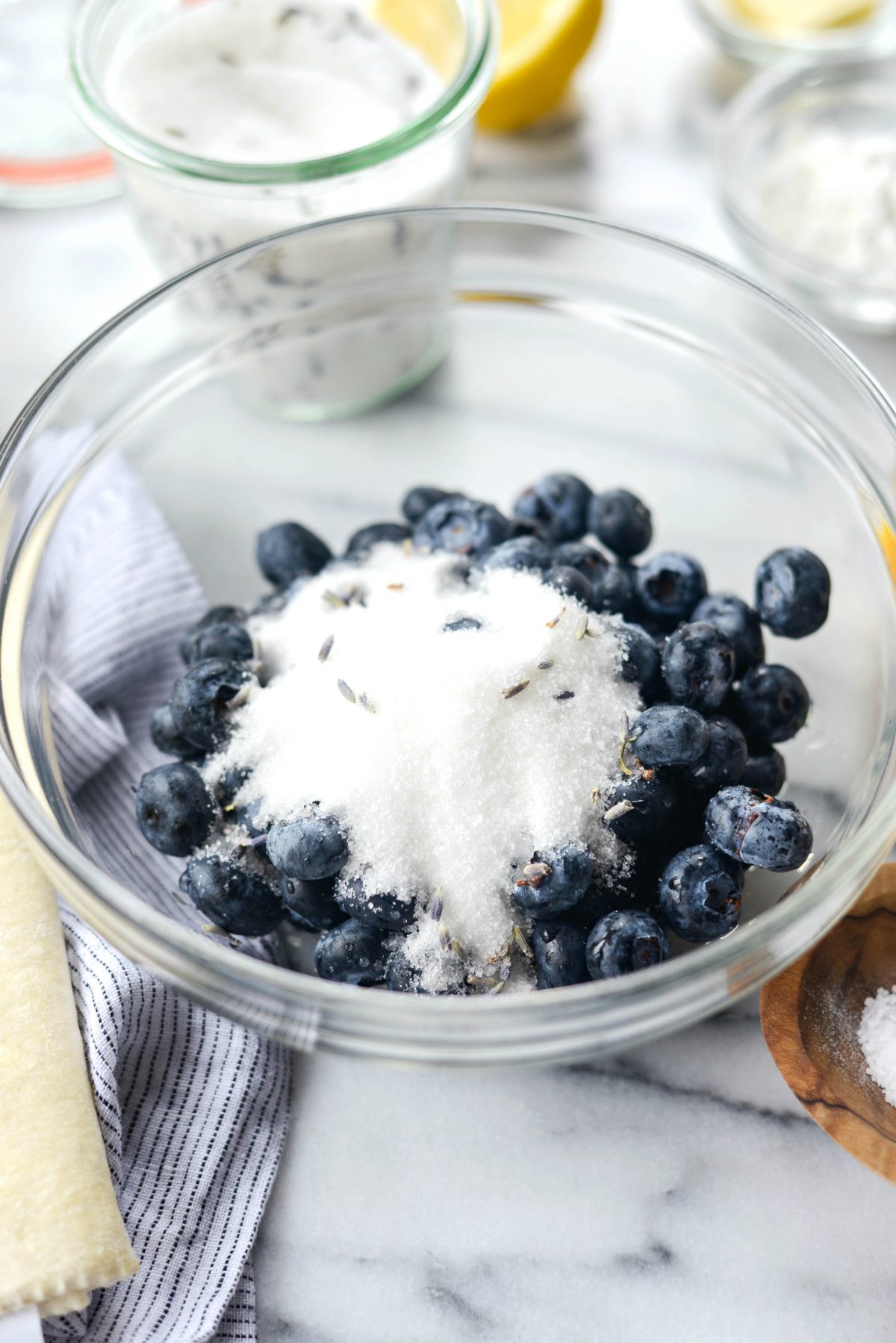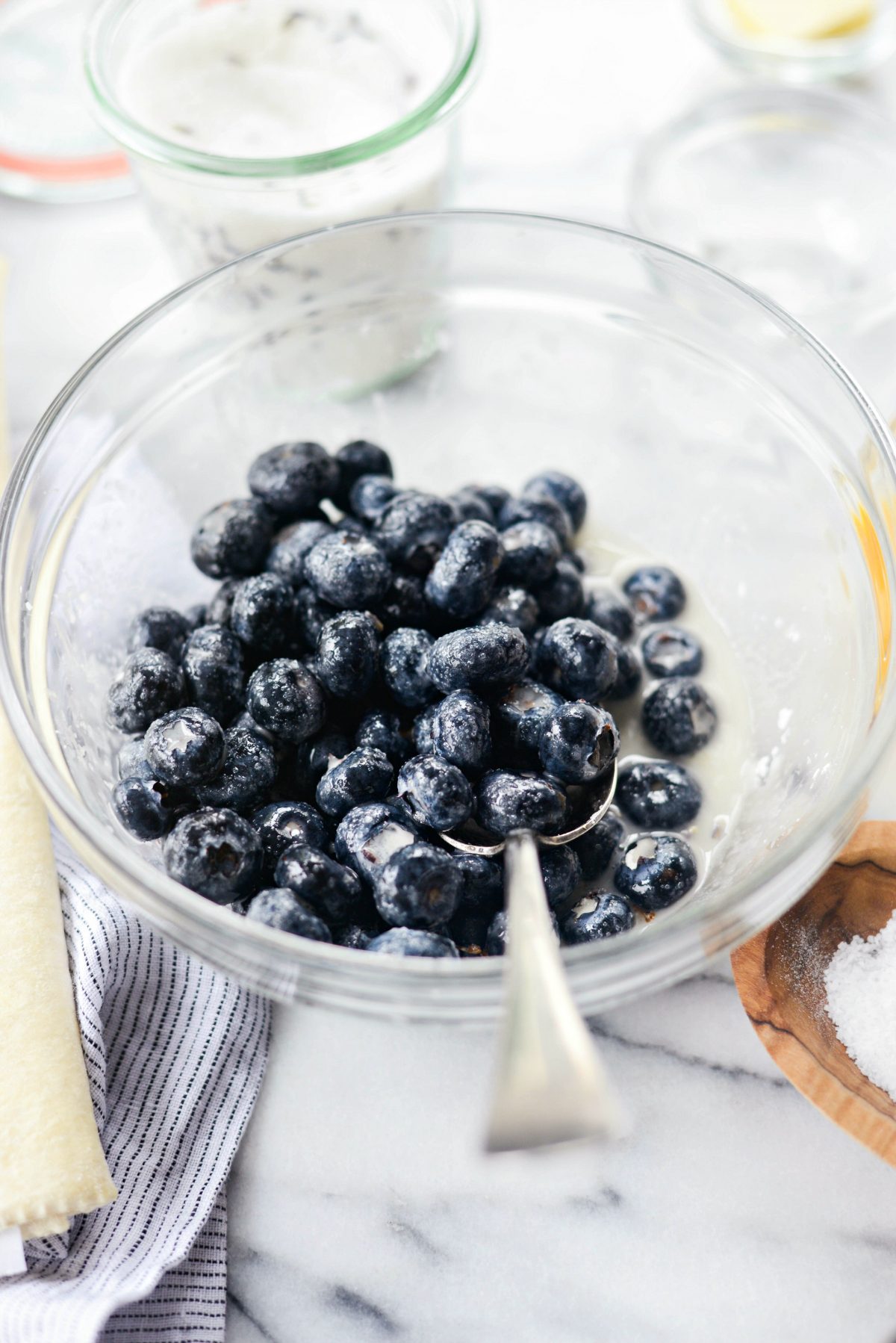 Meanwhile, preheat your oven to 425°. Then, in a medium bowl, combine the 6 ounces of blueberries, 3 tablespoons lavender sugar, fresh lemon juice, kosher salt and cornstarch, tossing to combine.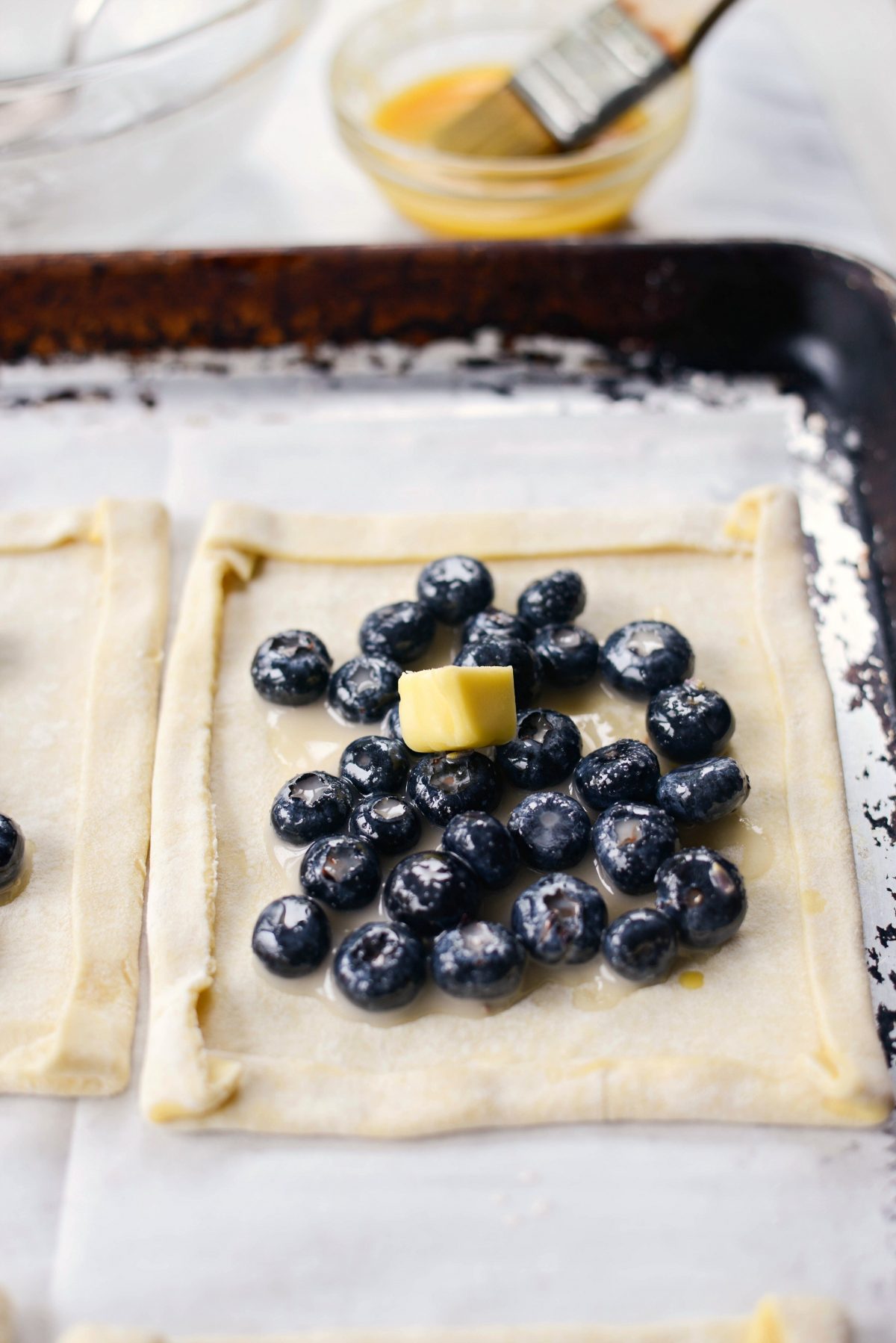 Next, divide the blueberries (and liquids) among the 4 pies and top each one with a 1/4 of the tablespoon of butter.
Then brush the top edge with the egg wash and sprinkle with the coarse sugar. Next, bake the pies on the middle rack of your preheated oven for 14 to 18 minutes or until the crust has puffed and is flakey and golden.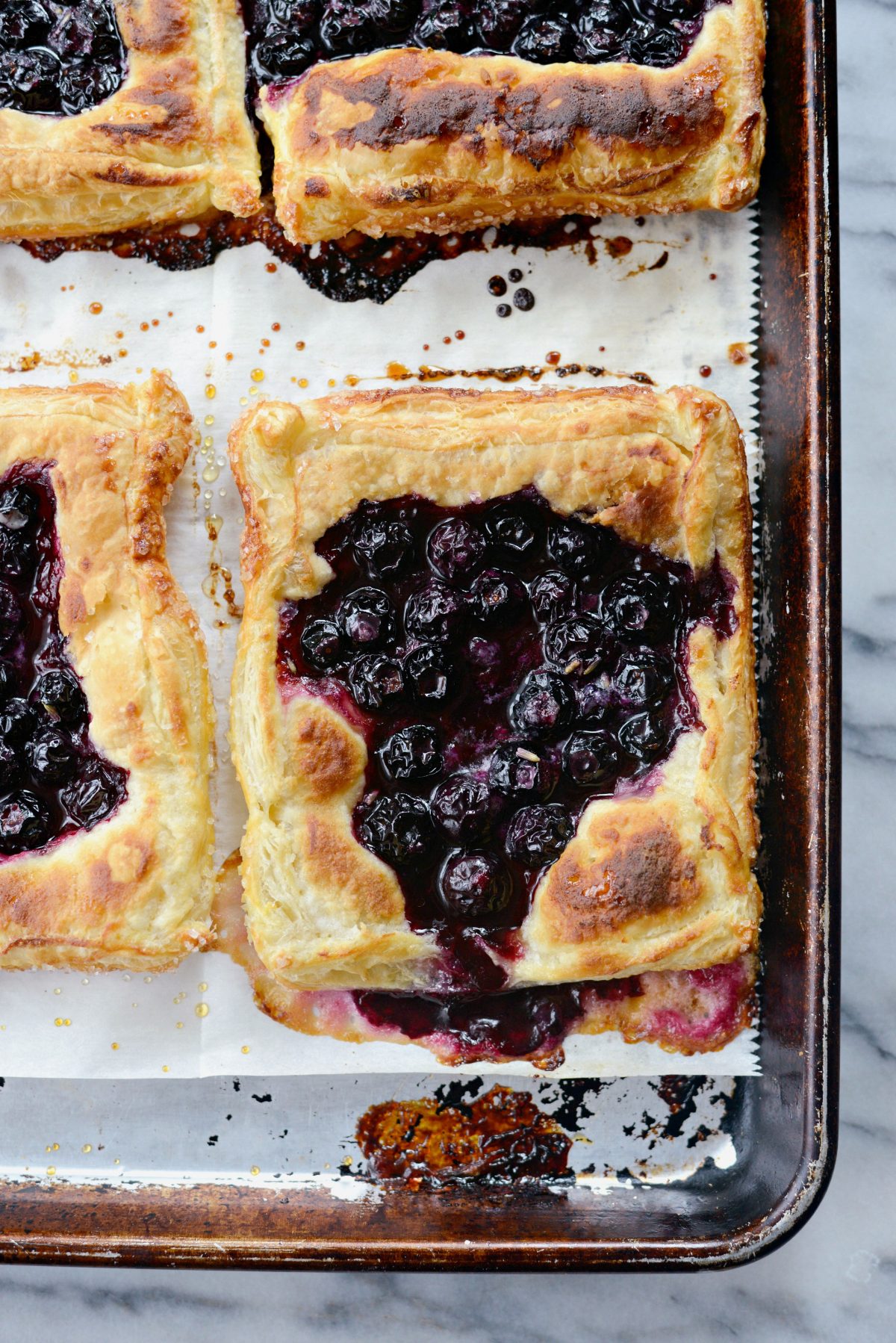 GORGEOUS!
Lastly, allow the pies to cool a smidge. You want them warm but not hot as they may melt your ice cream instantly.
Finally, serve with a scoop of your favorite vanilla ice cream and prepare to fall in love.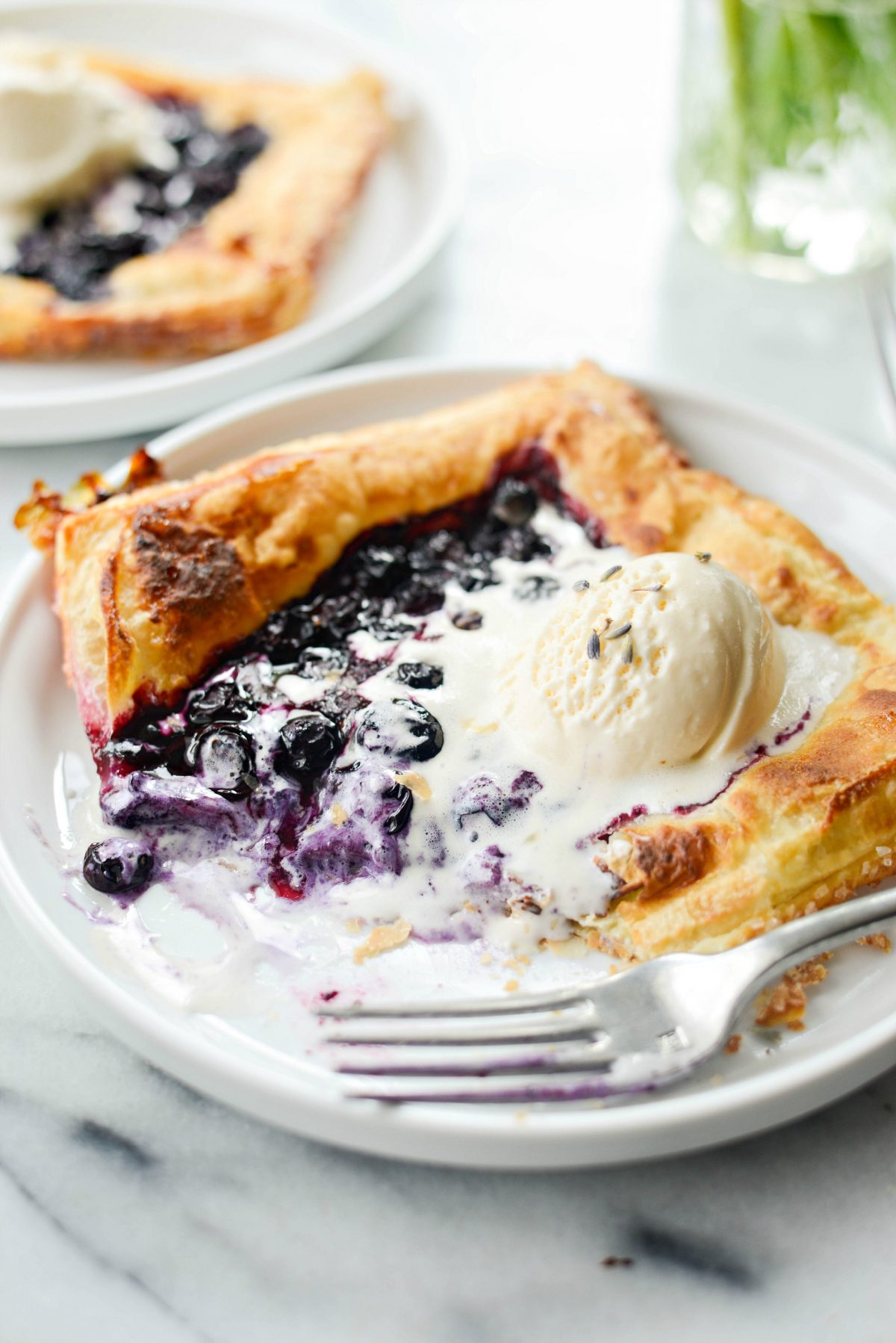 I feel like I say that a lot. 😉
Enjoy! And if you give this recipe a try, let me know! Snap a photo and tag me on twitter or instagram!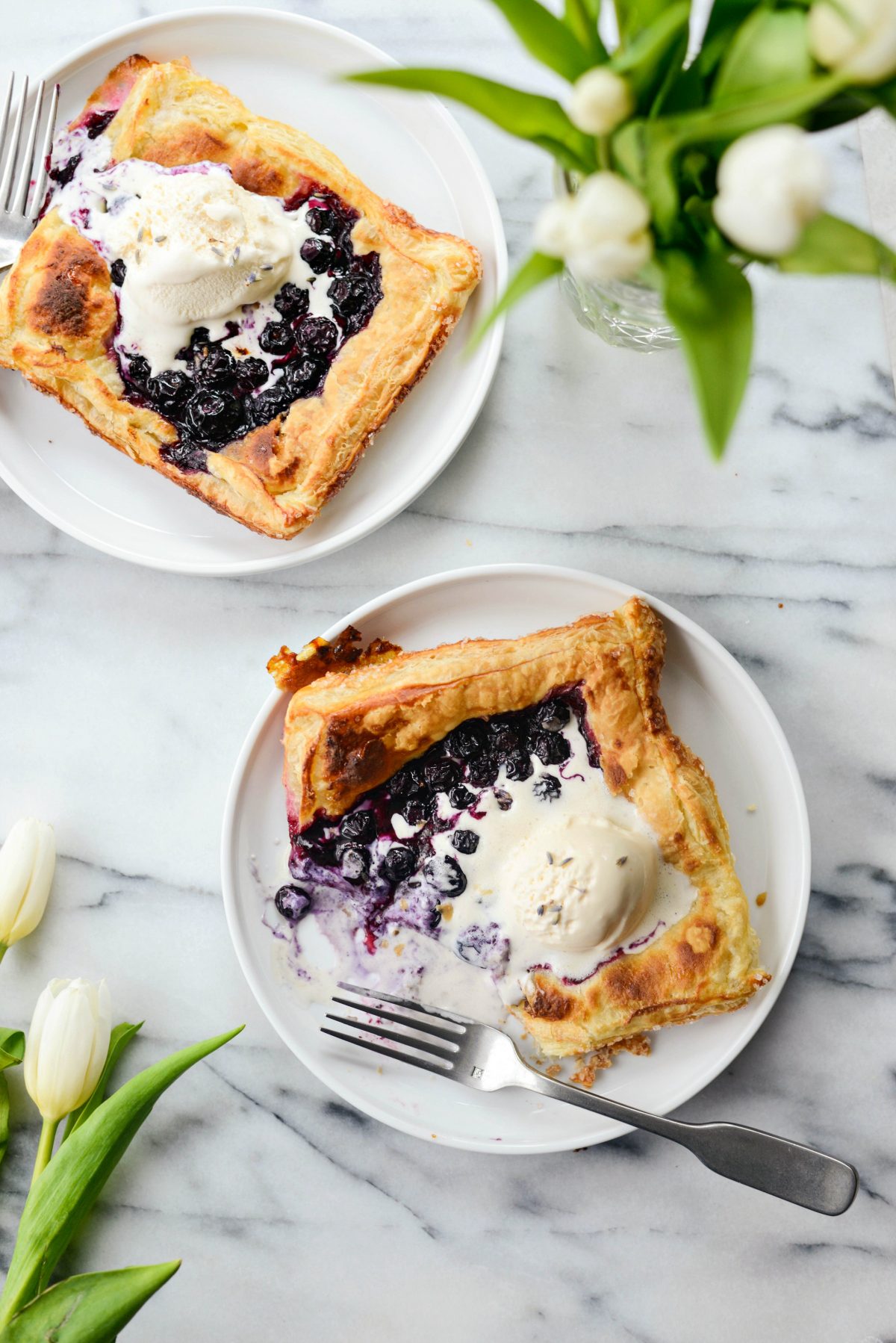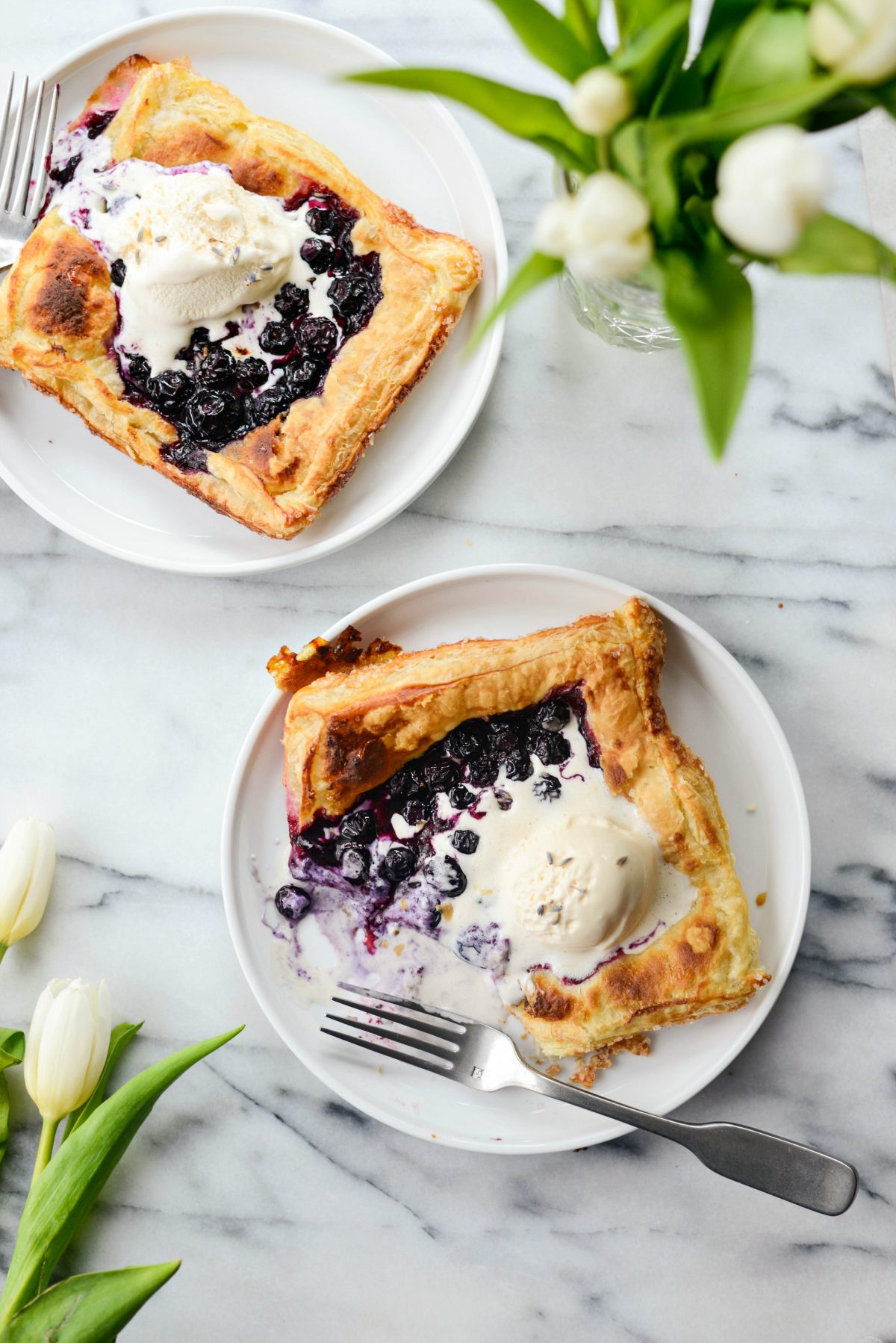 This post may contain affiliate links.
Buy the Cookbook: Simply Scratch : 120 Wholesome Homemade Recipes Made Easy Now available on Amazon »
THANK YOU in advance for your support!