In this Ultimate Pressed Italian Sandwich, Italian bread is layered with a homemade olive tempanade, 4 kinds of Italian meats, fresh mozzarella, slices of roasted red pepper, artichokes and more. This one sandwich will serve 8!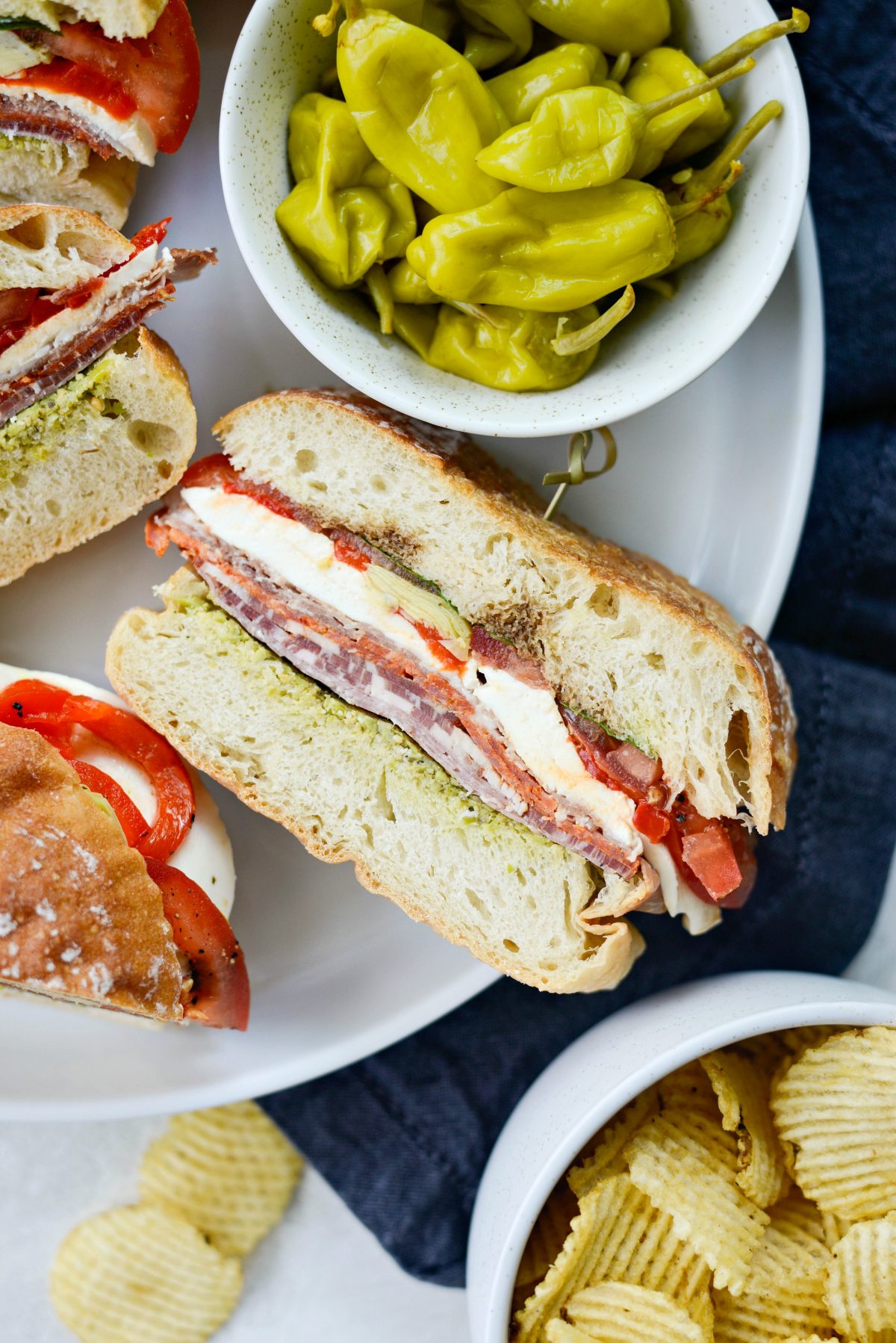 Finally, today's weather is neither chilly, cloudy or rainy! It's suppose to be a sunny and warm 77°! After a busy week of finishing up a bathroom renovation and then taking Haileigh to her college orientation, we plan to spend the day out on the water relaxing.
Whenever we have these "lake days" I usually make some kind of sandwich and we have a picnic on our boat. In the past, I've made Italian sub sandwiches, but for today, I'm packing up a few of these Ultimate Pressed Italian Sandwiches. Ultimate because these sammies have it all! Soft italian bread with a garlicky olive tapenade, 4 kinds of Italian meats, fresh mozzarella cheese, sliced roasted red bell pepper, artichoke hearts, fresh tomatoes and basil leaves and is dressed with a drizzle of balsamic vinegar and olive oil. So simple.
Tis the season for picnics, parties and gatherings. And we are so here for it! This sandwich is perfect thing to serve for a fun summer gathering or day at the lake.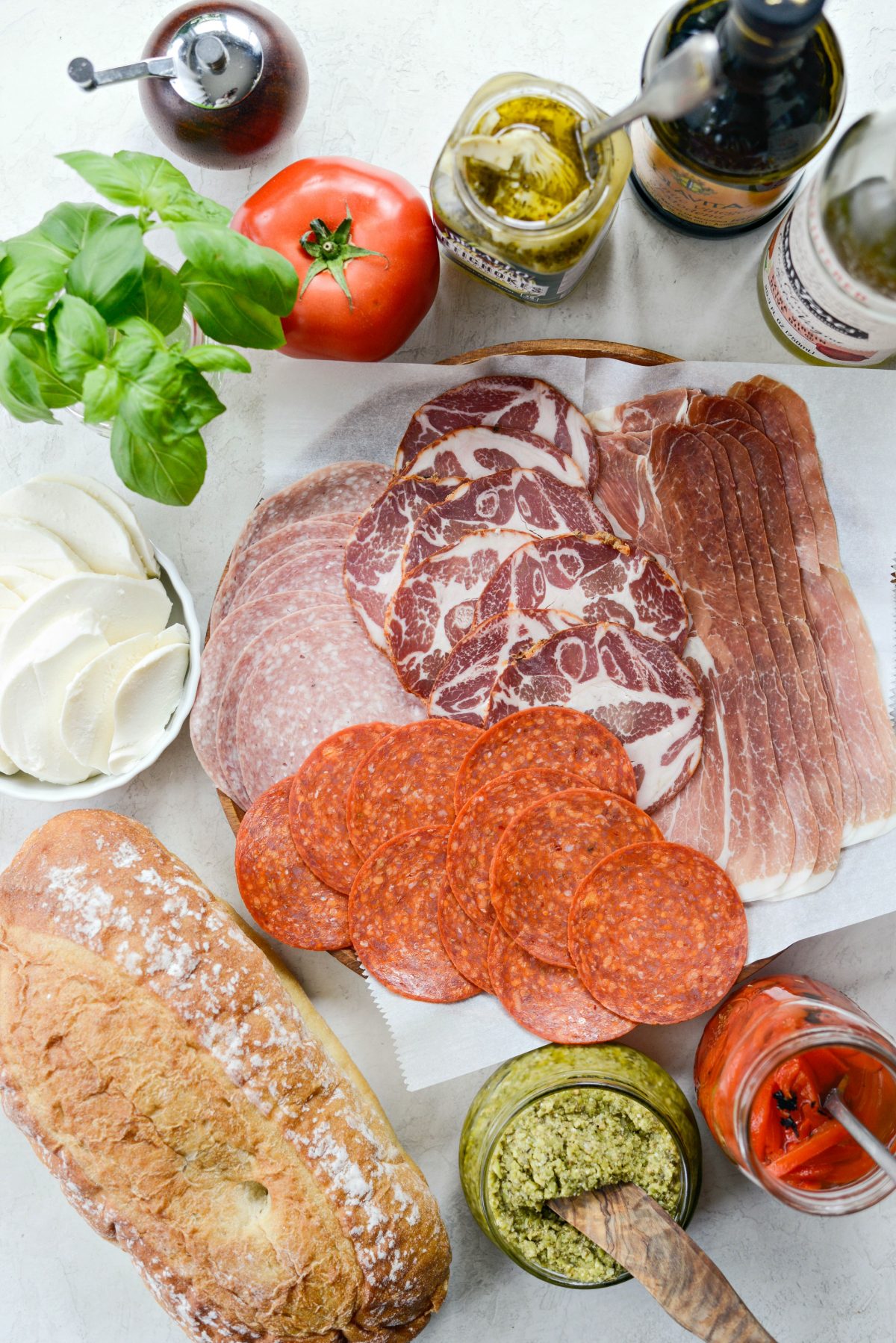 Here's what you need to make these Ultimate Pressed Italian Sandwich:
a loaf of italian bread or ciabatta
balsamic vinegar
olive oil
1/4 pound Genoa salami, 1/4 pound capocollo and 1/4 pound sandwich pepperoni
3 ounces prosciutto
1 (8 ounce) ball fresh mozzarella
a large roasted red bell pepper [homemade or store bought]
6 to 8 ounces artichoke hearts (regular or marinated is fine)
1 large tomato
fresh basil
freshly ground black pepper.
Keep in mind that depending on the size of your bread loaf will determine on how much of the meat and cheese you will need.
The first thing I do, is slice the loaf of bread in half horizontally. Then place the bread halves onto a few sheets of plastic wrap that are draped over a rimmed metal baking sheet. Doing this before the sandwich is build makes wrapping and transferring it to your fridge a lot easier.
Then, on the top half of the bread loaf, drizzle with olive oil and balsamic vinegar. And then on the bottom half spread with olive tapenade or basil pesto.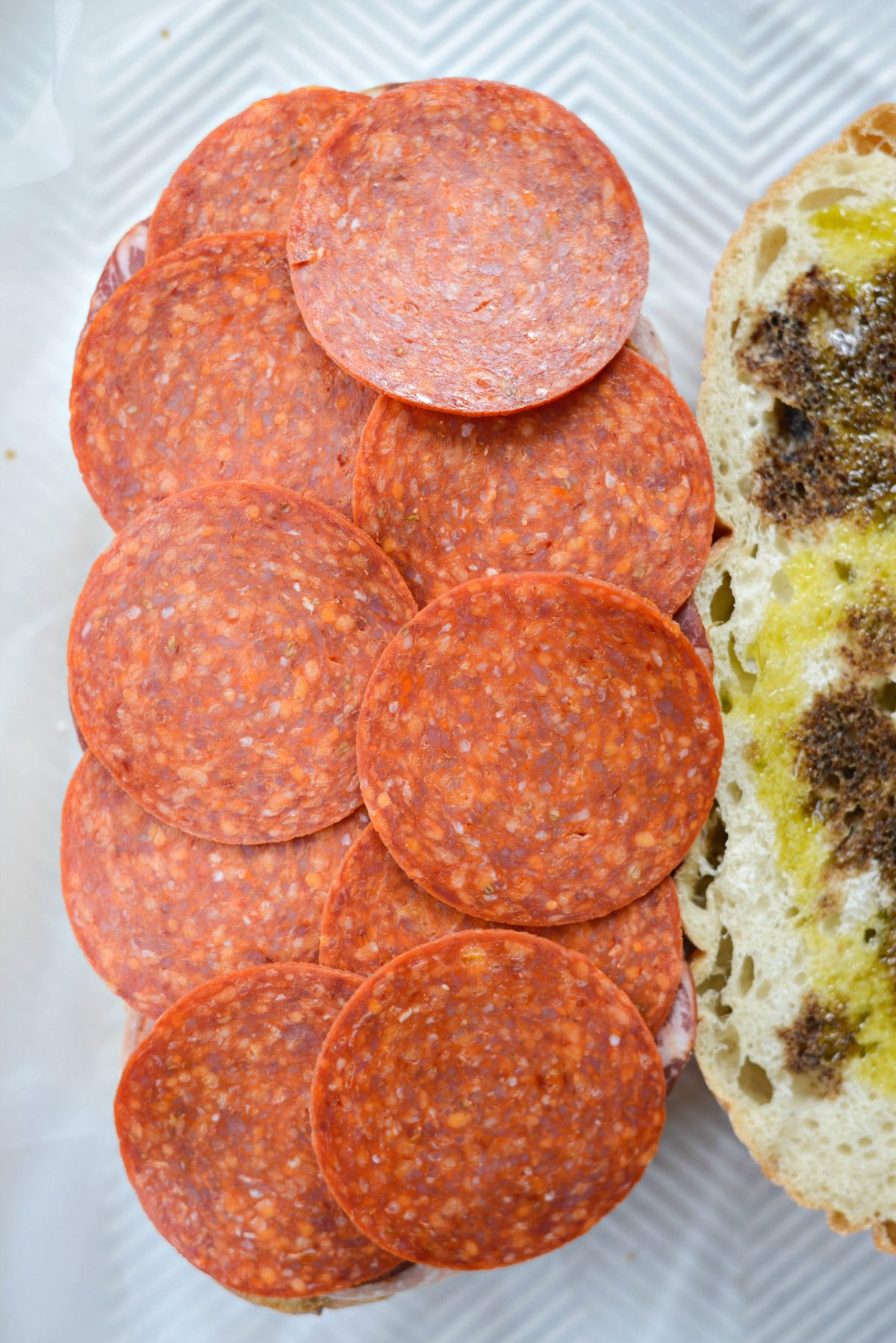 Next layer the salami, capocollo, pepperoni and prosciutto on top of the tapenade.;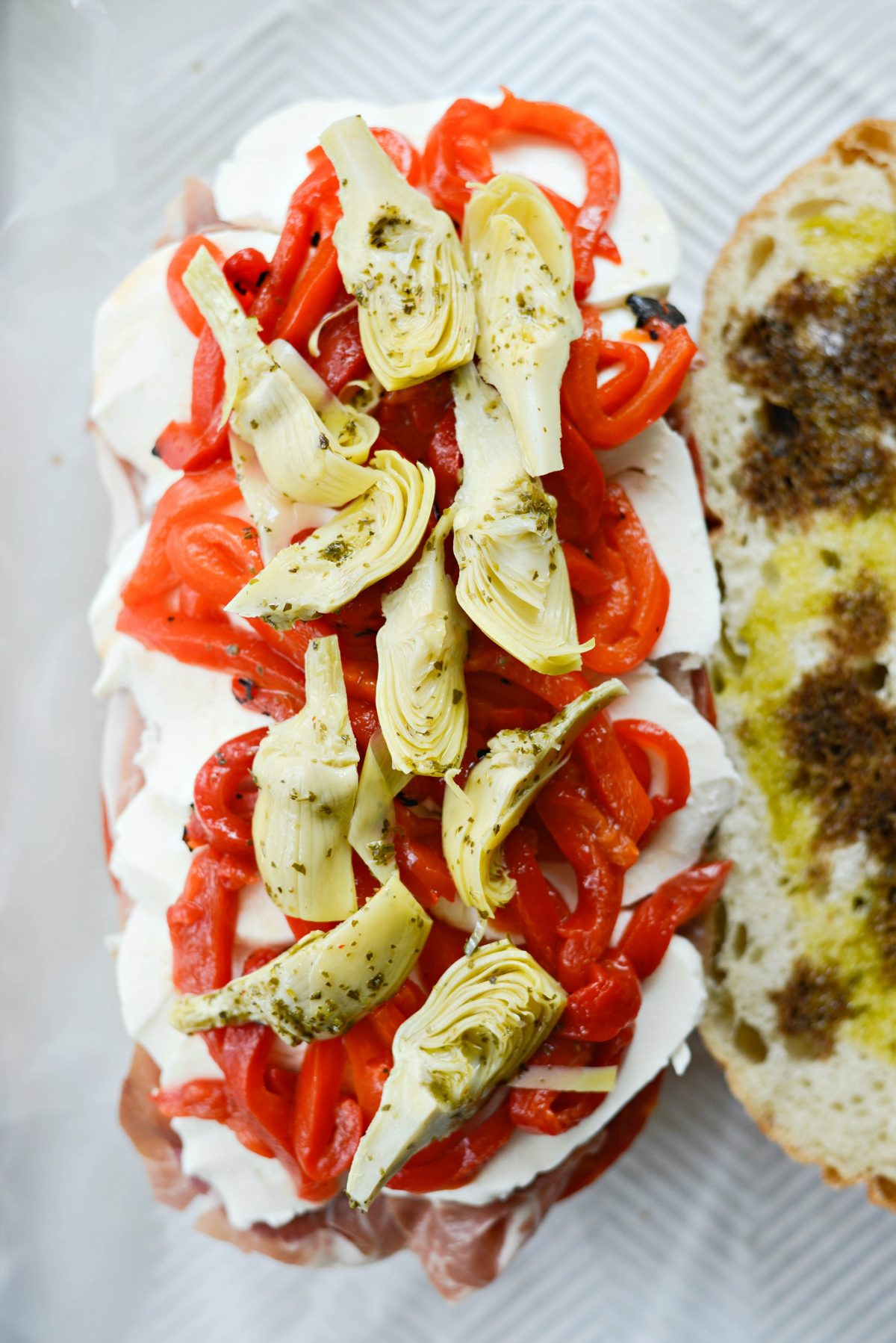 Then, top the italian meats with slices of fresh mozzarella, roasted red pepper and artichokes.
Next top with slices of fresh tomato, season with freshly ground black pepper and top them with fresh basil leaves.
Incredible, right?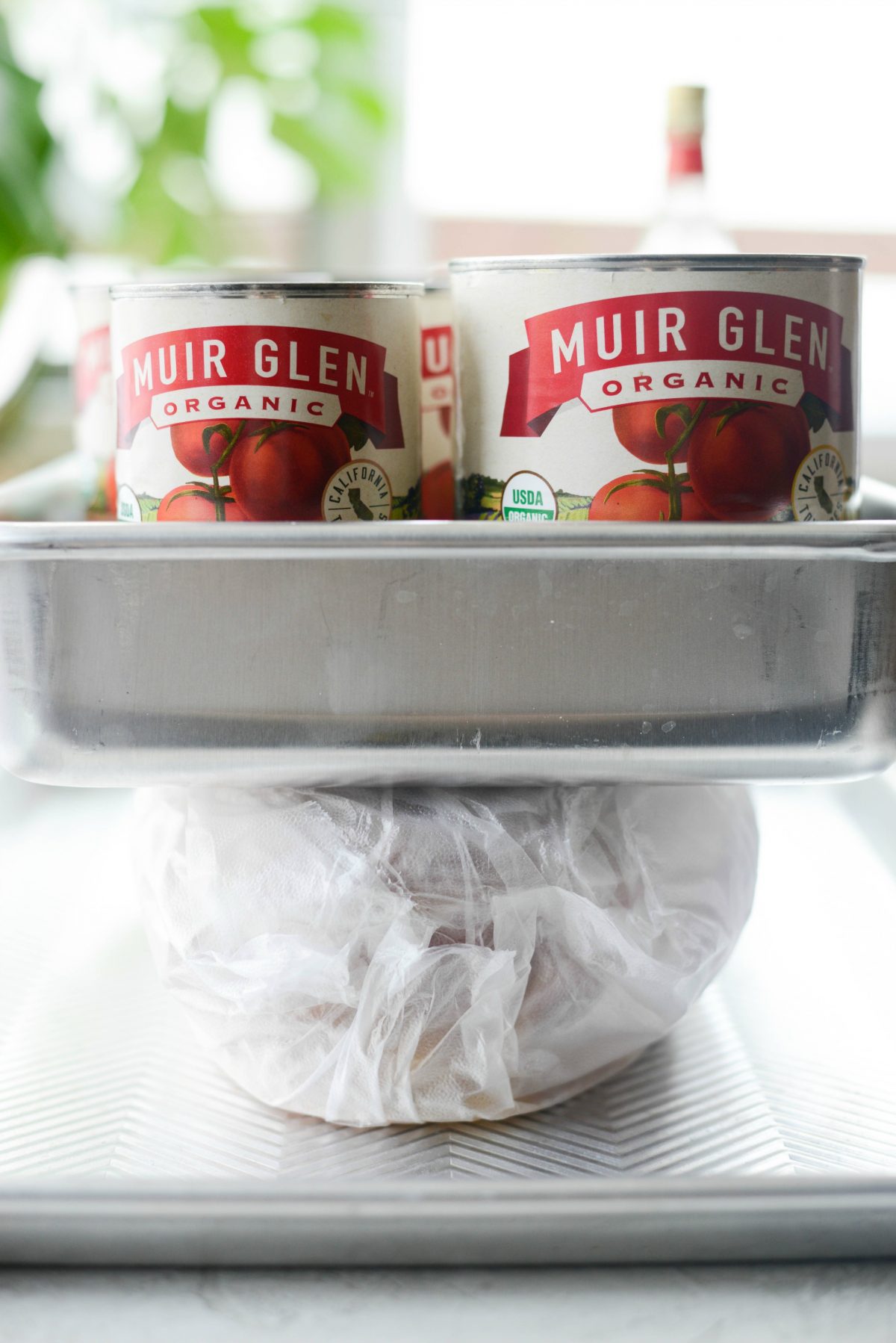 Lastly, replace the top of the sandwich and wrap tightly in the plastic wrap. Then set another rimmed metal baking sheet on top of the sandwich and weigh it down with cans, bricks, whatever! and place the entire thing into your fridge to chill for a few hours.
While this sandwich is in the fridge, the weight of the cans will compress this sandwich so it will flatten a bit and all the ingredients snuggle up against each other.
As you can see, it's pretty remarkable.
Lastly, slice and serve with your favorite potato chips or side dish, beverages and of course, your favorite people.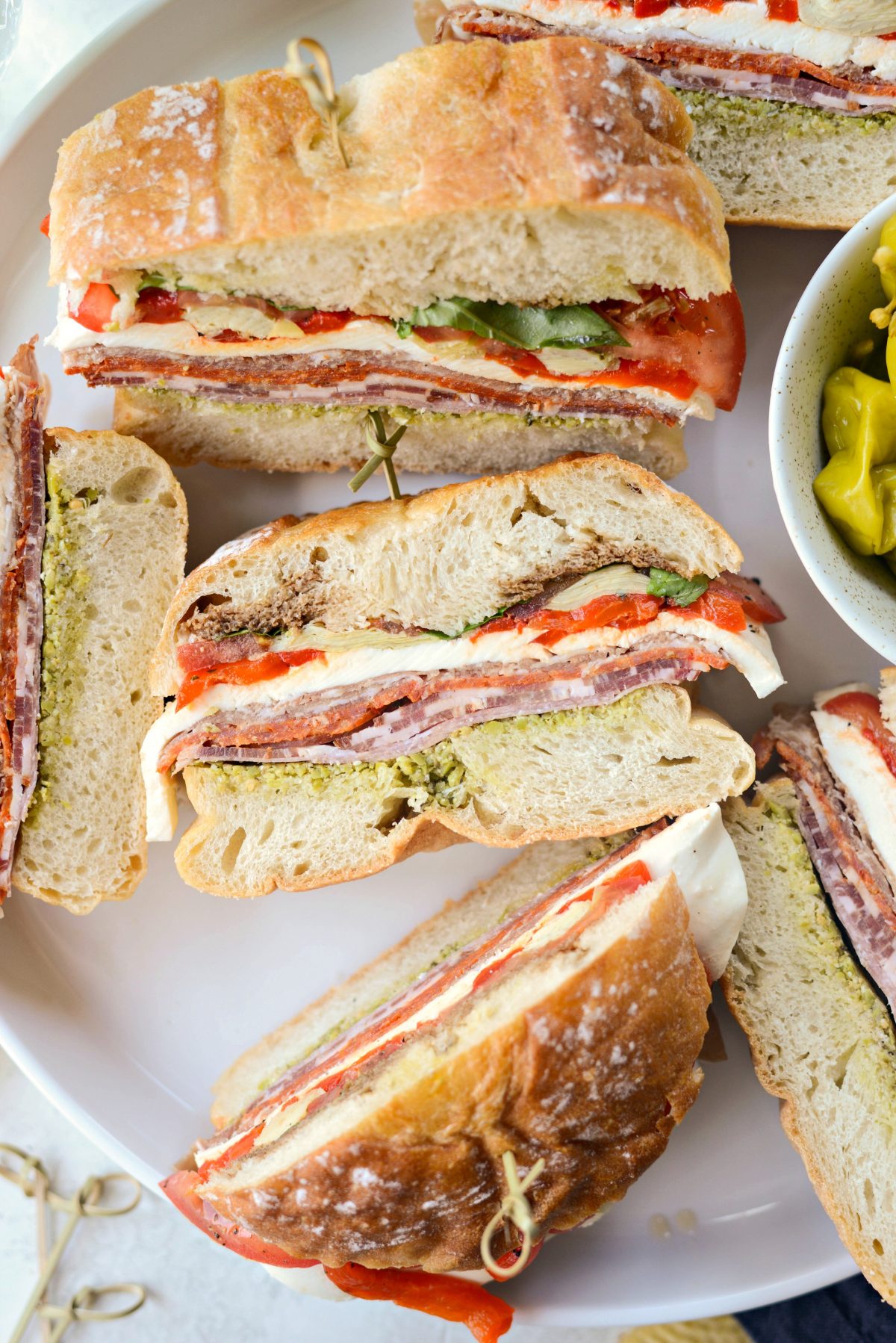 Enjoy! And if you give this Ultimate Pressed Italian Sandwich a try, let me know! Snap a photo and tag me on twitter or instagram!
[this post contains affiliate links.]
This post may contain affiliate links.
Buy the Cookbook: Simply Scratch : 120 Wholesome Homemade Recipes Made Easy Now available on Amazon »
THANK YOU in advance for your support!