This Castelvetrano Olive Tapenade on crostini will be the hit of the party! In it, Castelvetrano olives are blended with ingredients like garlic, capers and lemon zest making for a flavorful appetizer!
The truth is I've never met an olive I didn't like. Since I was old enough to pick out pitted whole olives from the can and put them on my fingertips – I've been a fan. Which is surprising for this former picky eater.
Fast forward thirty some years and my mom has this olive tapenade and crostini as an appetizer at a holiday party. Naturally, I gravitated to the bright green spread and ate majority of it. My mom told me it was a recipe she had gotten from someone else and that it called for these particular olives, the Castelvetrano. I shouted "those are my favorite olives!' remember this post? OR maybe you saw them here?
Needless to say, they're phenomenal. Fruity, less salty, more fruity and just plain good.
I spread this deliciously bright tapenade on crostini and topped with with a single shaving of parmesan. Pure buttery olive perfection.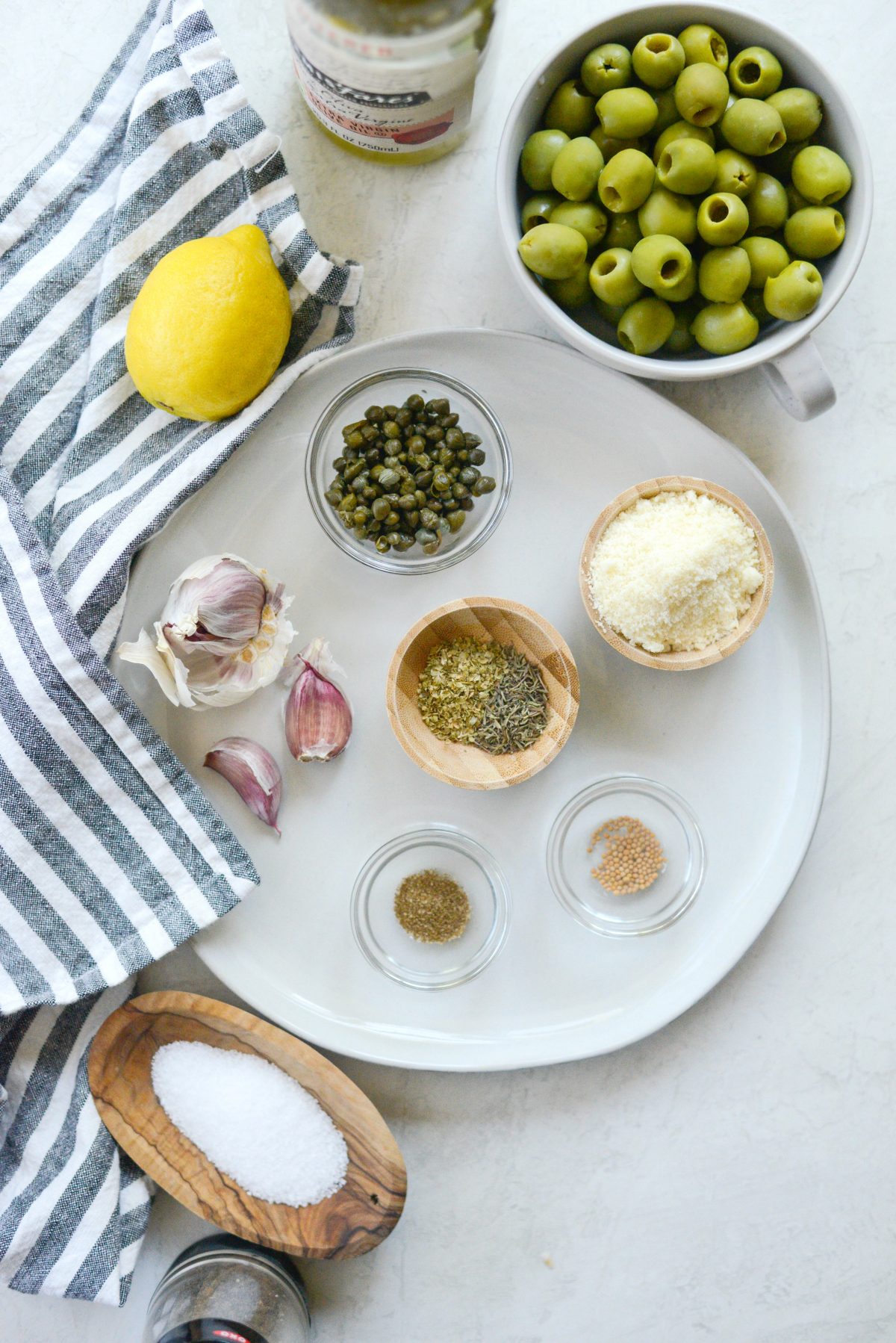 Here is everything you need to make this olive tapenade: 8 ounce jar of [pitted] castelvetrano olives, 2 cloves fresh garlic, 2 tablespoons [drained] capers, 1 teaspoon each dried thyme and oregano, 1/2 teaspoon freshly grated lemon zest, 1/2 teaspoon kosher salt, 1/4 teaspoon freshly ground black pepper, 1/4 teaspoon mustard seed, 1/4 teaspoon celery salt, 1/4 cup freshly grated Parmesan cheese and 1/4 cup olive oil.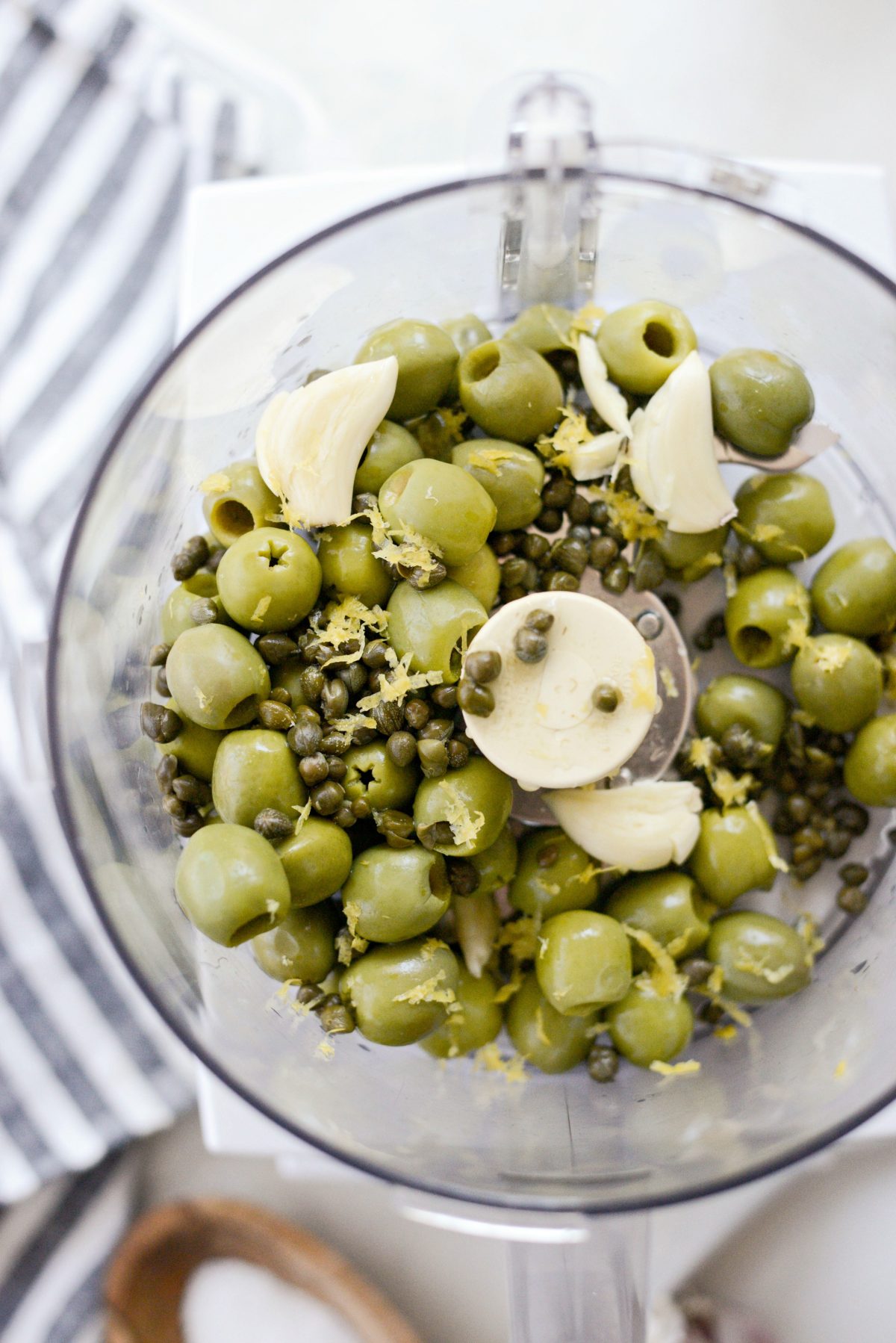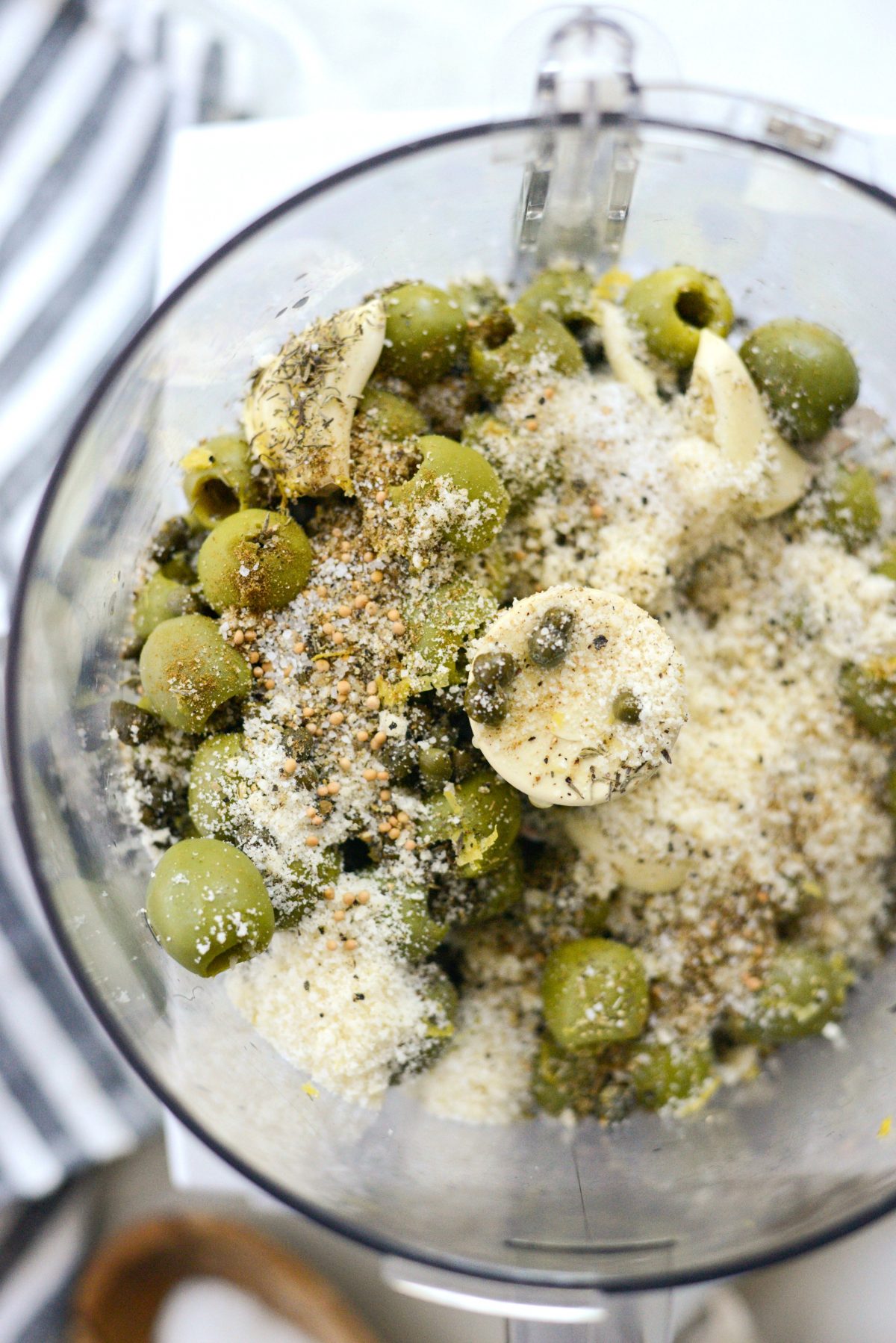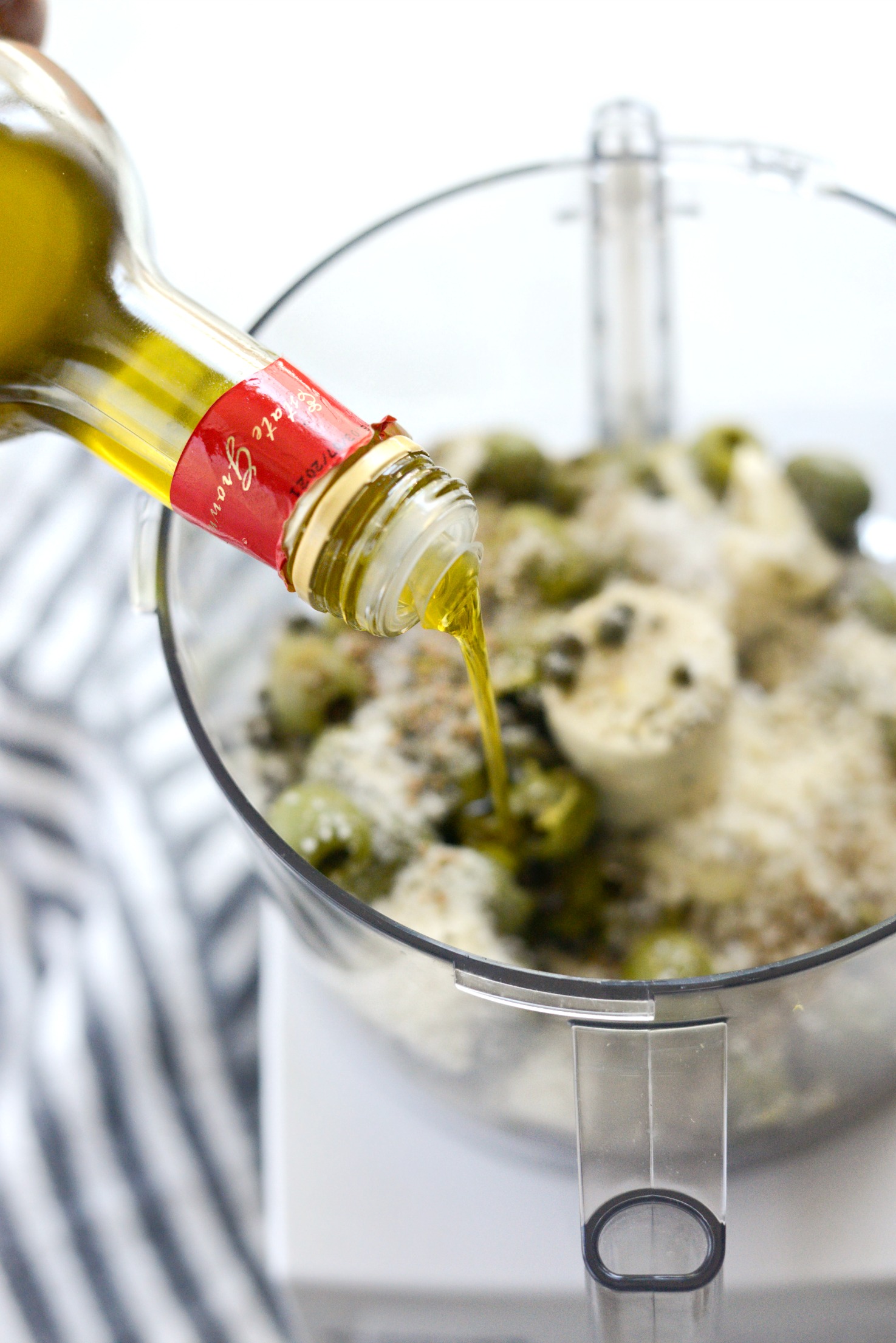 First start by adding the olives, garlic, capers, lemon zest, thyme, oregano, salt, pepper, mustard seed, celery salt and parmesan. Next, drizzle in 1/4 cup of olive oil.
What are Castelvetrano Olives?
Castelvetranos are from Sicily and are known as Italy's favorite snack olive. These olives are bright green, sweet, buttery, mild and meaty. Delicious served on a cheeseboard with white wine or tossed with butter or olive oil for a simple pasta sauce.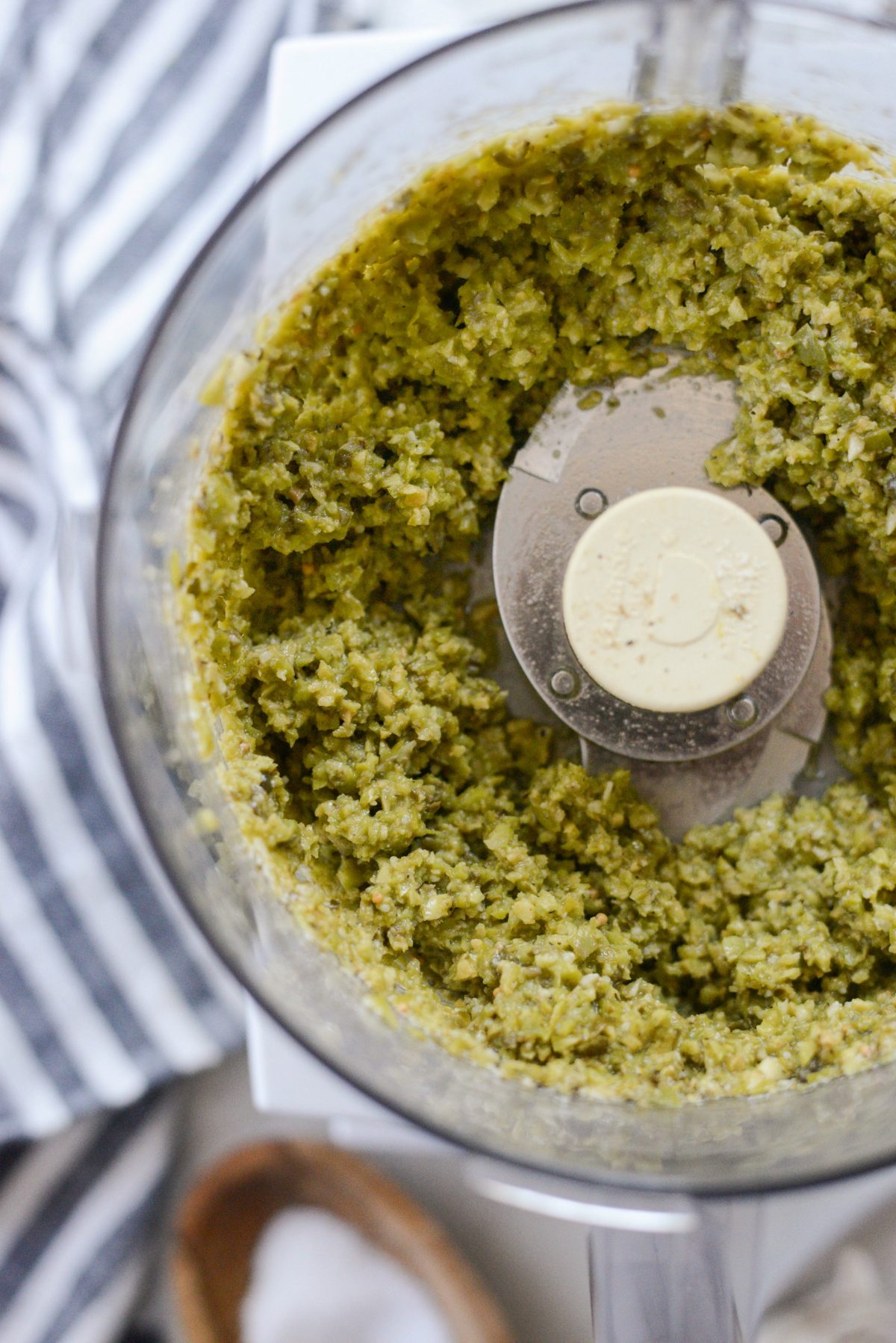 Then secure the lid and process until coarsely chopped. Use a spatula to scrape down the sides and then repeat, until the mixture if finely chopped.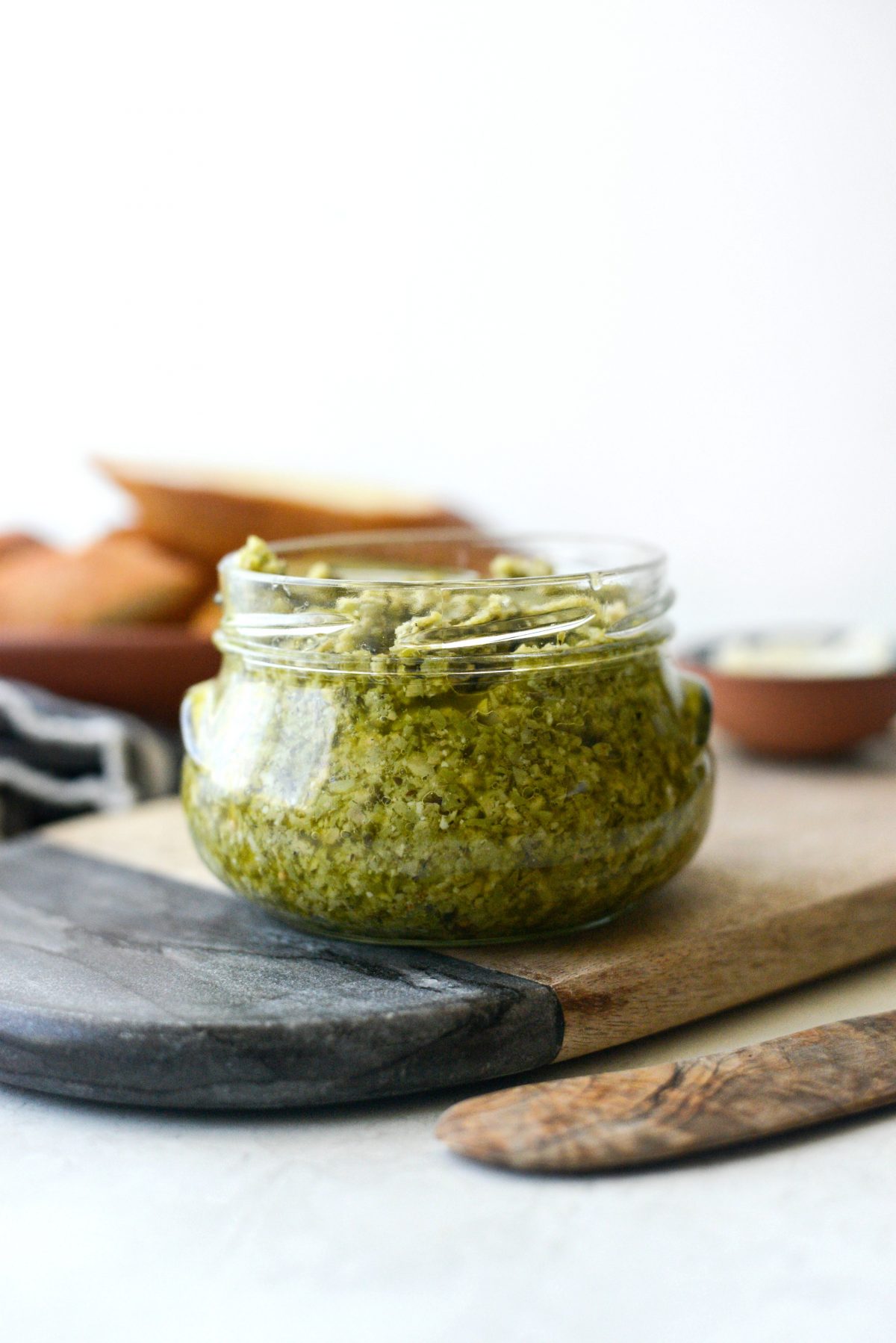 That's it! Slather it on crostini, topped grilled chicken or pork or toss with pasta. The options are endless.
If you decide to go the crostini route with this tapenade, I've left instructions in the printable on how to prepare them.
Enjoy! And if you give this Castelvetrano Olive Tapenade recipe a try, let me know! Snap a photo and tag me on twitter or instagram!
My cookbook Simply Scratch : 120 Wholesome Homemade Recipes Made Easy is now available! CLICK HERE for details and THANK YOU in advance!
[this post contains affiliate links.]
This post may contain affiliate links.
Buy the Cookbook: Simply Scratch : 120 Wholesome Homemade Recipes Made Easy Now available on Amazon »
THANK YOU in advance for your support!