This Butter Roasted Whole Turkey Breast takes only a fraction of the time in the oven and yields a deliciously moist turkey. While it rests, whip up the easiest turkey gravy ever.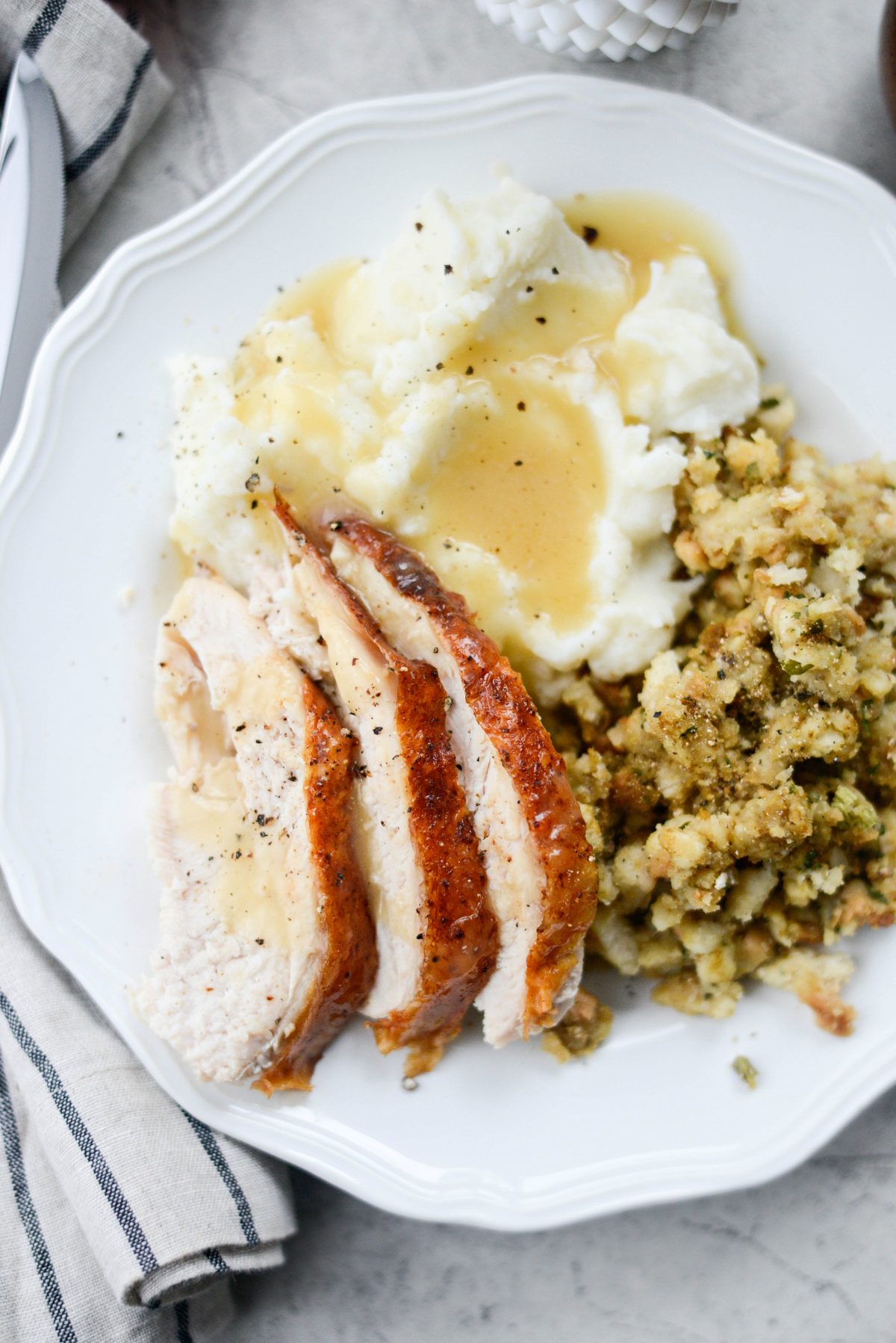 Today we are roasting a whole turkey breast. Yes! A whole, bone-in turkey breast because a) white meat and b) because it only takes a few hours versus several hours when roasting an entire bird. Truth be told, I do love both light and dark meat. However I don't love the time it takes to roast a whole turkey. As you'll see, this recipe is crazy easy and will have your home smelling like the holidays in under 3 hours. Plus I'm showing you how I make the easiest gravy ever.
AND there's still crispy turkey skin.
The perk of being a food blogger this time of year is TWO thanksgiving dinners. Note, this is not what my typical Thanksgiving plate looks like. Usually there's a few more spoonfuls of about 4 other of side dishes, plus rolls and extra gravy. And as my mother-in-law would say; "my eyes are bigger than my stomach." This plate 👇🏼 is a gross understatement.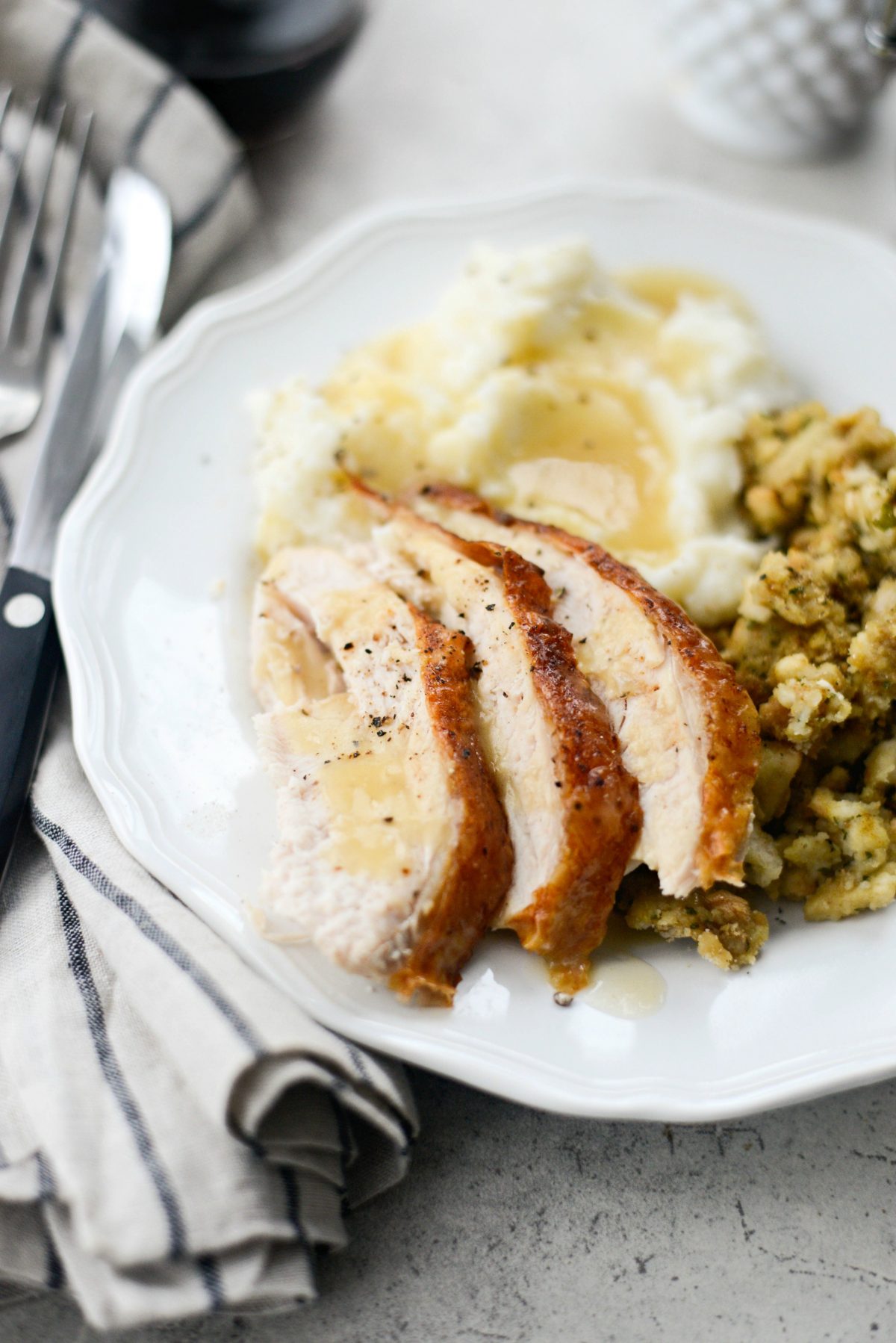 Back to the turkey. Gah! Butter roasted turkey is amazing and so SO moist and flavorful. Which isn't the case sometimes when roasting a turkey.But trust me, the answer is (and will always be) butter.
This year, Thanksgiving dinner can be a breeze.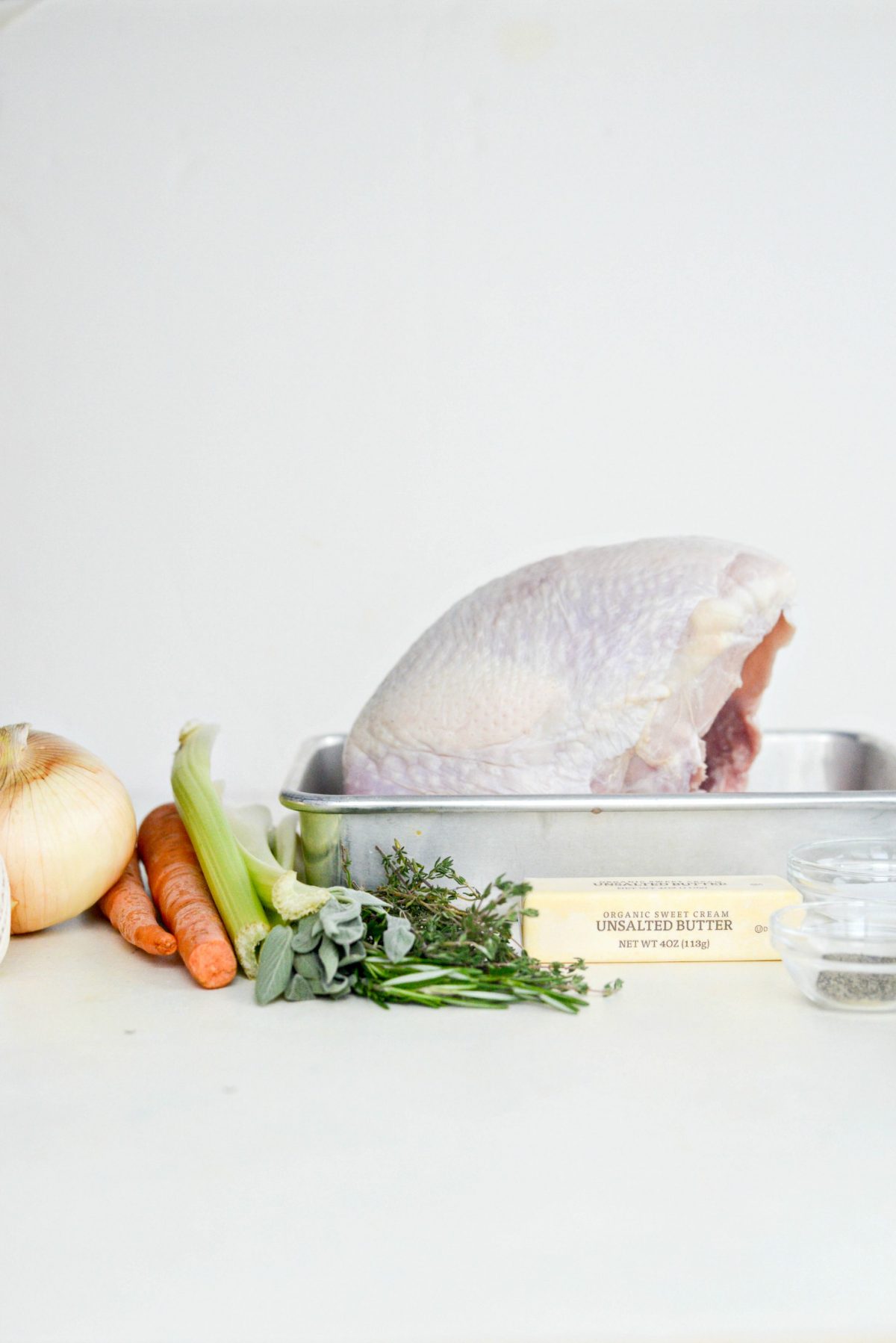 To Make This Butter Roasted Whole Turkey Breast You Will Need:
4 to 6 sprigs thyme
2 small bunches sage
1 to 2 sprigs rosemary
kitchen string
carrots
celery
onion
whole heads of garlic
bone-in turkey breast – 3-1/2 to 4-1/2 pounds (thawed if frozen)
1 stick softened unsalted butter
kosher salt
freshly ground black pepper.
For the gravy:
turkey drippings
4 to 6 tablespoons flour
turkey broth or stock
A Note About Thawing:
I bought my whole turkey breast frozen. Once I got home, I placed it (still wrapped) in a pan, like the one above, and placed it into my fridge for 3 full days to thaw. The morning of roasting, pull it out of the fridge 1 hour to 1-1/2 hours beforehand and set it on the counter to take the chill off.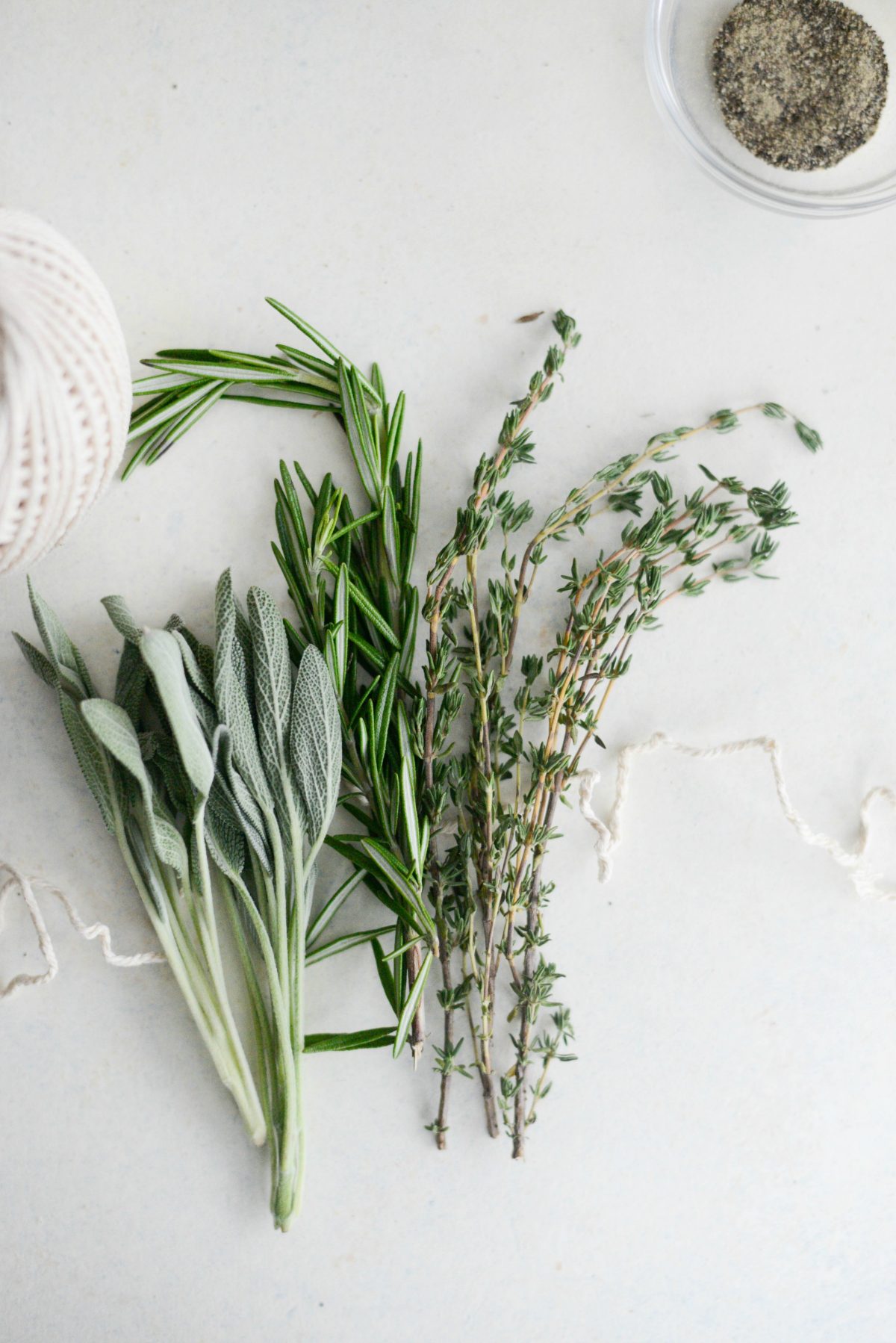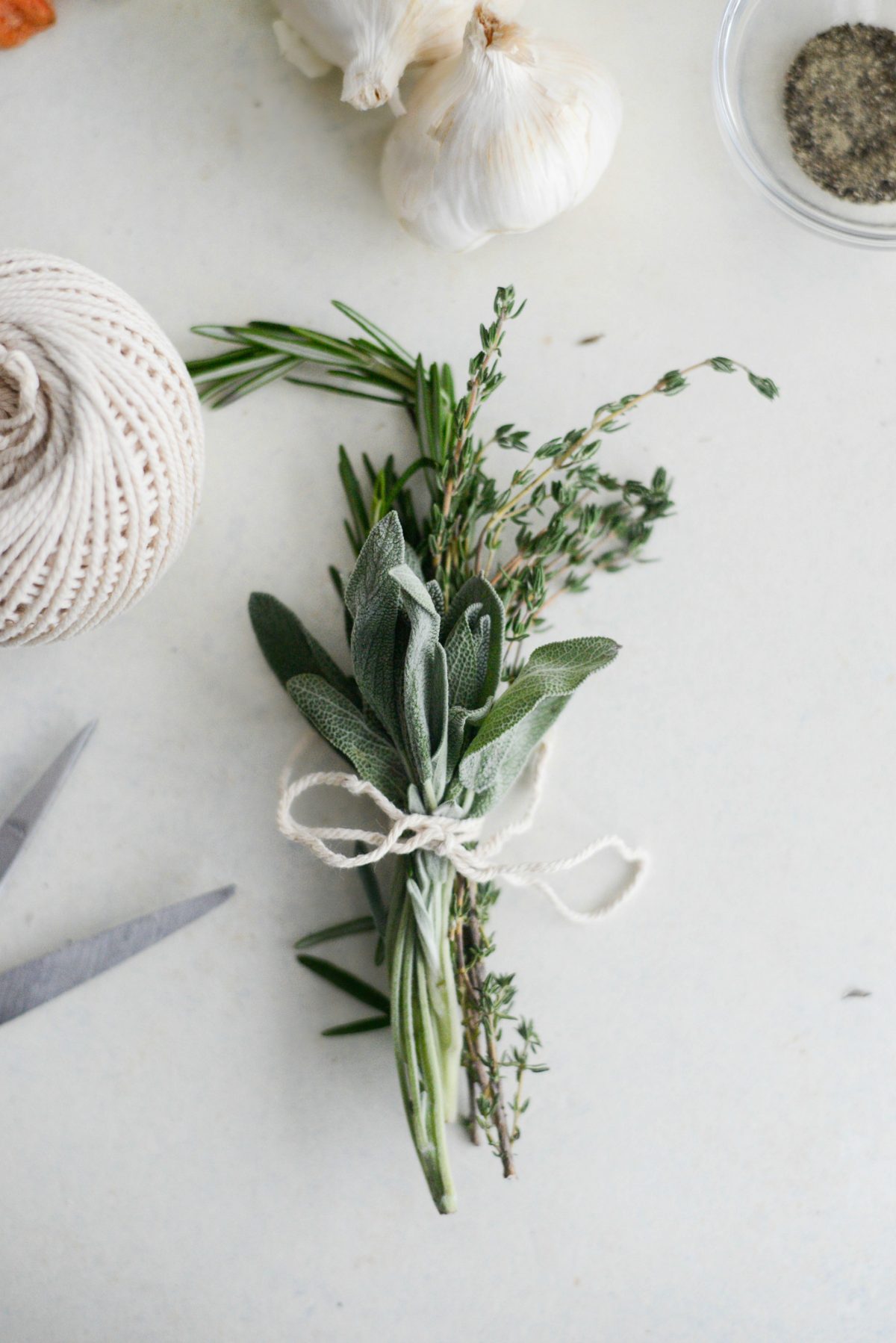 For the herb bouquet:
Bundle the fresh herbs like thyme, sage and rosemary together and tie well with kitchen string.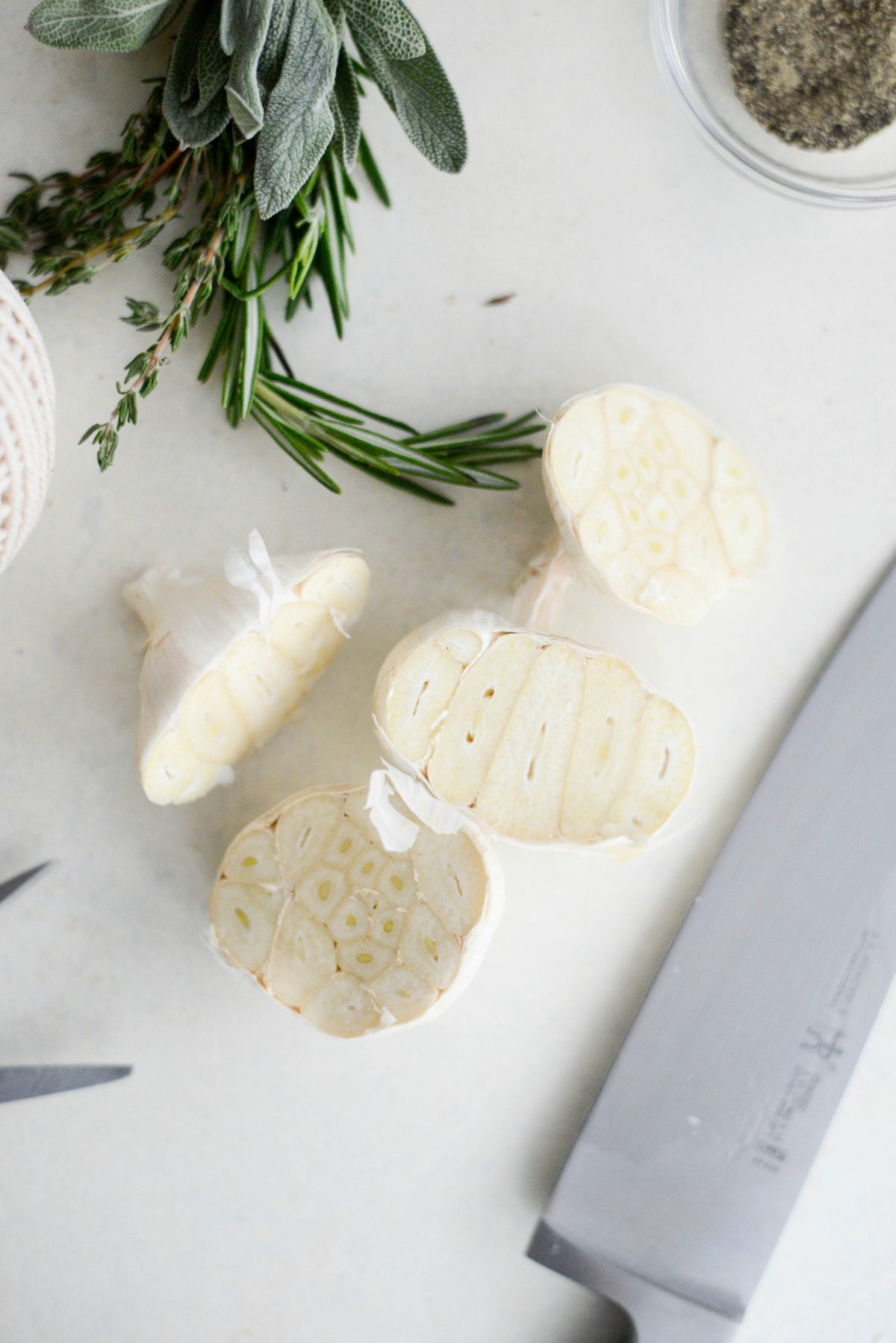 Then cut two medium-ish heads of garlic in half horizontally.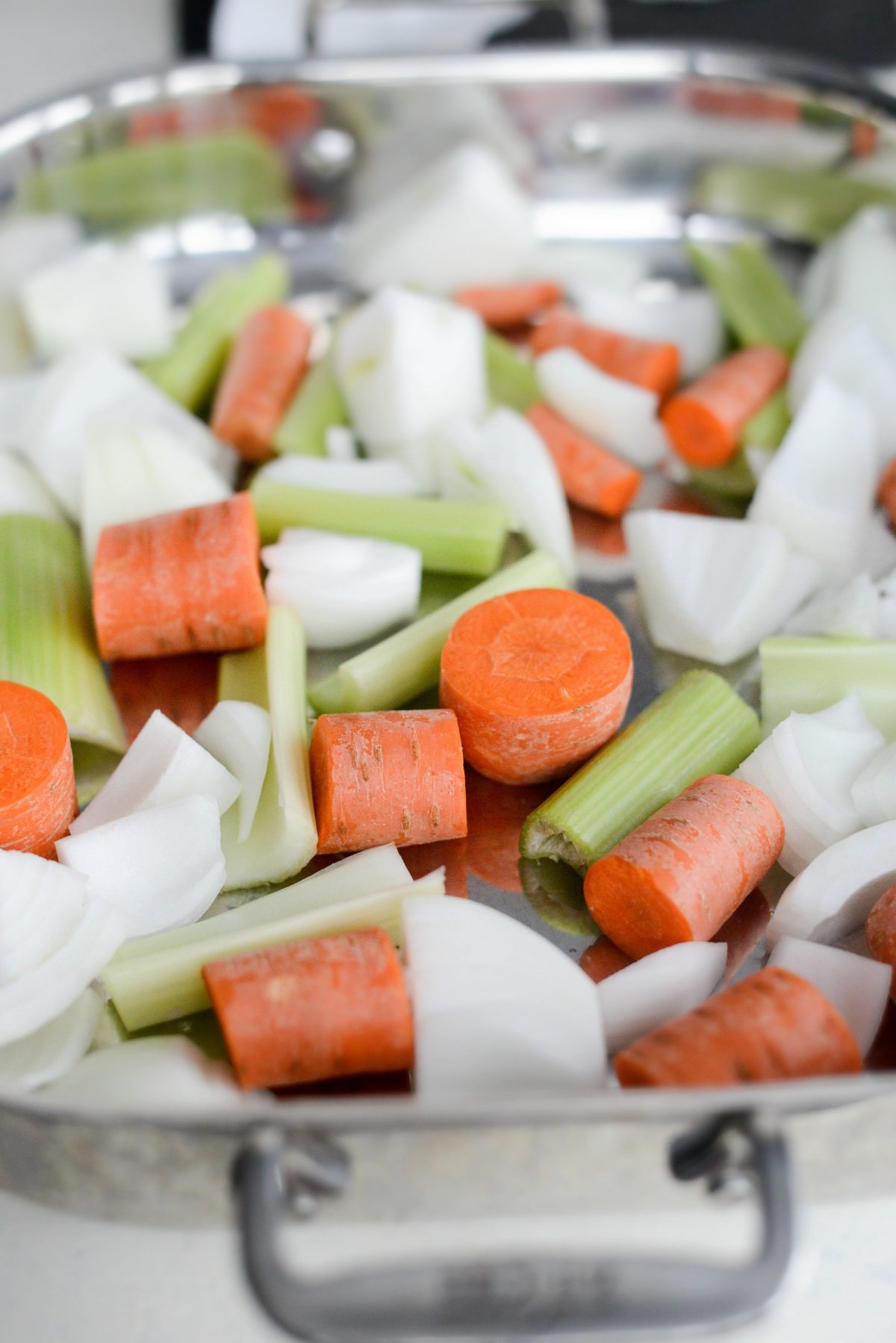 In a deep sided roasting pan (I'm using my lasagna pan) scatter the 2 chopped carrots, celery and 1 chopped onion in an even layer.
Move your oven rack to the lowest position and preheat to 325°. Then using paper towel, blot dry the exterior and the inside cavity of the turkey, well.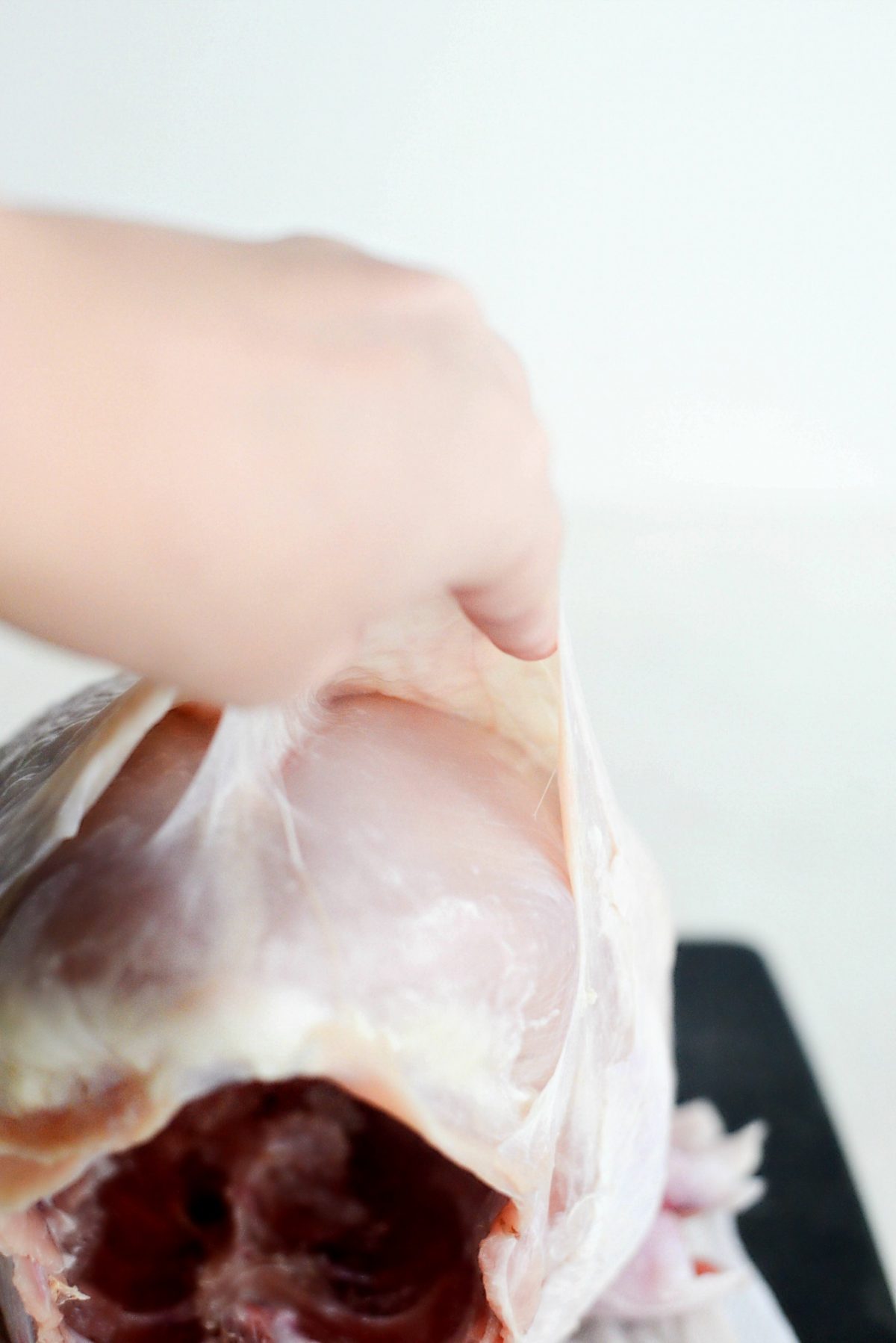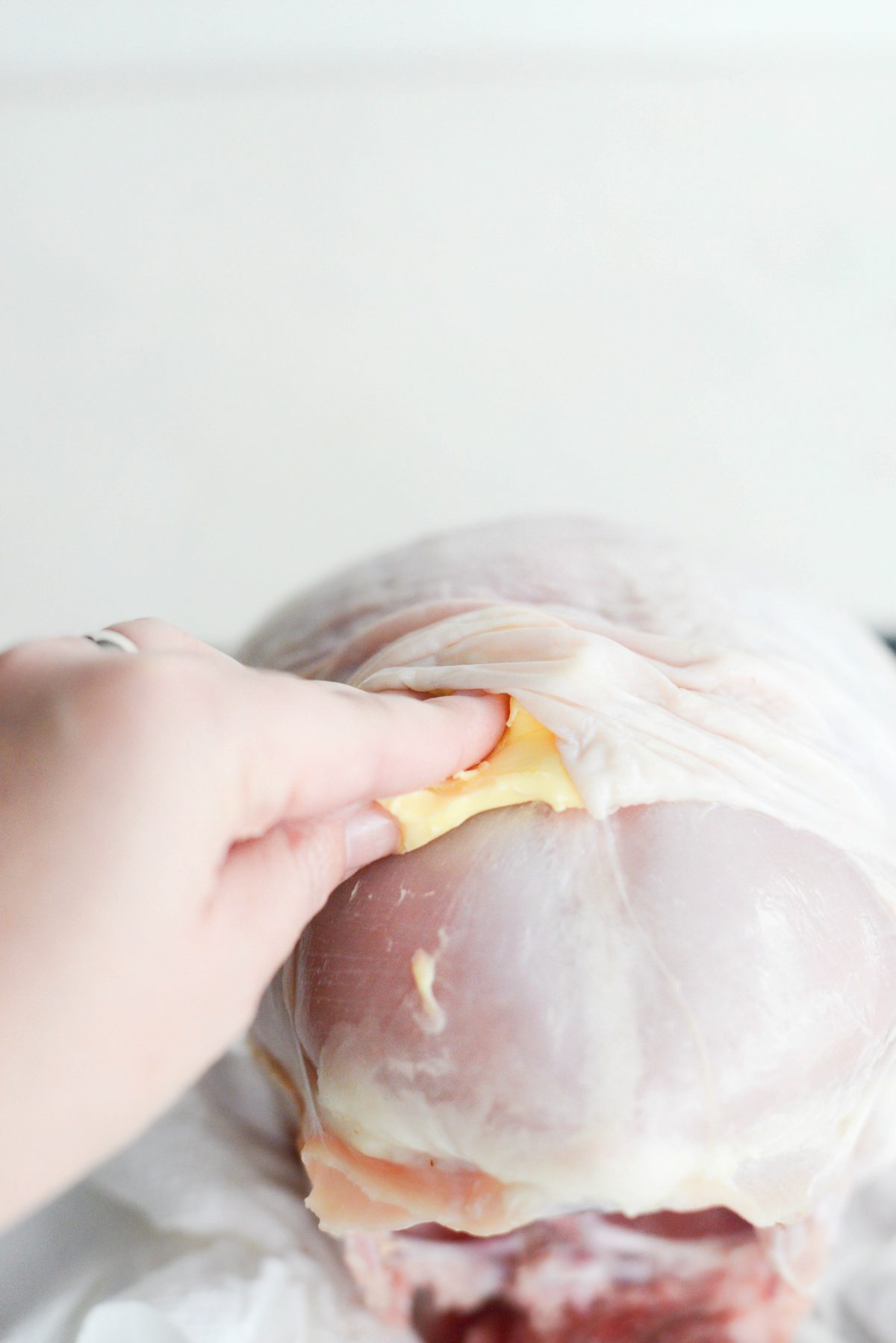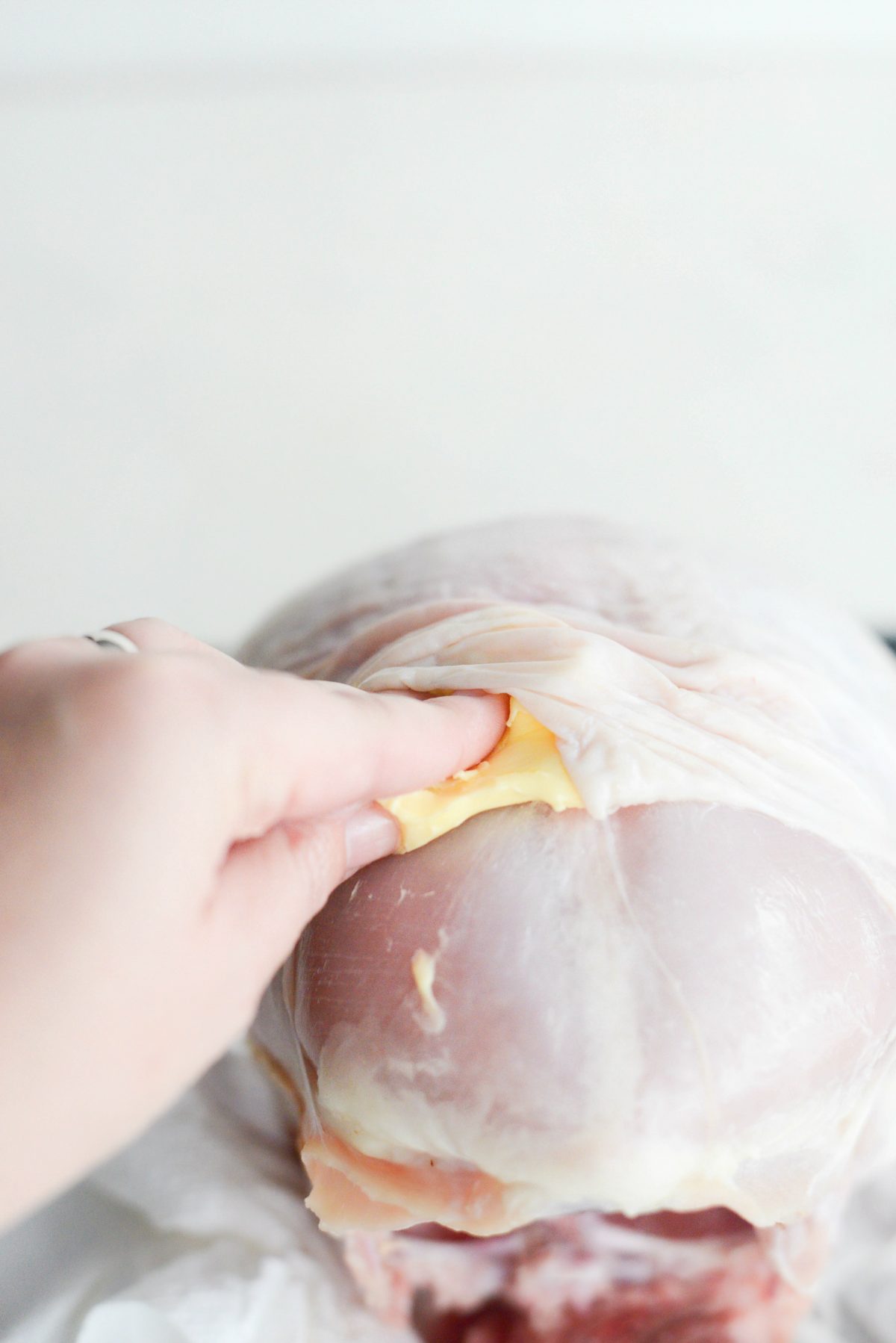 Next, use your fingers to get under the skin and pull it from the flesh. Then rub the butter underneath the skin and then around the exterior, and inside the cavity of the turkey.
Think of it as a butter massage.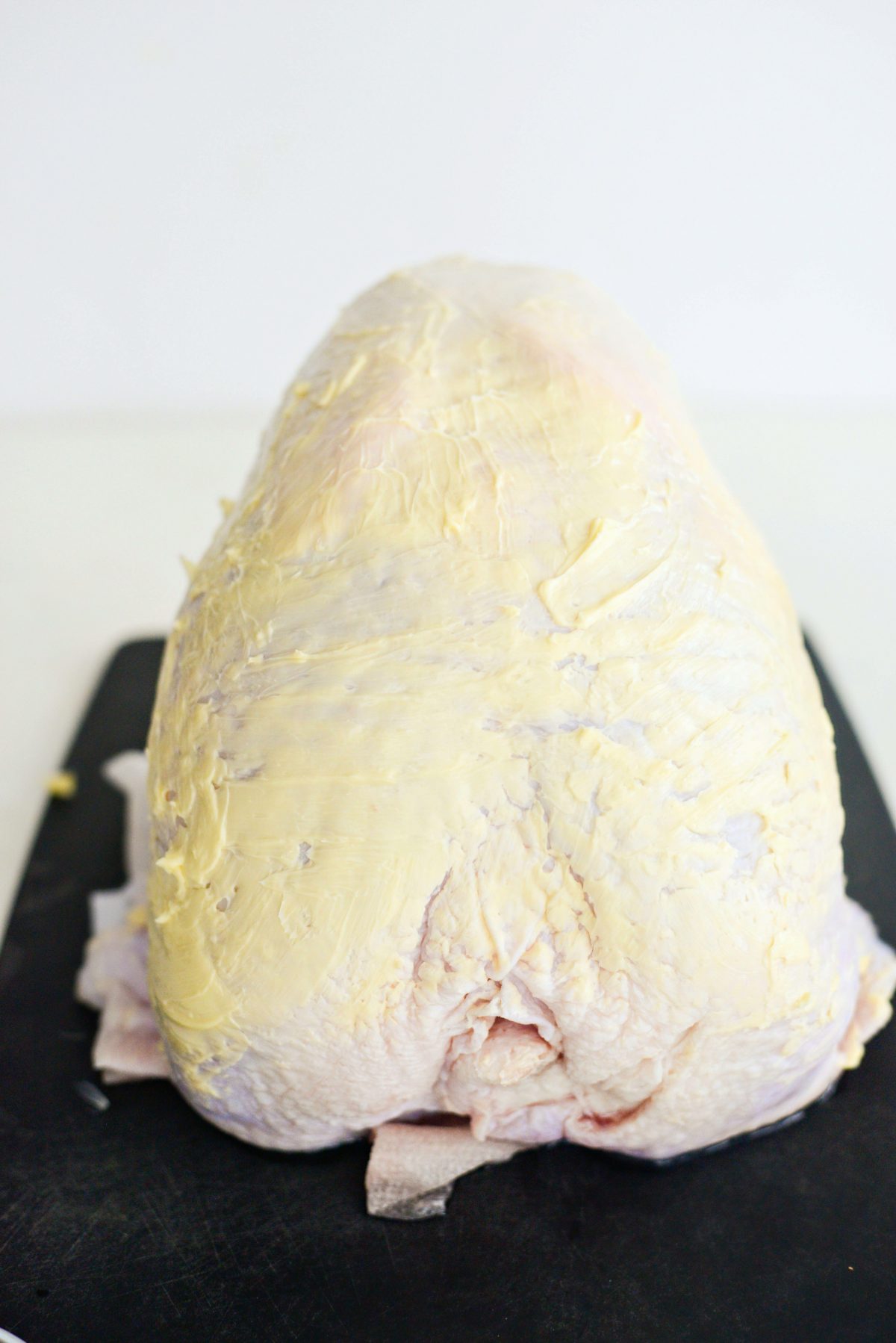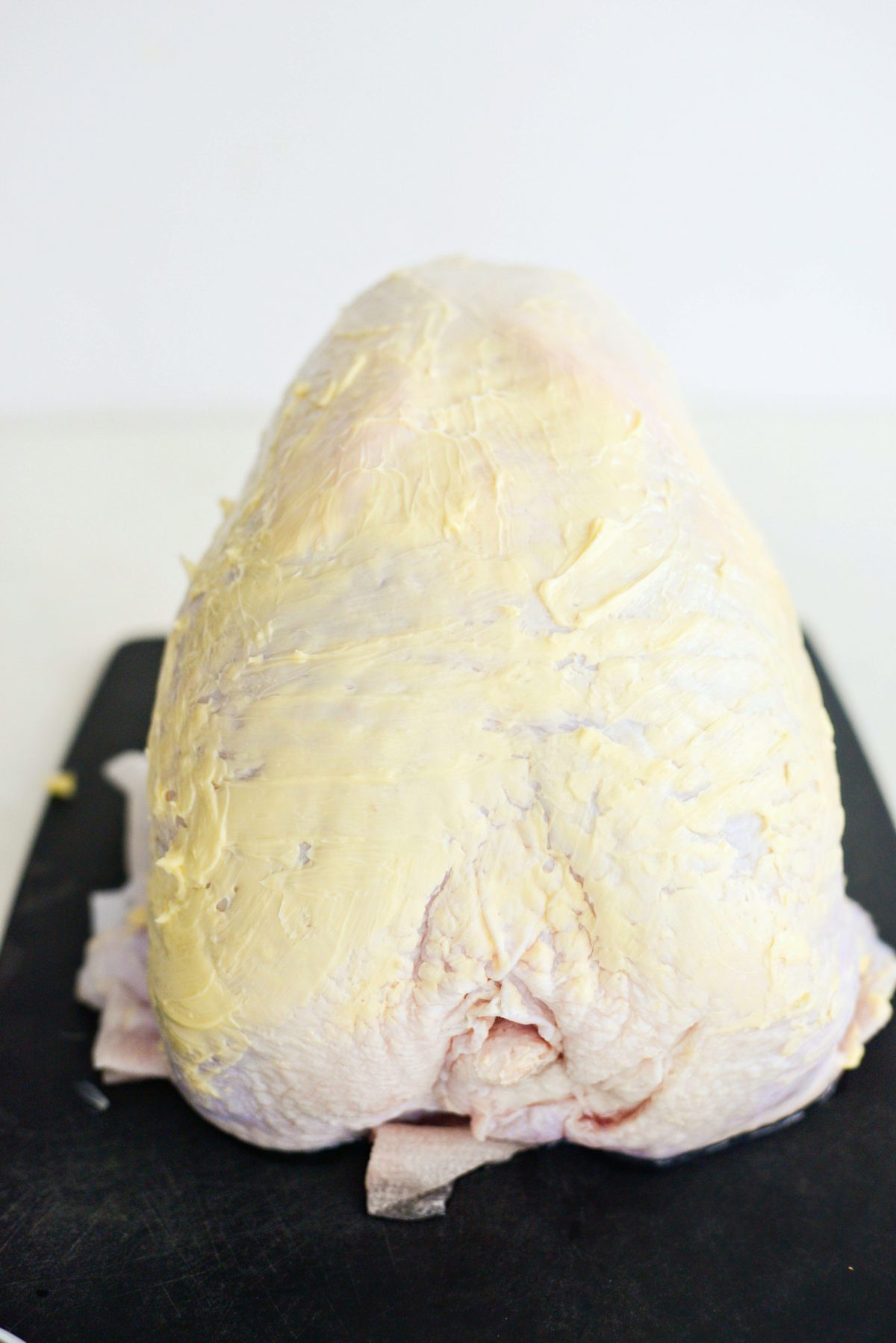 Make sure your butter is SUPER soft (not melted) otherwise the butter will not spread easily.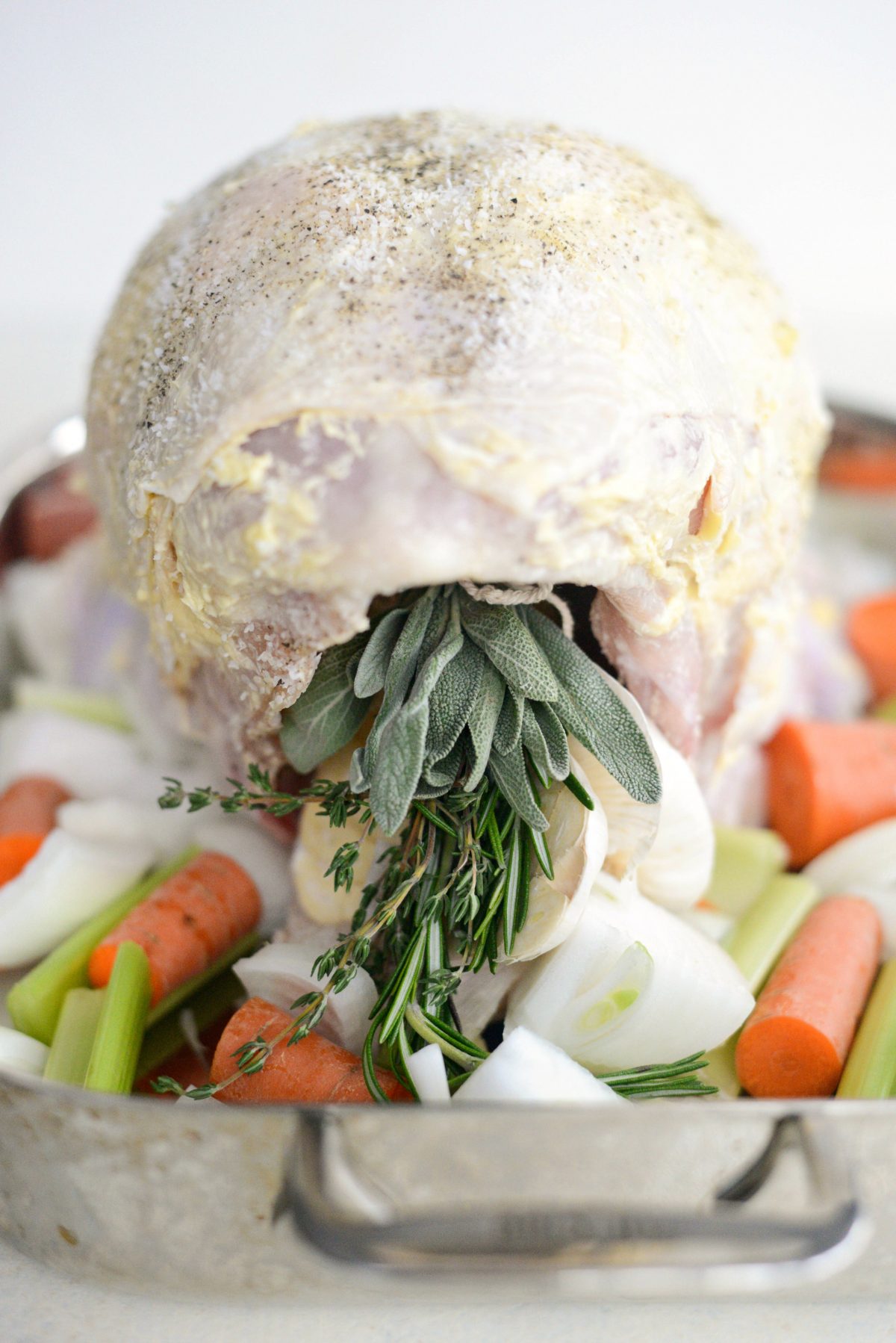 Then season the exterior and inside the cavity, generously with kosher salt and black pepper. Place the turkey breast onto the bed of vegetables and stuff the garlic halves and herbs inside the cavity.
Slide the turkey into your preheated oven and roast for 1 hour.
Keep in mind this is a turkey Breast and NOT a whole turkey. So these times will not work if using a whole turkey.
Then remove, and use a turkey baster to pick up the butter/juices in the bottom of the pan and squeeze over top and inside the cavity of the turkey.
Return the turkey to the oven to roast for an additional 30 minutes. Then repeat this step twice more or until the turkey skin is deep golden, crispy and a thermometer reads 160° when inserted into the thickest part of a breast.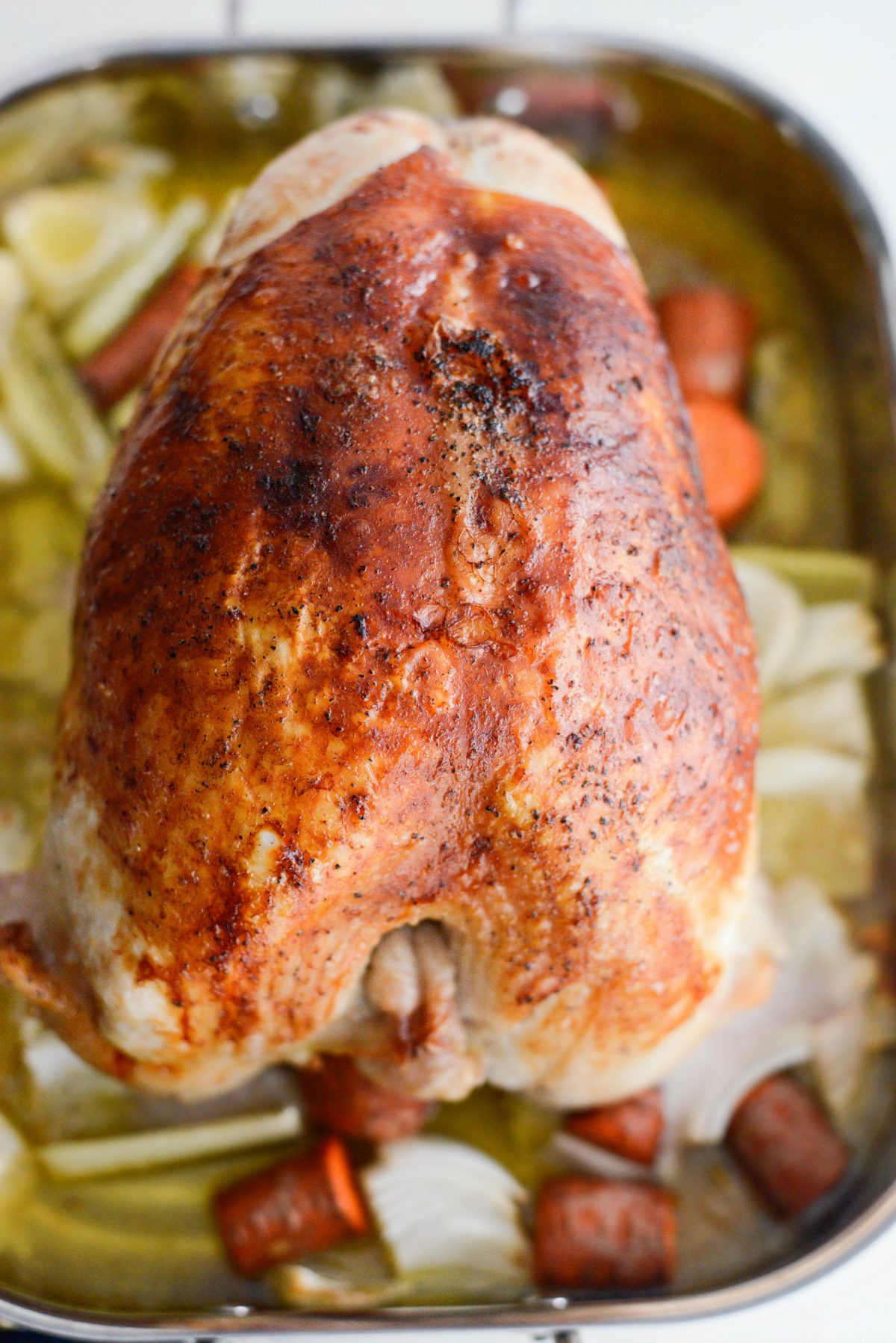 Look at that crispy turkey skin!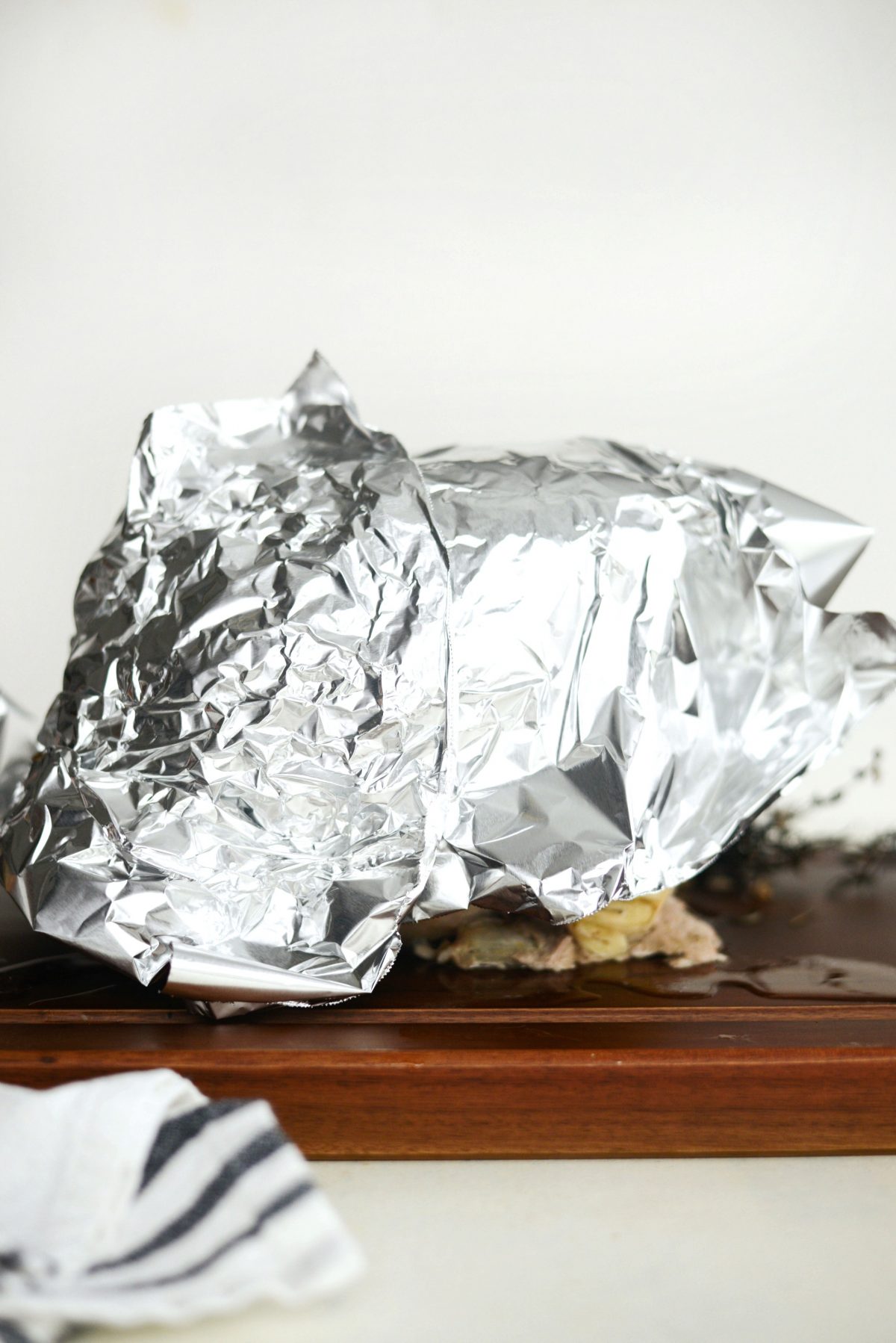 Carefully transfer the turkey breast to a carving board and cover with foil. Allow to rest for at least 20 minutes which is the perfect amount of time to make the gravy.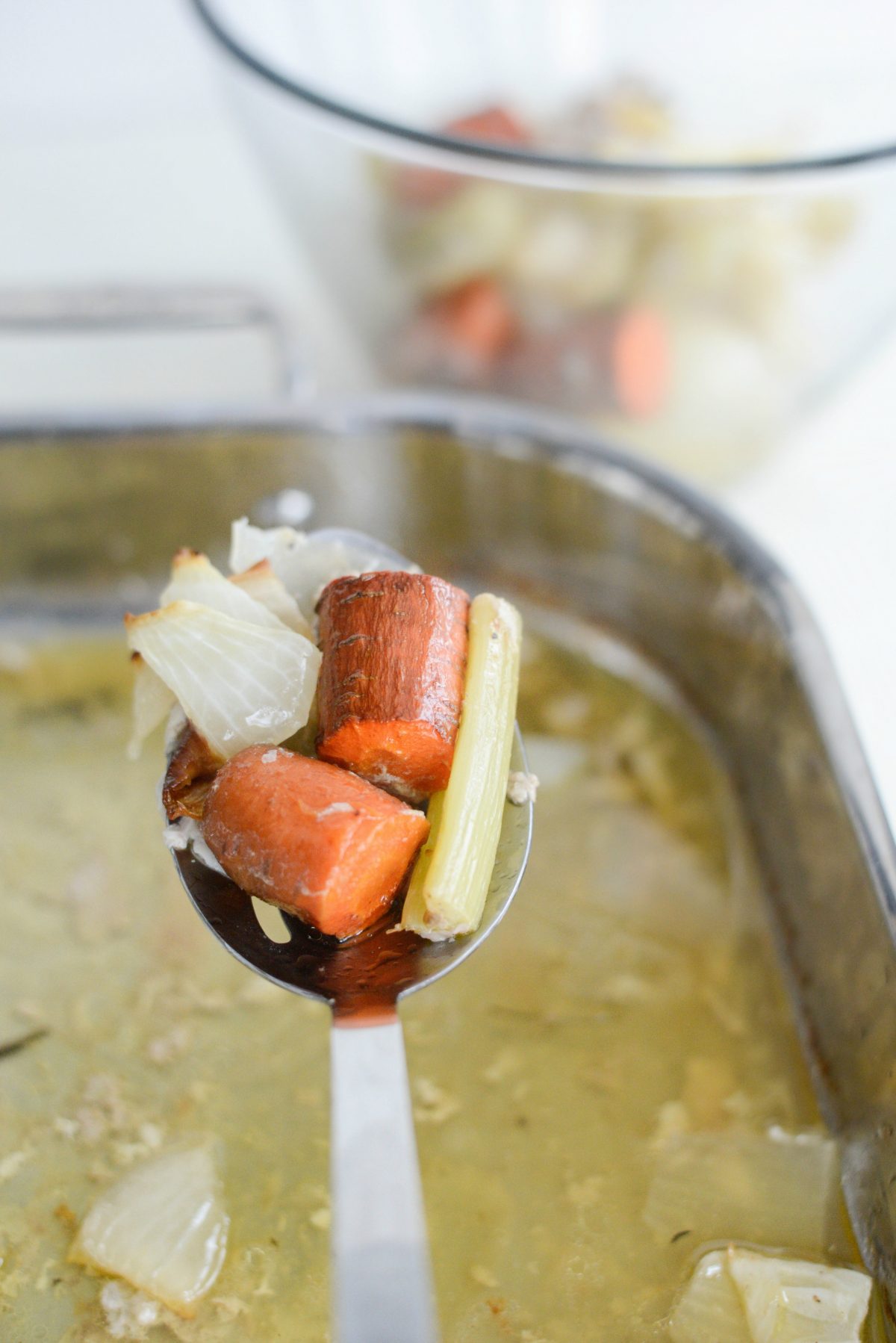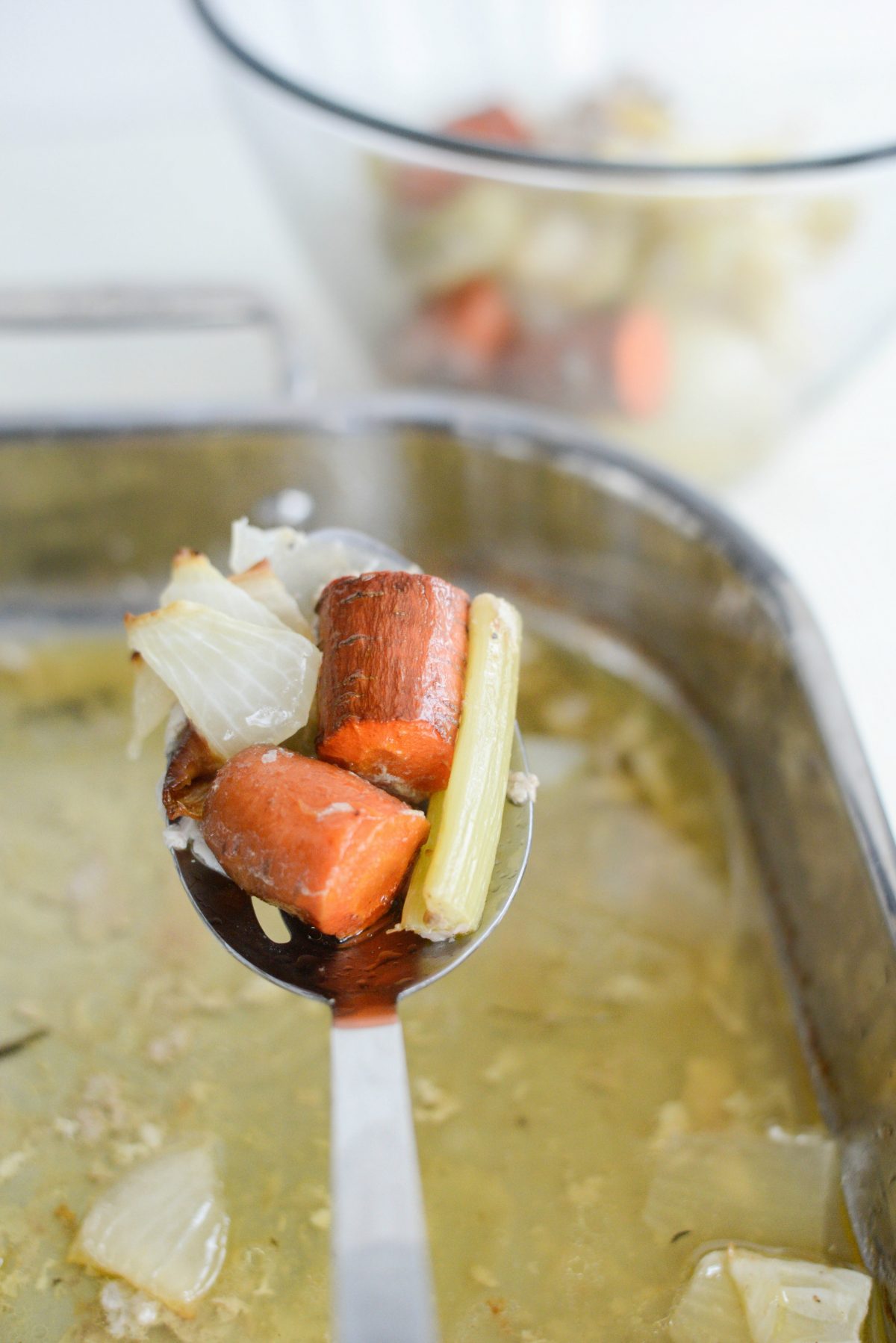 Use a slotted spoon to remove the vegetables to a bowl and discard.
They have done their job in flavoring the pan juices.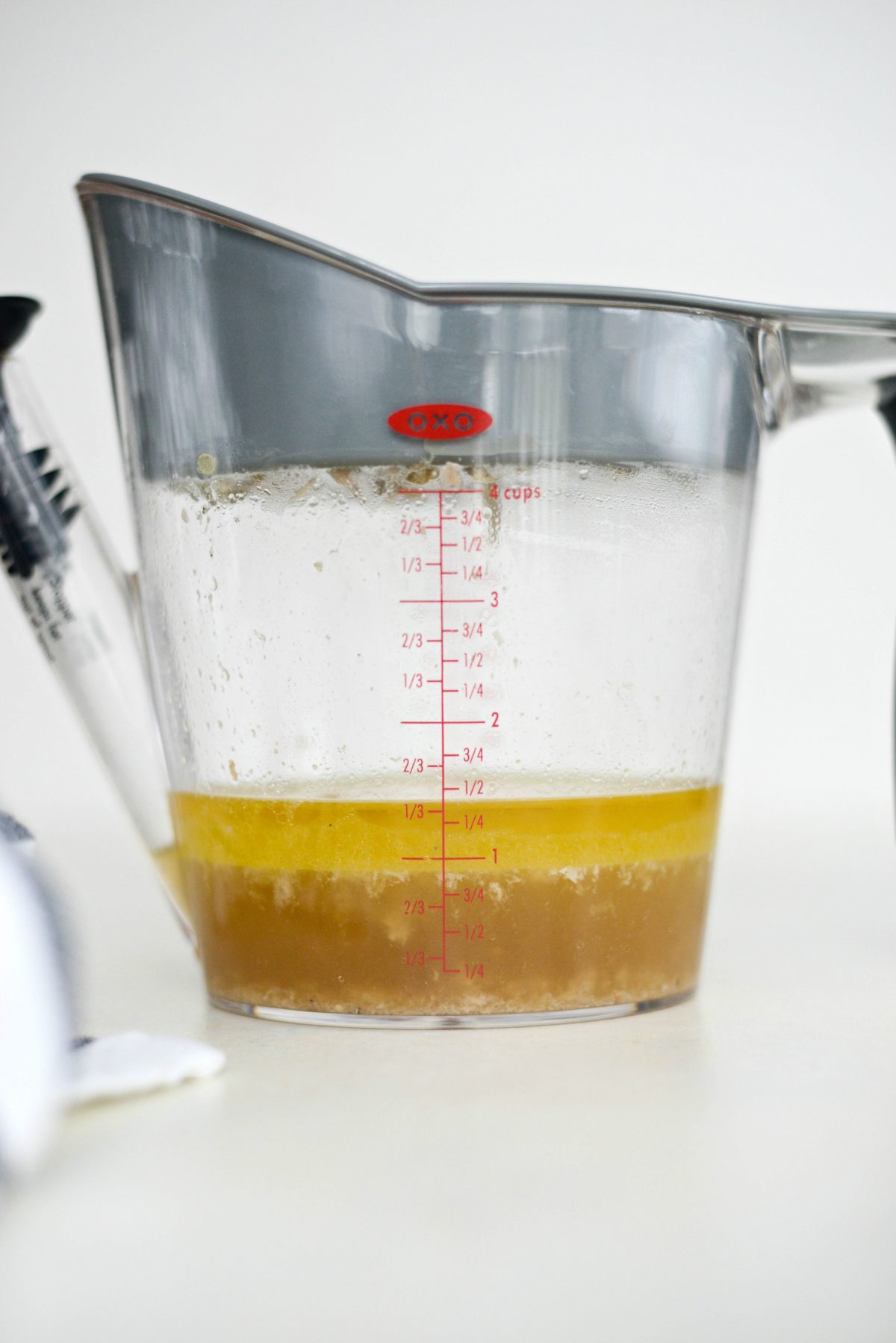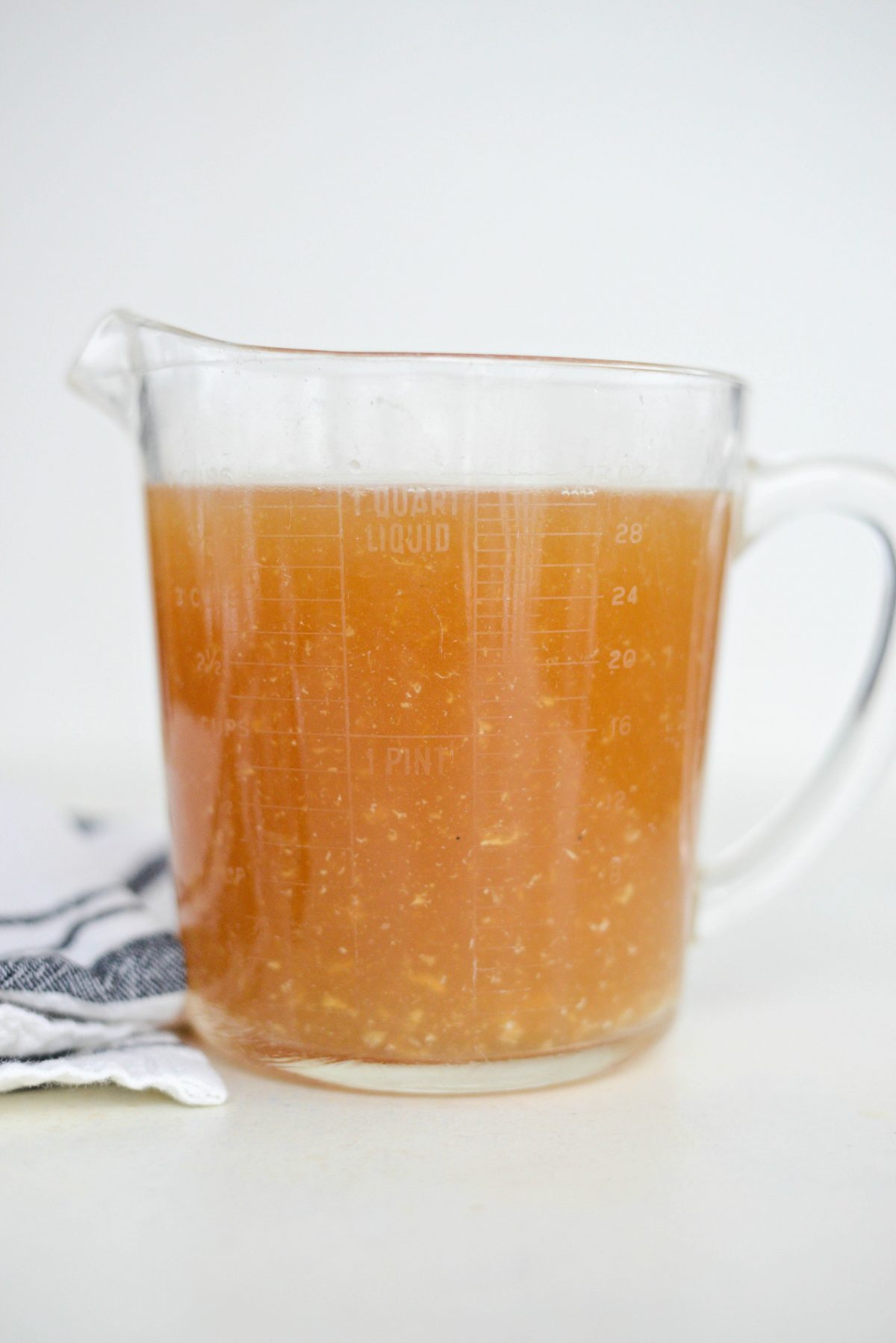 To Make the Pan Gravy:
Next, pour the pan juices into a fat separator. Once separated. Pour the juices into a separate measuring cup and add enough turkey stock or broth to make 4 cups. Then add only 1/4 cup of the turkey fat back to the roasting pan. Place the roasting pan on a large burner and heat to high.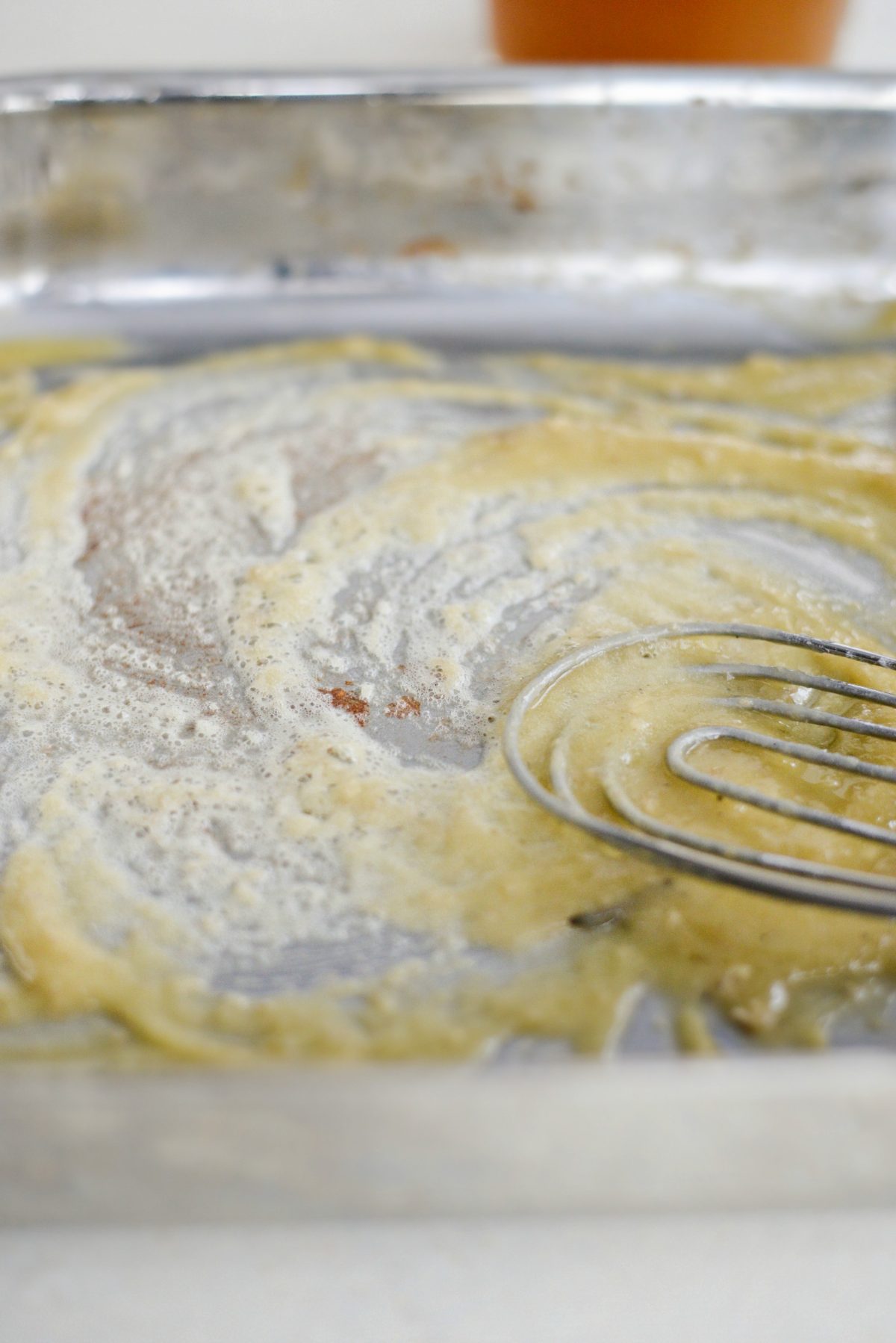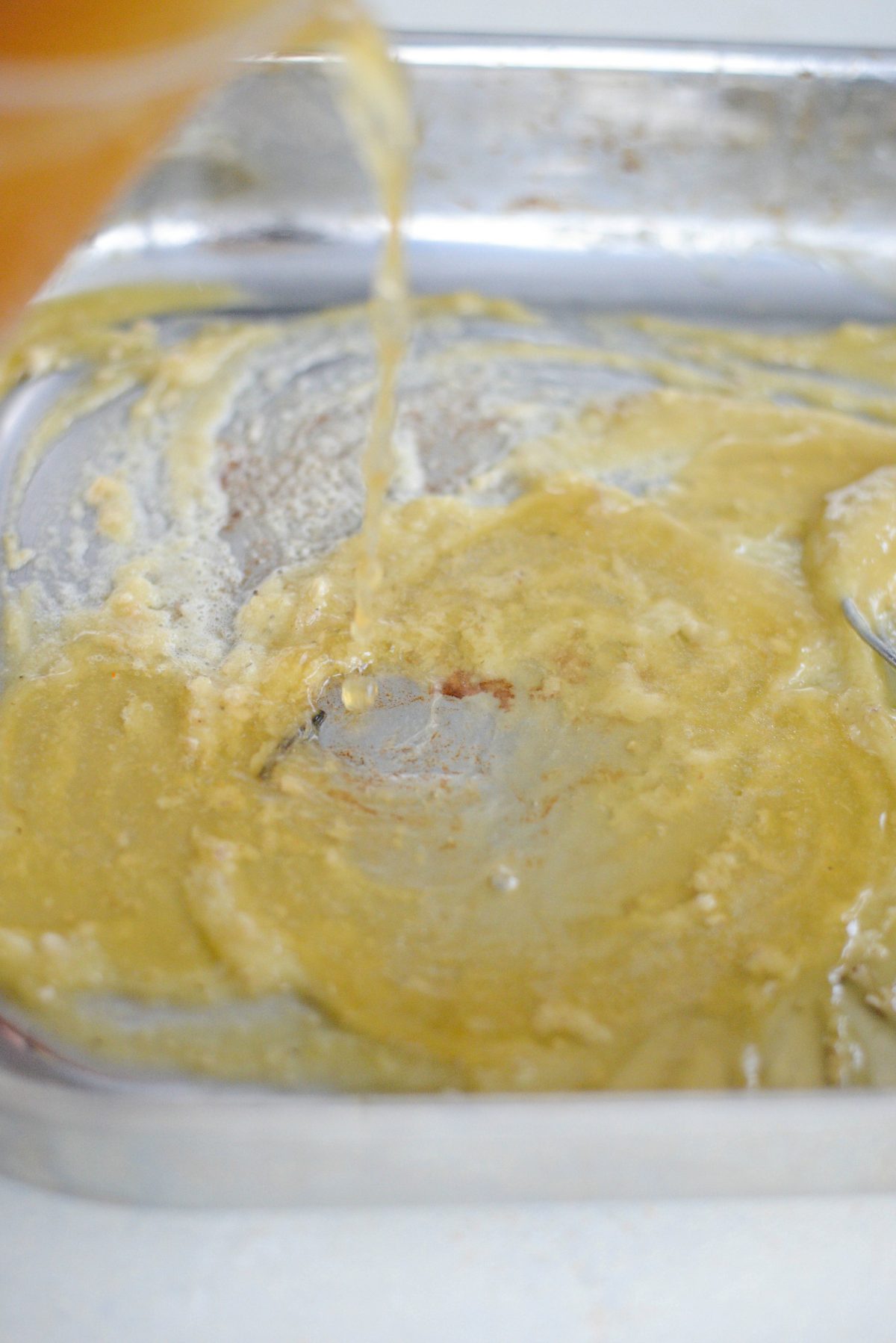 Whisk in enough of the flour to make a smooth paste. Cook for 2 to 4 minutes, then pour in 4 cups of broth/juices into the pan and bring to a boil while whisking often.
Once thickened, strain (if desired) and serve in a gravy boat.
All that's left to do is slice and serve the turkey with your favorite sides!
We like:
these dinner rolls!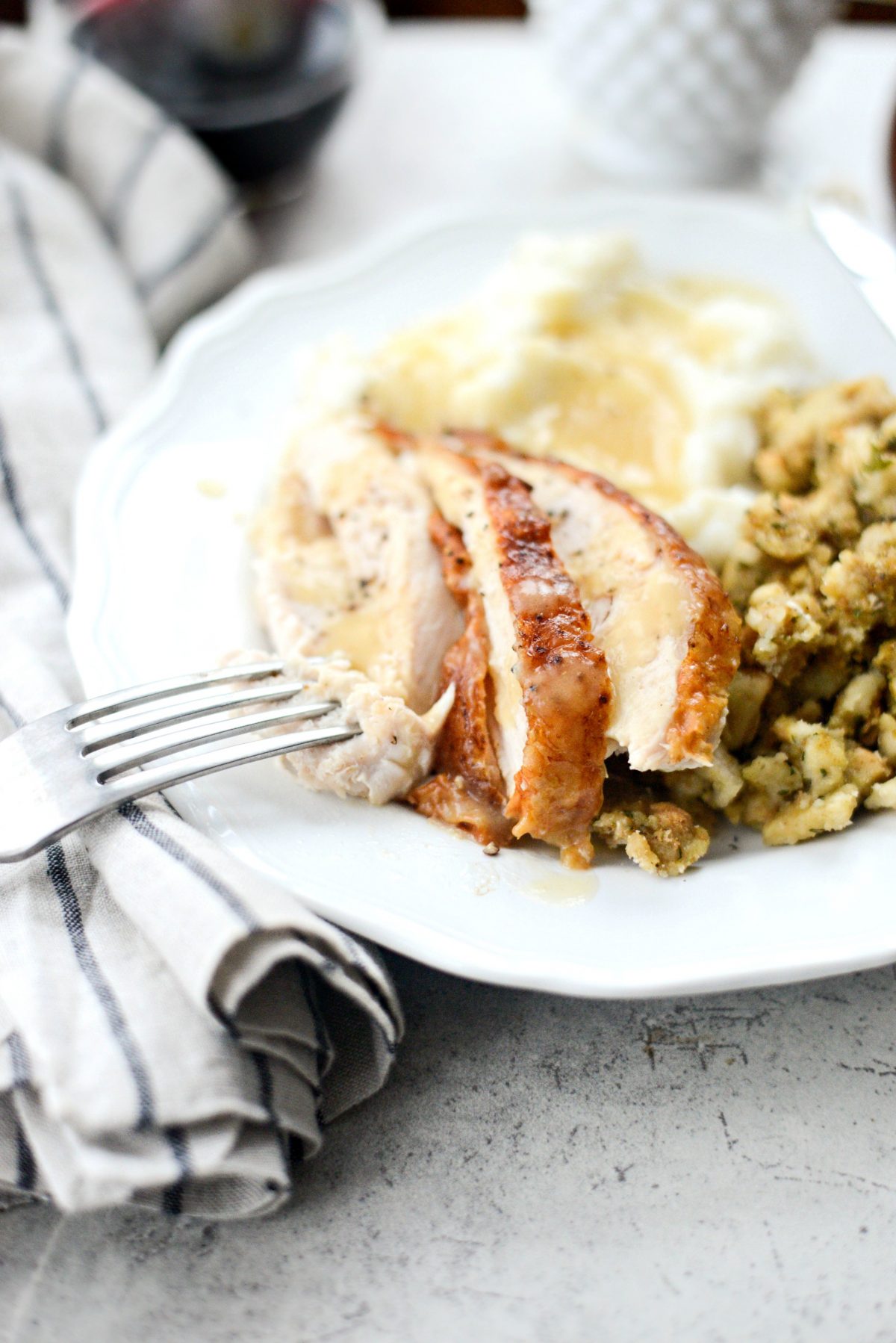 Enjoy! And if you give this Butter Roasted Whole Turkey Breast recipe a try, let me know! Snap a photo and tag me on twitter or instagram!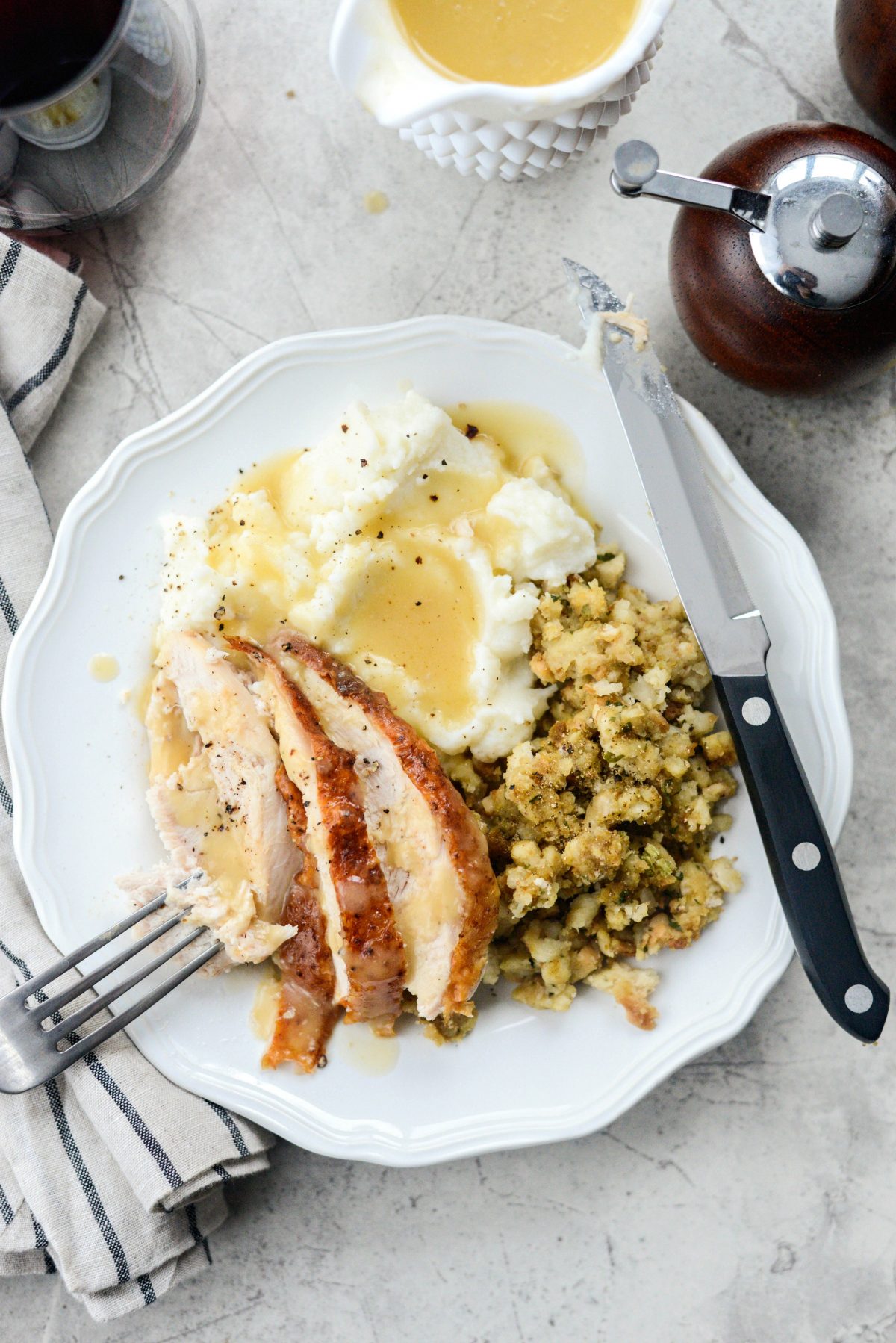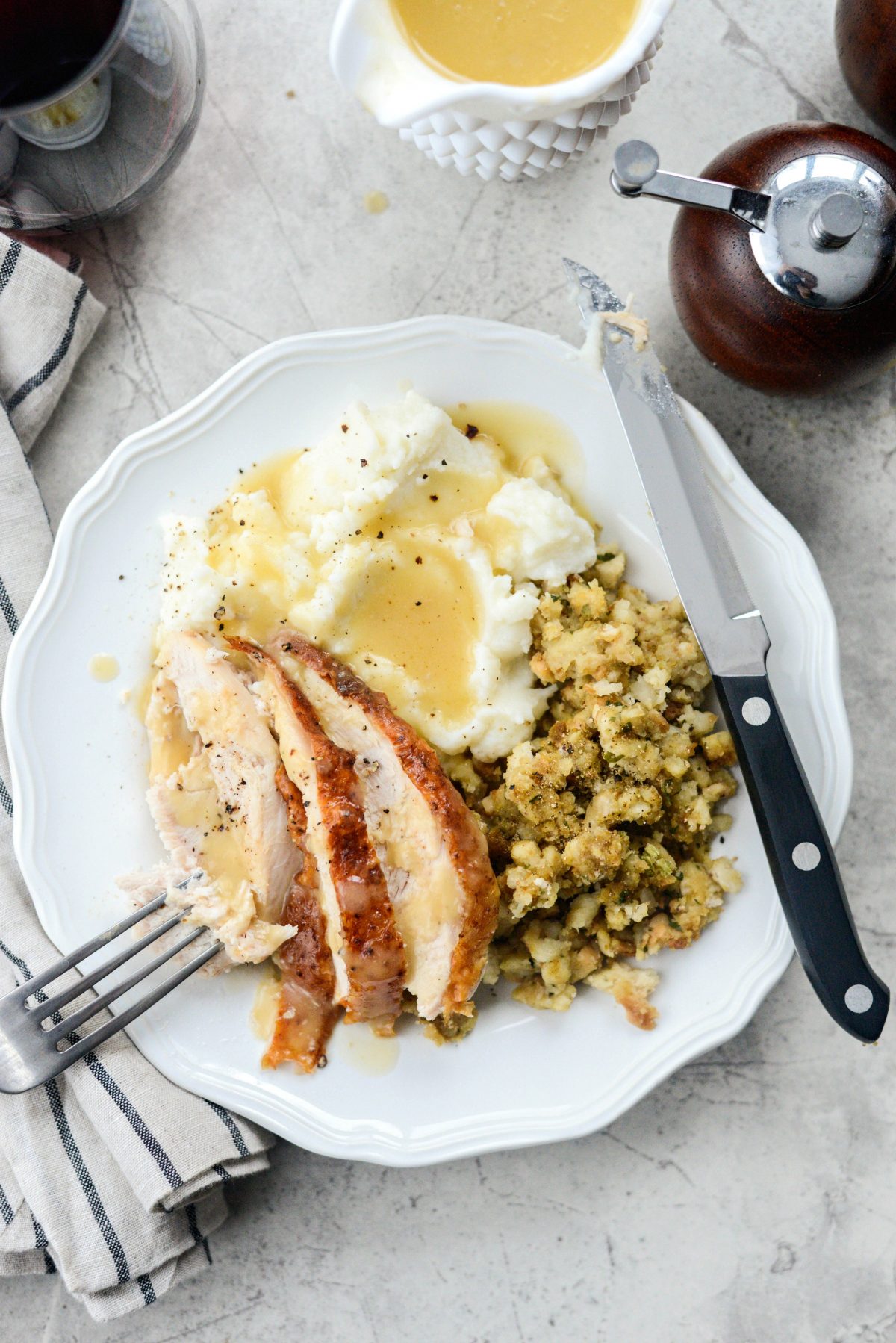 This post may contain affiliate links.
Buy the Cookbook: Simply Scratch : 120 Wholesome Homemade Recipes Made Easy Now available on Amazon »
THANK YOU in advance for your support!