Slow cooker candied sweet potatoes don't get any easier or more delicious. This may quite possibly be be the most delicious sweet potatoes I've ever tasted. [and I'm so excited to finally share it with you!]
Candied sweet potatoes has always been a side dish at my childhood Thanksgiving table.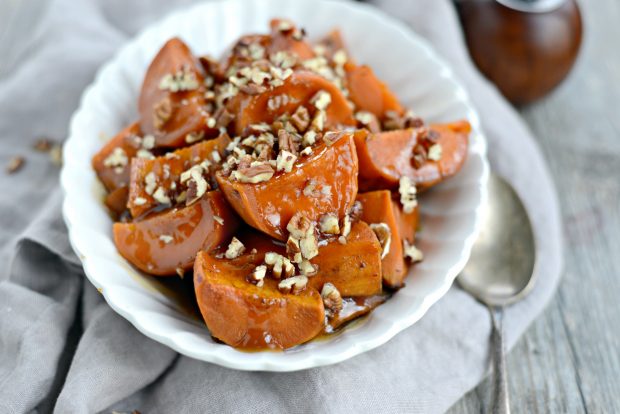 Although my mom's weren't made in a slow cooker, they still were loaded with brown sugar and butter so yeah, they're pretty fabulous. And my sweet tooth approved.
If you recall, last year I hosted my first Thanksgiving. I kept things classic with roast turkey, mashed potatoes, broccoli casserole, dinner rolls and since my father-in-law loves candied sweet potatoes I made him my favorite recipe. I wanted to blog it but there just wasn't enough time to do it. So I waited almost an entire year to share it with you.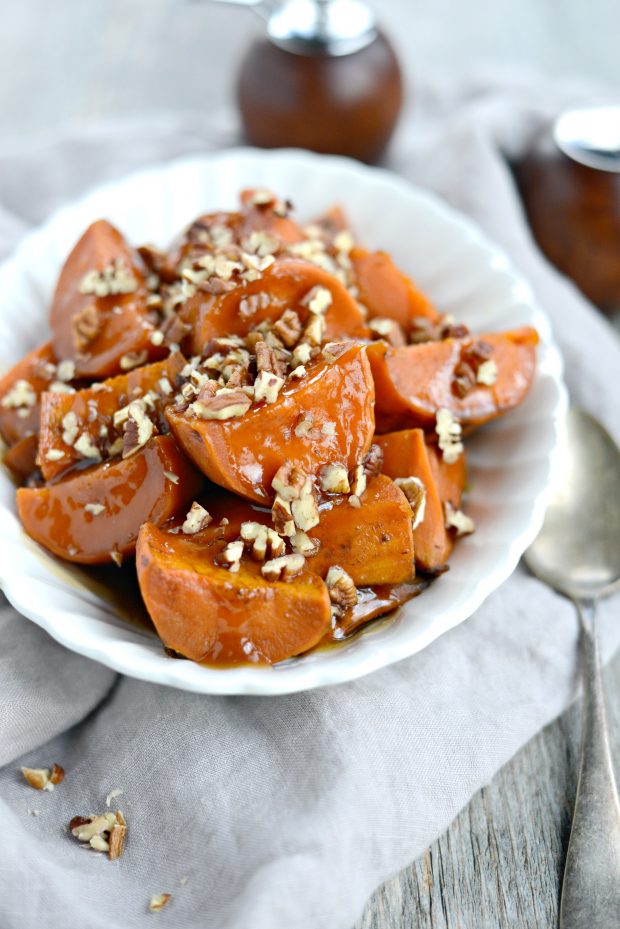 I don't know about you but I have limited stove top and oven space once I stuff the bird into the oven and get going on all those side dishes. Because of this, I needed to bust out my slow cooker and put it to use. And candied sweet potatoes are made to be slow cooked.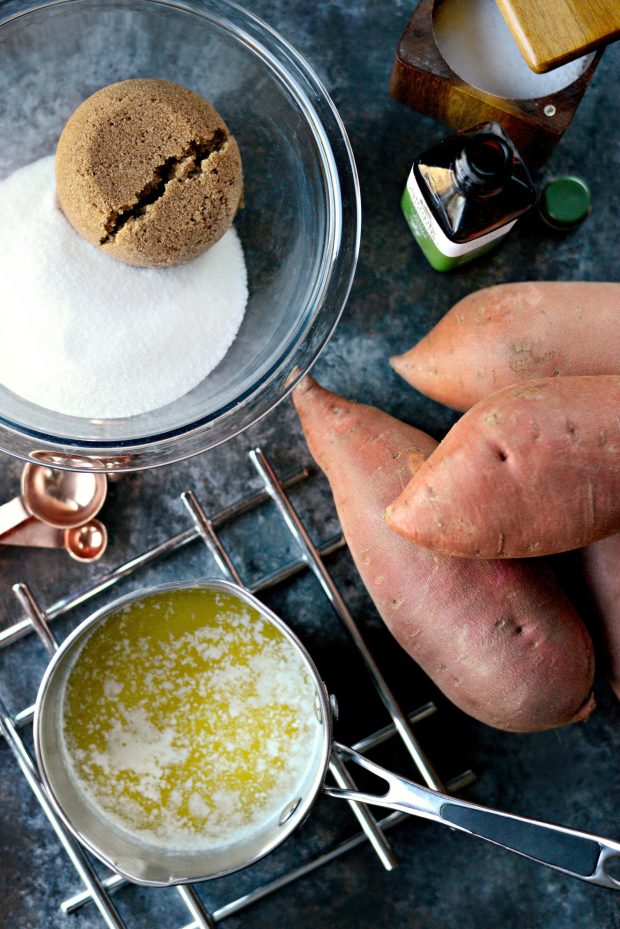 Prep it, set it and forget it.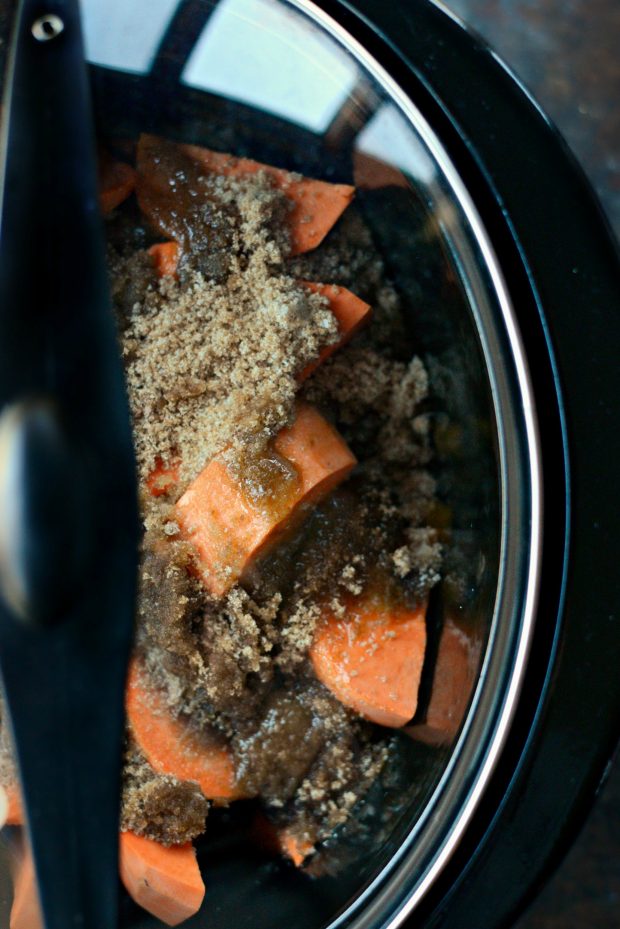 First peel around 3-1/2 to 4 pounds sweet potatoes. Next, place them into your slow cooker, sprinkle with a cup of each granulated and dark brown sugar. Then throw in 1/4 teaspoon of kosher salt and drizzle everything with a stick (!!!) of unsalted butter and 2 teaspoons vanilla extract.
You can toss it all together or not, it's up to you. 😉 Cover, set to low and cook for 6 hours.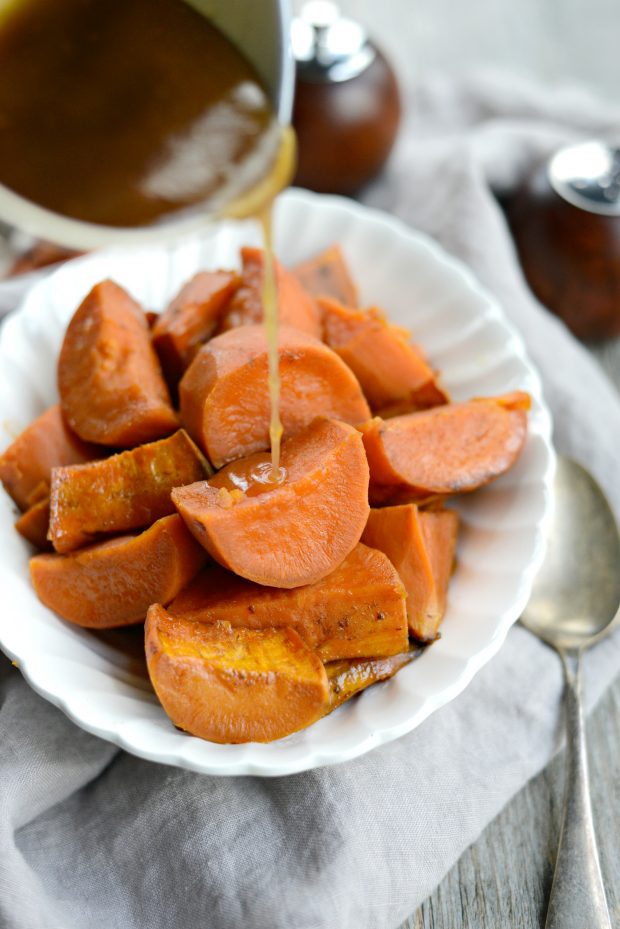 Lastly, once the slow cooker candied sweet potatoes are done, pour a half cup of the vanilla/brown sugar/butter mixture into a small sauce pan. Heat to medium high and bring it to a boil and whisk in 2 teaspoons of cornstarch that has been mixed with 2 teaspoons water. This will thicken that glaze up perfectly so you can pour all over those sweet potatoes.
I know, right?!
Lastly, serve the potatoes in a bowl and sprinkle with chopped toasted pecans and serve.
These slow cooker sweet potatoes are melt in your mouth delicious and I just know you'll love them!
Enjoy!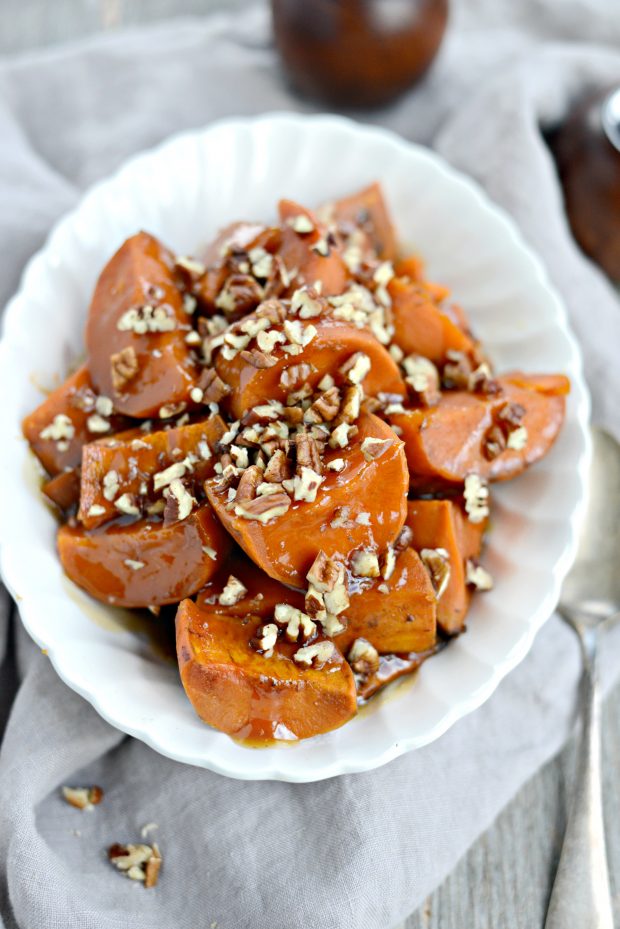 My cookbook Simply Scratch : 120 Wholesome Homemade Recipes Made Easy is now available! CLICK HERE for details and THANK YOU in advance! 
Slow Cooker Candied Sweet Potatoes
Slow cooker candied sweet potatoes can't get any easier or more delicious. These quite possible could be the most delicious sweet potatoes I've ever tasted.
Yield: about 10-12 servings
Prep Time: 5 minutes
Cook Time: 6 hours
Total Time: about 6 hours
Ingredients:
4 pounds sweet potatoes, peeled and cut into large chunks
1 cup granulated sugars
1 cup dark brown sugar
1/4 teaspoon kosher salt
1 stick (8 tablespoons) unsalted butter
2 teaspoons pure vanilla extract
2 teaspoons cornstarch
2 teaspoons water
1/3 cup chopped toasted pecans
Directions:
Combine sweet potatoes, both sugars, salt, butter and vanilla in your slow cooker.
Cover, set to low and cook for 6 hours.
Once potatoes are tender, remove 1/2 cup of the slow cooker liquids. Pour it into a small sauce pan and bring to a boil. This should only take a minute or two. Meanwhile, mix together 2 teaspoons of cornstarch with 2 teaspoons of water.
Once the liquids are boiling, whisk in cornstarch mixture. Continue to whisk until thickened. About 1 minute.
Serve sweet potatoes drizzled with the thickened glaze and top with chopped pecans.
[this post contains affiliate links.]