Feed a small crowd with this Easy Sheet Pan Lasagna! Oven ready lasagna noodles are the key to making this a simple sheet pan dinner. Layered with Italian sausage, ground beef, 3 cheeses and a homemade marinara. Dinner just got delicious.
Well my friends, my refrigerator came back from the dead. I'm not even joking. Last night, after I announced which fridge I was going to buy and after 3 days of the current fridge NOT running, we heard it click on and start running. On it's own! And this morning I woke up to ice being dropped into the bin. What the…??? I know that I should feel some form of relief that I don't have to spend the money, but I really wanted a new fridge. This means I'll be running food back upstairs. My thighs better look amazing after this.
Speaking of amazing, this easy sheet pan lasagna is phenomenal! And it makes the 9th lasagna recipe I have on here. That may seem like a crazy amount but it does clue you in on one thing; this girl loves her lasagna. There's something about those layers that I love so much. It's comfort on a plate and leftovers are just as delicious, if not more so, the next day.
What I really like about this sheet pan lasagna recipe is you don't need a special lasagna pan! Your well-loved, rimmed sheet pan will do the job! Simply layer it up and slide it into your oven and 40 minutes later… lasagna! This kind of recipe is great for feeding a small crowd or large family. And bonus! It's also ridiculously easy.
Because who doesn't love lasagna?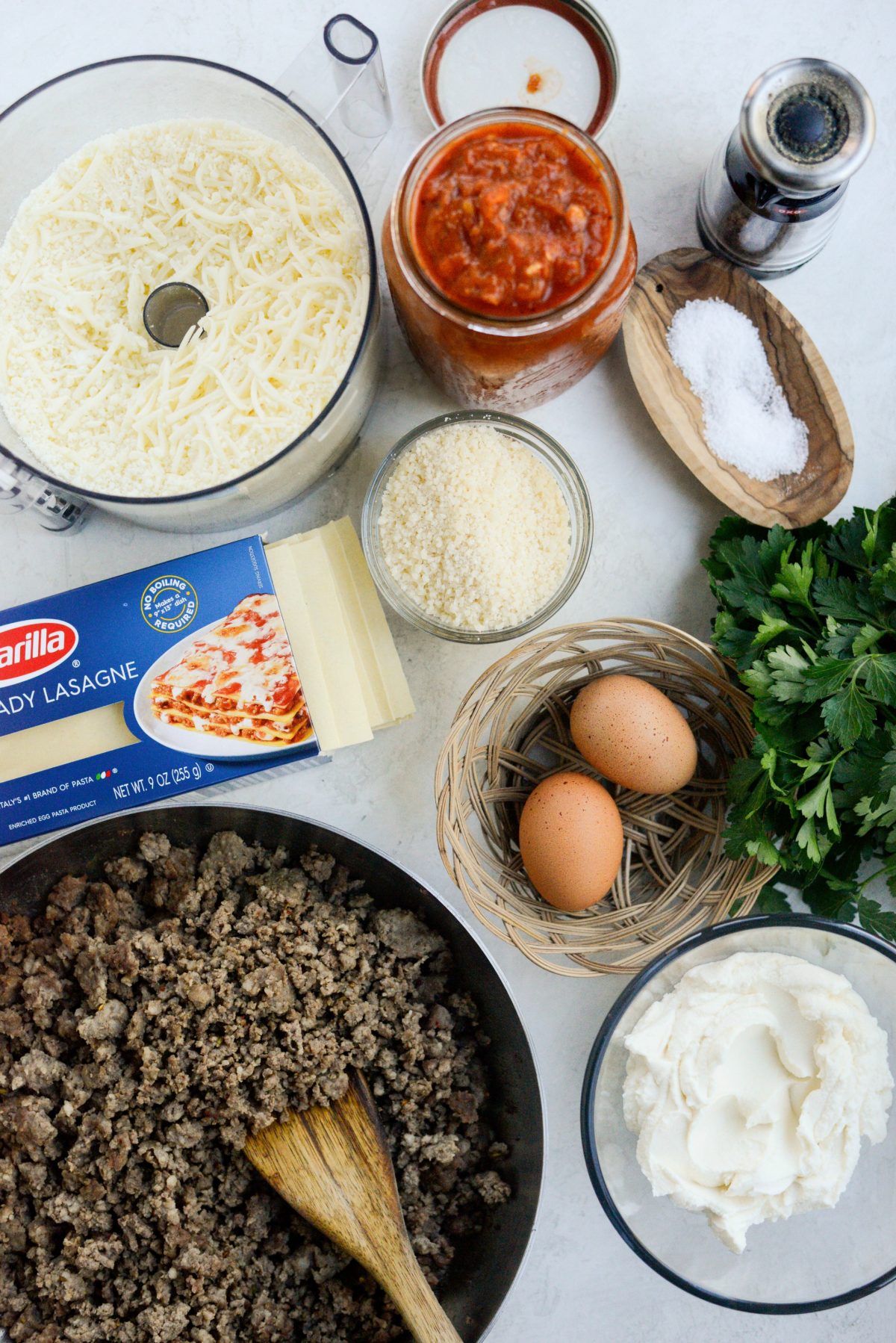 To Make This Sheet Pan Lasagna You Will Need:
marinara
oven-ready pasta
hot Italian sausage
lean ground beef
mozzarella cheese
ricotta cheese
freshly grated parmesan cheese
eggs
kosher salt
freshly ground black pepper
2 tablespoon chopped fresh parsley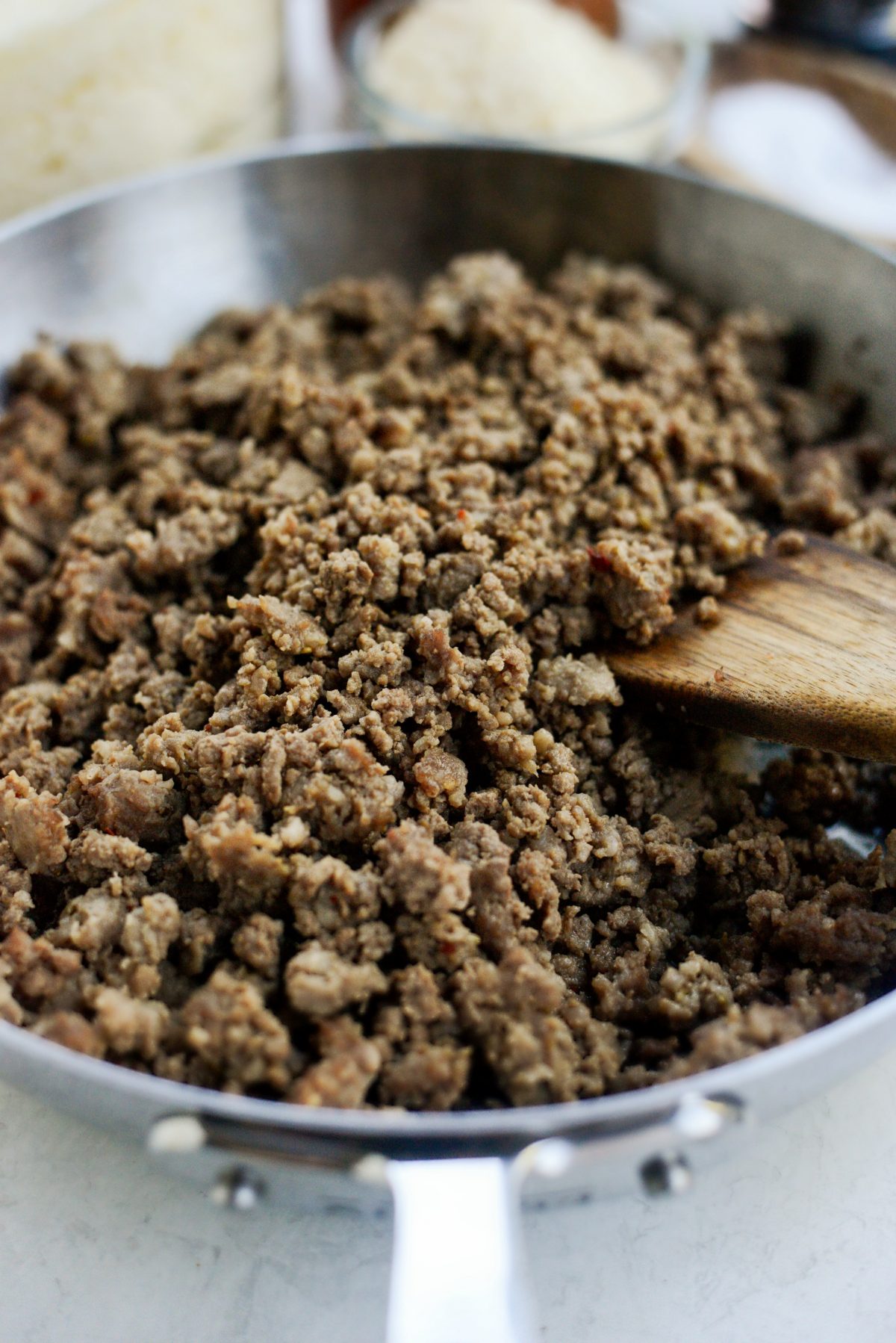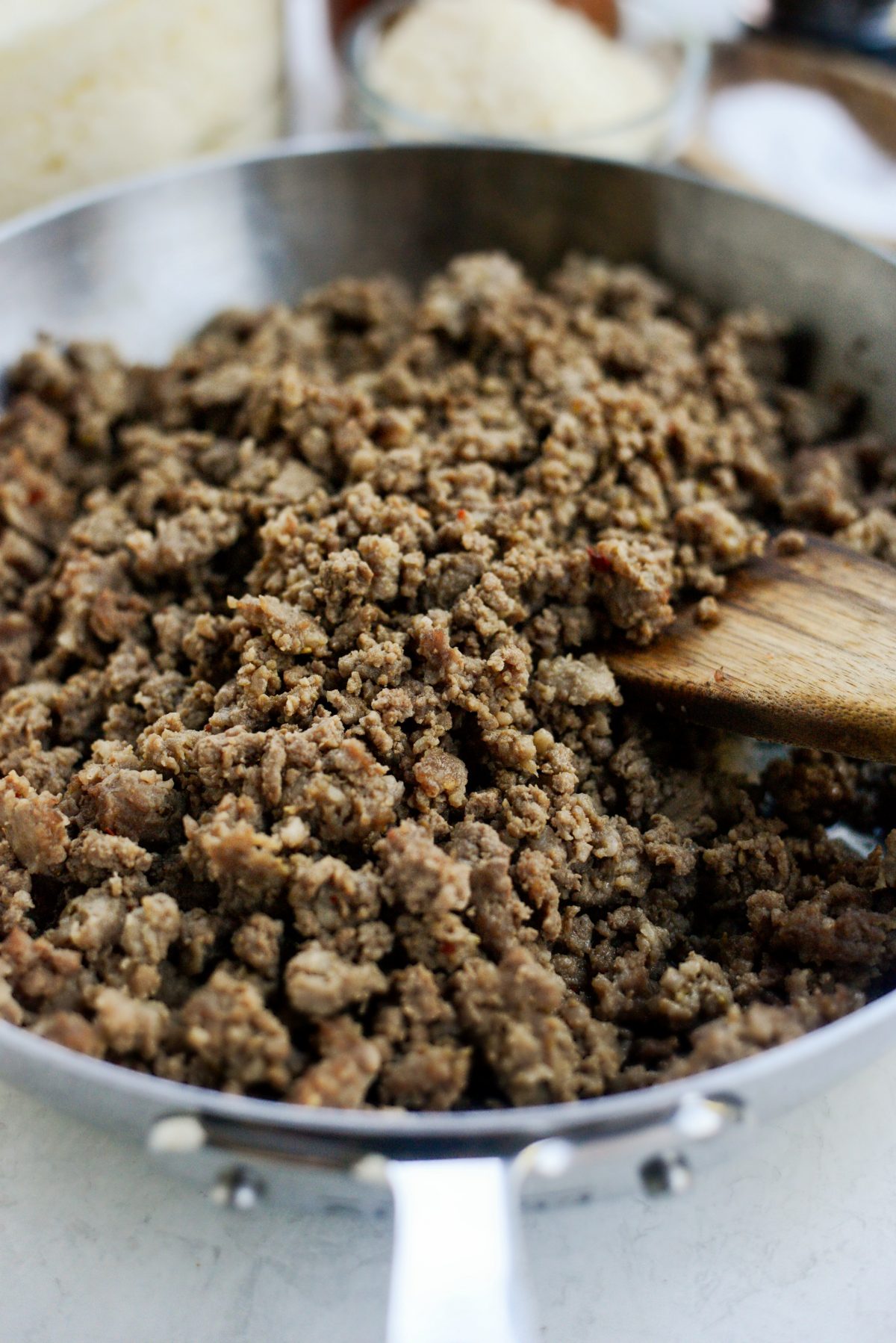 Start by cooking up 1 pound of hot Italian sausage and 1/2 pound of ground beef in a large 12-inch skillet until fully cooked. Drain off any fat and set the meat mixture off to the side.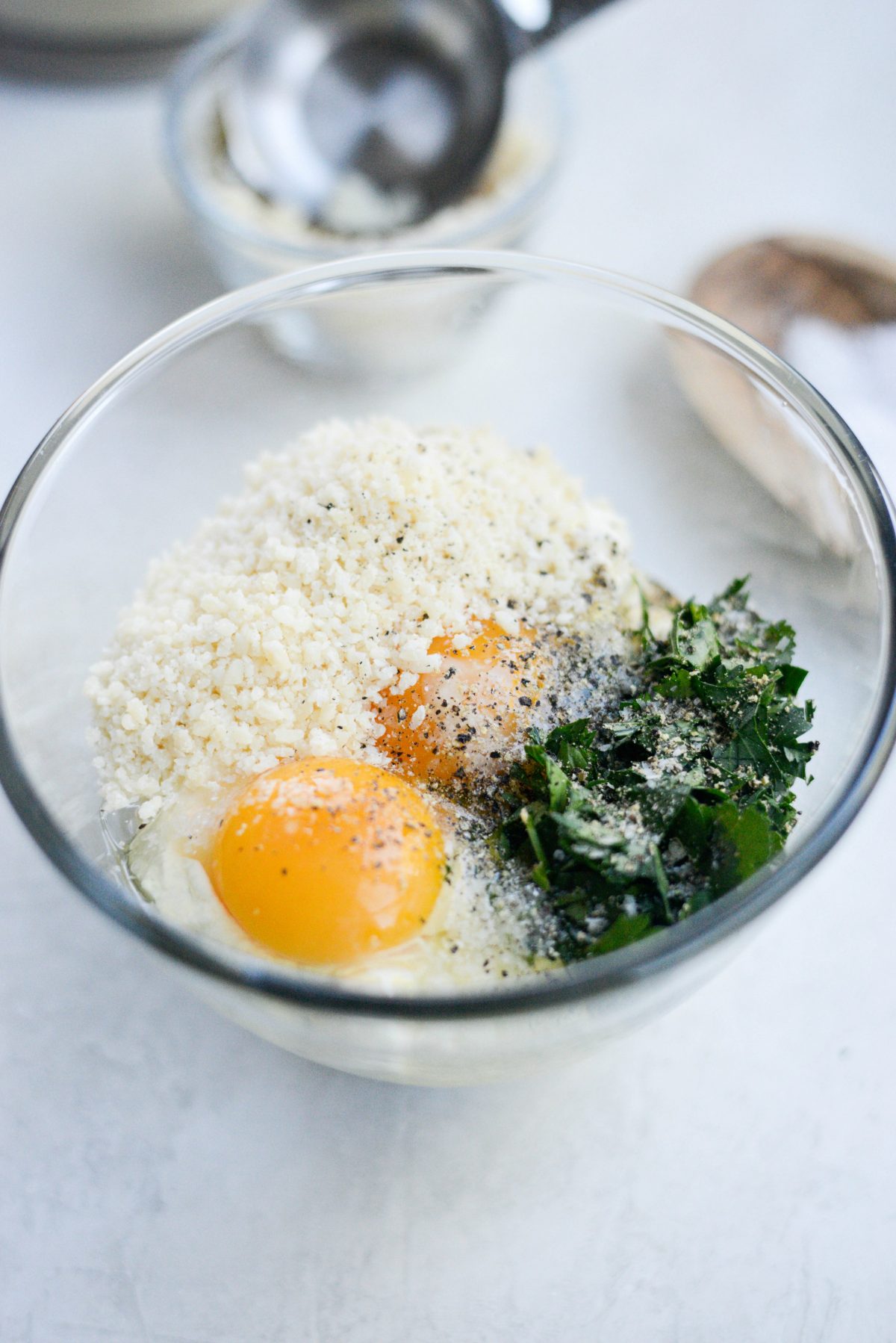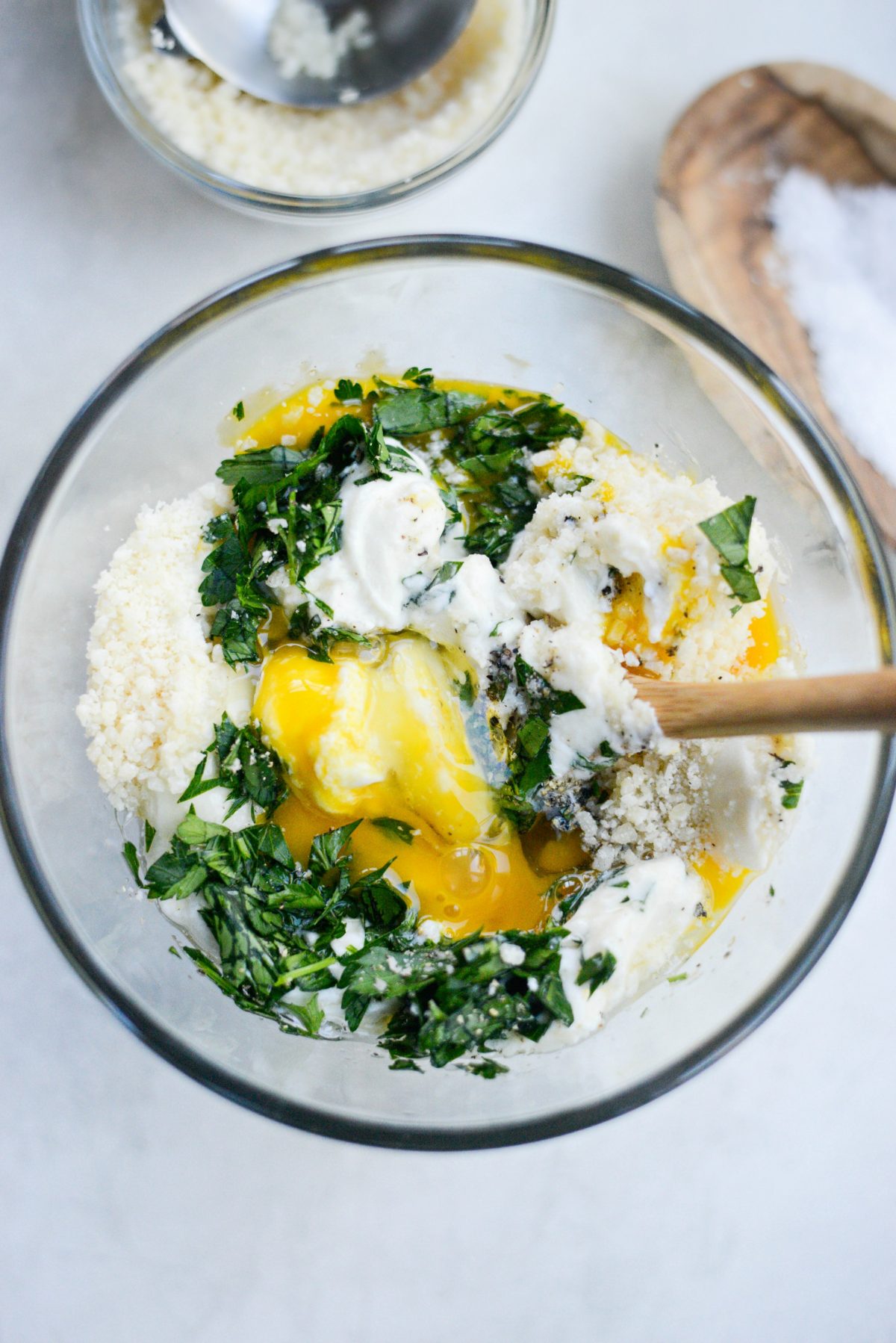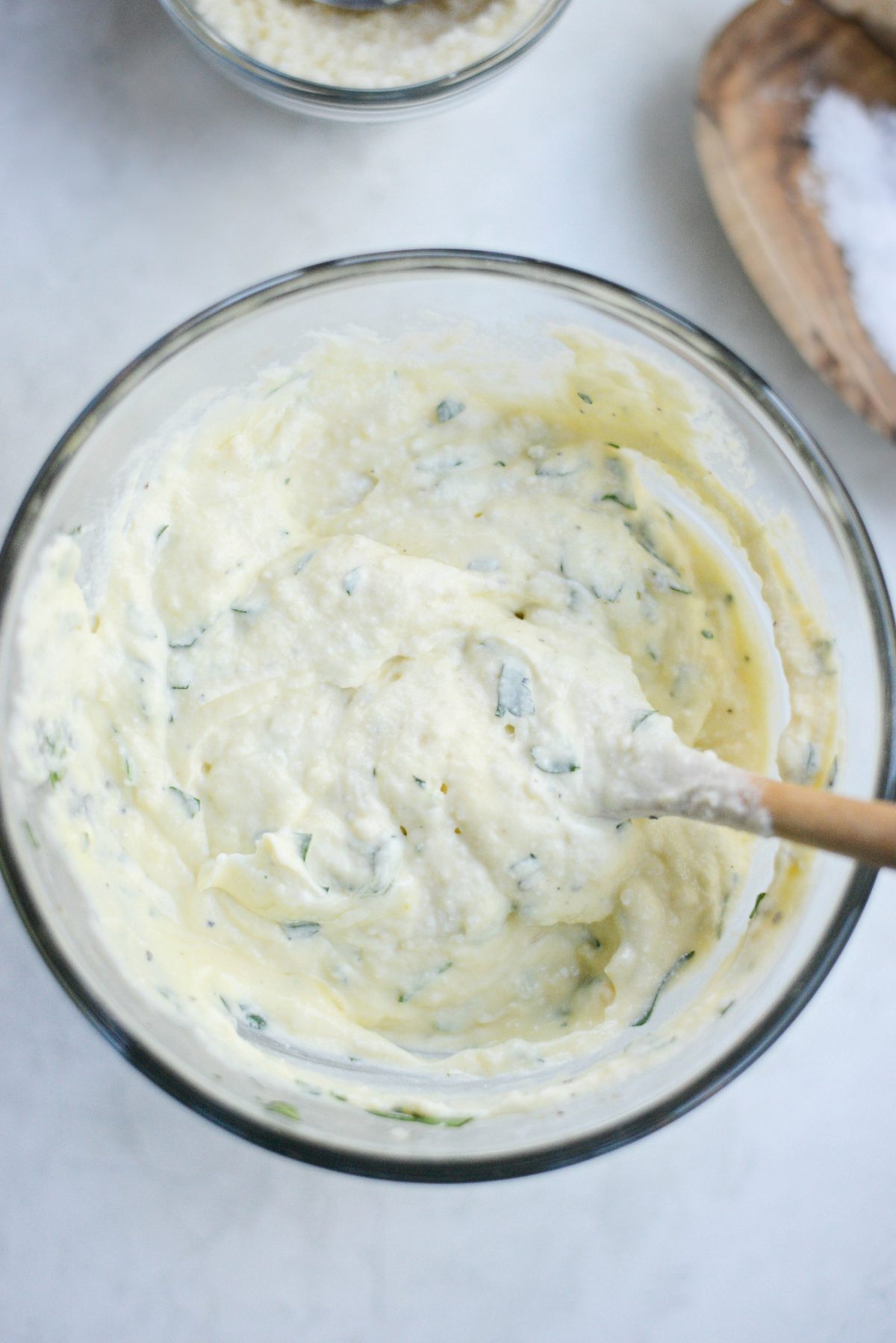 In a medium bowl mix together the 15 ounces of ricotta with 1/2 cup parmesan, 2 eggs, 2 tablespoons of minced parsley and a pinch of kosher salt and freshly ground black pepper.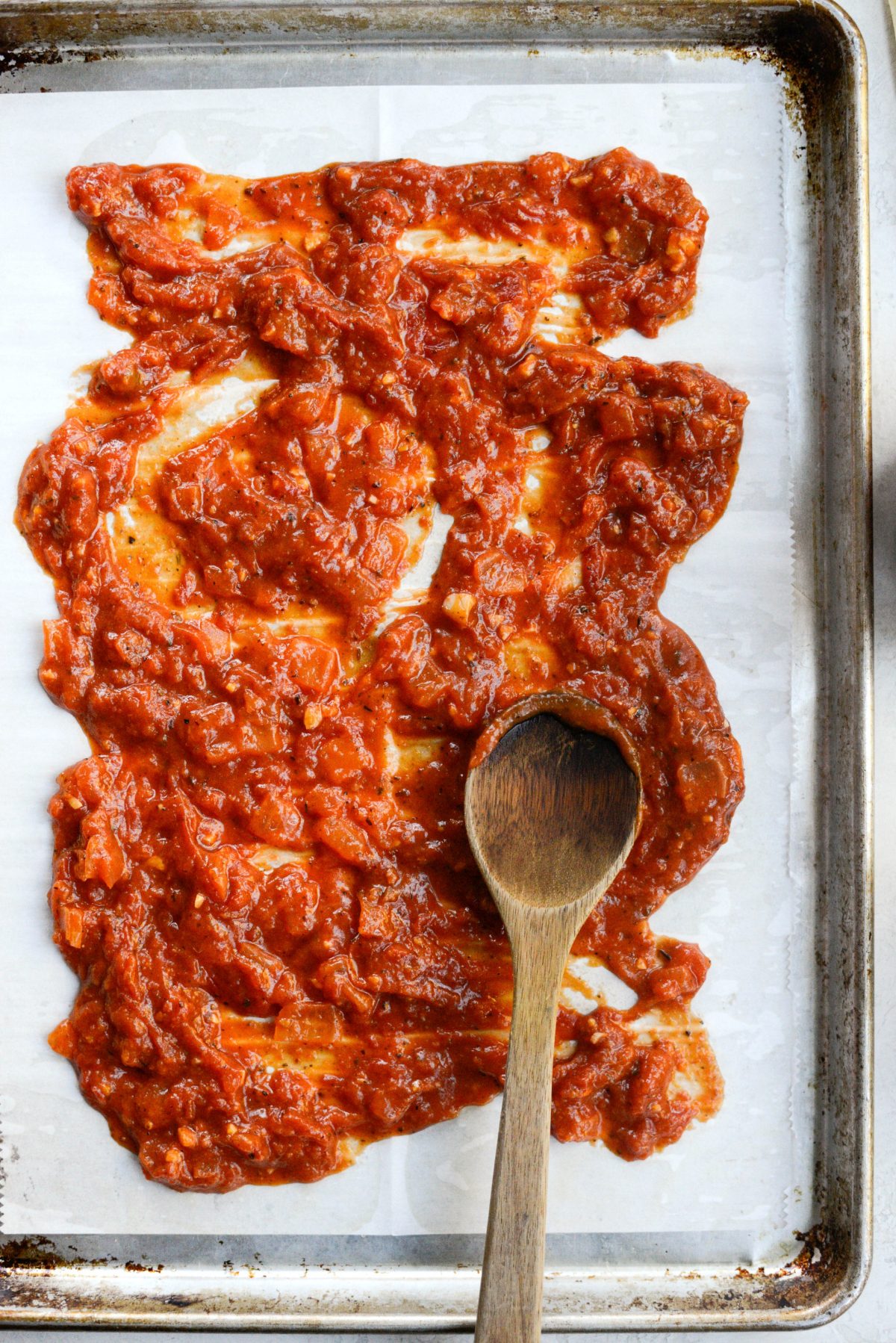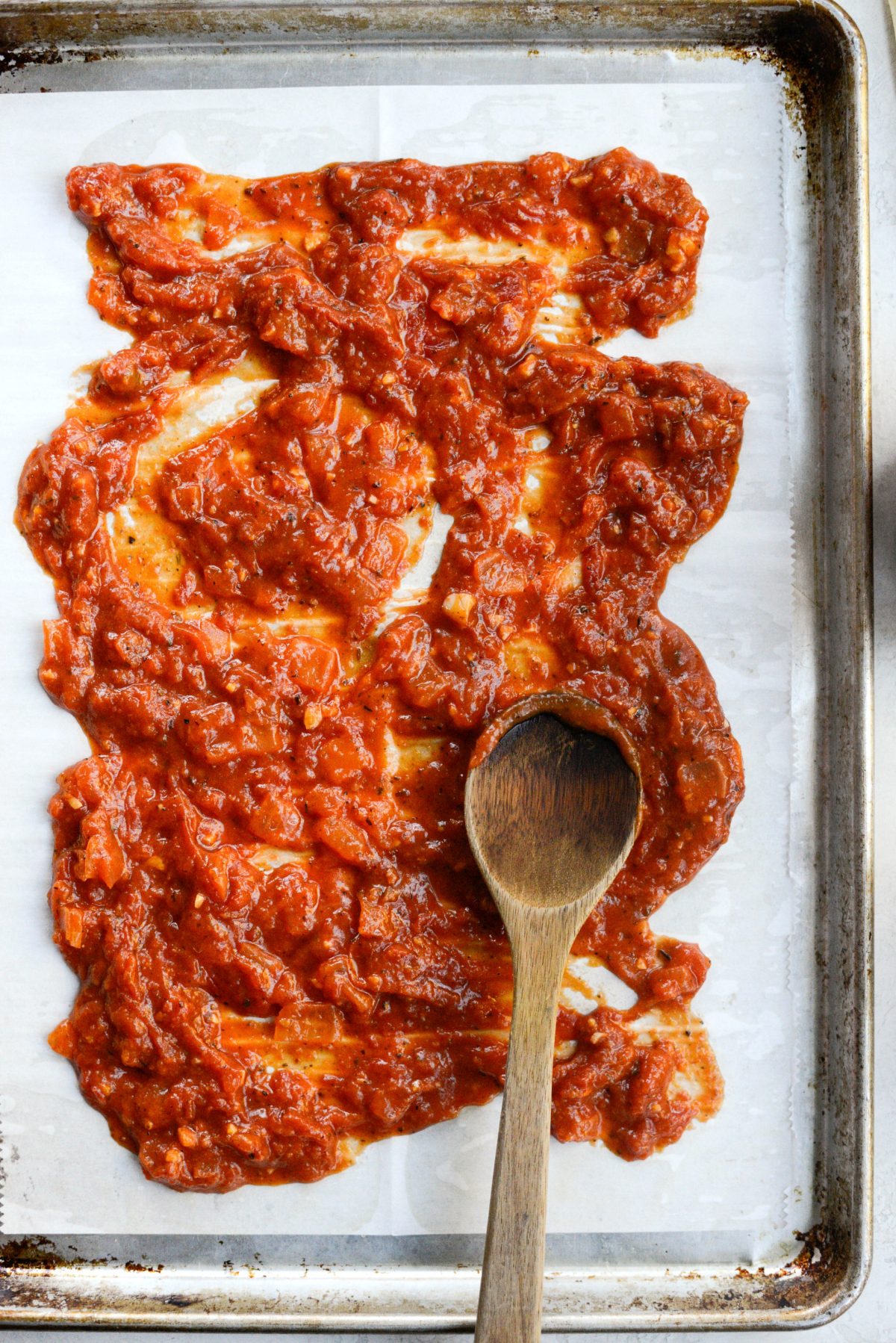 Next comes the fun part.
Place piece of parchment down on a sheet pan that has been sprayed with olive oil before building the lasagna. The paper does get in the way a little when it comes to serving, but I like not worrying about the bottom sticking so I work around it. If choosing not to use parchment paper, then spray the pan a few extra sprays before spreading 1 heaping cup of marinara on the bottom of the pan.
For the marinara, I used this homemade butternut squash marinara and it was perfect.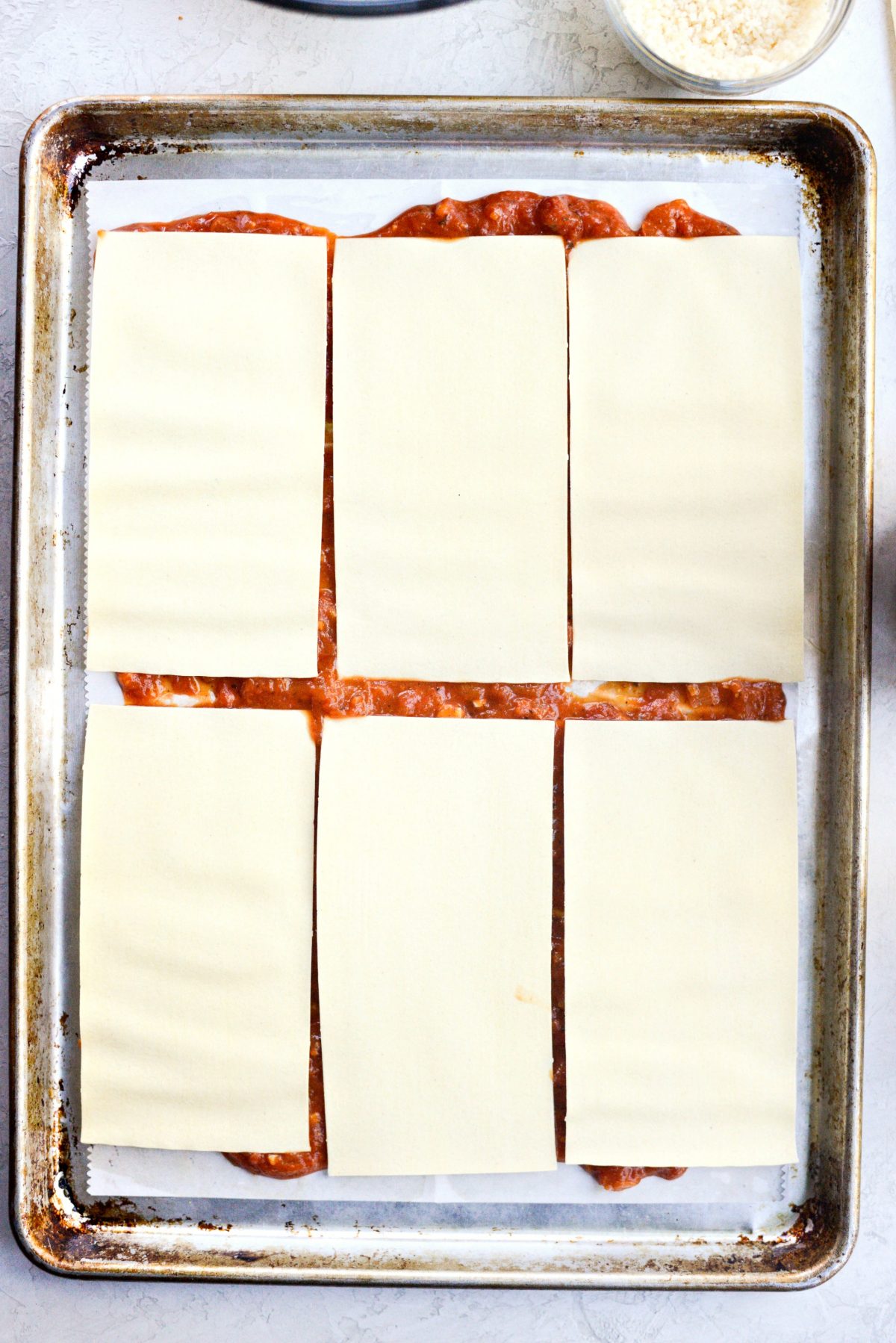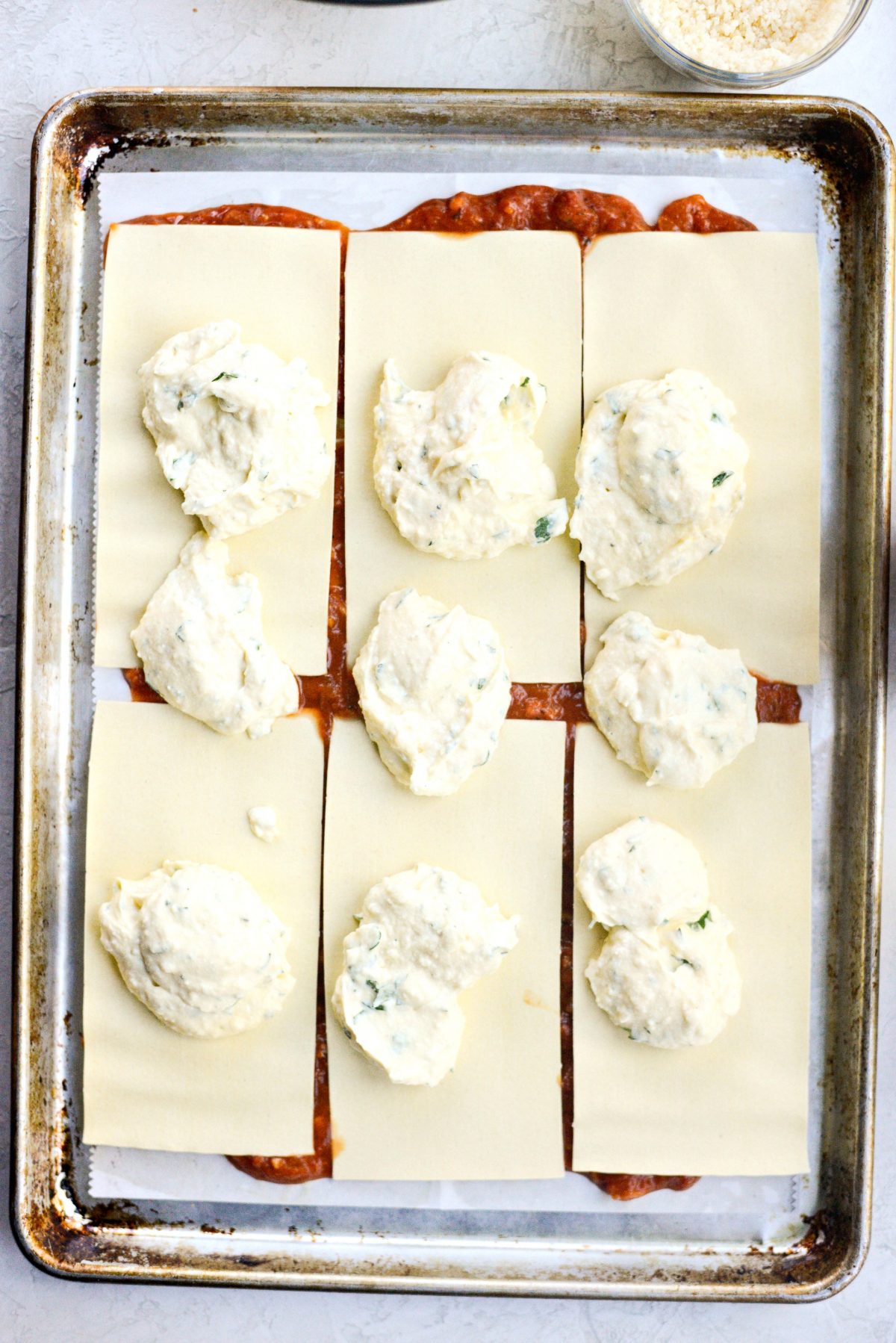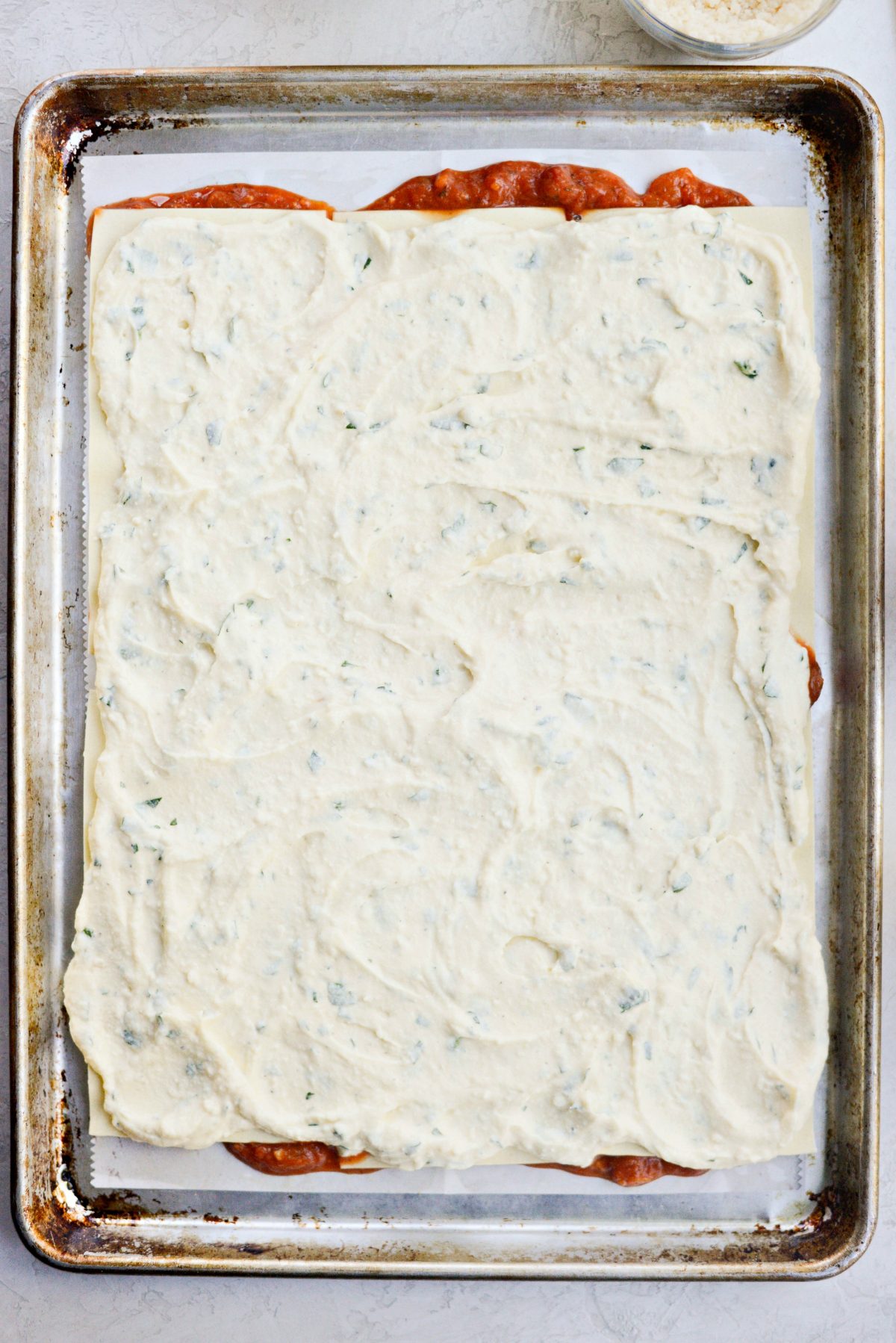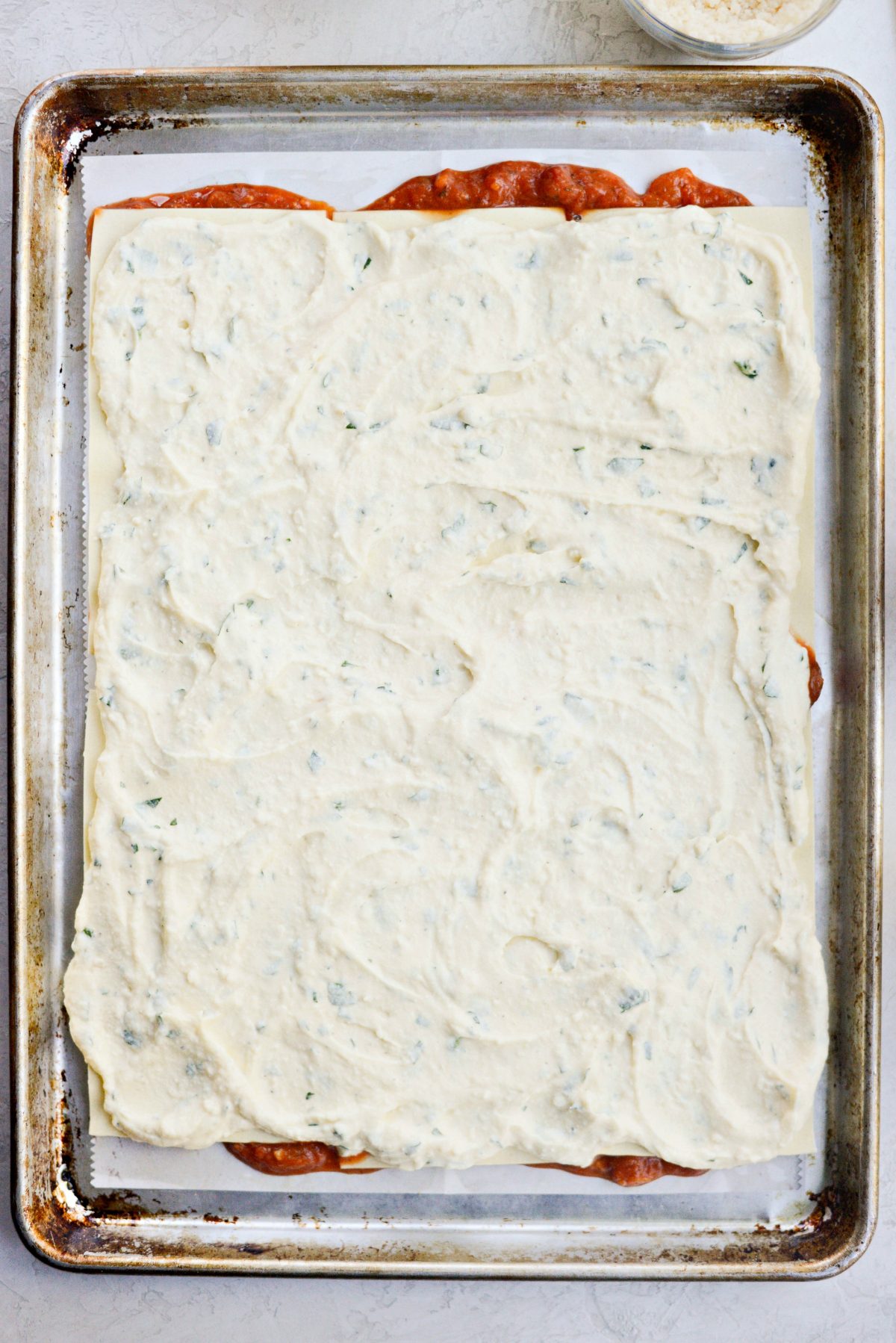 Lay 6 of the oven-ready pasta sheets down on onto the sauce and spread all of the ricotta mixture evenly over top. As the pasta sheets cook, they will expand and fill in the pan more, so it's best not to line them up with the sides touching each other.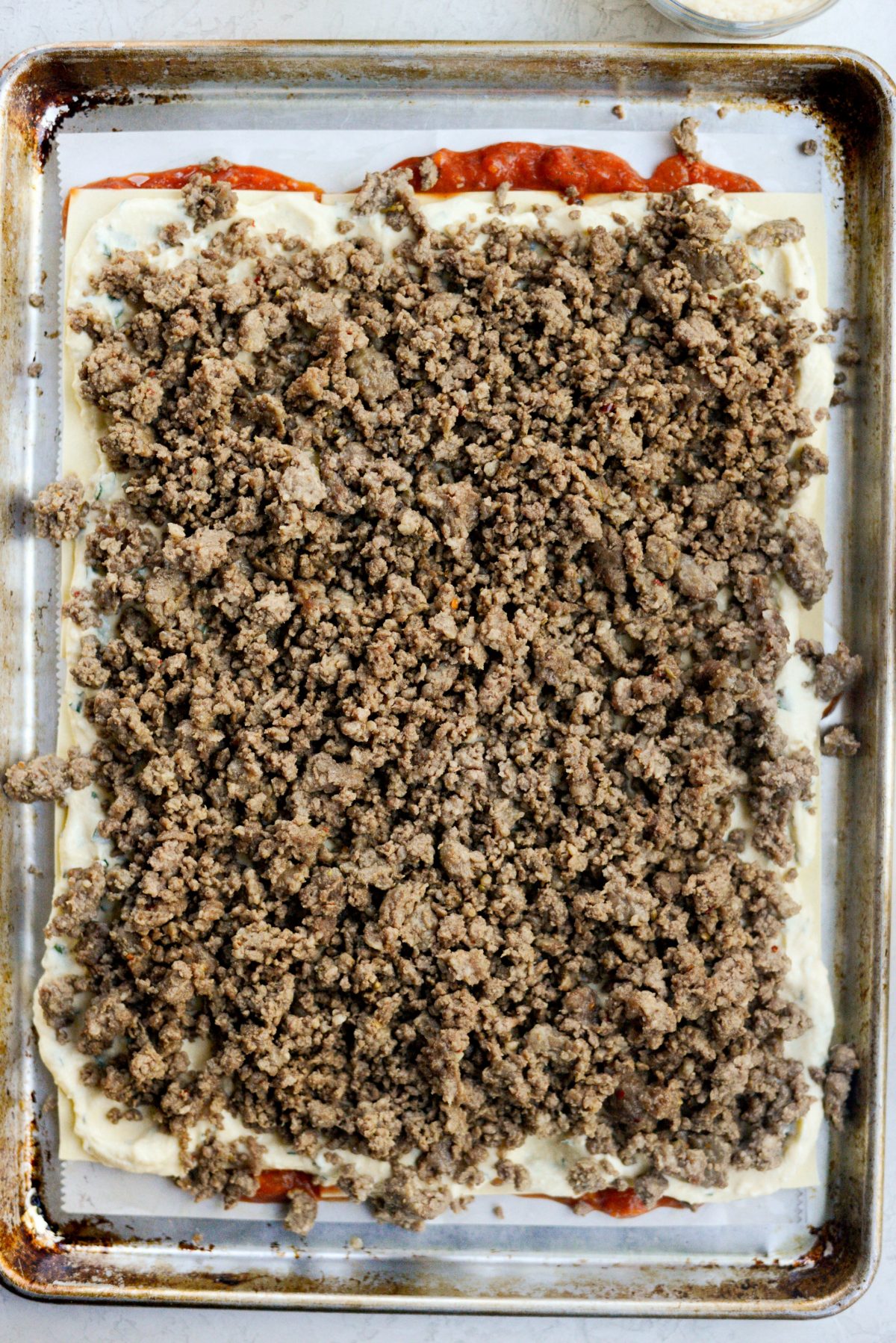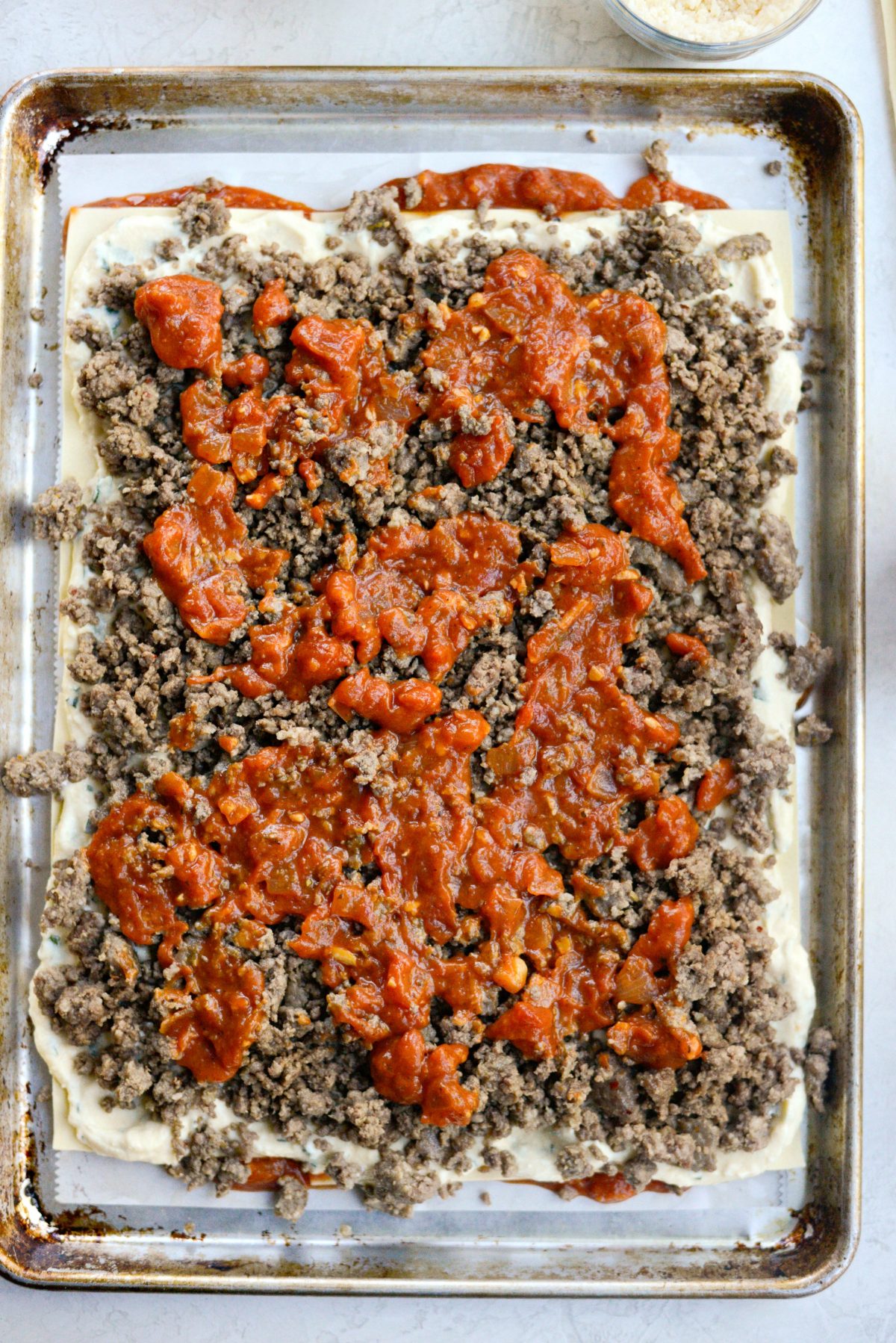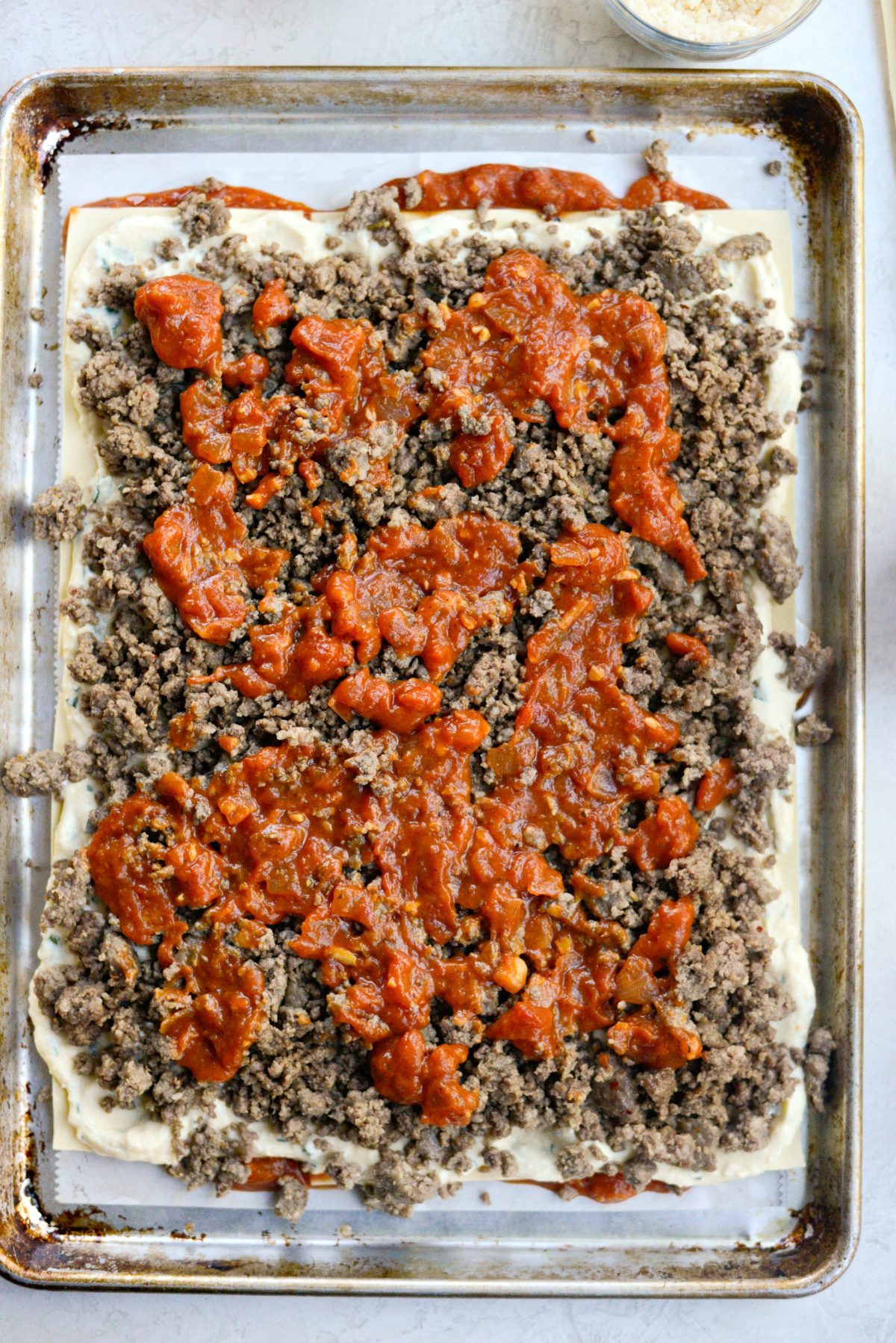 Then top with all of the meat mixture and half of the remaining sauce and, because I forgot to snap the photo, top with 1/2 of the mozzarella.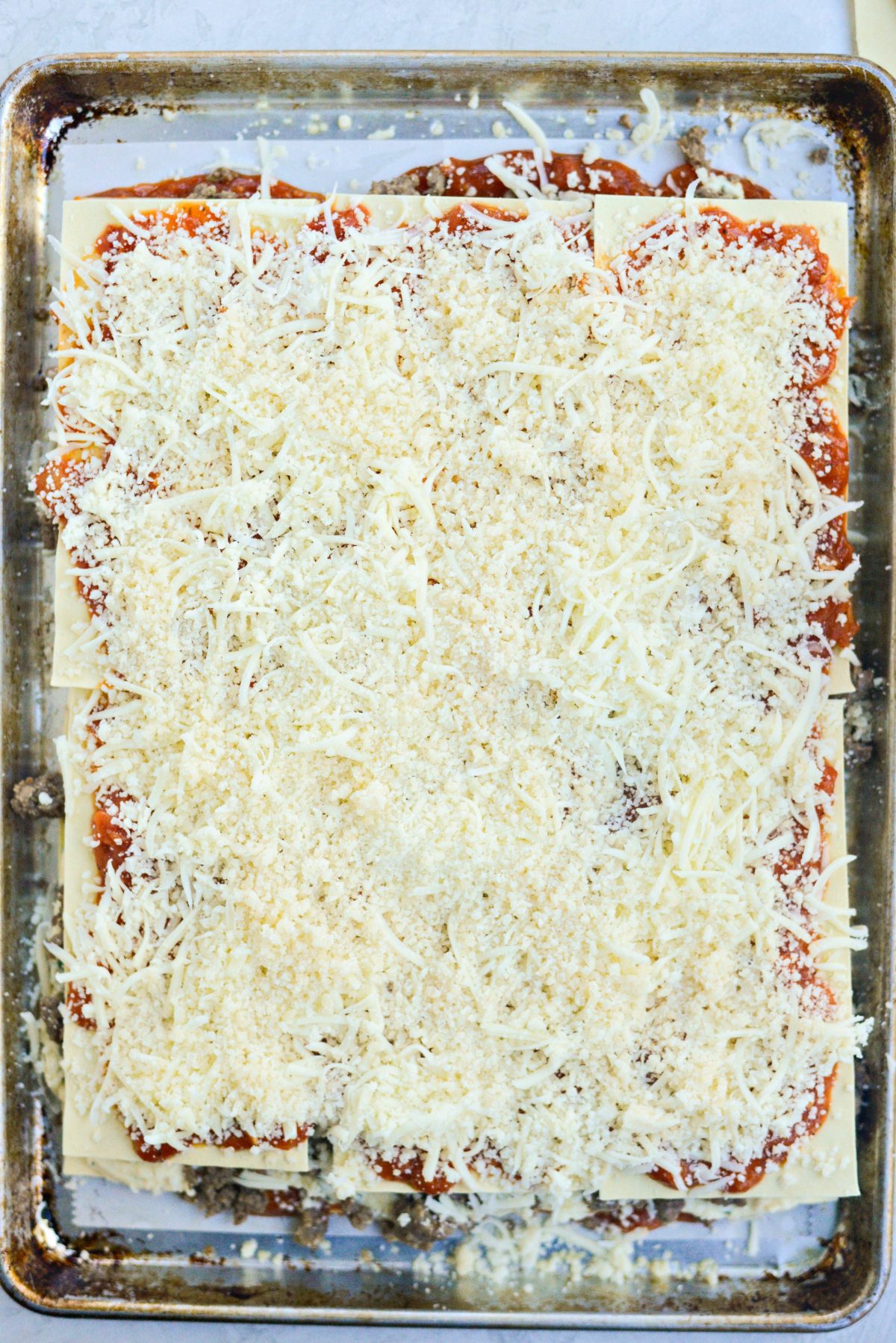 Top with the last 6 pasta sheets, remaining sauce, mozzarella and then the last 1/2 cup of grated parmesan cheese.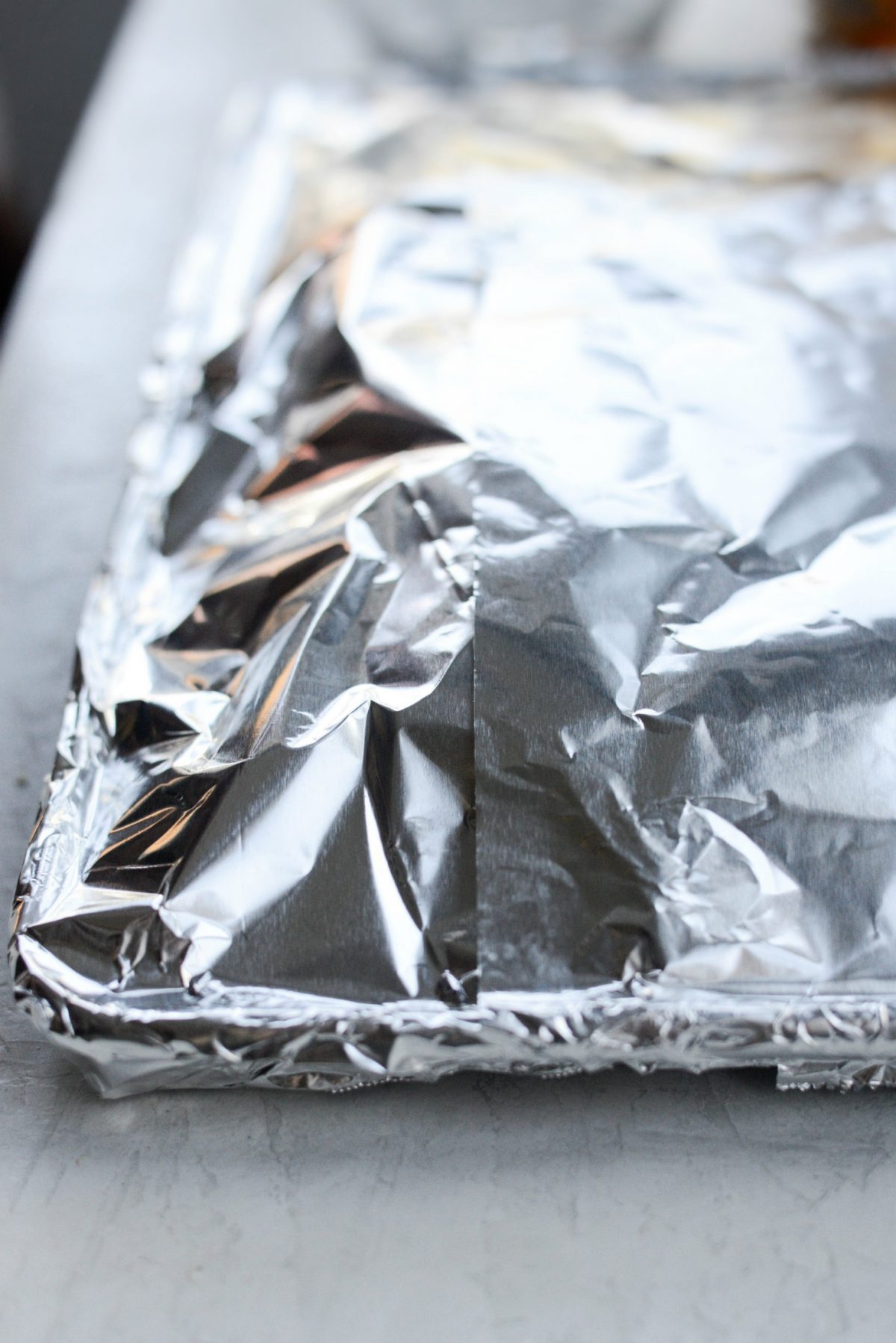 Lastly cover tightly with aluminum foil and slip the pan onto the middle rack of your preheated 425° oven. Bake for 25 minutes then uncover and continue baking for 10 to 15 minutes more or until the cheese is golden brown in spots.
**Side note: I'm really loving the non-stick aluminum foil. If your cheese usually sticks to the top of the foil, this amazing stuff solves the problem.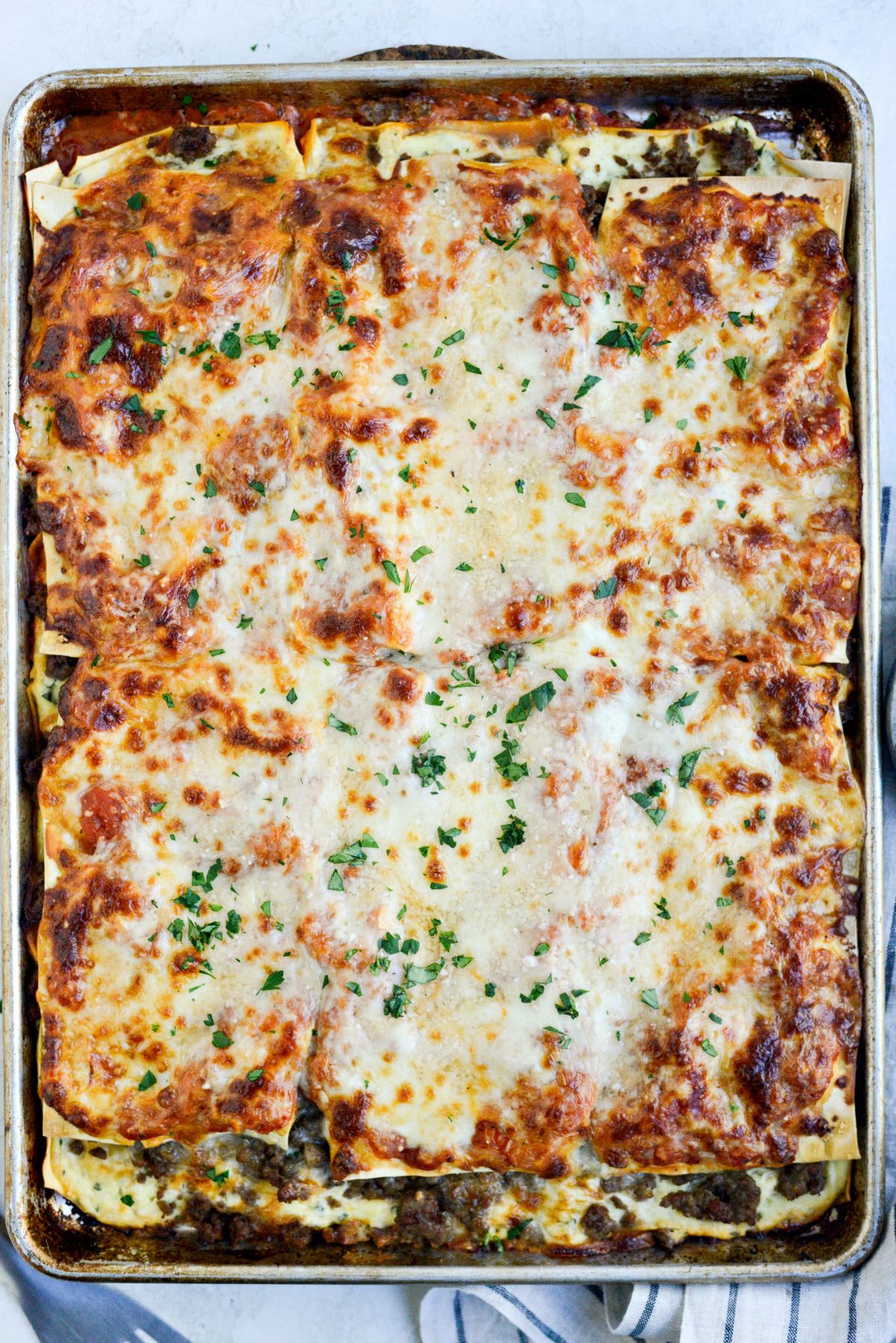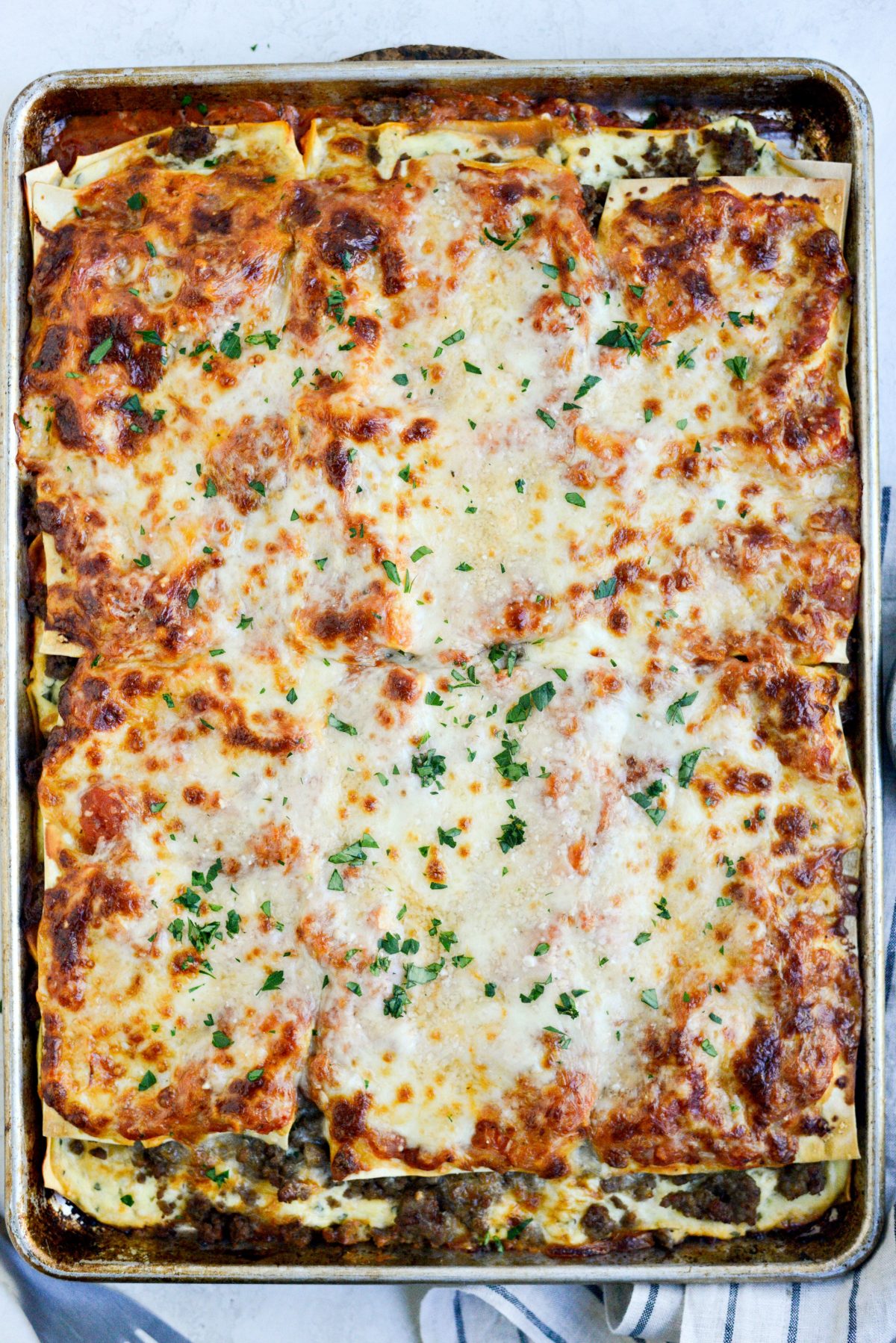 Yum.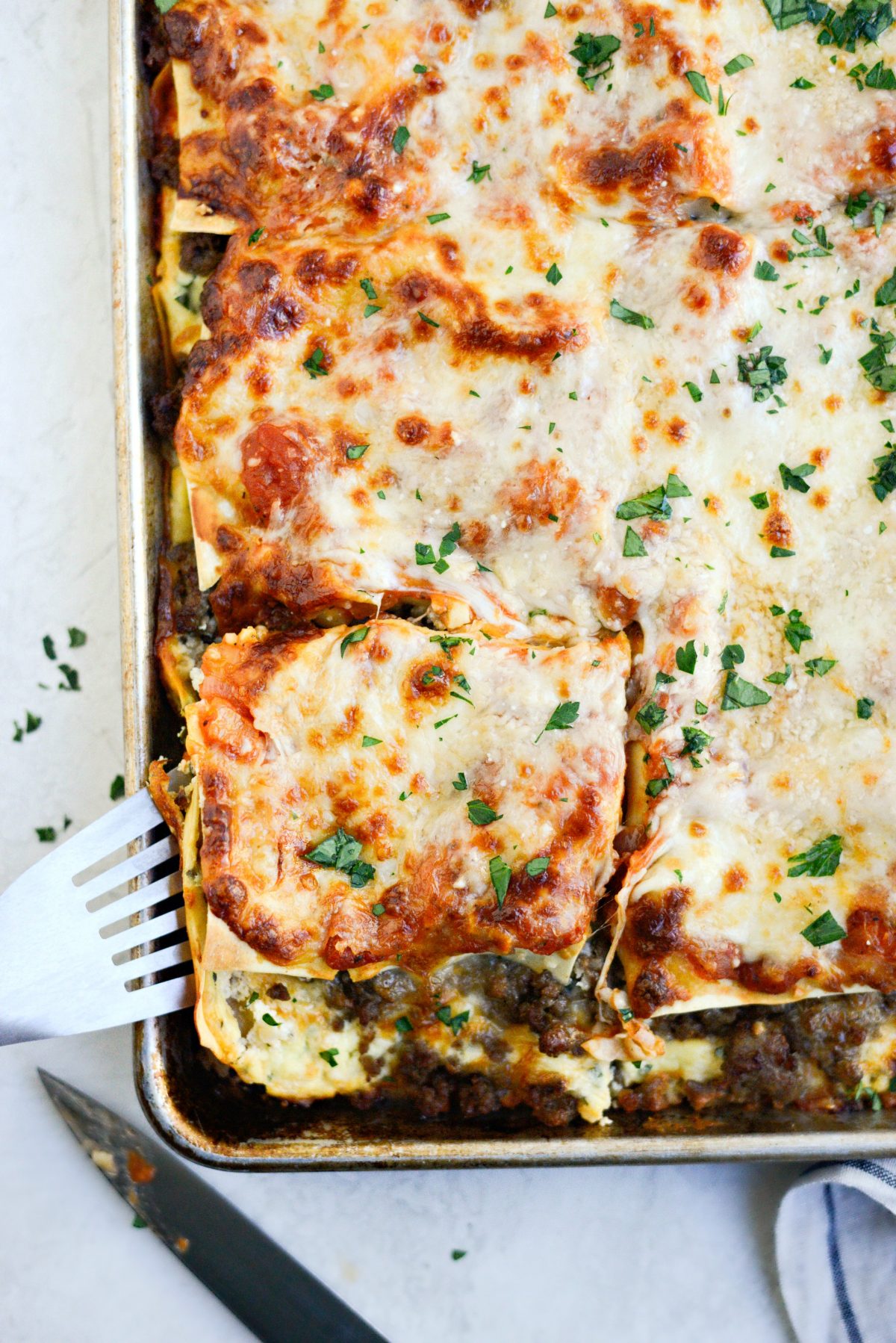 This is a simple classic lasagna recipe. I love the addition of Italian sausage and of course all. the. cheese. But most importantly, I loved how easy it was to pull together and that I can feed a bunch of people with out a ton of ingredients.
Want more lasagna recipes?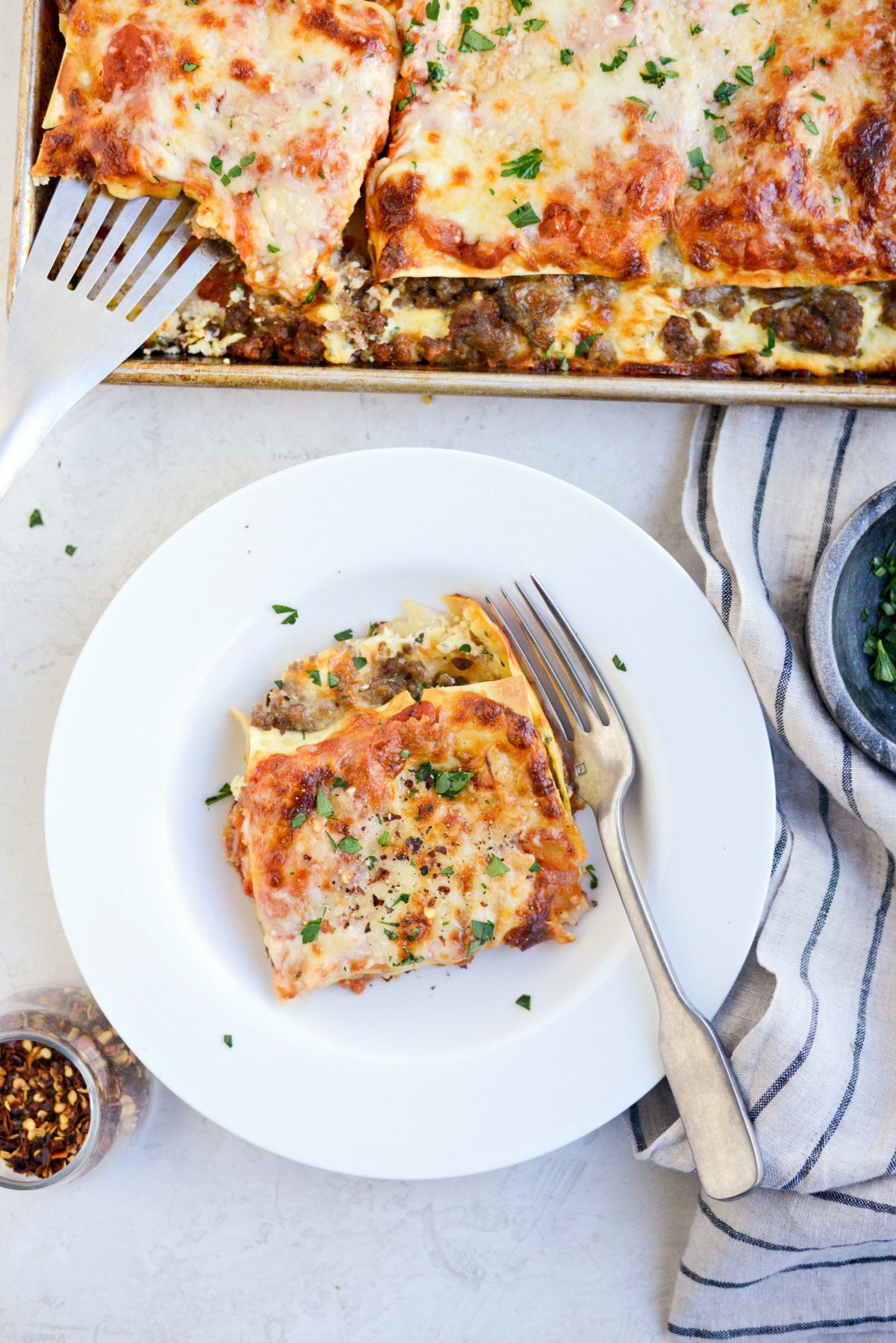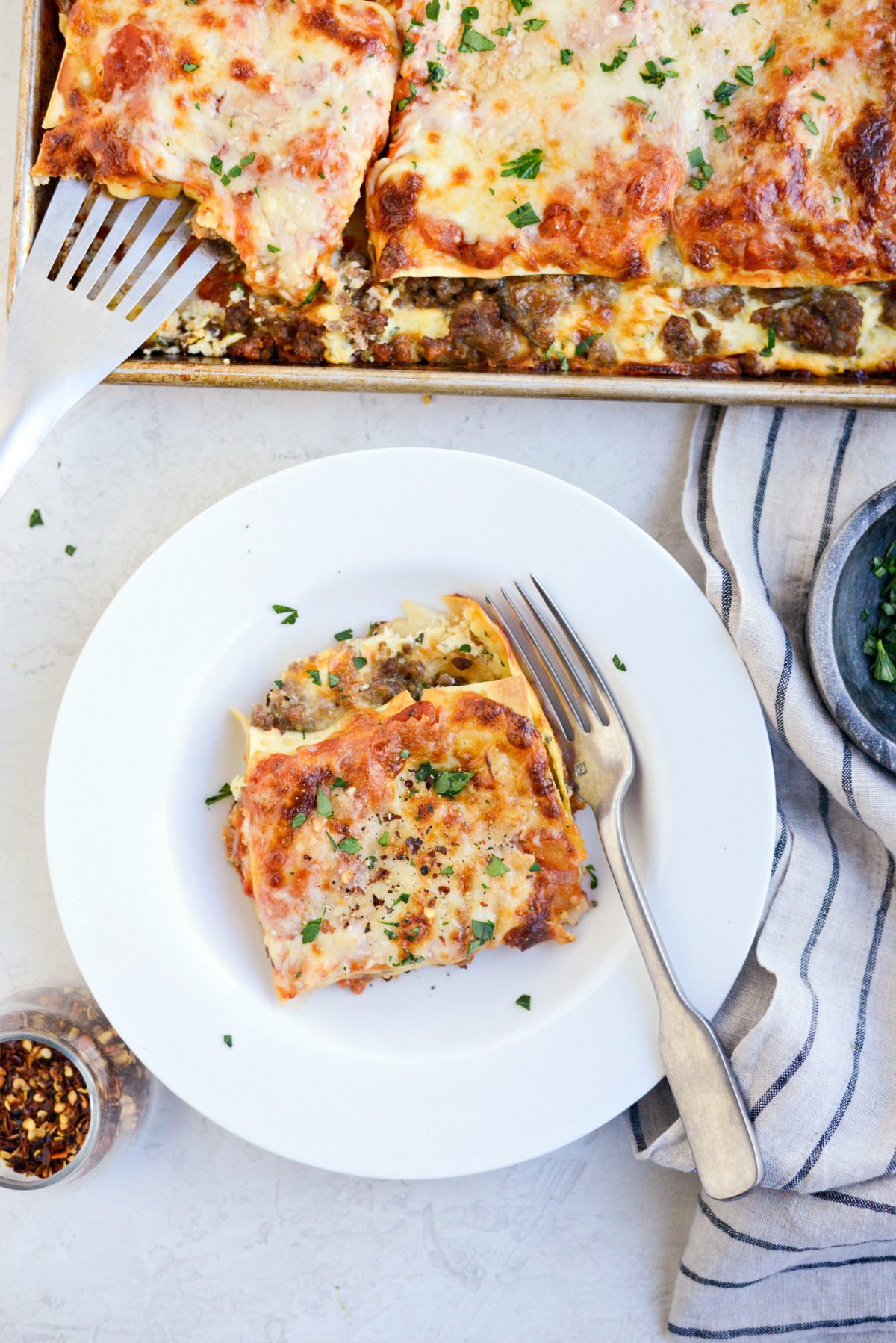 Enjoy! And if you give this Easy Sheet Pan Lasagna recipe a try, let me know! Snap a photo and tag me on twitter or instagram!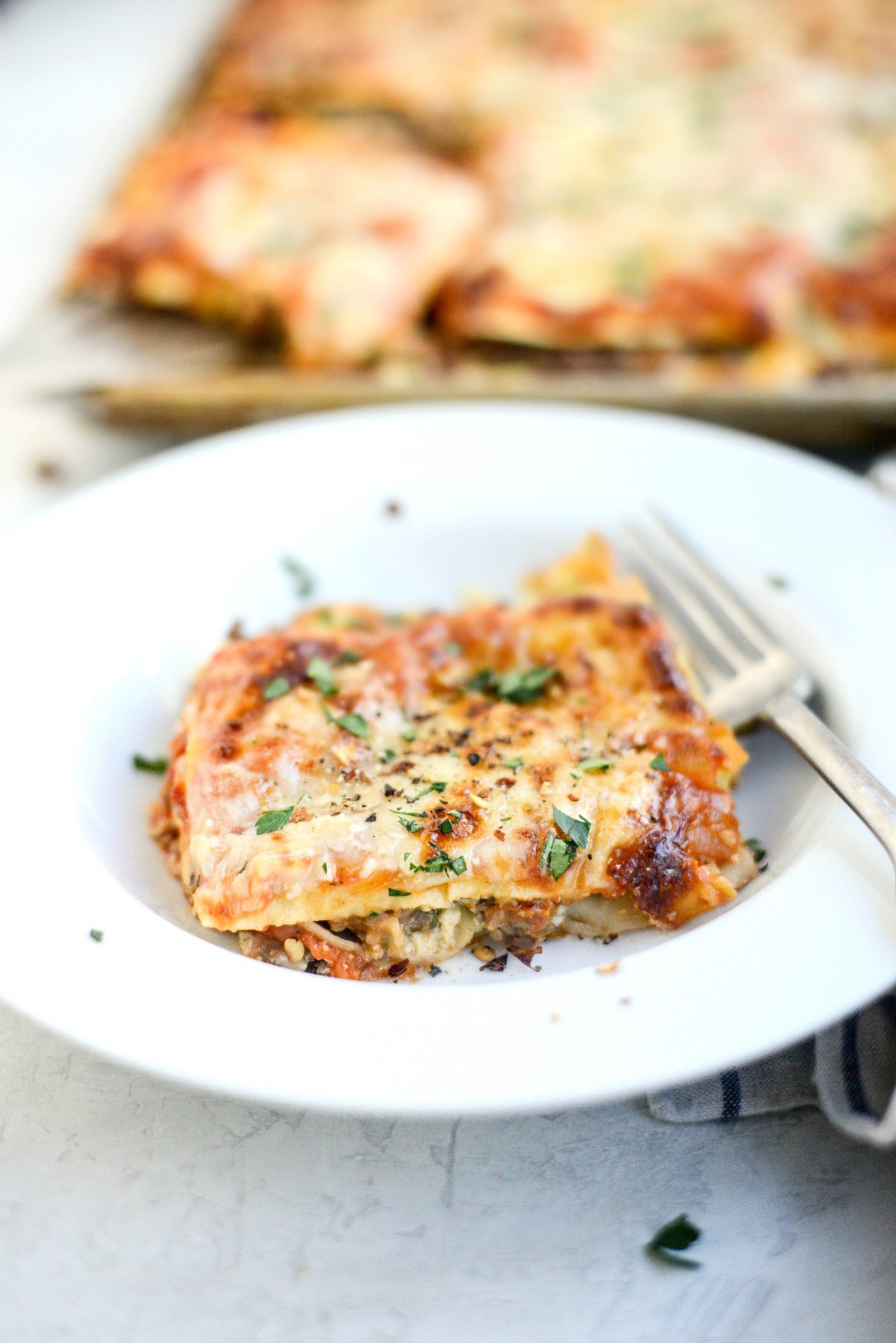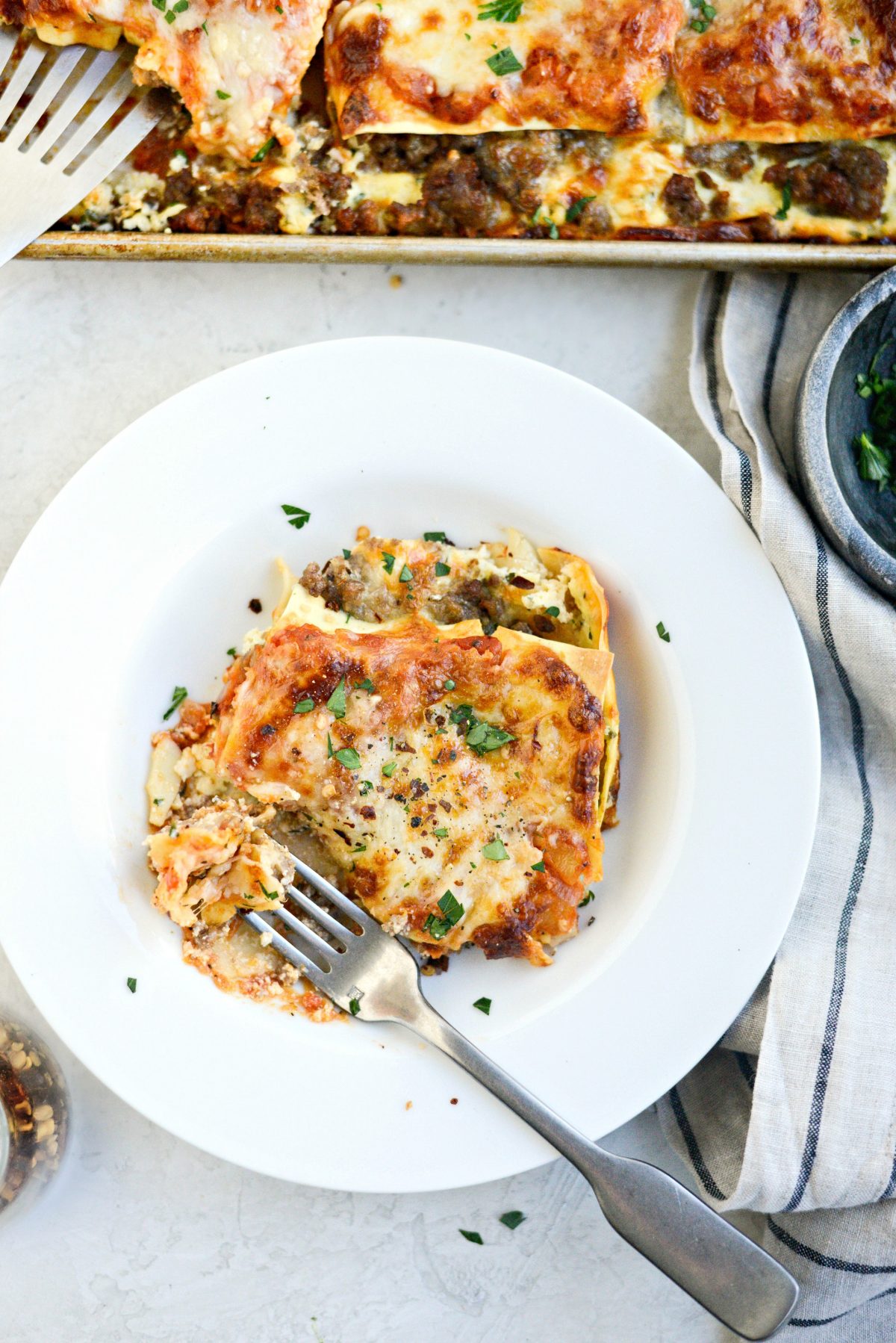 This post may contain affiliate links.
Buy the Cookbook: Simply Scratch : 120 Wholesome Homemade Recipes Made Easy Now available on Amazon »
THANK YOU in advance for your support!