It's true, this easy skillet lasagna you make the entire lasagna dish in one skillet. Even cook the noodles! This simple one pan dish is perfect for any day of the week!
One lasagna.
One skillet.
One serving.
Just kidding. It's more like two. Okay, fine- six. But it could be a single serving right-right? I mean, if you're really hungry of course.
Did you know the hardest part about blogging is the cooking, photography and of course taste testing? No really, that's the easiest part… it's the having to stop after one bite, pack it all up and wait for dinner. Because you know I don't make dinner at regular hours. My poor family.
Oh and the dishes. How I hate all those dirty dishes.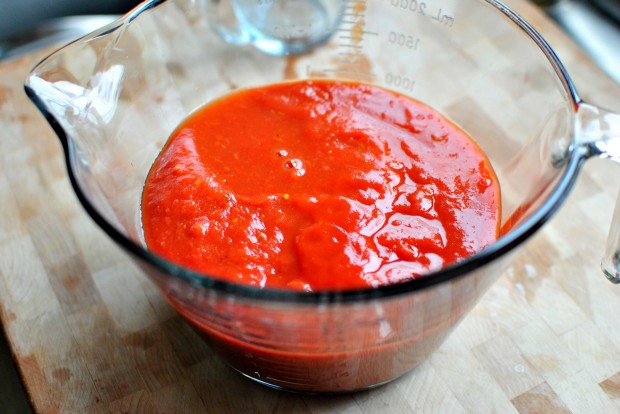 I've done my skillet lasagna research and didn't really find one I liked. So I set out to truly create a easy skillet lasagna recipe that worked for me. One that requires a skillet (obviously) and as few dirty dishes as blog-ly (totally not a word) possible. Well folks, I found-err made it.
Start by opening a large, 28 ounce can of crushed tomatoes, an 8 ounce can of tomato sauce and measure out 1/4 cup of water. This should equal to about 5 cups of tomato sauciness.
Next, dice up one medium yellow onion and 4 large cloves of garlic.
Then add 1 tablespoon of olive oil to a 12-inch skillet that has been preheating over moderate heat. You want to go big with the pan here so everything fits and cooks evenly.
Throw in the diced onions and cook for 5-8 minutes or until they are soft and translucent. Man, if I had a dollar for every time I typed that.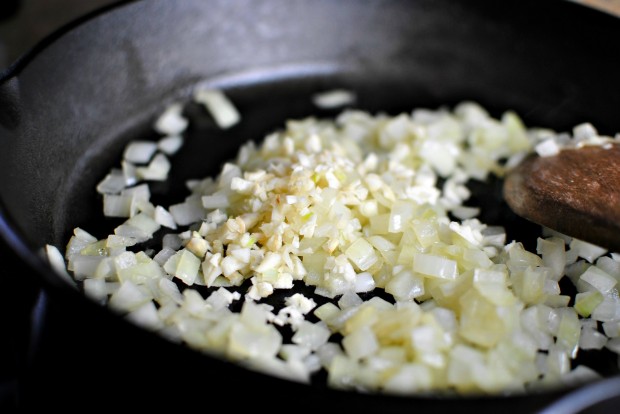 Next, throw in the minced garlic and cook for a minute or two.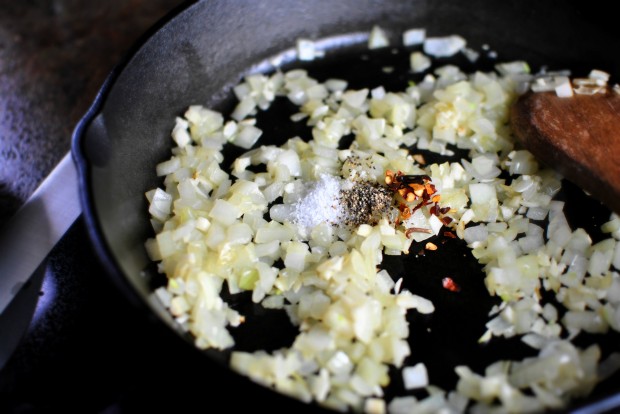 Then add in a half teaspoon of kosher salt, 1/4 teaspoon of coarse ground black pepper and 1/4 teaspoon red pepper flakes.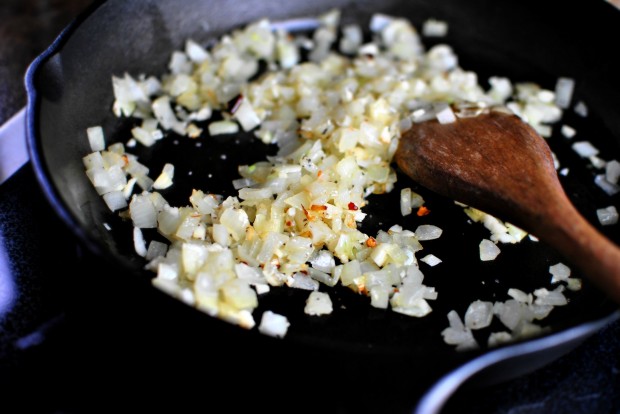 Next, stir and let this cook for 30 seconds or so.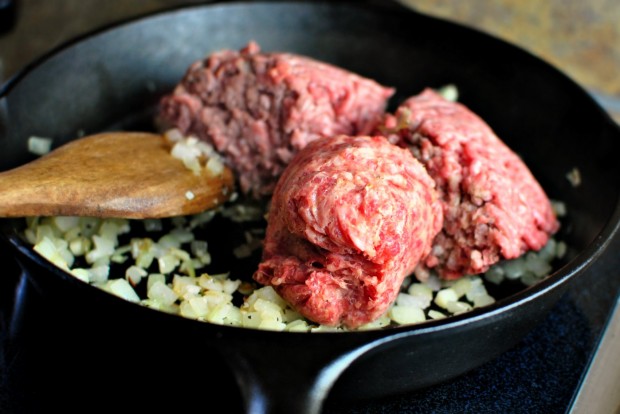 Now, add in 3/4 of a pound of ground chuck and 1/4 pound of ground Italian sausage. Side Note: I had a remaining 3/4 pound of Italian sausage so I wrapped it in foil so I could freeze it for later. Two days after I made this exact lasagna I went to my pantry, pulled out the drawer for my olive oil and there was my shiny foil-wrapped package of sausage. So not in the freezer! Then today, I opened a different cupboard for some plastic storage containers and found a box of couscous. I truly think I'm losing it.
Next, using a wooden spoon, break up the meat. Cook the ground beef and sausage, stirring occasionally until fully cooked. If there is a ton of grease in the pan, use a spoon to remove it and discard. I left a couple tablespoons for moisture.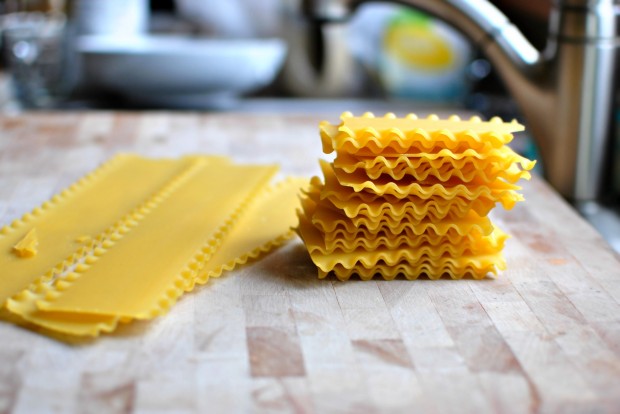 Meanwhile, break about 8 lasagna noodles in to thirds. Never mind those shrapnel pieces that fly across the counter, you won't need them.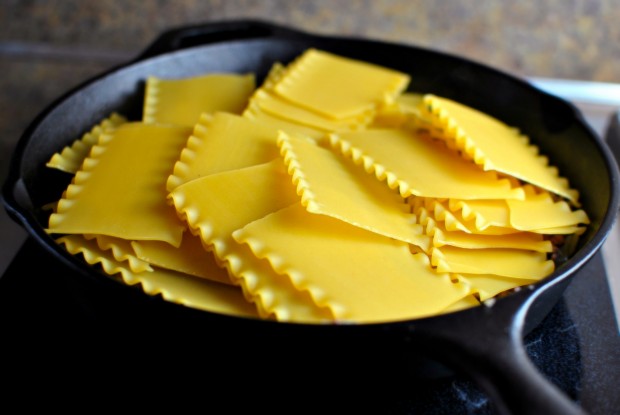 Then haphazardly, scatter the noodles over top evenly.
Next pour the tomato sauce over top…
And then increase the heat to medium-high and bring to a simmer. Once simmering, reduce the heat to medium-low and let the sauce simmer the noodles into submission.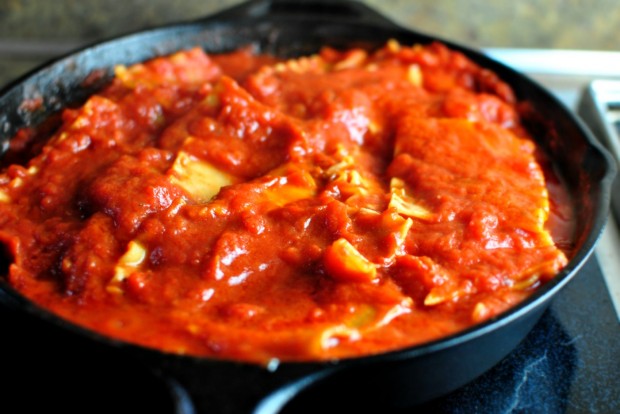 Next, as the noodles would soften, poke around at them so the sauce would move its way down to through the skillet.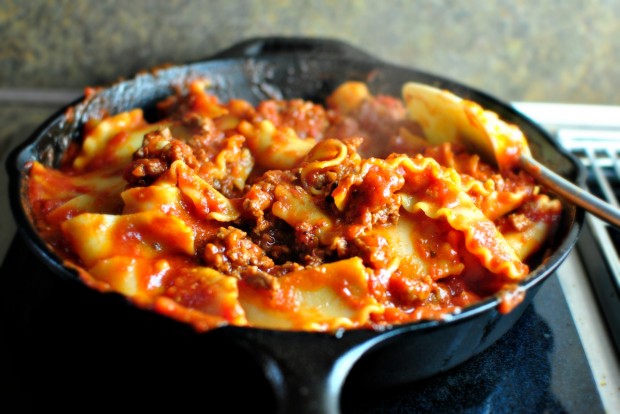 Then, after about 20 minutes the noodles should be al dente. And you should now be able to give it a stir.
Next, slice up 4 ounces of fresh mozzarella and measure out a half cup– okay, heaping half cup of ricotta cheese.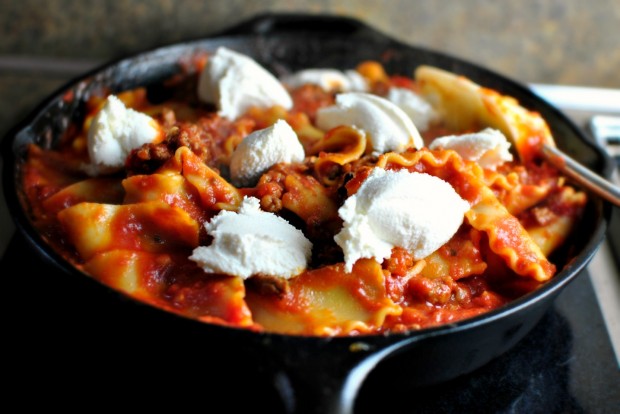 Then use a kitchen spoon to place dollops of ricotta over top of the skillet lasagna.
Give gentle a quick stir because you don't want the ricotta to disappear in the lasagna, you want to create pockets of it so only do a couple stirs.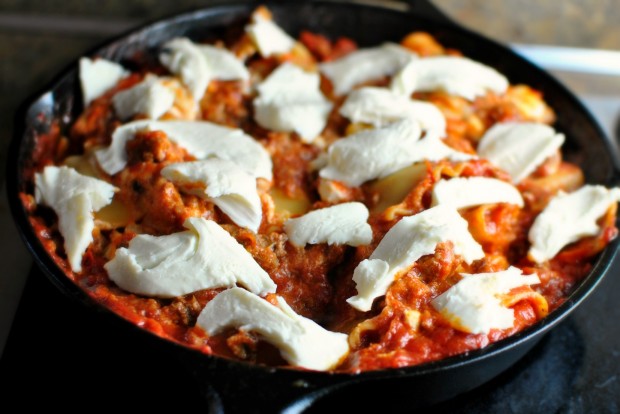 Lastly, top with torn pieces of the fresh mozzarella.
Cover with a lid and let the steam melt that glorious cheese.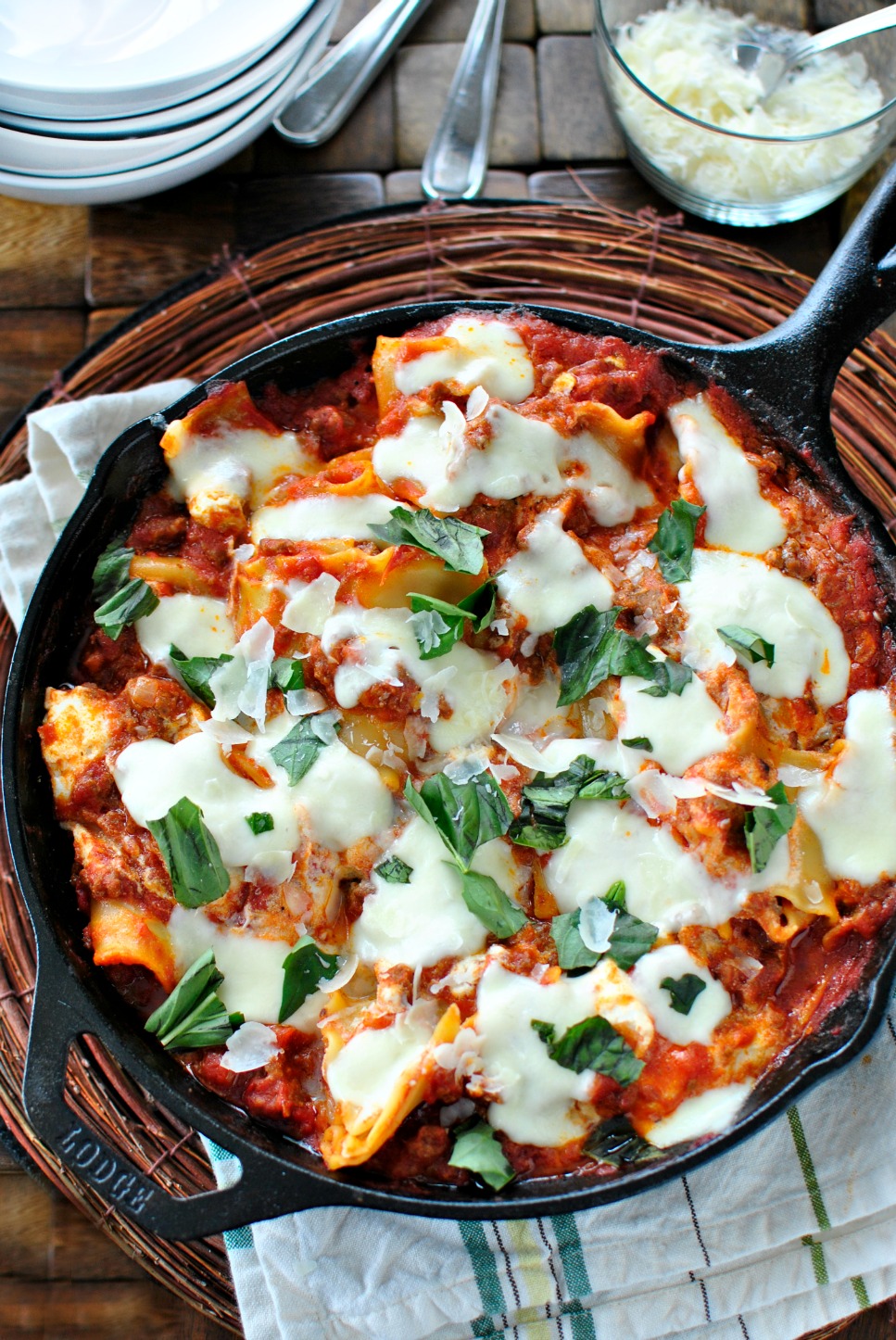 Serve this easy skillet lasagna piping hot with torn fresh basil, shaved Parmesan and maybe with a crisp salad… crispy garlic bread and oh why not… a crisp glass of wine. Twist my arm.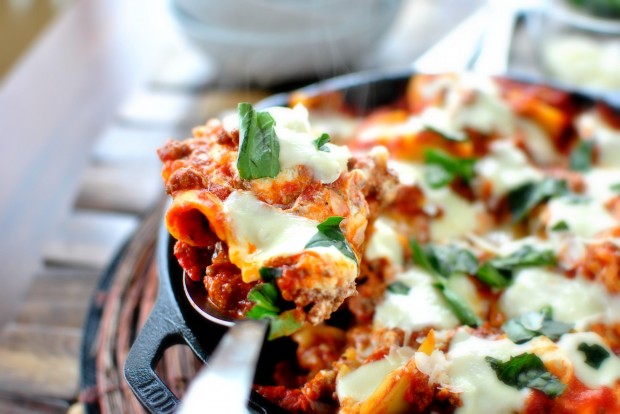 Enjoy! And if you give this Easy Skillet Lasagna recipe a try, let me know! Snap a photo and tag me on twitter or instagram!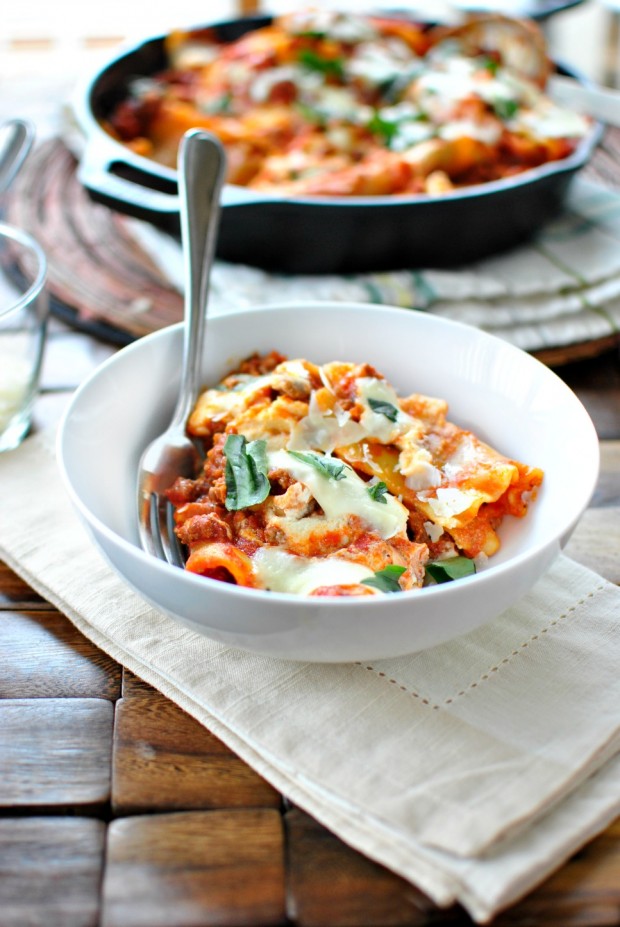 My cookbook Simply Scratch : 120 Wholesome Homemade Recipes Made Easy is now available! CLICK HERE for details and THANK YOU in advance!
Yield: 6 servings
Easy Skillet Lasagna
One skillet, one lasagna, one delicious meal

Prep Time 5 minutes

Cook Time 40 minutes

Total Time 45 minutes
Ingredients
1 (28 ounce) can crushed tomatoes
1 (8 ounce) can tomato sauce
1/4 cup water
1 tablespoon olive oil
1 medium yellow onion, diced
4 garlic cloves, minced
1/2 teaspoon kosher salt
1/4 teaspoon freshly ground black pepper
1/4 teaspoon crushed red pepper flakes
3/4 pound ground chuck
1/4 pound Italian sausage
8 whole lasagna noodles, broken into thirds
1/2 heaping cup of ricotta
4 ounces fresh mozzarella, sliced thin and torn
fresh basil leaves, torn
Shaved Parmesan, for sprinkling
Instructions
In a large bowl or liquid measuring cup add in the crushed tomatoes, tomato sauce and water.
In a large 12-inch skillet, heat a tablespoon of olive oil over medium heat.
Once hot, add in the diced onion and cook until soft and translucent. Add in the minced garlic and cook for one minute. Measure in the kosher salt, black pepper and red pepper flakes. Stir and cook for an additional 30 seconds.
Add in 3/4 pound of ground chuck, 1/4 pound of Italian sausage and cook, stirring occasionally until browned and fully cooked.
Evenly layer the broken lasagna noodles on top of the ground beef/sausage mixture and pour the tomato sauces over top. Bring to a simmer and then reduce to medium-low.
Let the sauce bubble to cook the noodles. I push the noodles into the sauce as they soften so the sauce can work its way down into the pan.
Once the noodles are al dente, give it a good stir and then drop spoonfuls of ricotta cheese onto the lasagna. Give it a stir to break up the ricotta but not lose it completely.
Scatter torn pieces of the fresh mozzarella over top, cover with a lid and let the steam melt the cheese. About 5 minutes.
Serve piping hot with freshly torn basil and shaved Parmesan.
[this post contains affiliate links.]