These lasagna roll-ups are my family's favorite! Spinach, bacon and ricotta rolled up into lasagna noodles and topped with sauce and cheese! So easy!
Lasagna is something I make on occasion. It's a little involved and reserved for special occasions or on lazy days like Sunday where I can take my time and not be in any sort of rush.
But this isn't the case with lasagna roll-ups.
I make these ALL THE TIME! It's helpful to have a jar of homemade sauce on hand (a good quality store bought sauce can be used in replacement) to make the process less daunting. It's just a matter of crisping up the bacon, thawing a package of chopped (frozen) spinach and mixing in the rest of the ingredients. Then the bacon spinach mixture gets spread on to partially cooked lasagna noodles and nestled into a béchamel (which sounds more complicated then it is. Really!) and topped with sauce and cheese and then baked.
You guys this is sooo delicious! You could even make this meatless by swapping the bacon for sautéed cremini mushrooms or extra meaty by swapping in Italian sausage. The sky is the limit!
A classic lasagna roll-up recipe that your family will love!
Back to the béchamel. Béchamel means "white sauce" in French and it couldn't be any more simple to make. And as a bonus, it doesn't require any special hard to find ingredients.
Start by melting 2 tablespoons of unsalted butter in a medium 10-inch skillet (or a medium sauce pan) over medium-low heat. Once melted, whisk in the four teaspoons of flour, keep whisking until it turns a light golden brown in color, about 2 to 3 minutes. Continue whisking while pouring in the whole milk. Next add salt, pepper and nutmeg, whisk some more until the sauce has thickened. Do me a favor and please don't leave out the nutmeg, it really adds a little something special to the sauce.
Now that the béchamel is thick, pour the whole thing into a lasagna pan or 9×13 baking dish would work too. Set this off to the side to prepare the rest of the lasagna roll-ups. I have this lasagna pan and LOVE it. [affiliate]
While you're making the béchamel, bring a large pot of water to a boil. Once at a rolling boil, add in a small handful of sea salt, stir and then add in the lasagna noodles. Stir occasionally and cook the pasta for 8 minutes. Drain the noodles into a colander set into your sink.
NOTE: I cook an entire box, even though only 12 noodles are needed because I like to have extras in case some noodles stick together or worse, tear. Once the partially cooked lasagna noodles are cool enough to handle, place them side-by-side on a few silpat [affiliate] or parchment paper lined baking sheets.
Now preheat your oven to 450°.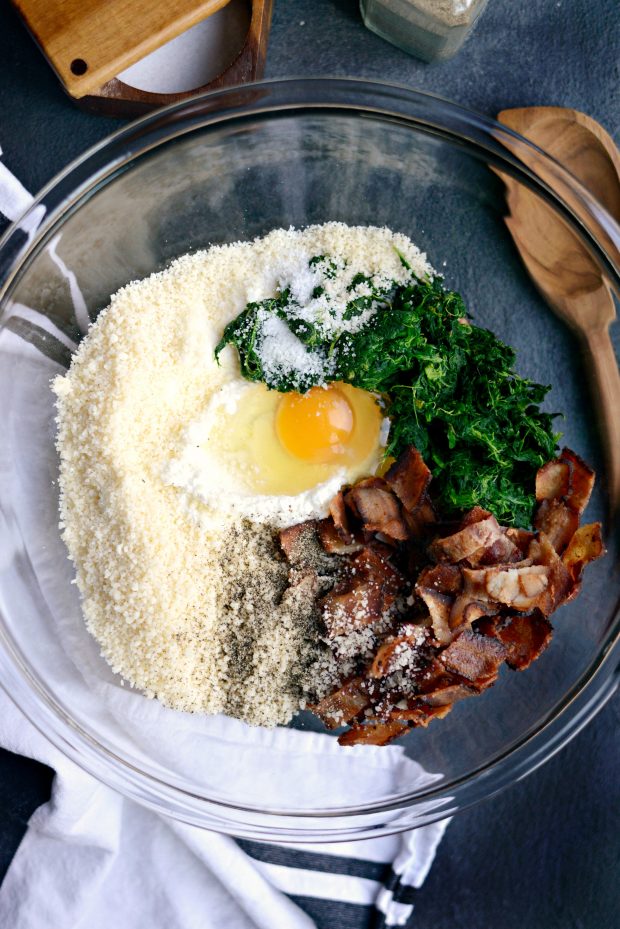 In a large bowl add 16 ounces of ricotta, 1 large egg, the drained and chopped spinach, chopped cooked bacon, grated Parmesan, salt and pepper. Remember, you don't need a lot of salt because of the bacon and Parmesan are both salty.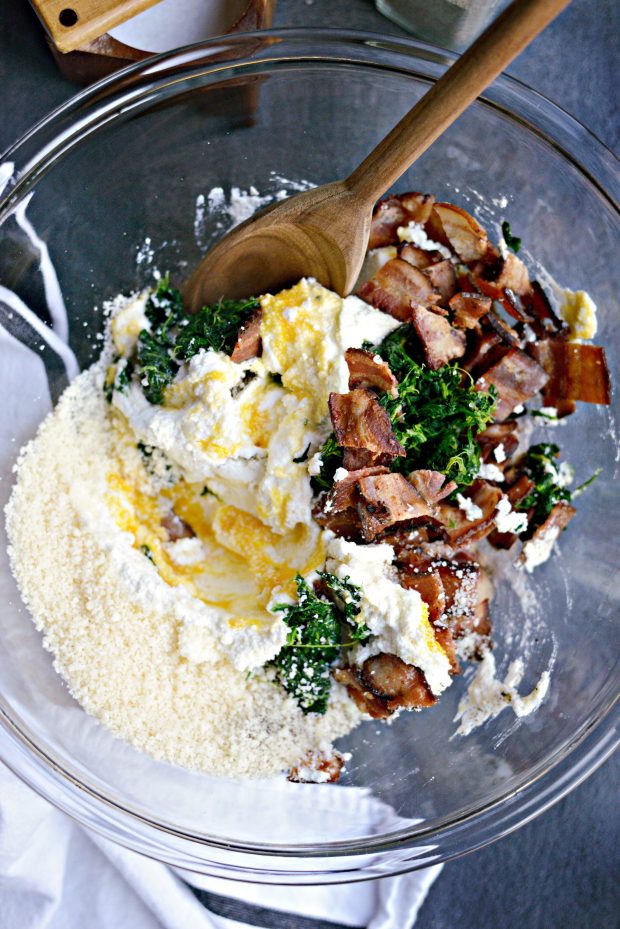 Then mix until just combined.
Next spoon equal amounts of ricotta mixture on to each lasagna noodle and spread it out in an even layer, about 2-1/2 tablespoons per lasagna noodle.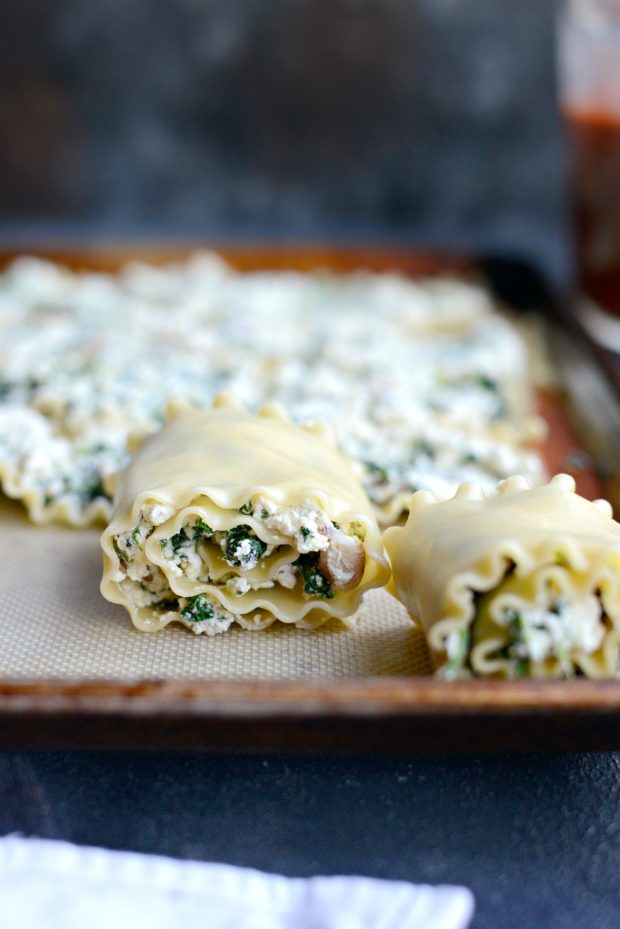 Then roll them up just like you would a jelly roll.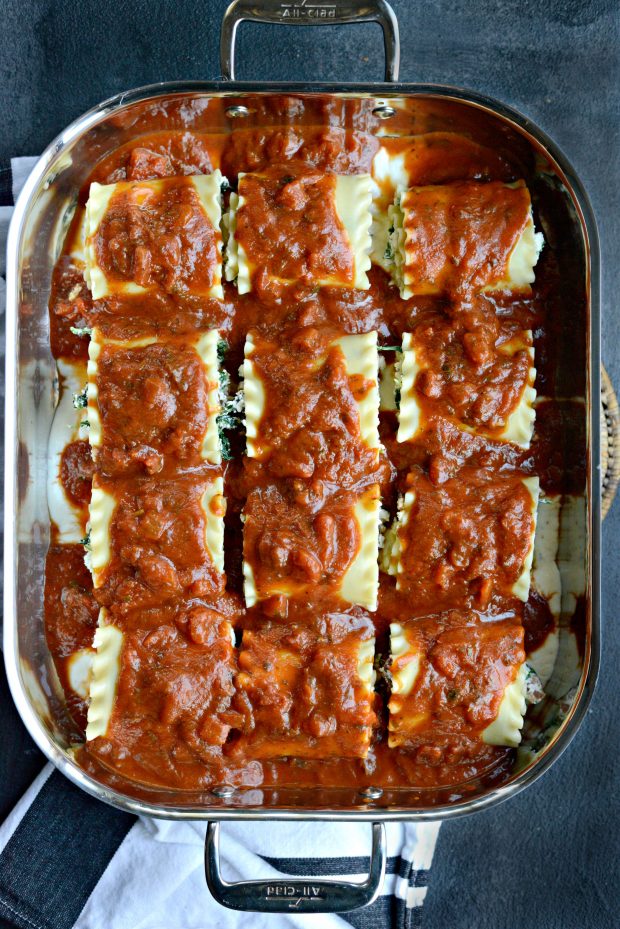 Lay each lasagna roll into the béchamel sauce and cover with the sauce. Sprinkle freshly grated mozzarella and Parmesan cheese over top before covering the pan with heavy-duty aluminum foil. Bake in your preheated (450°) oven for 20 minutes.
Lastly, uncover and bake the lasagna roll-ups for an additional 15 minutes so the cheese can get golden brown.
Would ya just look at that cheese!?!
At this point your house should be smelling pretty darn good right now.  After you pull out this beauty out of the oven, you will only have to wait 10 minutes before serving. It will be hard but you can do it!
It's recipes like this one that makes blogging hard. To go through all the steps to prepare it, then to hold a camera only inches away while breathing in it's heavenly scent. Only to cover it up and wait for dinnertime. Pure agony, my friends. Pure. Agony.
Over the years I've made this dish quite often; for dinner to feed my family and to friends who've just had a baby. It's a great dish that can be made in advance and baked later. And the leftovers only get better over time.
The applewood bacon really adds a smoky delicious flavor to these lasagna roll-ups.  There's the perfect amount of cheese to pasta ratio and because the pasta soaks up a smidgen of the béchamel, it's not overly saucy.
I serve this with a leafy green salad and garlic bread. Oh and red wine! Heaven.
Enjoy!
My cookbook Simply Scratch : 120 Wholesome Homemade Recipes Made Easy is now available! CLICK HERE for details and THANK YOU in advance! 
Lasagna Roll-Ups
These lasagna roll-ups are my family's favorite! Spinach, bacon and ricotta rolled up into lasagna noodles and topped with sauce and cheese! So easy!
Yield: 6-8
Prep Time: 30 to 40 minutes
Cook Time: 35 minutes
Total Time: about 1 hour 20 minutes
Ingredients:
FOR THE BÉCHAMEL SAUCE:
2 tablespoons unsalted butter
4 teaspoons all-purpose flour
1-1/4 cups whole milk
1/4 teaspoon kosher salt
1/8 teaspoon ground black pepper
a pinch ground nutmeg
FOR THE LASAGNA ROLL UPS:
1 (16-ounce) container whole milk ricotta cheese
1 (9 to 10-ounce) package frozen chopped spinach, thawed, squeezed dry
3/4 cup plus 2 tablespoons grated Parmesan cheese, divided
3/4 pound of applewood bacon, cooked until crispy and roughly chopped
1 large egg, beaten
1/2 teaspoon kosher salt
1/2 teaspoon freshly ground black pepper
1 package (16 ounces) uncooked lasagna noodles
3 cups favorite marinara sauce (try this recipe or the one from my cookbook)
8 ounce freshly grated mozzarella cheese
Directions:
TO MAKE THE BÉCHAMEL: Melt the butter in a heavy medium saucepan over medium-low heat. Add the flour and whisk for 3 minutes or until a nice golden color. Whisk in the milk. Increase the heat to medium-high. Whisk the sauce until it comes to a simmer and is thick and smooth, about 3 minutes. Whisk the salt, pepper, and nutmeg into the béchamel sauce.
Pour the béchamel into your lasagna pan and spread with a rubber spatula, then set aside.
Preheat the oven to 450 degrees F.
Mix the ricotta, spinach, 3/4 cup Parmesan, bacon, egg, salt, and pepper in a medium bowl to blend.
Meanwhile bring a large pot of salted water to a boil. Add the noodles, cooking until just tender but still firm to bite, about 8 minutes. Drain then arrange the noodles in a single layer on a few silpat lined sheet pans.
Spread out about 3 tablespoons of ricotta mixture evenly over each noodle. Starting at 1 end, roll each noodle like a jelly roll. Lay the lasagna rolls seam side down, without touching, atop the béchamel sauce in the dish. Top with the sauce and then with the fresh mozzarella and remaining 2 tablespoons of Parmesan. Cover tightly with foil. Bake until heated through and the sauce bubbles, about 20 minutes. Uncover and bake until the cheese on top becomes golden, about 15 minutes longer. Let stand for 10 minutes.
SIMPLY SCRATCH TIP: If freezing: assemble the lasagna rolls directed prior to baking. Wrap and cover properly the unbaked lasagna and freeze. To reheat: Pull the lasagna out of the freezer and place in your fridge the evening before you want to bake it, so it has a chance to thaw. Then bake as directed in the recipe instructions. It may or may not need a few extra minutes in the oven. *I would bake with the aluminum foil covering until the lasagna is warm throughout.
[this post contains affiliate links.]