This Andouille Cajun Rice Skillet is a quick and easy one skillet dinner, perfect for any night of the week. Flavorful andouille sausage is browned and mixed with sautéed peppers, onions and brown rice in spicy cajun tomato sauce.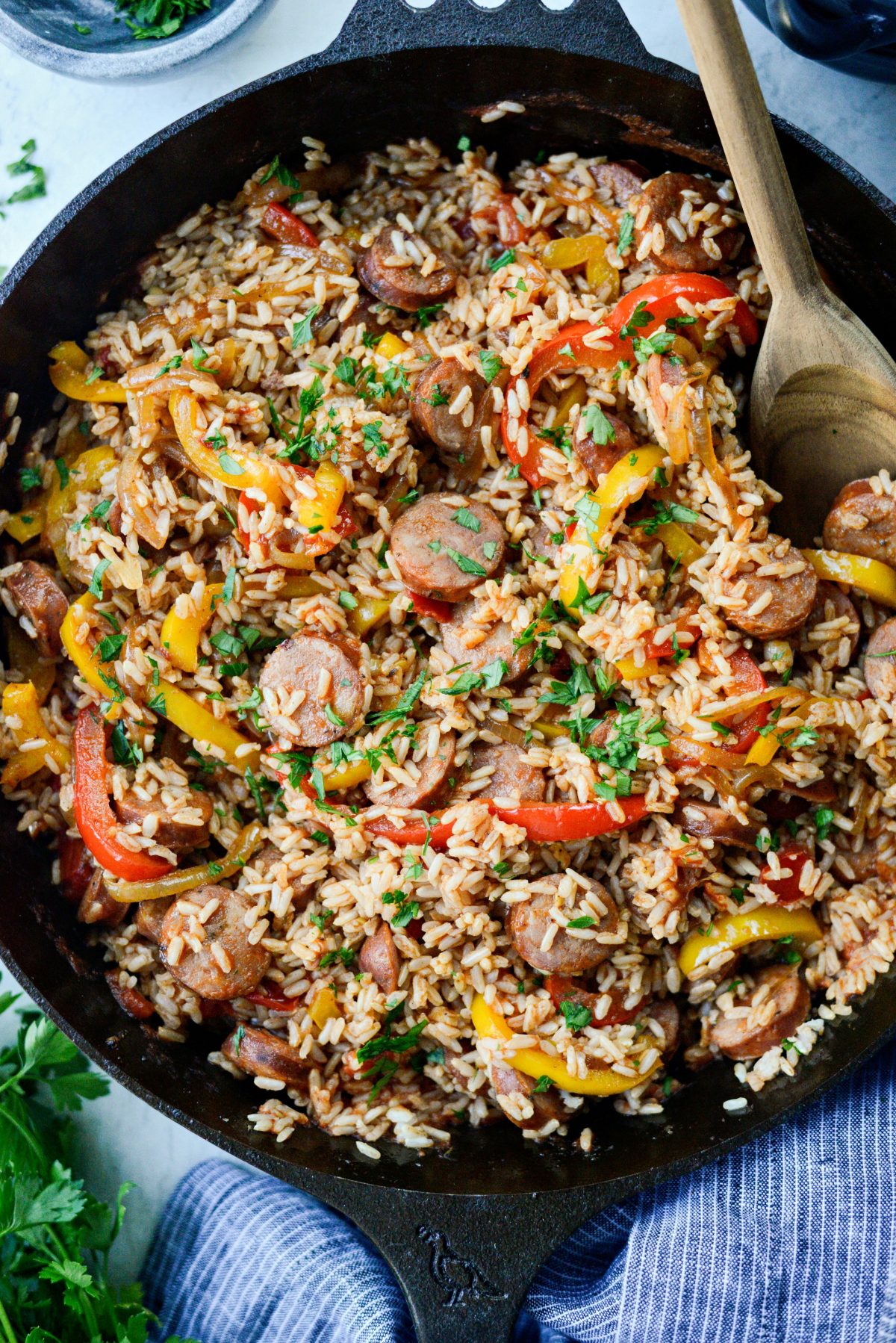 This was our dinner on Monday. I've said it once and I'll say it again, rice cookers area amazing! It's like a slow cooker for your rice and utterly foolproof. Earlier in the day, I threw brown rice in my rice cooker so it would be ready by the time I had to start dinner, therefore cutting down the cooking time significantly. I'm on my second one and all I do is measure in the rice and water and push a couple of buttons. So easy! And in 20 to 40 minutes (depending) poof! rice. I like to use brown rice in this recipe because of the wholesome flavor, however white rice would work too. The rest of this meal can be pulled together in no time.
This skillet recipe is one of those that I really have fun making. It has just enough cooking and without a ton of peeling, chopping or measuring. A simple but flavorful dish that tastes like it took you all day and bonus, it's satisfyingly filling too.
It got rave reviews all across the board, with the exception of Malloree who made leftover chicken because she's convinced she hates rice. Who hates rice?
Here's what you'll need 3 cups brown rice, 12 ounces of andouille sausage, olive oil, 1/2 a medium yellow onion, 1/2 a red and yellow bell pepper, 1 roma tomato, 4 cloves fresh garlic, 1 rounded teaspoon cajun seasoning, 1/2 teaspoon kosher salt, 3 ounces of tomato paste and low-sodium chicken broth.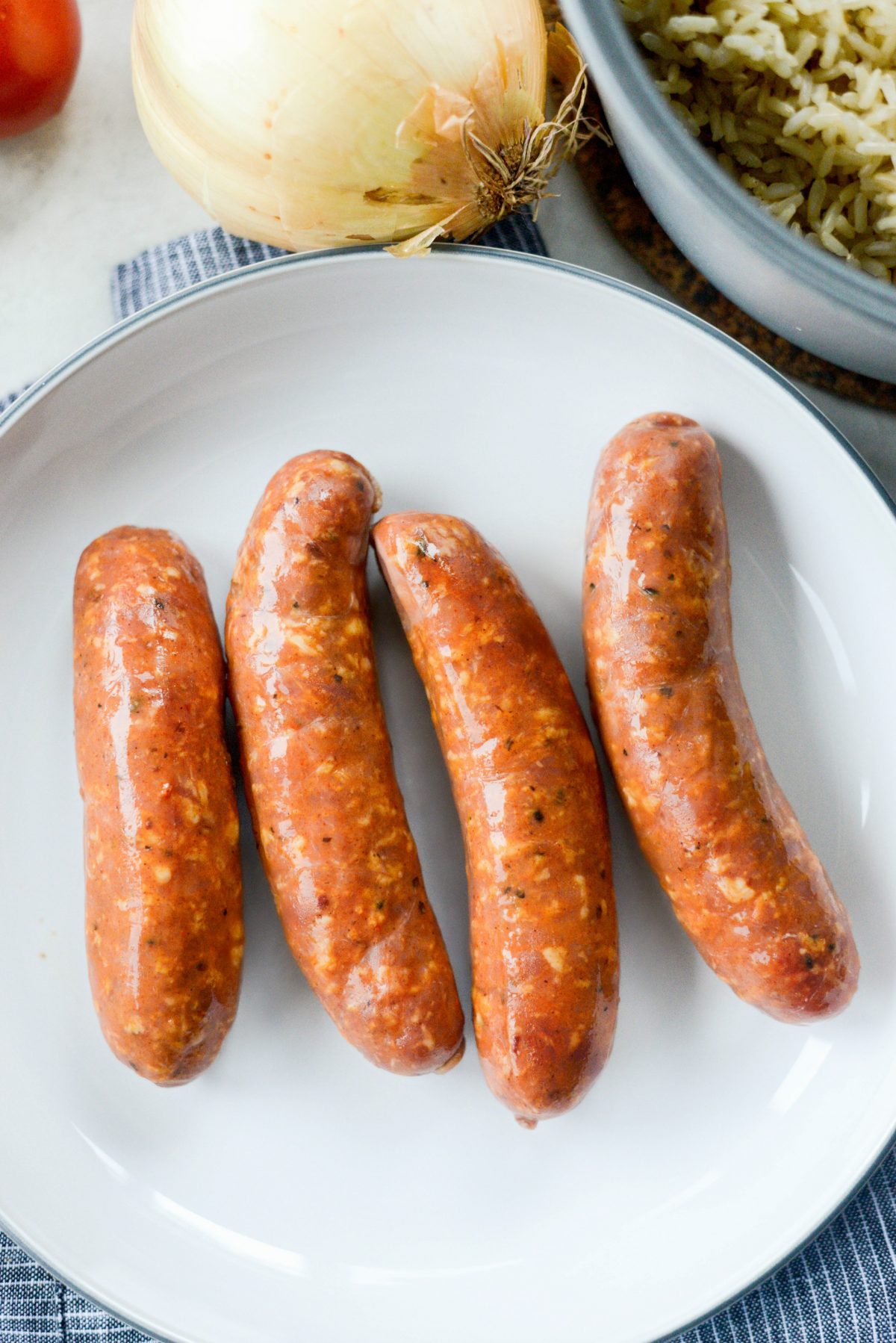 The andouille sausage I'm using is already cooked. However, I sliced it into coins because I throw it in a hot skillet with some oil, as a result the edges will caramelize and add texture and even more flavor.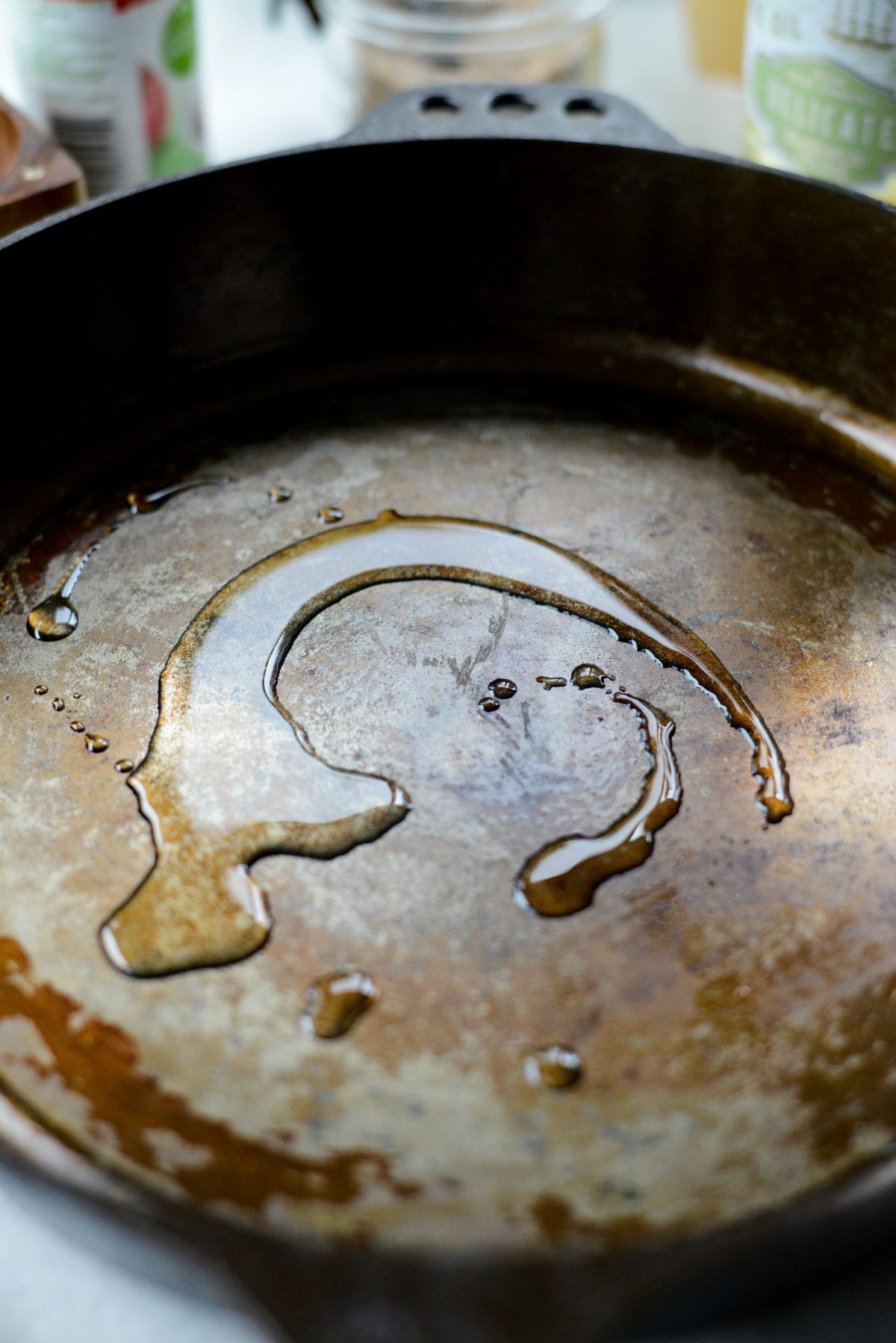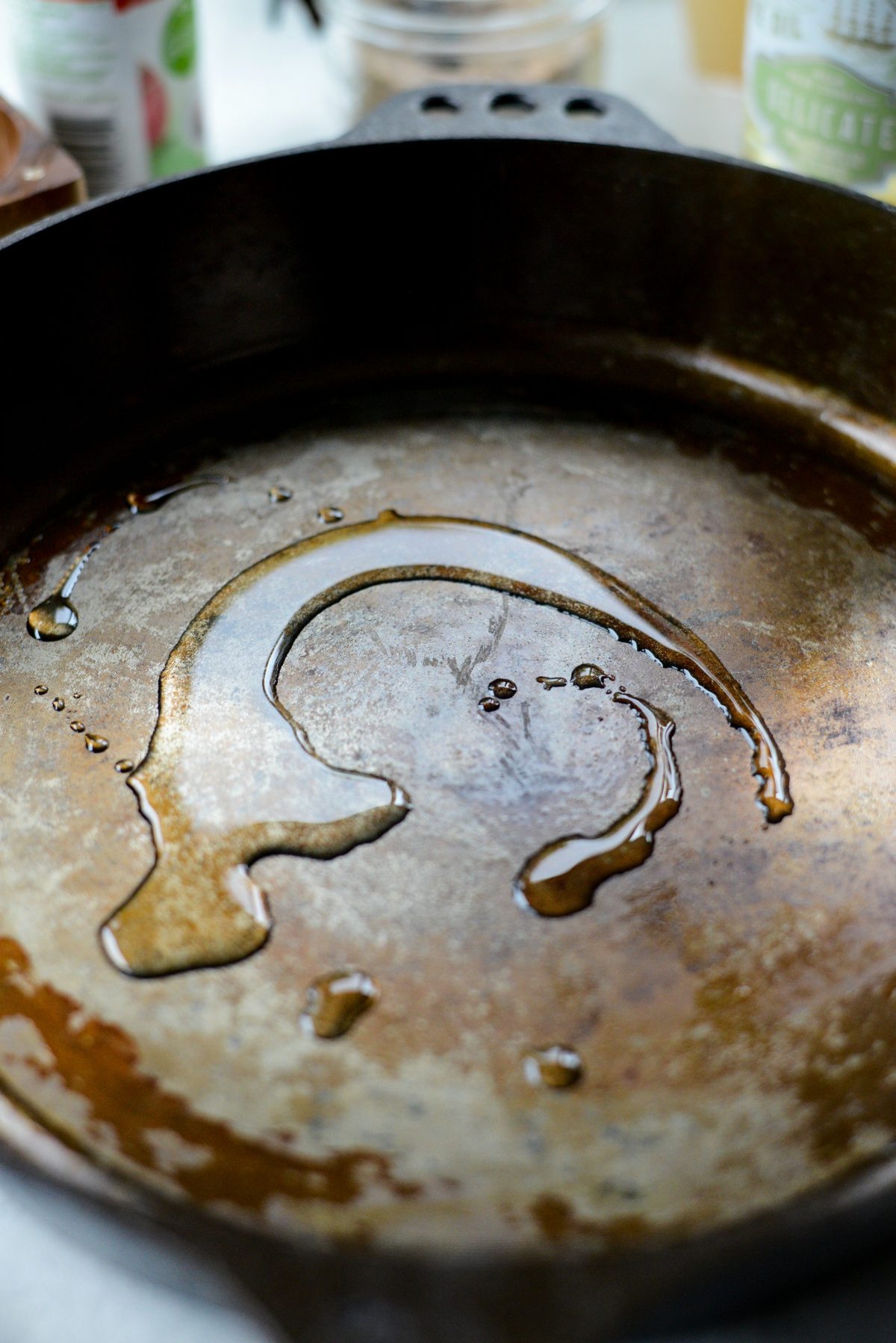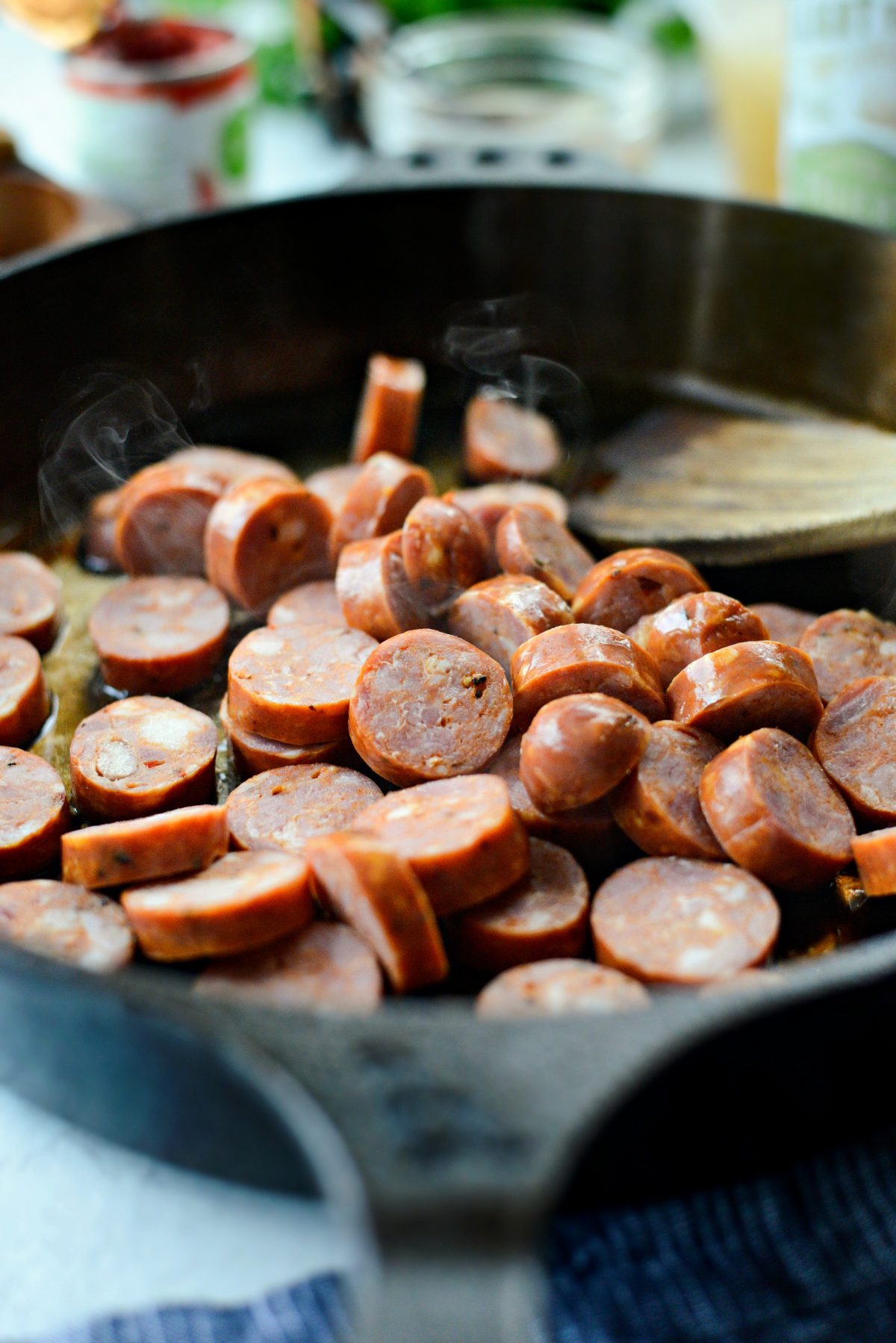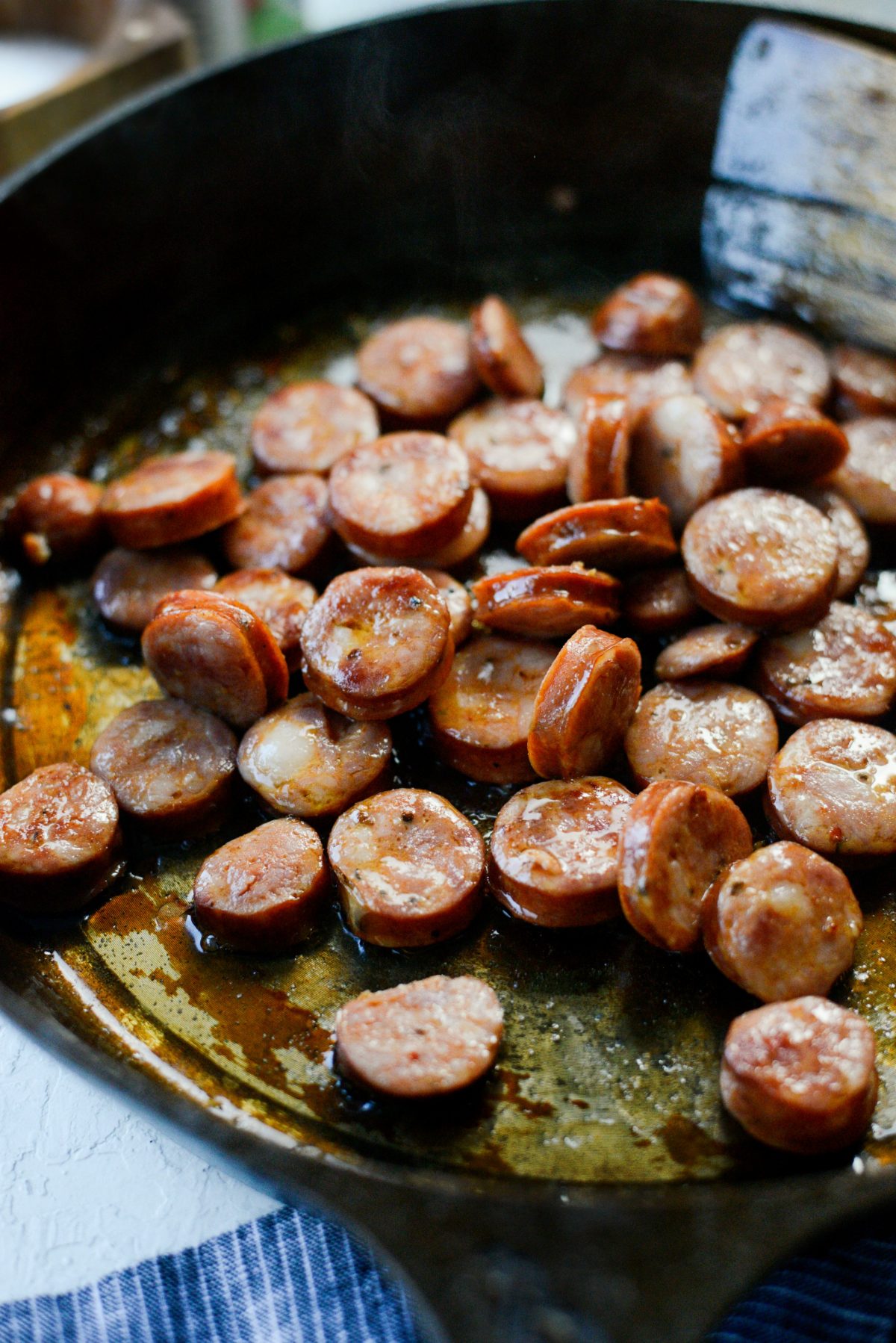 Heat 2 teaspoons of oil in a cast iron skillet over medium-high heat. Drop in the sliced andouille, stir and spread in an even layer to cook and caramelize. This should only take about 5 minutes. Try not to over stir them so the sausage has a chance to brown. Then transfer the sausage to a clean plate and reduce the heat to medium.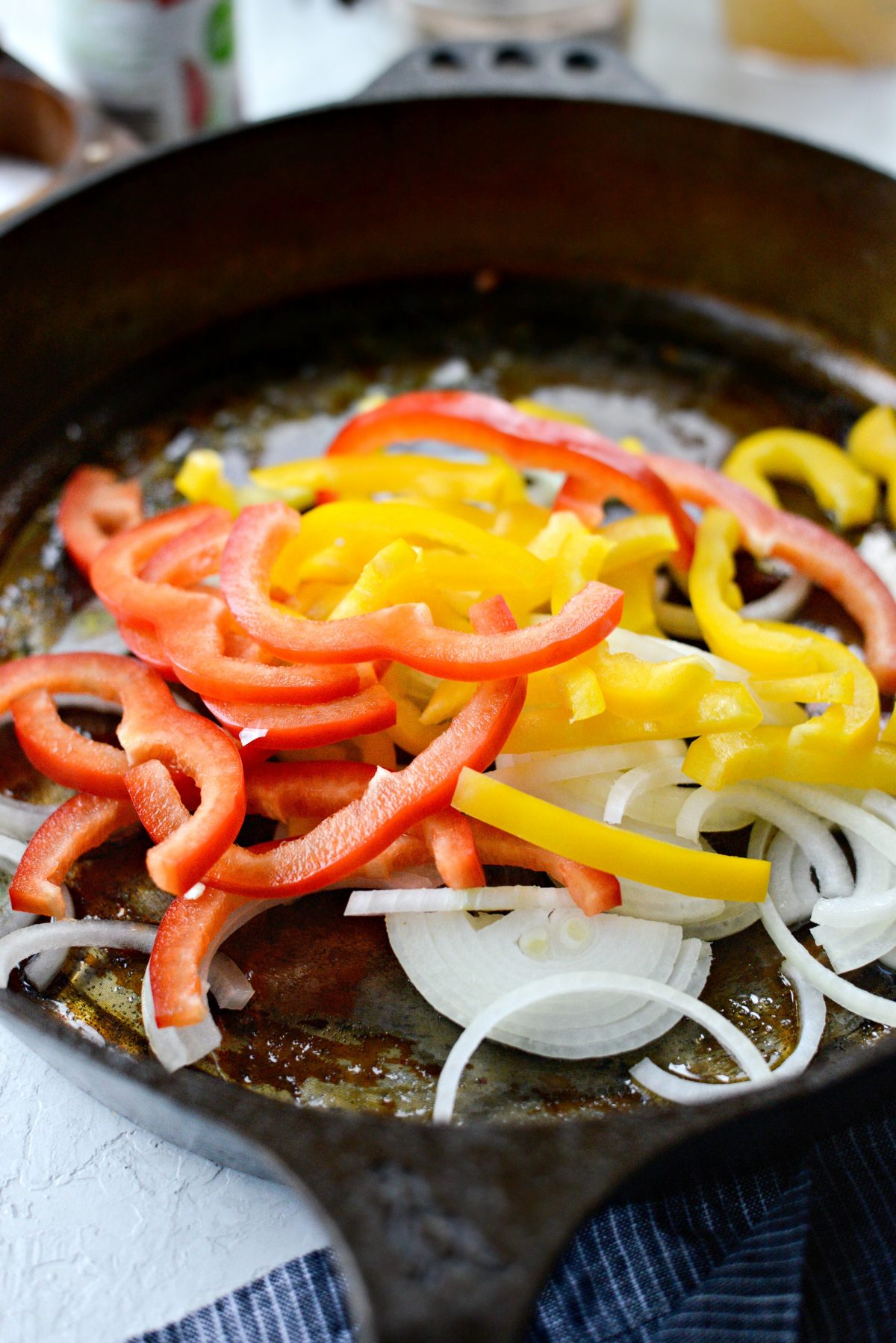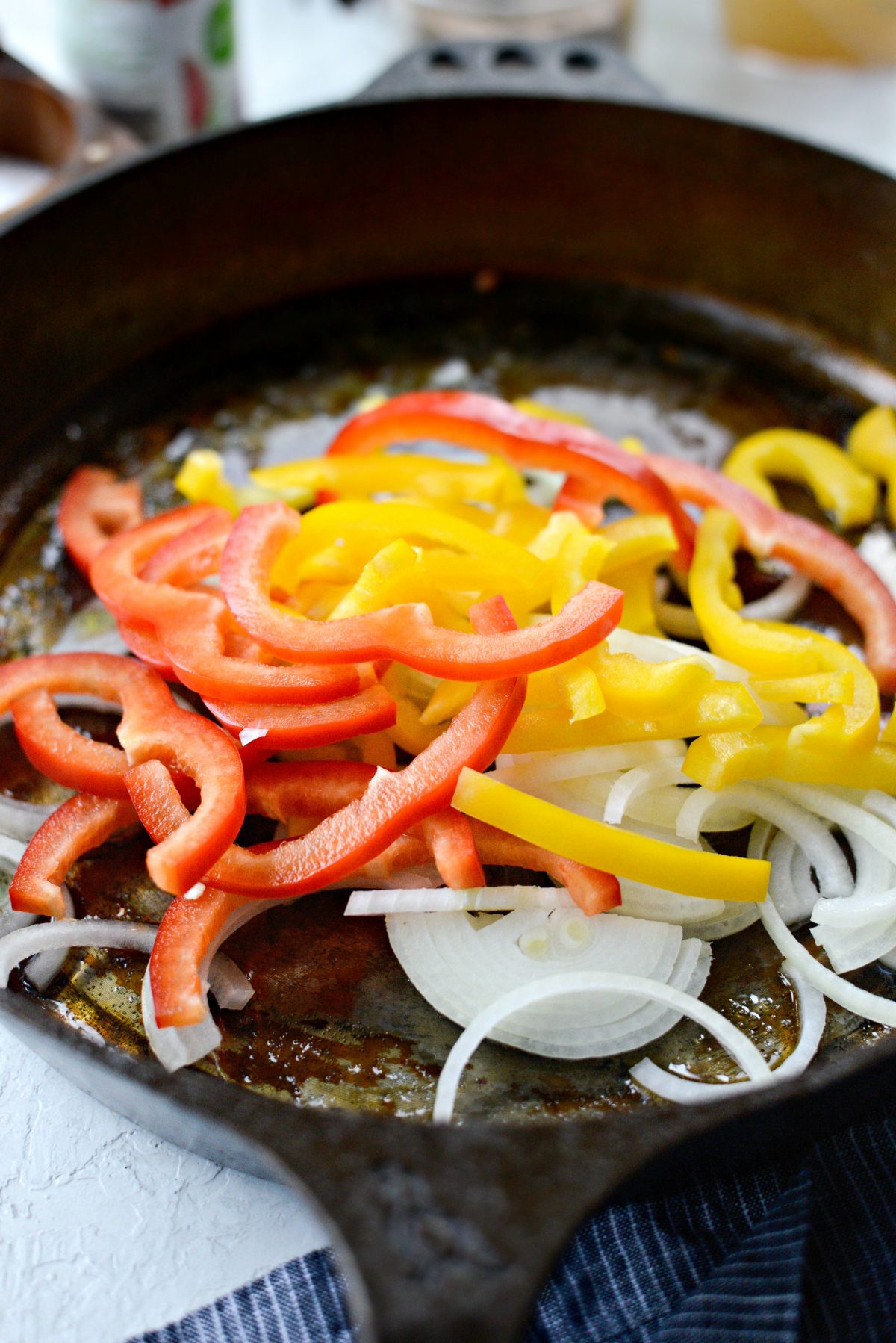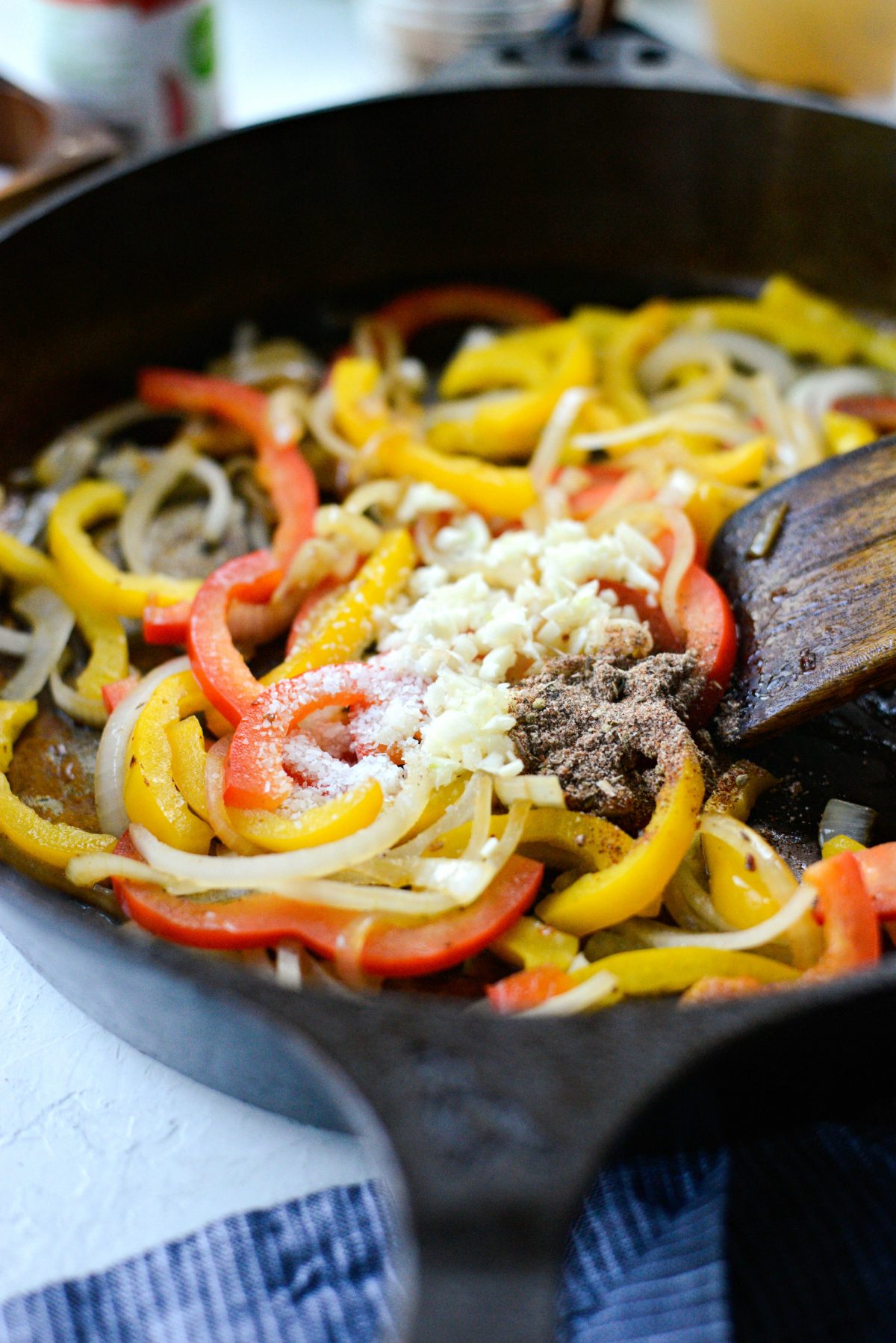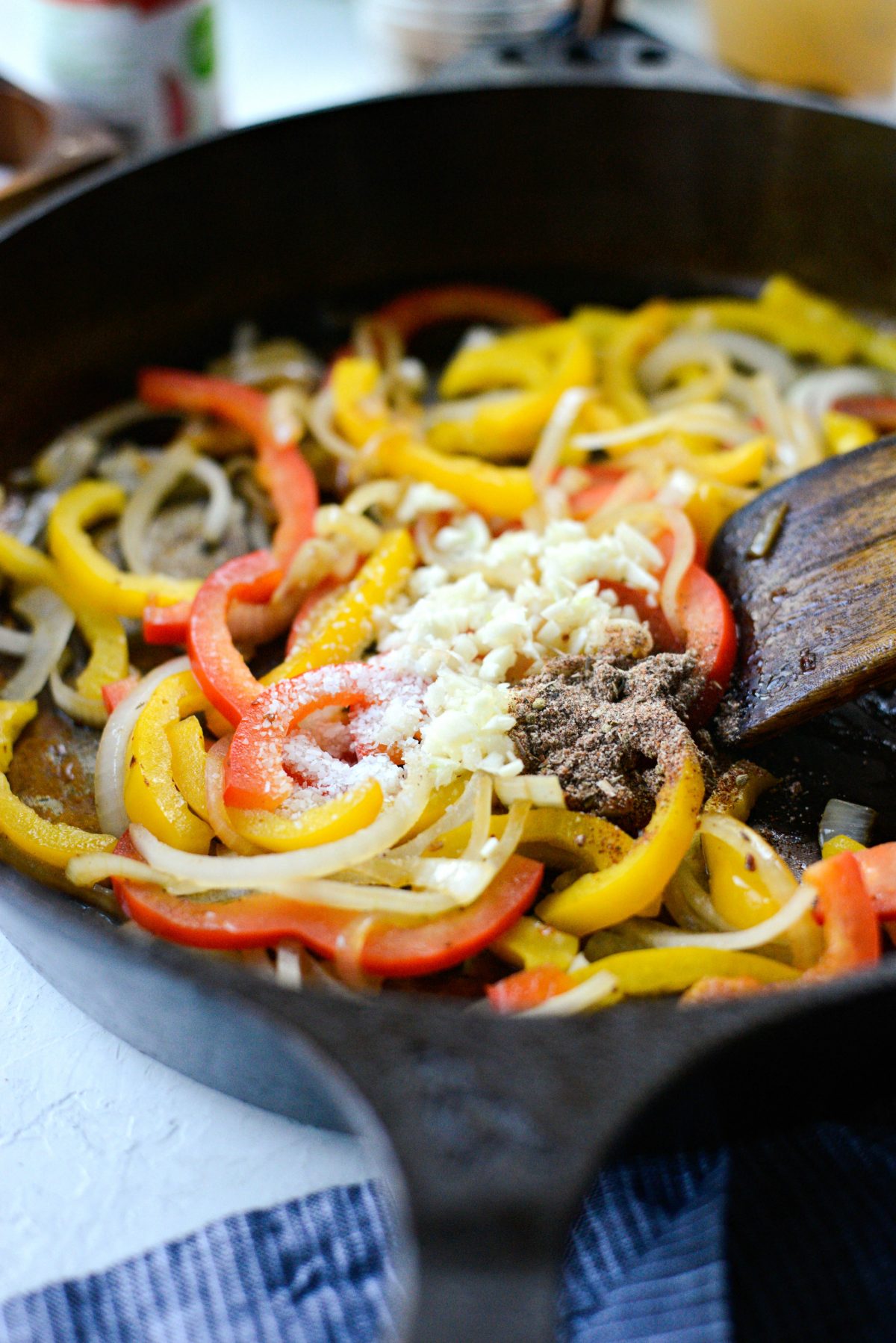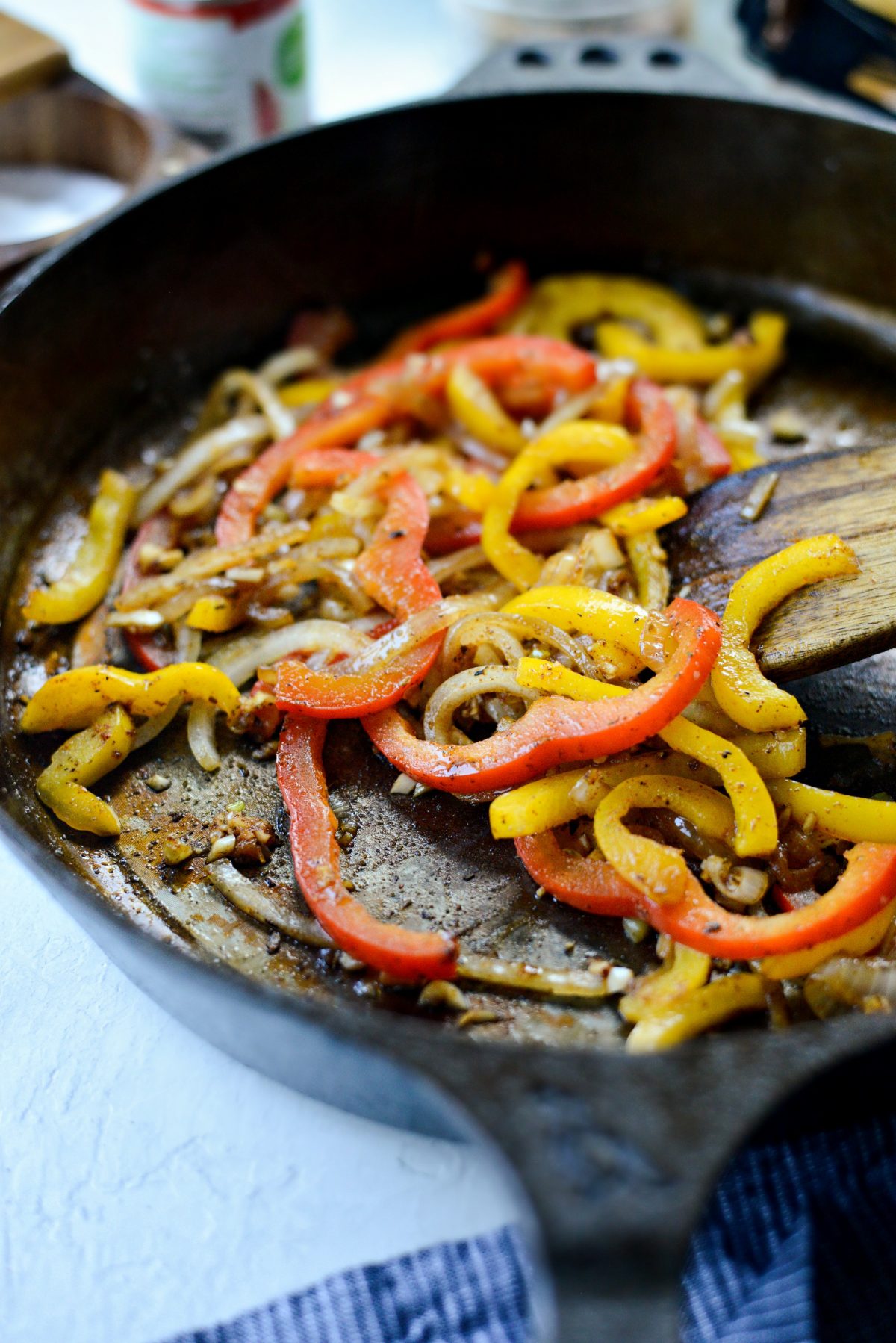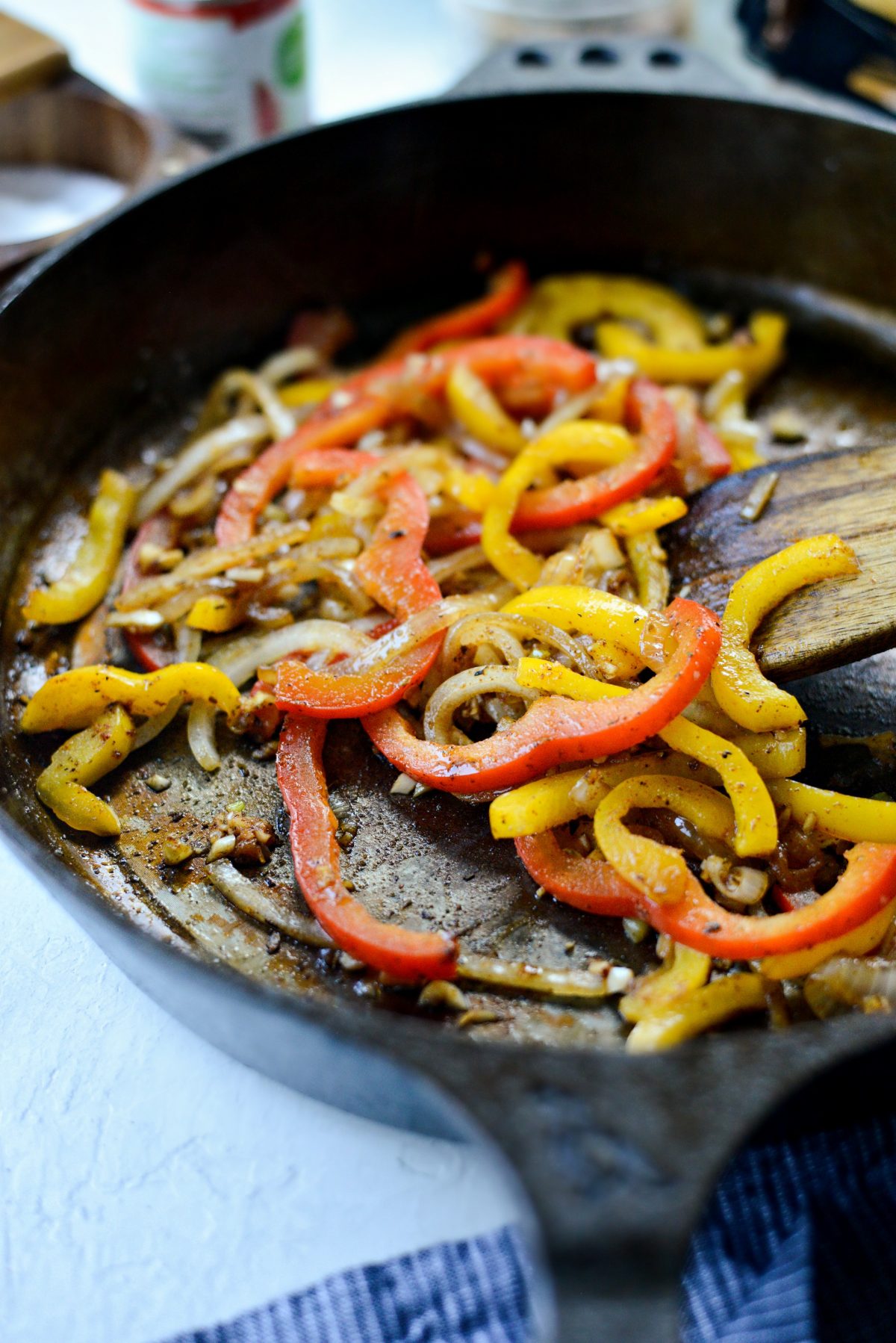 Next, in the same skillet, drop in 1/2 cup each of the sliced onions and peppers. Stir and cook until the onions are translucent and soft and the peppers still have a bit of texture to them. Then add in the minced garlic, 1 rounded teaspoon of cajun seasoning and 1/2 teaspoon kosher salt. Stir and cook for a minute or two.
Once cooked, transfer the seasoned onions, garlic and peppers to the plate with the sausages.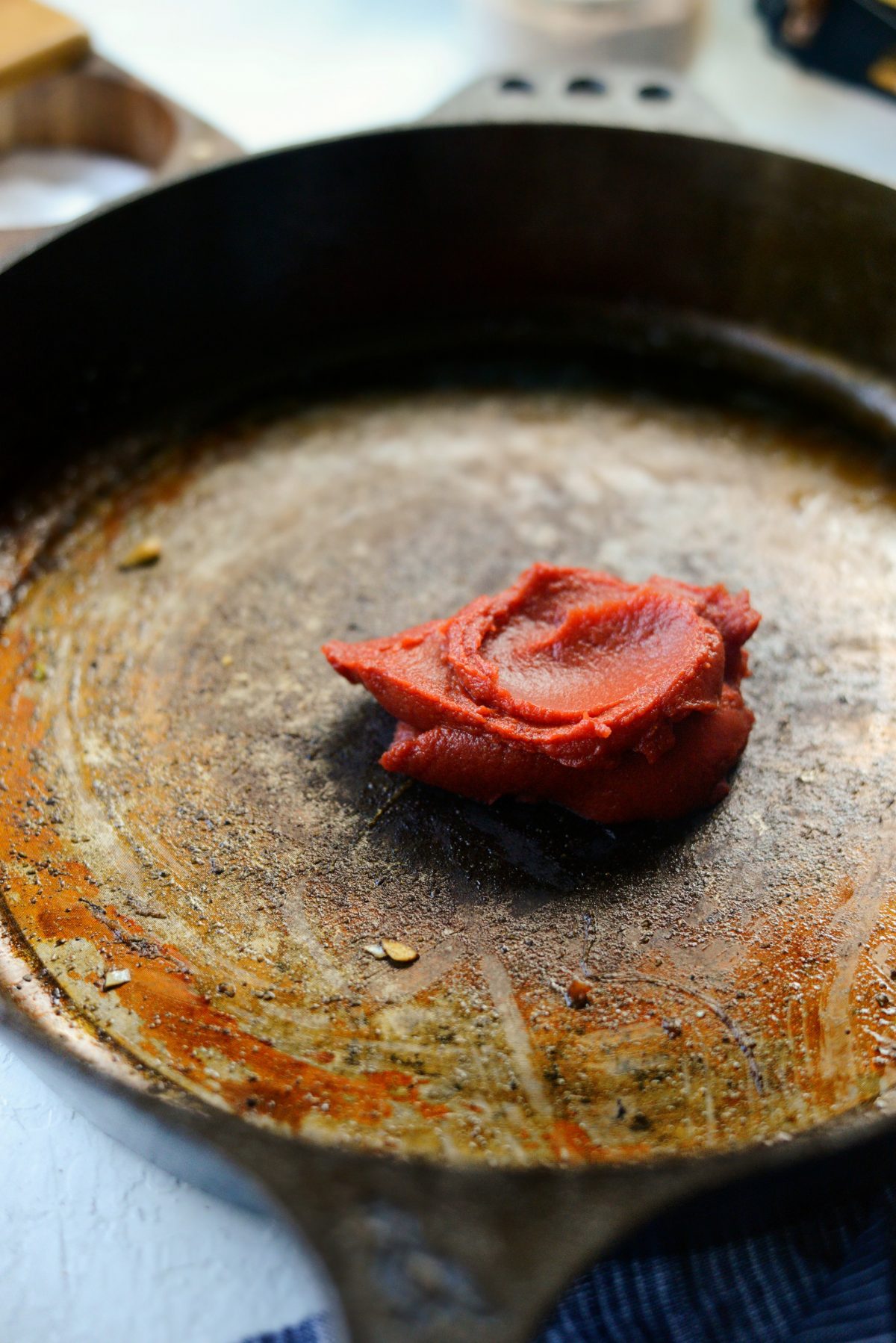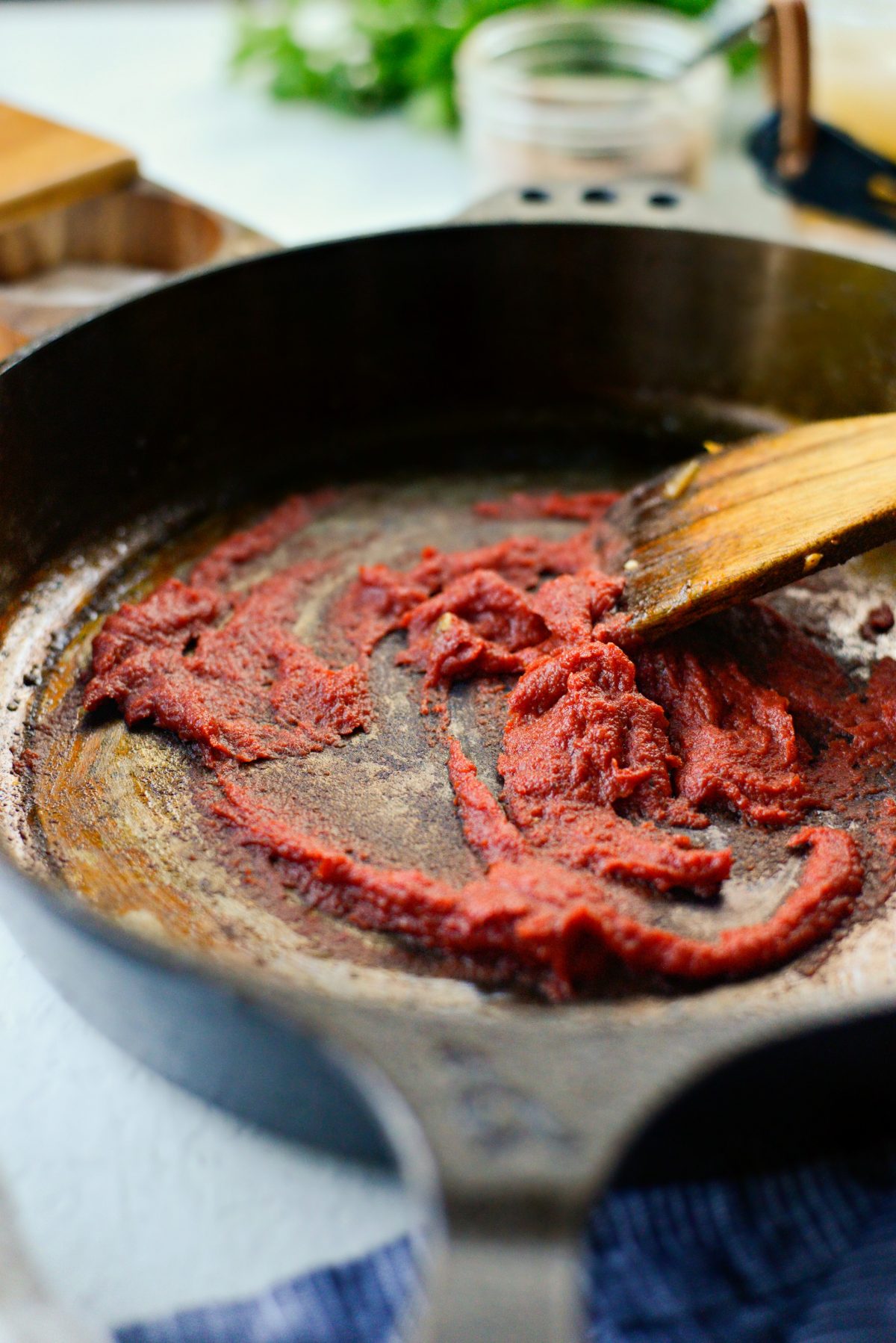 Next add in 3 ounces (or 1/2 a 6 ounce can) of tomato paste to the skillet. Stir and cook for a couple of minutes.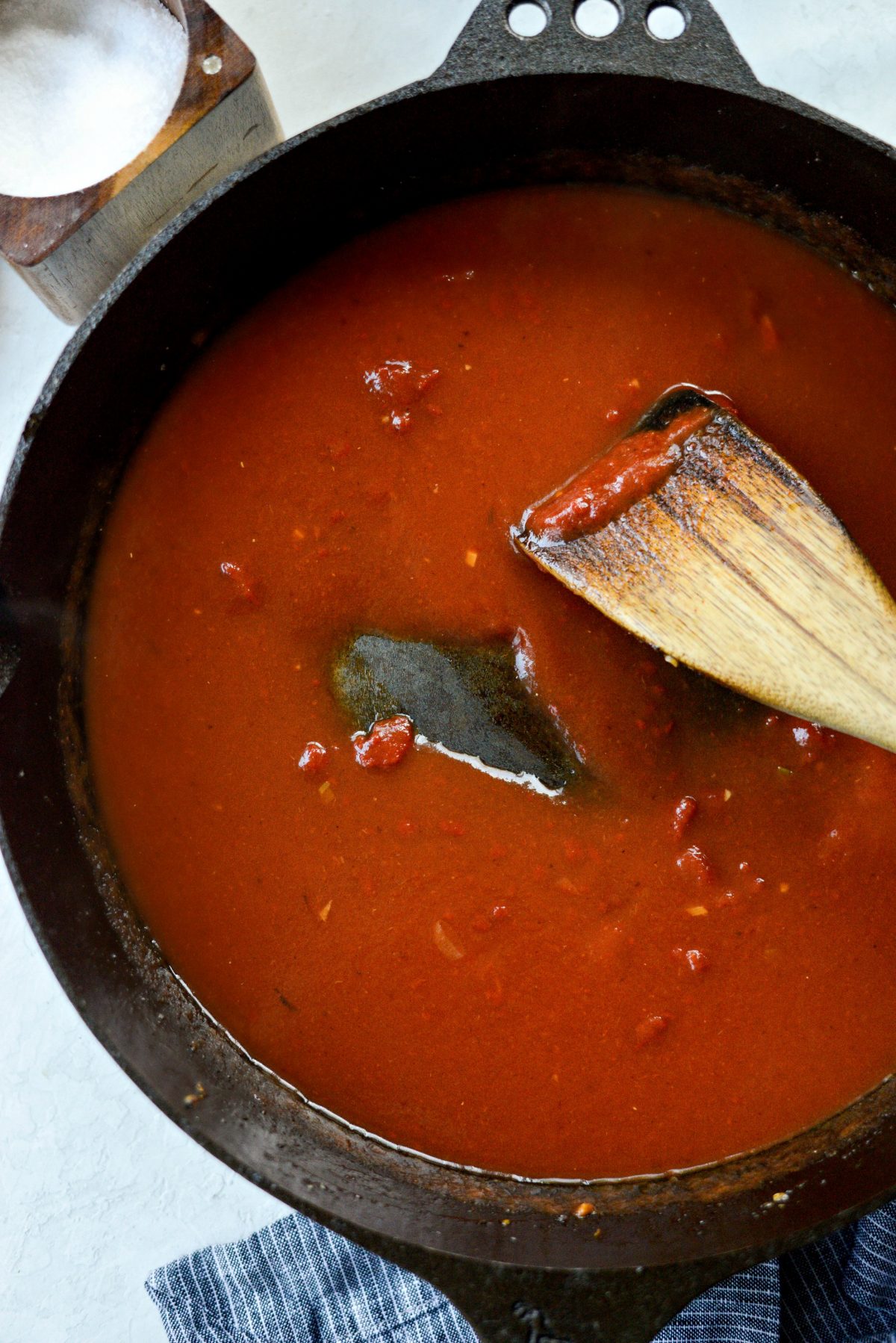 Pour in 1 cup of low-sodium chicken broth and gently stir to dissolve, scraping any browned bits off of the bottom of the pan. Thus, creating a sauce.
Next add in 1 chopped roma tomato, stir and bring to a simmer for 2 to 3 minutes.
Then add in the cooked brown rice, crispy sausage and sautéed peppers and onions. Stir to combine and heat thoroughly.
Lastly sprinkle with mince fresh parsley and freshly ground black pepper. Finally, I serve this andouille cajun rice skillet in bowls as is or with crusty bread.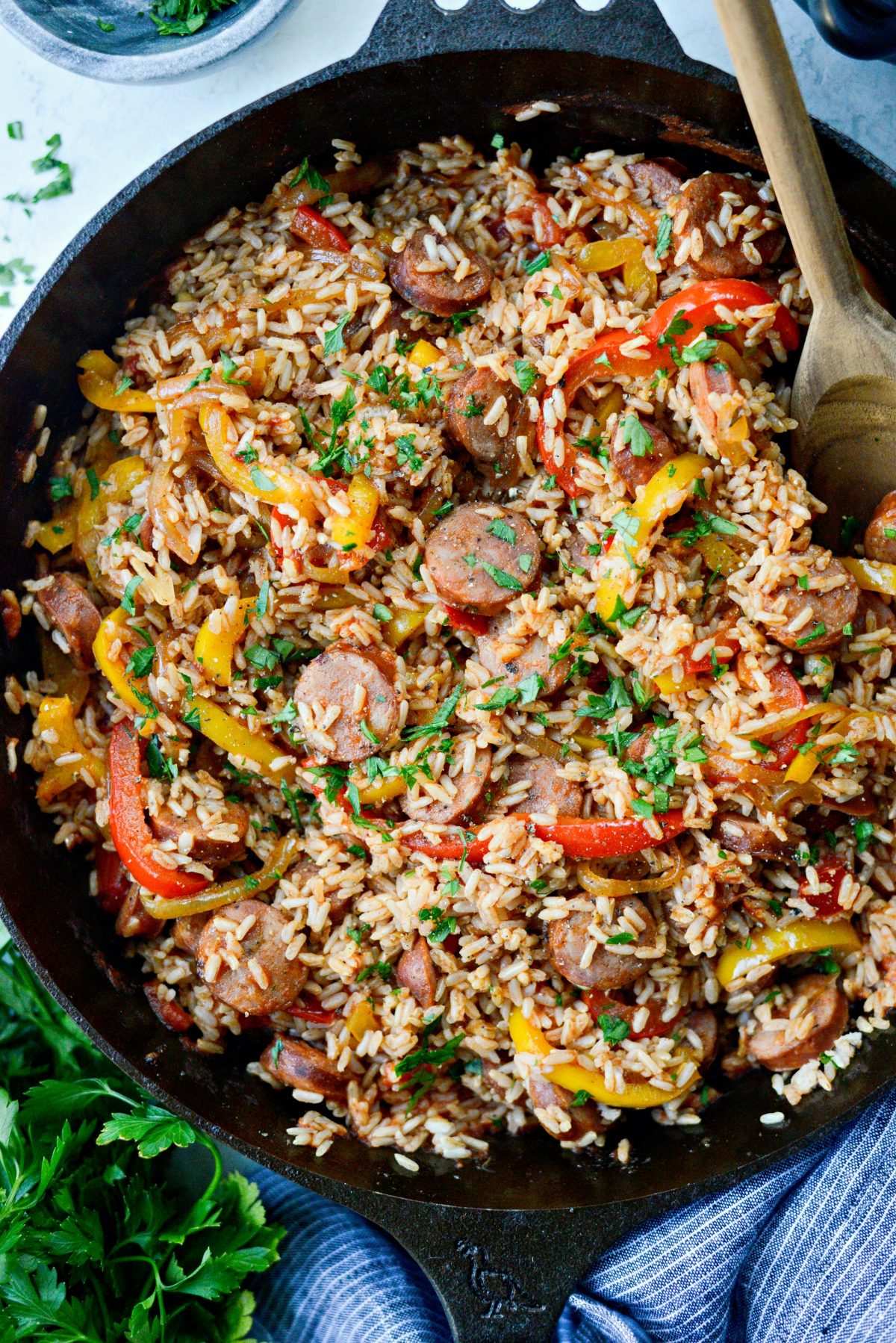 The flavors in this dish is phenomenal! First, the andouille sausage is delicious but secondly, it's the combination of cajun spices, veggies and all of that garlic!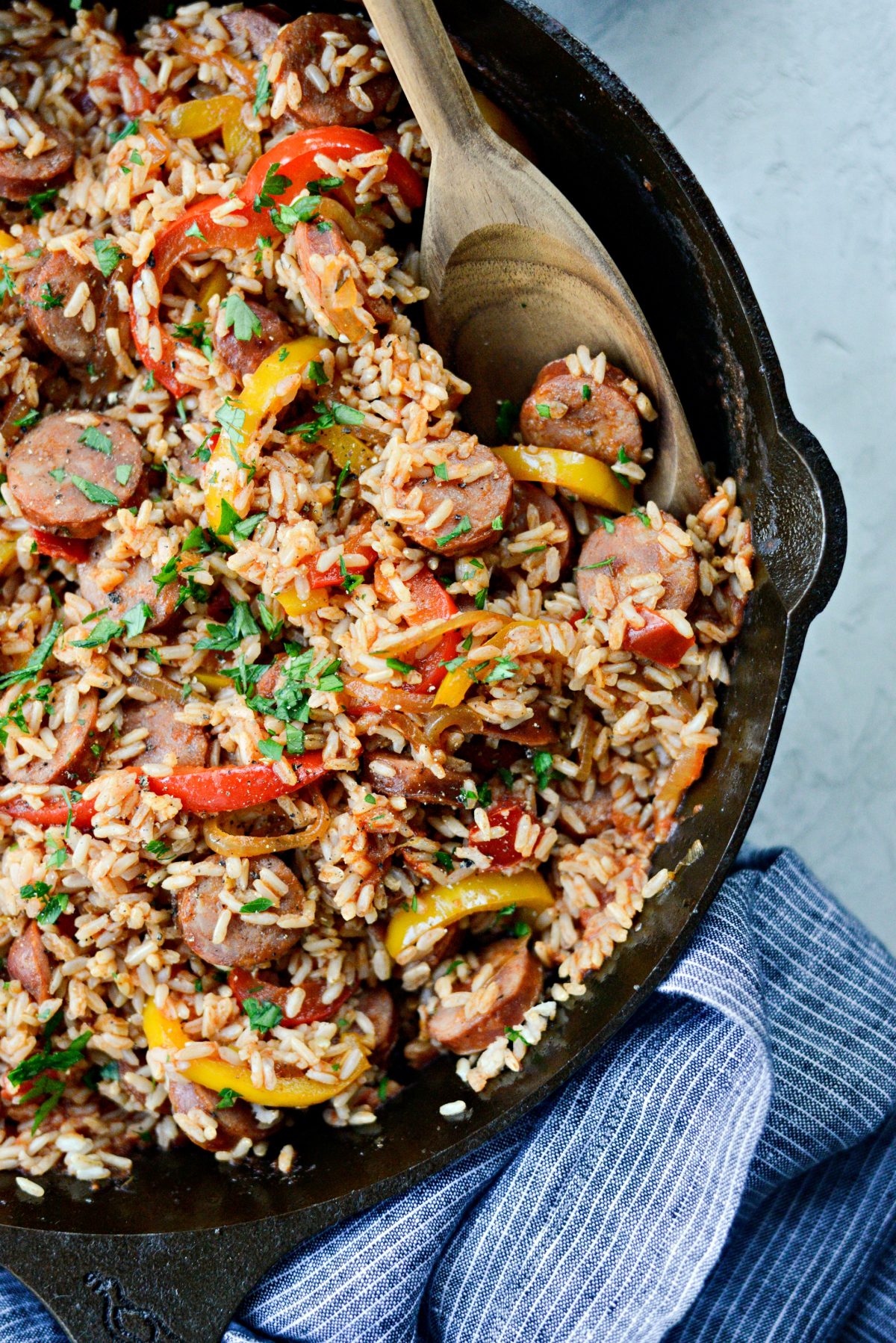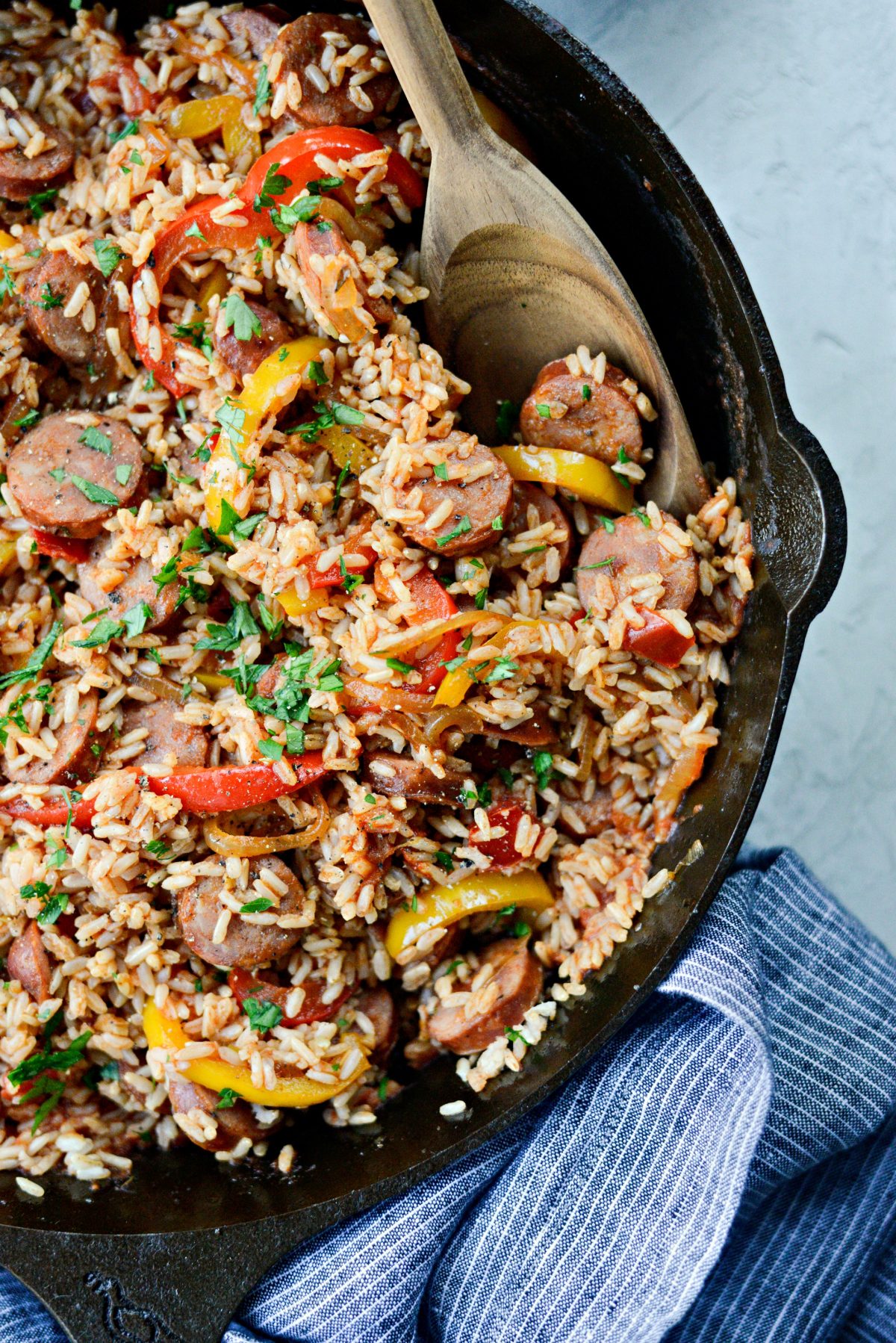 Enjoy! And if you give this Andouille Cajun Rice Skillet recipe a try, let me know! Snap a photo and tag me on twitter or instagram!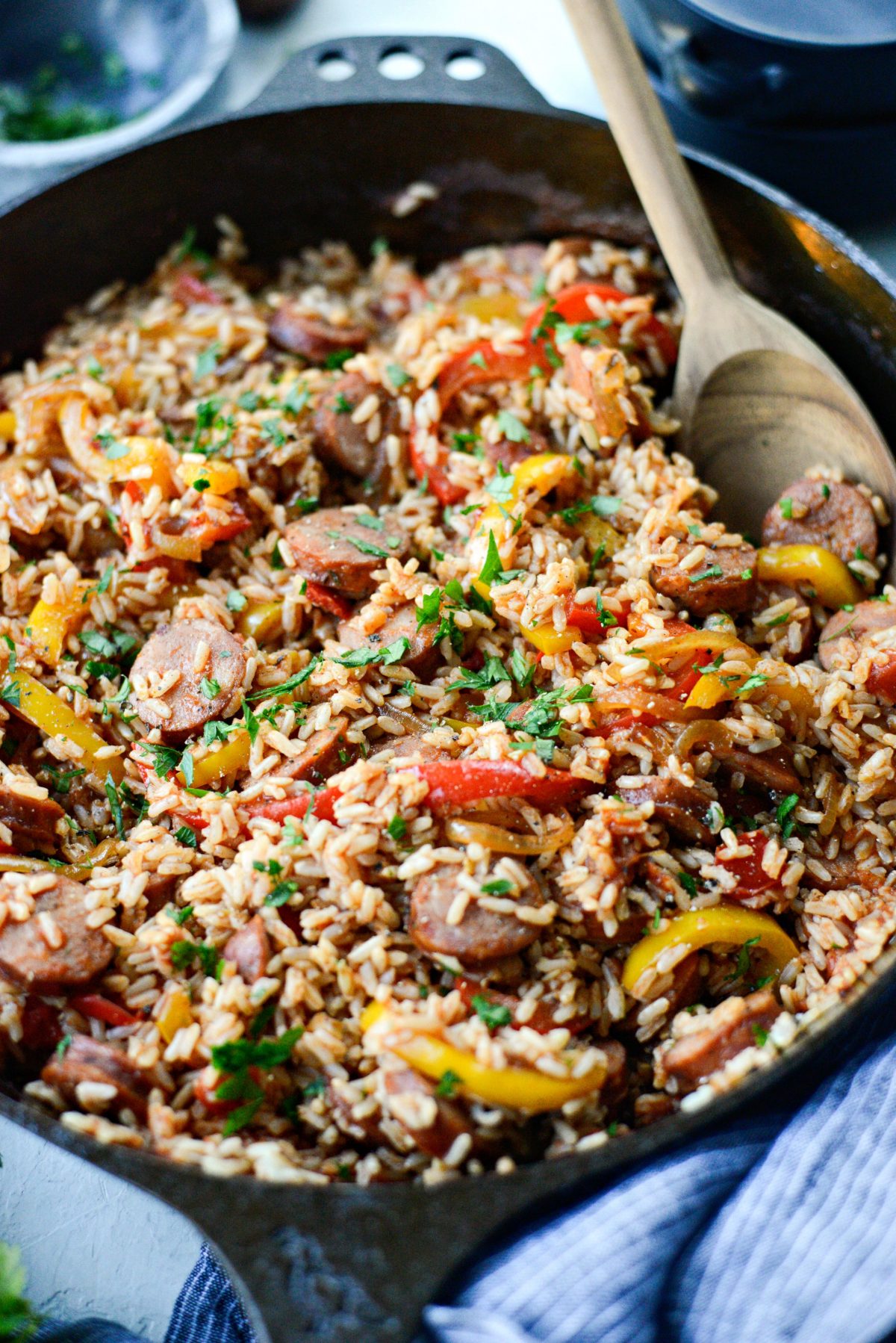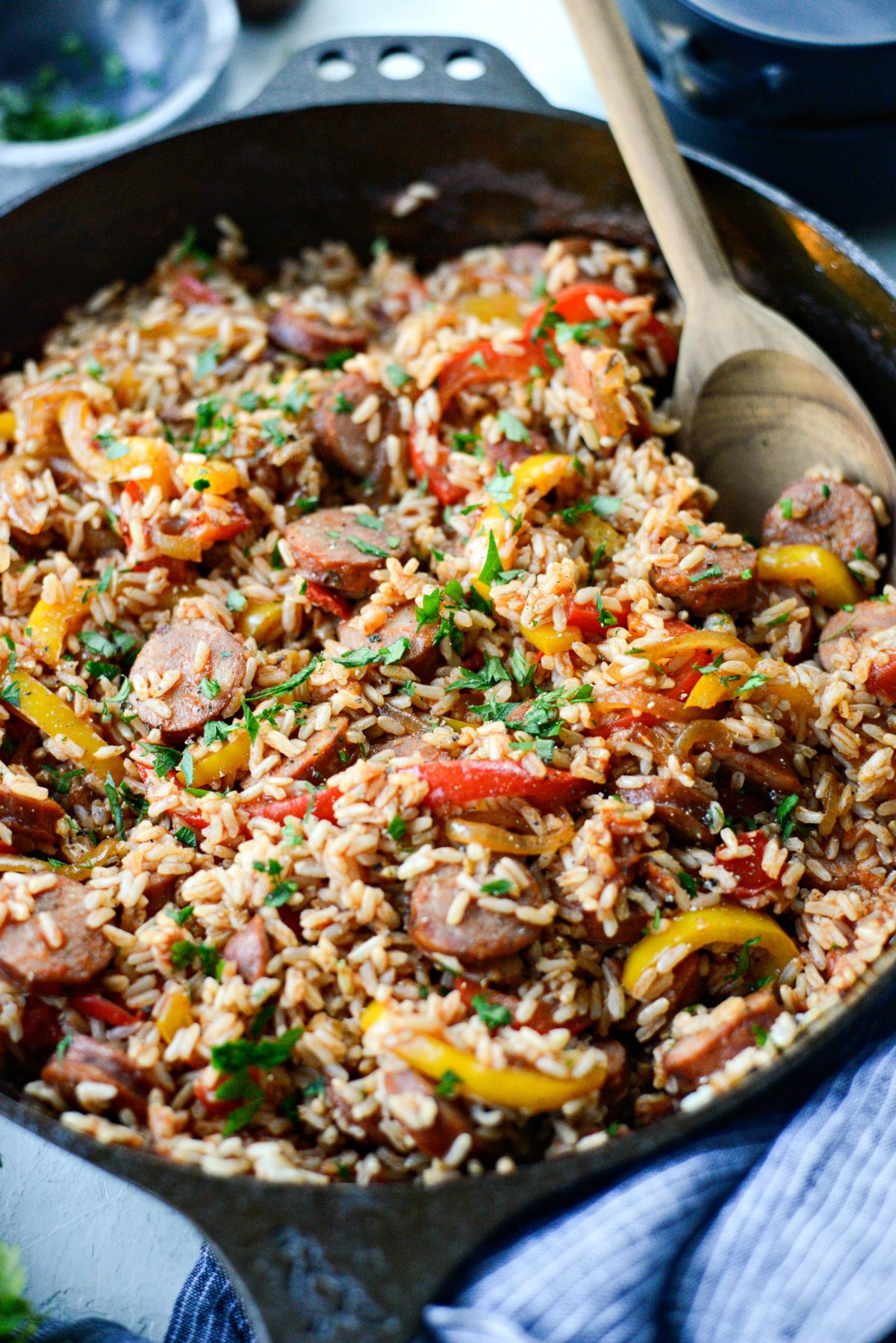 My cookbook Simply Scratch : 120 Wholesome Homemade Recipes Made Easy is now available! CLICK HERE for details and THANK YOU in advance!
[this post contains affiliate links.]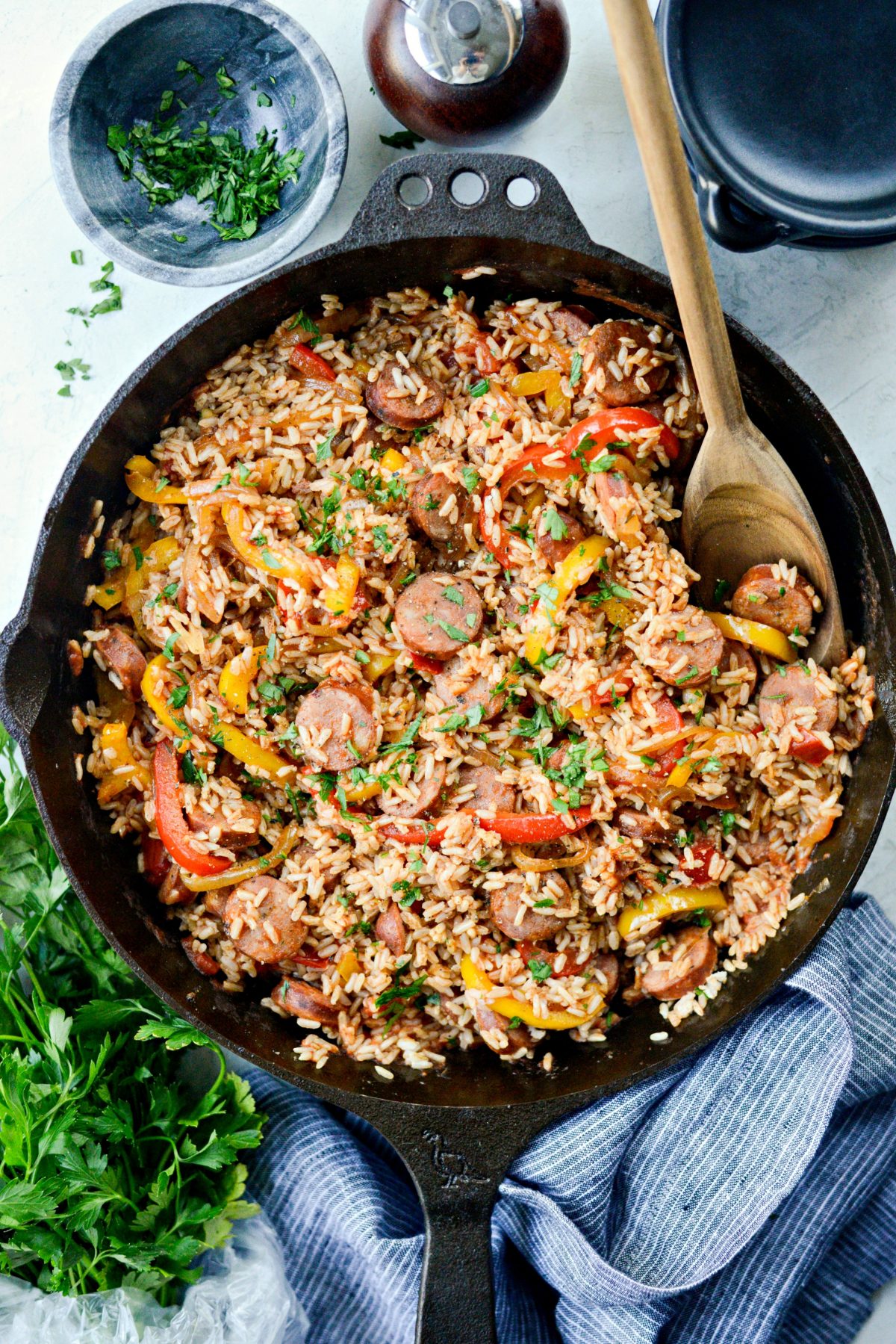 This post may contain affiliate links.
Buy the Cookbook: Simply Scratch : 120 Wholesome Homemade Recipes Made Easy Now available on Amazon »
THANK YOU in advance for your support!