Ginger Beef Lettuce Wraps are exploding with flavor and texture. Ground beef is cooked with garlic and green onions in a ginger hoisin sauce, then piled into tender lettuce leaves and topped with carrots, radish, crushed peanuts, cilantro and for some spice, sriracha! Serves 4 to 6 in about 25 minutes.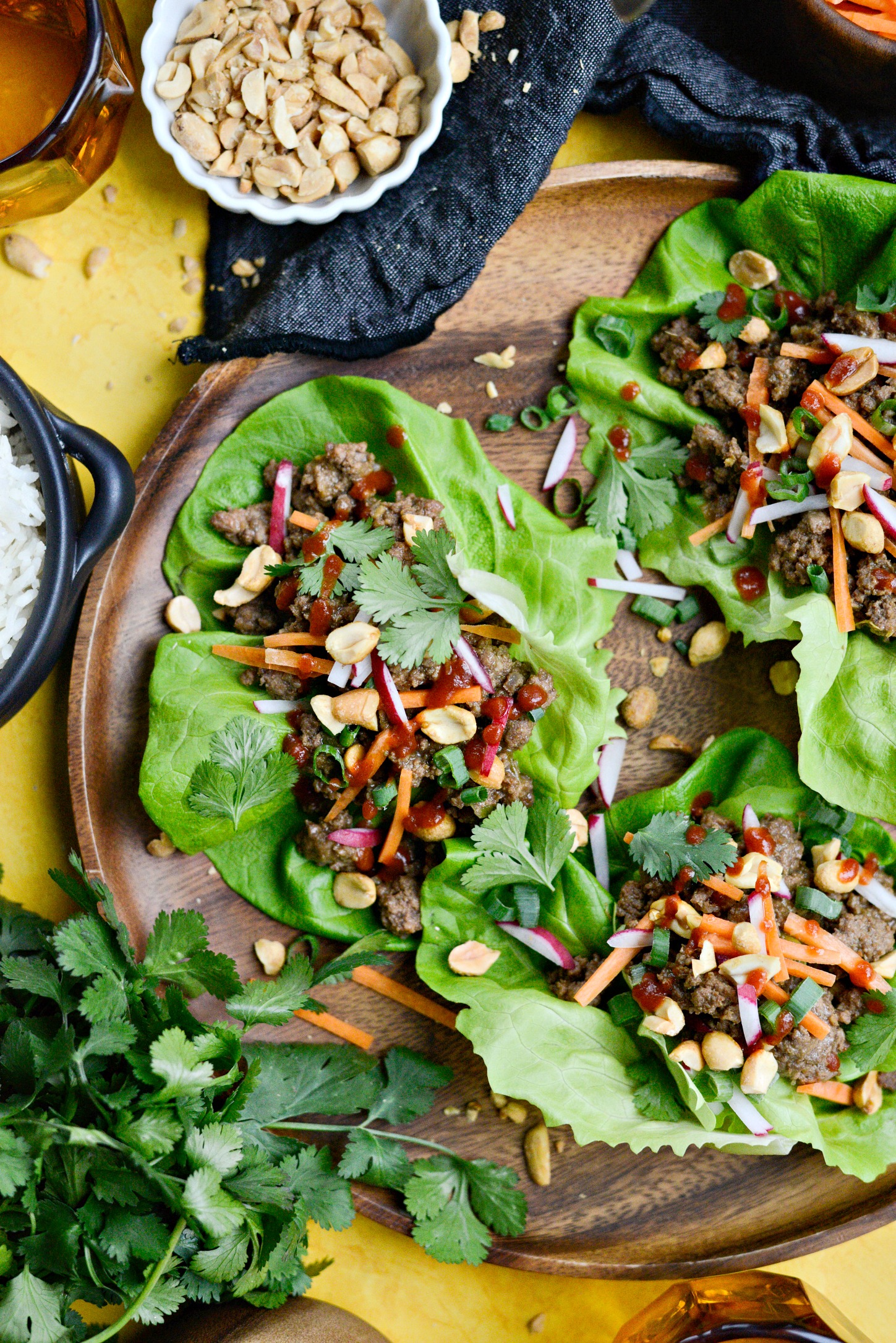 Want to make dinner with a snap of your fingers? Are you looking for a recipe that's light in calories but not on flavor? Me too! That is why these wraps are must make for busy or lazy nights.
This recipe may take a smidgen longer than a snap of your fingers. However, a delicious, flavorful and healthy dinner can be on the table in 30 minutes or less! Or maybe it's the weekend and you're meal prepping for the week, these easy ginger beef wraps are excellent for meal prep and can all be made in advance and assembled for a weeks worth of healthy lunches. There's not even a real need to reheat the beef, because it's delicious warm or cold.
That's my kind of recipe.
To Make These Ginger Beef Lettuce Wraps You Will Need:
3 cloves fresh garlic
4 green onions (sliced, light and dark parts separated)
2 pounds lean ground beef
2 tablespoons grated fresh ginger
1/4 cup hoisin sauce
1/3 cup beef stock or broth
1/2 teaspoon red pepper flakes
3 tablespoons of low-sodium tamari (or low-sodium soy)
To serve, try slicing up a few radishes, a carrot and chopping up some lightly salted peanuts.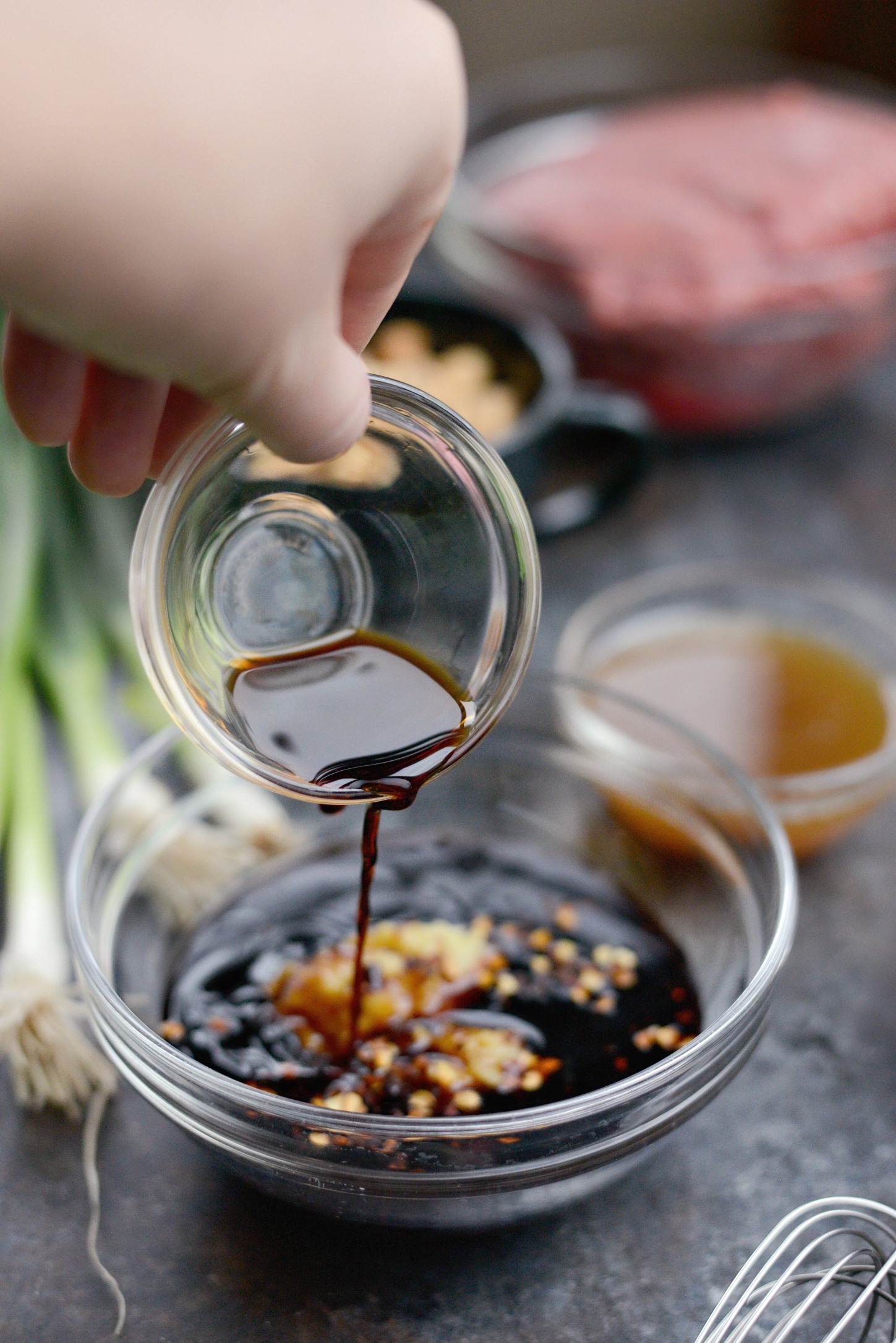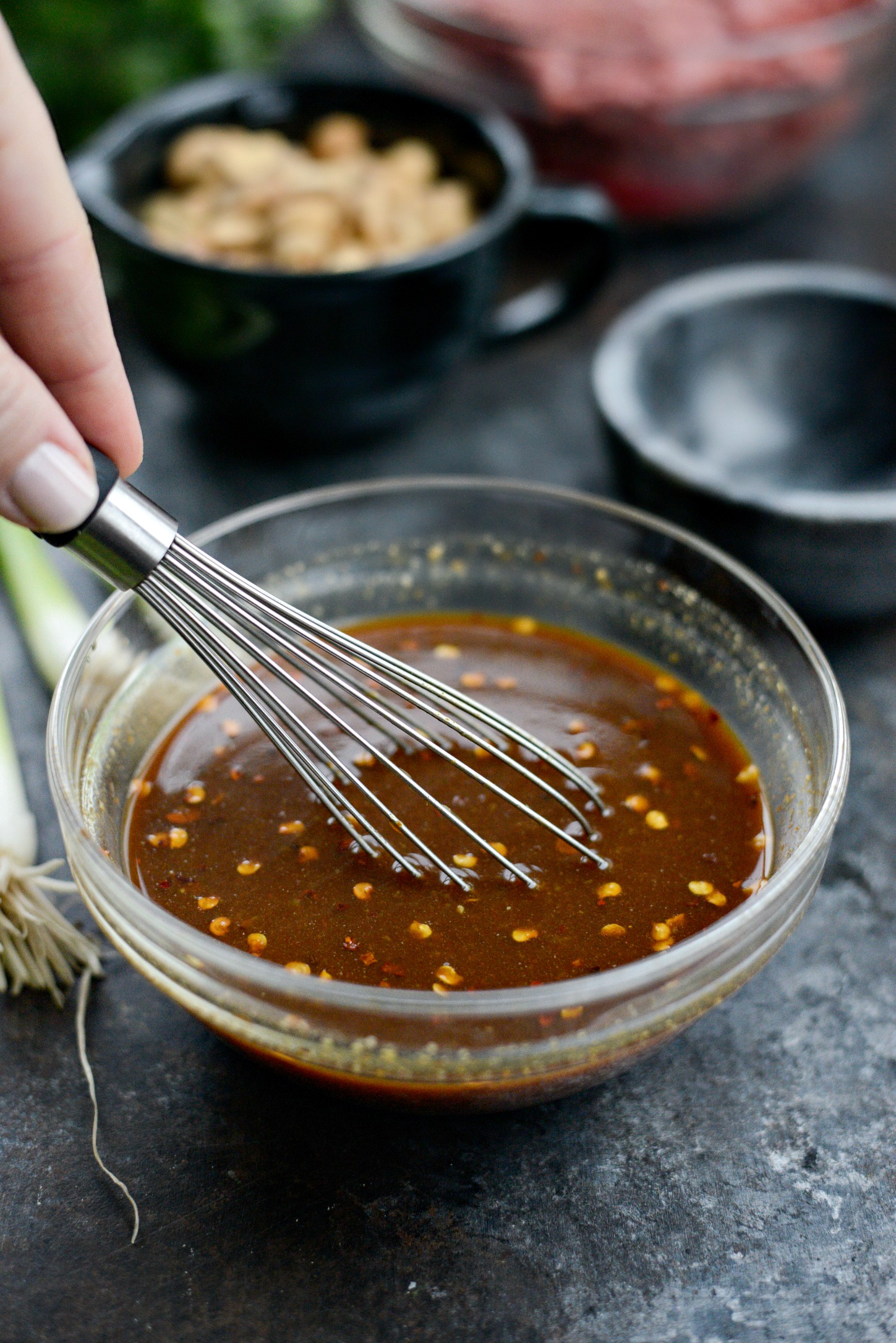 First, in a medium bowl, whisk together the hoisin, ginger, red pepper flakes, tamari and beef stock, then set aside.
Once I tried making my own hoisin sauce. It was disgusting. So for now I purchase it, until I figure out a way to make it myself. I just read labels and buy one that has ingredients I feel good about [aka ones I can pronounce]. 😉
Next, heat a 10-inch skillet or wok on medium heat. Then spray with olive oil cooking spray and add in the light parts of the sliced green onion and all of the minced garlic. And then stir and cook for 1 to 2 minutes.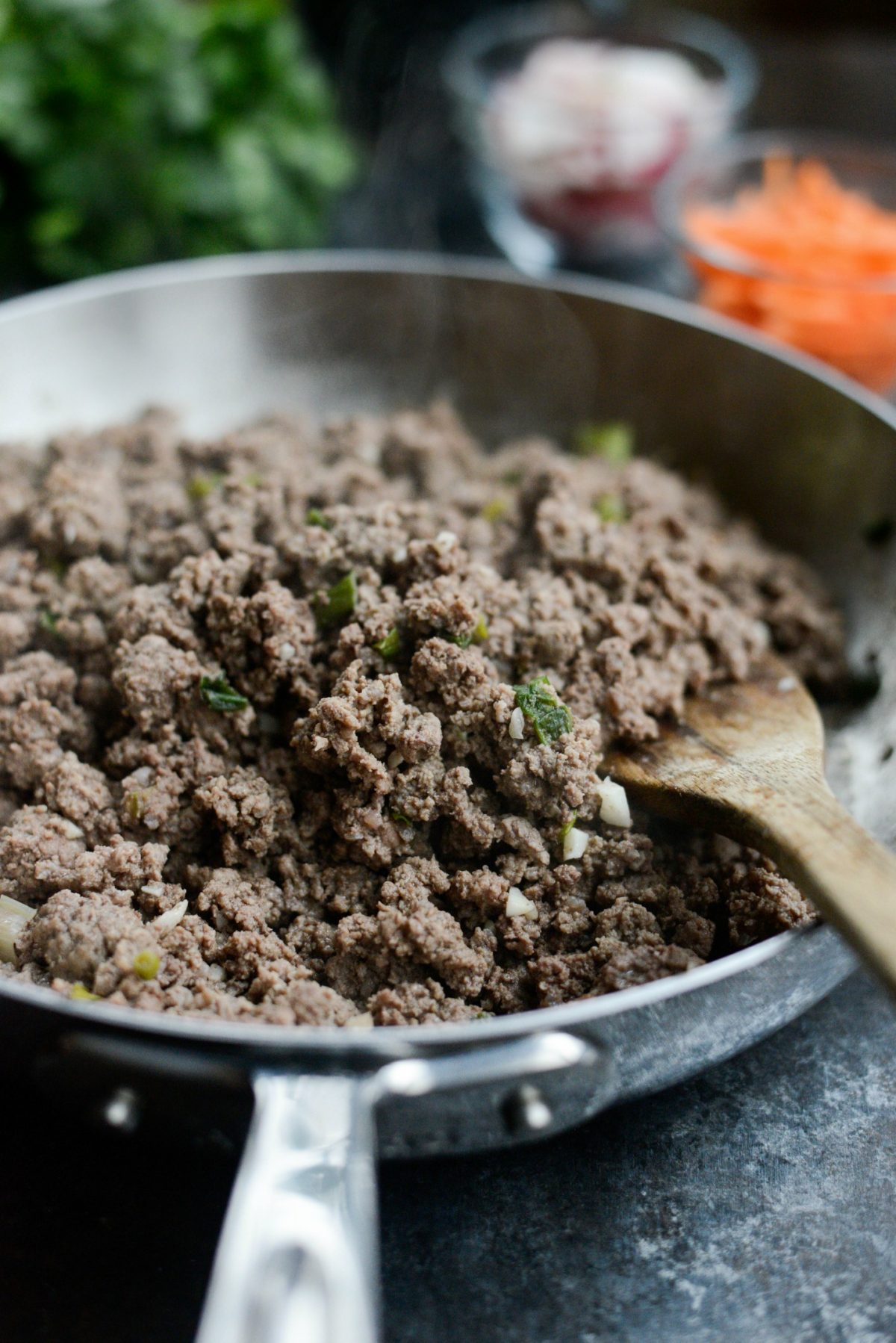 Next add in the two pounds of ground beef, using a wooden spatula to break up the beef into small crumbles. Then, cook until no longer pink and then drain off any fat and discard.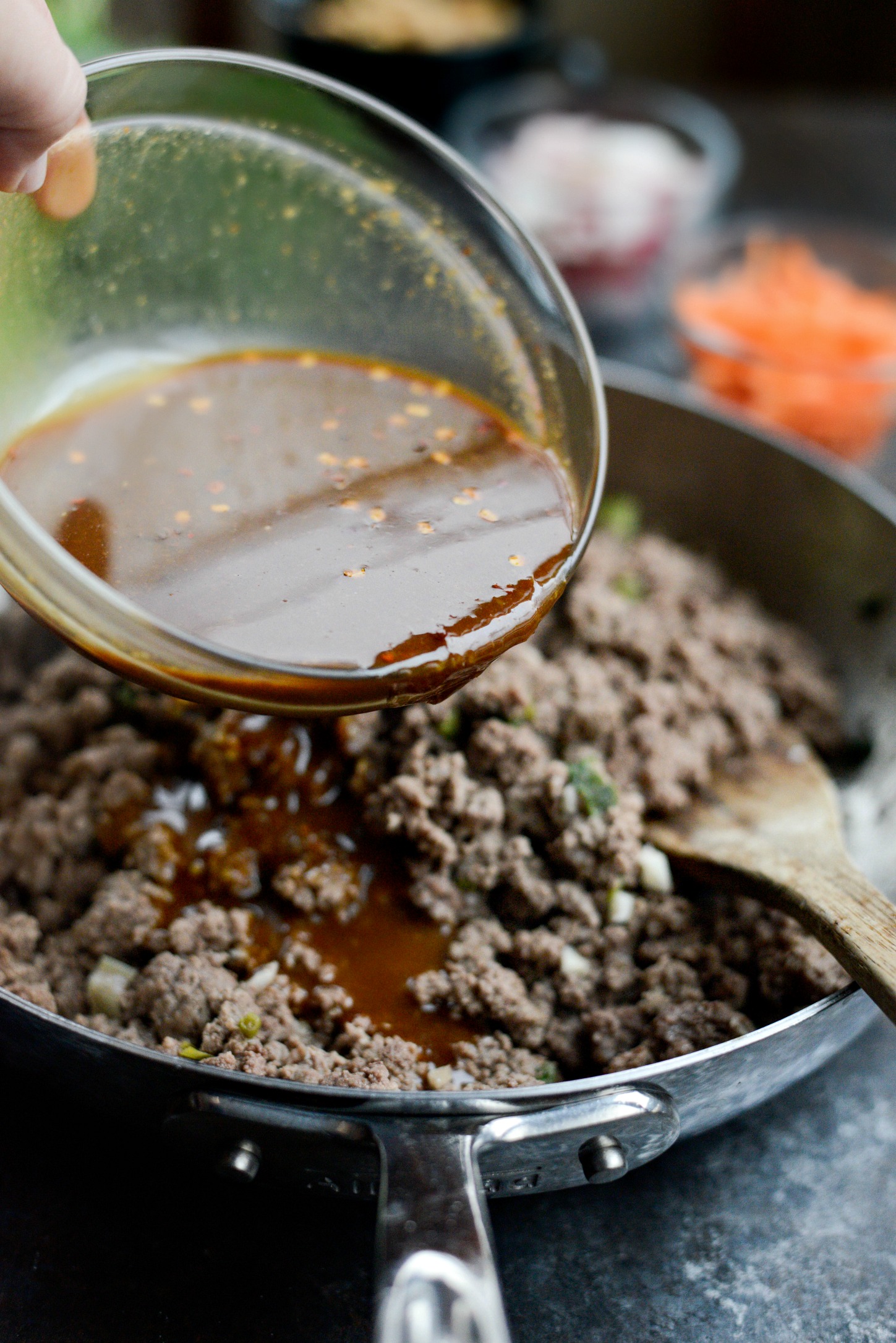 Next, pour in the ginger hoisin sauce and bring to a simmer. Continue to cook for 5 minute or so, I did add a little cornstarch slurry (this time 1 teaspoon cornstarch mixed with 1 teaspoon cold water) just to thicken the liquids a little.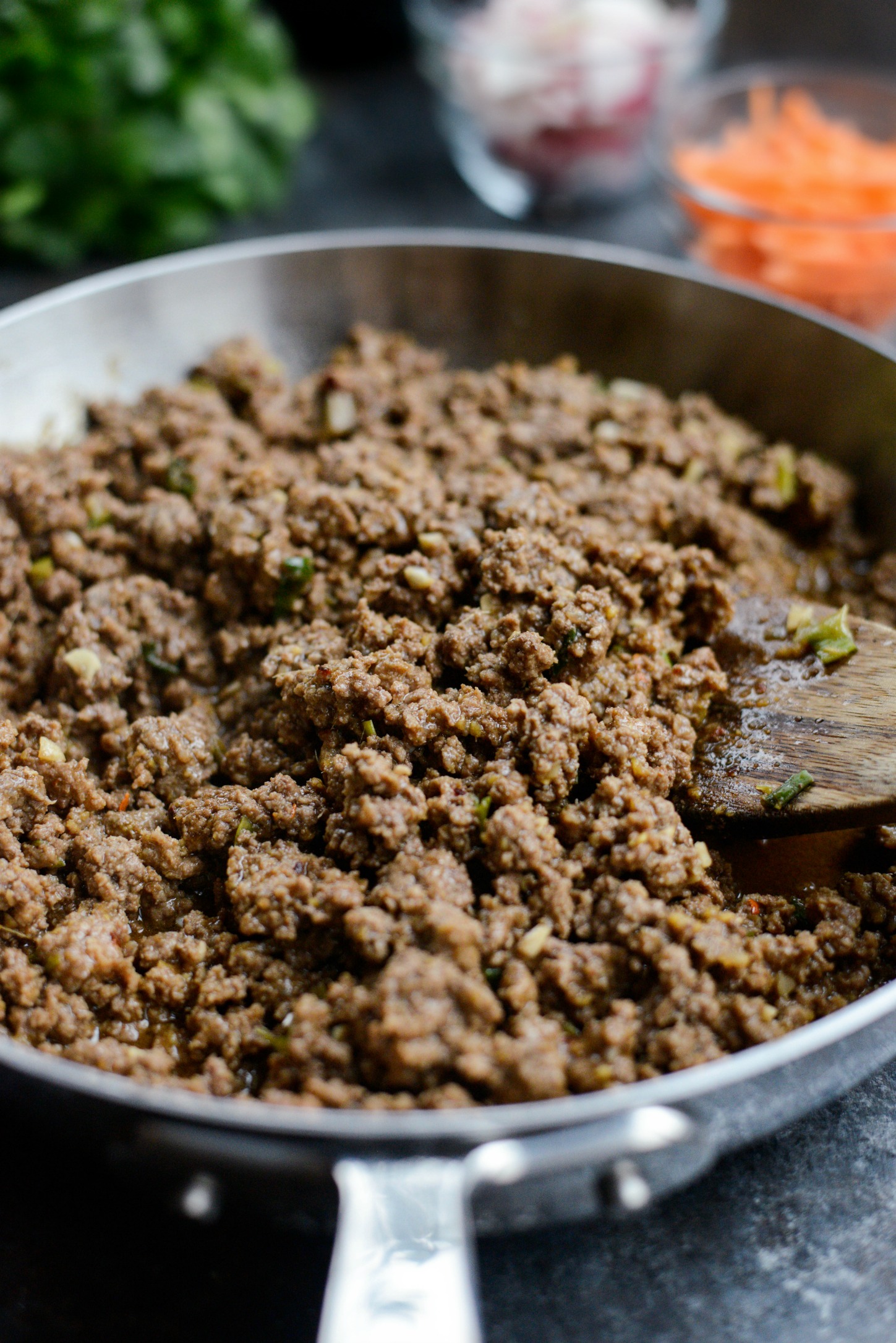 I wish you could smell this right now.
How ever you serve this ginger beef, it's delicious. Warm or cold, on a salad, rice or stuffed into wraps.
Next, to assemble these ginger beef lettuce wraps, start by piling the ginger beef into a couple lettuce leaves and then topping with matchstick carrots, radishes, crushed peanuts (<— my favorite!), green onions, a little cilantro leaves.
And since I love a good spicy kick to my tastebuds, then I like to drizzle my wraps with sriracha. SO GOOD!
These ginger beef wraps are seriously amazing.
Not only because the satisfying texture of the lettuce when you bite into it, but also the flavorful ginger beef and all those crunchy toppings (hi, peanuts!👋) and of course the sriracha. Delish with a capital D.
Looking for more wrap delights? Here are a few more you can find on SS:
Spicy Sriracha Steak Lettuce Wraps
Pork and Vegetable Lettuce Wraps
Side note: Any leftover ginger beef is delicious on top of spring greens with, peppers, onions, radishes, carrots, avocado, sesame seeds and chopped peanuts drizzled with a sesame ginger dressing. Just sayin'.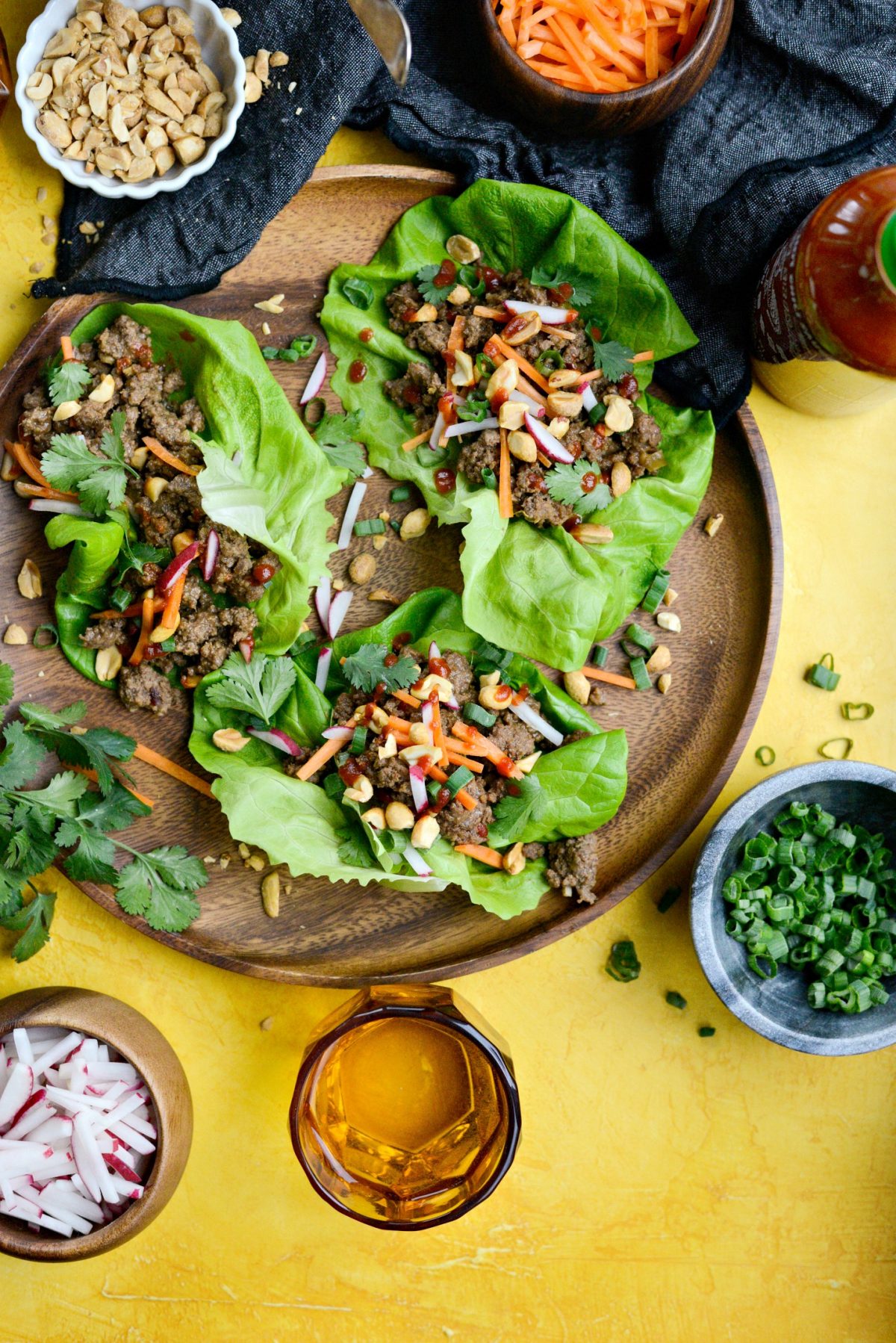 Enjoy! And if you give this Ginger Beef Lettuce Wraps recipe a try, let me know! Snap a photo and tag me on twitter or instagram!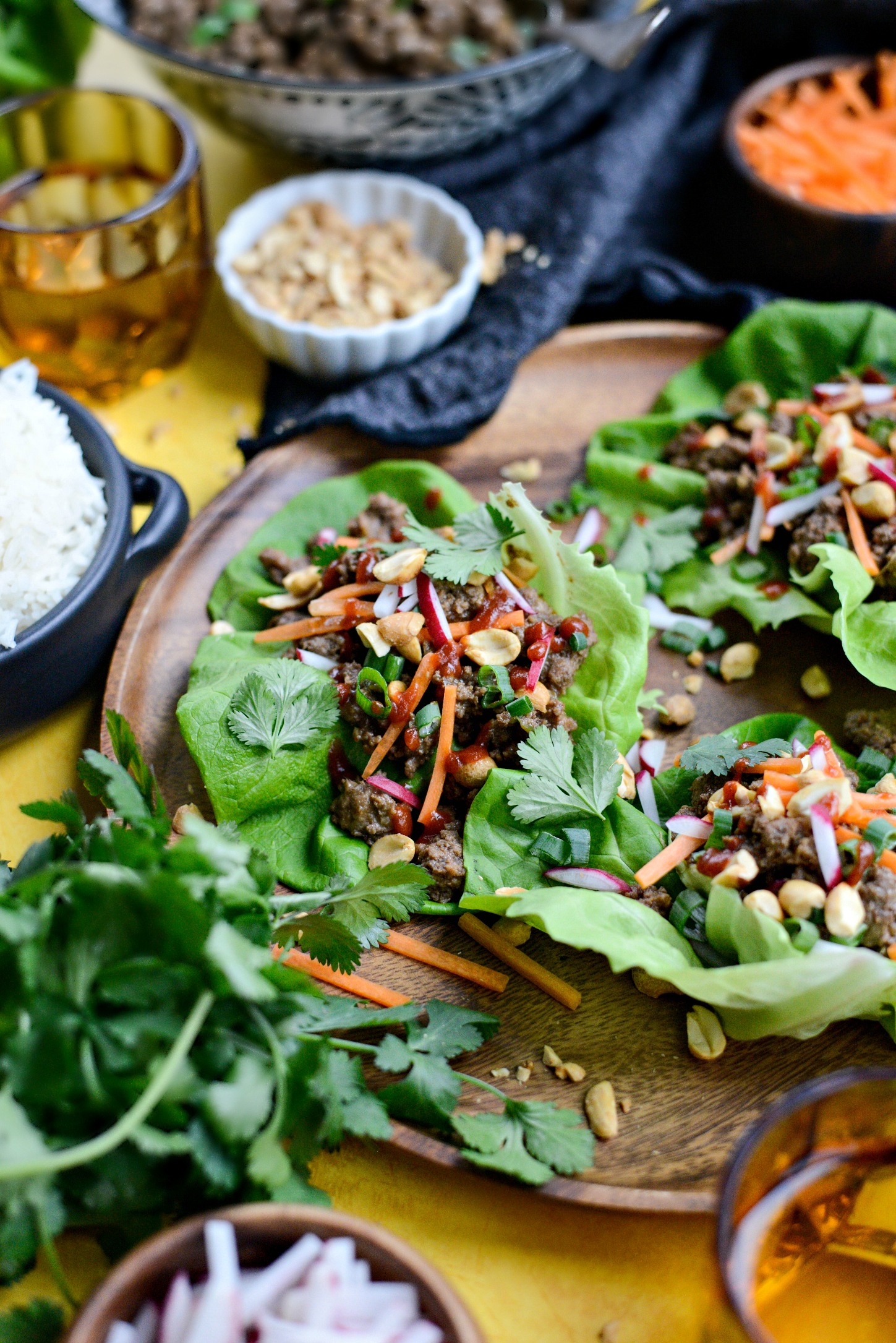 This post may contain affiliate links.
Buy the Cookbook: Simply Scratch : 120 Wholesome Homemade Recipes Made Easy Now available on Amazon »
THANK YOU in advance for your support!