This baked mostaccioli is classically delicious and couldn't be any easier to make. Pasta baked in a delicious tomato sauce topped with cheese. So good!
Mostaccioli is a pain in the you-know-what to spell, so I'm warning you now that you might see it spelled mosticholi, mostaccoli or mostacholee. It's midnight and I'm sleepy. However I'll have you know, it's quite the opposite to make and devour. You like?
I grew up on this pasta dish.
It's a go-to recipe that I usually have most of these things on hand and it takes all of 30 minutes to put together and another 45 minutes to bake. Easy-peasy. And while it's in the oven I usually clean up, make a salad, check facebook, switch the loads of laundry around and pick my daughters up from the bus stop. My favorite part is when we walk in the door and the smell of the mostaccioli slaps us in the face. It doesn't get better than that. Well except for eating it of course.
This recipe my sister Kelly gave me years ago and I cherish it.
To Make This Baked Mostaccioli You Will Need:
ground beef
yellow onion
garlic
sliced cremini or button mushrooms (optional)
basil (dried)
oregano (dried)
red pepper flakes (optional)
1 (28 ounce) can of tomato sauce
kosher salt
ground black pepper
sugar (optional)
parmesan cheese
penne lisce (or mostaccioli noodles – whichever is available)
mozzarella cheese (do not use bagged cheese)
minced parsley for garnish
Add 2 pounds of ground beef (lean, sirloin, chuck, round… doesn't matter) into a large pot or a Dutch oven.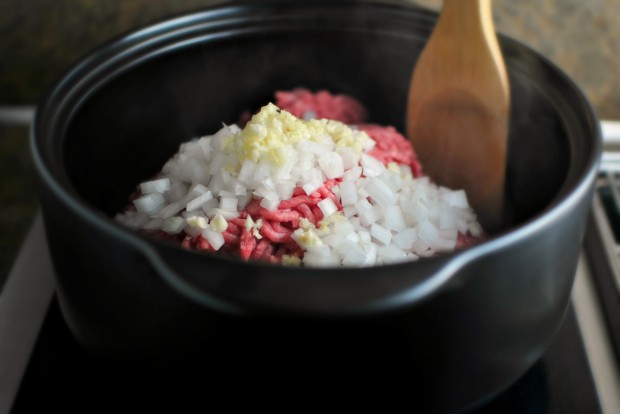 Throw in 1 diced yellow onion and 4 cloves minced garlic and turn up the heat to medium.
Once the beef has cooked and the onions are soft, measure and add in 1 teaspoon of both basil and oregano, 2 pinches of Italian seasoning and a generous pinch of red pepper flakes.
Smelling good!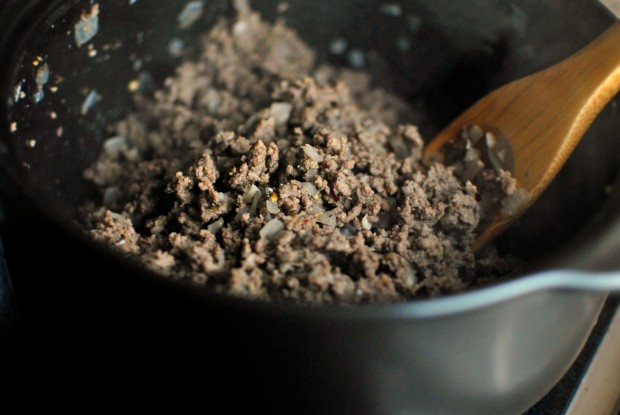 Stir to combine.
And pour in 1 (28 ounce) can of tomato sauce.
Add 2 tablespoons grated fresh parmesan to the sauce along with 1 teaspoon salt, 1/4 teaspoon ground black pepper and a pinch of sugar.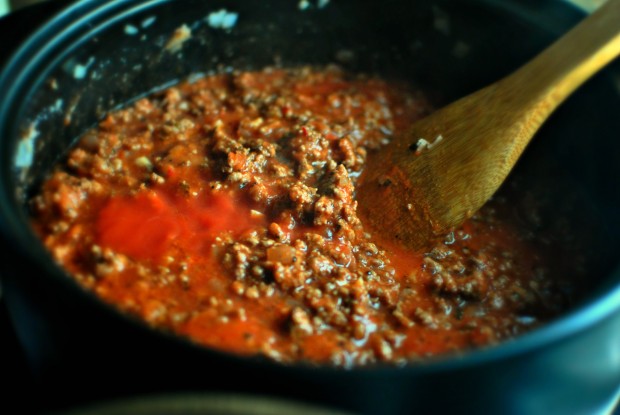 Stir all that jazz together, cover, reduce the temperature to low and simmer for 15 minutes. Which is just enough time to make the pasta.
Here is the pasta. It's penne minus the ridges. I'm going out on a limb, but I'm thinking that's what that last word means.
Lisce = minus the ridges. Hmm.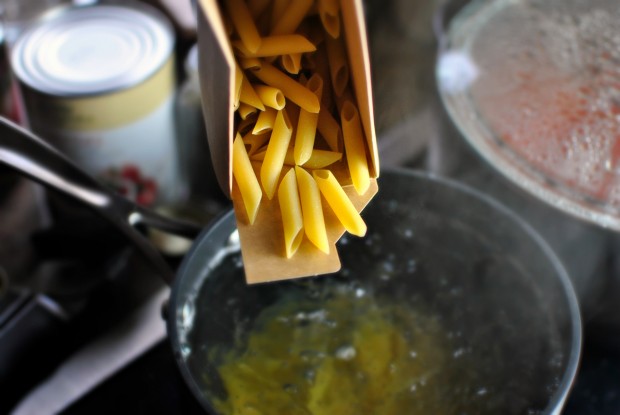 Bring a pot of water to a boil and add in half of the box or 8 ounces. Cook for half of the time that the package suggests.
Drain.
Toss the partially-cooked pasta into the sauce and toss to coat.
Now for layering the baked mostaccioli.
Layer half of the meat/pasta mixture in a baking dish.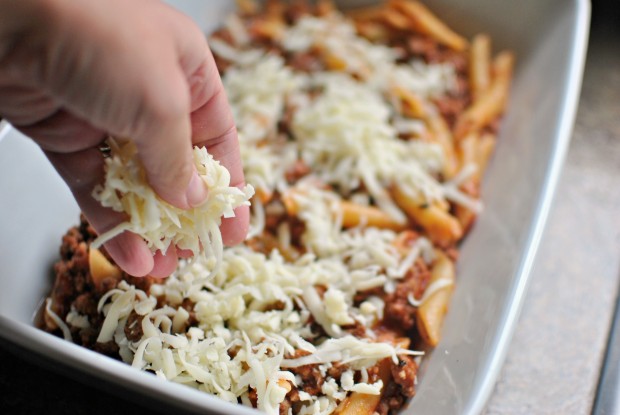 Sprinkle with 1-1/2 cups (half) the grated mozzarella cheese.
Spoon out the rest and layer it on top.
This time sprinkle with half of the remaining 2 tablespoons parmesan.
Then top with the remaining 1-1/2 cups of mozzarella cheese.
Next, sprinkle with the remaining grated Parmesan cheese. Bake in a preheated 325 degree oven for 40-45 minutes or until the cheese is golden.
My baked mostaccioli got really golden, almost too golden but it was still delicious.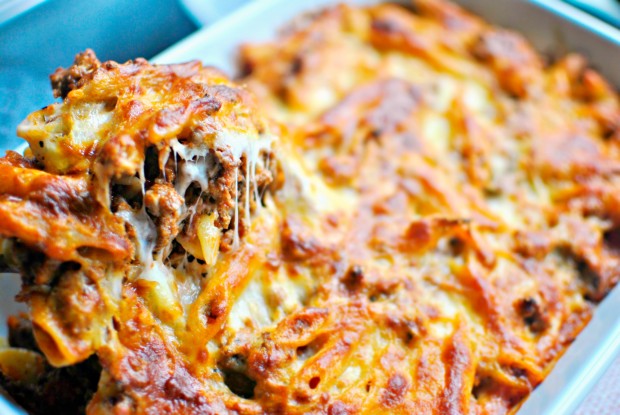 Look at those cheese strings!
Finally, serve this scrumptious baked mostaccioli with a Caeser salad a baguette and wine (optional, but why not?) and call it dinner.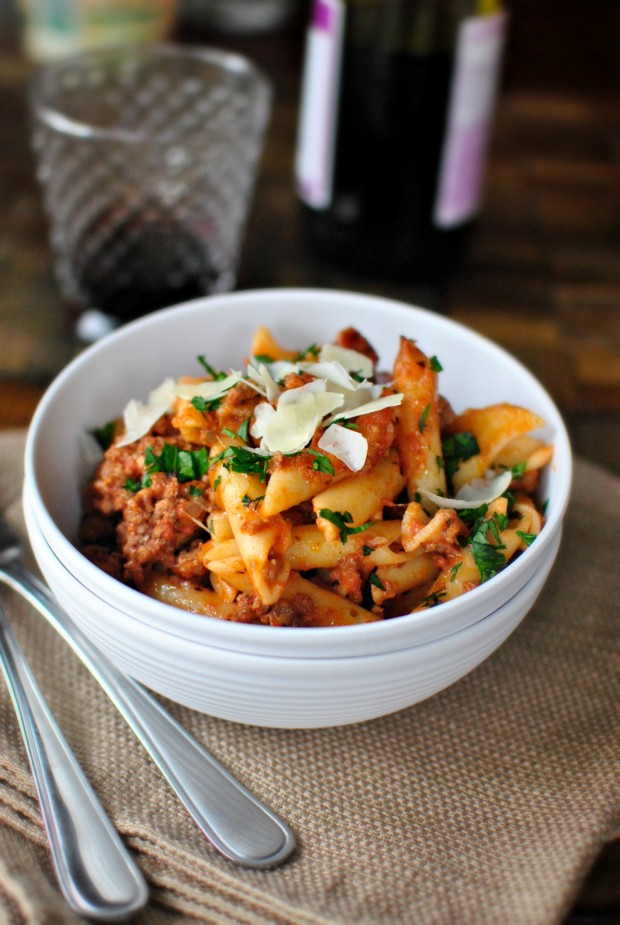 Enjoy! And if you give this Baked Mostaccioli recipe a try, let me know! Snap a photo and tag me on twitter or instagram!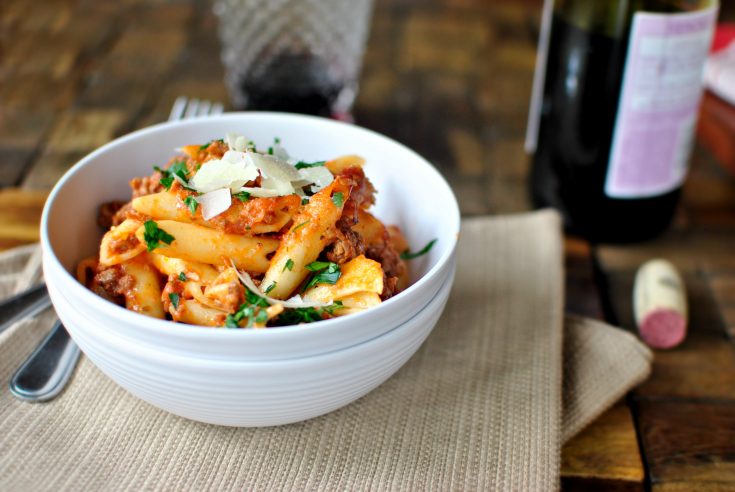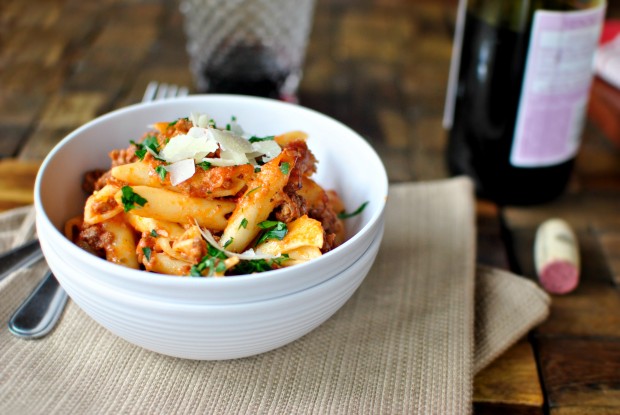 Yield: 8 servings
Baked Mostaccioli
This baked mostaccioli is classically delicious and couldn't be any easier to make. Pasta baked in a delicious tomato sauce topped with cheese. So good!
Ingredients
2 pounds lean ground beef
1 medium white onion, diced small
4 cloves garlic, smashed, peeled and minced
1 teaspoon dried basil
1 teaspoon dried oregano
1 teaspoon kosher salt
1/4 teaspoon red pepper flakes
1/4 teaspoon black pepper
2 pinches italian seasoning
1 pinch sugar, optional
1 (28 ounce) can tomato sauce
6 tablespoons parmesan cheese, divided
8 ounces penne lisce pasta, or mostaccioli noodles
3 cups freshly grated mozzarella cheese, do not use bagged cheese
minced parsley, for garnish
Instructions
In a large pot or dutch oven; cook the ground beef, onions and garlic until the meat is no longer pink and fully cooked.

Measure and add in the basil, oregano, red pepper flakes (if using), Italian seasoning and stir.

Pour in the tomato sauce and add to that 2 tablespoons parmesan cheese, the sugar, salt and ground black pepper. Stir, cover and reduce the temperature to low and let it simmer for 15 minutes.

Meanwhile preheat your oven to 325° and bring a pot of salted water to a boil. Once it's boiling, add in the 8 ounces (half a box) of pasta and cook for half of the time that is directed on the package.

Drain and combine the partially cooked pasta with the sauce.

In an 9x13 baking dish; layer half of the meat/sauce mixture. Top with half of the shredded Mozzarella and then repeat with the remaining sauce.

Sprinkle with 2 tablespoons parmesan, then the remaining Mozzarella and then sprinkle the last 2 tablespoons of parmesan over the entire baking dish.

Bake for 40-45 minutes or until the top is golden and the sauce is bubbling.

Serve warm with more shaved parmesan and mince fresh parsley.
Serving: 1g, Calories: 411kcal, Carbohydrates: 25g, Protein: 39g, Fat: 17g, Saturated Fat: 9g, Polyunsaturated Fat: 1g, Monounsaturated Fat: 6g, Trans Fat: 1g, Cholesterol: 106mg, Sodium: 693mg, Potassium: 529mg, Fiber: 1g, Sugar: 2g, Vitamin A: 342IU, Vitamin C: 2mg, Calcium: 290mg, Iron: 4mg
This post may contain affiliate links.
Buy the Cookbook: Simply Scratch : 120 Wholesome Homemade Recipes Made Easy Now available on Amazon »
THANK YOU in advance for your support!