At your next barbecue why not whip up a batch of bacon cheddar ranch potato salad? Homemade buttermilk ranch dresses roasted baby potatoes and tossed with crispy Applewood smoked bacon, sliced green onions and extra sharp cheddar cheese.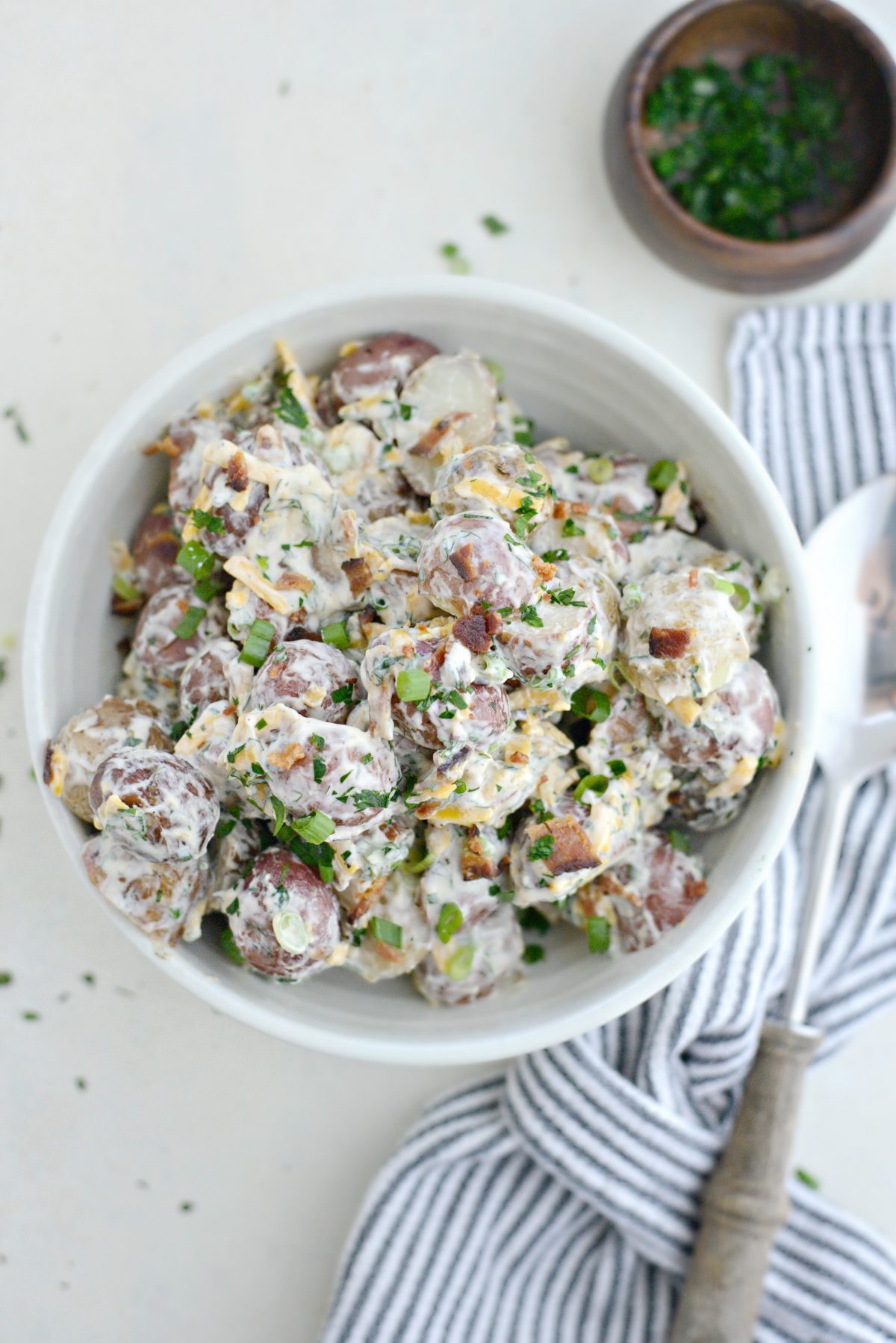 Some say Memorial Day kicks off the grilling season, even though I've been grilling since late February, I do believe it's this particular weekend when we grill allthethings and serve them with fresh colorful salads, grilled vegetables, potato chips and ice cold beverages. Can you tell I'm excited? I so am.
Today I have an oldie but goodie I'm re-sharing with all of you. This recipe is a blog vintage and dates back to April of 2011. Since it so desperately needed a photo update and recipe redo, I decided to re-gift my beloved bacon cheddar ranch potato salad just in case you forgot about it or perhaps looking for something super delicious to bring to your next barbecue.
Bacon. Cheddar. Ranch. Potato Salad.
Is there a more delicious string of words? I'm not quite so sure.
Above is my favorite Buttermilk Ranch Dressing on the face of this planet. One day, back in 2011, I had a little dressing left over and instead of having it going to waste, I tossed it in with leftover roasted potatoes, crispy bacon, grated cheddar and green onions. Which is exactly how this recipe was born. It was the best thing to come out of my kitchen that year and I've made it several times since.
And this has to be one of the most simple potato salads I've ever thrown together. You'll need 3 pounds baby potatoes, olive oil and kosher salt for roasting, 4 strips Applewood bacon (cooked until crispy!), extra sharp cheddar cheese, green onions and about a 1/2 cup or so of buttermilk ranch dressing.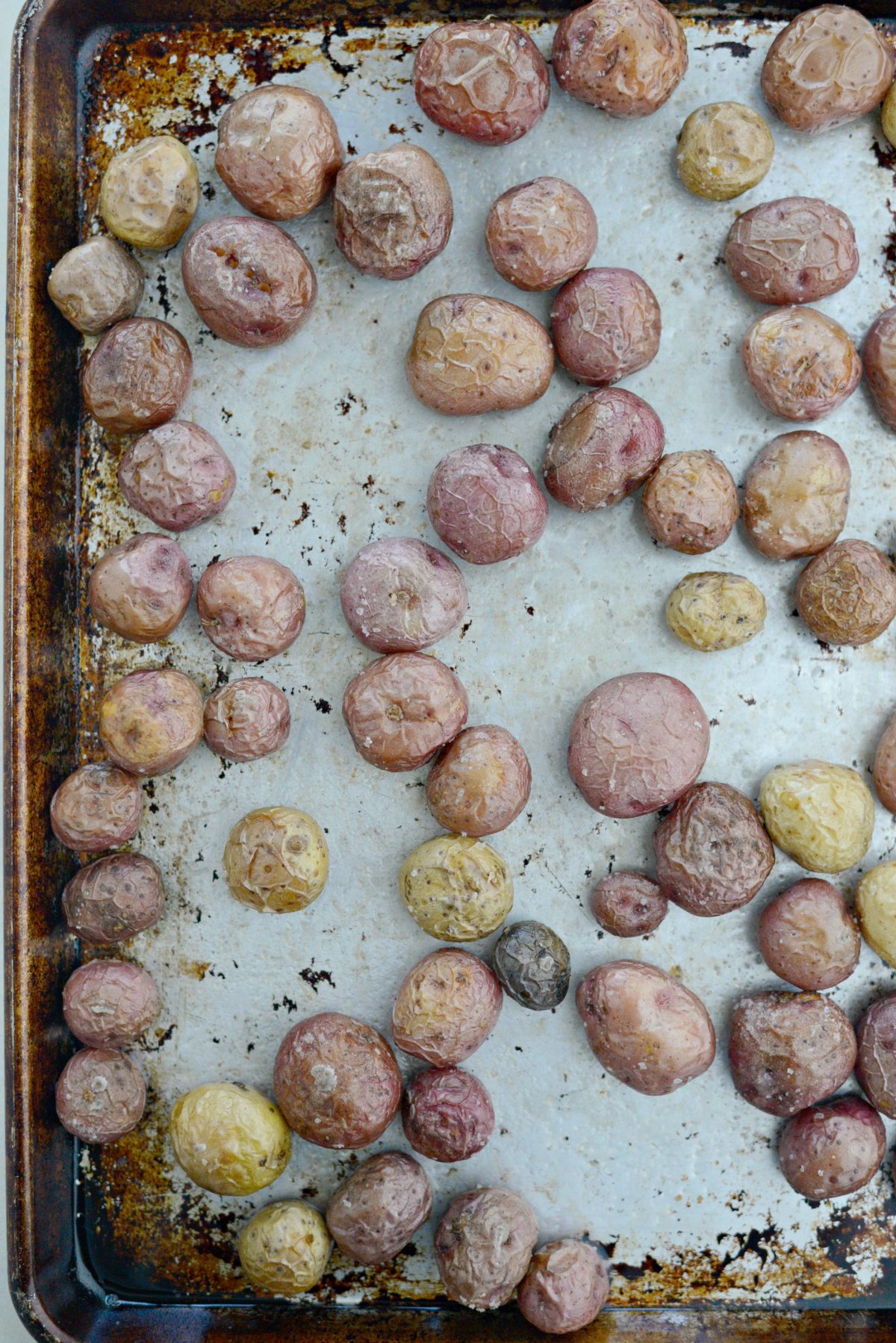 Preheat your oven to 400°. Wash and towel dry 3 pounds of baby potatoes. Place them onto a rimmed metal sheet pan and drizzle with olive oil and sprinkle with 3/4 teaspoon of kosher salt. Toss to combine and slide into your preheated oven for 30 minutes or until fork tender. Then remove and allow the potatoes to cool completely before making the potato salad. Waiting for the potatoes to cool is important. Otherwise they'll absorb all of the ranch making them mushy.
Meanwhile, cook the bacon until crispy. Drain the bacon on a paper towel lined plate until cool, then chop.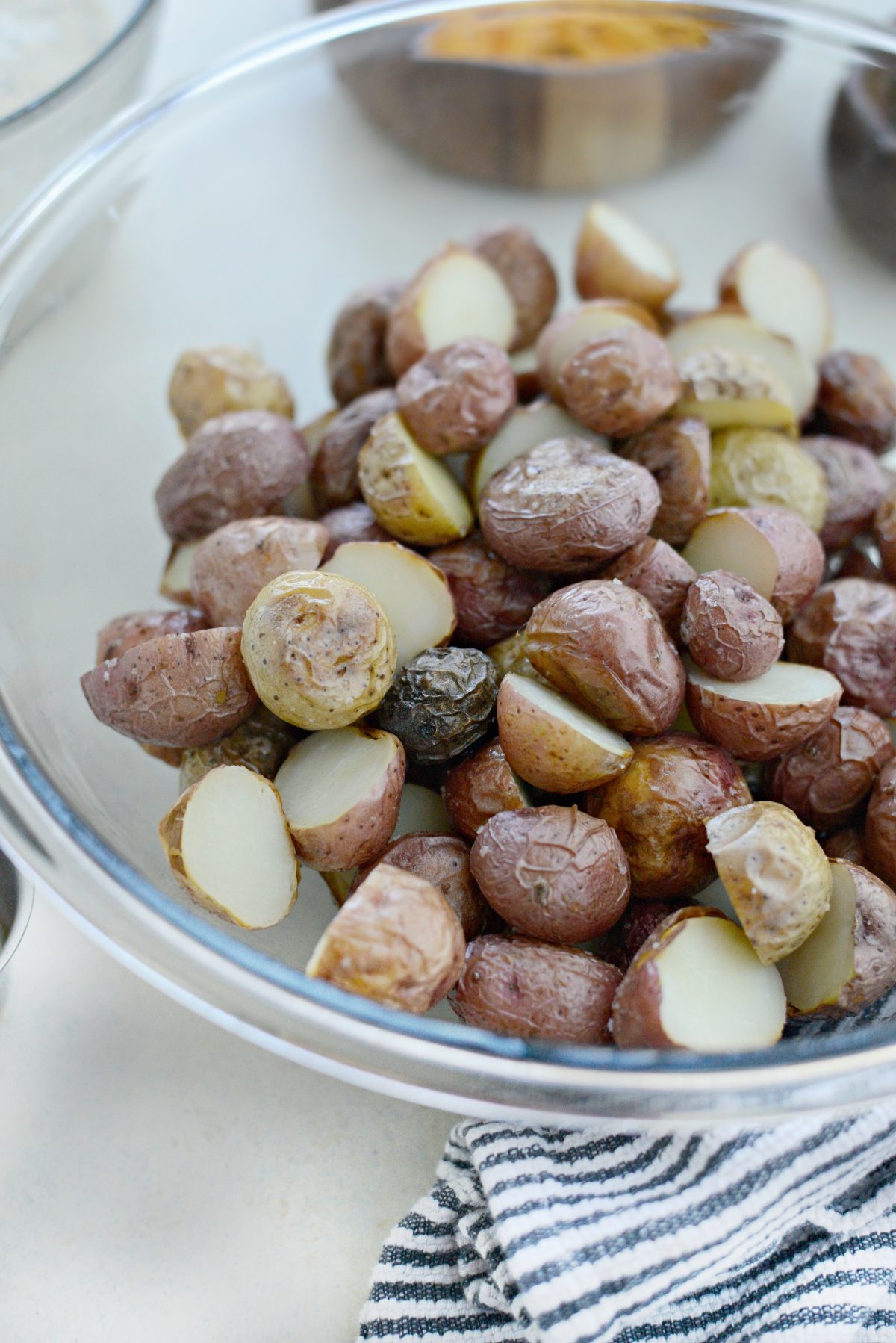 Once cooled, I add the potatoes to a large bowl. If the potatoes are a little bigger than bite-size, cut them in half.
Drizzle with 1 tablespoon warm bacon fat and toss to coat.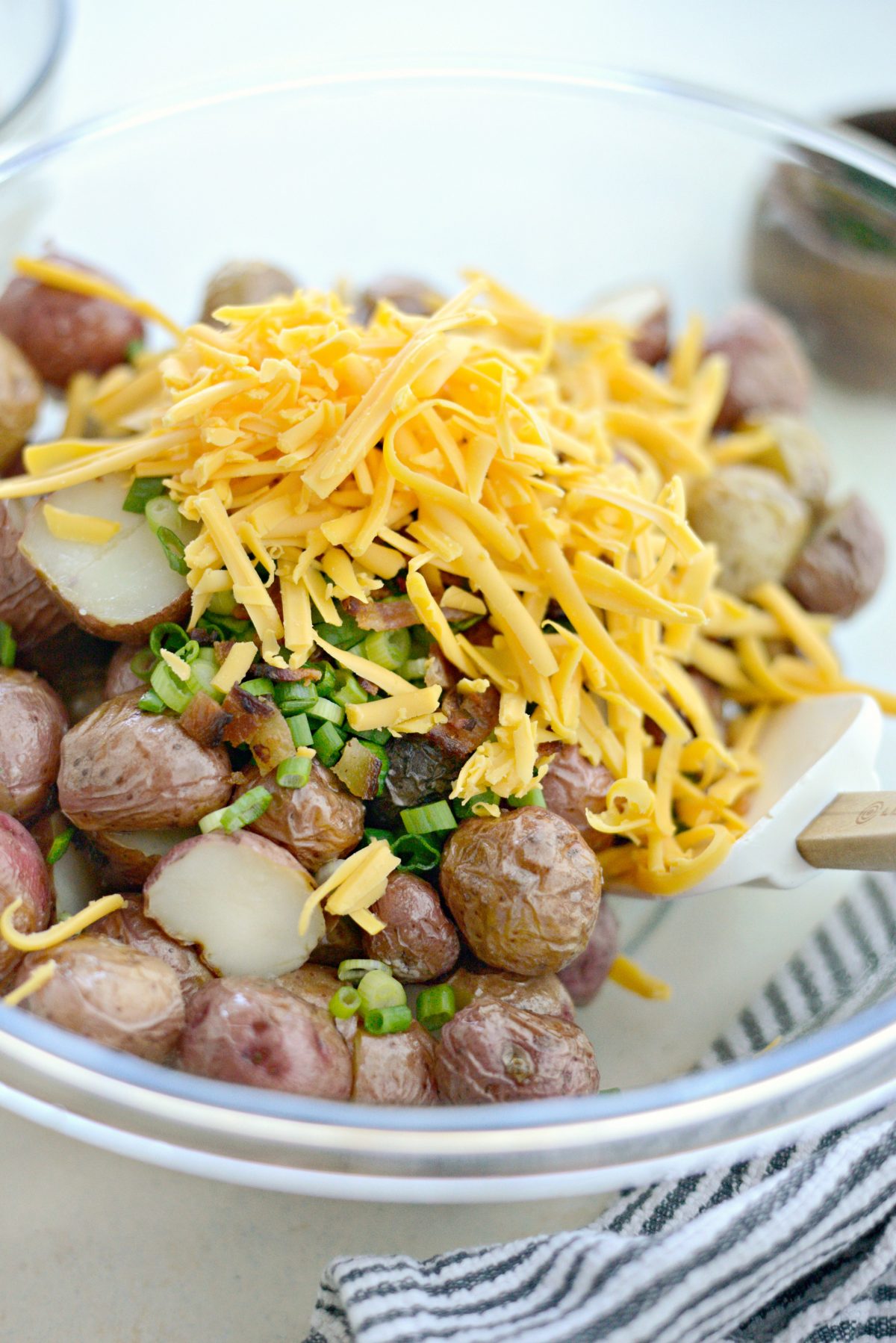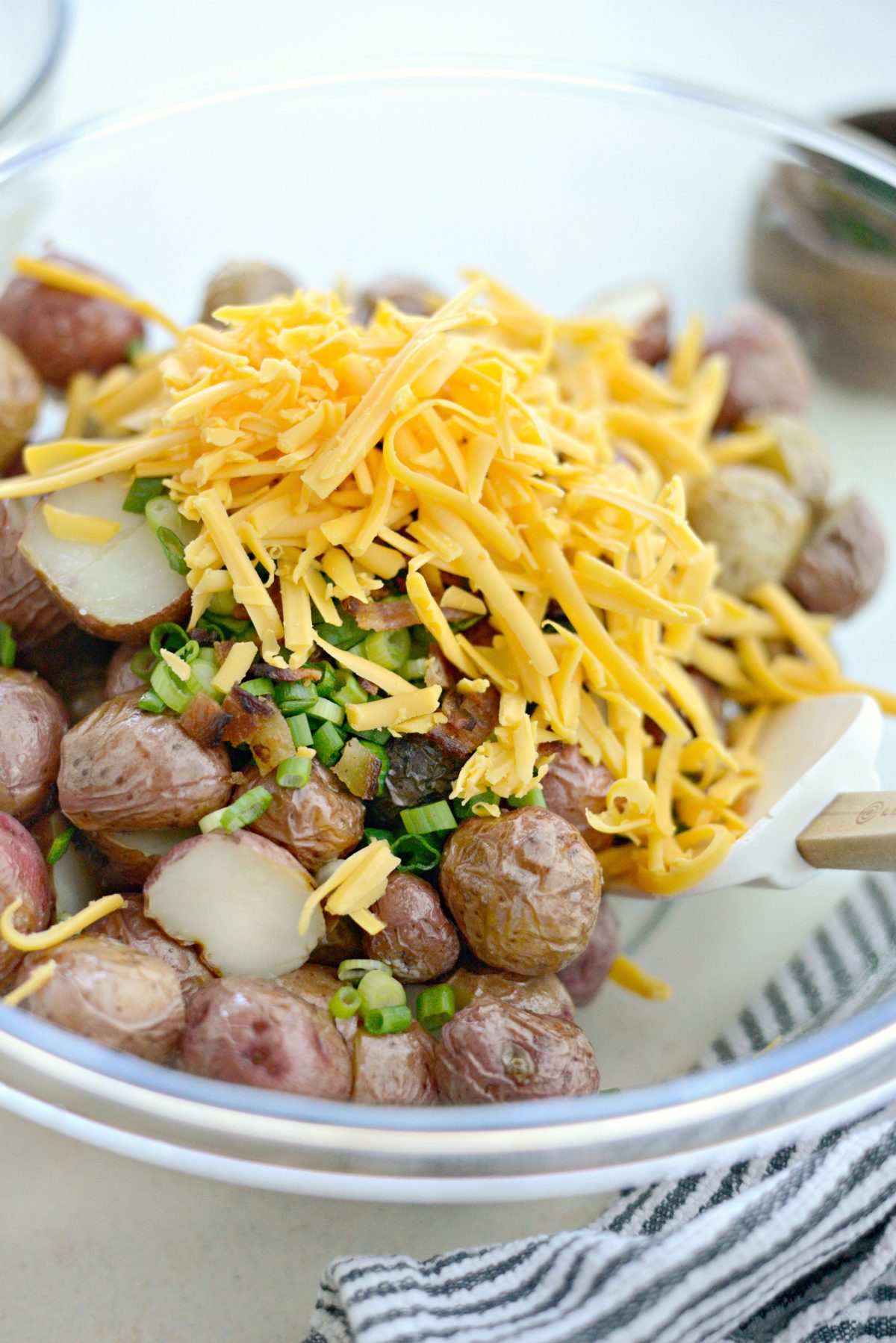 Next add in the cripsy bacon pieces, sliced green onions and about 3/4 cup of freshly grated cheddar.
Then pour a 1/2 cup of the buttermilk ranch over top. The cool thing about this potato salad is that all the herbs and spices are all ready in the ranch! There's garlic, dill, parsley, chives, salt, pepper etc.
Majority of the flavor-work has already been done.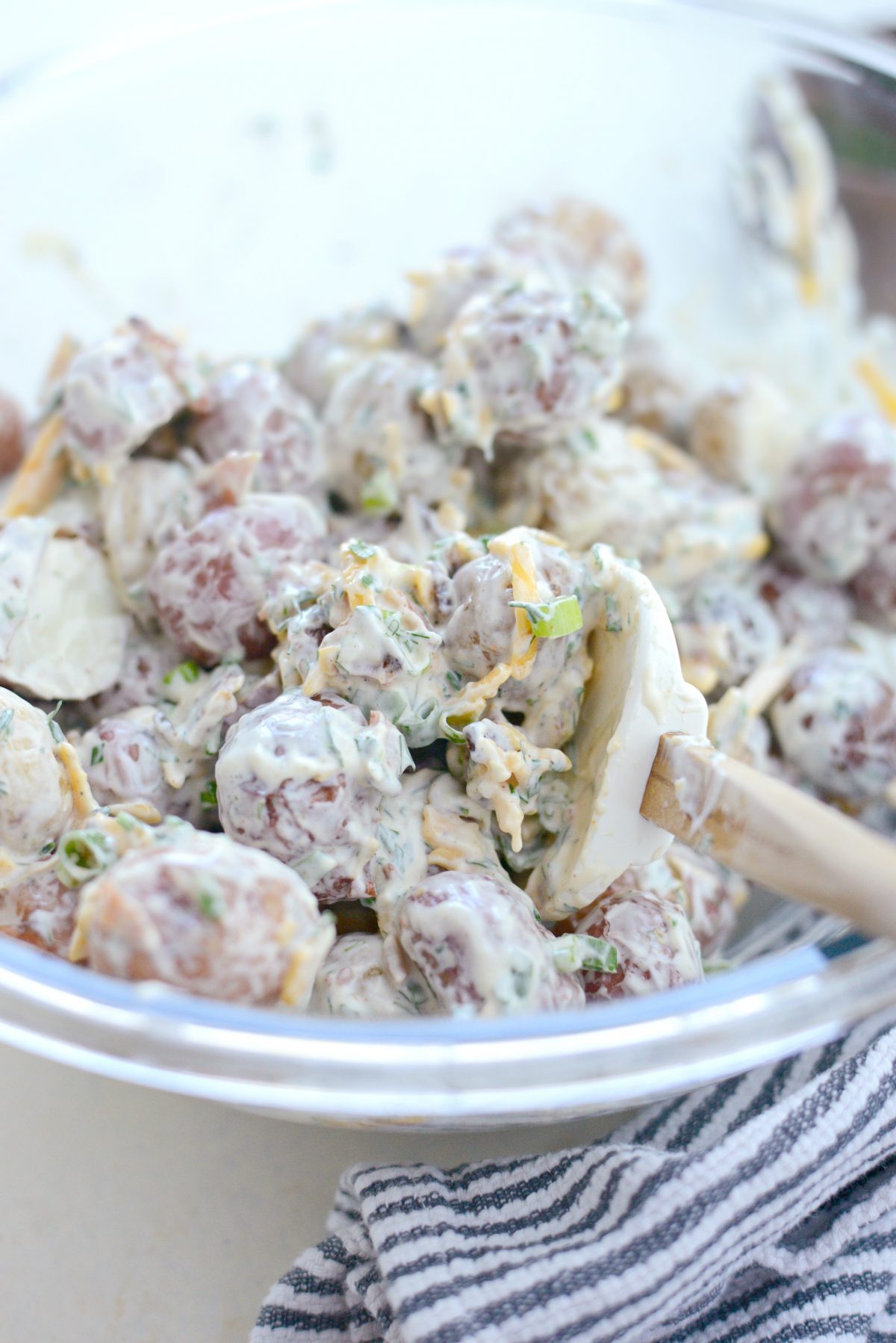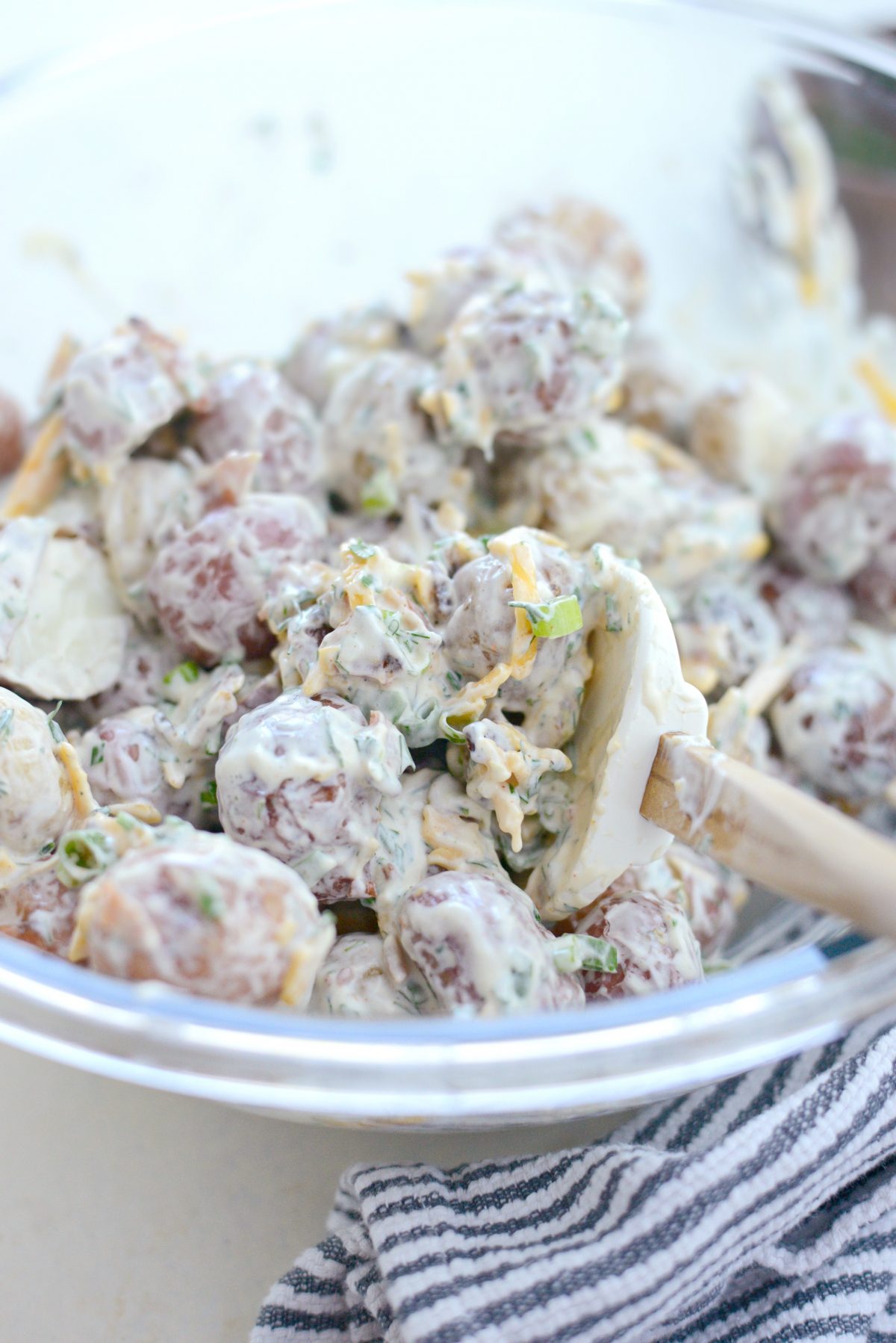 Toss together…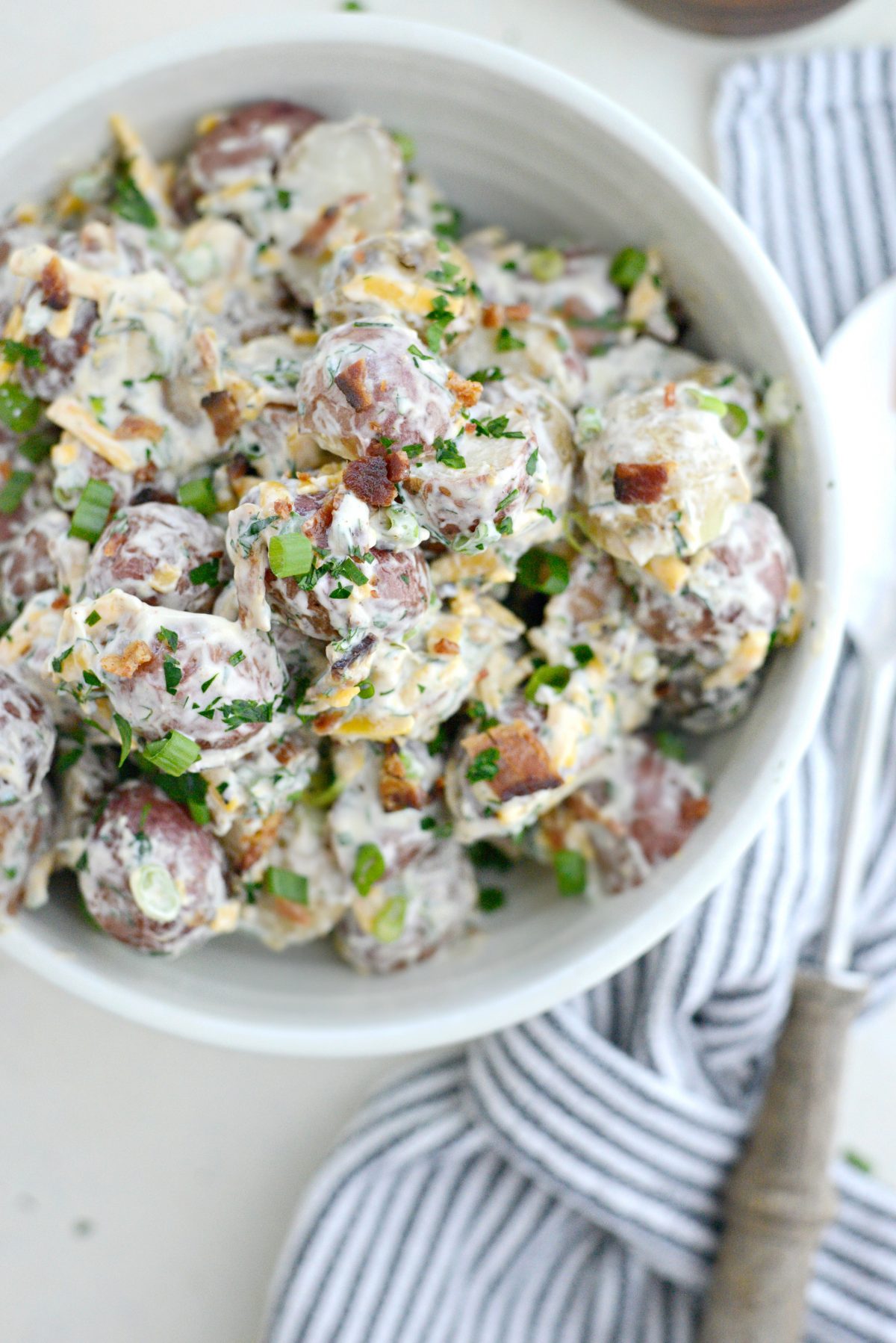 And serve or chill in your fridge until you're ready to eat. Then serve this will grilled chicken, burgers, ribs, brats or steak. Really any and all the grilled food, because it's perfect with anything!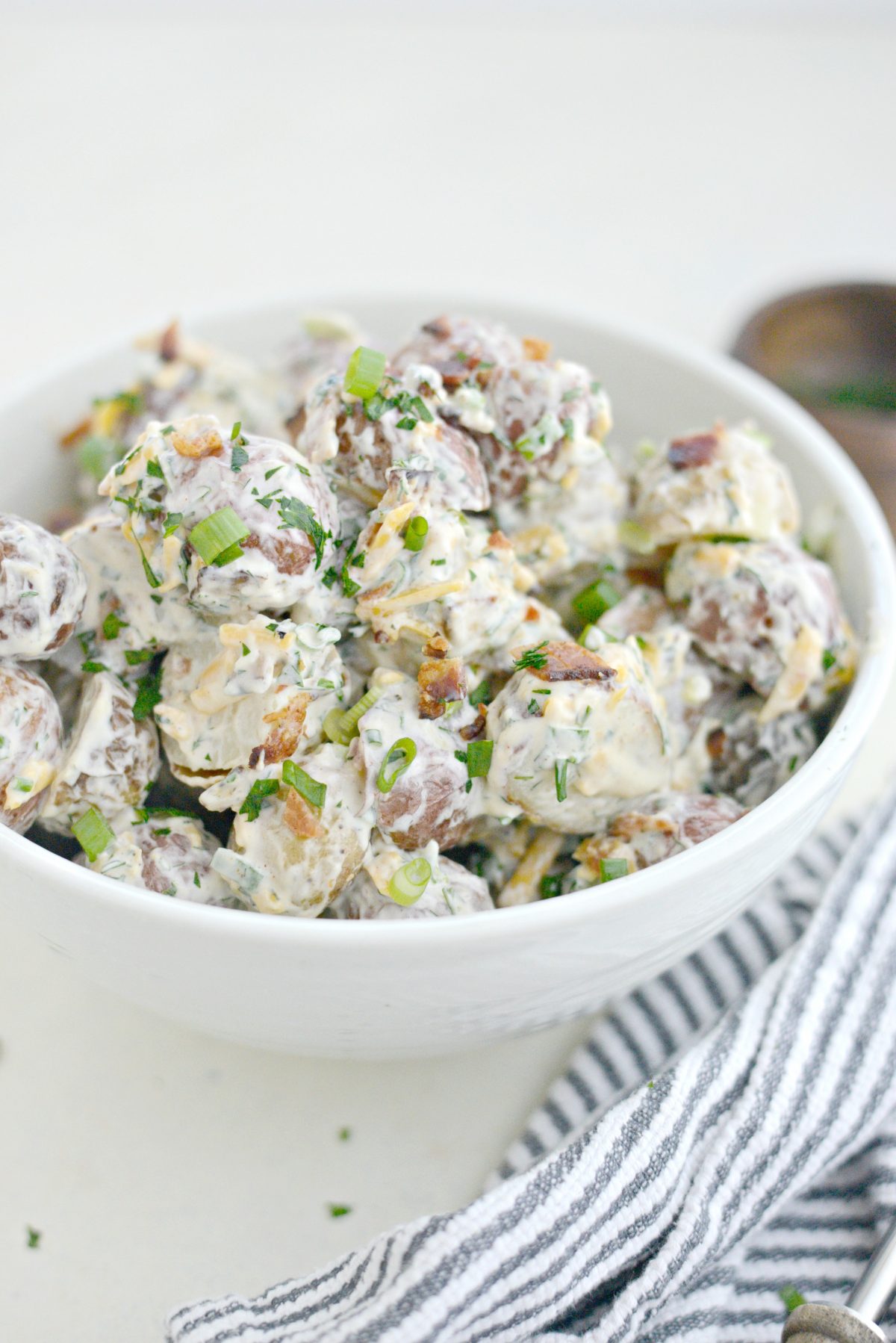 Now who's coming over to help me finish the leftovers?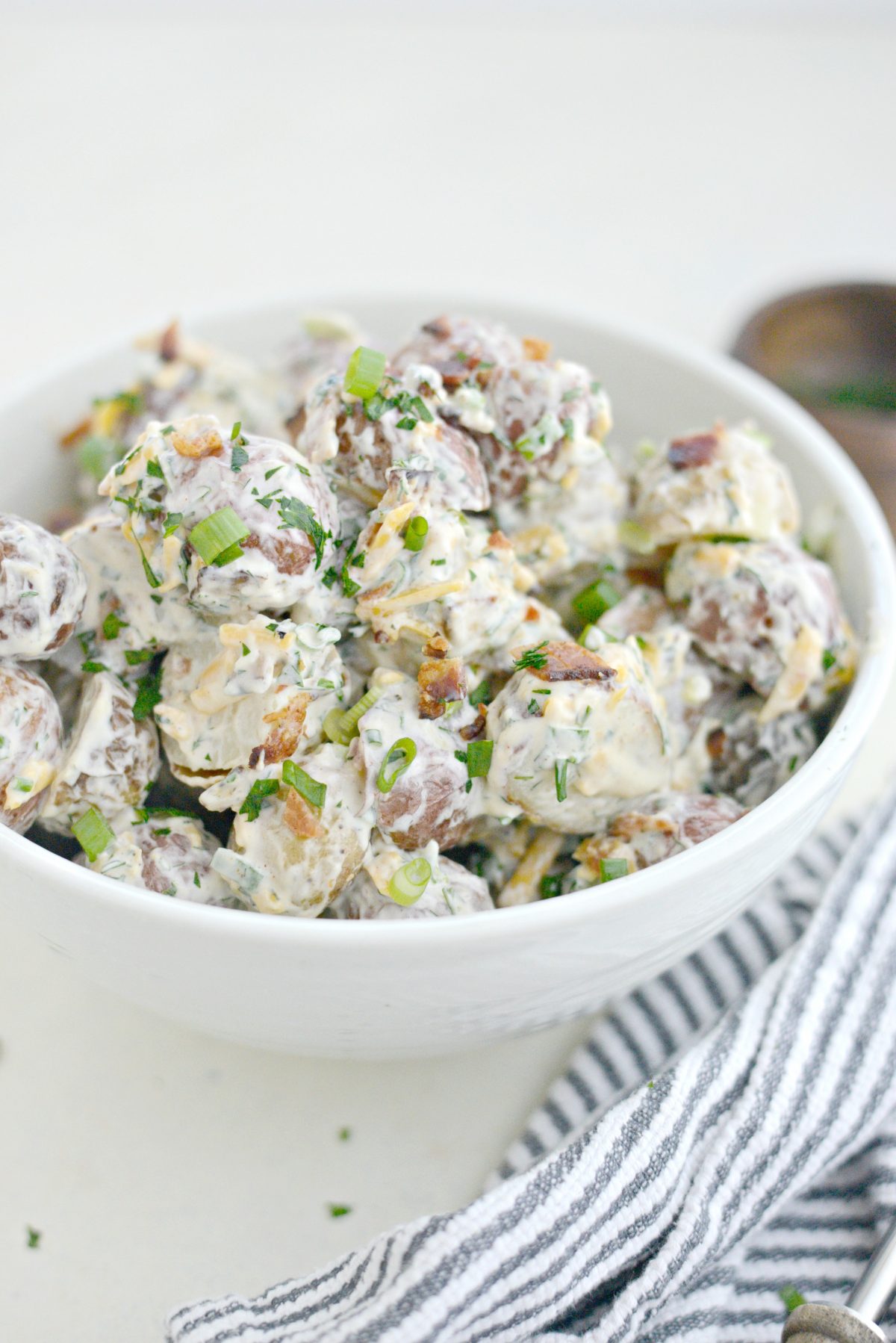 Enjoy! And if you give this recipe a try, let me know by snapping a photo and tagging me on twitter or instagram!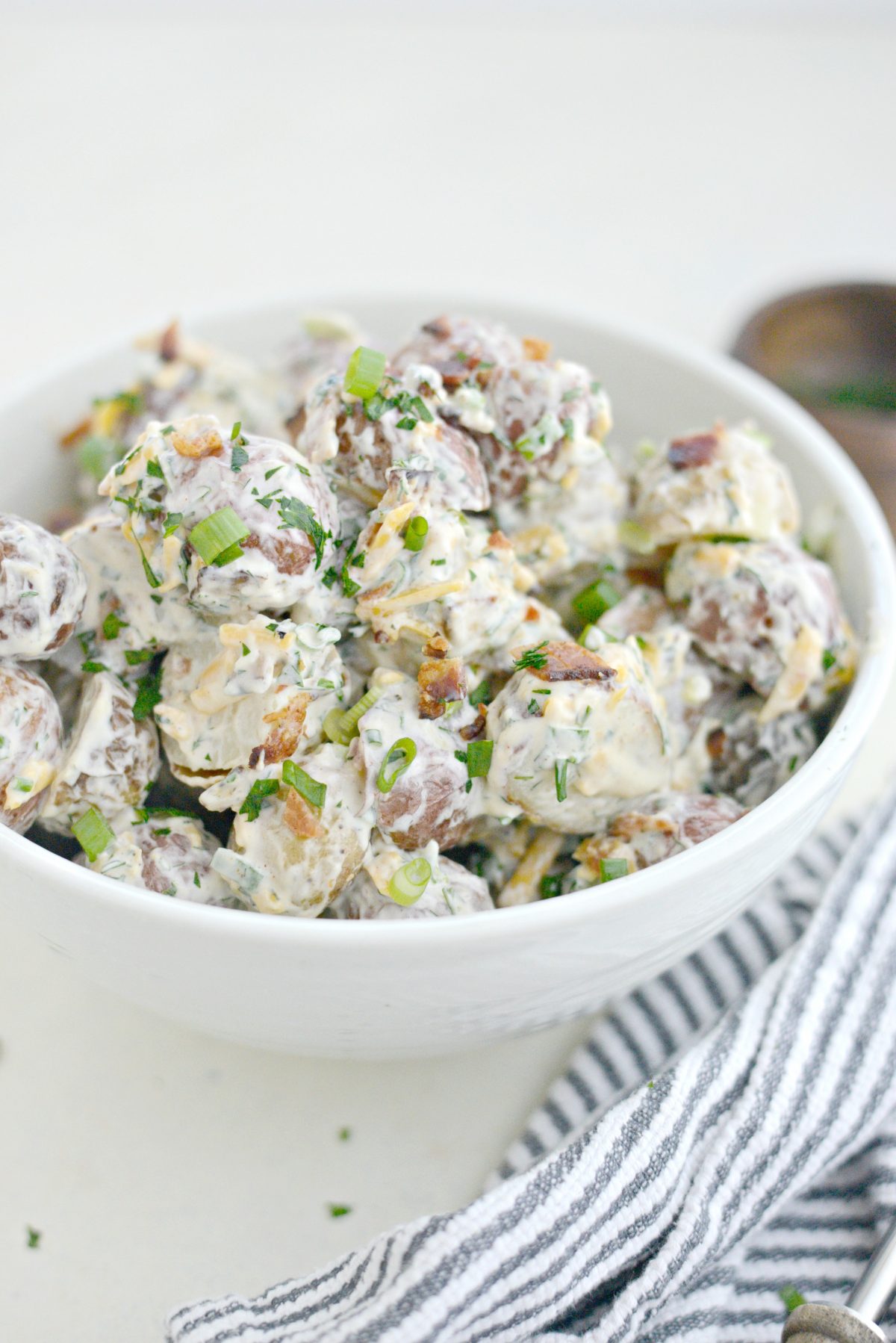 My cookbook Simply Scratch : 120 Wholesome Homemade Recipes Made Easy is now available! CLICK HERE for details and THANK YOU in advance! 
[this post contains affiliate links.]
This post may contain affiliate links.
Buy the Cookbook: Simply Scratch : 120 Wholesome Homemade Recipes Made Easy Now available on Amazon »
THANK YOU in advance for your support!