Strawberry Streusel Bars with White Chocolate Drizzle! Crisp oatmeal bars topped with strawberry jam, fresh strawberries, streusel topping and drizzled with white chocolate. A delicious treat that's great for potlucks and serving a large crowd.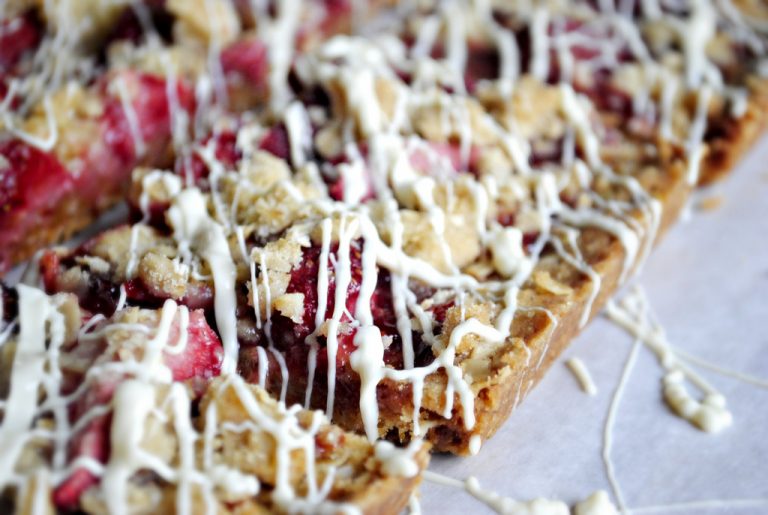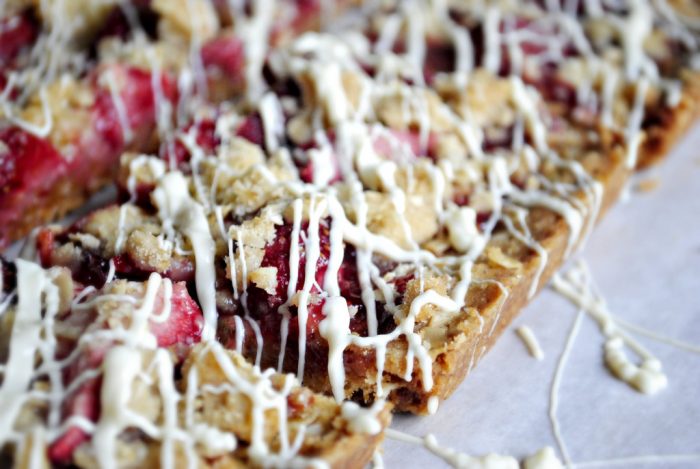 I always get excited when I start seeing them arrive at my local farm stands and supermarkets, because that means spring is here and summer is not too far behind.
Aside from fruit salads, shortcakes and chocolate-covered strawberries, you can use strawberries in anything from sweet to savory. I really haven't met a strawberry recipe I didn't fall in love with and devour, including this recipe from TK member angpritch (Angela). I mean, c'mon— strawberries, streusel, and white chocolate, all atop a crispy oatmeal cookie bar.
This recipe had me at strawberry, and sold me with the white chocolate drizzle!
To make these Strawberry Streusel Bars you will need:
old fashioned oats
unbleached all-purpose flour
sugar
brown sugar
baking soda
baking powder
kosher salt
chilled butter
strawberries
strawberry jam
lemon zest
white chocolate
In a large bowl add the oats, flour and sugars. Make sure your oats are the old fashioned kind and NOT quick oats; otherwise the oats will get mushy in the oven and not hold their shape.
Add in the baking soda, baking powder and salt to the bowl.
Whisk the dry ingredients until combined.
Cut the chilled butter into pieces and toss them into the bowl as well.
With a pastry cutter or your fingers, cut the butter into the flour and oat mixture. I used my free hand to scrape down the sides of the bowl to better incorporate all of the dry ingredients with the butter.
There are a few things that are certain when I'm cutting in butter. For one I will be flinging flour coated butter crumbles everywhere and making somewhat of a mess. And the moment my arm becomes tired, I will want to throw in the towel because I'm feeling that I can no longer do it… just then is when it becomes easier and starts coming together.
So just hang in there… you're almost done!
Stop once the crumbles are small and uniform, wipe your brow. Cutting in butter is no simple task!
Be sure to reserve a cup of that crumble mixture and set it off to the side, you will need it later in this recipe.
Pour the remaining crumble into an un-greased 10×15 jelly roll pan.
Pressing it down firmly with your fingers to form the crust and then place into a preheated 350 degree oven for 12-13 minutes. You're not looking for it to brown, just firm up a little.
While the crust is baking; hull and quarter about a pound of strawberries to measure a heaping two cups.
Then zest your lemon and measure out a teaspoon of the fragrant zest.
In a small sauce pan heat up a half cup of strawberry jam and the teaspoon of lemon zest over low heat until the jam is warm and spreadable. You could also warm the jam in the microwave for 30 seconds and then stir in the lemon zest, if you want to dirty fewer dishes.
Drizzle and brush with a pastry brush or a rubber spatula to spread the jam all over the warm crust.
Then scatter the strawberries evenly on top of the jam.
Sprinkle with the remaining cup of the crumb mixture, and then place the pan back into the oven for 20-25 more minutes or until the streusel topping is a light golden brown.
Once baked, your home should smell amazing, but you'll have to let the pan cool for one whole agonizing hour.
Once the strawberry bars are cooled it's time to prepare the white chocolate drizzle. Place the white chocolate into a glass bowl and set over a pot of simmering water. Gently stir until completely melted.
With a spoon, dip into the melted chocolate and drizzle across the tops of the bars. I cut my bars before drizzling, but you could also drizzle before cutting them. Whatever floats your boat!
While the chocolate cools, maybe go brew some coffee or tea, or pour a tall glass of milk!
Curl up in your favorite spot to enjoy every delicious morsel.
My family and I truly enjoyed every piece right down to the last oatmeal crumble… a definite keeper!
Enjoy! And if you give this Strawberry Streusel Bars recipe a try, let me know! Snap a photo and tag me on twitter or instagram!
Yield: 36 servings
Strawberry Streusel Bars with White Chocolate Drizzle
Crisp oatmeal bars topped with strawberry jam, fresh strawberries, streusel topping and drizzled with white chocolate. A delicious treat that's great for potlucks and serving a large crowd.
Ingredients
2 cups old fashioned rolled oats
1½ cups unbleached all-purpose flour
¾ cups white sugar
¾ cups brown sugar
1 teaspoon baking powder
½ teaspoons baking soda
½ teaspoons fine salt
1 cup cold unsalted butter, cut into small pieces
4 ounces strawberry jam
1 teaspoon lemon zest
2 cups strawberries, chopped or sliced
3 ounces white chocolate, melted
Instructions
Preheat oven to 350°.

In a large mixing bowl, whisk together the oats, flour, both sugars, baking powder, baking soda and salt.

Add the cold butter and work it into the dry ingredients with your fingers or a pastry blender until the mixture looks like small crumbles. Reserve 1 cup of this mixture.

Press the remaining crumb mixture in a 15x10 rimmed baking pan. Bake in your preheated oven for 12-13 minutes or until it is firm to touch. Do not let get overly brown.

Warm the jam in the microwave for 30 seconds (or use a saucepan on your stovetop) and then stir in the lemon zest. Drizzle the warm jam over the warm crust and spread with a spatula.

Spread the chopped strawberries over the crust. Sprinkle on the reserved cup of crumb mixture.

Return pan to 350°F oven and bake for another 20-25 minutes or until the crumbs on top are lightly browned.

Then remove it from the oven and let the pan cool for 1 hour.

Melt the white chocolate in microwave, following directions on package.
Notes
The preserves I used were a bit chunkier and I found that I needed a little extra of it to cover my bars so I added two more heaping tablespoons.
Serving: 1g, Calories: 139kcal, Carbohydrates: 20g, Protein: 1g, Fat: 6g, Saturated Fat: 4g, Polyunsaturated Fat: 1g, Monounsaturated Fat: 2g, Trans Fat: 1g, Cholesterol: 14mg, Sodium: 65mg, Potassium: 51mg, Fiber: 1g, Sugar: 12g, Vitamin A: 159IU, Vitamin C: 5mg, Calcium: 22mg, Iron: 1mg
This post may contain affiliate links.
Buy the Cookbook: Simply Scratch : 120 Wholesome Homemade Recipes Made Easy Now available on Amazon »
THANK YOU in advance for your support!