Today I could totally go for these slow cooker pork chops and mashed potatoes. And that herb gravy is just the icing on the chop.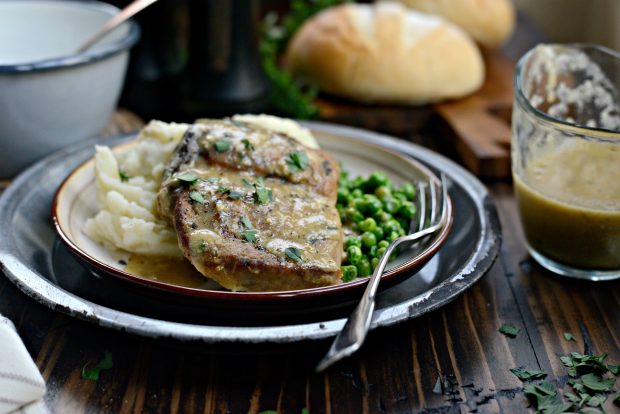 I just was out of town in Utah with a bunch of lovely, talented and kick-butt bloggers for a relaxing, inspirational and food-loaded weekend. Needles to say, I'm exhausted (and full). So I know today I will be turning to my slow cooker for making dinner. Do you feel the same after you travel? I'm like pretty close to falling over. Thank goodness somebody invented the slow cooker. amiright?
See! I wasn't lying that I was stepping up my slow cooker game. Yes, I'm becoming one with my S-C and I brought the goods with this pork chop dinner. It's so good that my high schooler brought leftovers to school to eat at lunch the next day. MY HIGH SCHOOLER!!
If you're ready for melt in your mouth pork (like you don't need a knife it's that tender) and a flavorful gravy THIS is your jam!
Easy. (check)
Cozy and comforting. (check check)
All you need is mashed potatoes. And peas. AND (of course) rolls!!!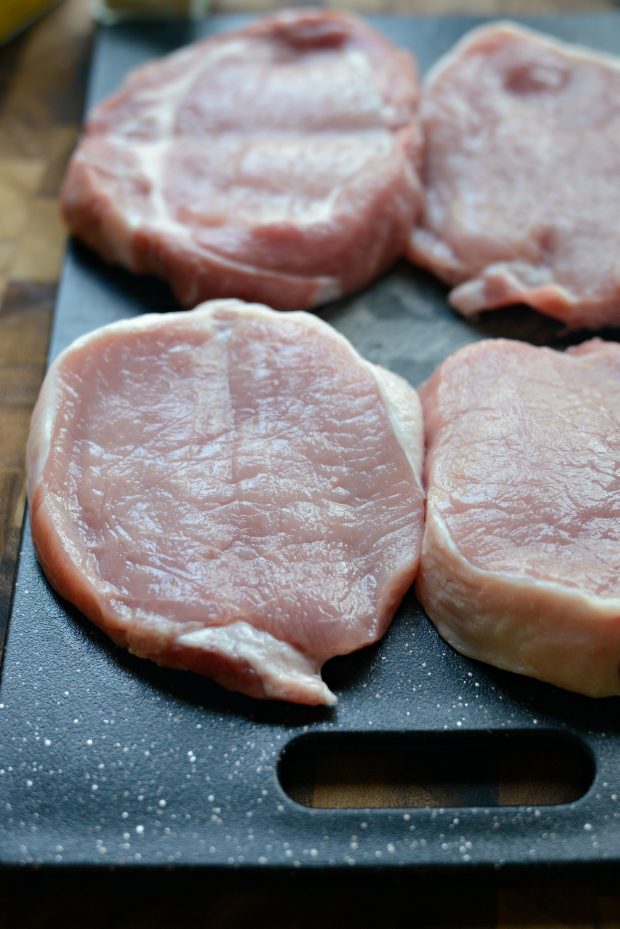 I bought these gorgeous top loin chops at my local butcher. The butcher butterflied them to obviously make them bigger, but this also means there was more surface area for browning.
(yum.)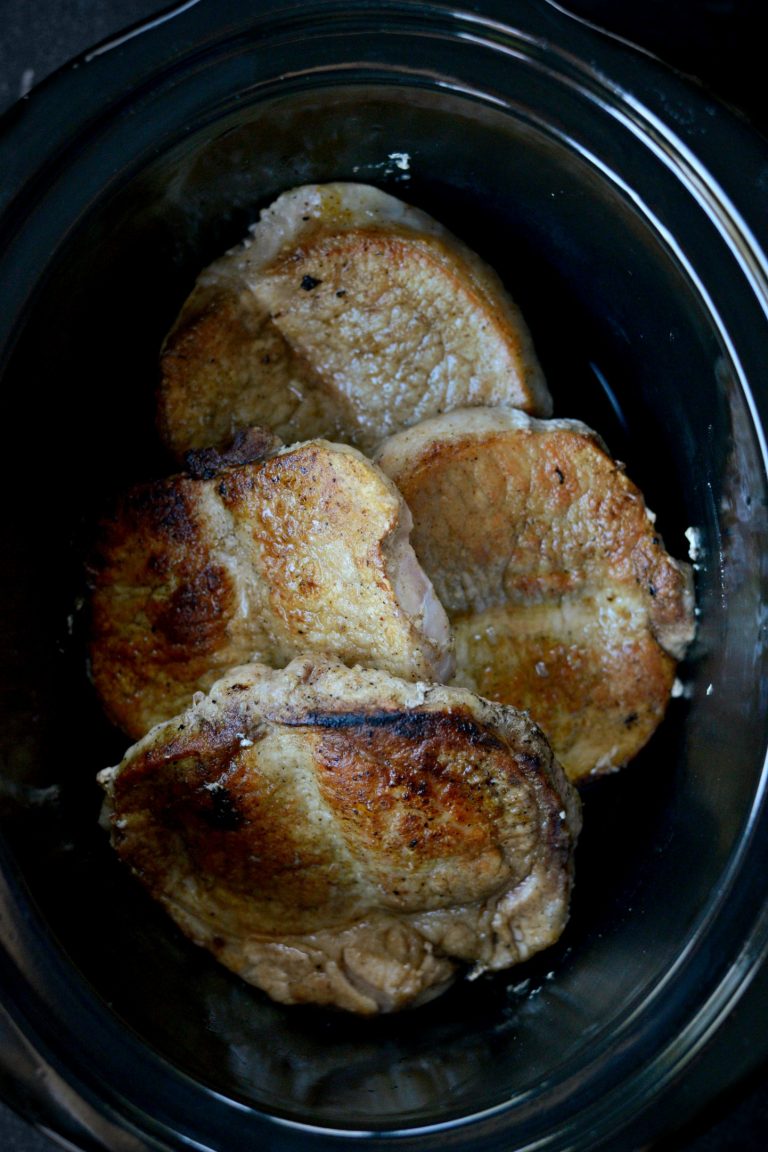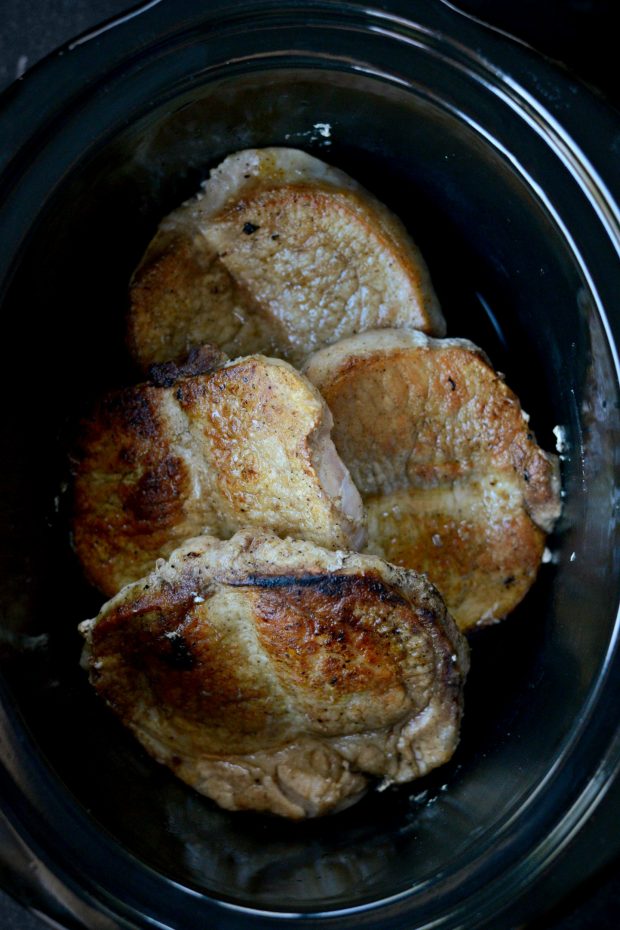 Whisk together the flour, ground mustard, all purpose seasoning, garlic powder and black pepper. Dredge the pork chops in the flour mixture, shake off the excess and transfer to a clean plate.
Heat up a large cast iron skillet on medium to medium-high heat. Add the bacon grease and sear the pork chops for 2 to 3 minutes per side. This will get them nicely golden brown. Then just add them directly into the slow cooker.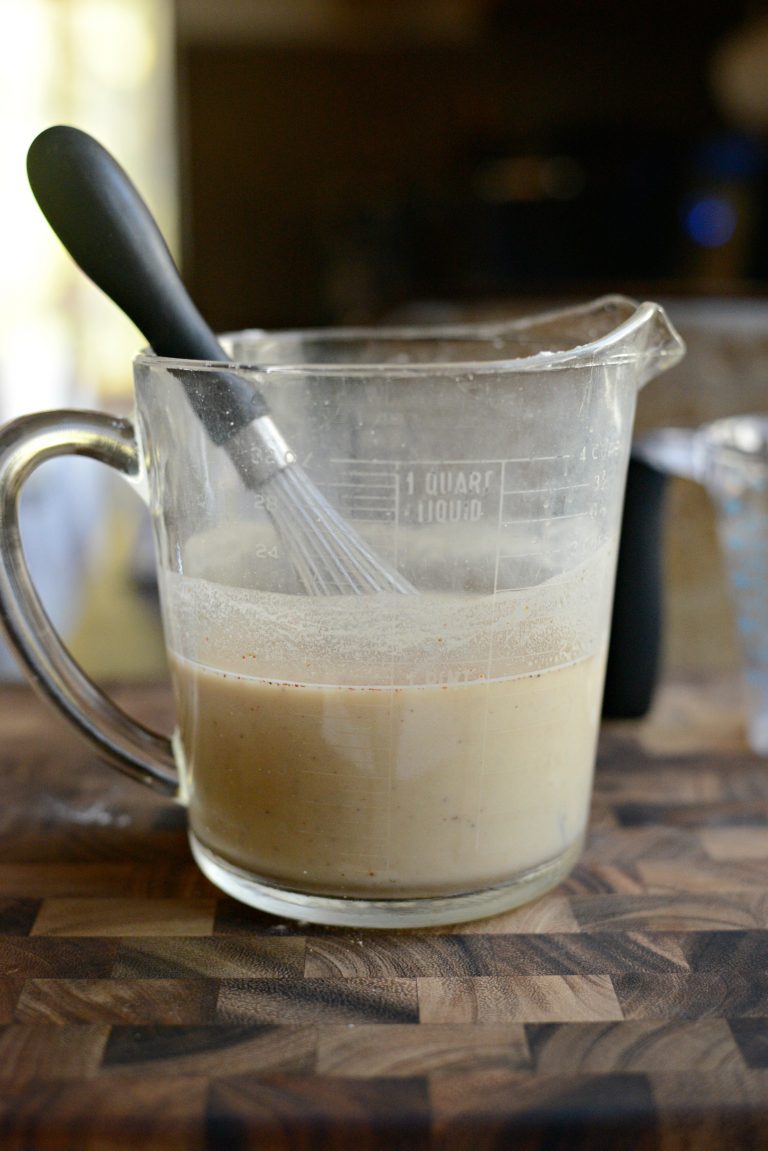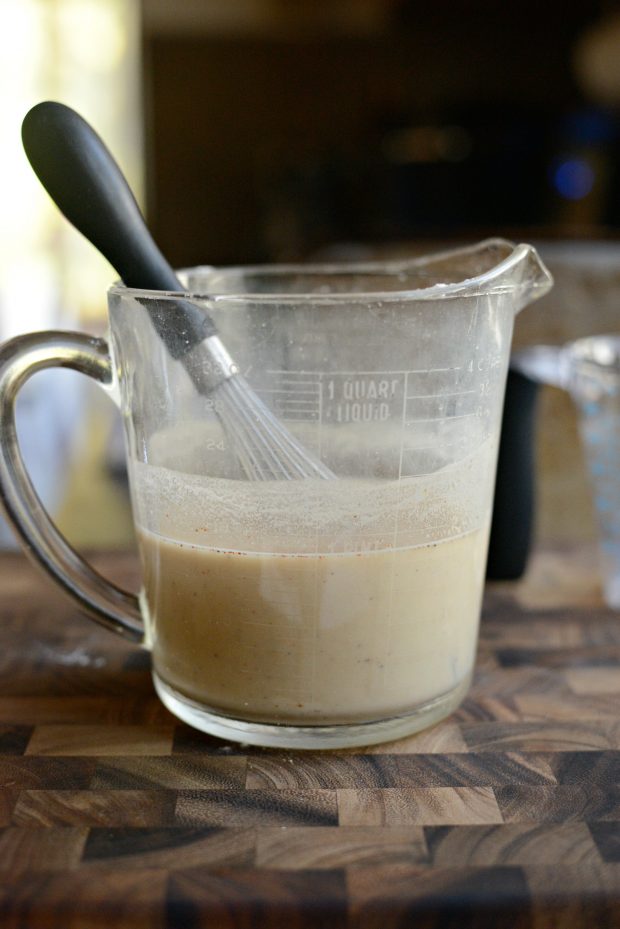 Whisk the remaining flour mixture into a liquid measuring cup with the broth. Still, so easy!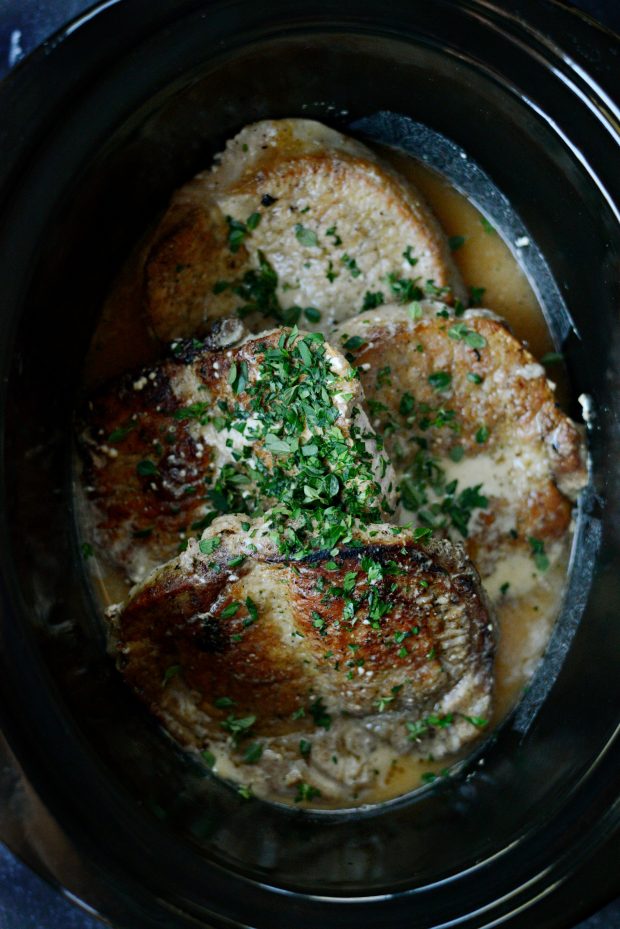 Simply pour the gravy mixture over top and sprinkled the fresh parsley and thyme over top. I'm thinking rosemary would be great in here too!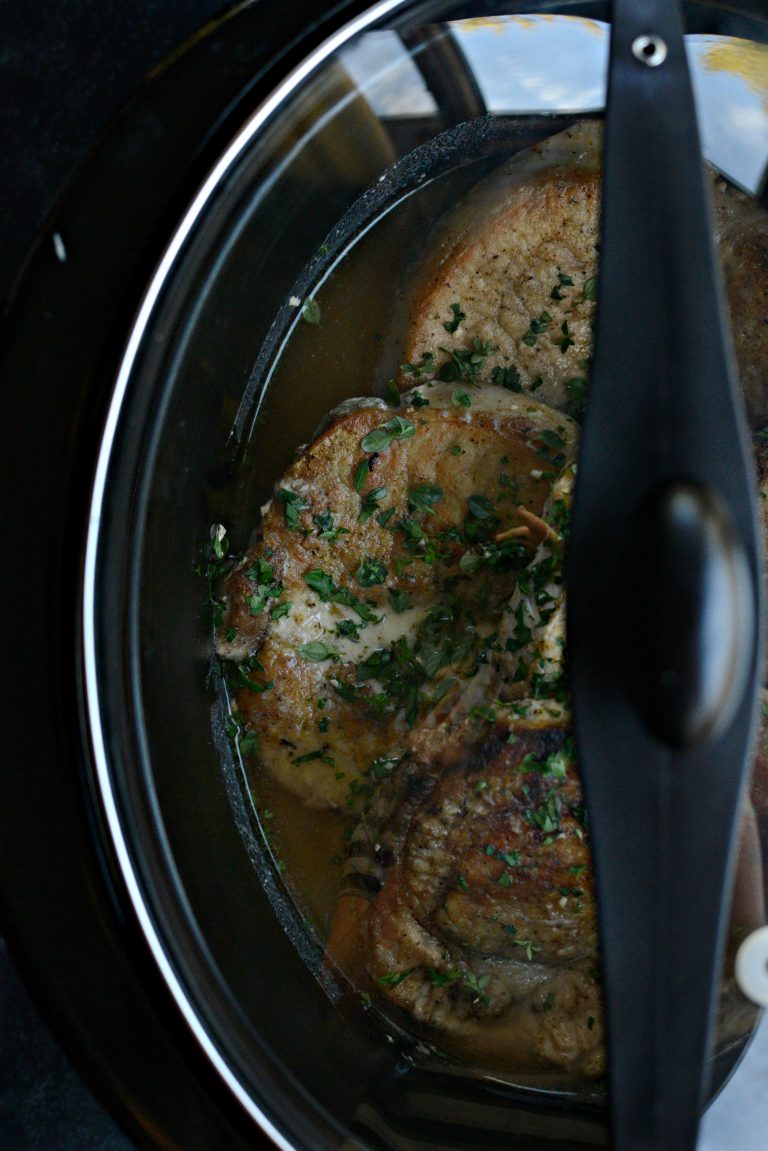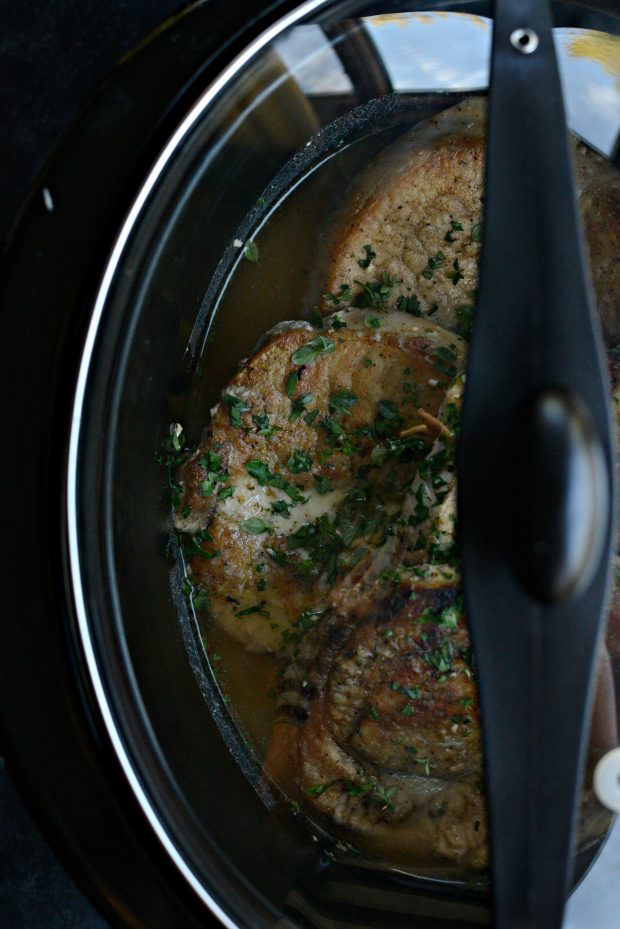 Cover and cook on low for 6 hours. I know you know what I'm about to say… the aroma of these slow cooker pork chops as they cook is heavenly!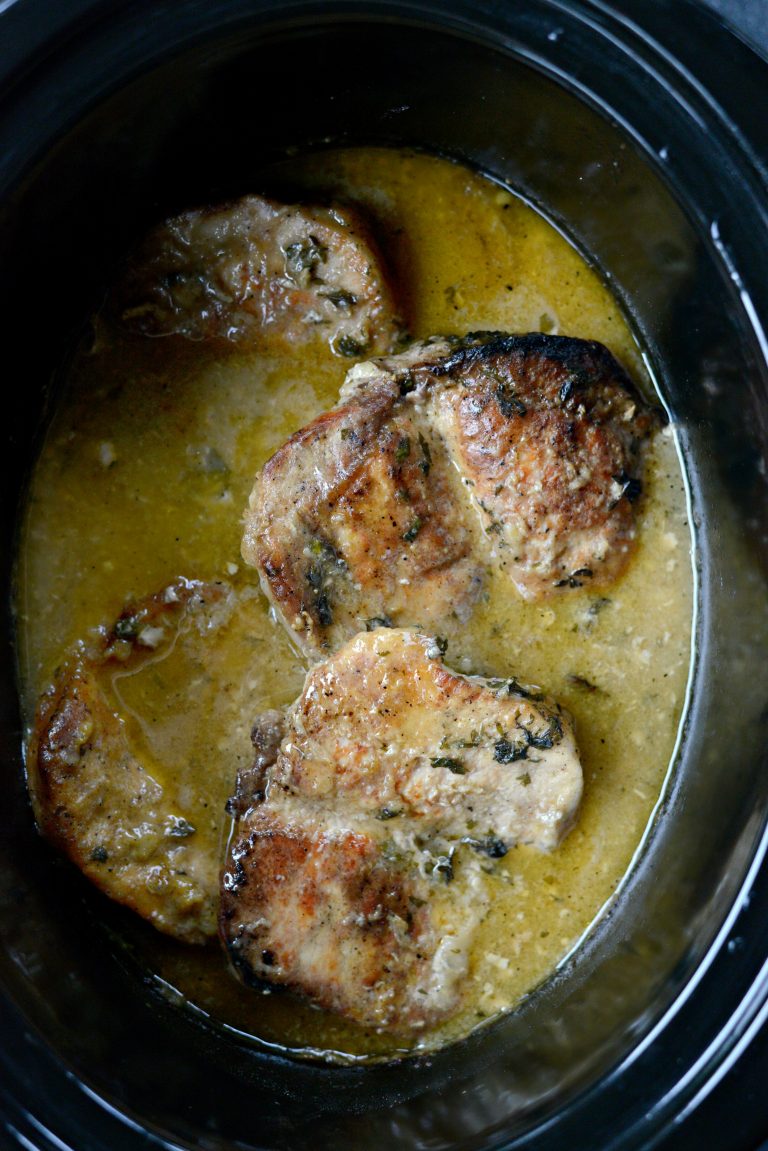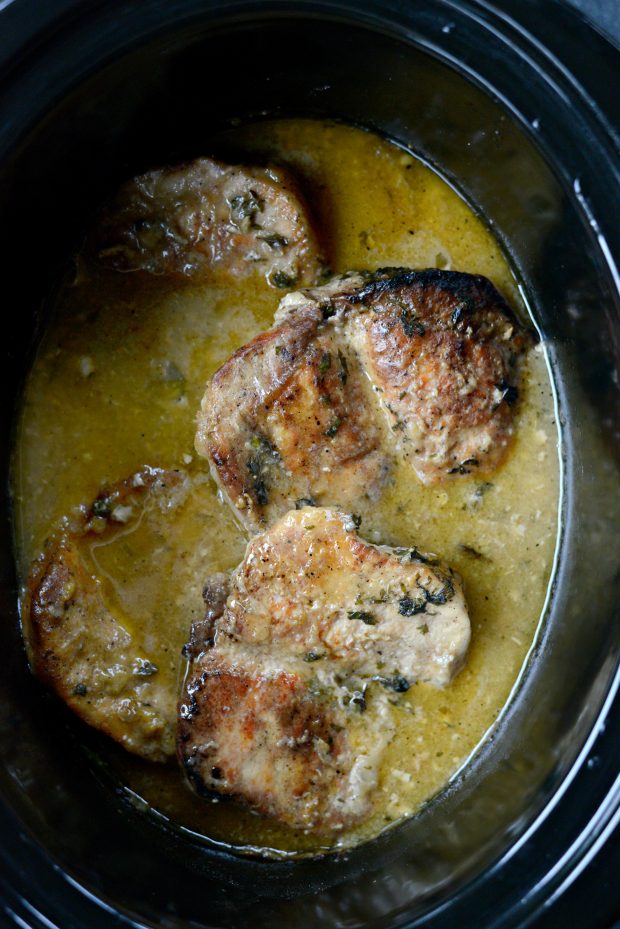 SO GOOD! If there was a bone, the meat would be falling off it.
No. Joke.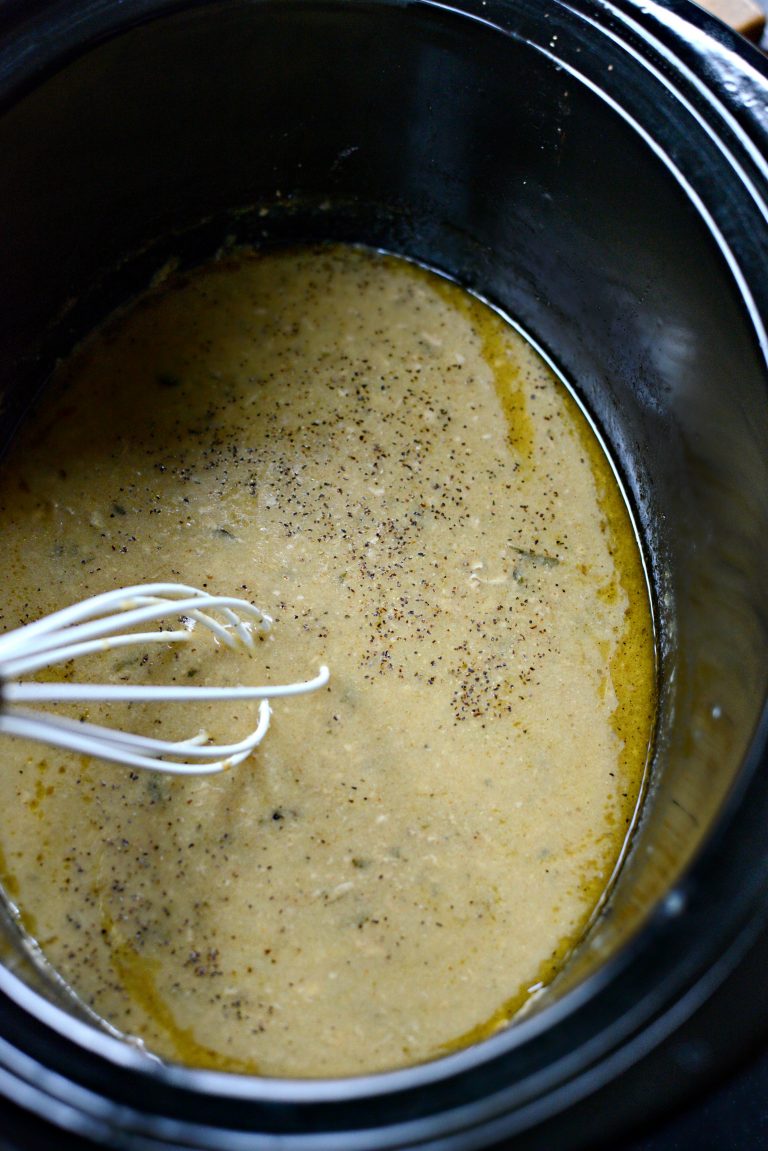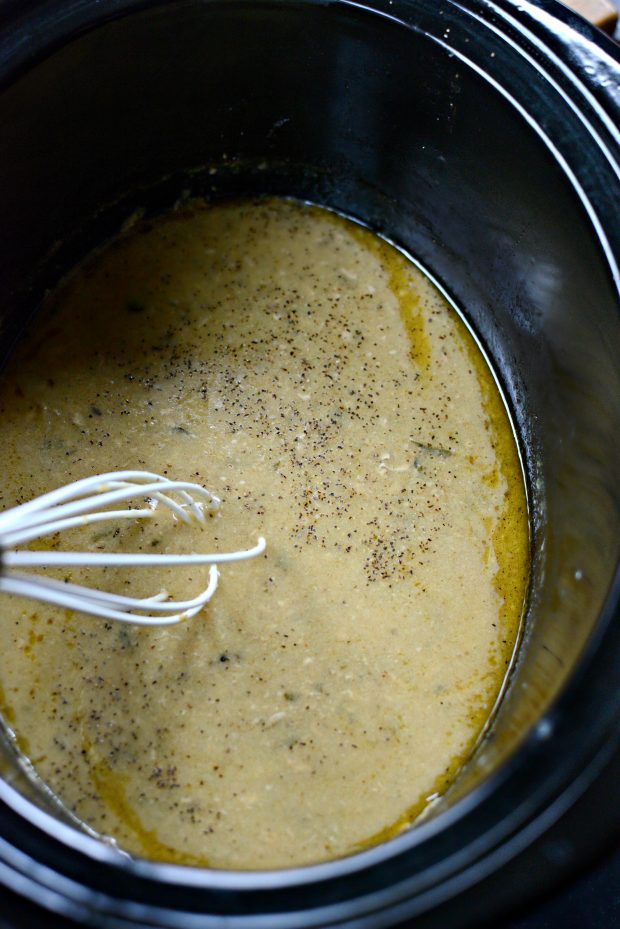 Transfer the pork chops to a plate and season the gravy with salt and pepper to taste.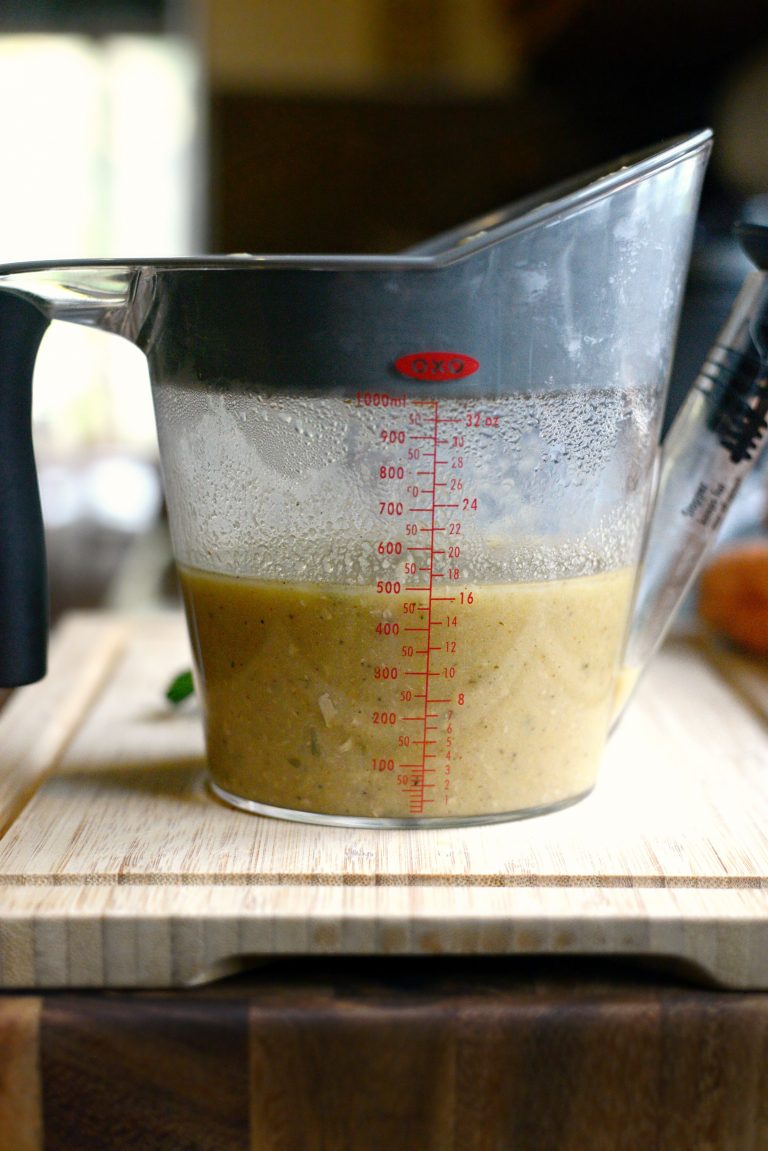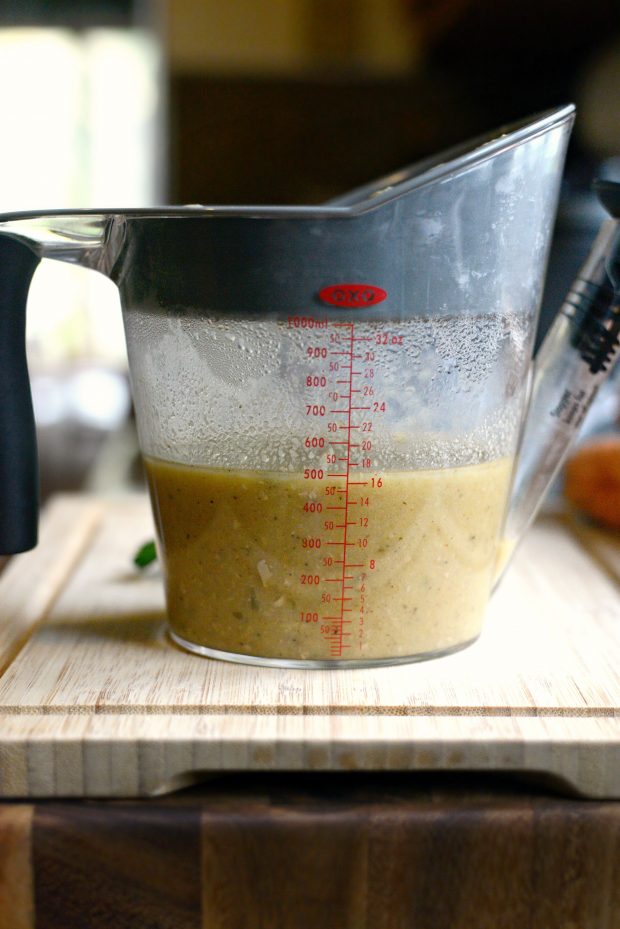 My family loves lumpy mashed potatoes but not lumpy gravy, so I poured it through my gravy separator -just to be safe. Totally optional, as you know.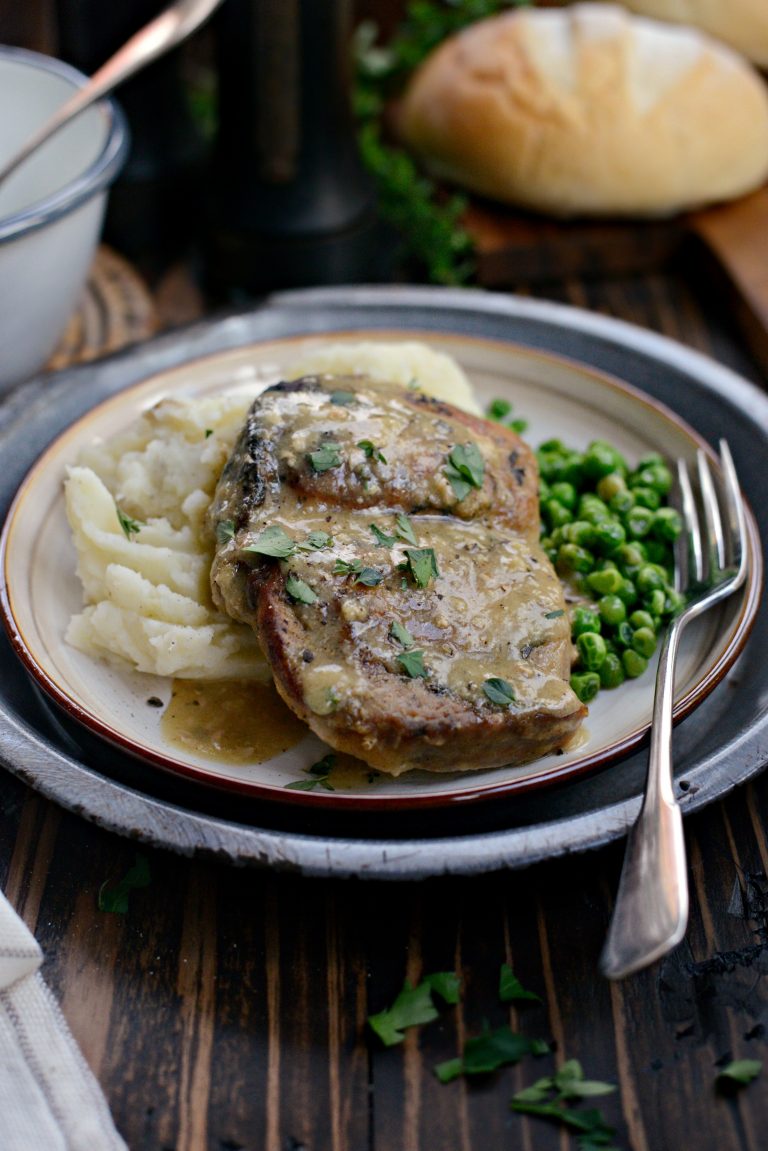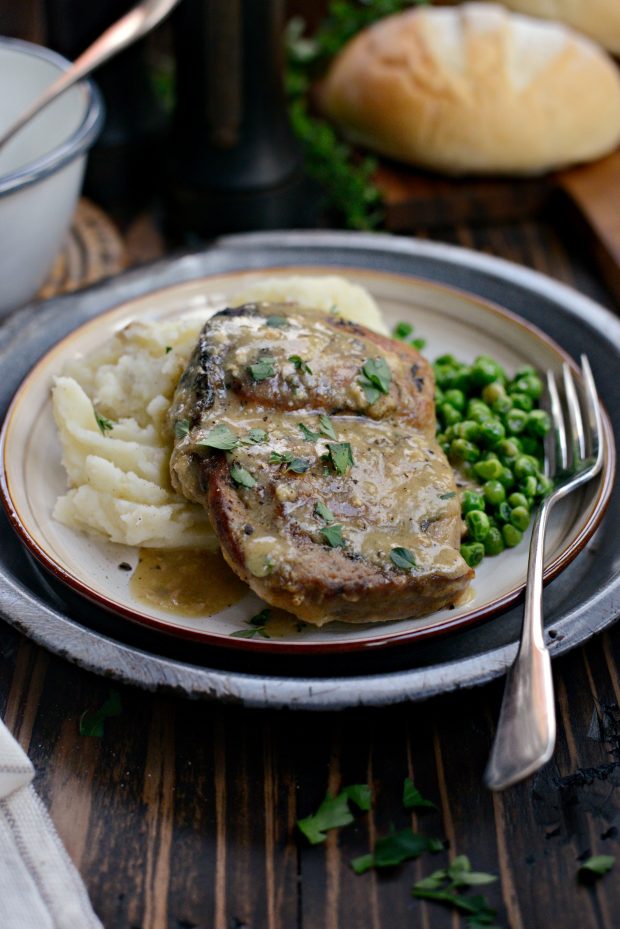 When you're ready to serve, place the slow cooker pork chops on top of a pile of mashed potatoes and then poured on the gravy. Extra gravy for me please!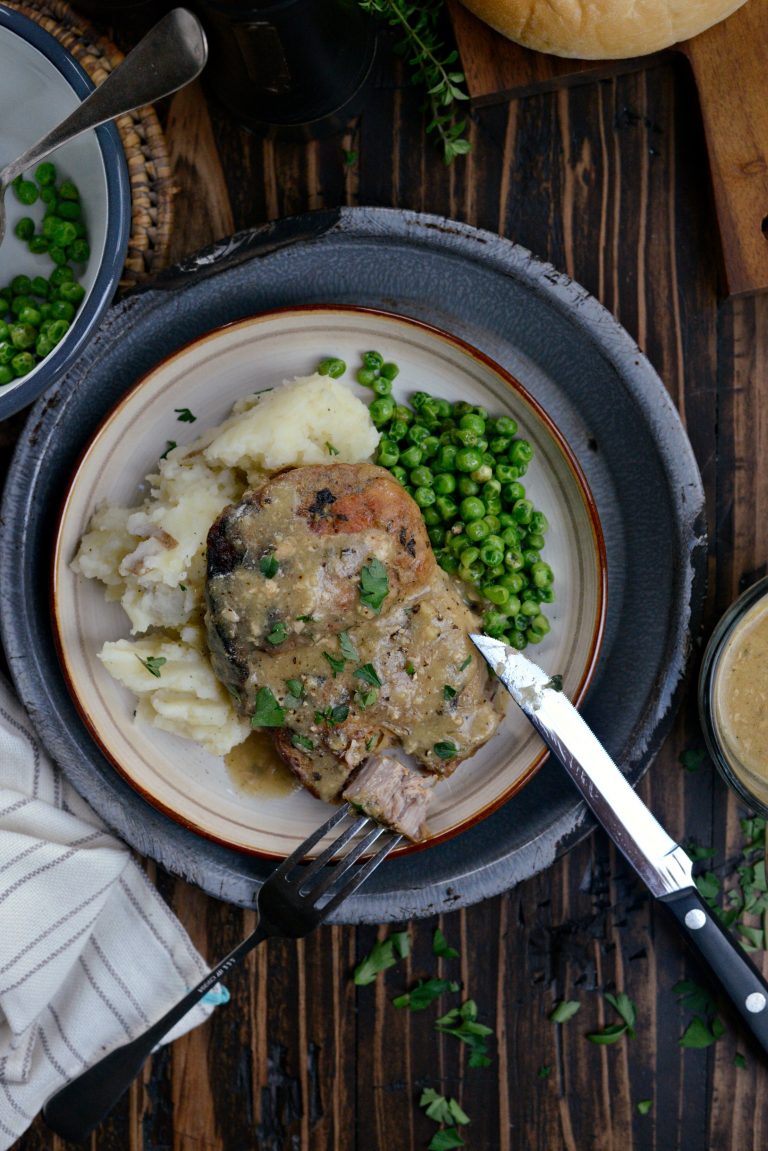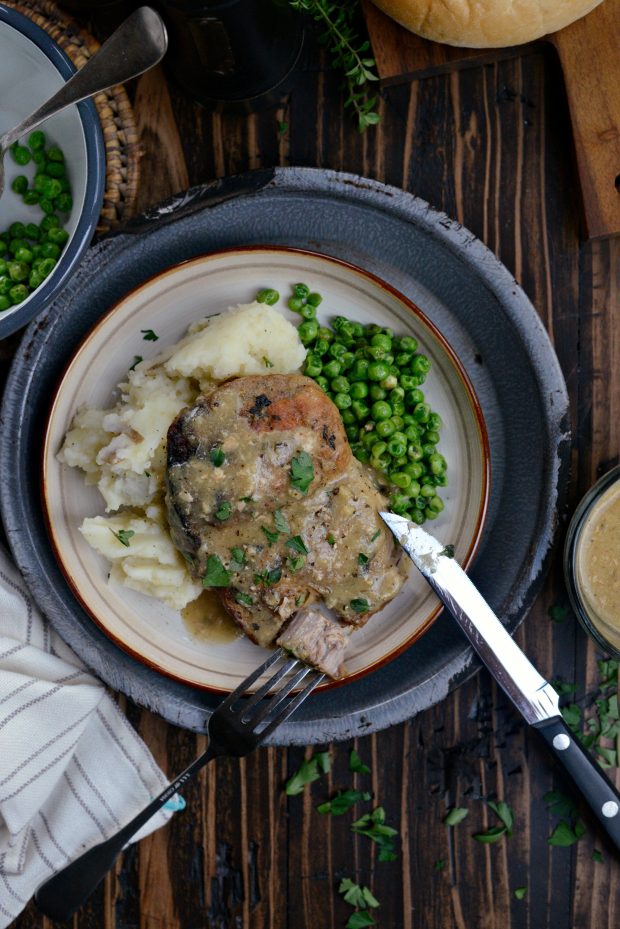 I either place them on mashed potatoes or on egg noodles with peas, roasted brussels sprouts or green beans. Then for a pop of green I sprinkle fresh parsley and time over top!
A perfect cozy dinner for any night of the week that I just know you're family will love!
Enjoy! And if you give this Slow Cooker Pork Chop recipe a try, let me know! Snap a photo and tag me on twitter or instagram!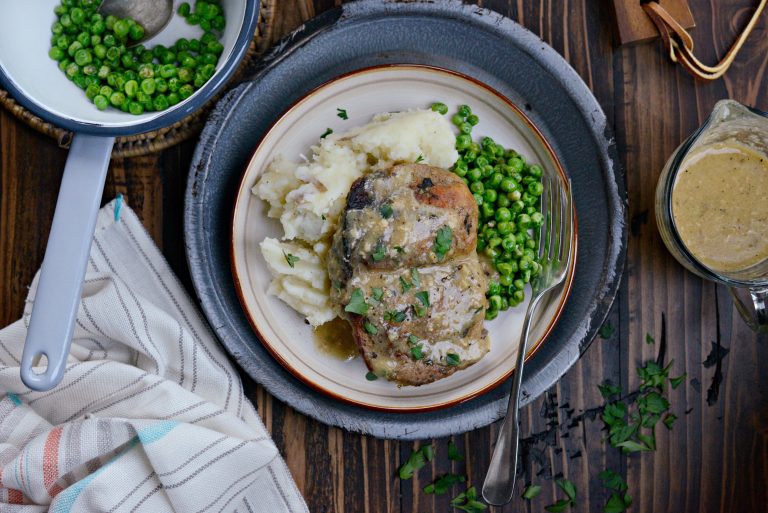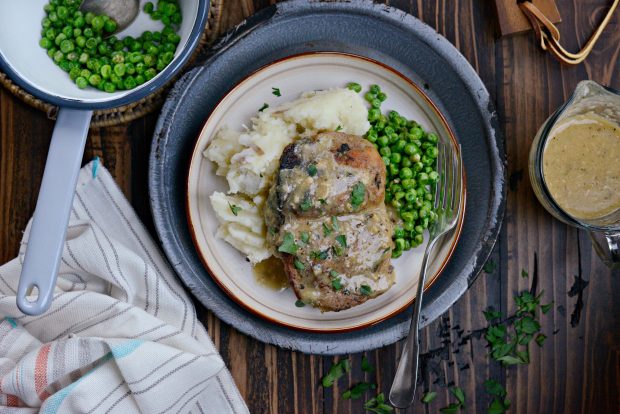 This post may contain affiliate links.
Buy the Cookbook: Simply Scratch : 120 Wholesome Homemade Recipes Made Easy Now available on Amazon »
THANK YOU in advance for your support!