White pizza is a delicious thing.
But white pizza adorned with marinated artichokes, bacon and drizzled with reduced balsamic is just plain ridic. In a good way of course.
Naturally I made my homemade pizza dough, but the real pow! is in the little things. Like brushing the pizza dough with homemade toasted garlic oil and topping it with three kinds of cheeses. But it doesn't stop there, in this version I incorporated creamy ricotta, crispy applewood smoked bacon, marinated artichoke hearts and a fresh herb Parmesan cheese mixture. then once baked and oo drizzled a reduced balsamic glaze over the whole thing. You guys it's so delicious I just may swear off regular (red?) pizza and strictly dine on (this) white pizza only. Truth.
As you all know, October is breast cancer awareness month. My longtime friends at STAR have been sponsoring the Susan G. Komen organization for the last few years. Breast cancer awareness is obviously near and dear to them because in 2016 they are donating $60,000 regardless of sales, and they've also asked a few bloggers if we would be willing to create a recipe using 3 of their products with the special "pink" labels; i.e. Cara Mia Marinated Artichokes, Extra Virgin Olive Oil and balsamic vinegar. All the while helping to spread the word on breast cancer awareness and to tell the stories of those affected by this cancer. You can learn more about STARS breast cancer awareness initiatives here.
As someone who has recently been affected by a loved one being diagnosed with breast cancer, this hits close to home for me. I of course am more than willing to participate in any way shape or form to help spread the word.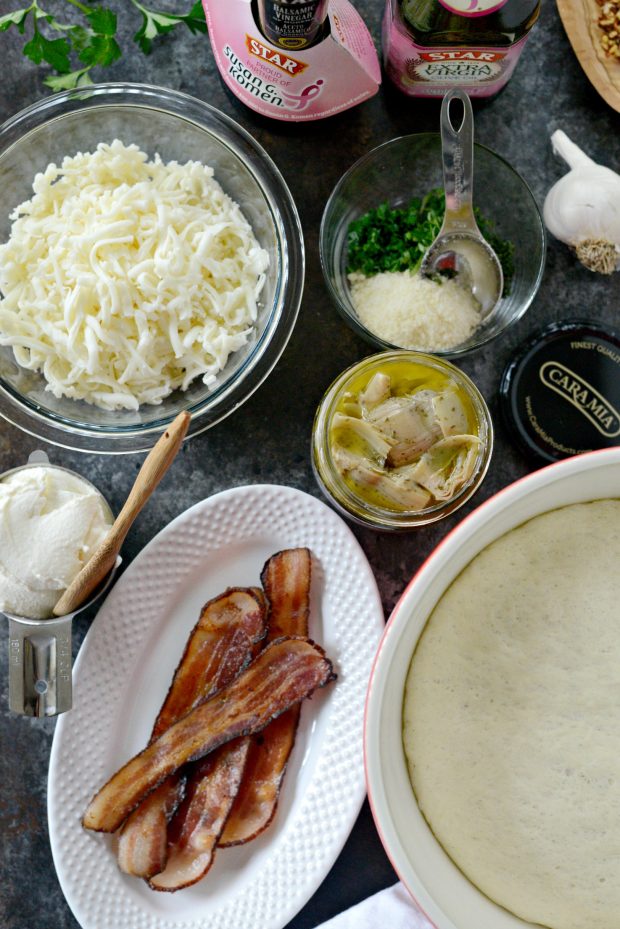 So when I was devising my recipe plan on how to include these three ingredients, my mind went down the white pizza path. It came to me almost instantly. Toasted garlic olive oil… artichokes… bacon… and if there's a way I can drizzle whatever I'm making in reduced balsamic… I will.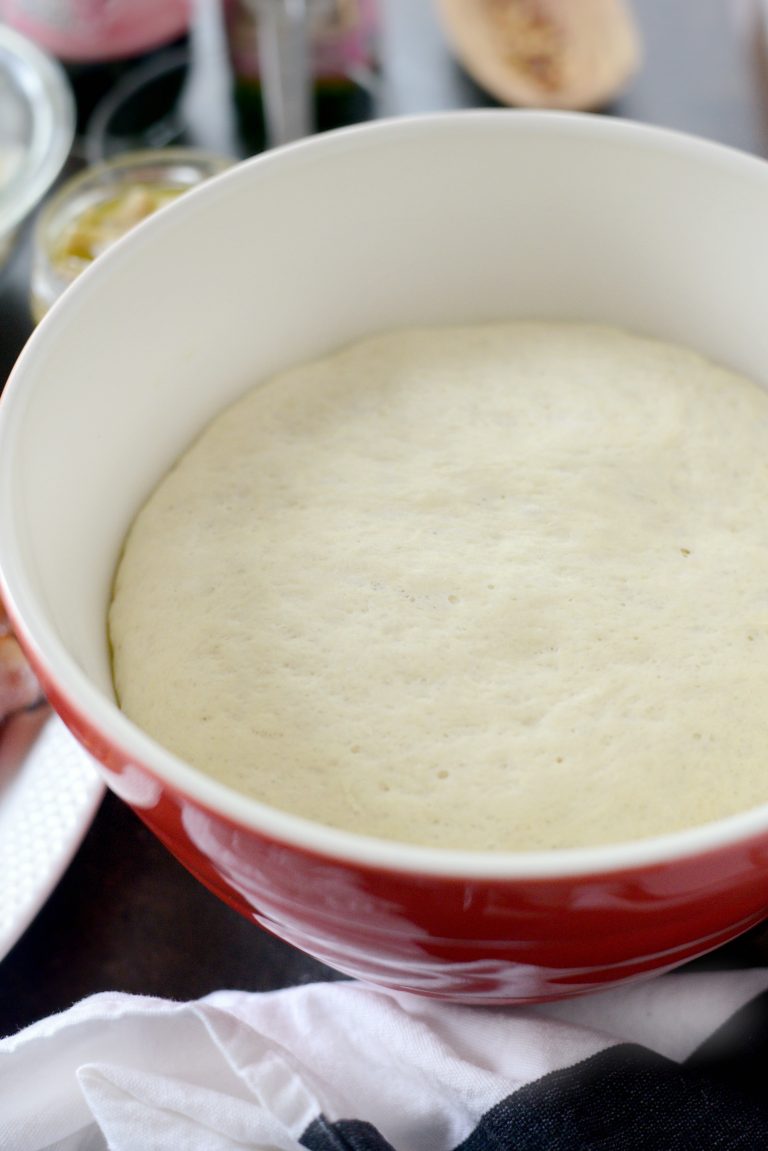 First things first the dough. I made my one-and-only, no fail homemade pizza dough. It's easy and my go to. But if you're ever in a pinch, a good quality store bought dough will work just fine.
I also make the balsamic reduction. It's as simple as pouring the vinegar into a skillet or sauce pan and simmering until thick and syrupy.
After the dough has risen, I punched it down and spread it out onto an inverted baking sheet that has been brushed with olive oil. Once at a rustic oval, I then brush it with a toasted garlic olive oil. Which is garlic quickly cooked in olive oil until, you guessed it, toasted and the oil is fragrant.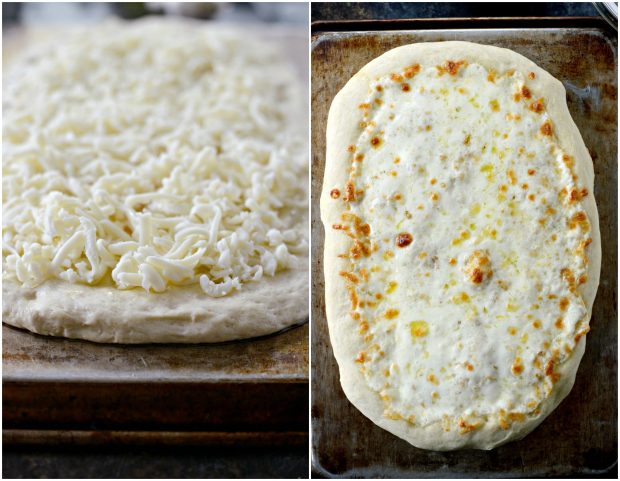 Top with all of the mozzarella cheese and bake for 10 minutes.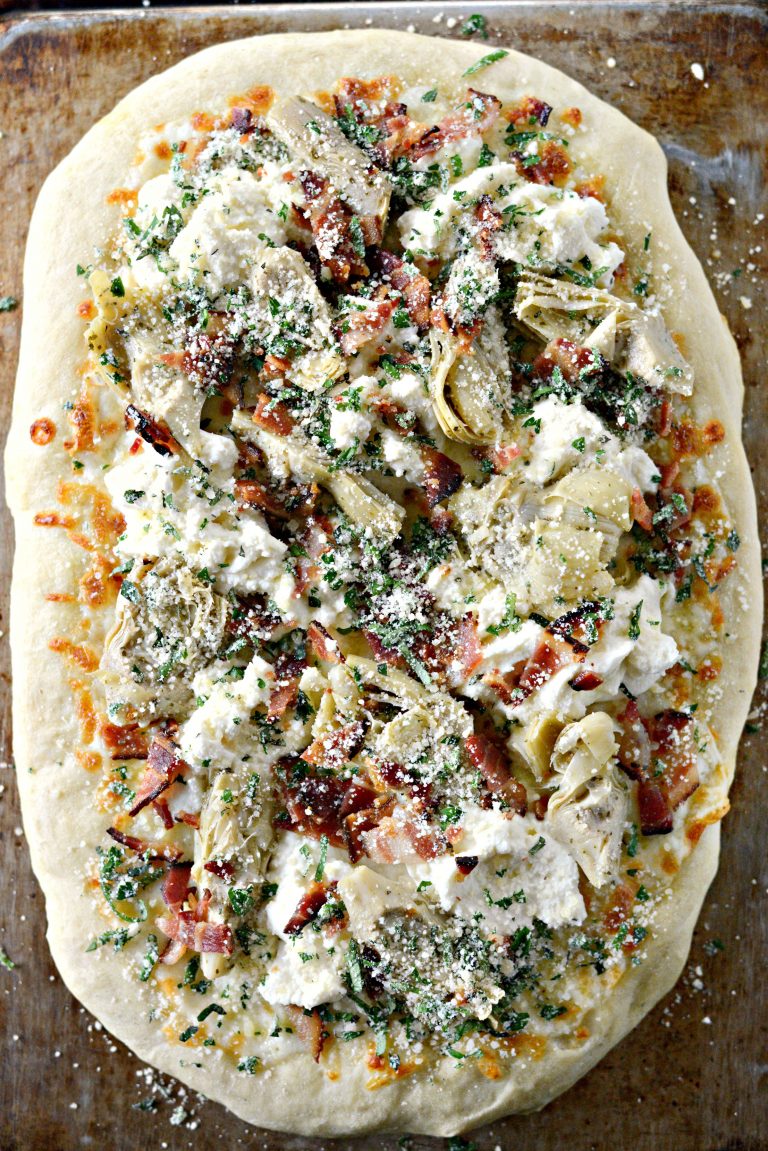 Randomly top with spoonfuls of the ricotta, then scatter the artichoke hearts, bacon and sprinkle the entire thing with this fresh herb and Parmesan cheese mixture. Then bake for another 12 to 15 minutes.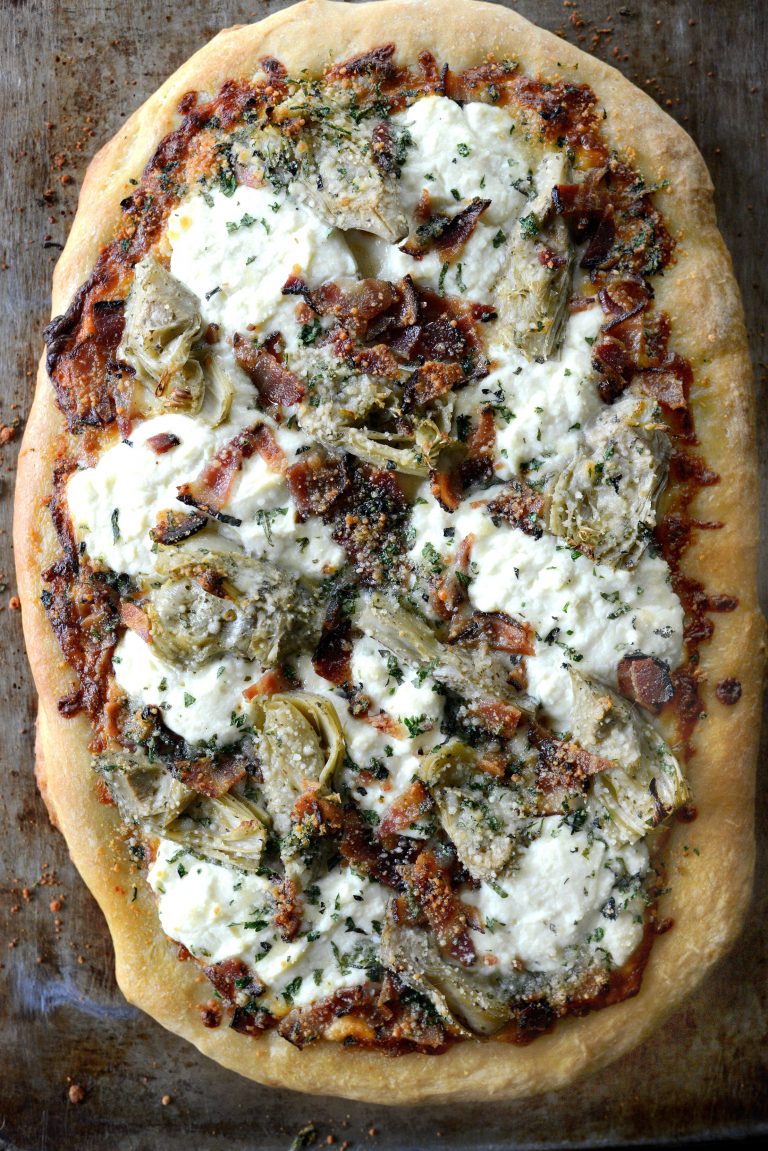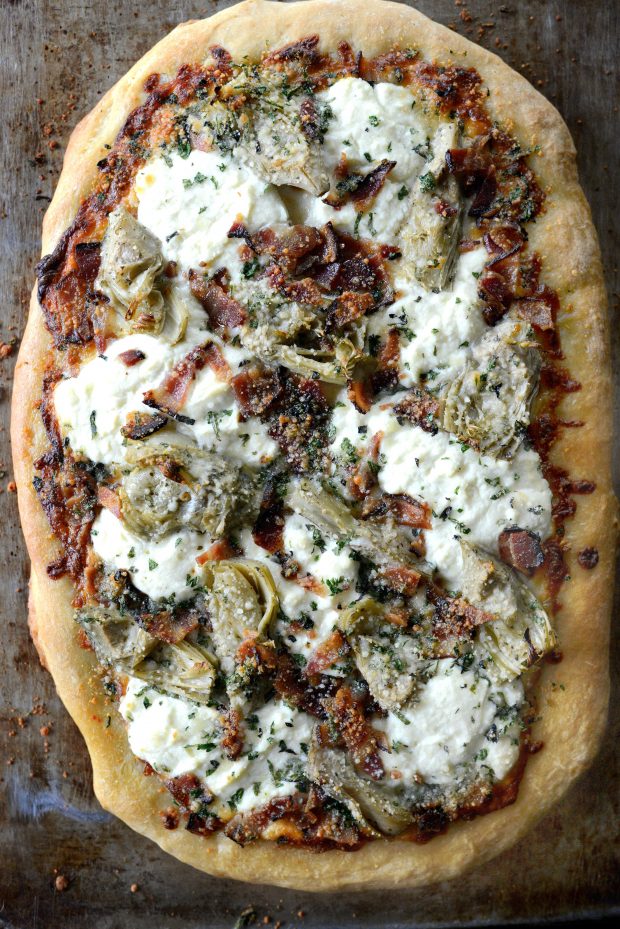 Boom. I spy deliciousness.
Gosh, I really love this pizza! The creamy, smoky, salty, artichoke-y, fresh herb goodness in every bite is everything.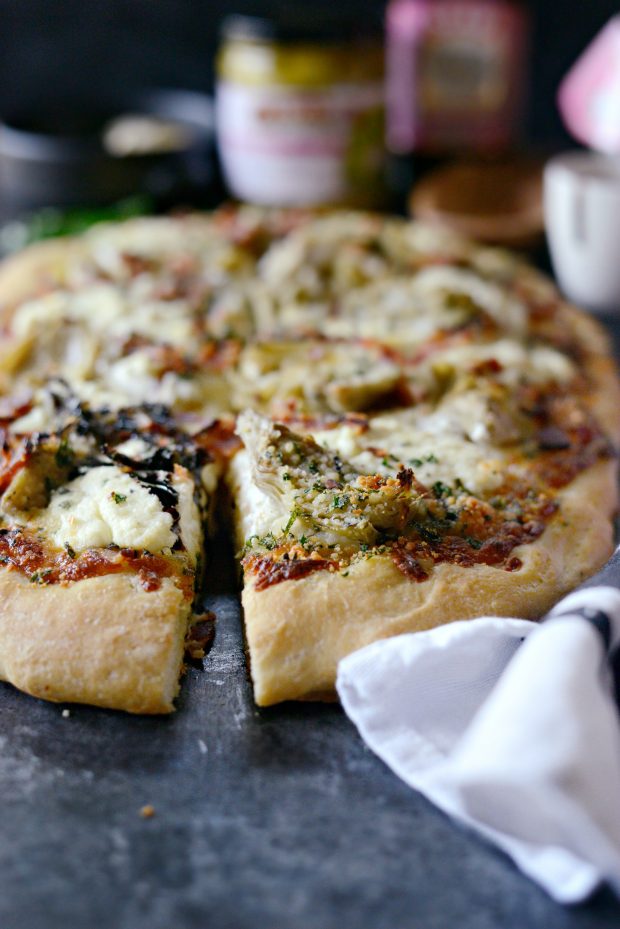 STAR is bringing awareness to breast cancer and spreading the love by running a facebook sweepstakes. They are asking that you click the link and leave a supportive message to those affected by breast cancer and include the hashtag #LoveLoveSurvivors. I've read quite a few of the positive, heartfelt messages written and so many have brought tears in my eyes.
And here I thought that I couldn't possibly love STAR any more than I already do… but this just is incredible.
A big thank you to STAR for supporting and promoting breast cancer awareness and for allowing me to help!
Enjoy! And if you give this White Pizza recipe a try, let me know! Snap a photo and tag me on twitter or instagram!
Yield: 6 servings
White Pizza with Bacon, Artichokes and Balsamic Drizzle
I LOVE THIS PIZZA! You've got the creamy, smoky, salty, artichoke-y, fresh herb goodness in every bite.
Ingredients
1 cup balsamic vinegar
1 recipe homemade pizza dough
1 clove garlic, minced (use 2 if small)
1½ tablespoons light olive oil
2 cups freshly grated mozzarella cheese
3/4 cup whole milk ricotta cheese
1 cup artichoke hearts, drained
4 slices applewood bacon, cooked and coarsely chopped
2 tablespoons freshly grated parmesan cheese
1 teaspoon minced fresh parsley
1 teaspoon minced fresh basil
1/2 teaspoon minced fresh oregano
Instructions
Place the vinegar into a saucepan and bring to a simmer over medium heat. Stir often until reduced and thick. Set a side.

Preheat your oven to 400°, lightly oil an inverted rimmed baking sheet and set aside.

Place the garlic and olive oil in a small sauce pan and heat on low until the garlic just starts to turn golden brown. Remove off of the heat to cool for a moment.

On the prepared pan, stretch and press pizza dough to form a rustic long oval. Brush the center of the dough with all of the garlic oil leaving an inch or so border. Then sprinkle all of the mozzarella cheese over top.

Slide the pan onto the middle rack of your preheated oven and bake for 10 minutes.

Meanwhile, mix together the Parmesan cheese and fresh herbs.

Once the 10 minutes are up, remove the pizza and scatter small spoonfuls of the ricotta cheese over top of the mozzarella. Arrange the drained artichokes and sprinkle with the chopped bacon pieces and the Parmesan herb mixture. Slide the pizza back into the oven for an additional 12 to 15 minutes.

Slice and drizzle with the reduced balsamic.
Serving: 2slices, Calories: 478kcal, Carbohydrates: 43g, Protein: 19g, Fat: 24g, Saturated Fat: 10g, Polyunsaturated Fat: 3g, Monounsaturated Fat: 9g, Trans Fat: 1g, Cholesterol: 56mg, Sodium: 919mg, Potassium: 144mg, Fiber: 2g, Sugar: 8g, Vitamin A: 414IU, Vitamin C: 1mg, Calcium: 287mg, Iron: 1mg
This post was sponsored by STAR Fine Foods. All thoughts, opinions and feelings are my own.
This post may contain affiliate links.
Buy the Cookbook: Simply Scratch : 120 Wholesome Homemade Recipes Made Easy Now available on Amazon »
THANK YOU in advance for your support!