These 30 minute chicken sausage and Italian vegetable kebabs are colorful, delicious and easy! Perfect for busy weeknight dinners or a lazy summer weekend.
Kebab threading is therapeutic.
Not only is sticking vegetables and hunks of meat oddly calming but it's has this way of allowing me to take out my aggression on trivial things; like my grocery store being out of stock of my favorite toasted coconut almond milk or dealing with the fact that my cat pawed a nearly full glass of water off my daughters bookshelf and on to her (carpeted) floor. OH and then there was the part when I went to preheat my grill (luckily before finishing skewering) and found that I was out of propane. WHY?? Oh, that's right, because I forgot to shut a burner off the last time I used it. Typical.
But not to worry! My husband told me there was an extra gas tank and guess what? I, Laurie McNamara, changed the propane tank. I'm sure many of you are like "big deal, Laur" but in my 30+ years of life I've never changed a tank before. Pat always has done it because I was afraid and it would be my luck that I'd connect something wrong and blow up our deck. But I neeeeeeeeded to cook these kebabs on our outdoor grill and I did not want to have to resort to my cast iron grill pan because it's small and would take me way longer. So I changed the gas tank. All. By. Myself.
And our back deck is still standing.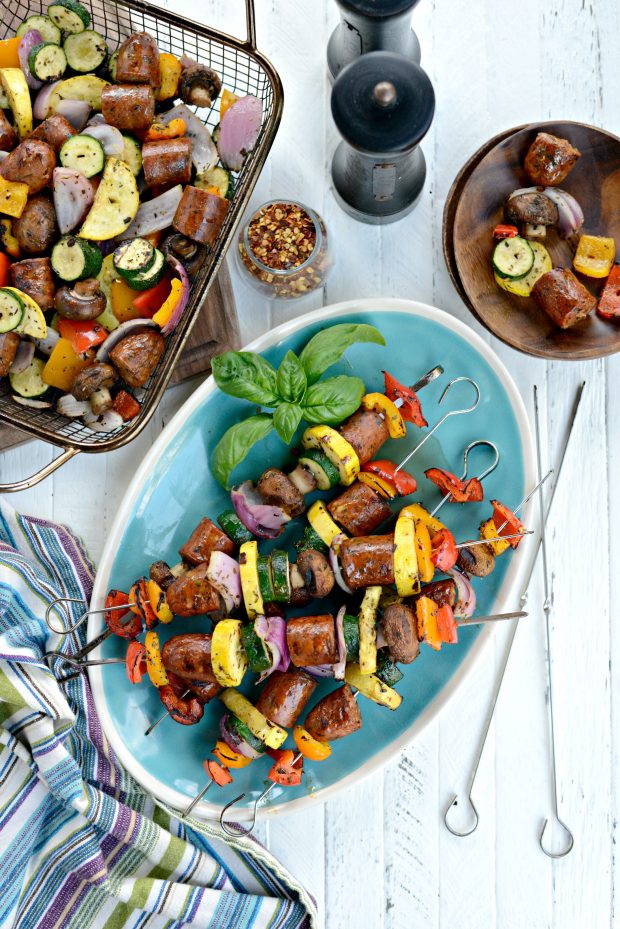 And ps. the kebabs are delicious!
Chop: 1 large red onion and both a large red and orange bell pepper. Slice: 1 medium yellow squash, 2 to 3 zucchinis (depending on size you may have to slice the rounds in half). Clean: 1 entire container of cremini or white button mushrooms.
Then arrange them in OCD rainbow order. Kidding, that's not necessary (unless you are me).
Throw the veggies (in rainbow order- still kidding! sort of…) into a large bowl.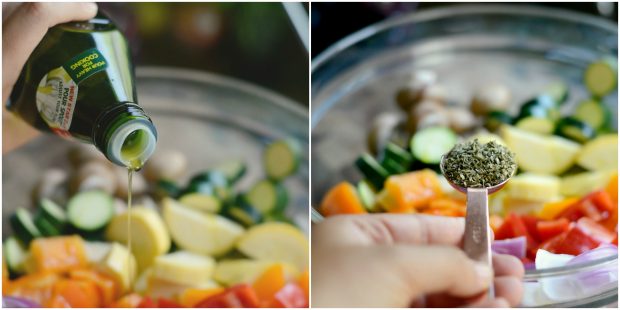 Drizzle the vegetables with 2 to 3 tablespoons of olive oil (eyeball it!) and season with a tablespoon of Italian seasoning. I make my own, if you are one of the bomb-dot-com people who purchased my book then you have the recipe!


Then season with a generous pinch of dried red pepper flakes, kosher salt and coarsely ground black pepper.
Toss to get the seasoning and oil coating the veg,  adding a little more oil if necessary.
Then just cut the chicken sausages into fourths…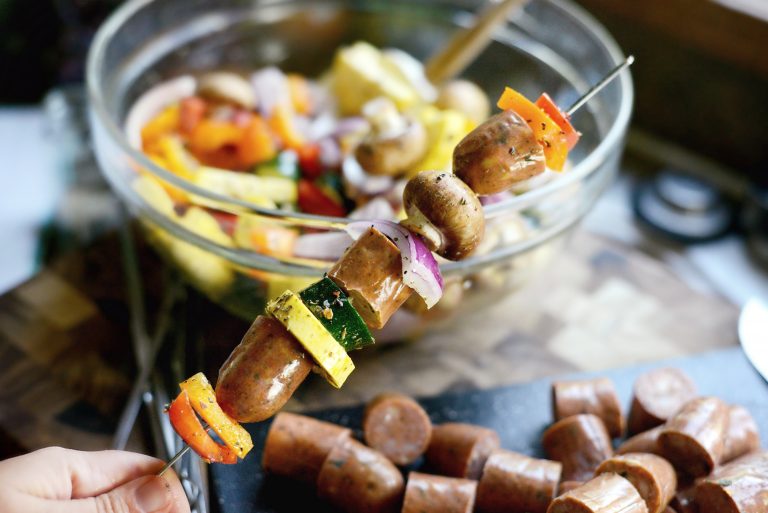 And skewer! There's no rhyme or reason, just a little bit of everything. Feeling the days annoyance leaving your body, one stab of a vegetable at a time.
I always have leftover sausages and vegetables because I only have 10 skewers. I do have a grill basket, so I just add those to that and grill them "loose".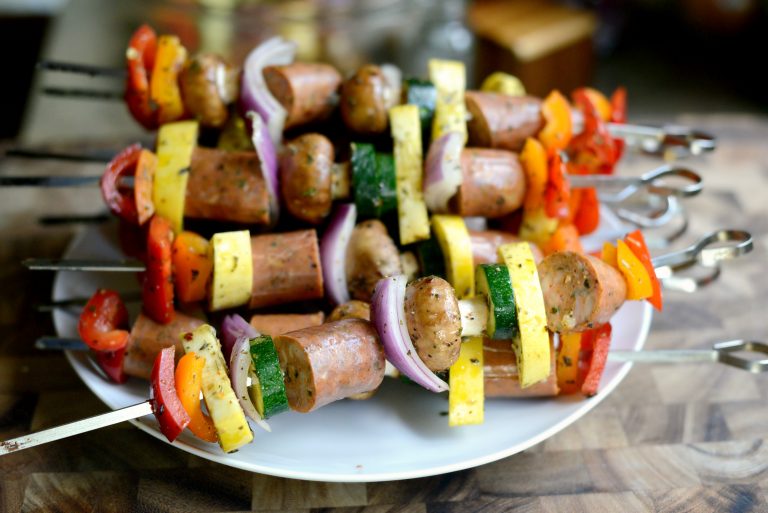 Boom! Kebabs. So pretty. So colorful.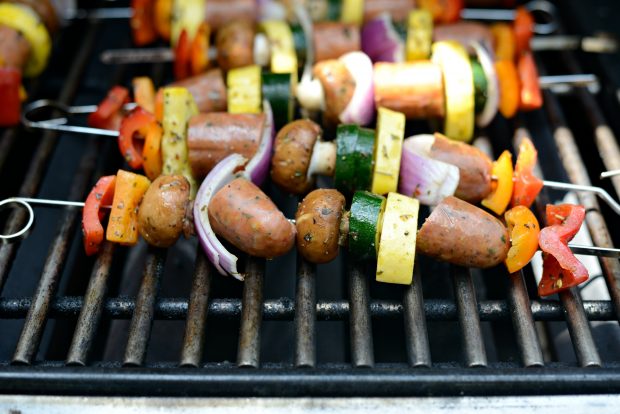 Preheat your grill to medium-ish. Once hot lay the kebabs on the grill…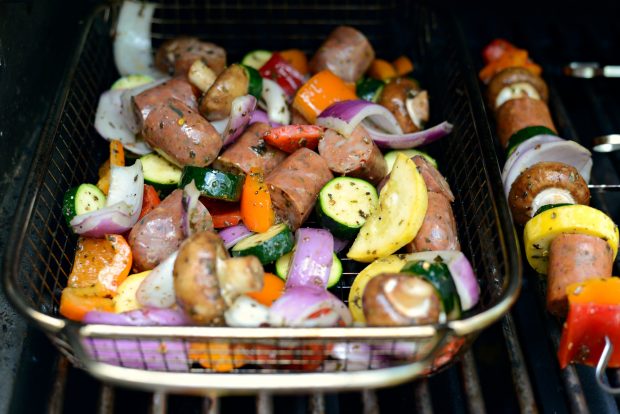 Oh and preheat your grill basket [affiliate] while the grill is heating up. Then dump the "loose" veggies and sausages into it and listen to the sizzle-sizzle.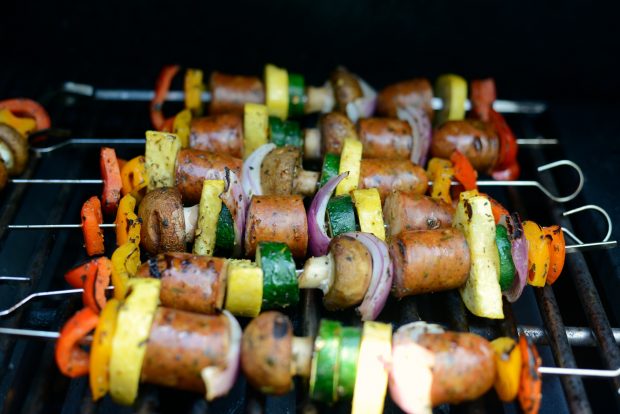 Because the chicken sausages are pre-cooked, you just need to close the lid for a few before turning them to get grill marks and char on all sides of the skewers.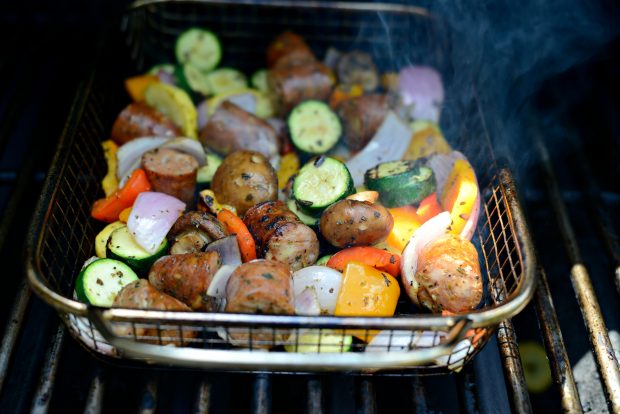 Looooook! Smells freaking fantastic too!
Seriously this is one of my go-to, easy any-night-of-the-week meals. I love the Italian chicken sausages (I use aidells -and no they did not pay me to name-drop) and am honestly quite addicted to them! But the flavor of the grilled vegetables is so so good too! And together they live happily ever after.
I'm the only person in my family that likes mushrooms so I get theirs and I'm so okay with it.
I sometimes serve these with rice or just as is with some grilled naan or sliced Italian bread. There isn't a sauce, but the veggies and sausage are plenty juicy that I don't need one. However, my husband puts hot sauce on his (gag!) but hey to each their own and all that.
Oh but I do chop up fresh basil and sprinkle it over the sausage and veggies once I de-kebab them or I make that grill basket my dinner plate (see very last picture, below the recipe). The fresh burst of basil flavor is the BEST!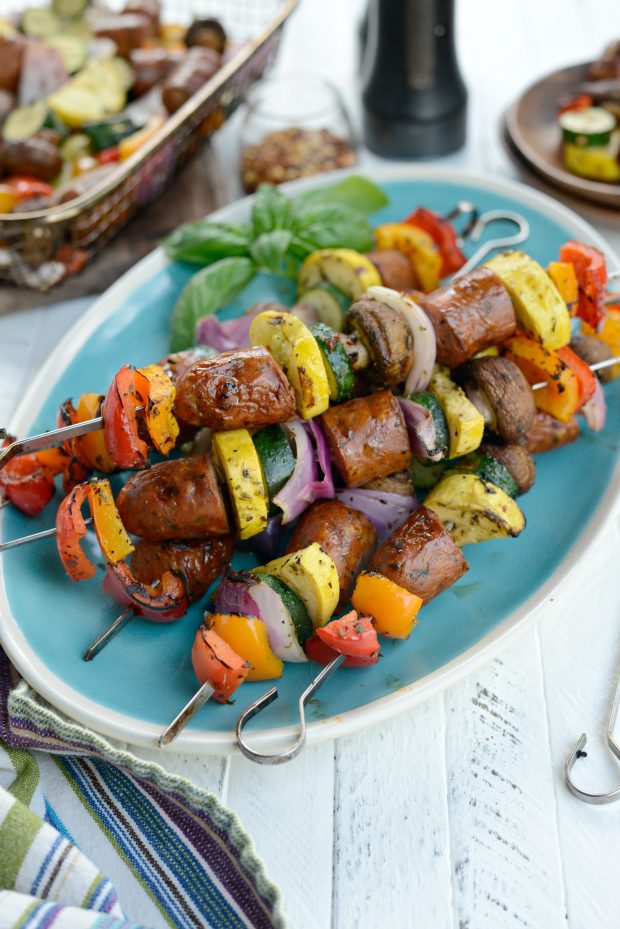 Enjoy!
My cookbook Simply Scratch : 120 Wholesome Homemade Recipes Made Easy is now available! CLICK HERE for details and THANK YOU in advance!
[this post contains affiliate links.]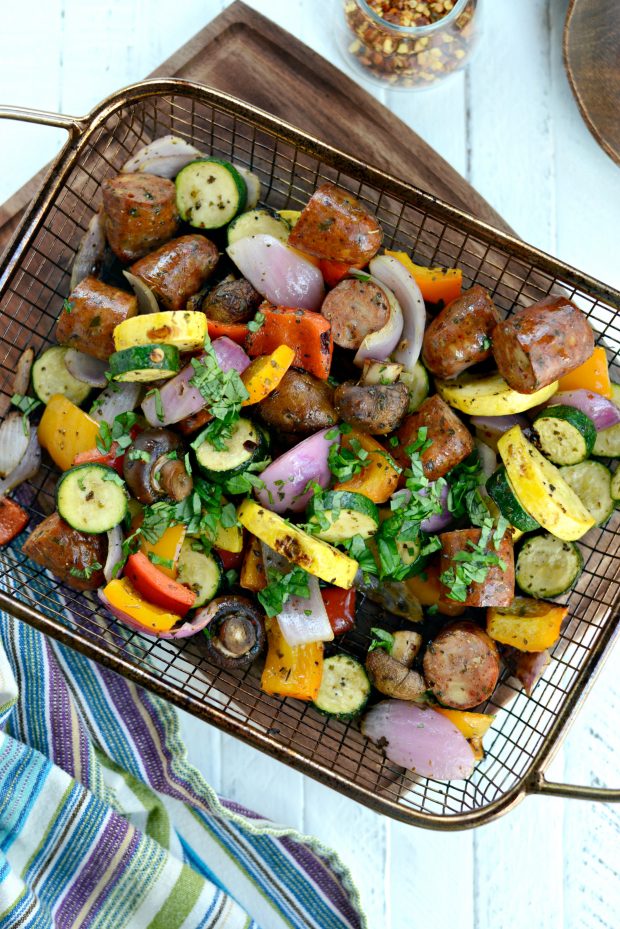 This post may contain affiliate links.
Buy the Cookbook: Simply Scratch : 120 Wholesome Homemade Recipes Made Easy Now available on Amazon »
THANK YOU in advance for your support!