Irish bangers and mash with caramelized onion gravy is soul warming comfort food at it's best. Serve with crusty bread and peas.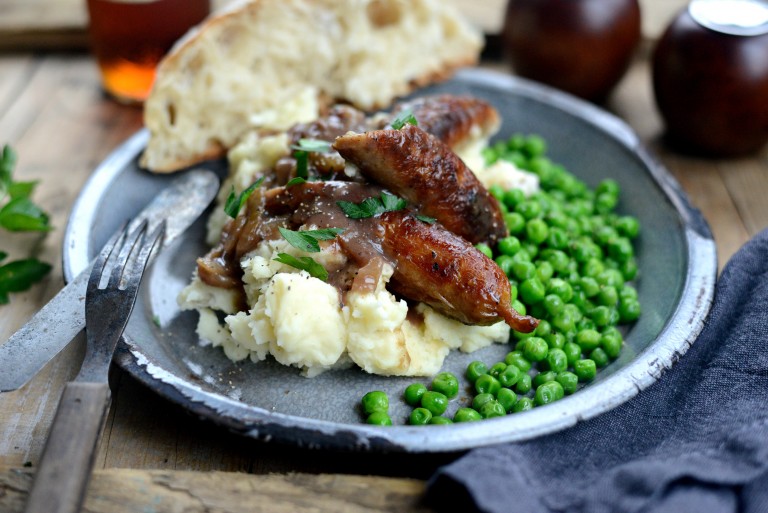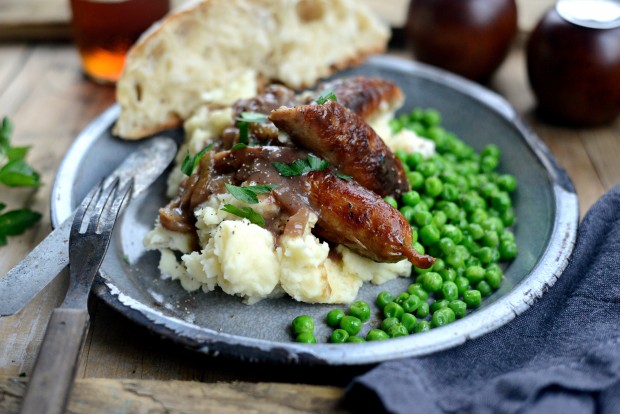 I've waited a long time to make this.
After several years of corned beef and cabbage, these last few years I've been broadening my horizons on St. Patrick's Day dinner. One year I made my favorite Irish Stout Stew, then last year I made the Dublin Coddle and this year I was lucky enough to land some Irish sausages- so in 2016, I'm bringing you bangers and mash and gravy (and peas!).
Time and time again, I've expressed my love for the butcher that's in my favorite market that I go to. In fact it's probably getting old to hear but they literally have everything (including the best bacon ever) and I'm there quite a bit because it's a food lovers dream.
A few weeks ago, Pat and I stopped in to grab some bacon and things for breakfast. I always peek my head into the meet freezer section by the butcher, to scope out what they have going on there. This is where they keep house made meatballs, sausages and ground bison etc. Low and behold I found Irish Banger sausages. I have neverrrrr seen those in there before! So I threw a couple packages, potatoes and threw an huge onion into my cart and bee-lined to the check out girl.
Bangers and mash was so happening.
There's only a few days left until St. Patrick's Day, what's on your menu? Nosy minds want to know (that's me 😉 )!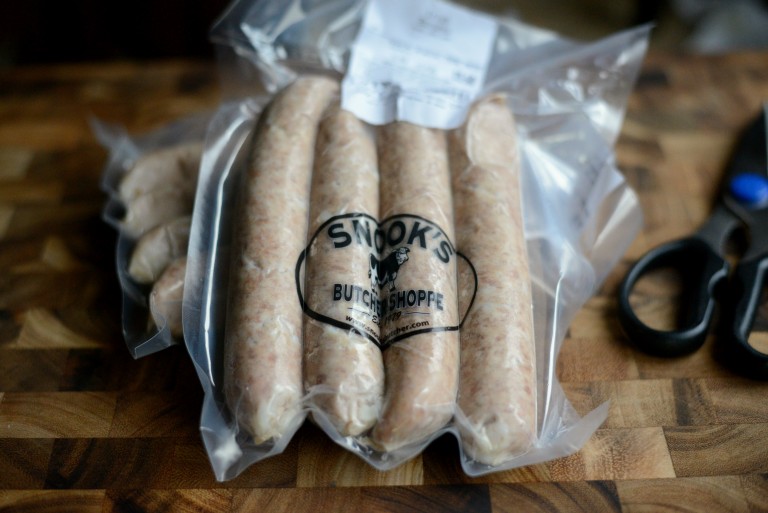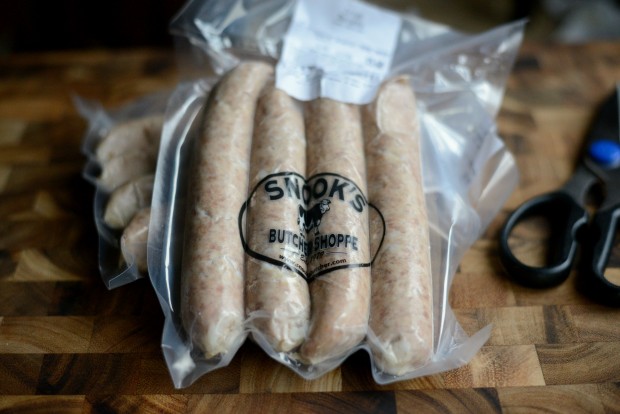 You'll need 2 pounds or 8 links of Irish Banger sausages. (This is where I have uncertainty about what needs to be capitals.)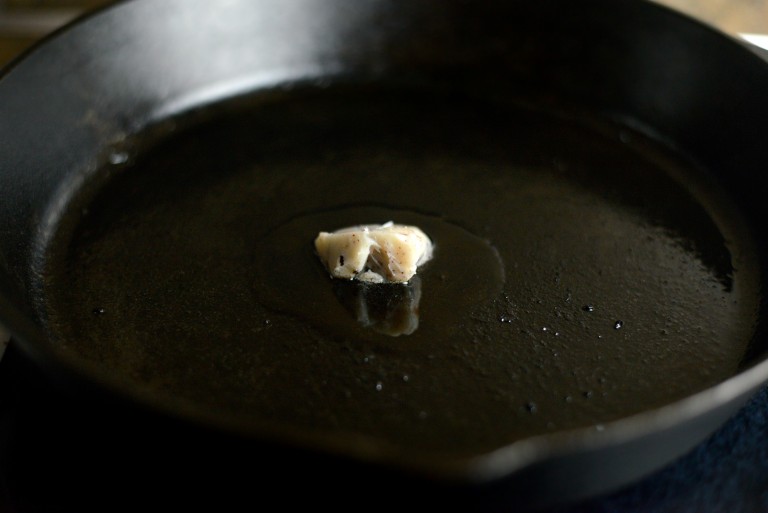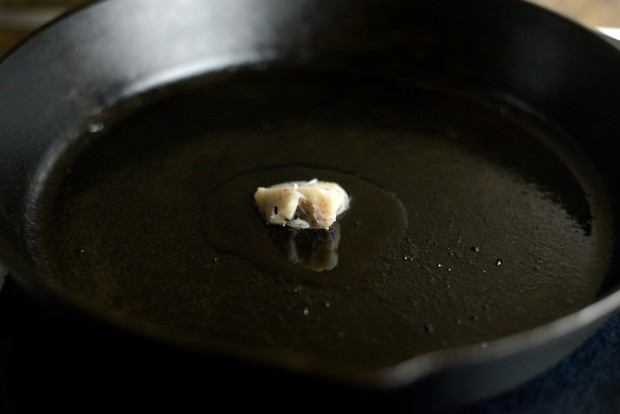 Heat a large, 12-inch cast iron (or oven safe skillet) with a teaspoon of bacon fat on medium to medium-high heat.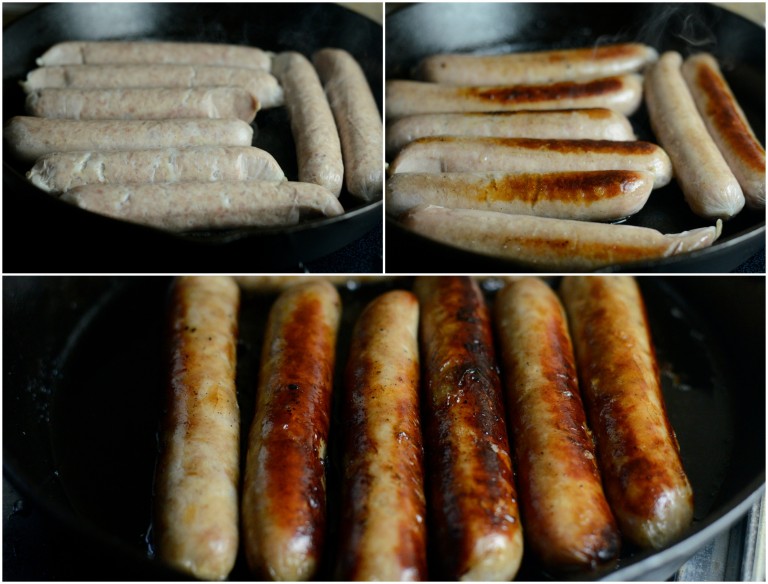 Add in the sausages, turning every so often until browned on all sides. Transfer the pan to your preheated 350 degree oven and continue to cook for 15 minutes.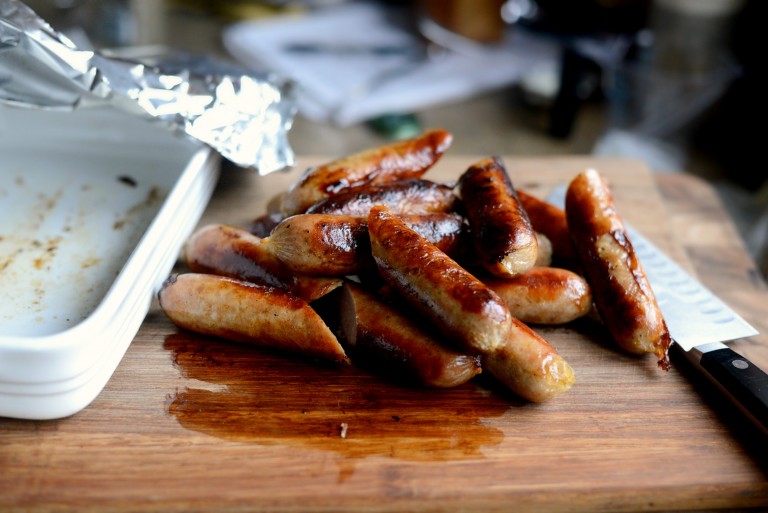 Allow the sausages to cool for a smidgen before slicing in half. Keep the sausage halves in a dish covered tightly with foil.
Now let's move on to the potatoes and onion caramelizing.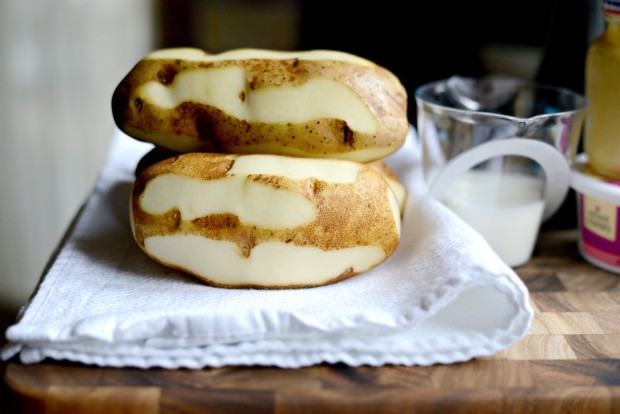 Peel the potatoes. I haphazardly get the job done because 1) I don't like peeling… anything. And 2) because I like the rustic look that leaving a little skin on gives the mash.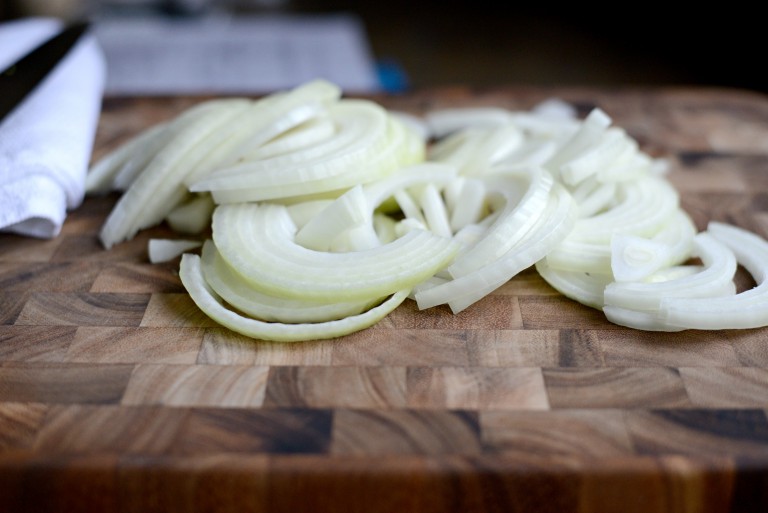 And also slice up a large yellow onion.
Place the potatoes in a large pot and fill with water to cover the potatoes by 2 inches. Cover, bring to a boil. Once at a boil, reduce the heat to medium-high, crack the lid and cook for 20-30 minutes or until the potatoes pierce easily with a fork.
Reduce the heat to low, drain the potatoes and pour in a 1/2 cup of milk and 4 tablespoons of butter. Cover and let the potatoes steep in the milk and butter for 5 minutes.
Bust out the potato masher and get to work. Feel the burn.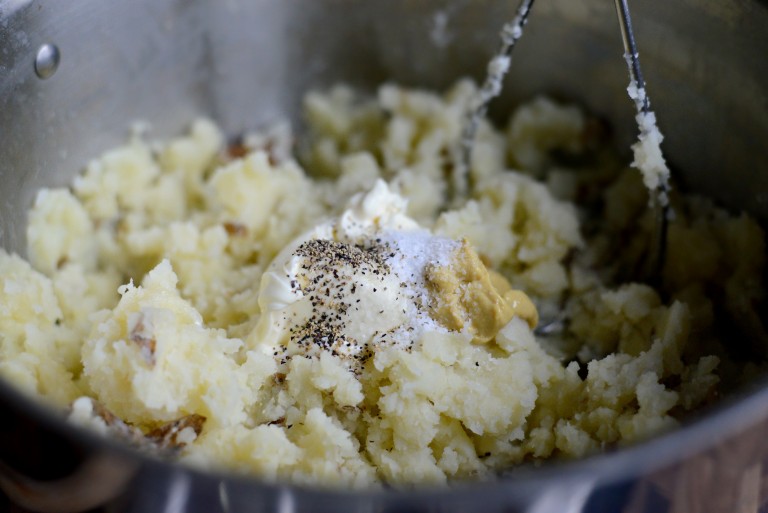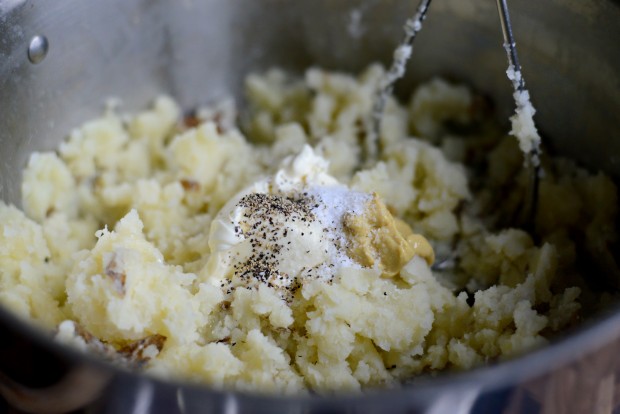 Next add in 1/4 cup of creme fraiche, 2 tablespoons Dijon mustard (sound crazy- but it's super good), 1 teaspoon kosher salt, 1/4 teaspoon black pepper, the remaining 2 tablespoons of butter and 1/4 to 1/2 cup of milk- depending on how thick or think you like your spuds.
Fold those in and continue to mash or don't. It's really up to you!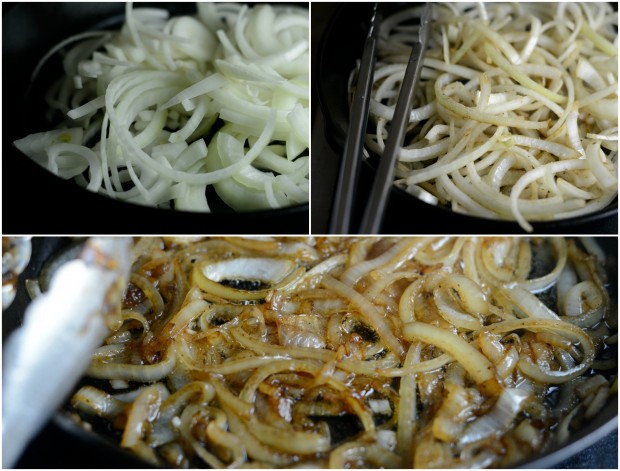 Add it to the pan with the sausage drippings. Turn to coat in the fat (yum!) and cook on medium-low heat for about 30 minutes, stirring often until tender and caramelized.
Scoot the caramelized onions off to the side and add in the minced garlic… about a clove or two.
Sprinkle with 2-1/2 tablespoons of flour…
Stir and let the flour cook for 2 to 3 minutes…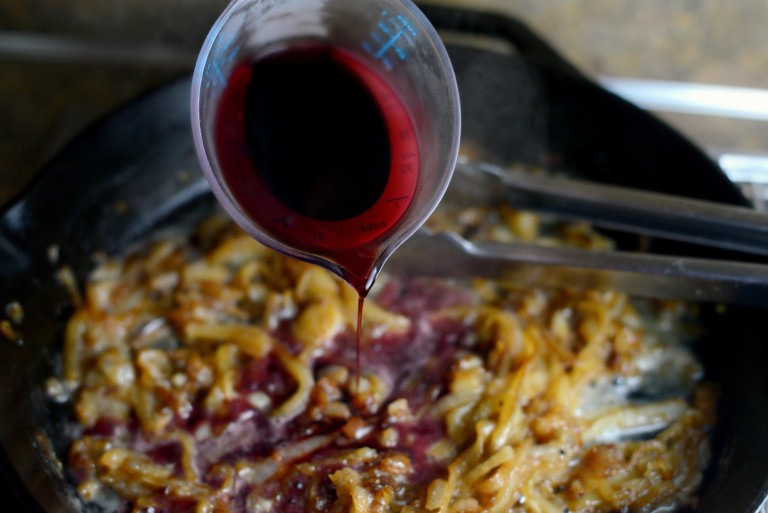 …before add in the red wine.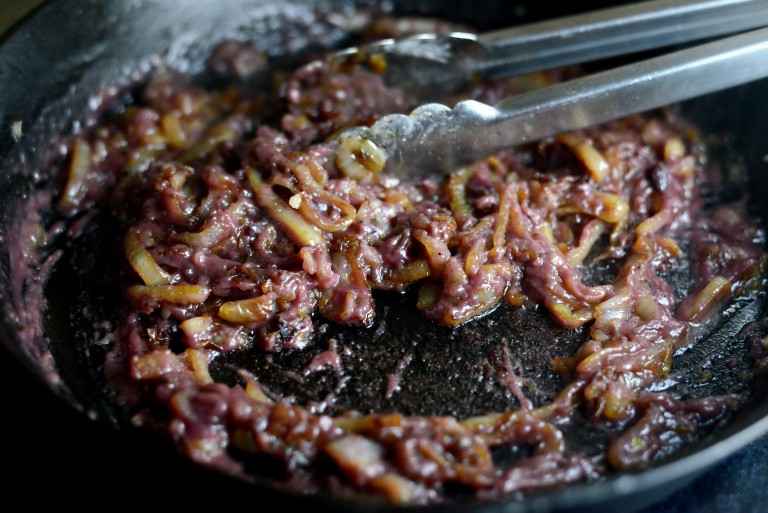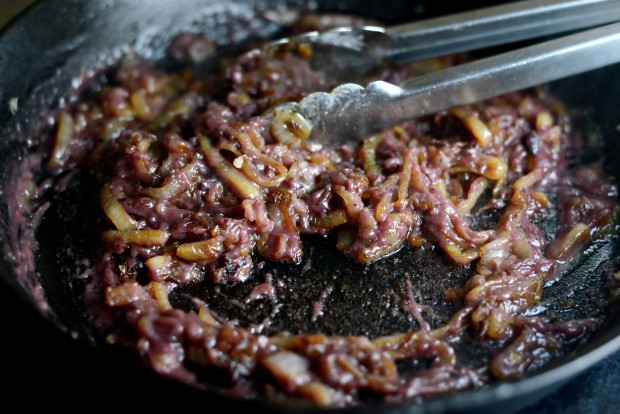 Stir until reduced and absorbed by the flour mixture…
Continue to stir while slowly pouring in the beef broth/stock.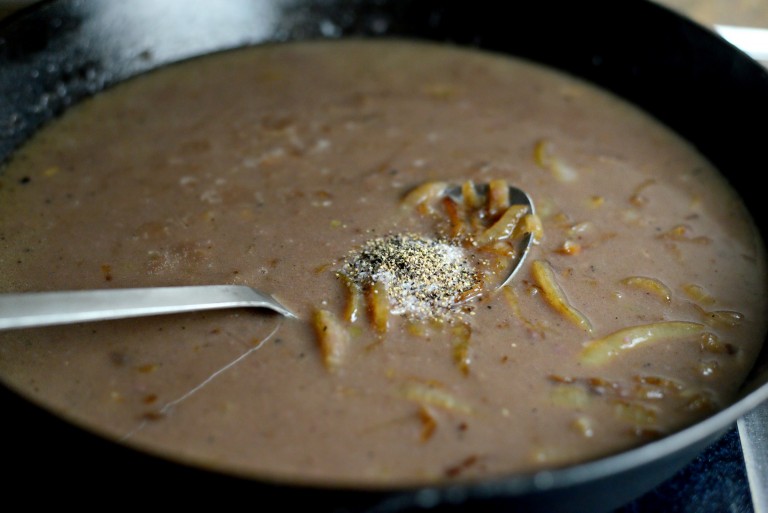 Season with salt and pepper.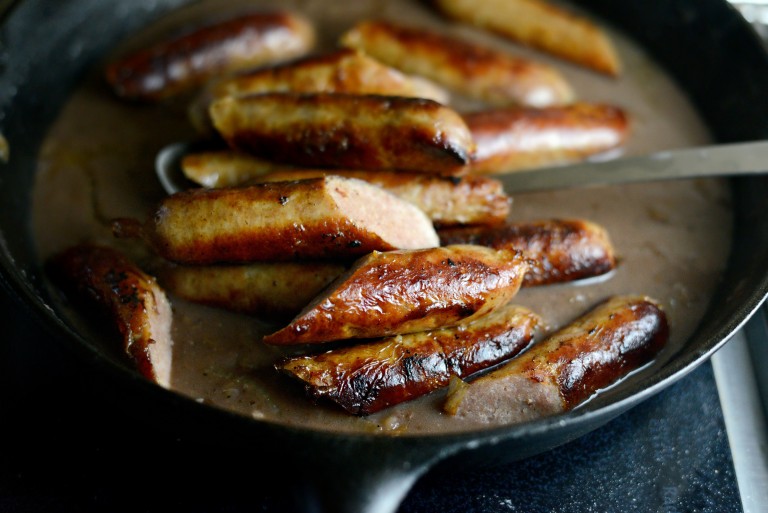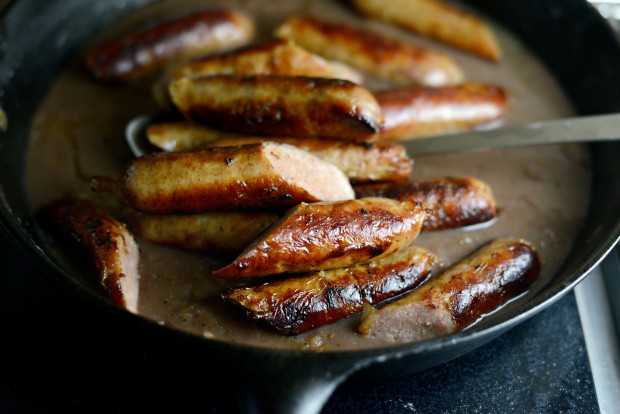 Add the sausages back in to the gravy…
Add smother them with it.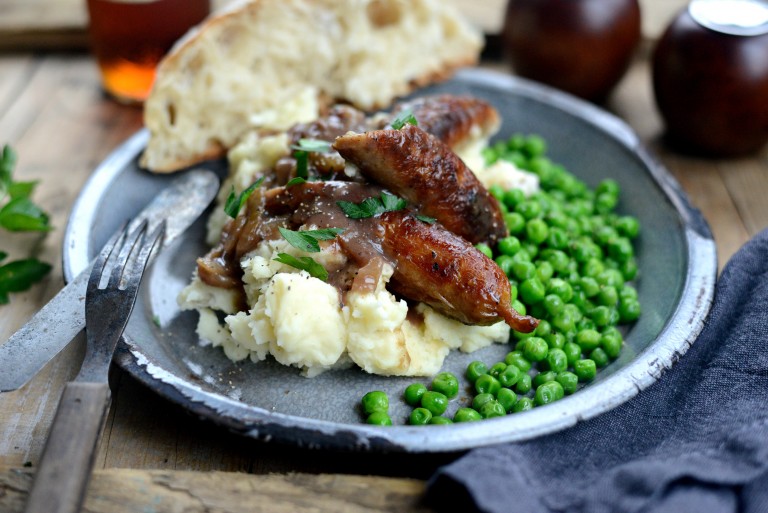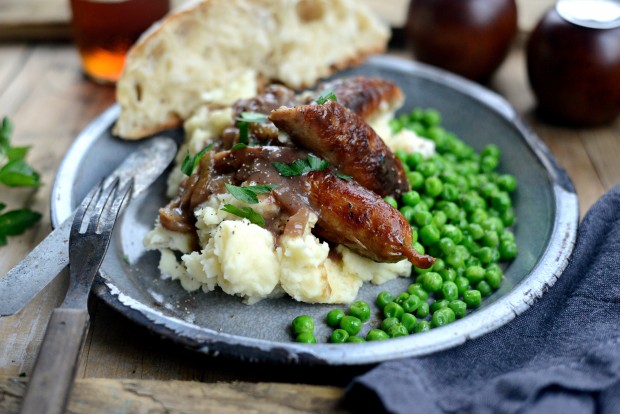 Finally, serve the bangers on top of the creme fraiche mashed potatoes and next to cutie-pie peas. I swear, every time I make peas (which is basically never or with beef stroganoff) I tell myself I should make them more often, and then 3 more years goes by.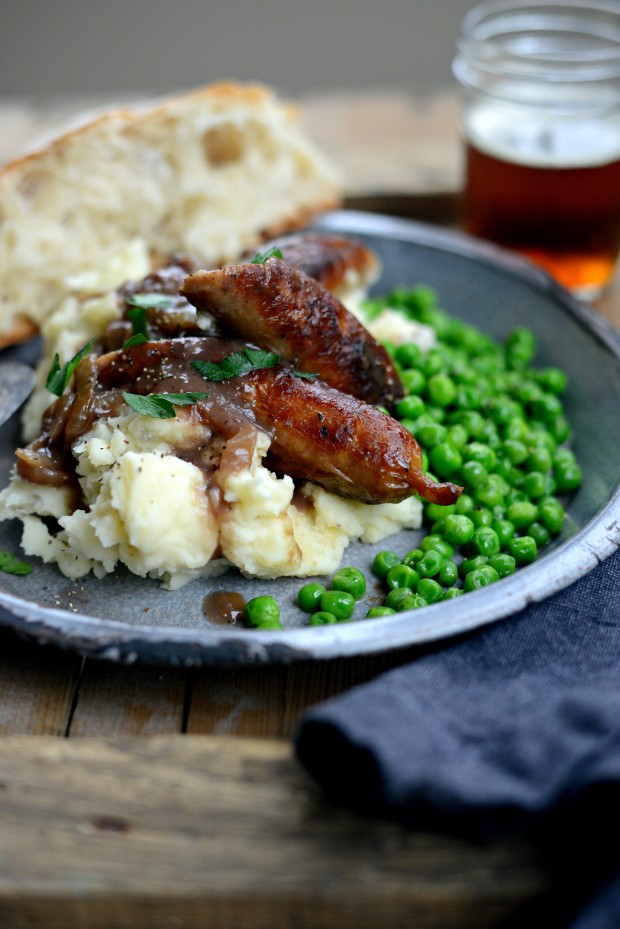 This is cozy comfort piled high on luxurious, pillowy mounds of potatoes and smothered in a blanket of caramelized onion gravy. It's heaven.
All that's needed is crusty bread to mop up everything and an ice-cold Killians to wash it down.
Enjoy! And if you give this Irish Bangers and Mash recipe a try, let me know! Snap a photo and tag me on twitter or instagram!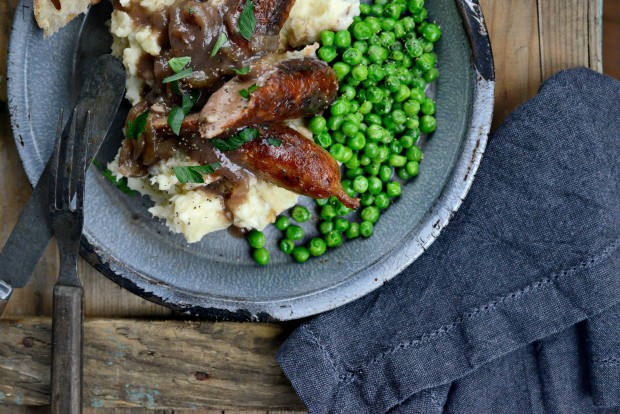 This post may contain affiliate links.
Buy the Cookbook: Simply Scratch : 120 Wholesome Homemade Recipes Made Easy Now available on Amazon »
THANK YOU in advance for your support!