Thai Coconut Curry Poached Barramundi is simple and elegant. Spinach is sautéed before barramundi simmers in a Thai coconut curry broth. A simple dish that's both quick and easy with delicious flavor.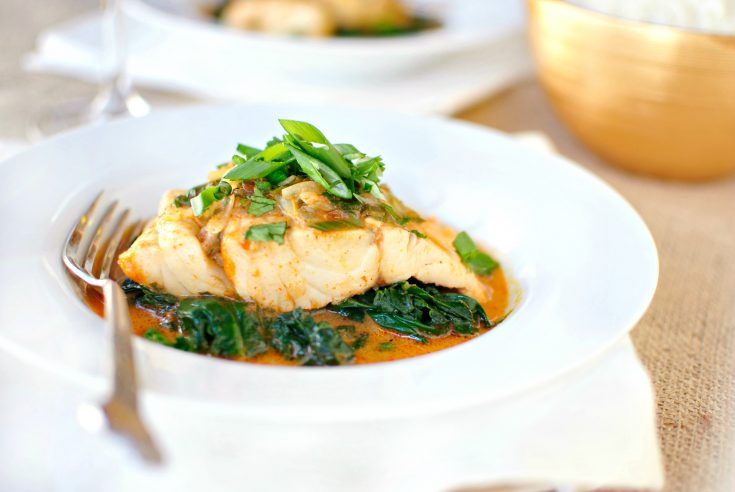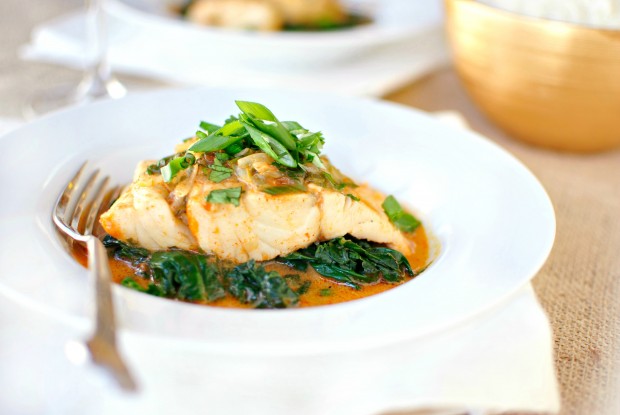 I'm always on the lookout for healthy ways to incorporate fish into my family's diet.
I have to be selective because while my kids and I love all fish. However my husband is not so much a fan of the salmon variety or any strong flavored fish for that matter.
Recently I was introduced to relatively new and extremely healthy fish, Barramundi. I was happy to discover that it's a firm-fleshed white fish, mild in taste and has a buttery texture. I also love that it is a healthy, sustainable farm-raised fish using a Smart Aquaculture approach which results in it being a low fat fish with high omega 3's and I can find it at Trader Joe's, Whole Foods and other retailers.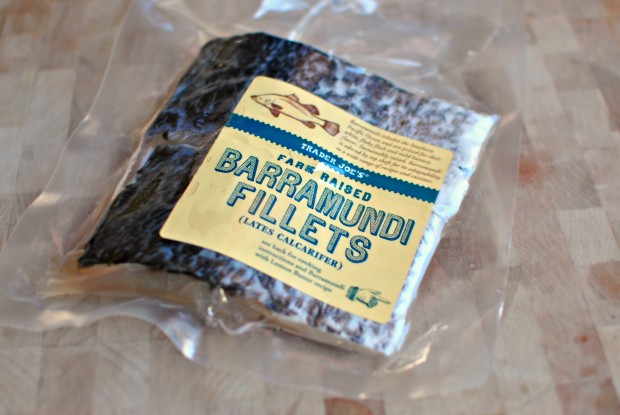 Barramundi is pretty popular in New Zealand and Australia already and since becoming available in the US it's starting to gain popularity by being known as "The Sustainable Sea Bass". So why not give it a go in your next recipe calling for a white fish? Besides being delicious, its mild flavor works with several ethnic cuisines and the texture of the fish makes it super versatile for a plethora of different cooking techniques.
To Make This Thai Coconut Curry Poached Barramundi you Will Need:
barramundi fillets
olive oil
fresh spinach (not baby spinach)
shallots
Thai red curry paste
low-sodium chicken broth
lite coconut milk
kosher salt
cilantro
parsley
green onions, sliced thin on the bias
juice of 1 lime, juiced
Start by removing the skin to the fillets. Barramundi skin crisps up nicely, but for this dish it just won't happen. Once the skin is removed, season the fillets with a quarter teaspoon of kosher salt and set them off to the side for a moment.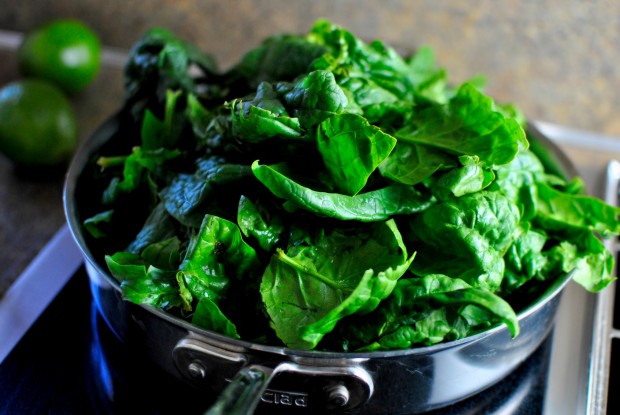 In a deep 10-inch skillet, measure in 1 tablespoon of olive oil. Heat to medium-high and once hot, pile in the spinach. Baby spinach is far too delicate to handle the heat, so use the big leafy, mature spinach if at all possible.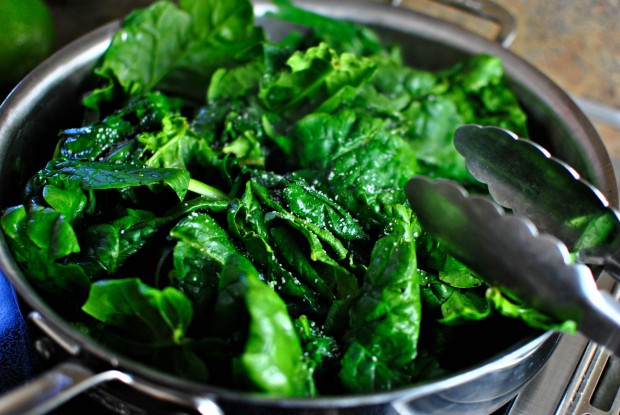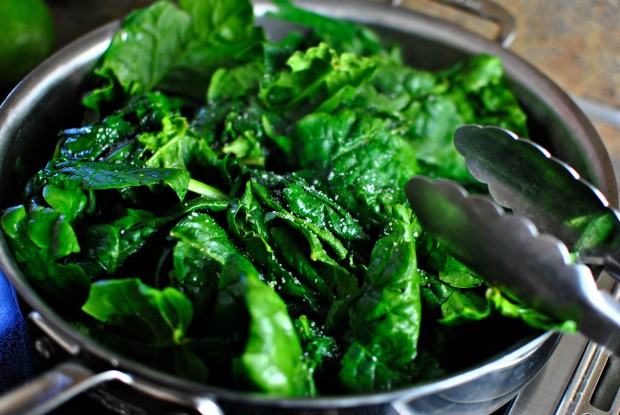 Toss, toss, toss… and once it becomes manageable, season with a couple pinches of kosher salt.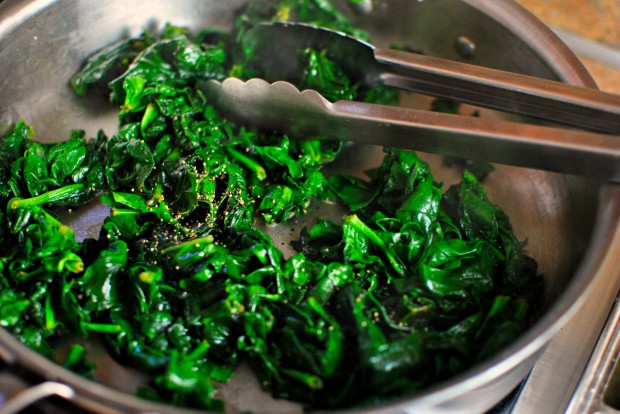 And a pinch of coarse black pepper.
Once the spinach is wilted down, but still has some texture (meaning it's not a pile of mush) transfer it to a bowl for just a moment.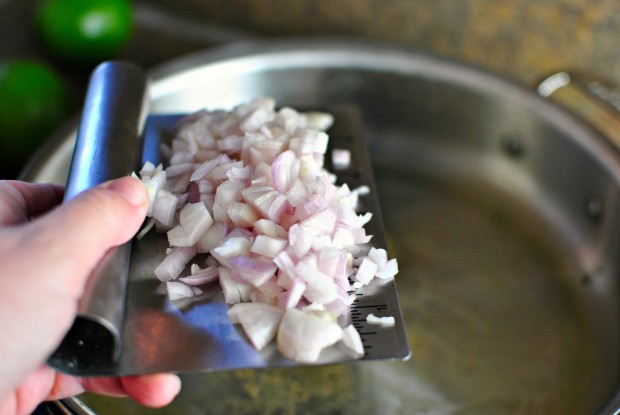 Reduce the heat to medium and wipe out the remaining moisture in the pan with some paper towel, add in the remaining tablespoon of olive oil and toss in 1/2 cup diced shallots.
Cook the shallots, stirring occasionally, until the edges start turning a golden brown.
Measure in 2 heaping teaspoons of Thai red curry paste and stir.
Pour in 1-1/2 cups of chicken broth.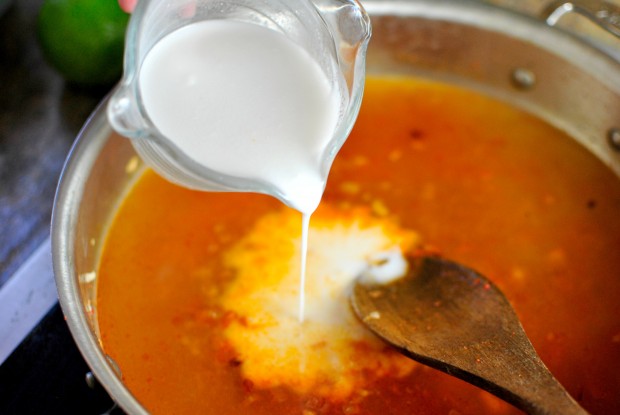 And 1 cup of lite coconut milk.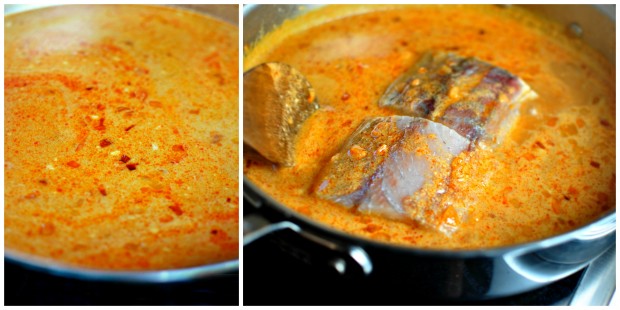 Bring the coconut curry broth to a simmer. Continue to let the sauce simmer, uncovered, until it has reduced down by half. Add in the Barramundi fillets, spoon the broth over the fish, cover it with a lid and let it poach for 7-8 minutes, or until the fish is opaque and flakes easily.
Meanwhile; you will need 1/4 cup of both chopped fresh parsley and cilantro. Slice up 2 green onions. Combine the three together and reserve a 1/4 cup for garnishing.
With a seconds remaining on the clock, dived the spinach among 4 shallow bowls.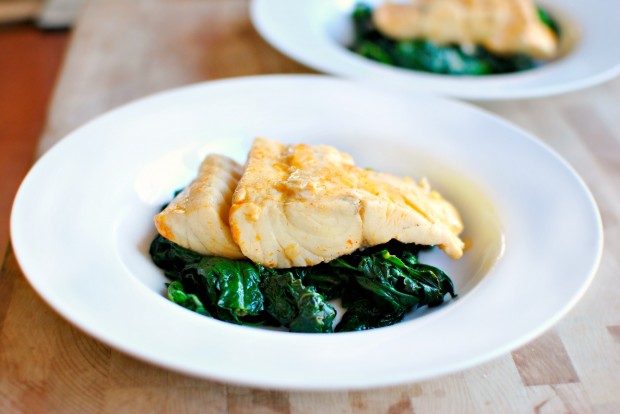 Place the Barramundi fillets on top of the spinach…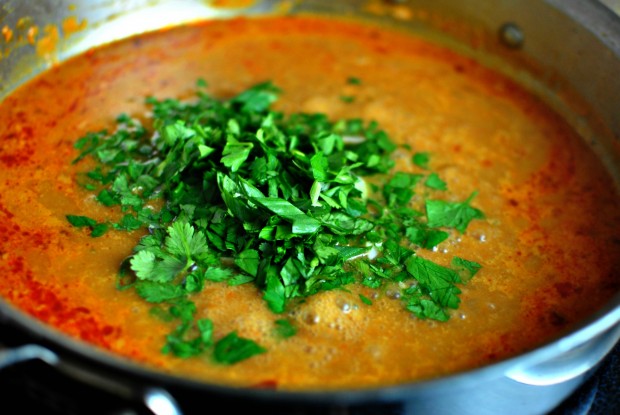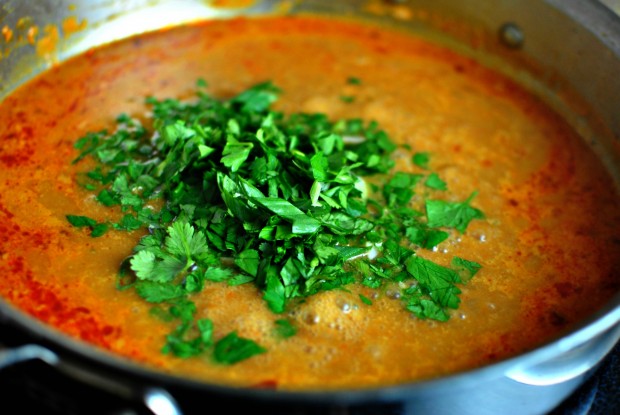 Add in the chopped herbs and green onions to the coconut curry broth…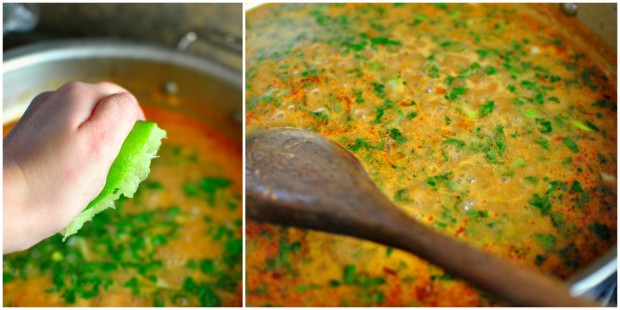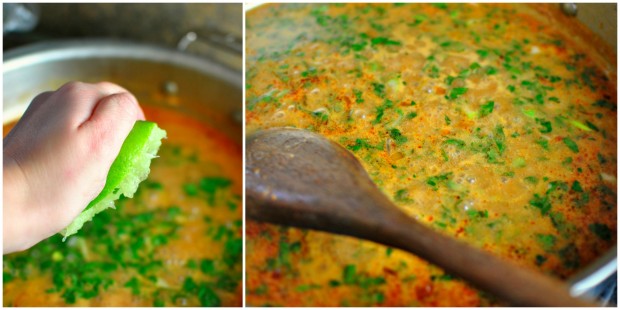 Squeeze in the juice of 1 lime, stir and spoon over top of the Barramundi.
Garnish with the reserved herbs and voila! Thai Coconut Curry Poached Barramundi.
Well, it was love at first bite. I absolutely love this fish! It literally is melt-in-your-mouth delicious, yet it was meaty and filling, buttery and perfect. Then put it in a broth so flavorful and light… and you'll want thirds, as in skip over seconds and go straight for the thirds. SO good.
And the bonus?! Slurping up the broth. #sonotfancy.
Enjoy! And if you give this Thai Coconut Curry Poached Barramundi recipe a try, let me know! Snap a photo and tag me on twitter or instagram!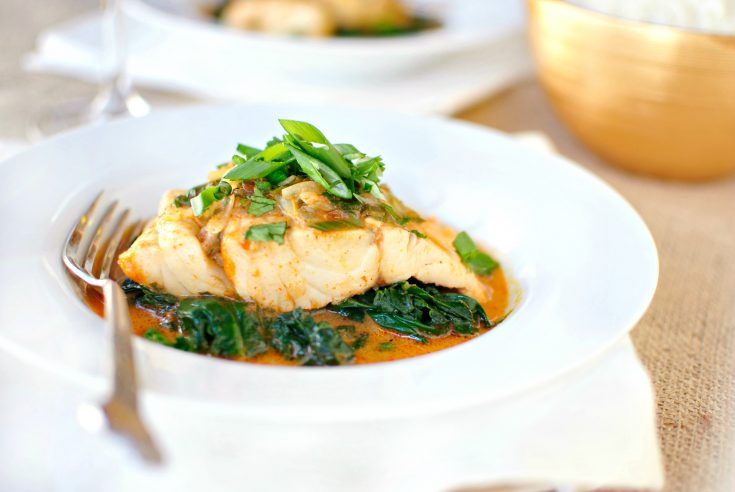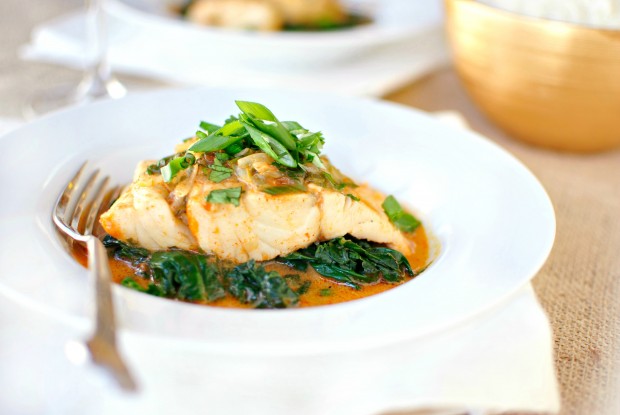 This post may contain affiliate links.
Buy the Cookbook: Simply Scratch : 120 Wholesome Homemade Recipes Made Easy Now available on Amazon »
THANK YOU in advance for your support!