This Blueberry and Pistachio Spring Salad is a fun and fresh salad with blueberries, pistachios and feta with a bright pomegranate honey salad dressing!
Sooo I made you a salad! Which actually sounded way cooler in my head.
A I also made a pretty pink salad dressing too. Would you just look at that color? It's my favorite shade of pink and I'll take nail polish, blush and ballet flats in this color please and thank you.
I first had this salad over the past weekend when visiting our good friends, Mike and Heidi. They just welcomed a beautiful baby boy into the world a couple of weeks ago and we were stopping by to see him, hold him and feel those teeny-tiny baby toes through his pj's. Okay so that last part is strictly all me, but I can't help myself when it comes to baby toes. We were also asked to be his godparents! I'm a GODMOTHER! GAH! We couldn't be more honored and/or excited.
While we were there we scarfed down a delicious lasagna, garlic bread and this ahhhmazing salad. It was my first go with blueberries and feta in the same salad, but I was intrigued and super duper hungry. And after the first bite I was anxious to share this flavor combo with you.
However I was determined to make the dressing from scratch, because that's how I do. And I could literally drink this dressing, oh and I plan on doing it too because see that big bottle of POM? IT WAS 10$! I'm no cheapskate but I only needed a quarter cup and wouldn't you know my grocery store was out of the little bottles which then forced me to buy the ginormous Costco-sized-bottle. It totally figures because that's what I get for shopping on a Monday. So expect to see a few pom-posts on this here blog in near future.
On another note: when did Costco become a verb… errr adjective… whatever?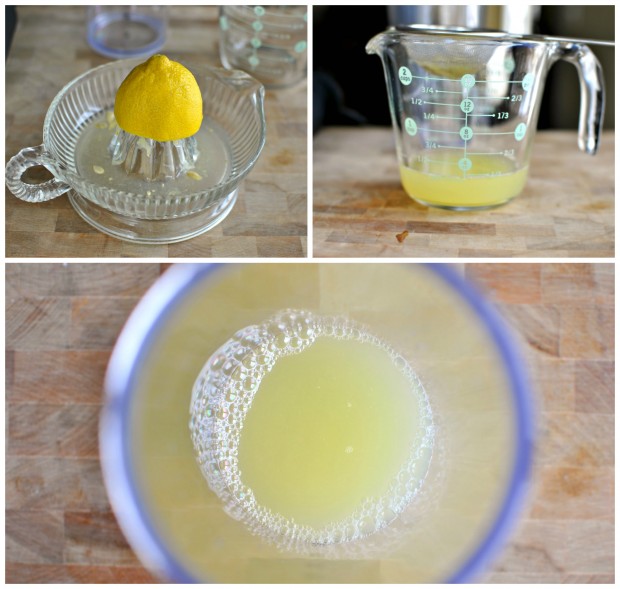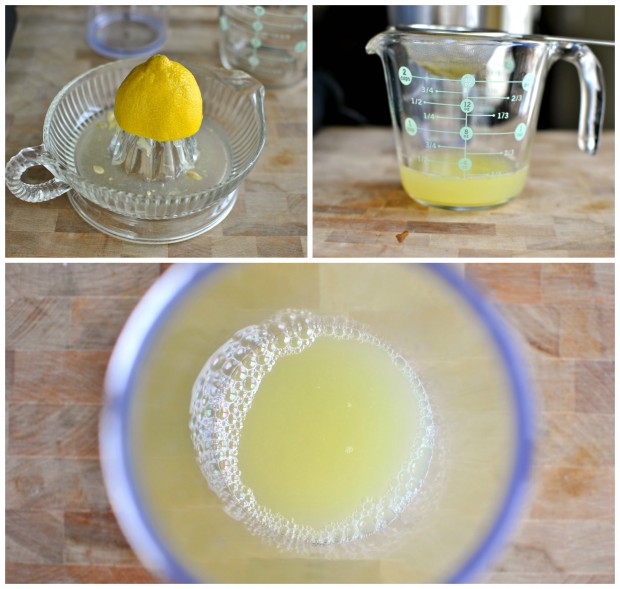 Start by squeezing and straining enough lemons to make a quarter cup of juice. For me it was about one and a half lemons, but I always buy extra lemons in case they aren't very juicy.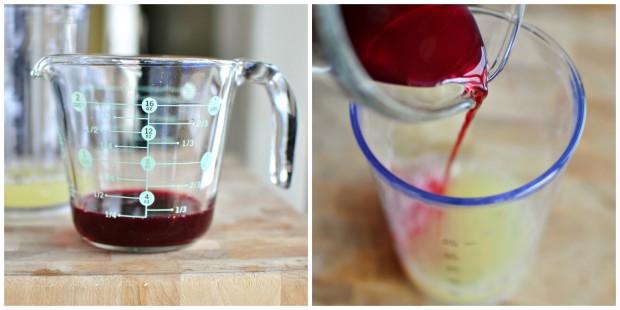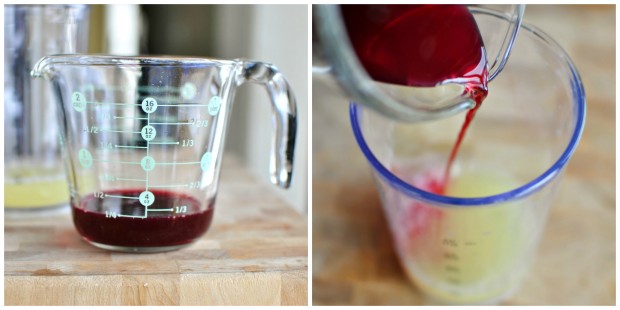 Measure out a quarter cup of pomegranate juice and pour that into the container with the lemon juice.
Drizzle in a quarter cup of honey. This will add a little sweetness to the tartness.
Season with a teaspoon and a quarter of kosher salt.
Then I threw some peppercorns into a small baggie and beat the tar out of it, so I could have pretty large pieces of pepper.
Because the pepper is in large pieces I use a half teaspoon. If you're using the regular ground stuff, use a quarter teaspoon.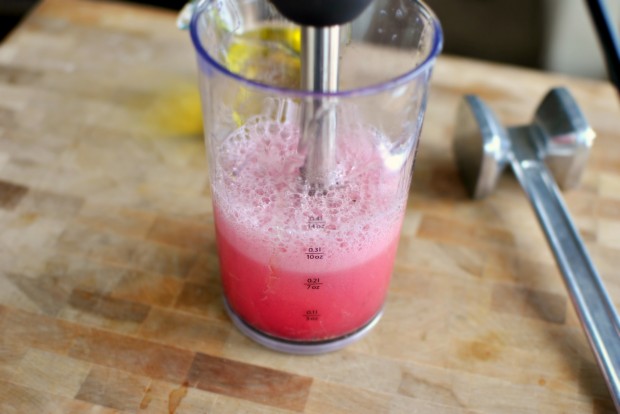 I'm using my immersion blender for this dressing, but you could most certainly make this in a blender or mini food processor.
With the blender on, I slowly drizzled in a half cup of extra virgin olive oil.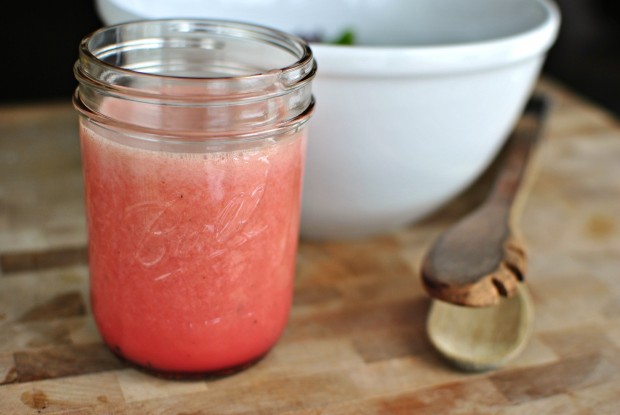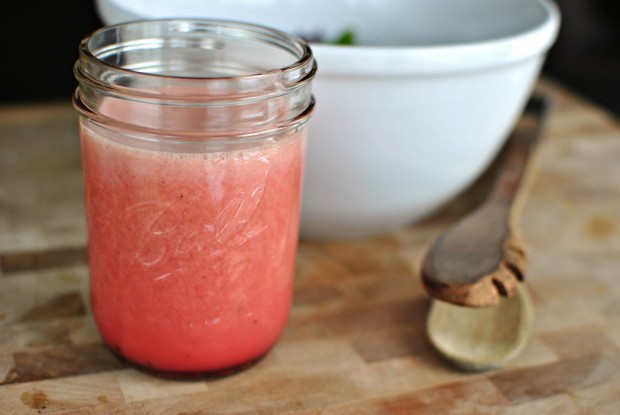 It will blend nicely and be slightly creamy. Eventually and very slowly it will separate… but it's nothing a spoon can't fix.
Now all that's left to do is whip up the salad.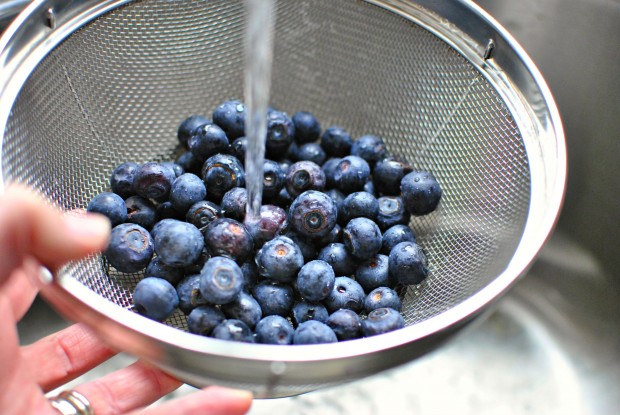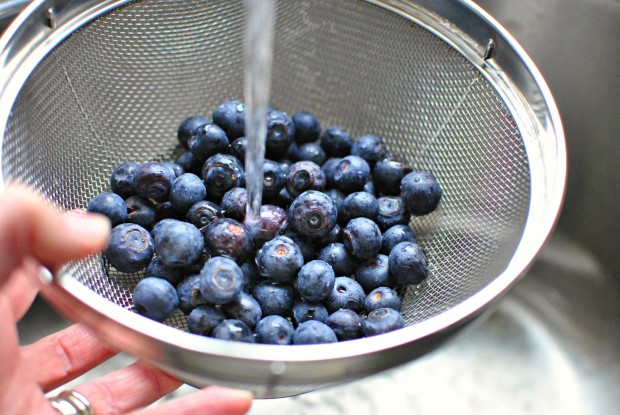 Rinse about a cup of fresh blueberries.
Thinly slice up a red onion.
Bust up some feta cheese. I just like the finer pieces in my salad.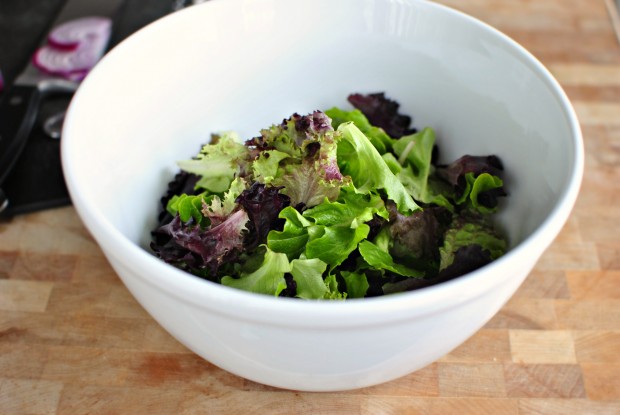 Throw some spring greens into a large bowl.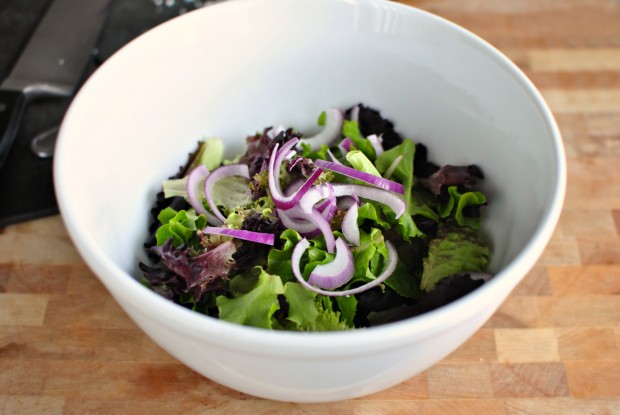 Toss in the red onion.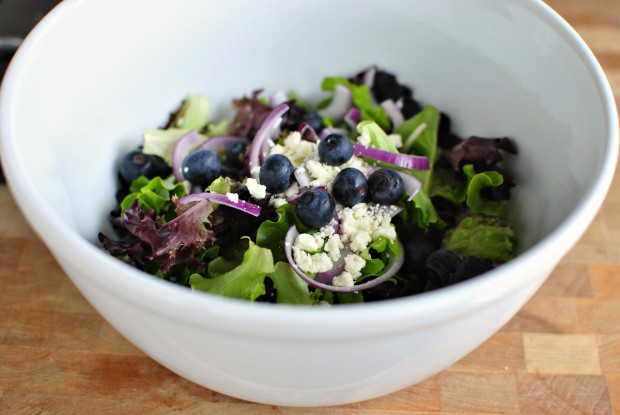 Feta and blueberries… now that's a combination I'd never put together. But it so works.
Pistachios.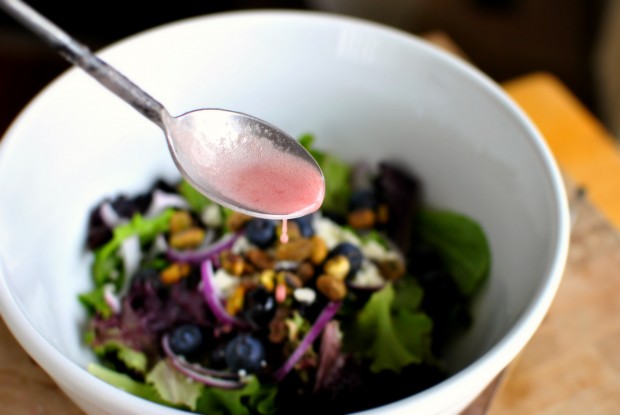 And right before serving, drizzle with a few spoonfuls of the pomegranate honey dressing.
Give it a good toss.
I like to sprinkle my salad with a little more of that cracked black pepper before I start inhaling it. But that's just me.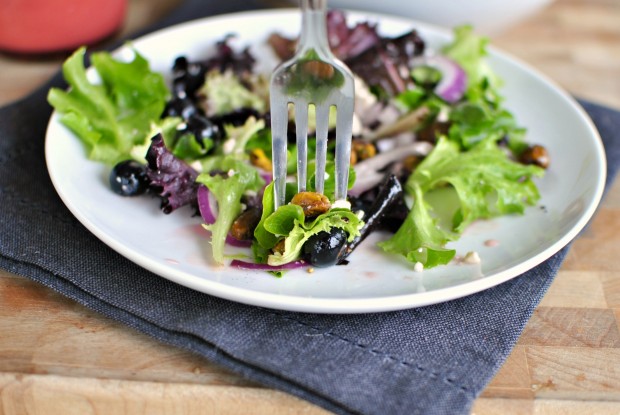 This blueberry and pistachio spring salad was such a surprise. I guess I expected the blueberries to be super sweet and then thinking of that mixed with the feta and pomegranate honey dressing… but it was quite the opposite.
This salad works great as a side dish, but for a more complete meal try it with sliced grilled chicken or even salmon would be amazing! And that dressing… is pretty darn awesome, sweet and tangy all wrapped up into one pretty pink color. You guys are going to love this salad I just know it!
Enjoy! And if you give this Blueberry and Pistachio Spring Salad recipe a try, let me know! Snap a photo and tag me on twitter or instagram!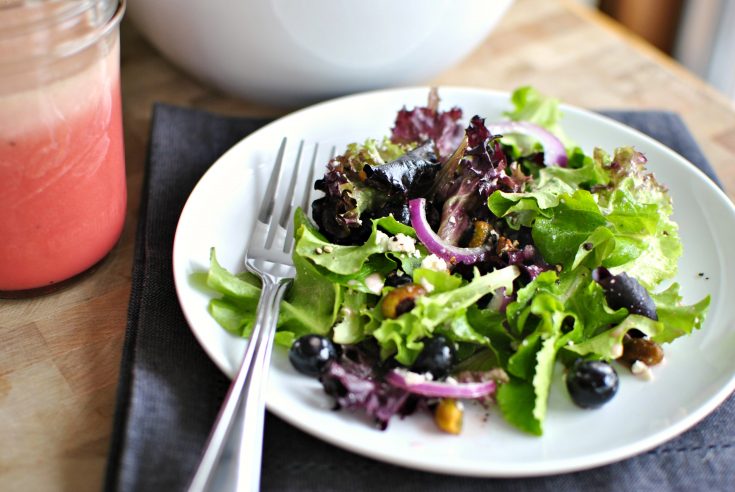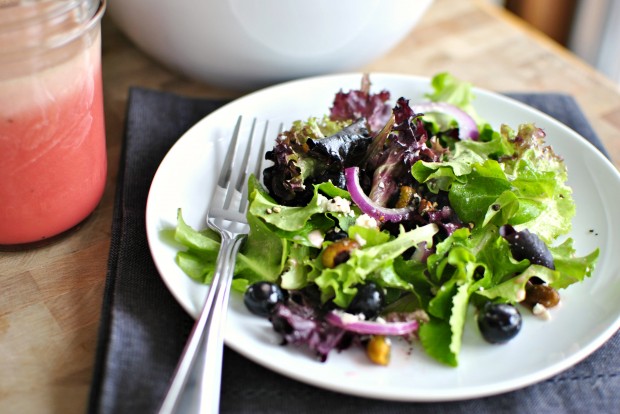 My cookbook Simply Scratch : 120 Wholesome Homemade Recipes Made Easy is now available! CLICK HERE for details and THANK YOU in advance!
[this post contains affiliate links.]
This post may contain affiliate links.
Buy the Cookbook: Simply Scratch : 120 Wholesome Homemade Recipes Made Easy Now available on Amazon »
THANK YOU in advance for your support!