Garden Vegetable Ragu is a meatless gem of a recipe! Zucchini, yellow squash and carrots simmer in a robust red sauce! Serve on top of pasta with lots of grated parmesan cheese.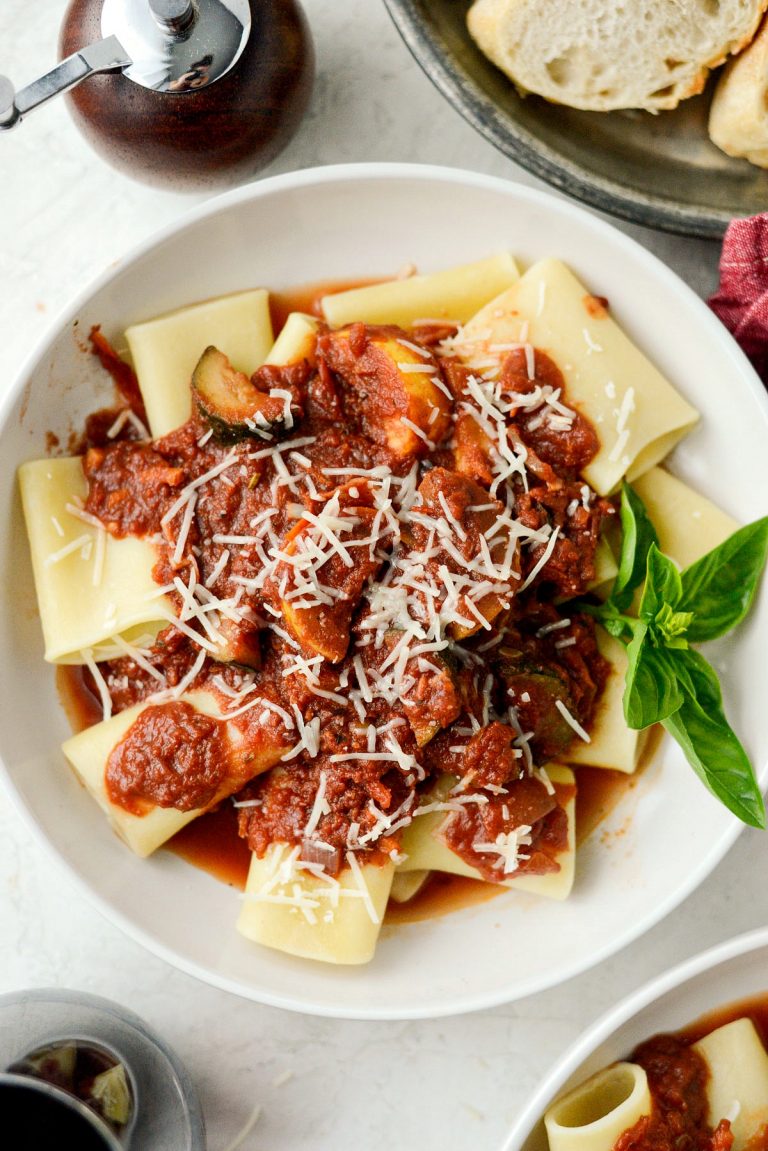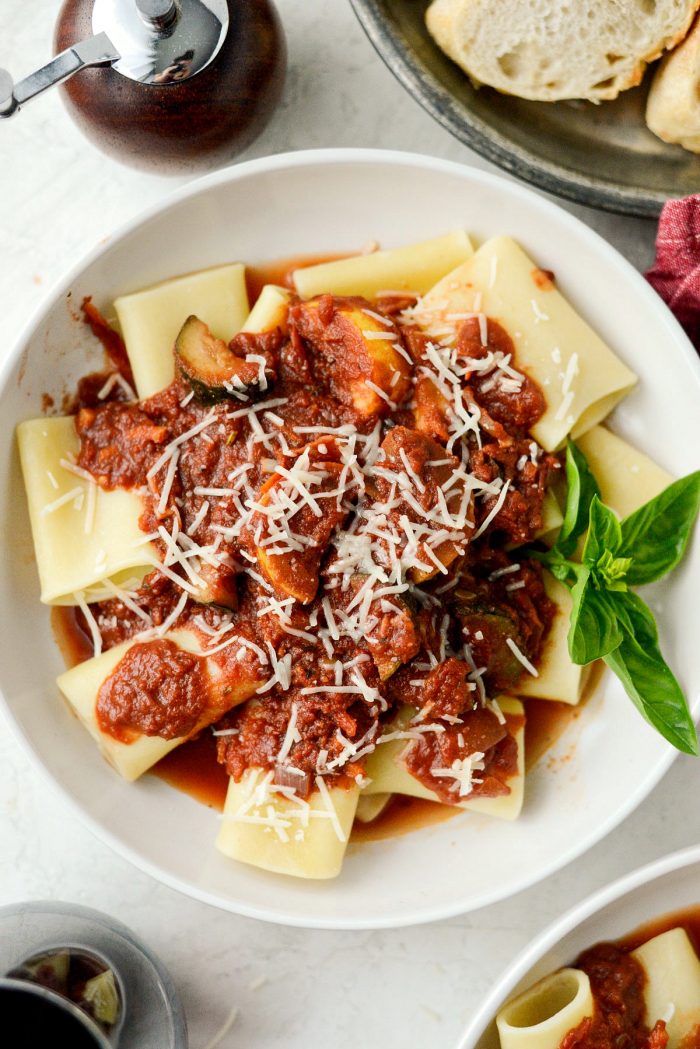 It's about this time of year where you have a few garden zucchini and yellow squash rolling around in the crisper, begging to be used up. This garden vegetable ragu is the answer to your dinner prayers.
My mom would make this pasta sauce for dinner many early fall nights when I was younger. Nothing beats the smell of this ragu bubbling away (except maybe this baked chicken) on the stove when you walk in from a long day at work or worse, from an excruciating hour and a half bus ride home from school.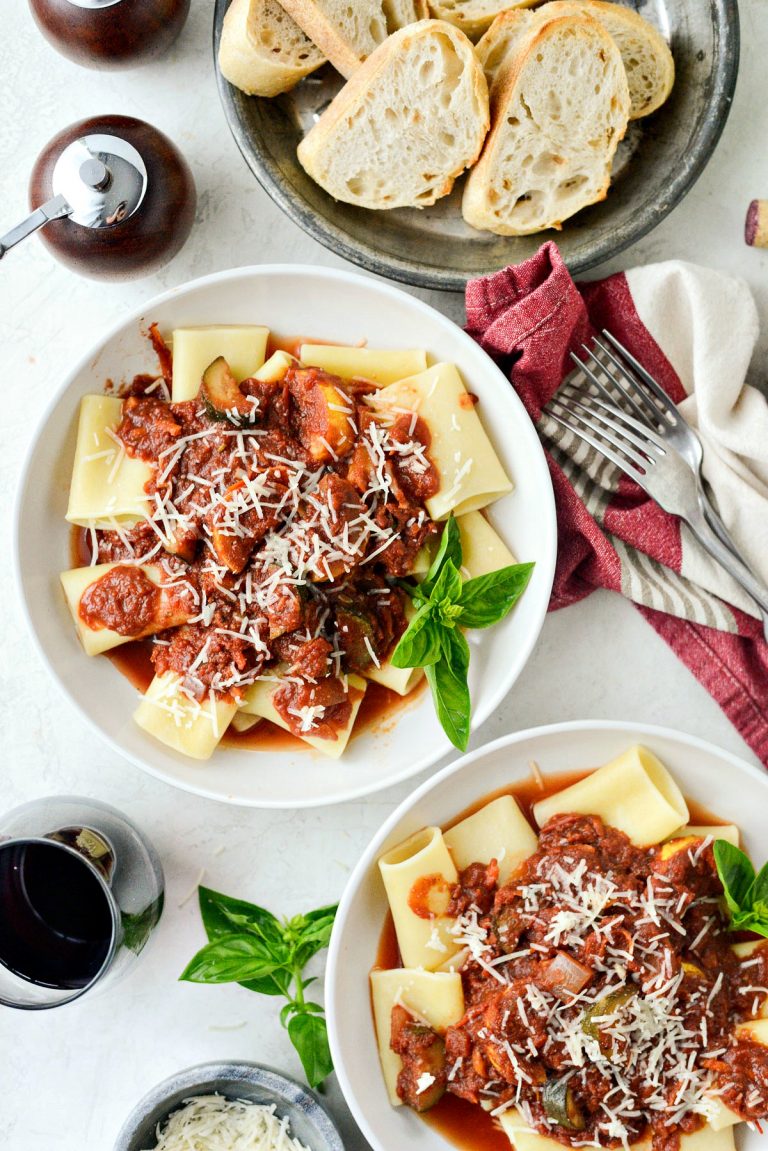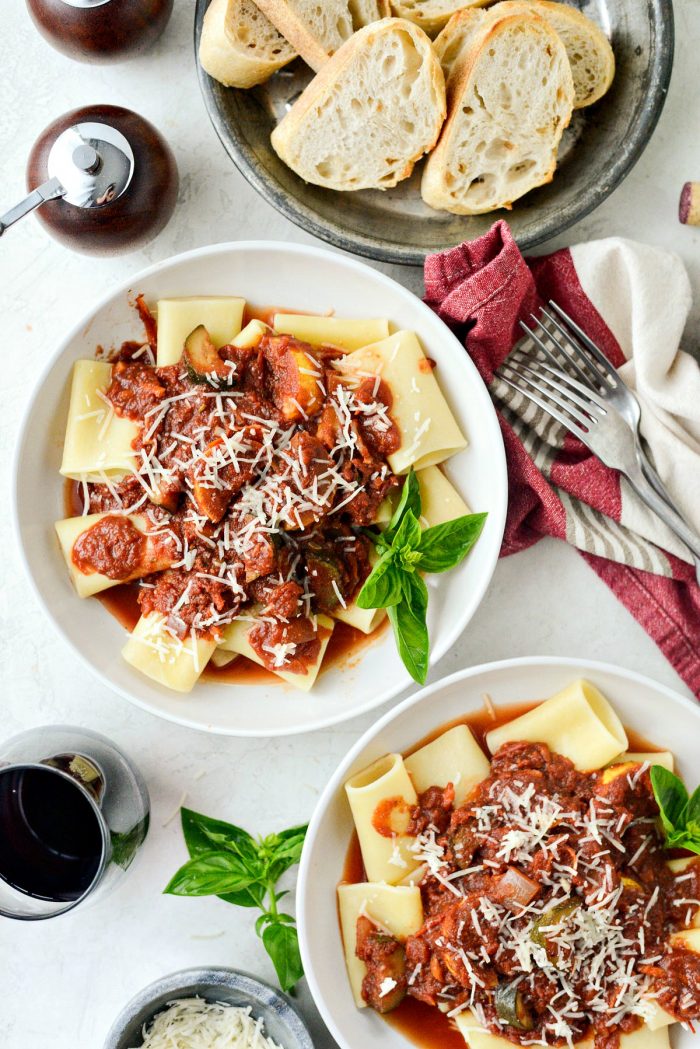 I've been waiting for just the right time to share this with you! Like when the weather is a little cooler and the squash and zucchinis are all over the place yet right before you have to begrudgingly flick on the furnace. It's a recipe that calls for summers best produce, wine and cheese — how could it be bad?
To Make This Garden Vegetable Ragu You Will Need:
olive oil
yellow onion
zucchini
yellow squash
carrot
garlic
crushed tomatoes
sugar
basil (dried)
oregano (dried)
red pepper flakes (optional)
dry red wine
parmesan cheese
tube pasta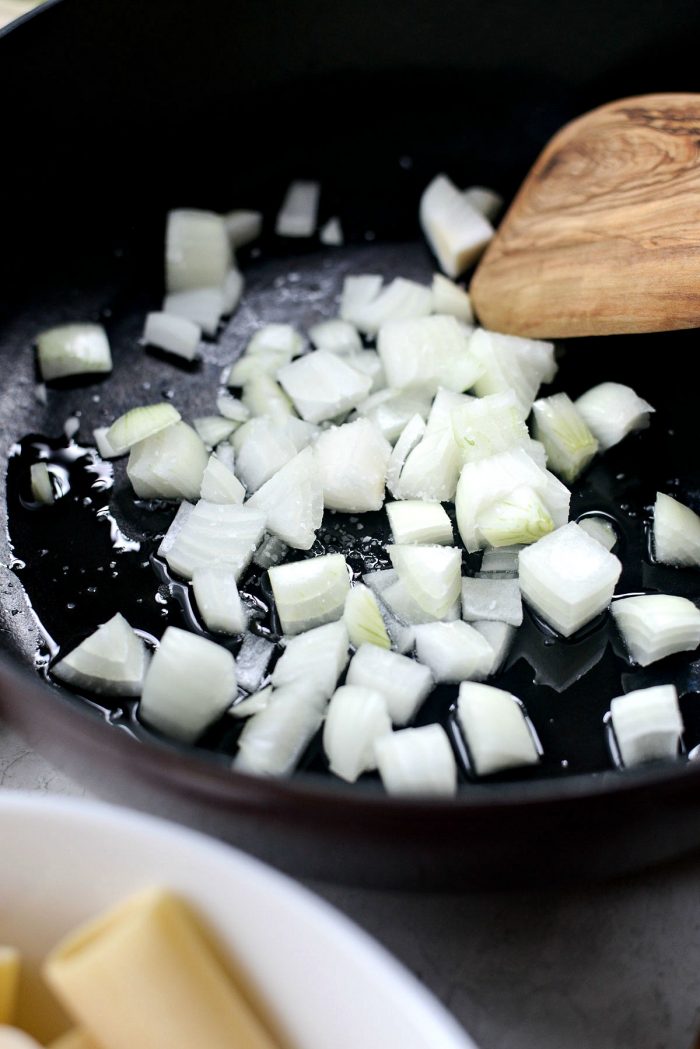 In a deep-sided skillet or pot add about a teaspoon of olive oil and then heat over medium heat. Sauté the diced onions over medium-low heat until soft and translucent.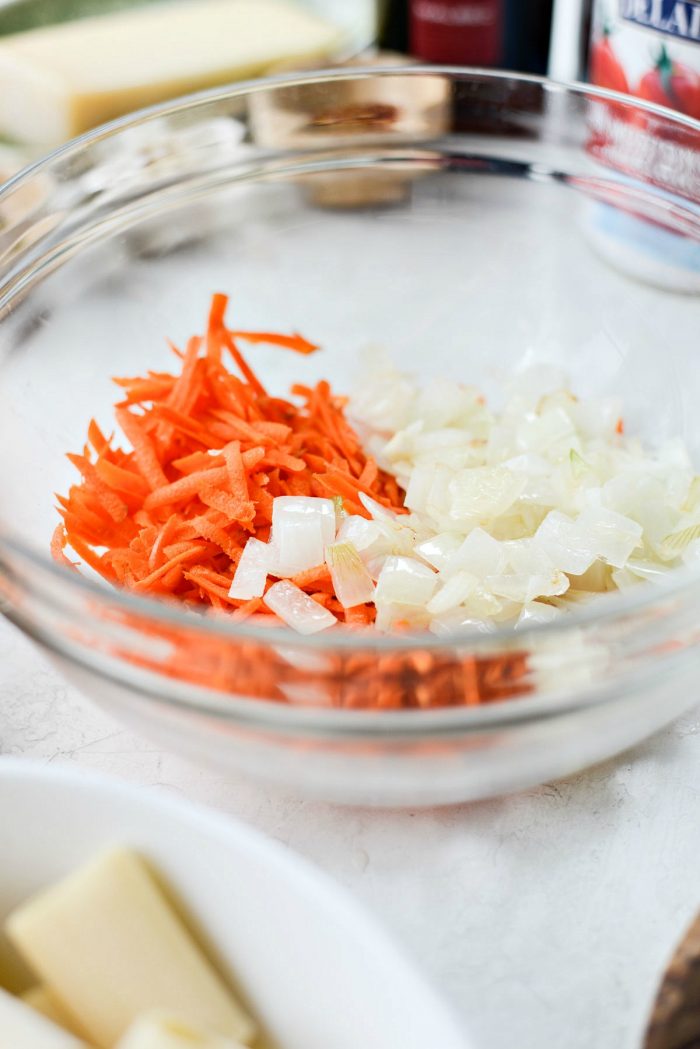 With a slotted spoon, transfer the sautéed onion to a dish with the grated carrot.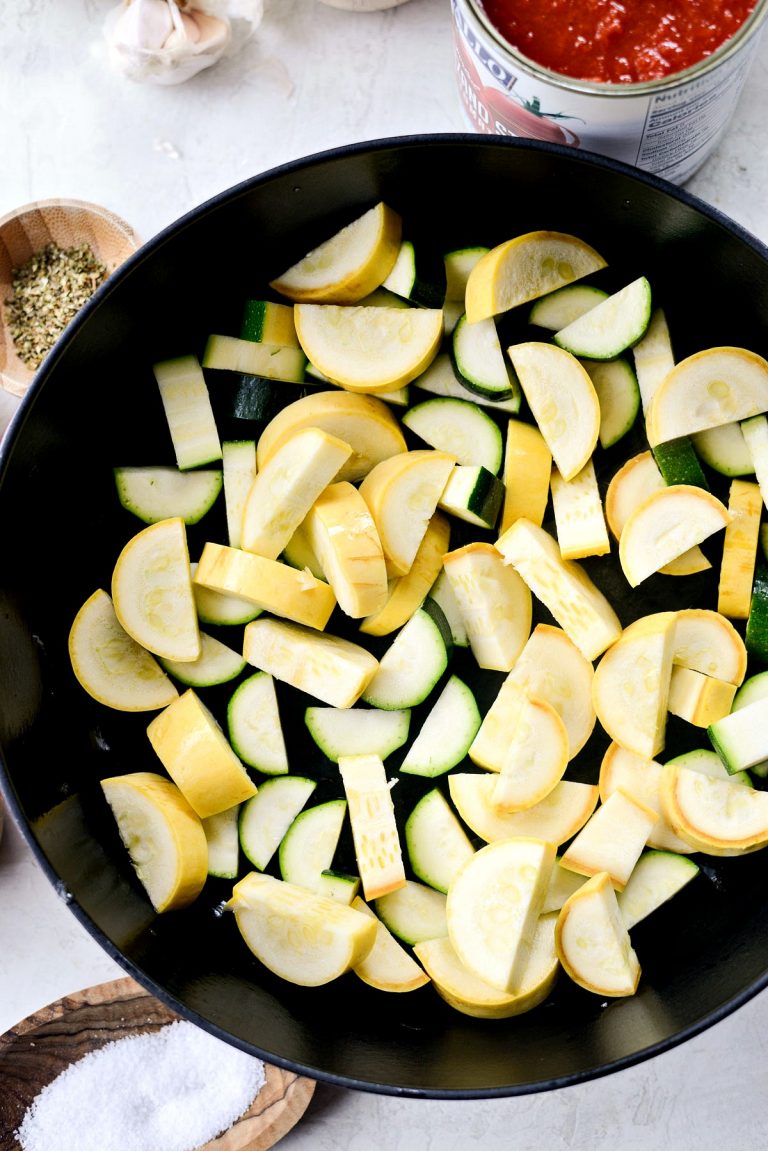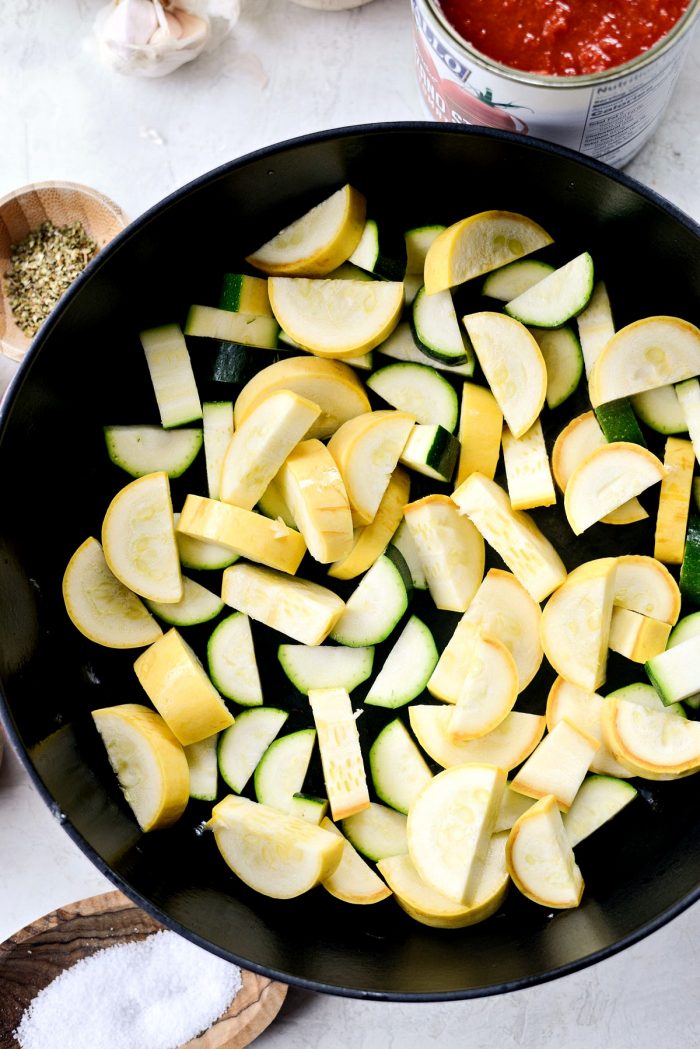 Increase the heat to medium-high and add the yellow squash and zucchini in an even layer. Cook for about 5 to 8 minutes, stirring every couple a minutes so the vegetables get some color to them.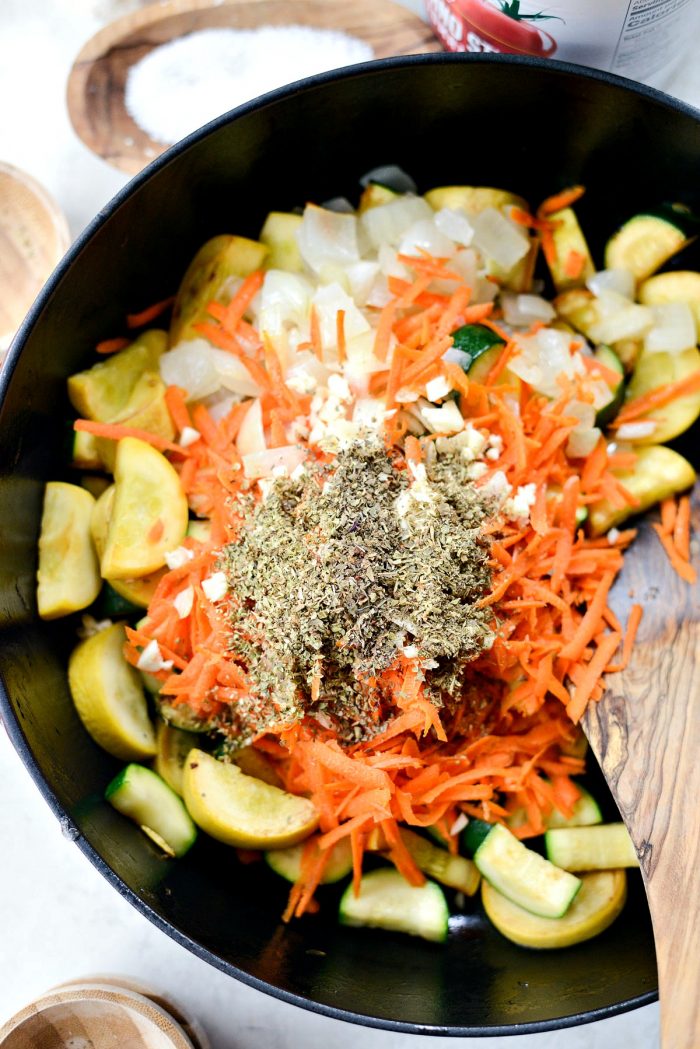 When the squash is soft and golden add the onions and carrots back in to the pan along with 2 to 4 minced fresh garlic, 1 teaspoon each oregano and basil and 1/2 teaspoon italian seasoning. If using red pepper flakes, add them at this point.
Cook until carrots soften and garlic becomes fragrant, about 1-2 minutes, stirring occasionally.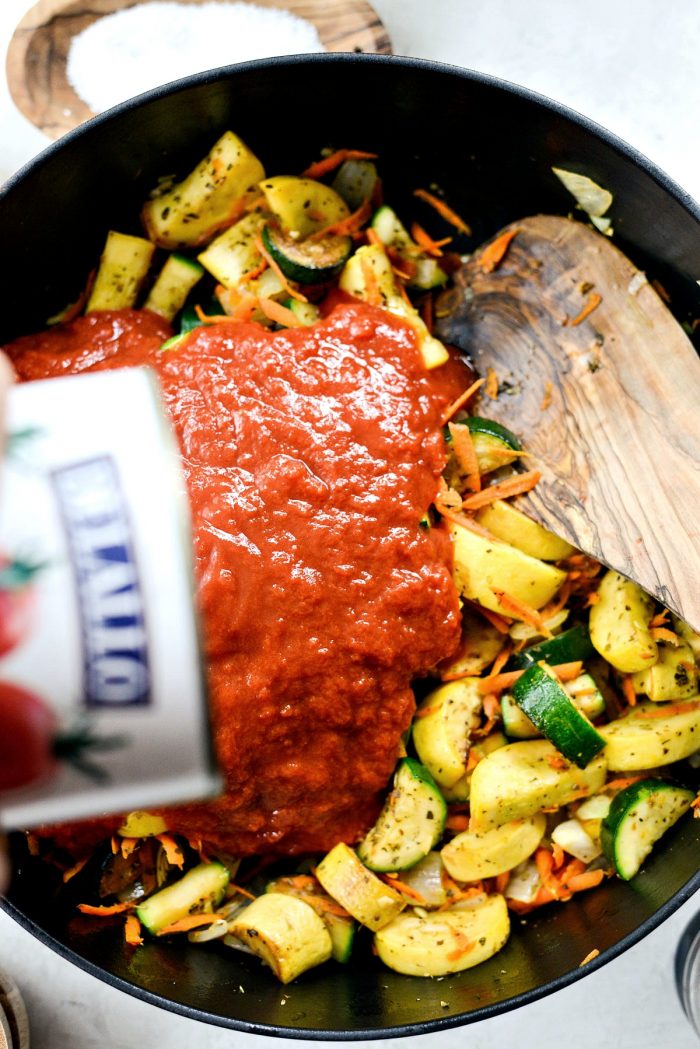 Add in the 2 (28 ounce) cans of crushed tomatoes over the sautéed vegetables and add 1 teaspoon sugar.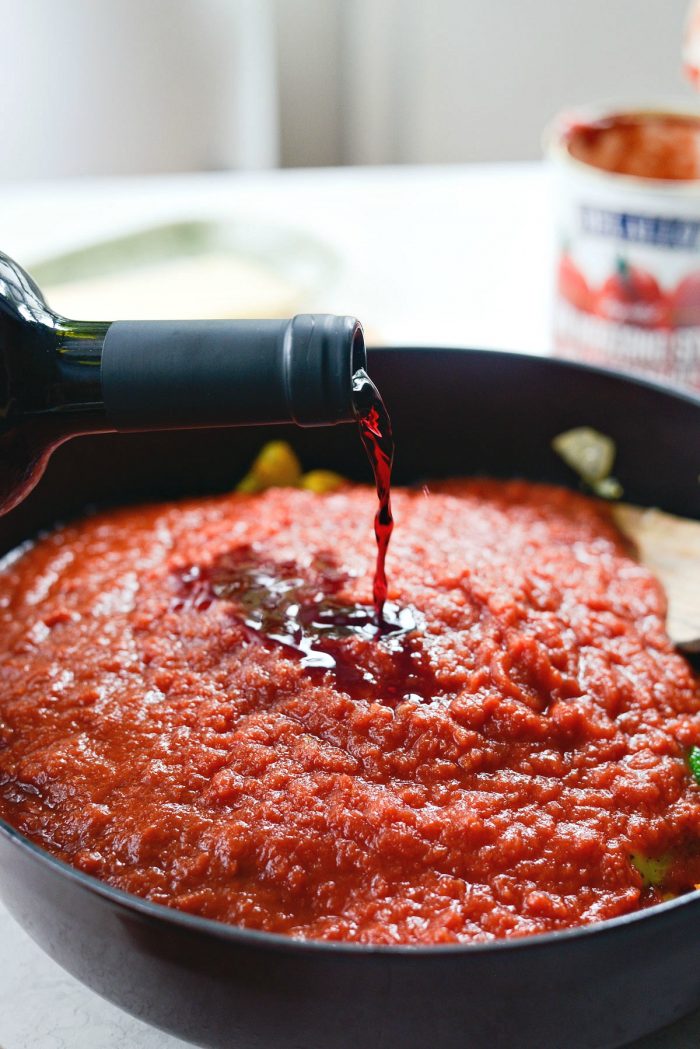 Lastly pour in 1 cup of wine.
Simmer the sauce uncovered on low to medium-low for 45 to 60 minutes and stir periodically. Towards the end is when I cook the pasta.
Stir in 1/2 cup freshly grated parmesan cheese, taste and season with kosher salt and fresh black pepper. About 1-1/2 to 2 teaspoons salt and 1/4 teaspoon black pepper.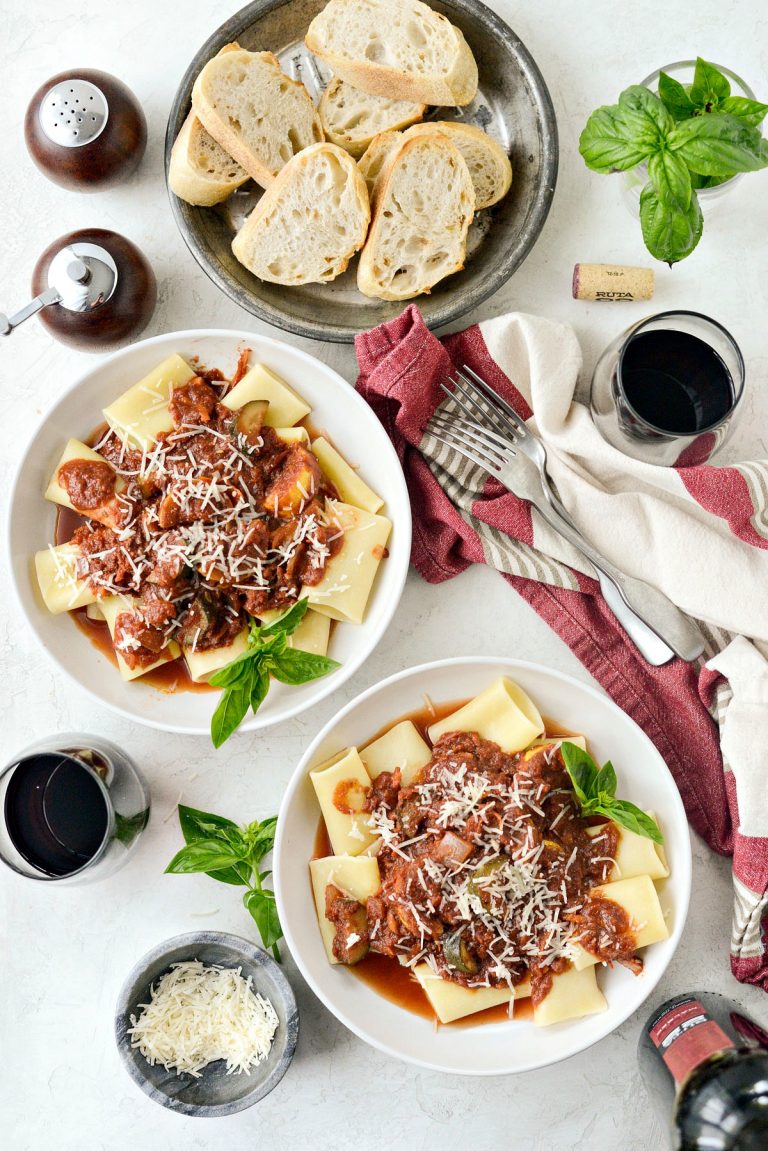 Serve the sauce on hearty tube noodles like penne, rigatoni, macaroni, paccheri (<—this is what I'm using in this recipe).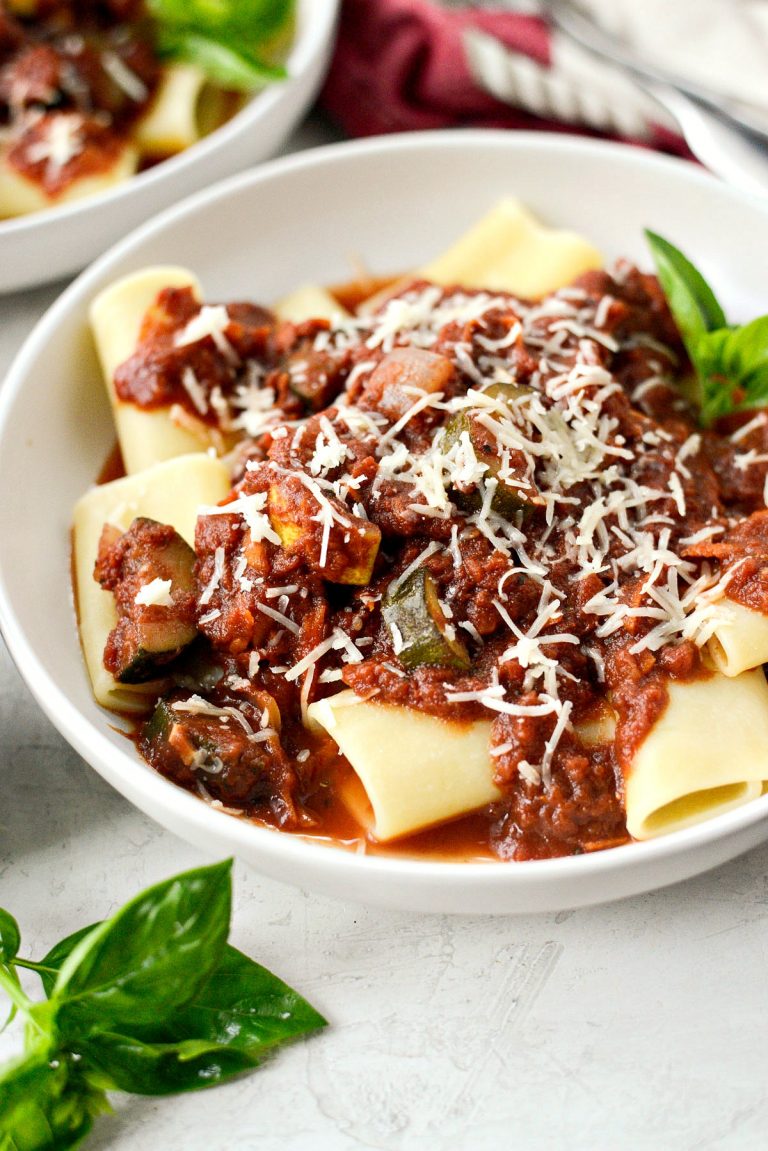 Note:
There is some water released from the zucchini and squash while they cook in the sauce. It's not noticeable until you plate it up and the veggies sit onto of the noodles. As far as I know, there's nothing to be done but to mix it all together. However, this is where thick slices of italian bread comes in handy! You can wipe your bowl clean with it.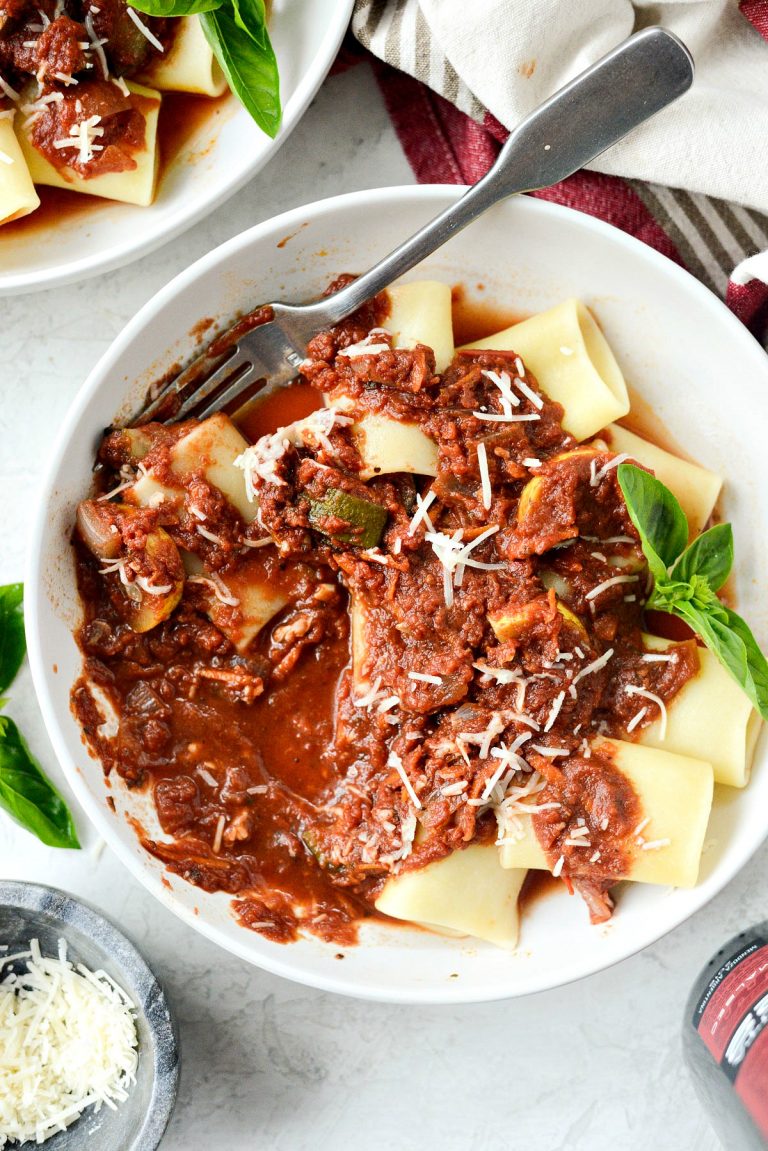 Lastly, sprinkle the vegetable ragu with a little or a lot of extra parmesan. And if you want a little meat in this dish, cook 3/4 pound crumbled Italian sausage before sautéing the vegetables and then follow recipe from there on.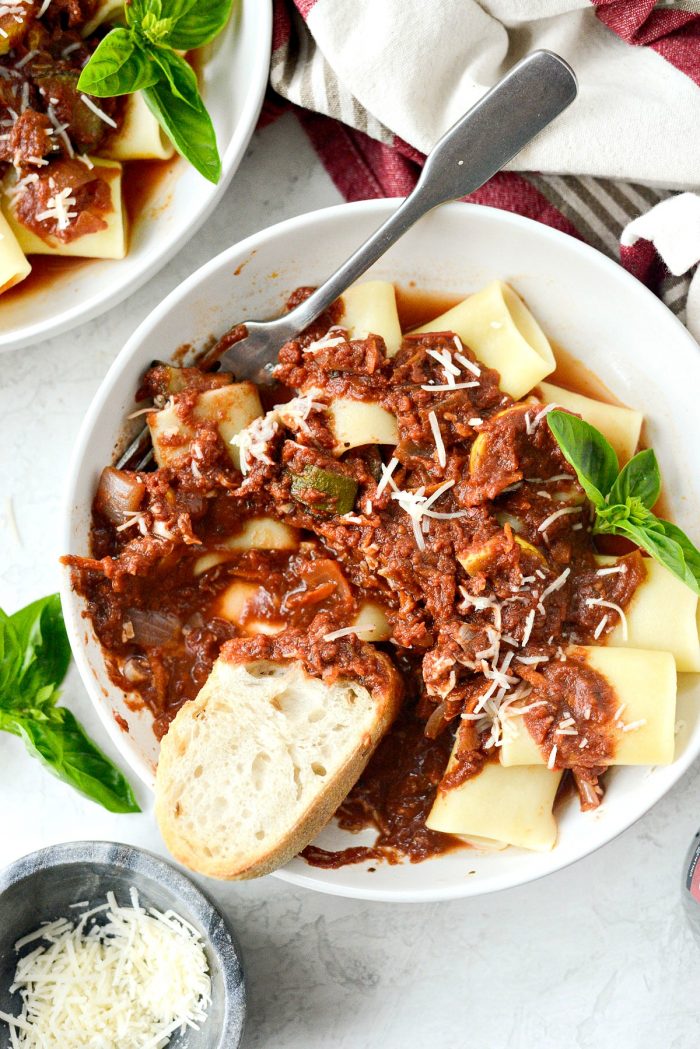 Enjoy! And if you give this vegetable ragu recipe a try, let me know! Snap a photo and tag me on twitter or instagram!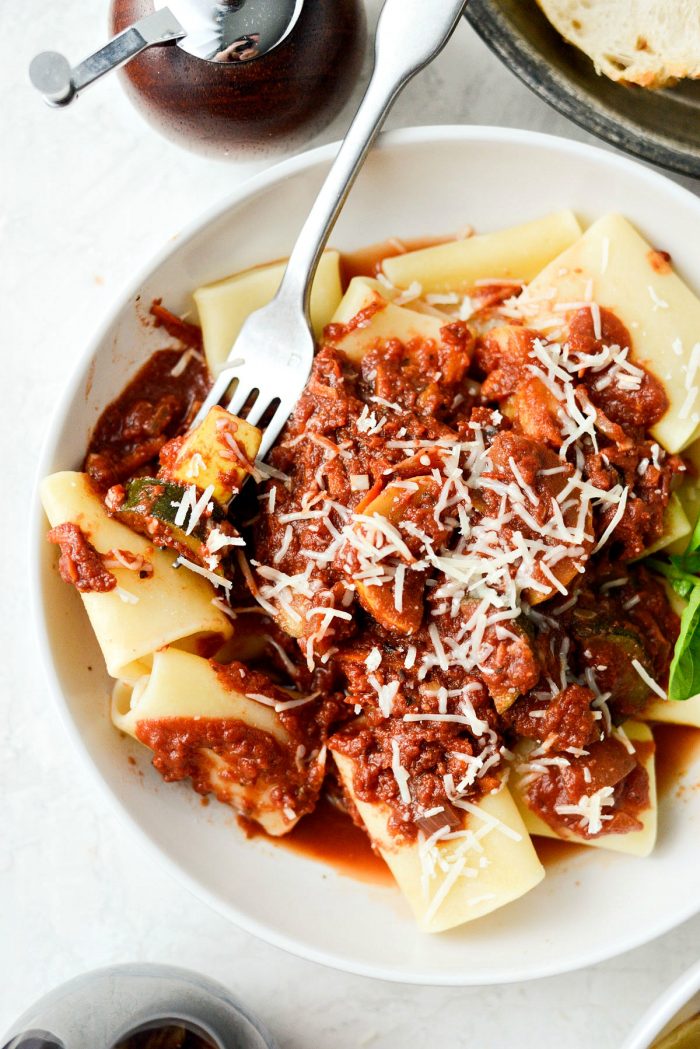 This post may contain affiliate links.
Buy the Cookbook: Simply Scratch : 120 Wholesome Homemade Recipes Made Easy Now available on Amazon »
THANK YOU in advance for your support!