Aunt Penny's Classic Potato Salad Recipe is essentially a simple mustard potato salad that has hard boiled eggs, onion and celery. It's simple, delicious and I've been loving this recipe since I was 15 years old. Perfect served with burgers, hotdogs or ribs. Your barbecue isn't complete without it.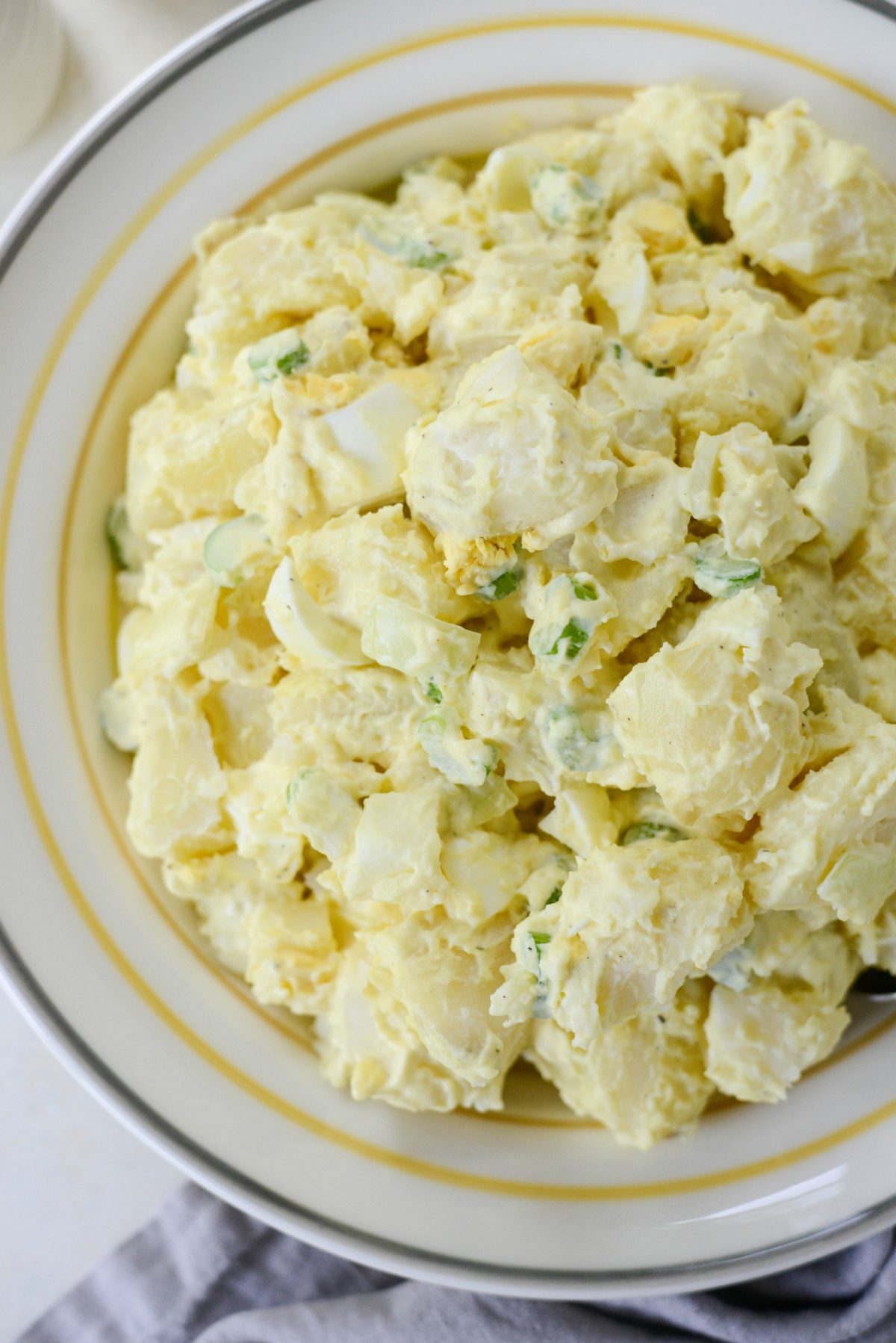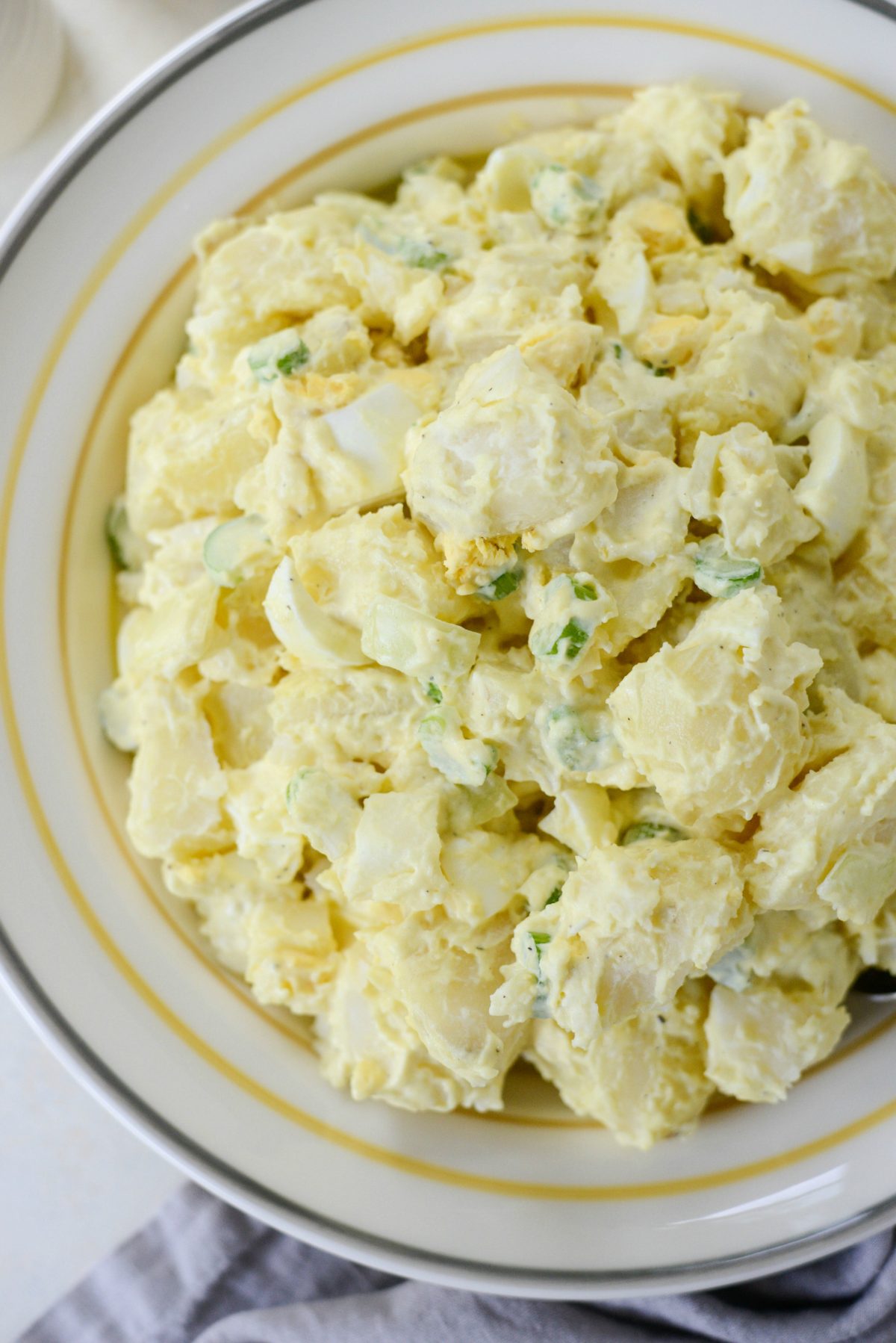 Pat's Aunt Penny has been making this classic potato salad recipe since forever and it's the absolute best potato salad recipe I've ever tasted. Never can I buy store-bought again because it doesn't come anywhere close to her recipe. No matter if it is Easter or Fourth of July, we can always count on a big bowl of Aunt Penny's potato salad to be on the table.
When Aunt Penny first gave me this recipe, she told me she starts with 5 to 6 pounds of potatoes and the rest of the ingredients are done by sight and taste, so it was a bit of a challenge figuring out the precise measurements. However my husband has been eating her potato salad 15 years longer than me, so in the end, he has the ultimate say. And it passed.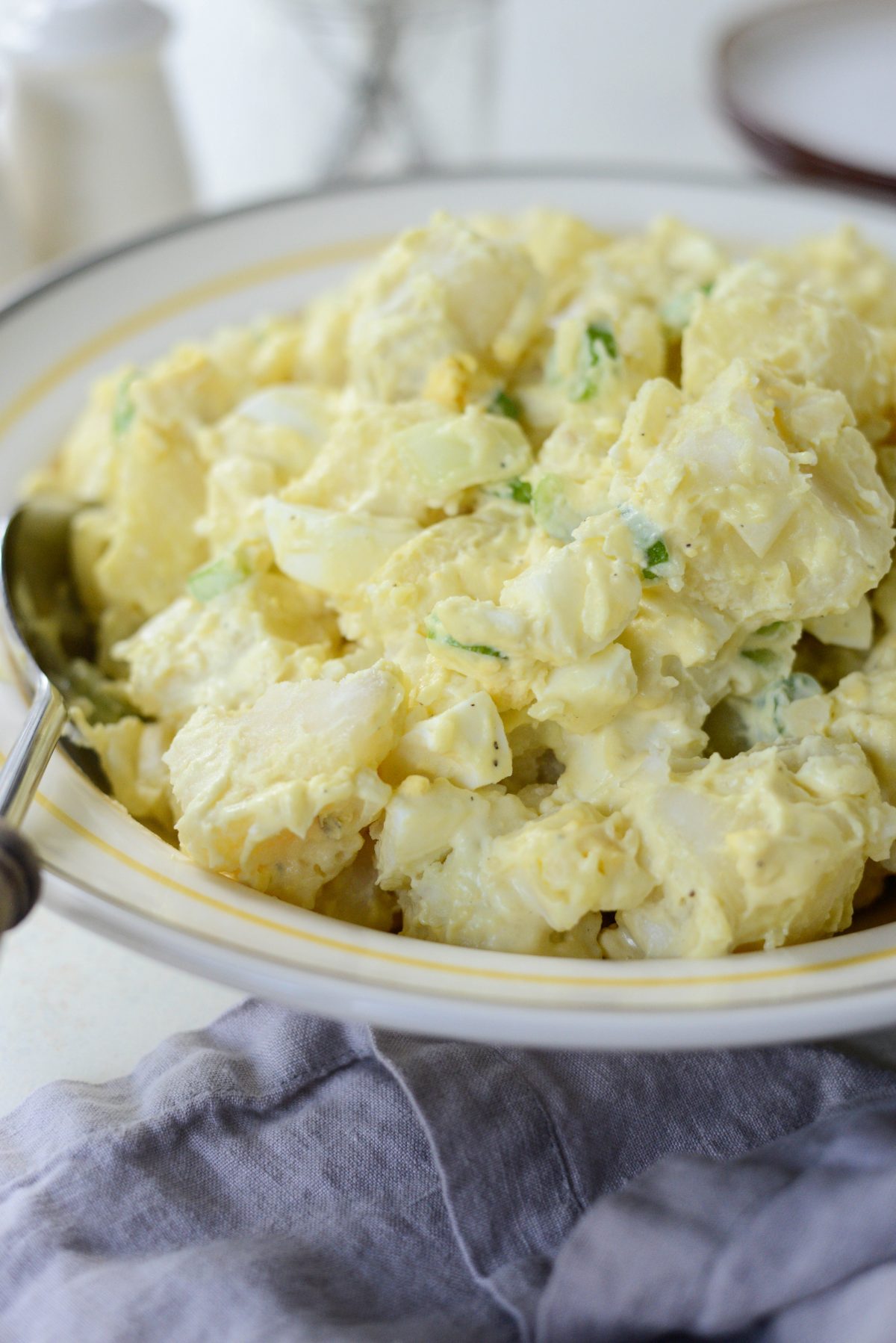 If you're looking for an easy potato salad recipe that can be customized to your preference, let this be the one!
In her recipe she does add green pepper (which I personally love) but my husband isn't the biggest green pepper fan so I leave it out when I'm making it for us, like today. You can nix the yellow onion and substitute green onions in its place and Yukon gold for russet potatoes. This recipe can also be easily be halved for a small family dinner. However Aunt Penny's classic potato salad recipe is meant to feed a large crowd.
To Make Aunt Penny's Potato Salad You Will Need:
russet potatoes
mayonnaise
mustard
kosher salt
freshly ground black pepper
yellow onion
celery
hardboiled eggs
Start by peeling, rinsing and chopping 5 pounds of russet potatoes into large bitesize pieces.
Fill the pot with cold water 1 to 2 inches above the potatoes. Cover and bring to a boil, reduce heat to medium-high and cook until fork tender. On my stovetop it takes about 15 to 20 minutes to bring the pot to a boil and another 20 to 25 minutes after that to cook the potatoes. But I frequently check the potatoes after the 15 minute mark just to be sure.
While the potatoes are boiling away, quickly whip the dressing together. In a medium bowl, add 1-1/2 to 2 cups of mayonnaise and 2 tablespoons yellow mustard. Then season with 1-1/2 teaspoons kosher salt and 3/4 teaspoon of black pepper.
Stir, cover and refrigerate until you're ready to toss it with the potatoes.
Once the potatoes are cooked, strain them into a colander. Then allow them to cool, about 25 minutes or so, otherwise the potatoes will absorb all that dressing up.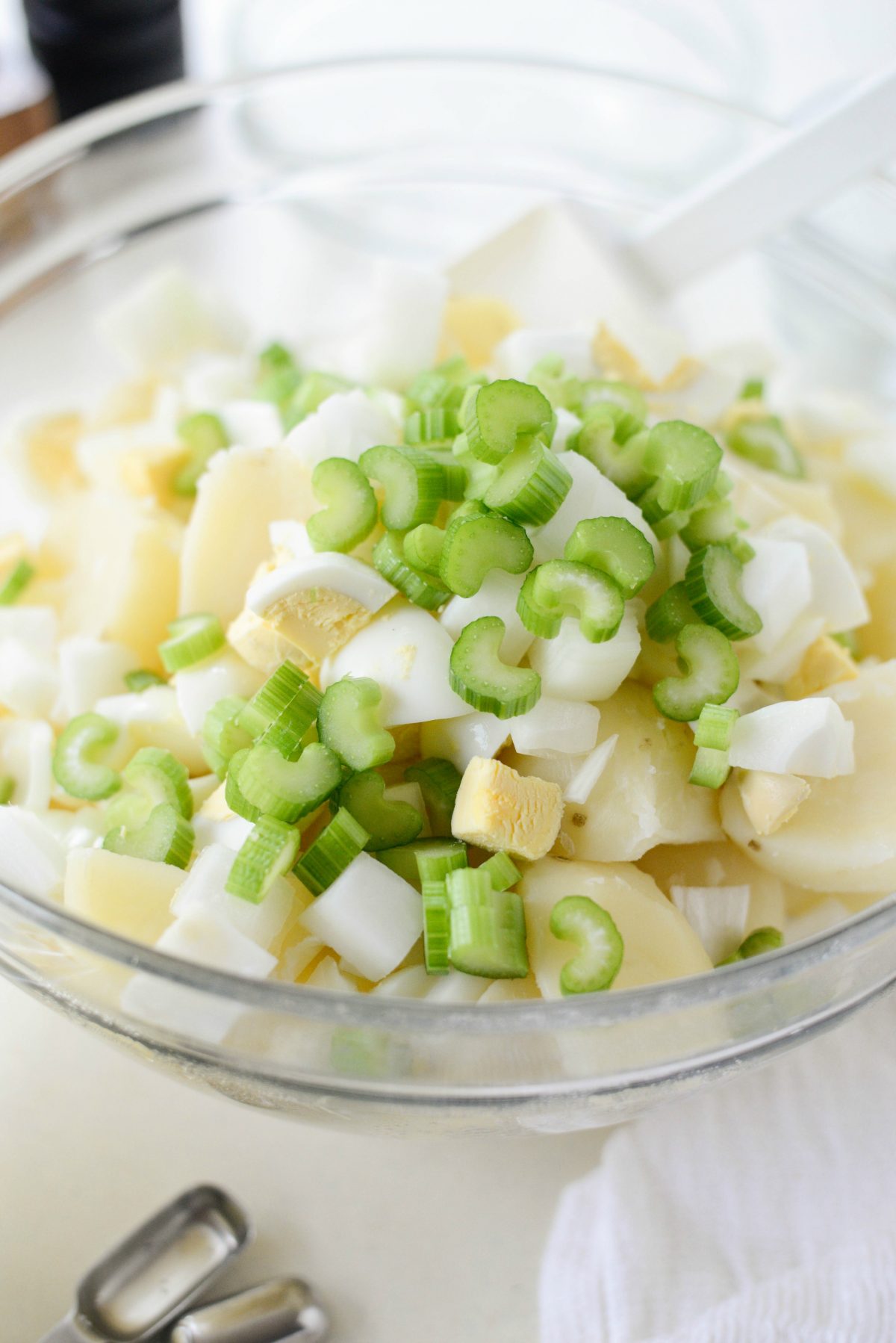 Once the potatoes have cooled down to room temperature, add in 1 cup chopped yellow onion, 3 stalks sliced celery (or about 1/2 cup), 6 chopped hard boiled eggs.
Then pour in the dressing.
Next toss it to coat the potatoes with the dressing. And the onions, celery, eggs and green pepper (if using) should be evenly throughout.
Taste test and add more salt and pepper if needed. If you need to add a little more mayo, you can do that now as well.
Cover, chill until your bbq is hopping and you're ready to serve.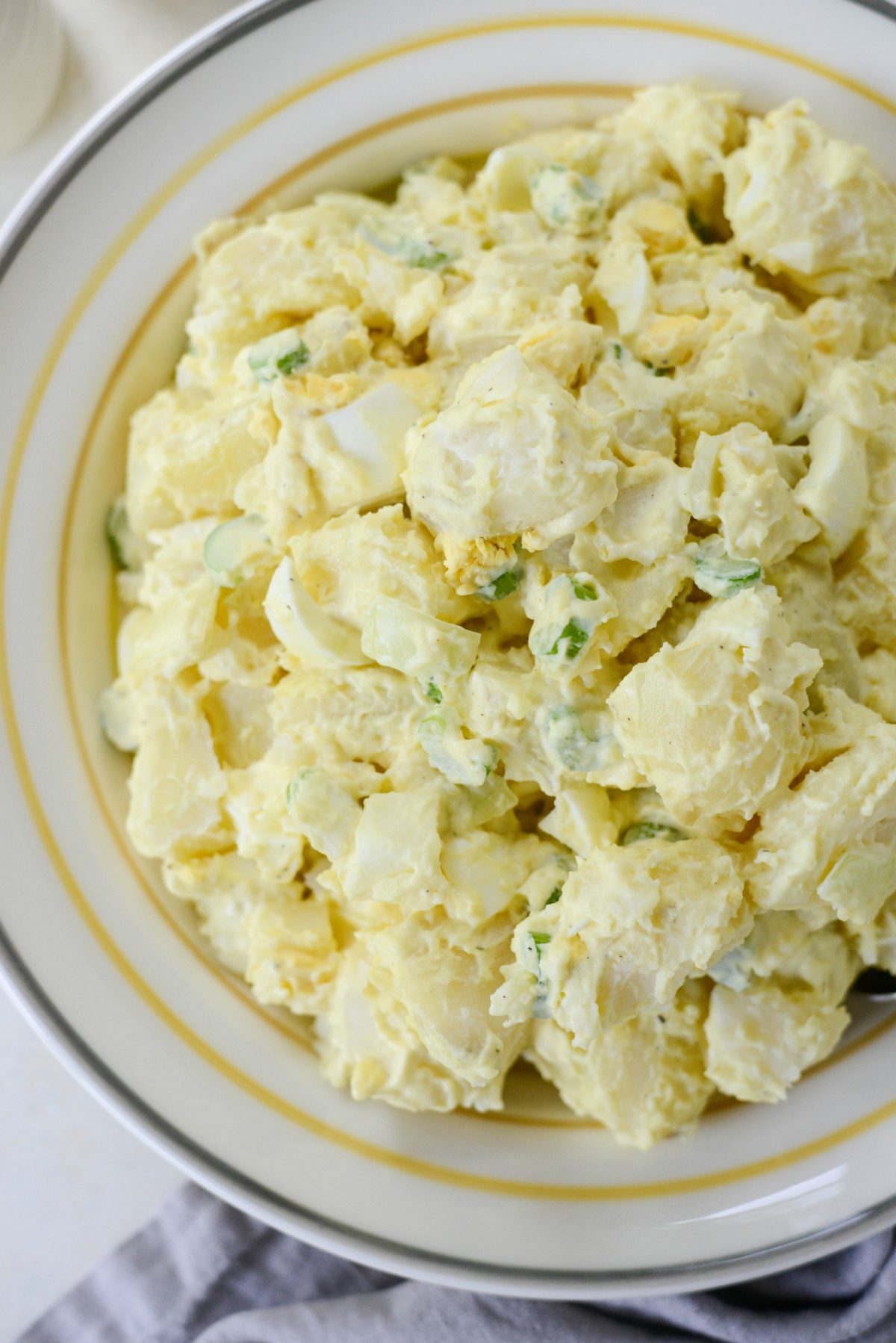 This is the best potato salad. Classic tender potatoes, crunchy veggies but what I love most are the hard boiled eggs. The best part.
Thank you, Aunt Penny for being so generous and allowing me to share your recipe. It's one I plan to make for years to come.
xoxo
Enjoy! And if you give this recipe a try, let me know! Snap a photo and tag me on twitter or instagram!
Yield: 15 servings
Aunt Penny's Potato Salad
Aunt Penny's Potato Salad is essentially a classic mustard potato salad with onion, hard boiled eggs and celery. It's simple, delicious and I've been loving this recipe since I was 15 years old. It's perfect served with burgers, hotdogs or ribs. Your barbecue isn't complete without it.
Ingredients
1½ cups mayonnaise, homemade or store bought, or more to taste
2 tablespoons yellow mustard
1½ teaspoons kosher salt, more or less to taste
3/4 teaspoons freshly ground black pepper, more or less to taste
5 pounds russet potatoes, peeled and cut into large bitesize chunks
6 hard boiled eggs, peeled and coarsely chopped
3 ribs celery, sliced (about heaping 1/2 cup)
1 cup chopped yellow onion
1/2 cup chopped green pepper, optional
Instructions
In a small bowl combine the mayo, mustard, salt and pepper. Refrigerate until ready to use.

Meanwhile, in a large pot add the potatoes and fill the pot with water, covering the potatoes by an inch or two.

Cover, bring to a boil and cook until the potatoes are fork tender. Strain and cool to room temperature.

Place the (cooled) cooked potatoes into a large bowl. Add in the celery, onions, green peppers (if using) and chopped hard boiled eggs.

Pour in the dressing and toss to combine.

Taste and adjust the seasoning if needed before covering and refrigerating until you're ready to serve.
Serving: 1g, Calories: 311kcal, Carbohydrates: 29g, Protein: 6g, Fat: 19g, Saturated Fat: 3g, Polyunsaturated Fat: 10g, Monounsaturated Fat: 5g, Trans Fat: 1g, Cholesterol: 84mg, Sodium: 437mg, Potassium: 709mg, Fiber: 2g, Sugar: 2g, Vitamin A: 177IU, Vitamin C: 14mg, Calcium: 39mg, Iron: 2mg
This post may contain affiliate links.
Buy the Cookbook: Simply Scratch : 120 Wholesome Homemade Recipes Made Easy Now available on Amazon »
THANK YOU in advance for your support!