Caramelized shallot and blue cheese dip – Caramelized shallots tossed with crumbled blue cheese in a creamy dreamy dip! Serve with toasty warm slices of baguette!
I could make a meal out of this dip.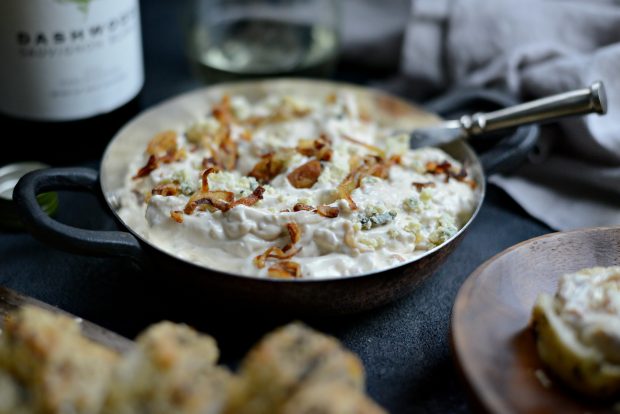 It's true! Just slide this dish in front of my face with all the everything-topped sliced baguette in the world (with a side of chilled white wine) and I will kill it in no time.
I actually posted this recipe back in 2010 accompanied with my horrible, flash-photography because I made it at night! Let me just tell ya, it was the least appetizing appetizer post ever and I removed it a few years ago. I had totally forgotten about it until a few weekends ago when Pat and I hosted a dinner party for 3 of our longtime couple friends. For some reason this caramelized shallot and blue cheese dip just popped into my head and I picked up the very few ingredients it calls for and set out to make it again.
This is/was my go-to dip for gatherings. One time we were hanging with our close friends, Bob and Nichole, and I had all the ingredients to make this dip. Surprise surprise. So Nichole and I made it while the guys hung out watching TV or something. When they came up, it was gone. No joke. In fact, Pat and Bob reminded us about "that one time we made dip and never told them until it was gone". Oops.
After I had the first bite, I immediately remembered why I love this dip. It's so flavorful (and addictive) with the caramelized shallots and the distinct funky deliciousness that you get from blue cheese. Pat's not even the biggest of blue cheese fans and he LOVES this dip. Believe me it's amazing.
I'm making this again for New Years Eve and every "Football Sunday" thereafter.
So this dip. Seriously SO easy to make. You just need butter, olive oil,  1-1/2 cups of sliced shallots– which is about 3 to 4 medium ones, sugar, salt and pepper, mayonnaise, sour cream and blue cheese– the wedge kind and NOT the pre-crumbled kind.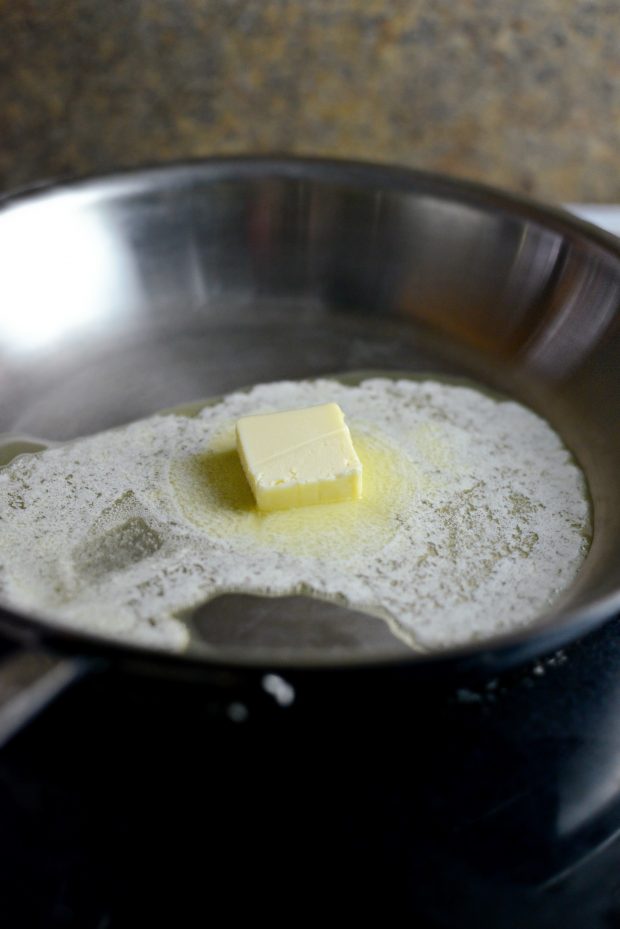 Heat the butter and olive oil in a 10-inch skillet over medium heat.
Next add in the shallots…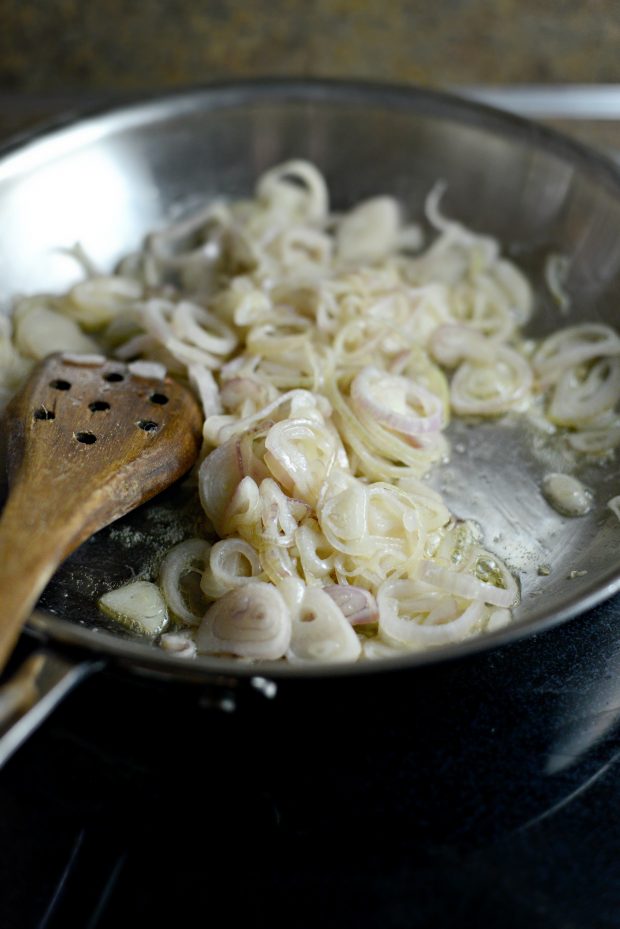 …stir and coat, sprinkling with a pinch of sugar and kosher salt.
Cook until the shallots turn a deep golden brown in color.
Like this! Stir often and adjust the heat to prevent the shallots from burning. Remove off the heat to cool for a bit.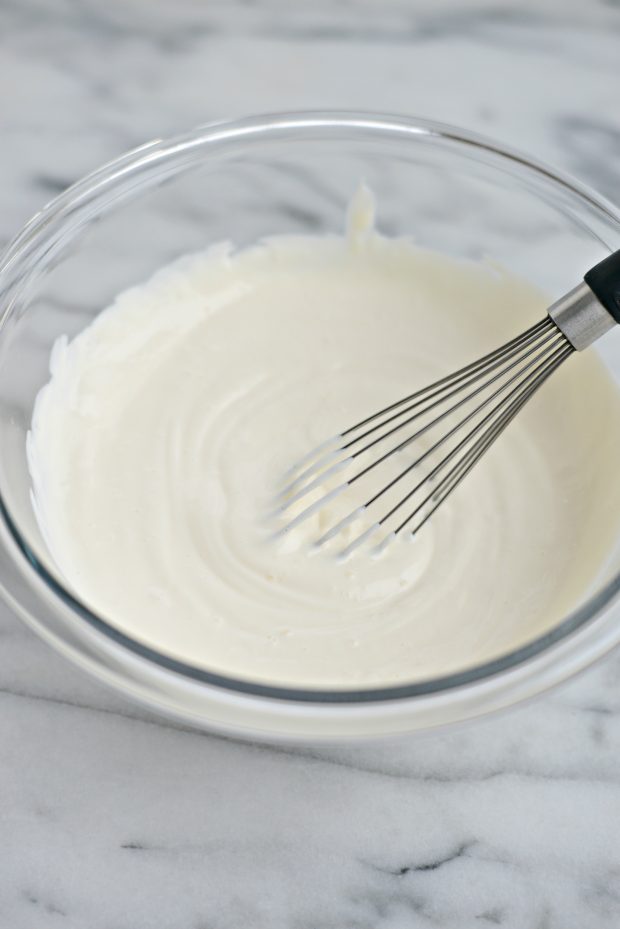 Next, in a medium bowl, whisk 3/4 cup of both mayonnaise and sour cream together.
Add in 4 ounces of crumbled blue cheese and all of the shallots.
I use a smoky blue cheese I picked up from Kroger, but use what you  love!
Season with 1/2 teaspoon kosher salt and 1/4 teaspoon of freshly ground black pepper. Stir, cover and chill for 2 hours minimum but overnight is best! This is when the flavors meld and the dip develops to its full potential.
When it's just about time to serve is when I make the bread. I buy the take-and-bake mini French baguettes (about 12 ounces total) I know-I know, not from scratch but trust me… they're lifesaver when hosting a dinner party. Trust.
I mix 1 tablespoon of my everything seasoning with a teaspoon of my Italian seasoning. Then I brush the loaves with a little melted butter and sprinkle the everything Italian seasoning over top and bake for 8-10 minutes. Or however long the instructions say to on the package then slice with a bread knife while still warm.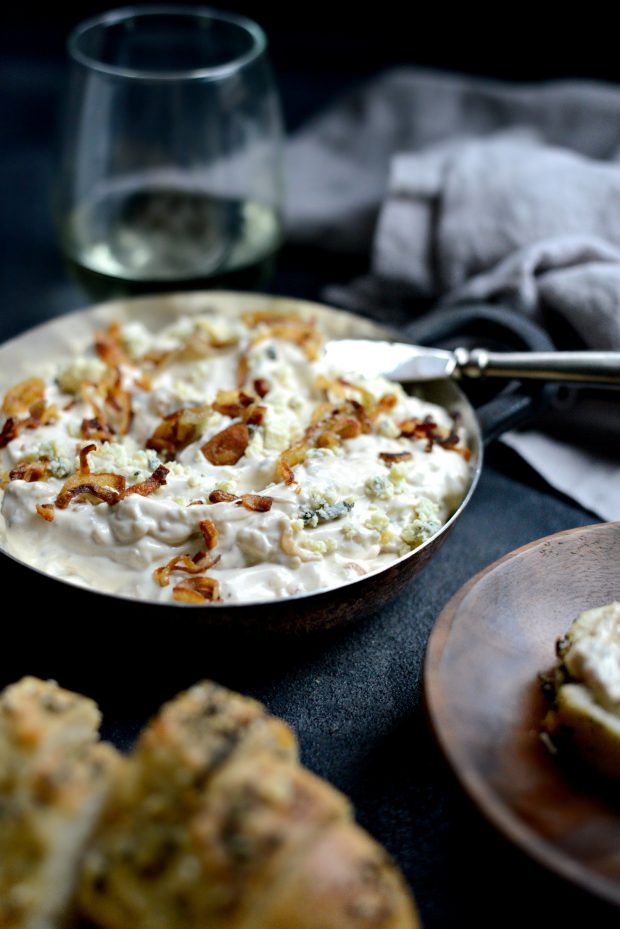 Spoon the dip into a bowl and serve next to the sliced freshly baked bread. If you want to make it look all fancy, caramelize more slices of shallot ( about one small shallot) right before serving and sprinkle it along with some extra crumbled blue cheese over top.
Spread this caramelized shallot and blue cheese dip on slices of warm toasty baguette and serve with a glass of chilled white (or red) wine and prepare to fall in love.
Enjoy!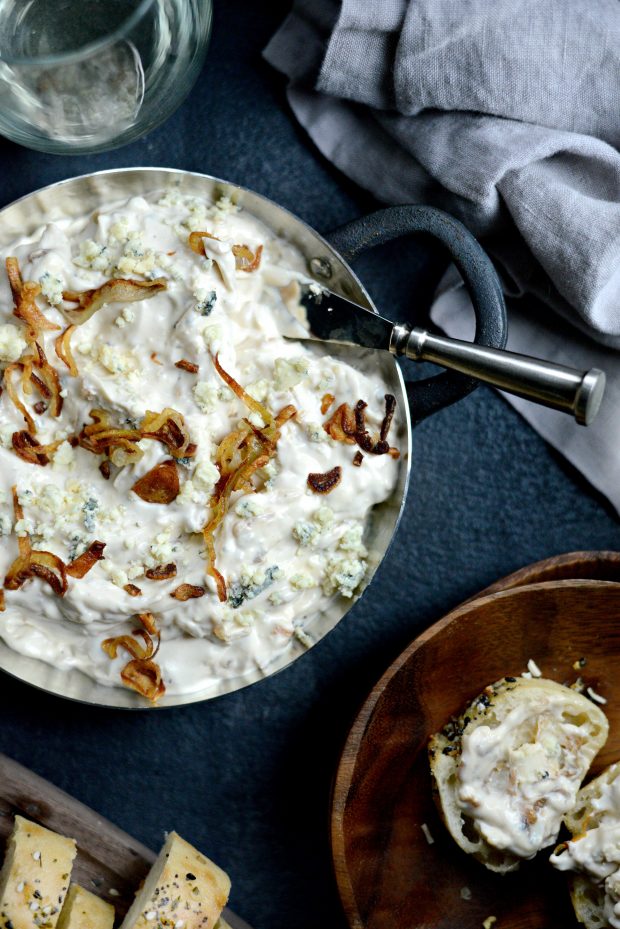 My cookbook Simply Scratch : 120 Wholesome Homemade Recipes Made Easy is now available! CLICK HERE for details and THANK YOU in advance! 
Yield: 1-1/2 cups
Caramelized Shallot and Blue Cheese Dip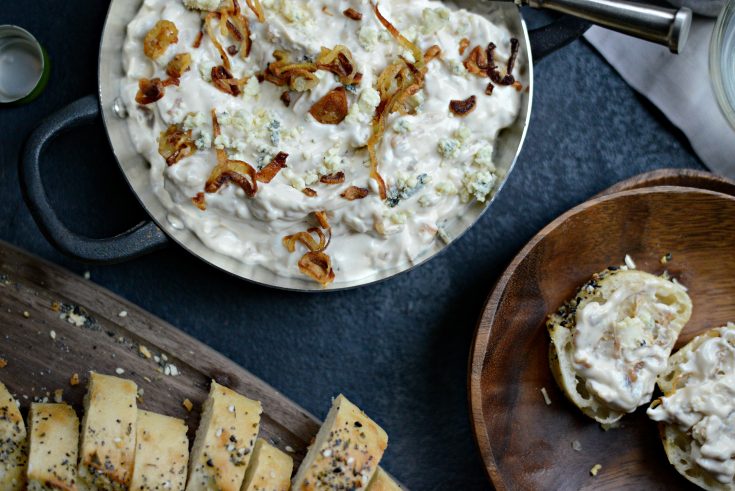 Caramelized shallot and blue cheese dip- Caramelized shallots tossed in with blue cheese in a creamy dreamy dip! Serve with toasted baguette slices!

Prep Time 10 minutes

Cook Time 15 minutes

Total Time 25 minutes
Ingredients
2 tablespoons unsalted butter
2 teaspoons extra light olive oil
4 large shallots, sliced thin (about 1-1/2 cups)
pinch of sugar
3/4 cup mayonnaise
3/4 cup sour cream
4 ounces of blue cheese
1/2 teaspoon kosher salt
1/4 teaspoon ground black pepper
12 ounces take-and-bake French baguettes
1 tablespoon Everything Seasoning
1 teaspoon Italian seasoning
Instructions
Add butter and oil to a 10-inch skillet and heat on medium to medium-low.

Once the butter has melted add in the shallots, sugar and a pinch of salt. Stir often and cook slowly until the shallots have softened and turned a deep golden brown.

Whisk mayonnaise and sour cream together in a medium bowl. Add in the shallots, blue cheese, salt and pepper. Stir until combined, mashing up any large chunks of blue cheese. Cover and refrigerate for 2 hours, but overnight is best.

Before serving, combine the everything and Italian seasoning. Brush baguettes with melted butter and sprinkle with everything seasoning. Bake as directed on package.

Slice and serve next to dip.
Notes
*You can find my recipe for homemade Italian seasoning in my cookbook.
[this post contains affiliate links.]