Homemade Sweet Barbecue Sauce is sweet, savory and delicious! It's like Sweet Baby Ray's just minus the high fructose corn syrup!
You know how that saying goes; if you got it, flaunt it?
Well I got it. Yup.sure.do! I've had it for a while. Kept it a secret… secured and tucked safely away in my back pocket. BUT today is the day I get to flaunt it. My Homemade barbecue sauce, that is.
But not just any barbecue sauce. Here, let me explain. From the very moment my lips tasted Sweet Baby Ray's BBQ sauce, I was hooked. I love the consistency and sweet flavor. It was the moment I read the label and saw the ingredients that I began my quest. A mission to make my own that stands up to this huge name brand minus the high fructose corn syrup. I think know I've done it. It's sweet… tangy… and perfectly seasoned.
Since creating my own version, I've had it on pizza, french fries, wings, burgers, meatloaf you name it. I even put the recipe in my cookbook!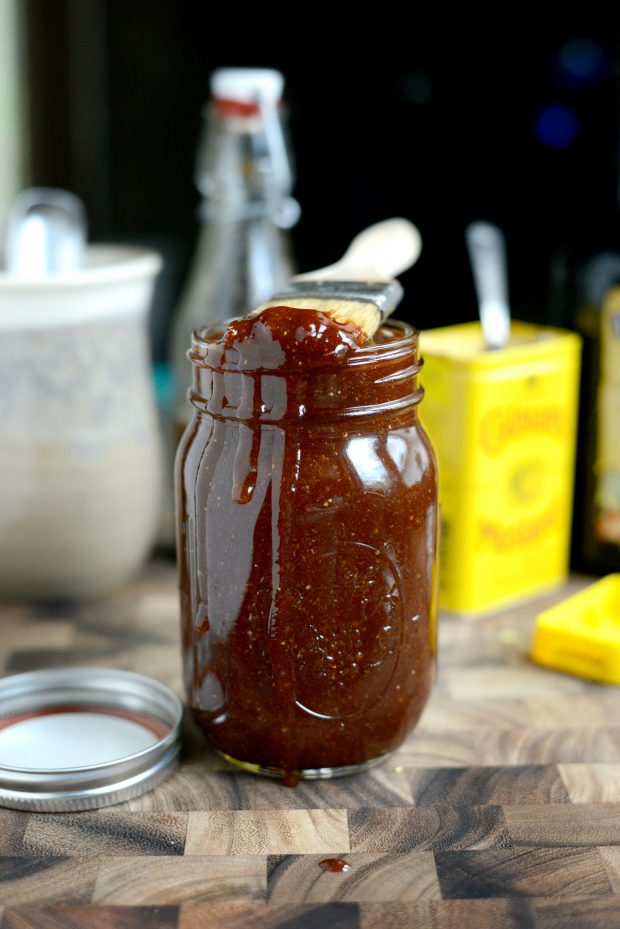 If I had to label it, I'd call it Sweet Laurie Loo's… what? Too similar??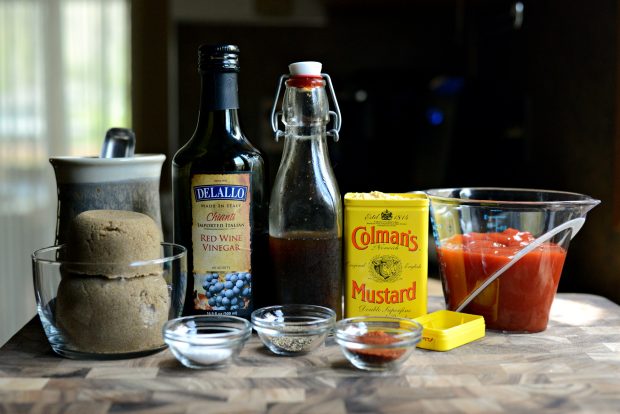 Pantry ingredients. What could be better? I love making food from what I find in my pantry or fridge. It makes me feel chef-y. It's like I'm on Chopped or something. Pulling off a dinner with only having onion, lemon, vegetable stock and chicken thighs… is what I live for!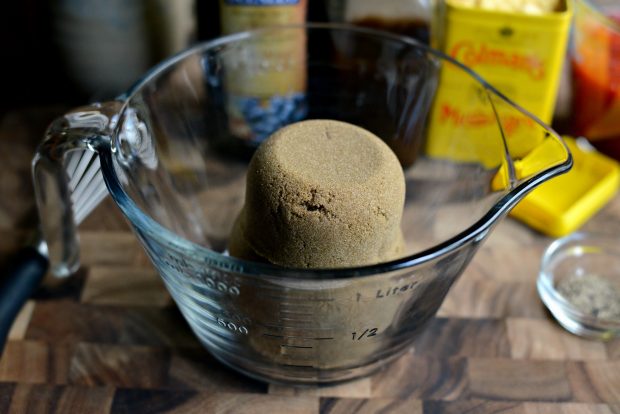 It's a whole lotta dark brown sugar, I know. But I think this is the key to this liquid gold.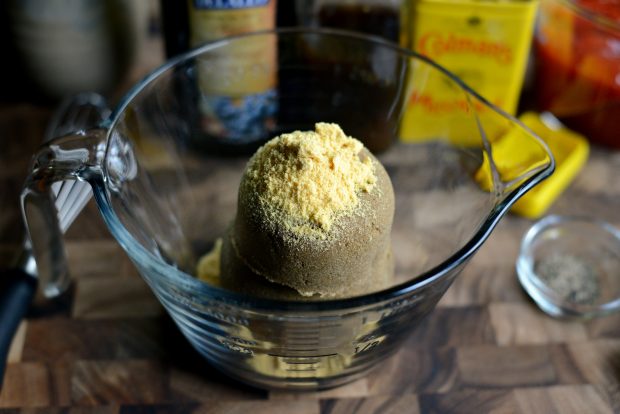 Then measure and add in 2-1/2 teaspoons dried mustard…
…2 teaspoons paprika…
1-1/2 teaspoons of kosher salt and 3/4 teaspoon coarsely ground black pepper.
Grab a wooden spoon to break up the dark sugar and mix in those spices.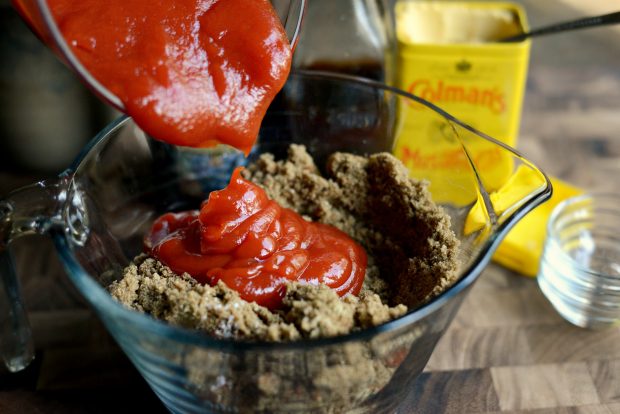 Then go on and add in the 1-1/4 cups of ketchup.
And a 1/2 cup red wine vinegar.
Then add a tablespoon or so of Worcestershire sauce.
Stir until the sugar is dissolve and the seasonings mixed throughout.
Once the barbecue sauce is mixed thoroughly, I pour it into glass jars and refrigerate it over night or at the very least, a couple of hours. And in the next couple days I'll have a recipe for you that features this lip-smackin'-good BBQ sauce! So go and jot this down and whip up a batch asap, because you're gonna want to make it this weekend. Promise.
Enjoy! And if you give this Homemade Sweet Barbecue Sauce recipe a try, let me know by snapping a photo and tagging me on twitter or instagram!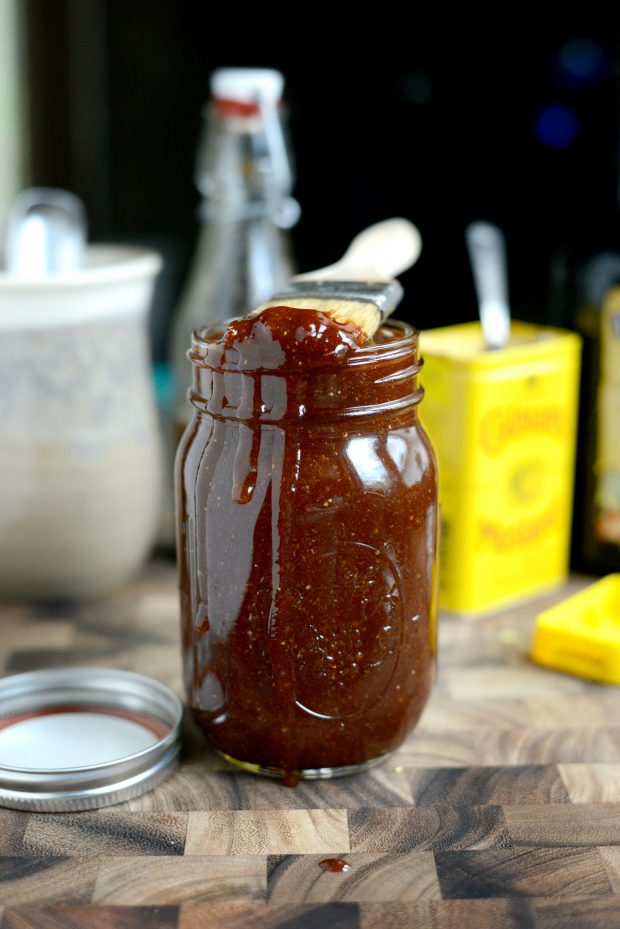 My cookbook Simply Scratch : 120 Wholesome Homemade Recipes Made Easy is now available! CLICK HERE for details and THANK YOU in advance! 
Homemade Sweet Barbecue Sauce
Homemade Sweet Barbecue Sauce is sweet, savory and delicious! It's like Sweet Baby Ray's just minus the high fructose corn syrup!
Yield: 4 cups approximately
Prep Time: 10 minutes
Cook Time: 0 minutes
Total Time: 10 mintues
Ingredients:
1-1/2 cups dark brown sugar, packed (packing the brown sugar is crucial so the vinegar is balanced)
2-1/2 teaspoons ground mustard
2 teaspoons paprika
1-1/2 teaspoons kosher salt
1 teaspoon black pepper
1-1/4 cups ketchup
1/2 cup red wine vinegar
1 tablespoon Worcestershire Sauce
Directions:
Measure and add all ingredients to a large bowl. Whisk well until the sugar has dissolved and the spices are throughout. Pour barbecue sauce into an airtight jar and store in fridge (overnight) or freeze!
This sauce needs at least a few hours in the fridge before using.
[this post contains affiliate links.]