These barbecue bacon baked beans are easy and delicious and only call for 5 ingredients! They're the perfect side dish to your favorite grilled meal and great for parties! [this post contains affiliate links.]
Do you have any idea how hard it is to make something from scratch using only FIVE ingredients?
Really hard. Maybe I should elaborate to say that it's difficult to make a Memorial Day barbecue-friendly dish (think potato salad or mac and cheese) and only using 5 ingredients. The struggle was real.
But when my friends at All Clad presented me with the challenge to create a 5-ingredient seasonal dish that is prepared in their d5 4-quart All-In-One pan, I of course accepted.
I'm not one to turn down a challenge, like the time when our friend Dave dared me to eat a tablespoon of cinnamon (not my finest moment). Although, that was a somewhat scary disaster, 5-ingredient recipe developing doesn't have to be. And I may just have a few tricks up my sleeve.
1: use BACON! 2: involve barbecue sauce 3. be OKAY with taking necessary shortcuts. Have I mentioned that this was a judgment free zone?
Now who doesn't love the sound of 5 ingredient barbecue bacon baked beans??? Exactly.
Start by chopping up 1/2 of a white onion or about 1/2 cup.
Then slice up 3 to 4 strips of applewood bacon. The better quality the bacon usually means the better the flavor. I make a special trip to the butcher to buy their bacon because I love it and also I can ask for 4 slices instead of having to buy an entire pound. Not that having extra bacon around is a bad thing.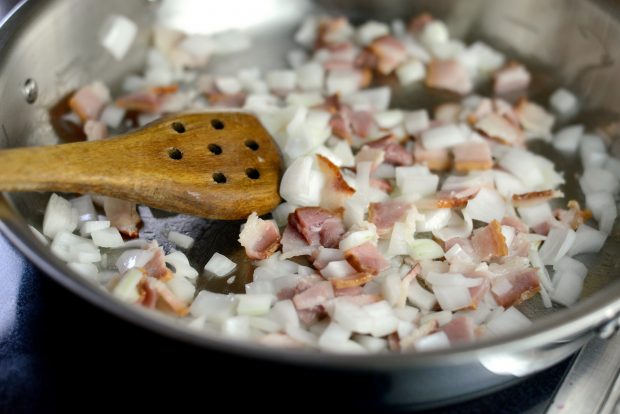 Next, add the onions and the bacon to a cool pan. Turn the heat to medium and give it a stir. Starting the ingredients in a cool pan is best to slowly render out the bacon fat.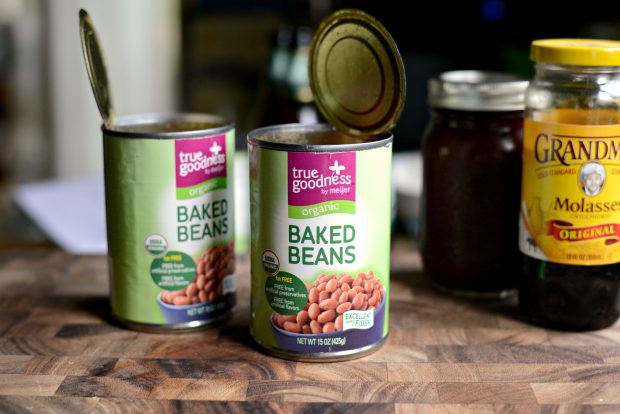 Here is where my third trick plays a part. If I was to make true "from scratch" beans I'd flip to page 183 in my cookbook *wink* but I would need quite a few more ingredients. Using organic baked beans is a-okay in my book, especially when on a 5-ingredient budget.
So once the onions are tender and the bacon has cooked a bit, add in the 2 (15 ounce) cans of baked beans.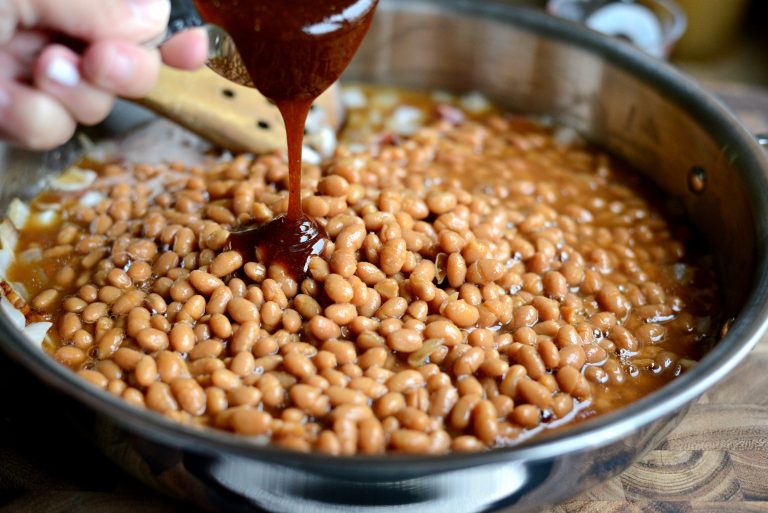 Next, pour in 3/4 cup of homemade sweet barbecue sauce now this I made from scratch.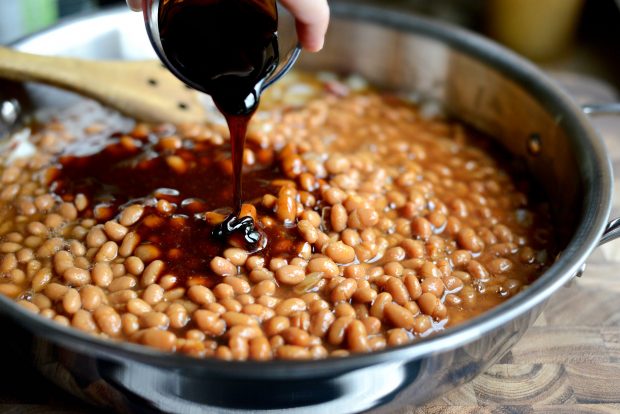 Then pour in 2 tablespoons of un-sulphured molasses. I also added in some black pepper, but that's totally optional and so I'm not counting that as one of the 5 ingredients. #makingtherulesasIgo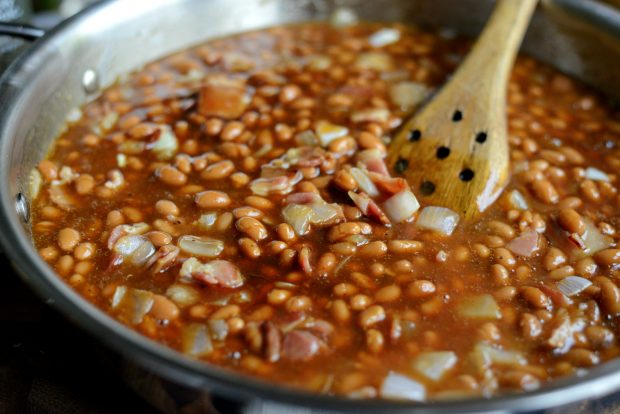 Lastly, give that all a stir, cover and bake for 1 hour, stirring every 20 minutes.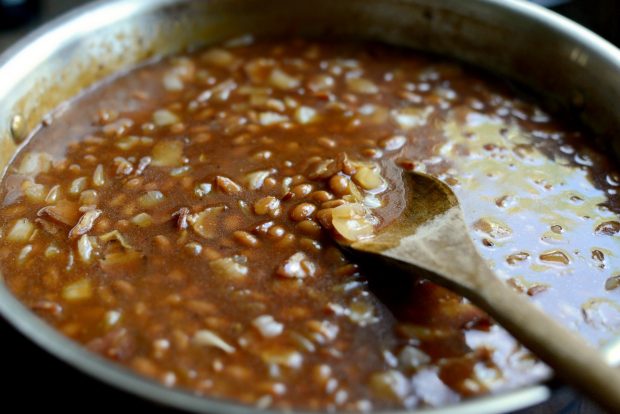 Once the hour is up, remove the lid and stir one last time before sliding the pan (uncovered) back into the oven for 10 to 15 more minutes. This will help thicken it up the barbecue bacon baked beans a smidgen more.
That's all folks! Smoky bacon + sweet barbecue sauce = a deliciously easy baked bean dish!
These barbecue bacon baked beans go great with brats, burgers or hot dogs! DO IT.
Enjoy! And if you give this Barbecue Bacon Baked Beans recipe a try, let me know! Snap a photo and tag me on twitter or instagram!
My cookbook Simply Scratch : 120 Wholesome Homemade Recipes Made Easy is now available! CLICK HERE for details and THANK YOU in advance!
Yield: 10 servings
5-ingredient Barbecue Bacon Baked Beans
These 5-ingredient barbecue bacon baked beans are easy and delicious! They're the perfect side dish to your favorite grilled meal and great for parties!
Ingredients
1/2 medium white onion, finely diced (about 1/2 cup)
4 slices thick-cut applewood smoked bacon, cut into pieces
2 (15 ounce) cans baked beans, I buy organic
3/4 cup homemade sweet barbecue sauce
2 tablespoons un-sulphured molasses
Instructions
Preheat your oven to 350°.

In a large pan, add onions and bacon and then heat on medium

Cook until onions are soft, stirring occasionally, about 8 minutes.

Remove the pan off of the heat and add in the beans, barbecue sauce and black pepper and stir.

Cover the pan and slide it onto the middle rack of your preheated oven. Cook for 1 hour stirring every 20 minutes. When the hour is up, use pot holders to remove the lid and slide the pan back into your oven for 15 minutes.

Allow the beans to cool for a few minutes before serving. Season with black pepper to taste.

Beans will thicken up more as they cool.
Calories: 256kcal, Carbohydrates: 44g, Protein: 10g, Fat: 6g, Saturated Fat: 2g, Polyunsaturated Fat: 1g, Monounsaturated Fat: 3g, Trans Fat: 1g, Cholesterol: 17mg, Sodium: 937mg, Potassium: 624mg, Fiber: 9g, Sugar: 10g, Vitamin A: 51IU, Vitamin C: 4mg, Calcium: 101mg, Iron: 3mg
[this post contains affiliate links.]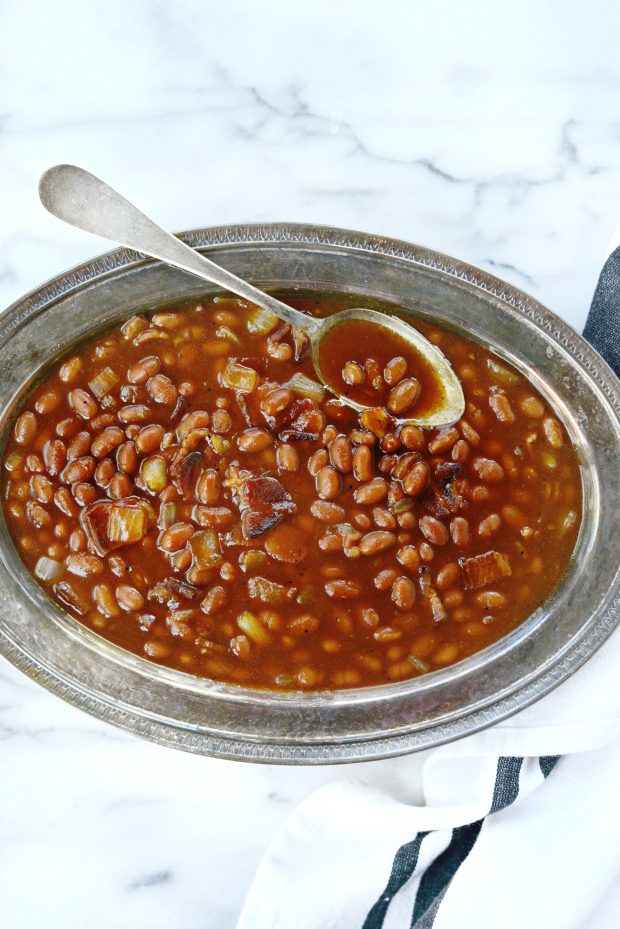 All-Clad was generous enough to gift me this pan to use in creating a 5-ingredient recipe and give an honest review. Furthermore, I'm a huge fan of All-Clad, but my thoughts are my own and this pan doesn't disappoint!
This post may contain affiliate links.
Buy the Cookbook: Simply Scratch : 120 Wholesome Homemade Recipes Made Easy Now available on Amazon »
THANK YOU in advance for your support!