Today we're talking about whole wheat pizza dough! I know… on a Monday, but you just have to wait and see the pizza toppings I put on it! That comes later this week… but first let me tell you a little something about whole wheat.
Unless it says 100% whole wheat in the recipe, it's usually mixed with all purpose or some other flour. Why? Because whole wheat flour has less gluten you need a little help form the all purpose or you risk having cardboard pizza crust. Unless you like that sort of crust… then go for it. Totally. Just don't blame me.
Whole wheat crust works with any pizza toppings. And I'll be sharing one of my favorite pizza combos with you this week. This crust crisps up and has a mellow wheat-y flavor and it's just as simple as my other pizza dough recipe. My husband even likes this crust… and if you know him at all, whole wheat isn't usually in his daily meal plan.
A-lessss-roll.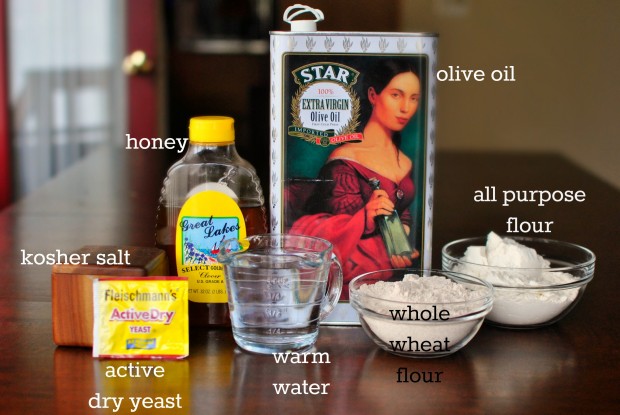 Active dry yeast, warm water, honey, olive oil, salt, all purpose and whole wheat flour is all you need. Simple simple simple.
Note: I don't use whole wheat flour as much as regular ap flour. So I store mine in the freezer to prolong it's freshness.
Okay guys, first eyeball about a half teaspoon of honey into the bowl of your mixer.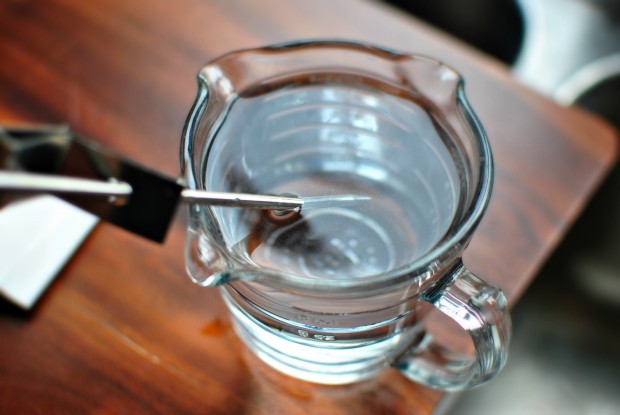 Then measure out a cup of hot water. It should read at 110-120°. See I still use an instant-read thermometer to take it's temperature.
Next, pour that into the bowl and quickly stir to dissolve the honey.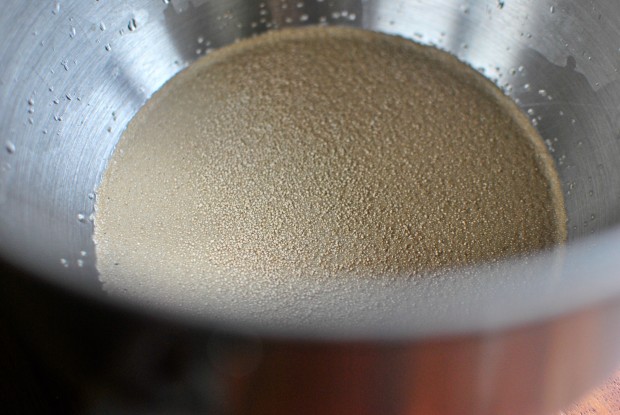 Then, sprinkle with a packet or 1-1/4 teaspoons of active dry yeast.
Next, add in a teaspoon of olive oil.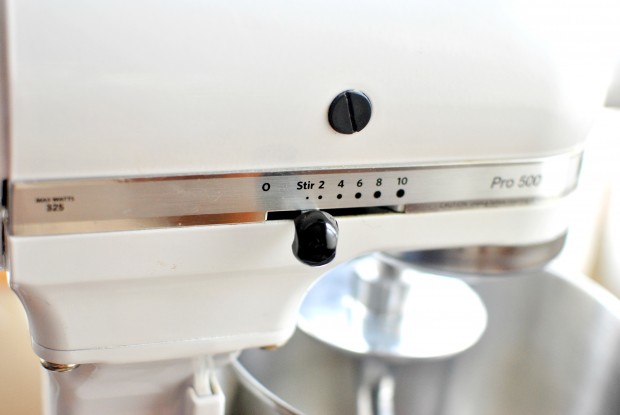 And then slide the lever to stir.
Next gradually add in the all-purpose flour.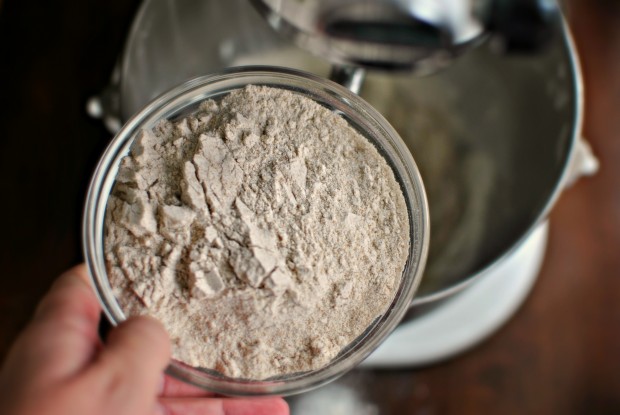 Then, increase the speed a tad and add in the whole wheat flour.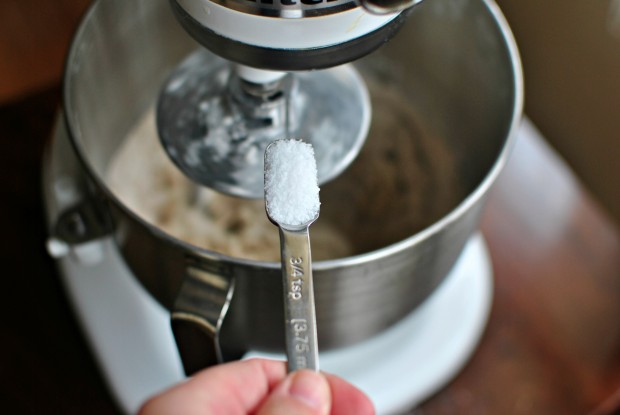 Next, while it's mixing, add in 3/4 teaspoon of kosher salt.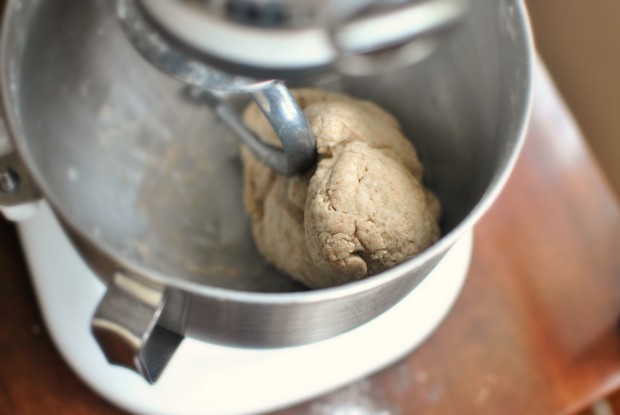 And then blend until the dough forms a ball and starts creeping up the side of the bowl.
Next form a ball and add it into a well-oiled bowl. Toss the dough so it's coated and the sides of the bowl are as well.
Next, cover and stick in a warm, dry spot to rise for 40 minutes to an hour.
Ta-dah!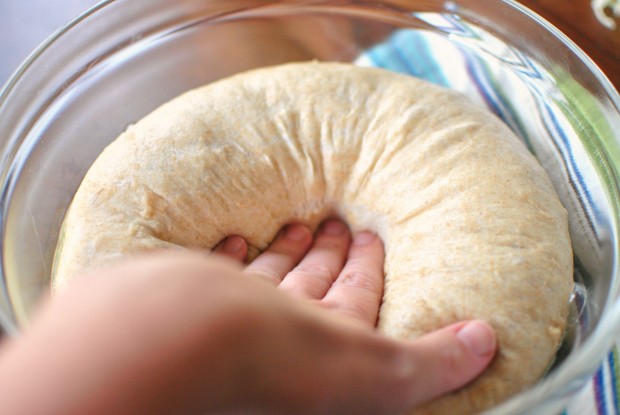 Them press with your fingers to degas the dough… I don't flatten it completely because I'm going to divide and roll the dough out thin.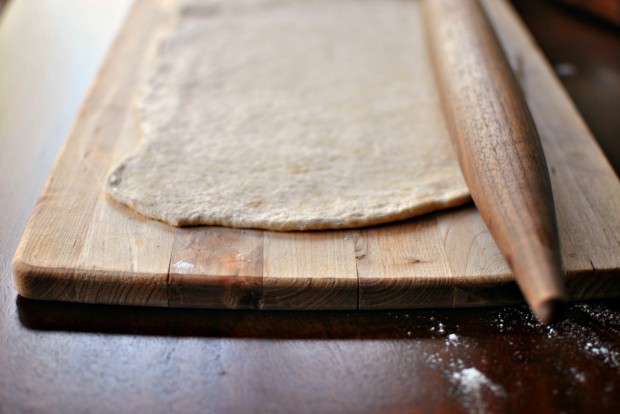 Next, flour your board lightly and grab a rolling pin. Then roll out your whole wheat pizza dough, or stretch with your fingers. It's super easy!
And to think I used to be TERRIFIED of pizza dough, any dough really. That's just plain crazy.
I see pizza in your future! Get on it!
Enjoy! And if you give this whole wheat pizza dough recipe a try, let me know! Snap a photo and tag me on twitter or instagram!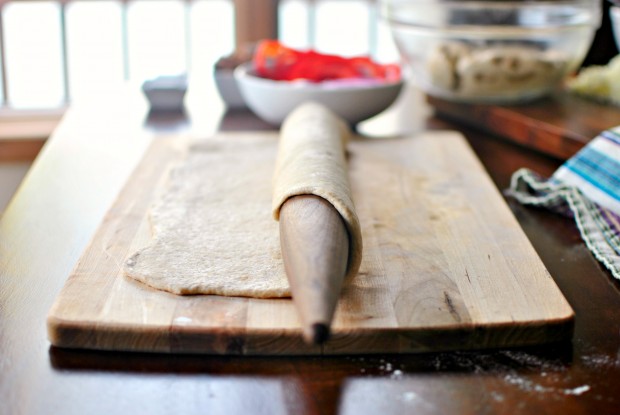 Yield: 1 recipe
Whole Wheat Pizza Dough Recipe
Perfect whole wheat pizza crust every single time! Yields 1 large pizza crust or 2 medium or 4 personal or small pizzas.
Ingredients
2¼ teaspoons active dry yeast, or 1 envelope
1/2 teaspoon honey
1 cup warm water, 110-115 degrees F.
1 teaspoon olive oil
1½ cups unbleached all-purpose flour
1 cup whole wheat flour
3/4 teaspoon kosher salt
Instructions
In the bowl of your mixer (fitted with a dough hook) add the honey, warm water and stir to dissolve.

Sprinkle the yeast over top and let it bloom for 5 minutes or so.

Add in the olive oil and turn your mixer on low. Gradually add in the flours, increasing the speed as you go.

Season the dough with kosher salt and continue to mix the dough until it forms a ball along the side of the mixing bowl.

Remove the dough and form a smooth ball. Toss the dough in a well oiled bowl coating it and the sides of the bowl. Cover with a clean towel and place the bowl in a warm, dry place to rise for 1 hour.

Use your hands to press the gas out of the dough and roll into desired pizza sizes.

This dough will make one regular large pizza or two thin-crust medium size pizzas.
Notes
I usually bake my pizzas at 450° for 15 to 20 minutes but follow the recipe for the pizza you are making.
Serving: 1recipe, Calories: 1224kcal, Carbohydrates: 243g, Protein: 46g, Fat: 11g, Saturated Fat: 2g, Polyunsaturated Fat: 3g, Monounsaturated Fat: 5g, Sodium: 1776mg, Potassium: 896mg, Fiber: 25g, Sugar: 4g, Vitamin A: 15IU, Vitamin C: 1mg, Calcium: 85mg, Iron: 14mg
This post may contain affiliate links.
Buy the Cookbook: Simply Scratch : 120 Wholesome Homemade Recipes Made Easy Now available on Amazon »
THANK YOU in advance for your support!