White Wine Drenched Fruit Salad; for an adult take on fruit salad fresh fruit is tossed in a delicious white wine simple syrup .
How about a little boozy fruit to start your week?
The very first time I had this salad was at a wedding shower. The glass bowl was appropriately labeled "Grownup Fruit Salad" and I was really confused because I saw strawberries, grapes, blueberries, nothing out of the norm. I asked a friend of mine what gives? She said it was drizzled with some kind of wine concoction.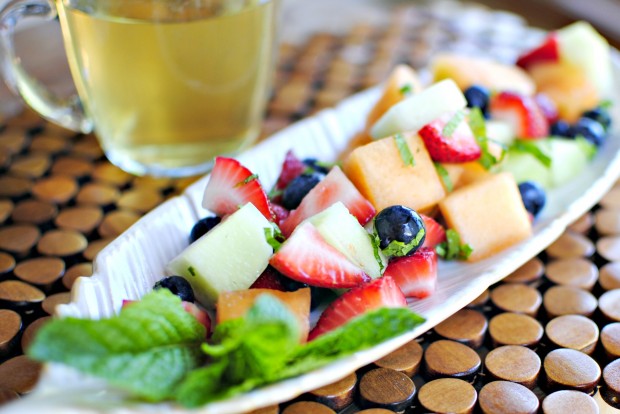 Ummm yes please!
When I got to the end of my bowl of White Wine Drenched Fruit Salad, I looked to the left… then to the right. And when the coast was clear I drank the wine in the bottom of my dixie cup. Then I contemplated stealing all the cups scattered on the surrounding tables. Hey I'm not above it, but I didn't want to be looked at as "that girl" but in a way I sorta wished I kinda was.
To make This Wine Drenched Fruit Salad You Will Need:
sugar
white wine
fresh fruit and melon – you really could use any fruit your heart desired
You Really Can't Go wrong with wine-drenched ANYTHING, can you?
First, start making the wine simple syrup by dumping in 1/4 cup of sugar to a saucepan. Yeah you heard right… WINE simple syrup.
Like every single time I open a bottle with a "real" corkI always start off thinking I aimed dead center…
Then I start to open the wine. Simple huh?
I have corkscrew issues. No matter how hard I try to center it…
Then inevitably this happens. Every. Single. Time. But hey, I'm a pro at getting the remaining mutilated cork out of the bottle. Winner.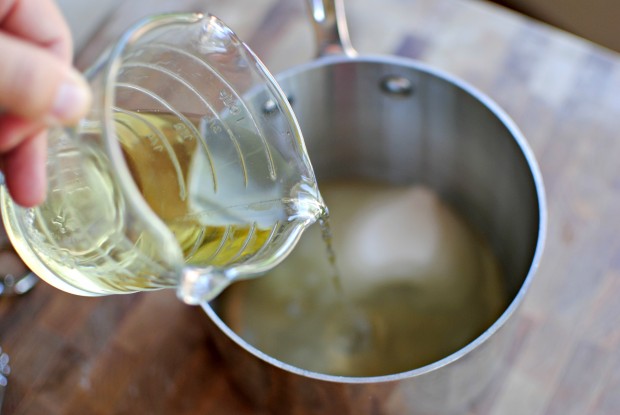 Next, measure out 1 cup of wine.
What Type Of Wine To Use In This Wine Simple Syrup?
The wine I am using was given to me as a gift. It also so happens to be a local wine and doesn't specify what kind of white it is. On the back it said with hints of melon and floral notes, so I thought this will do. However always use a wine you'd drink and that's not too overly sweet.
Then, over medium-low heat, stir the sugar into the wine over until the sugar dissolves (do NOT boil). Immediately remove it off of the heat and let it cool.
First, wash the blueberries and measure out 3/4 of a cup.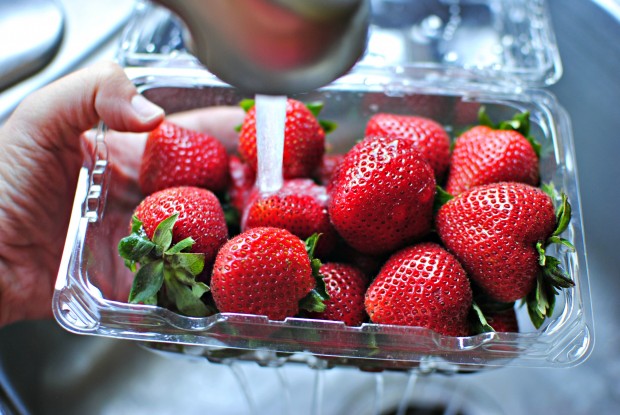 Then, rinse off the strawberries too. Trim off the green tops and quarter up about 10 medium sized strawberries.
Then add about 1-1/2 cups each of honeydew melon and cantaloupe into a large mixing bowl.
Next add in the berries.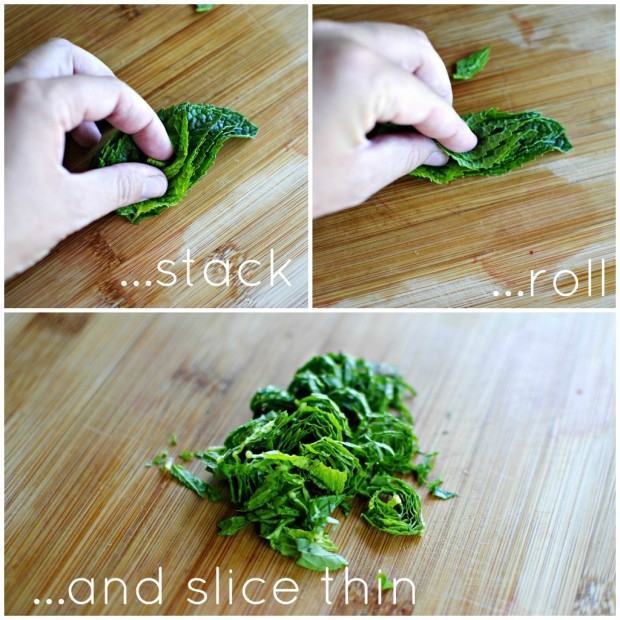 Then rinse off the 6-8 large leaves of mint. Stack, roll and slice thin.
Next, sprinkle it into the fruit bowl.
Then toss to combine.
Lastly, drizzle with a little or a lot of the wine syrup.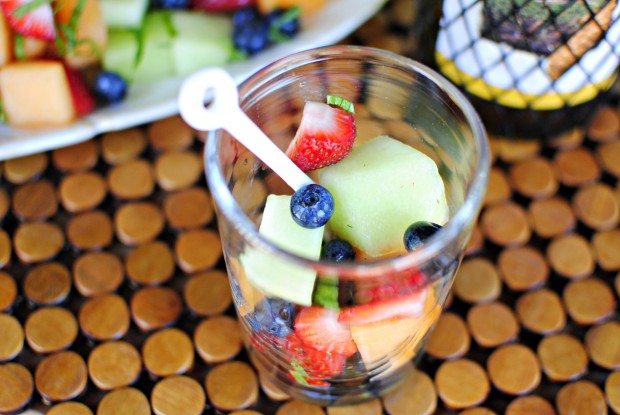 Serve up the White Wine Drenched Fruit Salad in fun small glasses or plates, and savor the flavor! Fruit just got A LOT better :)! Happy Monday!
Enjoy! And if you give this recipe a try, let me know! Snap a photo and tag me on twitter or instagram!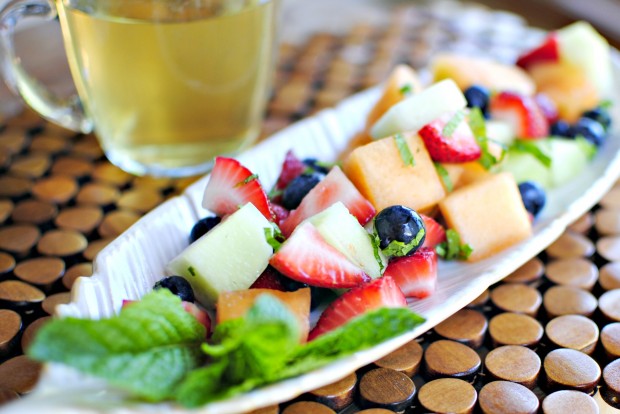 Yield: 6 servings
White Wine Drenched Fruit Salad
White Wine Drenched Fruit Salad; fresh fruit is tossed in a delicious white wine simple syrup for an adult take on fruit salad.
Ingredients
FOR THE WINE SIMPLE SYRUP:
1 cup white wine
1/4 cup sugar
FOR THE SALAD:
2 cups quartered strawberries
1½ cups cubed honeydew melon
1½ cups cubed cantaloupe
3/4 cup blueberries
6-8 large fresh mint leaves, rolled and sliced thin
Instructions
In a saucepan add the 1/4 cup of sugar and the cup of white wine. Stir over medium-low heat until the sugar dissolves into the wine. Remove and let cool. Chill in the fridge until ready to use.

Combine desired fruit and sliced mint in a large bowl. Chill until ready to serve. Dish the fruit salad into cute little cups or bowls and drizzle with the wine syrup just before serving.
Serving: 1g, Calories: 121kcal, Carbohydrates: 23g, Protein: 1g, Fat: 1g, Saturated Fat: 1g, Polyunsaturated Fat: 1g, Monounsaturated Fat: 1g, Sodium: 17mg, Potassium: 326mg, Fiber: 2g, Sugar: 19g, Vitamin A: 1432IU, Vitamin C: 53mg, Calcium: 21mg, Iron: 1mg
This post may contain affiliate links.
Buy the Cookbook: Simply Scratch : 120 Wholesome Homemade Recipes Made Easy Now available on Amazon »
THANK YOU in advance for your support!