Pizza dough from scratch is the only way to make pizzas. This is my fool proof and easy recipe for homemade pizza dough and how to grill it to perfection!
Today… I've brought you a lot of beige.
Beige bowl. Beige pizza dough… beige, beige, beige, BEIGE, blah. Sorry.
After the 167th time of being asked if I had a pizza dough recipe on my blog I finally realized that it might not be the easiest recipe to find here on SS. That's ummm, because I did the step-by-step of it for a calzone recipe… but hey it's still a great reference if you don't have a Kitchen Aid and want to make it by hand. But since I have one of those beasts… and strongly dislike wearing dough-gloves while mixing, I thought that I should probably make this pizza dough recipe a post all in its own. Ya know… so you can actually find it.
Homemade. From scratch pizza dough is where it's at you guys. I tell ya, it's easier than it looks and the more times you make it… the more you'll be able to do it with your eyes closed.
PLUS. I made grilled pizza… and who doesn't love the sound of that?
Next, in the bowl to your mixer add some honey… about a half teaspoon, I eyeball it.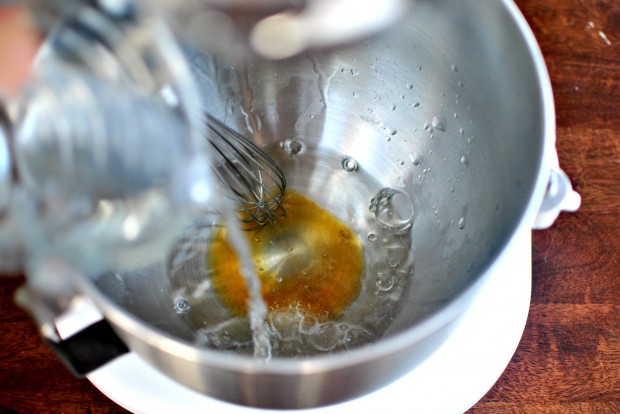 Then add a cup of water that is between 115-120 ° (my mom goes by instinct… I use a digital thermometer [affiliate], I'm not that good) and quickly whisk so the honey dissolves into the water.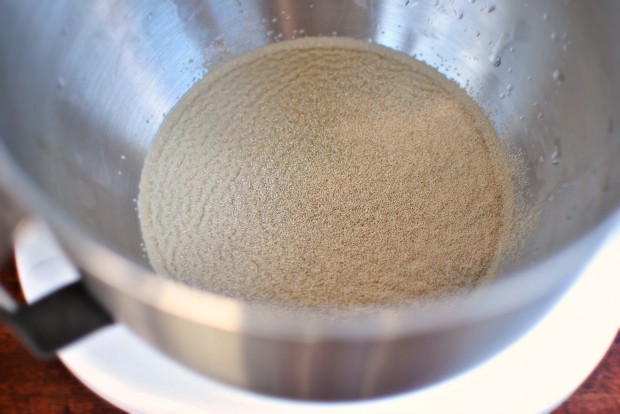 Next, sprinkle in a packet of yeast, DO NOT MIX.
Next, allow it to just sit there for about 10 minutes.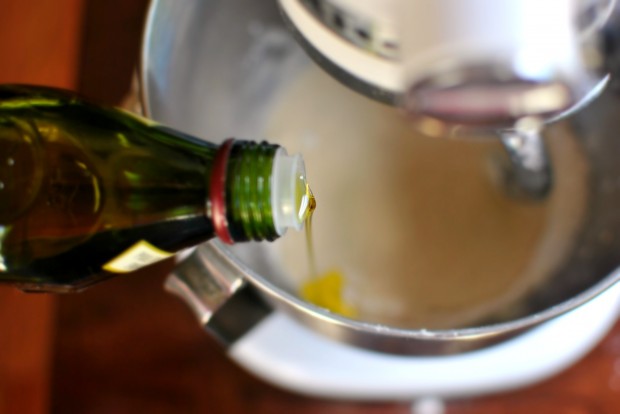 Then add in a skosh of olive oil… like about a teaspoon. Again, I eyeball it.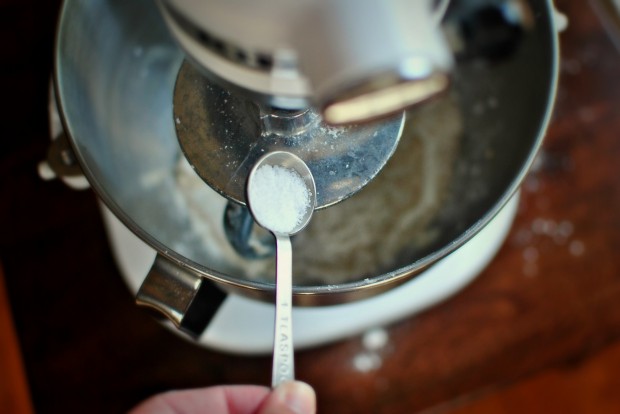 Next, measure and add in 3/4 teaspoon of kosher salt.
Then add in a cup of flour and mix on low to incorporate.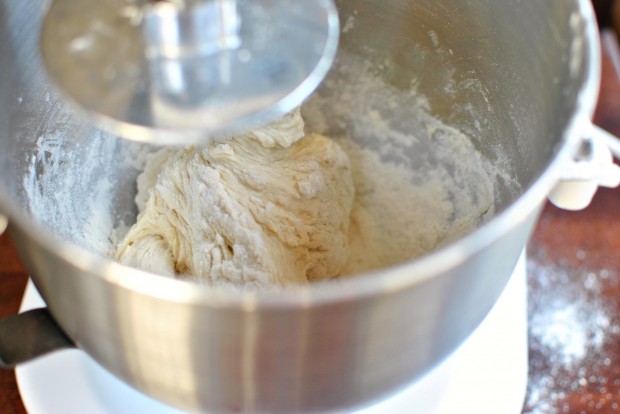 Repeat with more flour.
Next add in all of the flour until the dough is sticky, it should pull clean from the sides of the bowl.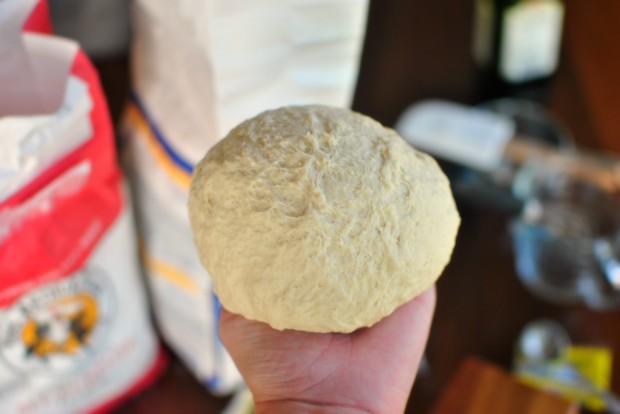 Next form a ball.
Then add a splash of olive oil to a large bowl. Use the pizza dough to coat the inside of the bowl. Roll the ball around and up the sides to coat the dough and bowl completely with olive oil.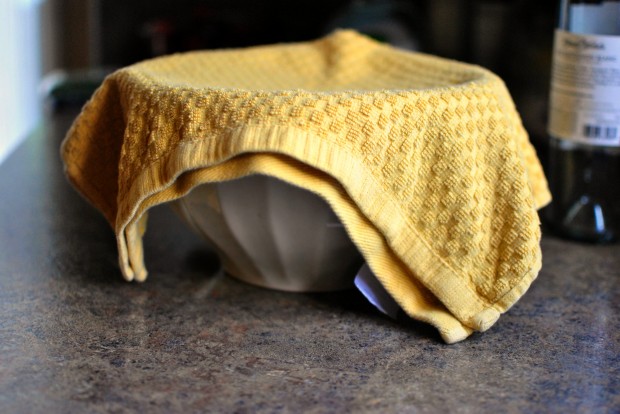 Next, cover with a towel and let'er rise for an hour.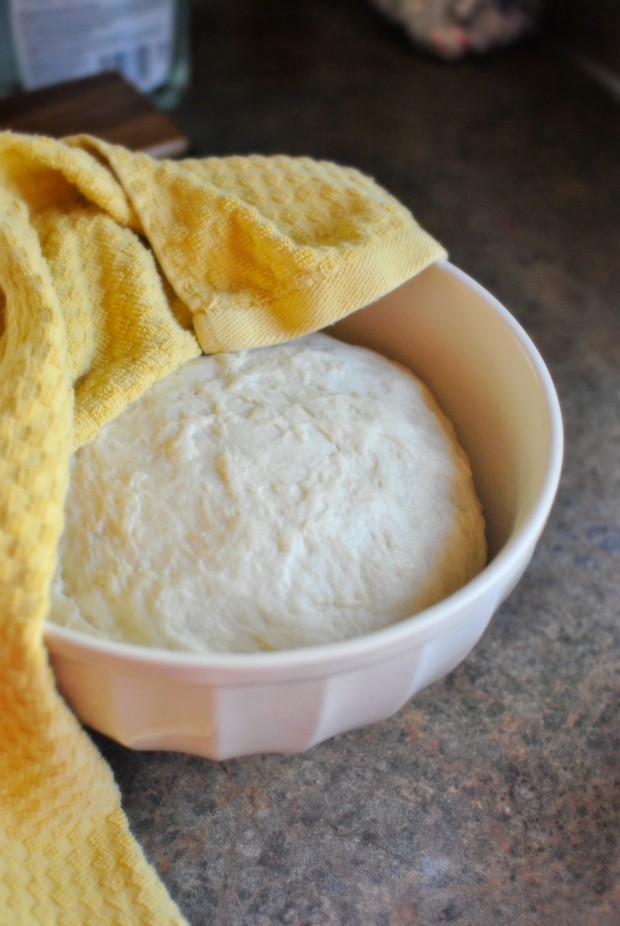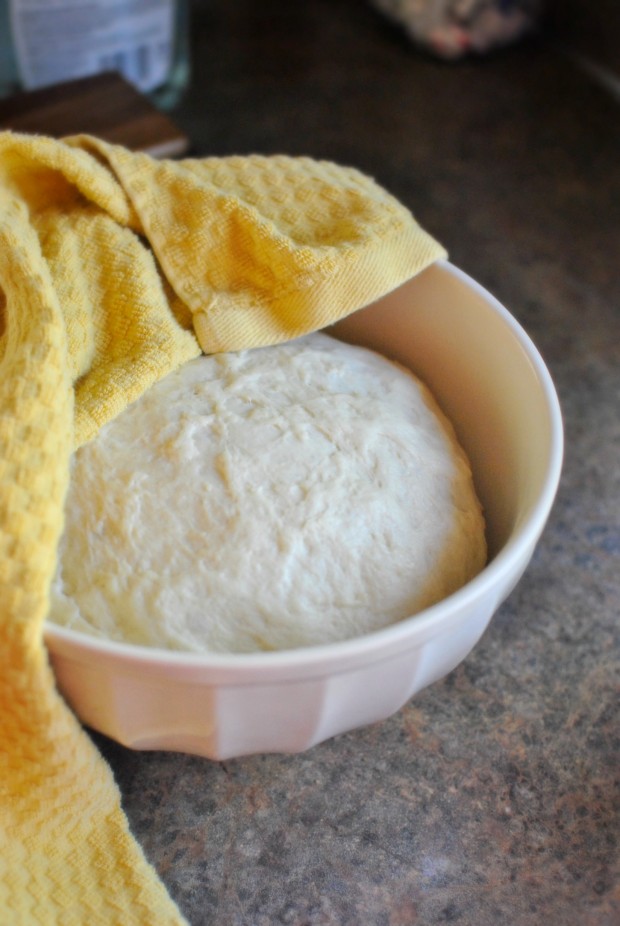 There you go, pizza dough from scratch! You know it's ready when it has doubled in size.
Next, once risen, punch down the dough with your fingers.
Then lightly flour a large cutting board and sprinkle the dough as well…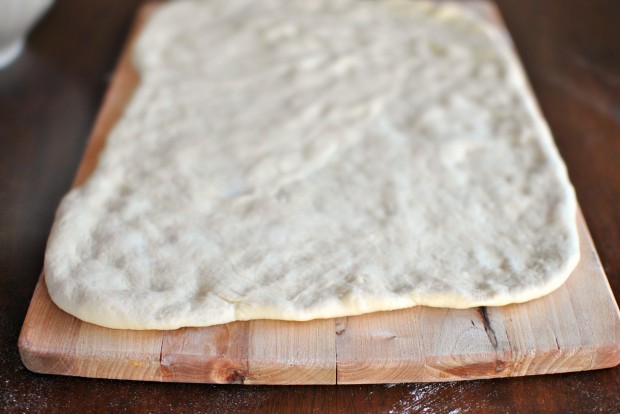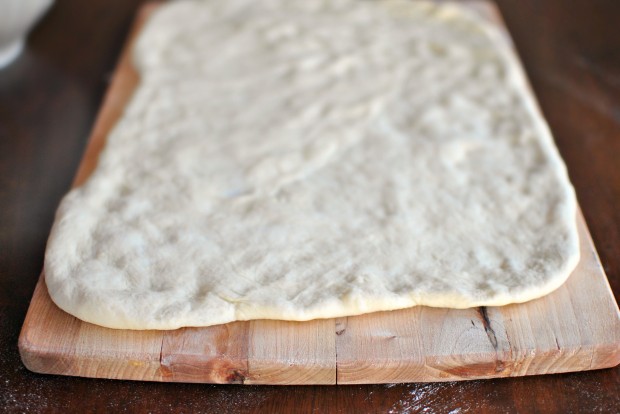 With your impeccably clean hands, work the dough into a shape that will fit on your grill or on a pan in your oven.
Next, clean the grates and rub with a little olive oil before preheating. I drizzled some olive oil on a paper towel and used tongs to wipe every square inch. ALSO this is very important: make sure all of your ingredients are ready to go; sauce made, cheese grated… etc. Have it all by the grill because this pizza moves FAST.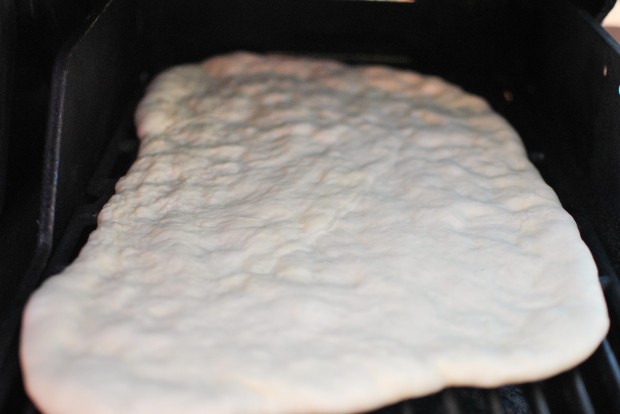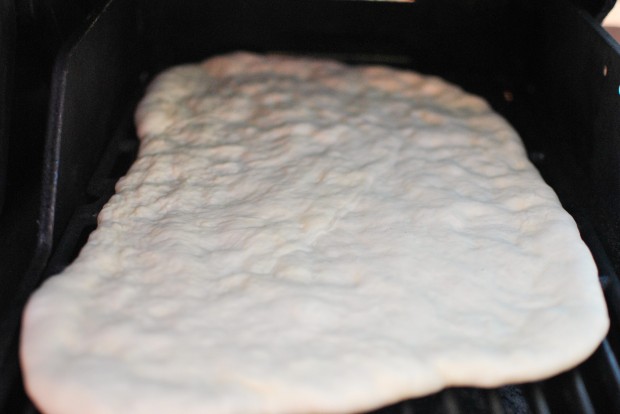 Once hot; open the lid for a few to let the heat escape a tad, reduce the temp to medium-high and slide the dough onto your grill.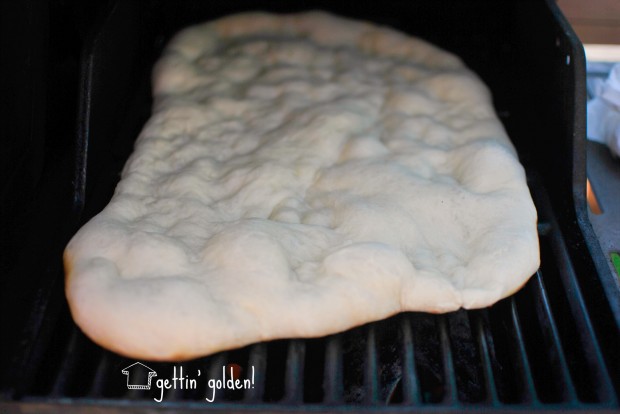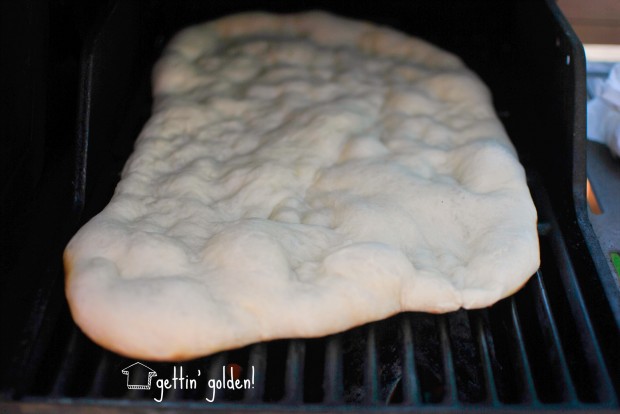 Check on the pizza crust after 3-4 minutes. Watch for the bottom side to start getting nice and golden. And for the record, no I did NOT purposefully shape my pizza to look like a stocking. It's cool… but not that cold.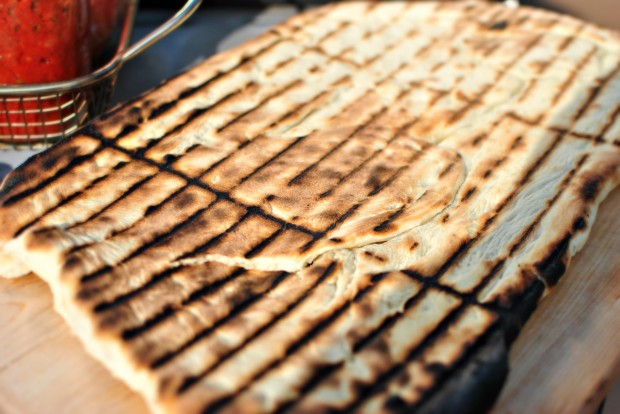 Using tongs and a flipper-do, I flipped the dough onto my cutting board. I reduced the temp again to medium…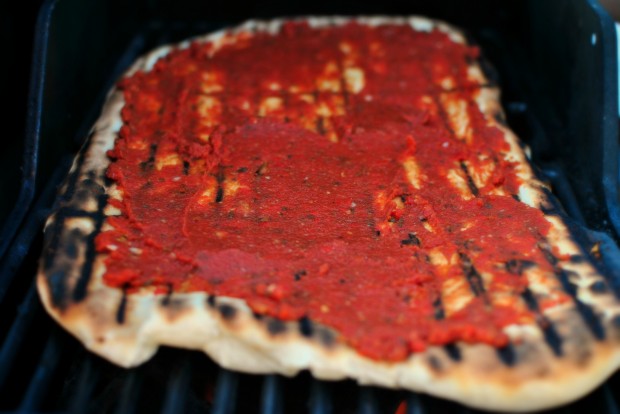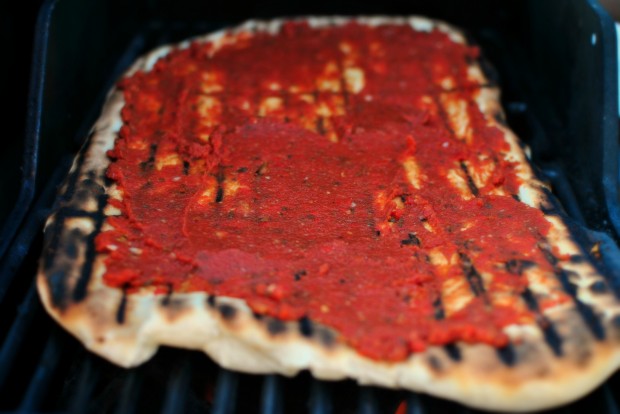 … And slid the dough off and back onto the grill. Working fast, I smothered it in this sauce…
Next, top it with grated farmers cheese (or use Mozzarella) and with as many pepperonis as you can fit.
Close the lid and let the grills heat circulate to melt the cheese… I also sprinkled it with Parmesan. I couldn't resist.
Once the cheese is melted and the bottom side of the pizza is golden… I pulled it back onto the cutting board and let it cool down for a smidge.
There is nothing like a pizza made from pizza dough from scratch.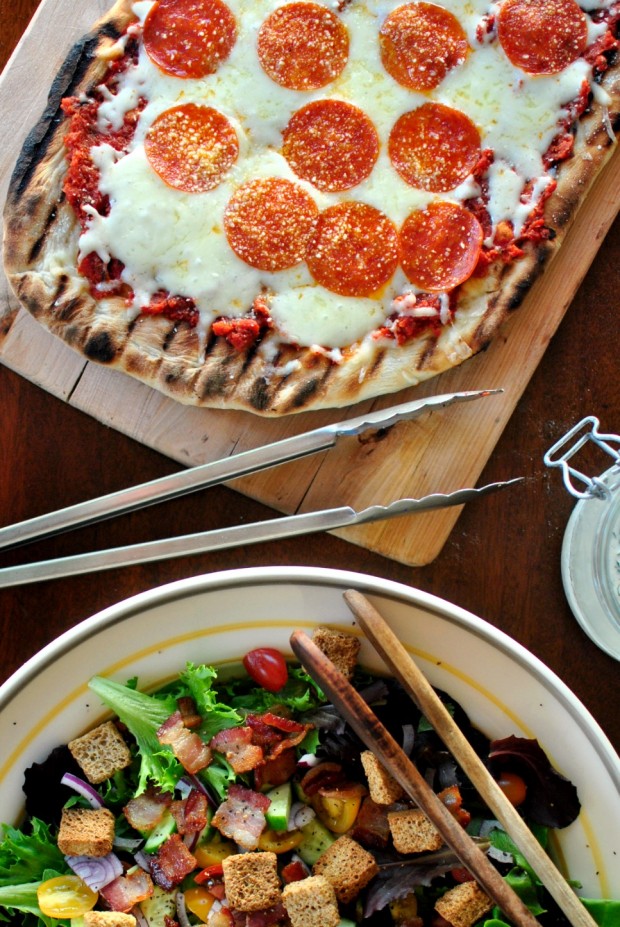 I urge you to grill your next pizza. It's WAY faster and tastes unbelievable. I prefer the darker edges, but you knew that already.
I know it feels like fall out there, especially here in the mitten. But it's never, EVER too cold for pizza.
Oh and here's my whole wheat version!
Enjoy! And if you give this Pizza dough from scratch recipe a try, let me know! Snap a photo and tag me on twitter or instagram!
My cookbook Simply Scratch : 120 Wholesome Homemade Recipes Made Easy is now available! CLICK HERE for details and THANK YOU in advance!
[this post contains affiliate links.]
This post may contain affiliate links.
Buy the Cookbook: Simply Scratch : 120 Wholesome Homemade Recipes Made Easy Now available on Amazon »
THANK YOU in advance for your support!