These white cheddar chipotle chicken sliders are spicy and delicious. Ground chicken is mixed with chipotles, cilantro and spices.
These little burglerettes are the newest creation hot off our grill.
I had been toying with the idea of chicken burgers since I found the packages at my grocery store. Then I found white cheddar chipotle cheese so I just married the two and was totally stoked about how flavorful these were. Your brain will be expecting a burger… but you mouth tastes a smoky, slightly spicy chicken burger. It's bonkers.
I grilled these burgers up along with sweet potato fries while my husband was napping and the girls were playing. It was absolute mayhem in my house. Blogging two recipes just moments before the sky unleashed a HUGE storm is not usually a smart idea. I made it just in the nick of time… but it seems that I make a habit out of cutting it close… it's probably a last born sort of thing, but if the shoe fits I will gladly wear it.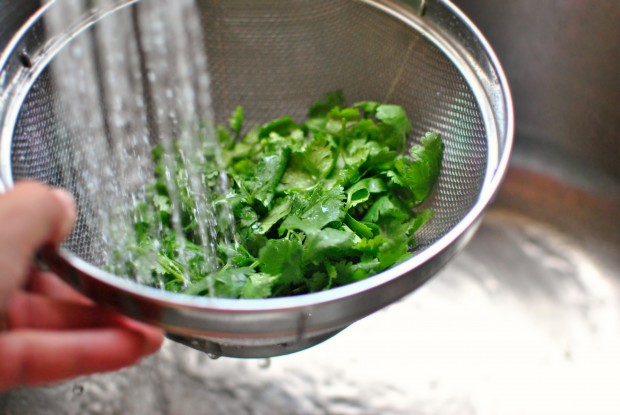 To start, rinse and mince a handful of fresh cilantro.
Quick question: do any of you grow your own cilantro? I thought about it long and hard but I figure I use it so much I'd have to plant my entire front yard full of it. It's pretty ridiculous but I use at least a bunch or two a week. True story.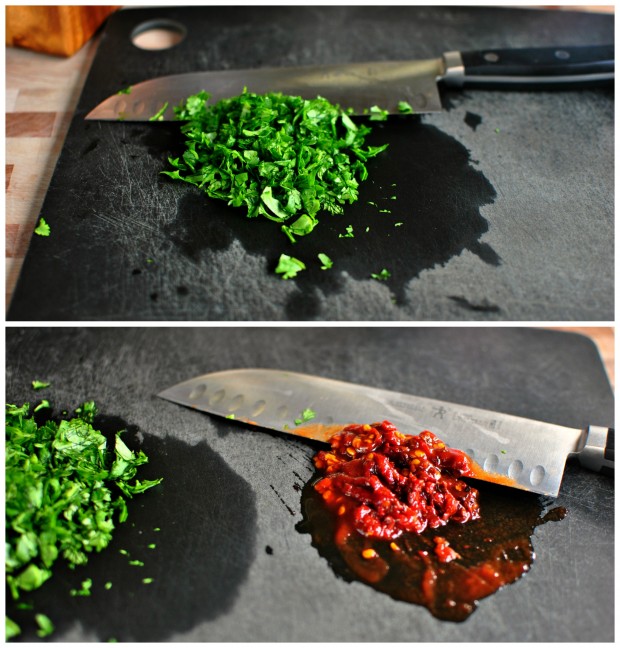 Next, grab two small to medium (depending on your heat preference) chipotles out of the can and mince them up really well.
Prep the meat mixture:
Then, in a large mixing bowl, add two pounds of ground chicken.
Next, add in the minced cilantro and chipotle peppers and a teaspoon of that adobo sauce-goodness. Chipotles add a delicious smoky heat! However if your nervous about these being too spicy, add 1 pepper and half the amount of adobo sauce.
Then measure and add in teaspoon of kosher salt…
… and then a 1/4 teaspoon of black pepper.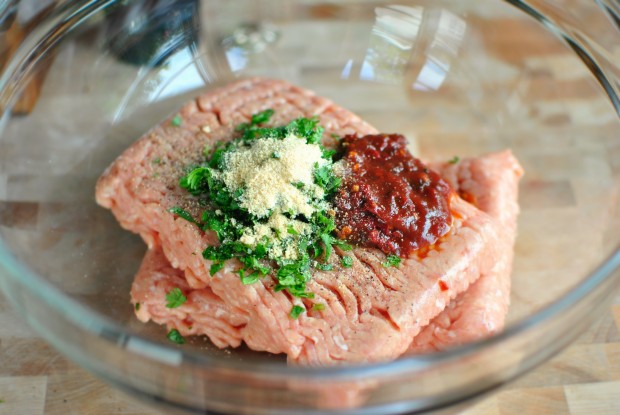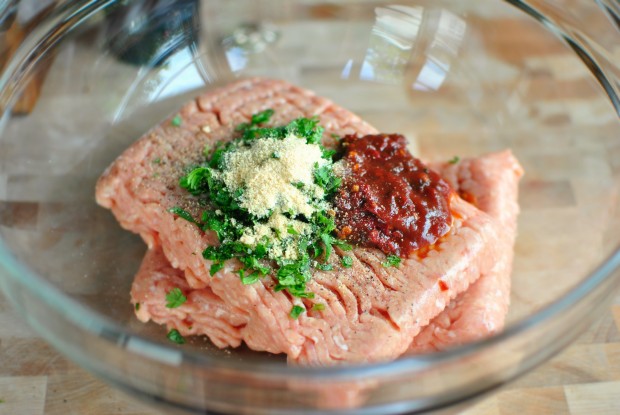 Lastly, add in 3/4 teaspoon of both garlic powder (not garlic salt!) and onion powder.
Mix by hand until it comes together.
Next, evenly portion out 12 slider burgers and form into patties.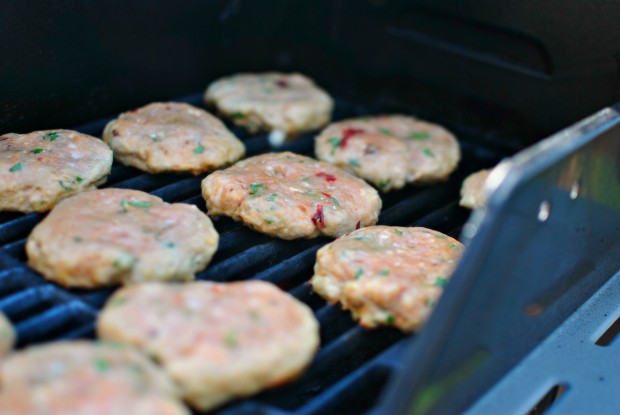 Get your grill nice at hot, reduce to medium-high and slap down those patties.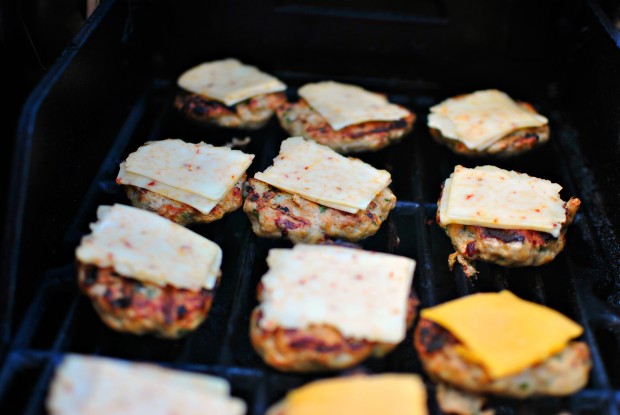 After 4 to 6 minutes, flip and stack with cheese. Close the lid to your grill and let those continue to cook for about 4 more minute or until the burgers are fully cooked and the cheese is completely melted.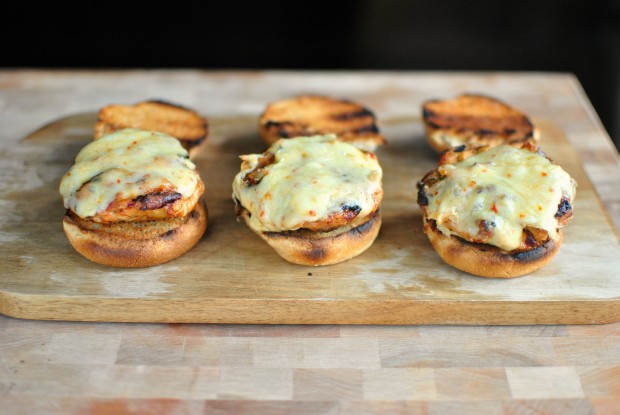 I toasted our slider buns. I'm a fan of a toasted… toasted buns and by BLT better come on toasted bread, or else.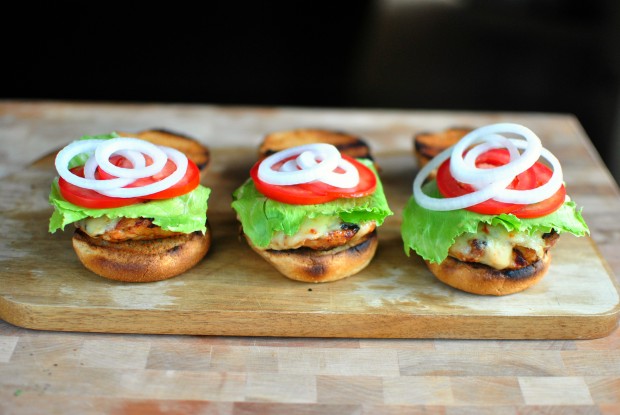 Top with the basics.
And thur you have it.
I uuuuurge you to try these chipotle chicken sliders. I loved them. Pat loved them. My daughter's loved them. And the leftovers are just as good heated up the next day!
Don't you wish you could take a bite?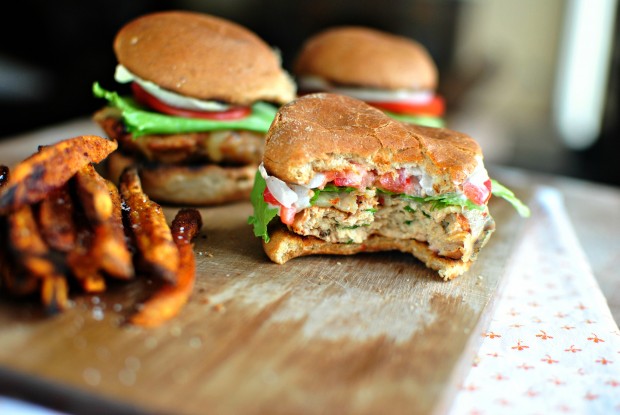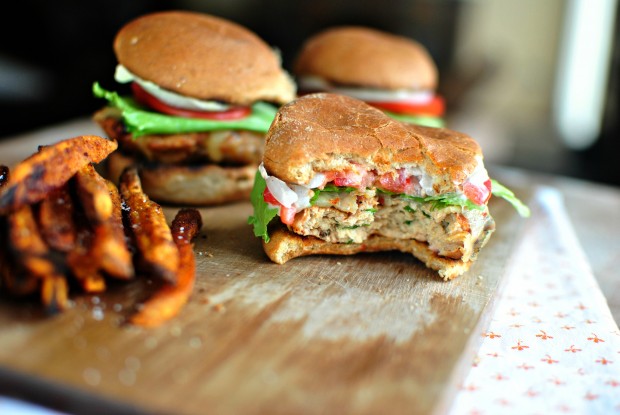 Enjoy! And if you give this chipotle chicken sliders recipe a try, let me know! Snap a photo and tag me on twitter or instagram!
Yield: 6 servings
White Cheddar Chipotle Chicken Sliders
White cheddar cheese with flecks of chipotle pepper are melted over ground chicken sliders that were mixed with fresh cilantro, spices and more chipotle peppers! It's a chipotle-lovers dream burger! Yields 12 sliders.
Ingredients
2 pounds ground chicken, or ground turkey
1/4 cup minced cilantro
2 chipotle peppers (in adobo), minced
1 teaspoon adobo sauce
1 teaspoon kosher salt
3/4 teaspoon garlic powder
3/4 teaspoon onion powder
1/4 teaspoon black pepper
4 slices of sharp white cheddar cheese
8 slider buns
Instructions
Preheat your grill to high.

In a large bowl combine the ground turkey, minced cilantro, chipotle peppers, salt, pepper, garlic powder and black pepper.

Mix by hand until thoroughly combined. Form into 12 equal portions and then form into patties.

Turn the grill temperature down to medium-high and give it a chance to cool down for a few seconds before placing the chicken patties onto the grill. With the lid closed, grill the burgers for 5 minutes.

Flip the burgers and place down the cheddar and continue to cook [with the lid closed] for 4 to 5 minutes more or until the patties are fully cooked and the cheese is melt-y and bubbly.

Serve on a toasted slider bun with your favorite toppings and enjoy!
Serving: 2sliders, Calories: 416kcal, Carbohydrates: 23g, Protein: 34g, Fat: 20g, Saturated Fat: 7g, Polyunsaturated Fat: 2g, Monounsaturated Fat: 7g, Trans Fat: 1g, Cholesterol: 150mg, Sodium: 801mg, Potassium: 821mg, Fiber: 2g, Sugar: 4g, Vitamin A: 484IU, Vitamin C: 1mg, Calcium: 180mg, Iron: 3mg
This post may contain affiliate links.
Buy the Cookbook: Simply Scratch : 120 Wholesome Homemade Recipes Made Easy Now available on Amazon »
THANK YOU in advance for your support!