In this Grilled Potato Salad, redskin potatoes are grilled and tossed with crispy bacon, fresh green onions and fresh parsley, a little mayo and a crazy delicious bacon Dijon vinaigrette. Serve warm or at room temperature – it's delicious either way!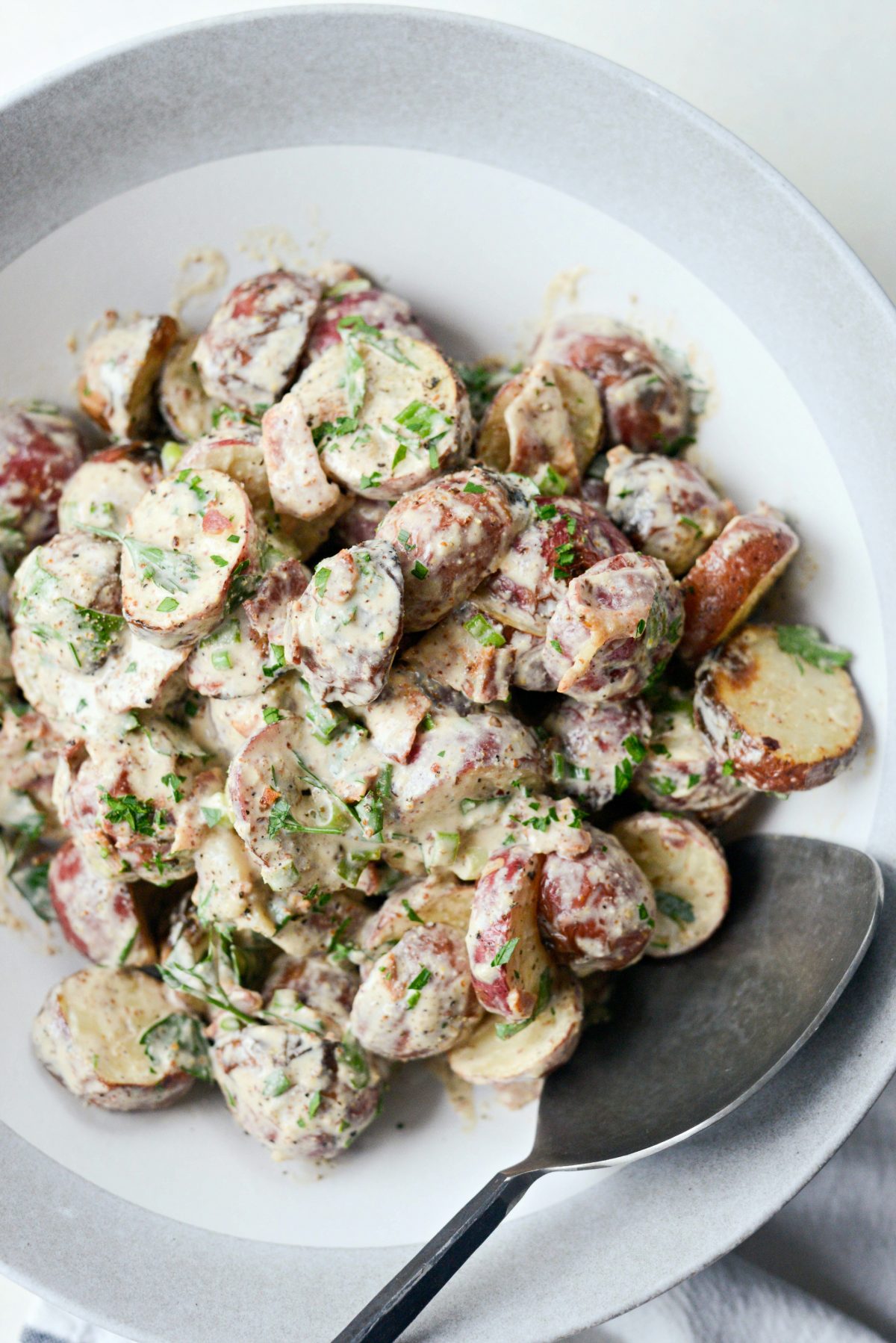 Right around the 4th of July our good friends invited us over to a barbecue.
Everyone was bringing a dish to pass so I (being the one with a blog) signed up to bring two. TWO dishes. Can you say over achiever? I was all set to bring these beans and a grilled potato salad. The grilled potato salad was a recipe I wanted to test before I posted it here. Now what's a better way to test a recipe then to take it to a barbecue where a bunch of people will be sampling it?
Well I ended up burning the potatoes. Yup. I took ONE phone call, forgot to turn down the grill and all 3 pounds of red-skinned potatoes burnt to a crisp. The potatoes were so burnt, I tried to cut off the charred part with a knife and the potato just crumbled into dust on my cutting board. I thought: stellar job food blogger… way to burn the potatoes. Of course I had no extra potatoes and no extra time to run to the store, which meant I had to do the text of shame and let my good friend Heidi know I burnt the potato salad. ugh.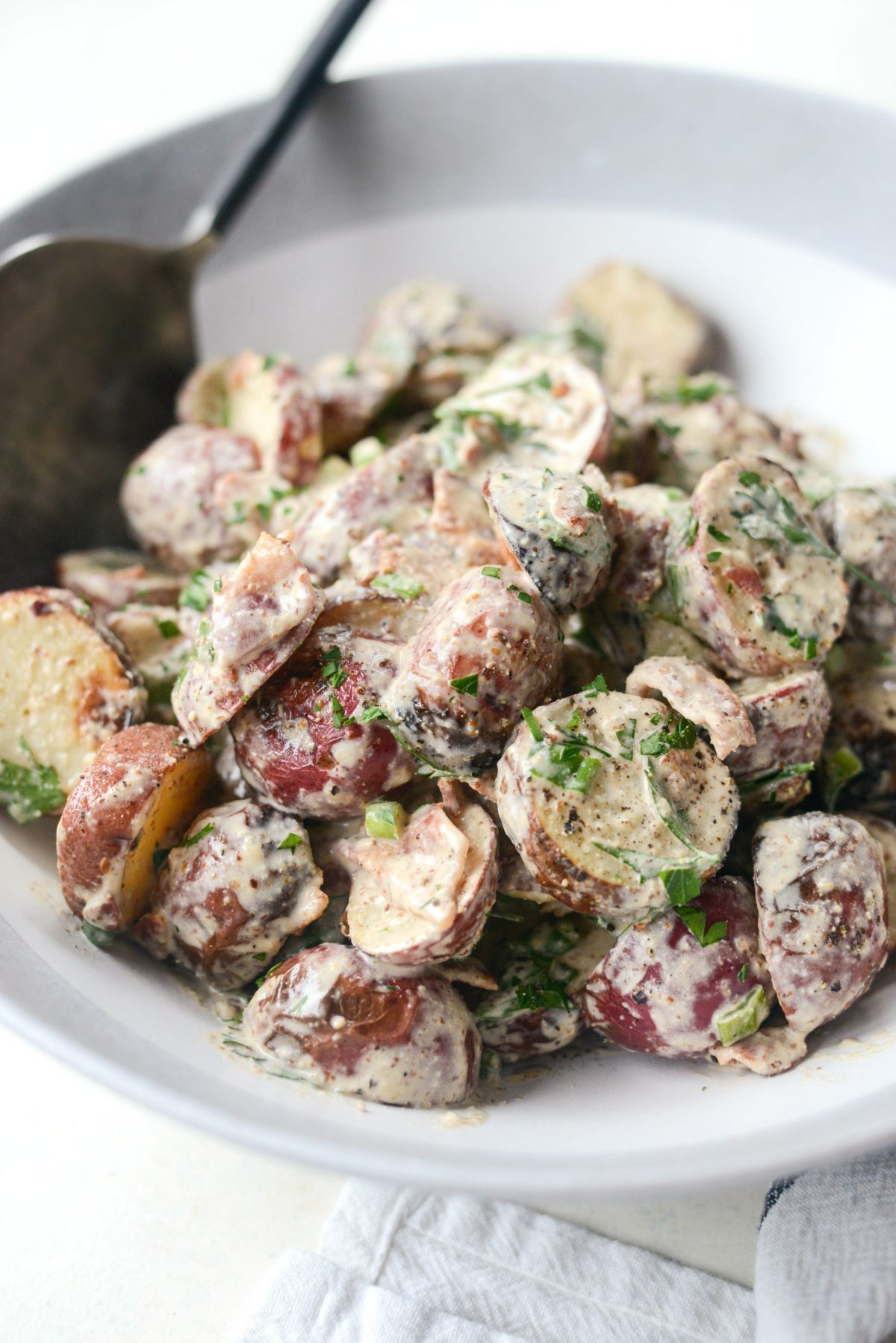 Fast forward a week when I see a tweet (on twitter, obviously) about how sliding cut potatoes on metal skewers will not only make grilling potatoes easier, but the metal of the skewer will conduct some of the heat and cook the inside of the potatoes making them cook faster. Saaaay whaaaat? I knew this was a sign from the literal Twitter Universe or whatever that I needed to make a second attempt at this potato salad.
So I did. This time with a very important lesson learned, a 600° grill + 3 pounds of potatoes = disaster.
And skewers are a must!
To make this grilled potato salad you will need:
petite redskin potatoes
olive oil spray
kosher salt
black pepper
bacon
mayonnaise
country-style Dijon mustard
onion powder
aleppo pepper (or red pepper flakes)
garlic
green onions
fresh parsley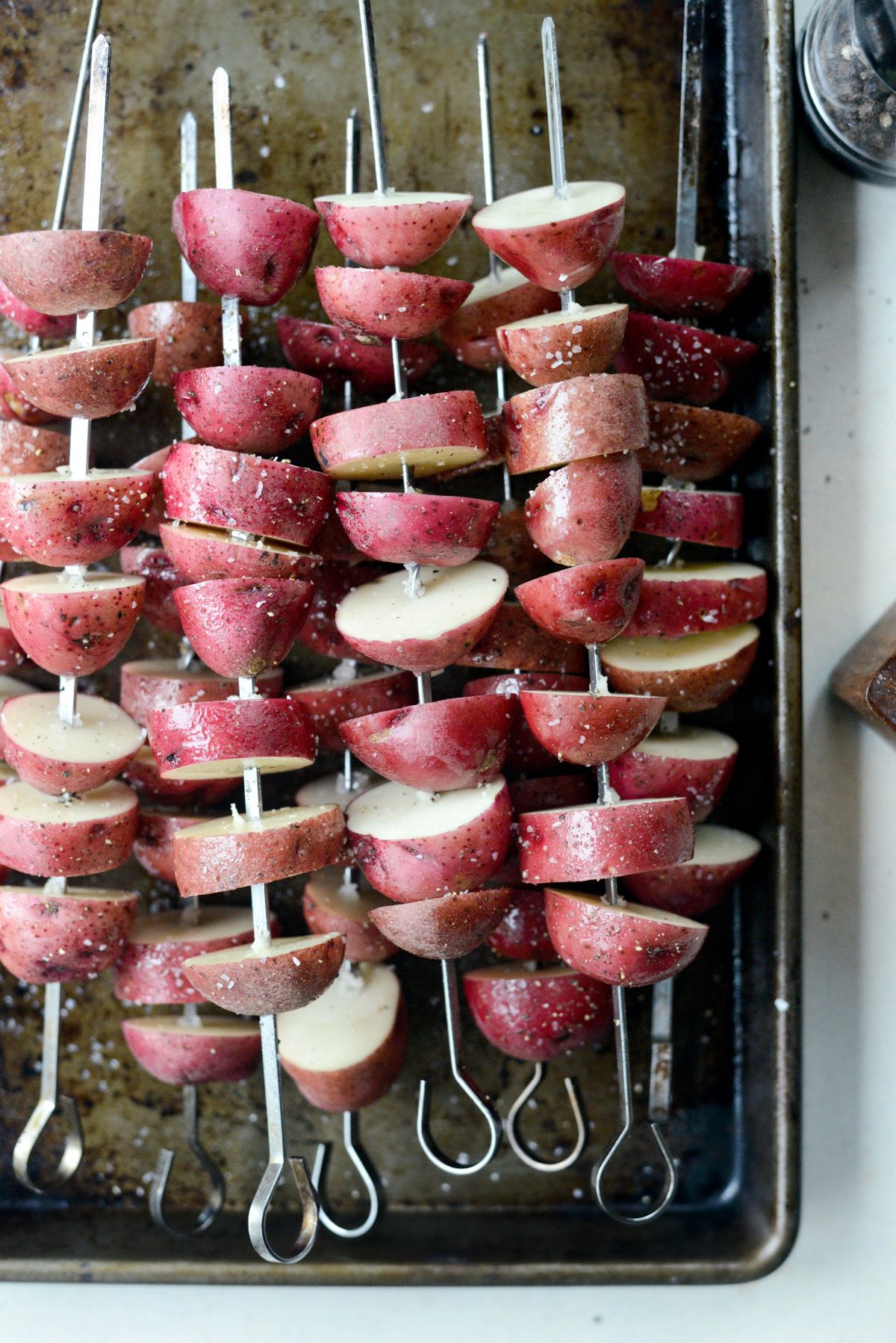 After you've washed and dried the 3 pounds of petite redskin potatoes, cut them in half or into thirds.
Next, thread the potatoes onto metal skewers and mist the potatoes with (non-aerosol) olive oil spray. If you don't have olive oil spray, you can certainly brush them down with a little olive oil. Then sprinkle them with a couple pinches of kosher salt and a few grinds of black pepper.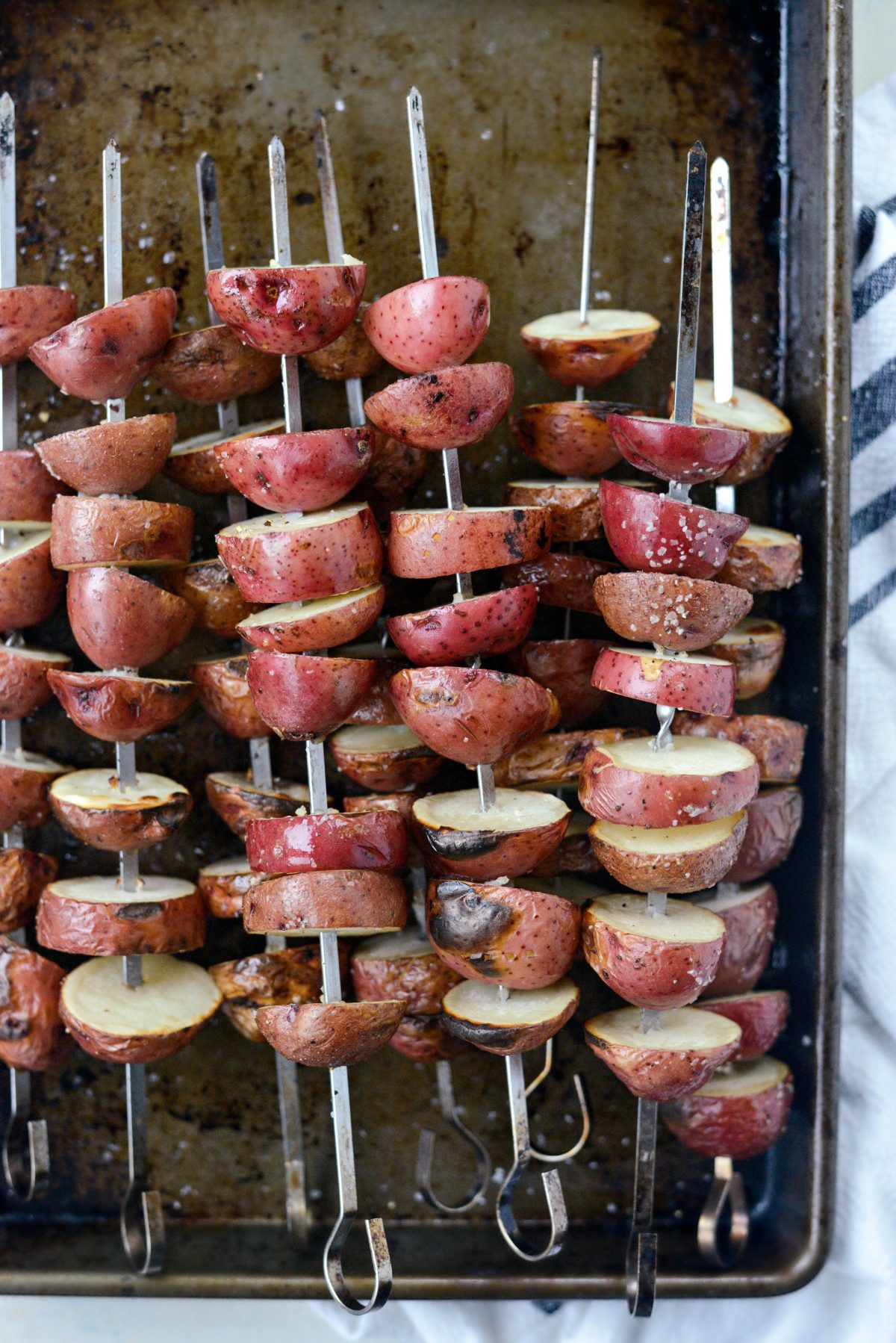 Preheat your outdoor grill to 400°. Place the potato skewers on to the hot grill grates, turning every so often to keep them from burning. The potatoes are done when a fork pierces easily into the larger potatoes. Transfer the skewers to the large sheet pan or platter and let them cool.
Meanwhile, in a large bowl combine 1/4 cup of mayonnaise, 2 tablespoons country-style mustard, 1 teaspoon onion powder, 1/2 teaspoon aleppo pepper (I had it on hand from making this recipe, but you can swap it with 1/4 teaspoon red pepper flakes) and grate in a large clove of fresh garlic.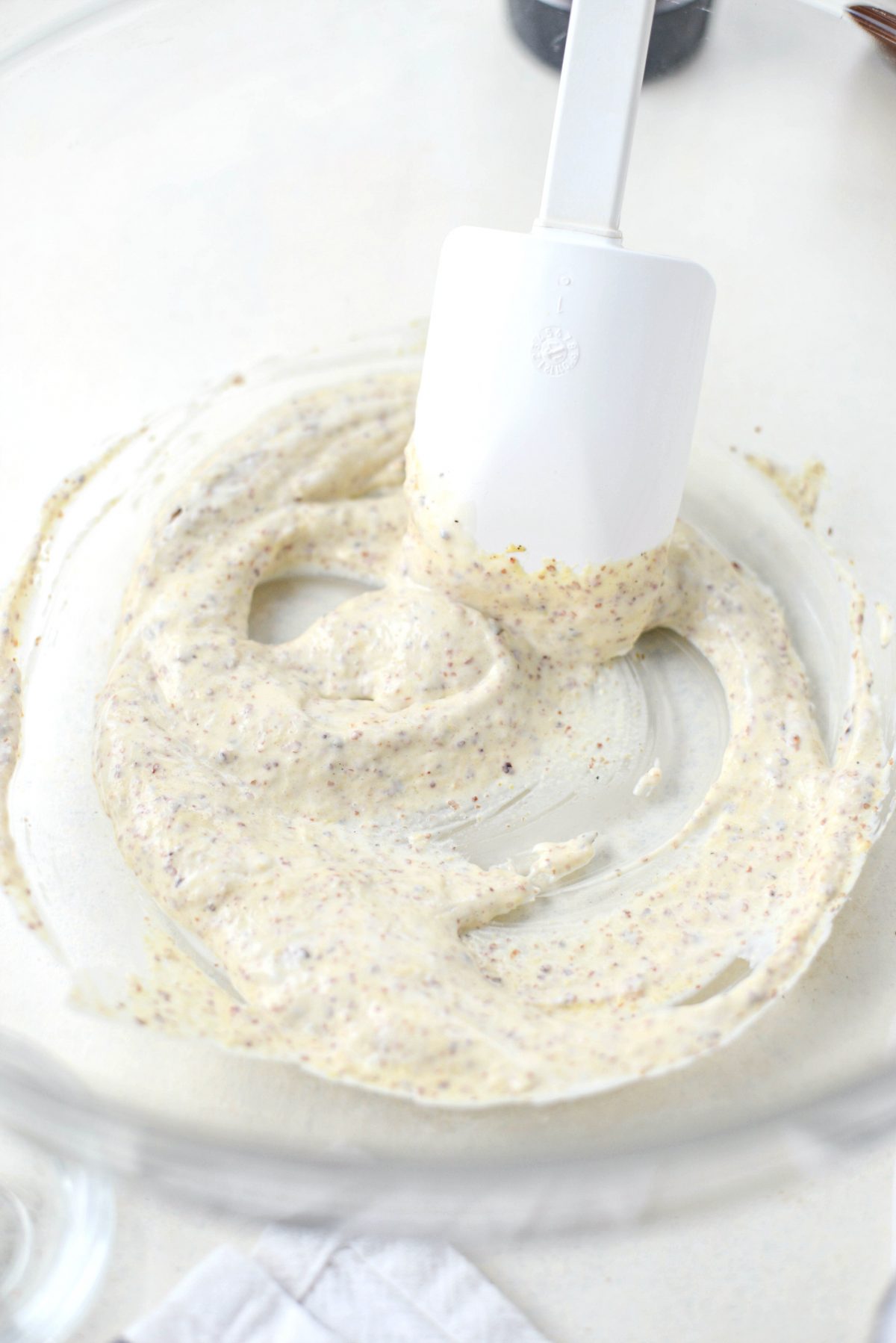 Stir until combined.
Once the potatoes have cooled and are safe to handle, slide them off of the skewer and into the mayo mixture.Repeat until all of those beautiful grilled potatoes are in the bowl.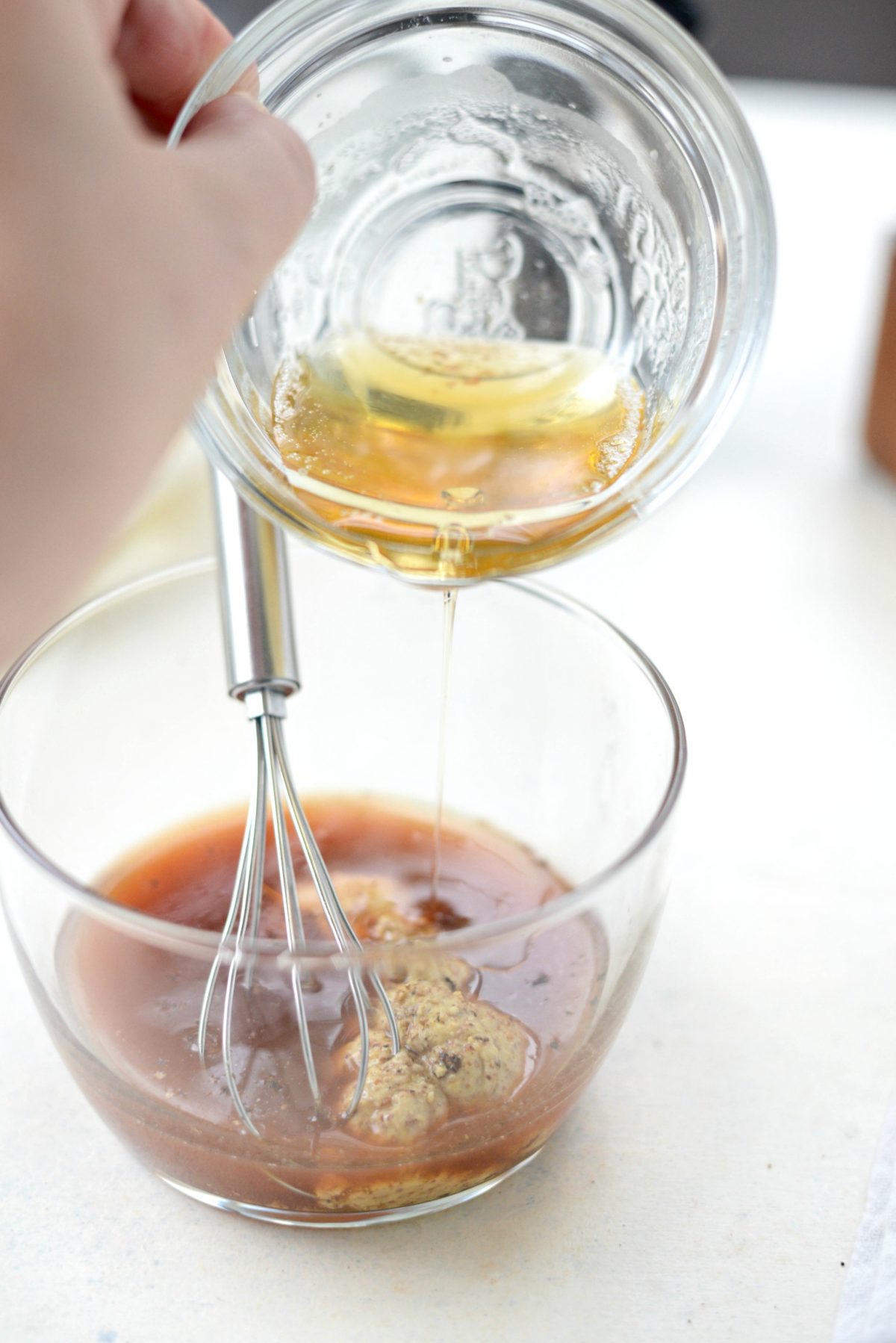 Earlier I cooked up 5 slices of thick cut bacon. Once crispy, transfer it to a paper towel lined plate to drain for a few. Then pour the drippings into a heat safe bowl; reserve 2 to 3 tablespoons.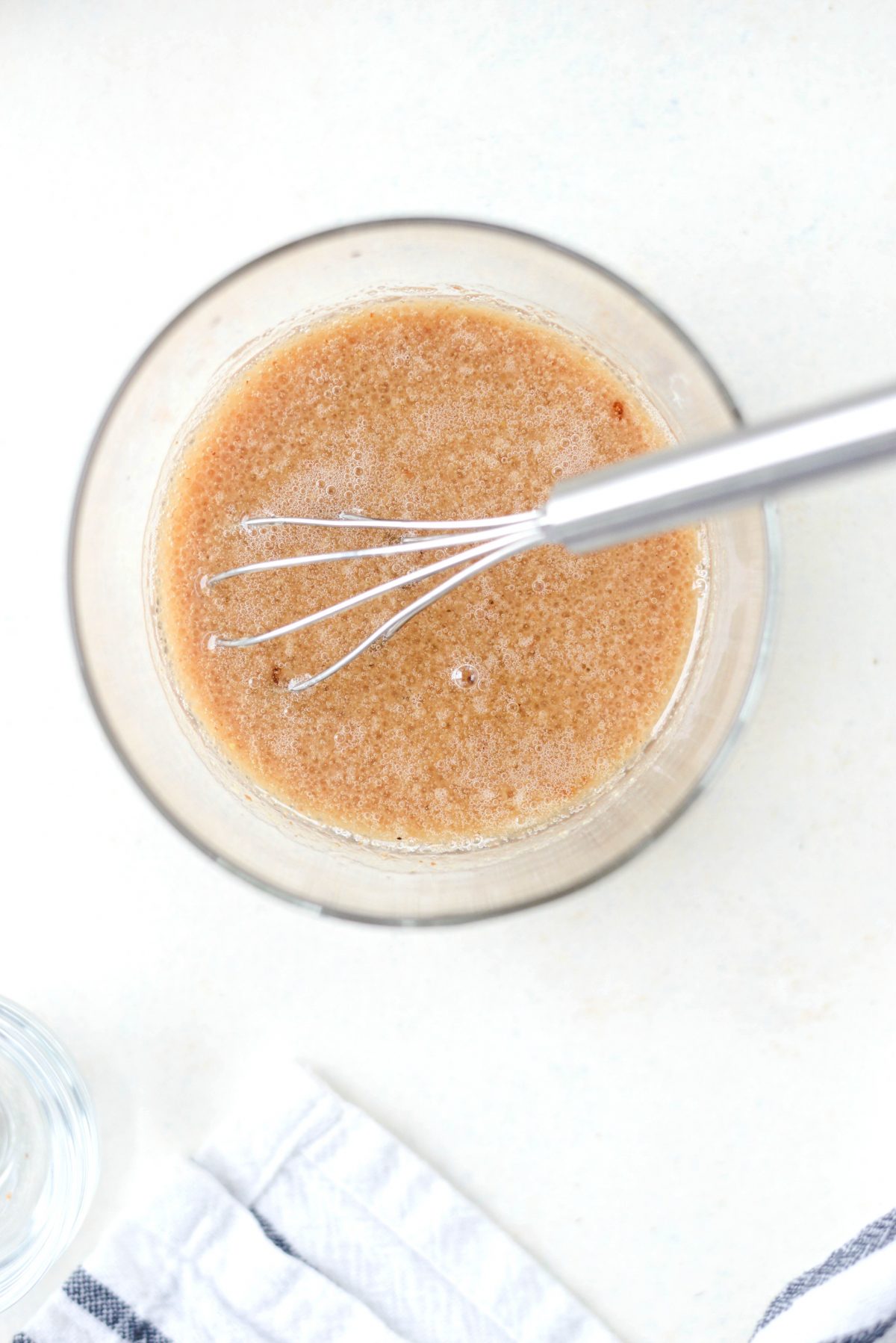 In a small bowl measure out 3 tablespoons of red wine vinegar, 2-1/2 teaspoons more of the country-style Dijon and a lot of freshly ground black pepper. Whisk fast while you slowly drizzle in the bacon fat.
Roughly chop up a handful of fresh parsley and slice up three to 4 green onions and add those to the bowl.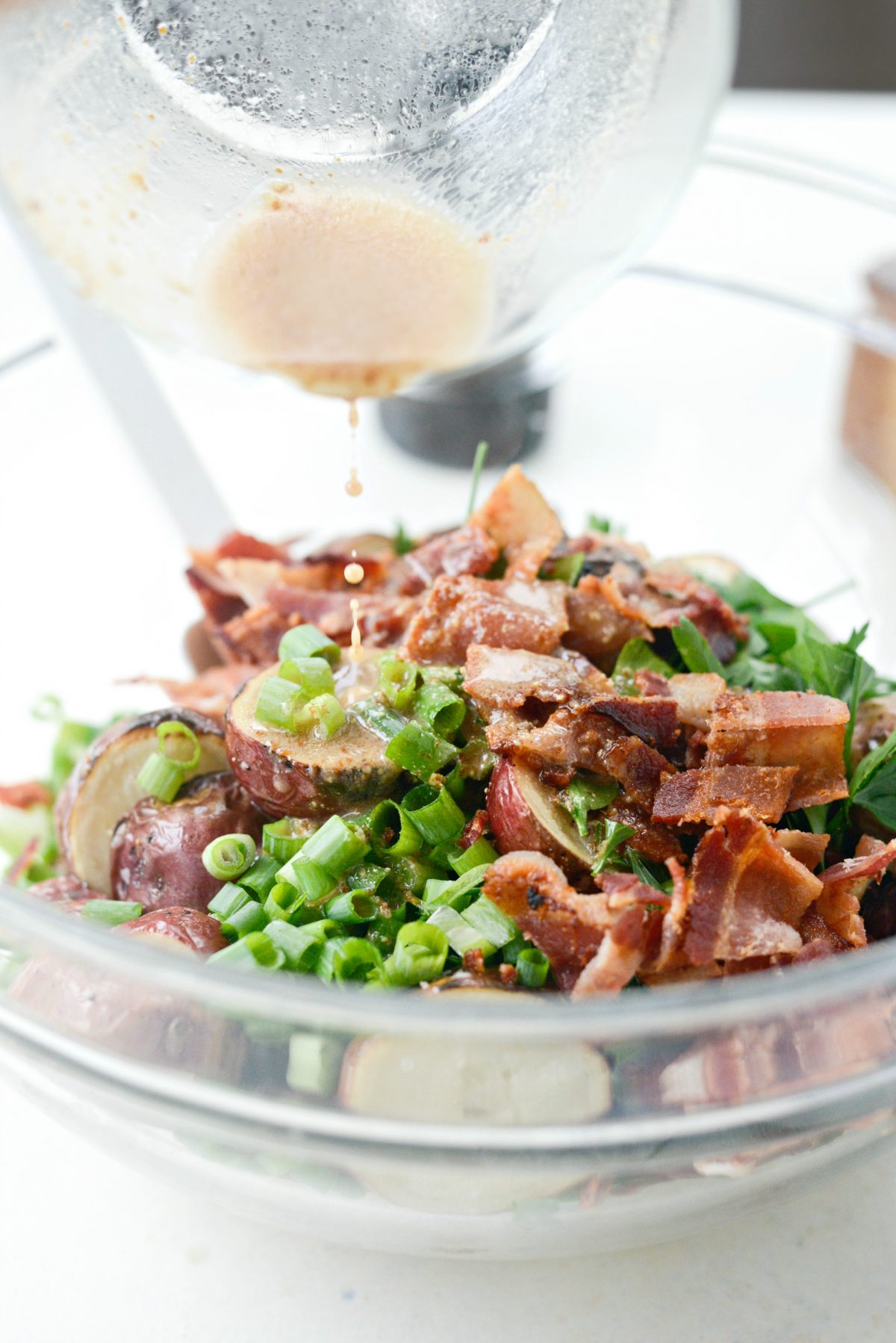 Pour in the bacon-Dijon vinaigrette.
Toss well to coat. Taste and season with salt and pepper if desired.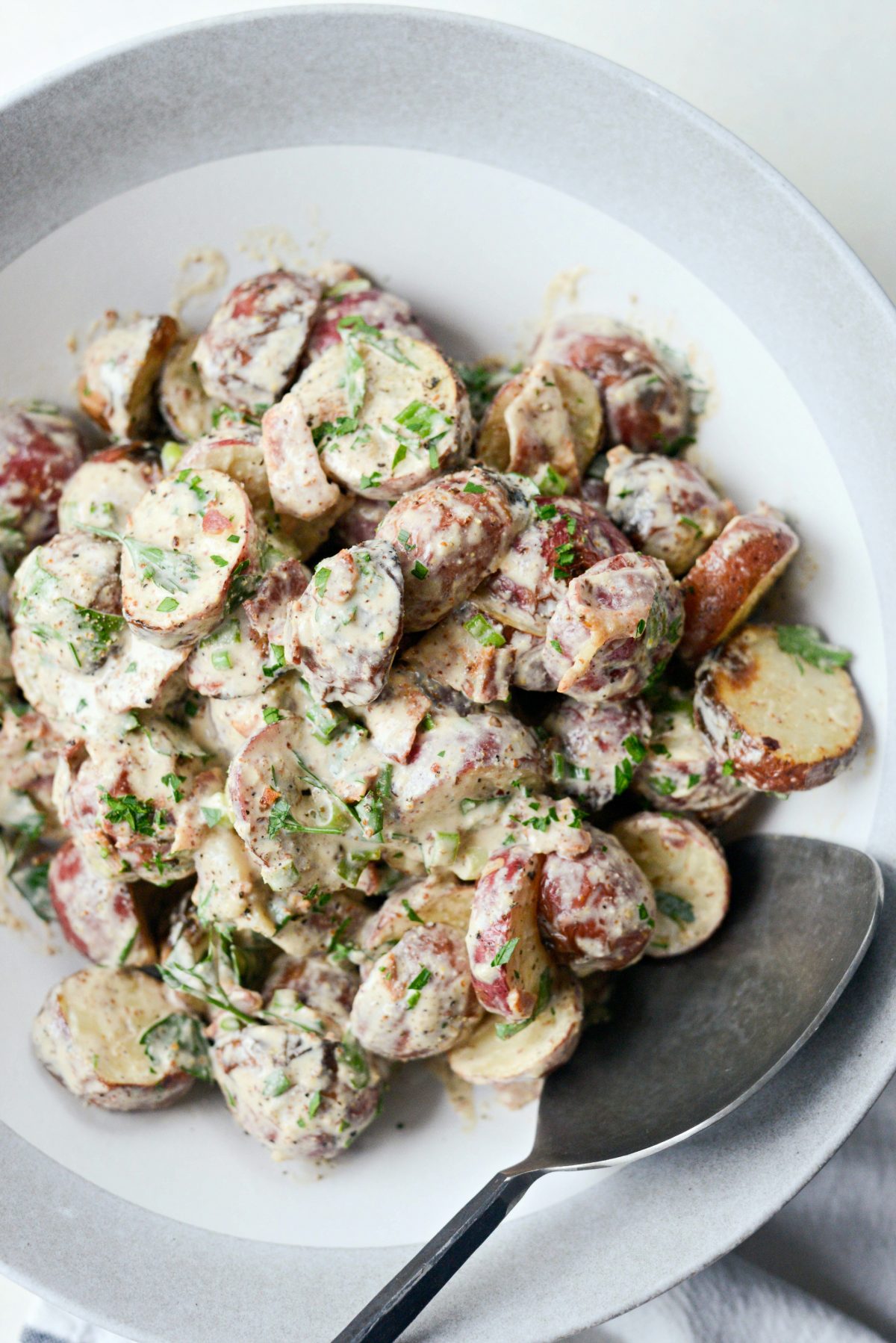 Served warm or at room temperature, this potato salad is amazing.
Bacon + potatoes + Dijon does it get any better? You can also make it in advance, just pull it out 20 to 30 minutes in advance before serving. I served it along with grilled asparagus and ribeye steaks. Delish!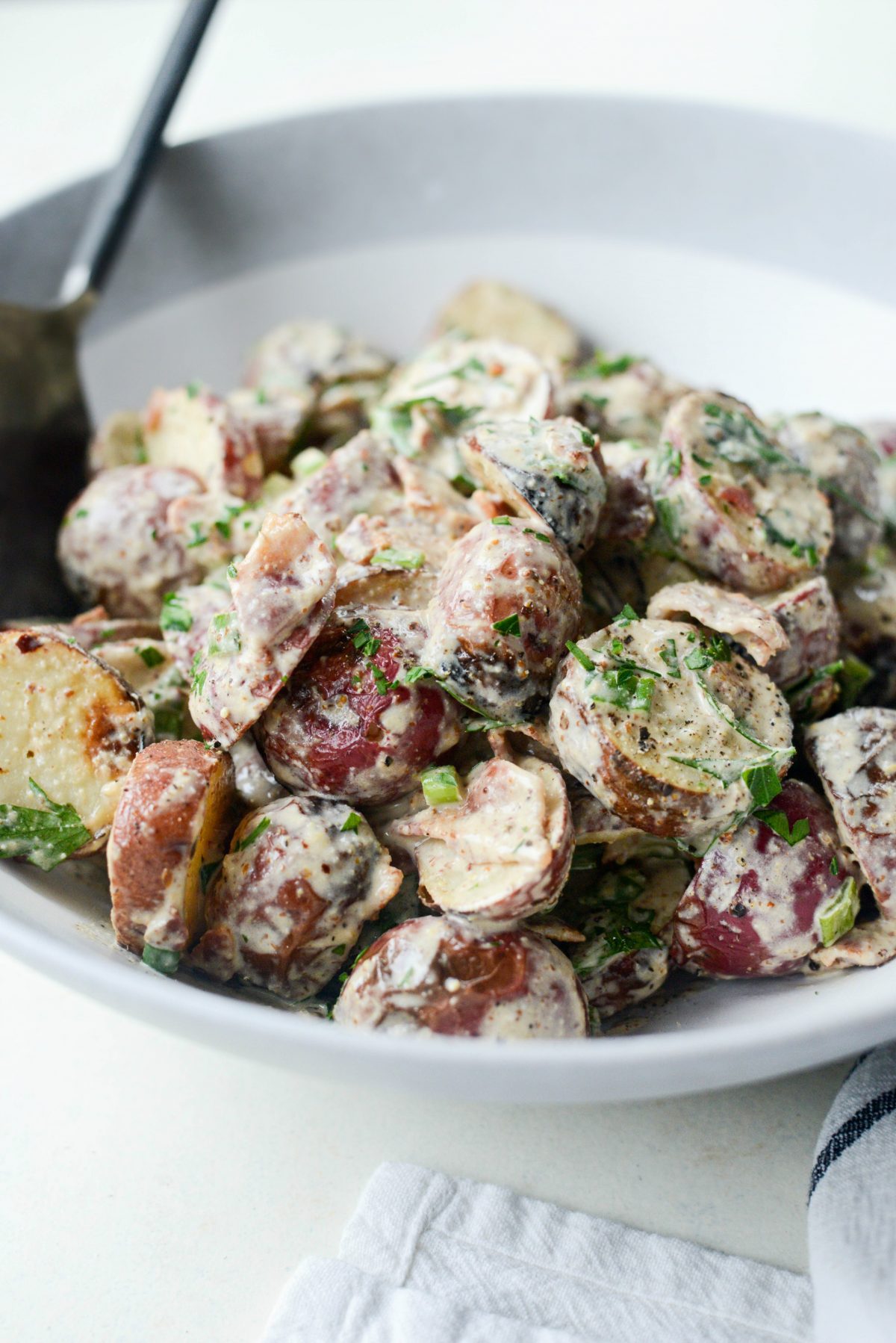 Enjoy! And if you give this Grilled Potato Salad recipe a try, let me know! Snap a photo and tag me on twitter or instagram!
Yield: 8 servings
Grilled Potato Salad with Bacon with Bacon Dijon Vinaigrette
Redskin potatoes are grilled and tossed with bacon, green onions, fresh parsley, a little mayo and a crazy delicious bacon Dijon vinaigrette. Serve warm or at room temperature. 
Ingredients
FOR THE POTATO SALAD:
3 pounds baby redskin potatoes, halved or cut into thirds
olive oil, or olive oil spray
kosher salt
1/4 cup mayonnaise
2 tablespoons country-style Dijon mustard, any grainy mustard should do
1 teaspoon onion powder
1/2 teaspoon aleppo pepper, or ancho chili powder
1 clove garlic, squeezed through a garlic press
1/4 teaspoon freshly ground black pepper
5 slices thick-cut bacon, cooked and chopped (reserve the bacon fat)
3 to 4 green onions, dark and light green parts, sliced
1 handful parsley, coarsely chopped
FOR THE VINAIGRETTE:
3 tablespoons red wine vinegar
2½ teaspoons country-style Dijon mustard
freshly ground black pepper, to taste
2 to 3 tablespoons reserved bacon fat
Instructions
MAKE THE POTATO SALAD:
Preheat your grill to 400°.

Skewer the potatoes onto metal skewers (about 8-10 skewers). Mist (or brush) with olive oil until coated evenly. Sprinkle with a couple pinches of kosher salt and freshly ground black pepper.

Cook on your preheated grill for about 12 to 15 minutes, turning halfway through. Once the bigger potatoes can easily be pierced by a fork, remove and let cool for about 5 minutes.

Meanwhile, in a large bowl combine mayonnaise, Dijon, onion powder, aleppo pepper and garlic. Once the skewers have cooled to touch, slide the grilled potatoes off and into the bowl.
MAKE THE VINAIGRETTE:
In a small bowl whisk together the red wine vinegar, the 2-1/2 teaspoons Dijon mustard, the black pepper and slowly whisk in the bacon fat.

To the bowl with the potatoes add in the chopped bacon, parsley and sliced green onions. Pour the bacon-Dijon vinaigrette over top and toss to coat. Season with kosher salt and freshly ground black pepper to taste, as needed.

Serve warm or at room temperature.
Serving: 1g, Calories: 312kcal, Carbohydrates: 31g, Protein: 7g, Fat: 18g, Saturated Fat: 5g, Polyunsaturated Fat: 5g, Monounsaturated Fat: 7g, Trans Fat: 1g, Cholesterol: 21mg, Sodium: 273mg, Potassium: 794mg, Fiber: 4g, Sugar: 2g, Vitamin A: 144IU, Vitamin C: 35mg, Calcium: 32mg, Iron: 2mg
This post may contain affiliate links.
Buy the Cookbook: Simply Scratch : 120 Wholesome Homemade Recipes Made Easy Now available on Amazon »
THANK YOU in advance for your support!