A simple brussels sprout gratin with crispy bacon, shallots and lots of white cheddar cheese. Perfect side dish to your weeknight or holiday dinner.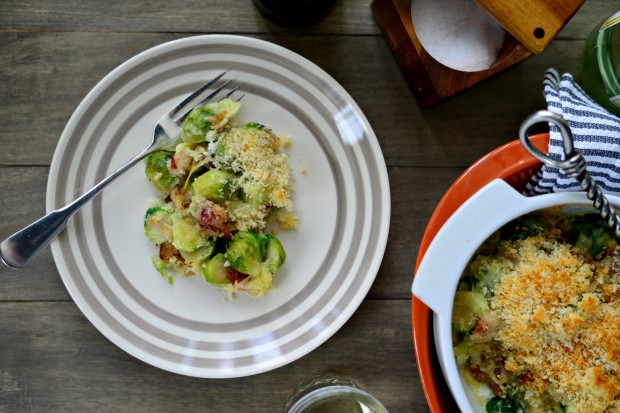 A creamy, cheesy, bacon-y, brussels sprout gratin complete with a crispy buttery breadcrumb topping. You can't deny how good that sounds. Unless you don't like brussels sprouts. BUT even still, anything mixed with bacon and cooked in cream and cheese is bound to be a deliriously good thing, right? Remember this recipe? Remember how it turned my sprout-hating-father into a changed sprout-lover?? It can happen!
Besides a glorious side dish for pretty much anything it also makes an excellent lunch. I am not kidding. I made this on a Wednesday afternoon, it was snowing and I was sitting on the couch with the casserole dish nestled like a baby in my lap and a fork in each my hand. Shameless.
Let's roll.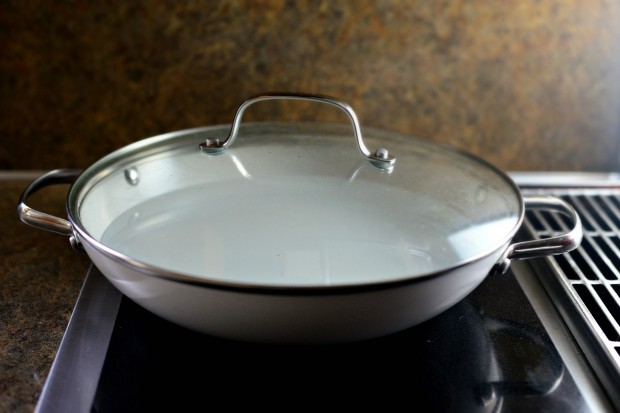 First bring a pot of salted water to a boil.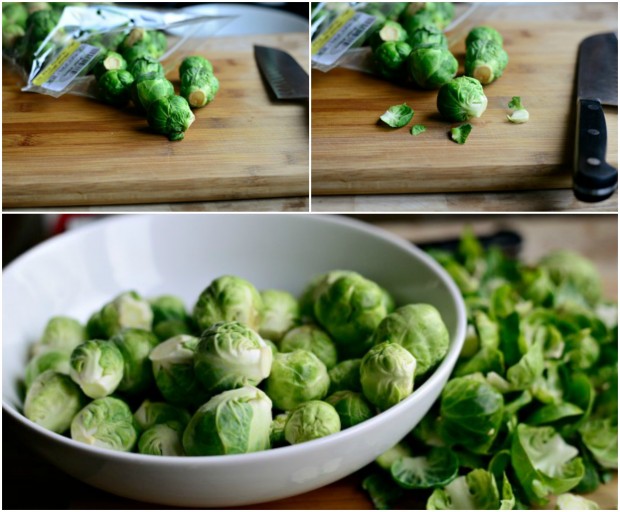 Meanwhile prep a little over a pound of sprouts. Aren't they cute?? Remove the dark, tough outer leaves and trim off the thick ends.
Once the water is at a rapid boil add in the Brussels sprouts.
Next, partially cook the sprouts for 8 minutes. They will turn a bright green and be tender yet still a little firm.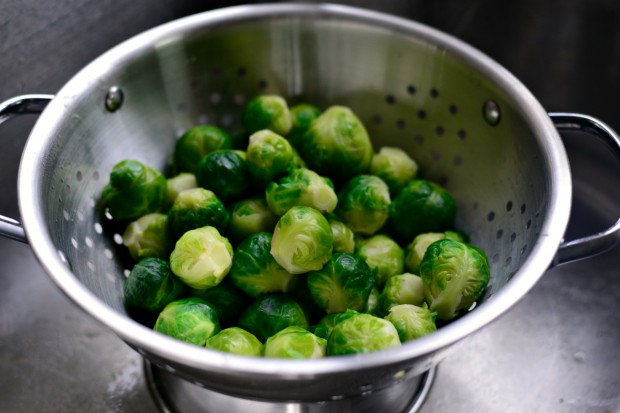 Then drain the sprouts into a colander set into your sink and wipe out the pan with paper towel.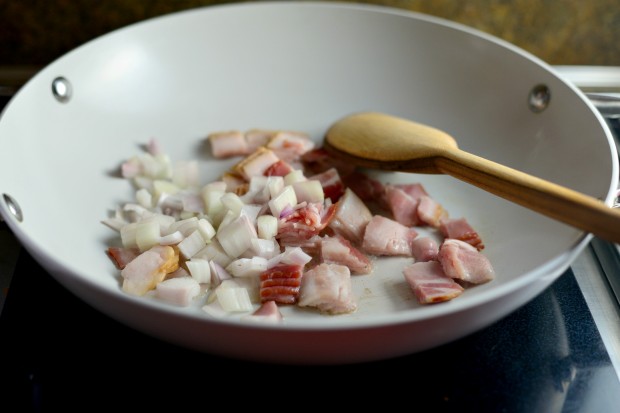 Next add the bacon and shallot to the pan and cook until the bacon is crispy and the shallots are soft and edges are golden.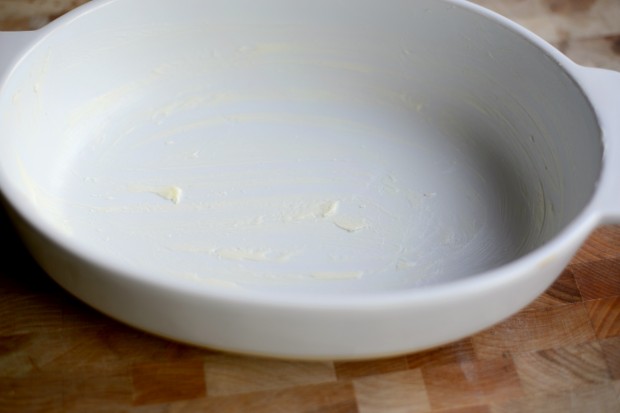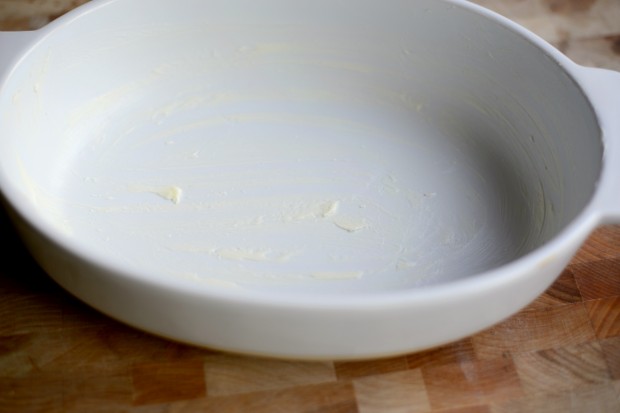 Meanwhile drop a 1/2 tablespoon of butter in a casserole dish and generously grease.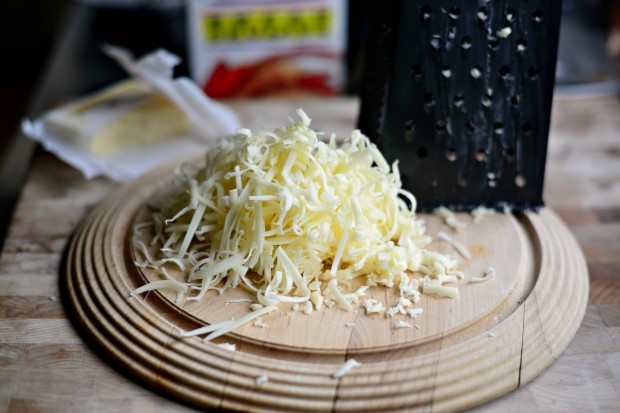 Next grate up about 3/4 cup of sharp white cheddar cheese.
And then cut the sprouts in half.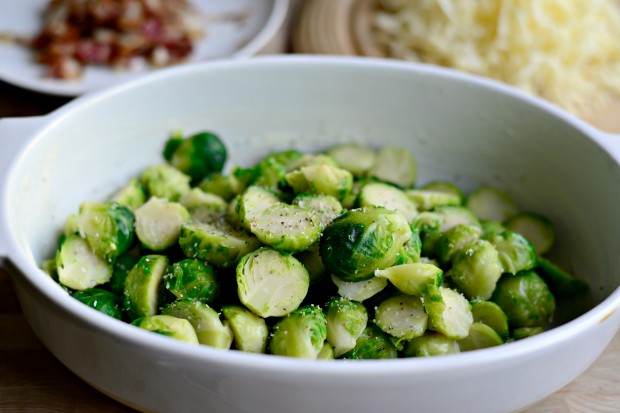 Next place the sprouts into the buttered dish and season with salt and pepper.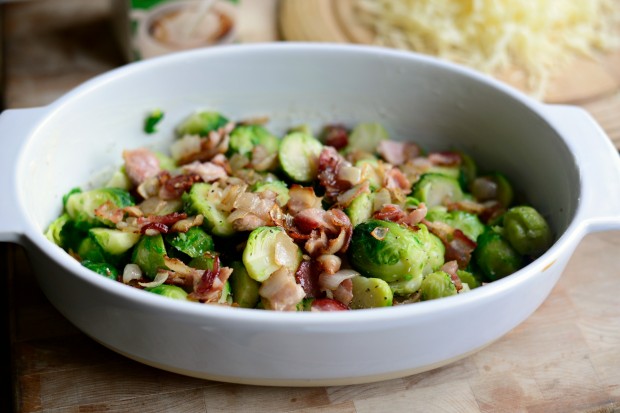 Then scatter the crispy bacon and shallots over top.
Lastly pour a half cup of heavy cream over everything before topping with cheddar.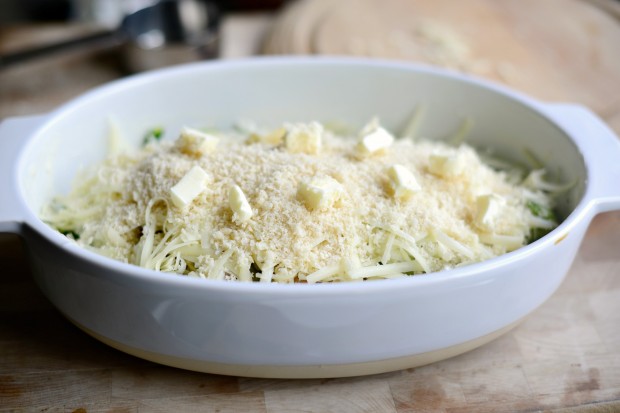 Lastly sprinkle a 1/2 cup of Panko breadcrumbs over the cheese and dot the top of the whole thing with butter. Bake at 350° for 20 minutes or until bubbly and golden brown.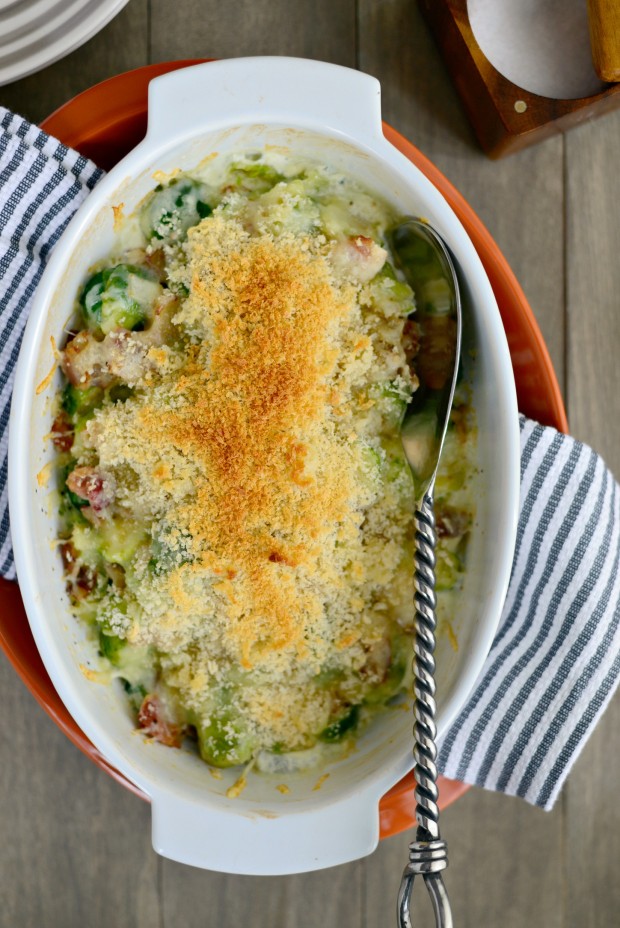 It's super simple. Super cheesy. Super good. And you KNOW I'm all about those crispy edges. And the bacon. Duh.
My pictures do not capture the creaminess of this brussels sprout gratin, however I swear to you it's there.
Enjoy! And if you give this Brussels Sprout Gratin recipe a try, let me know! Snap a photo and tag me on twitter or instagram!
My cookbook Simply Scratch : 120 Wholesome Homemade Recipes Made Easy is now available! CLICK HERE for details and THANK YOU in advance!
Yield: 6 servings
White Cheddar, Bacon + Brussels Sprout Gratin
A simple brussels sprout dish with crispy bacon, shallots and lots of white cheddar cheese.
Ingredients
1¼ pounds fresh Brussels sprouts, trimmed
4 slices bacon, diced
1 shallot, diced
kosher salt, to taste
freshly ground black pepper, to taste
1/2 cup heavy cream
3/4 cup grated sharp white cheddar cheese
1/2 cup Panko bread crumbs
2 tablespoons butter, divided
Instructions
Lightly grease a 2-quart oven-safe baking dish.

Bring a large saucepan of salted water to a boil. Add in the trimmed sprouts and cook for 8 minutes. Drain and cut in half.

Wipe out the skillet and add in the bacon and shallots. Cook until the bacon is the crispy and the shallots are soft with golden edges. Use a slotted spoon and transfer to a plate.

Place the halved Brussels sprouts in the buttered baking dish, sprinkle with salt and pepper and scatter the bacon and shallots over top.

Next, pour in the cream, top with the grated cheddar and breadcrumbs. Dot with remaining tablespoon and a half of butter and bake in preheated 350 degree oven for 20 minutes, or until bubbly and golden.
Calories: 228kcal, Carbohydrates: 13g, Protein: 8g, Fat: 17g, Saturated Fat: 10g, Polyunsaturated Fat: 1g, Monounsaturated Fat: 5g, Trans Fat: 1g, Cholesterol: 53mg, Sodium: 190mg, Potassium: 421mg, Fiber: 4g, Sugar: 3g, Vitamin A: 1262IU, Vitamin C: 81mg, Calcium: 166mg, Iron: 2mg
[this post contains affiliate links.]
This post may contain affiliate links.
Buy the Cookbook: Simply Scratch : 120 Wholesome Homemade Recipes Made Easy Now available on Amazon »
THANK YOU in advance for your support!