This Venison Mushroom Pappardelle is a trio of vegetables and venison is simmered in wine and broth for a deliciously hearty pasta dish.
It's been 5 (long) years since I've had venison in the freezer.
Come to think of it, I used up the last of our stock in this venison stew recipe which is from my first year of blogging. (like whoa.)
And I'm positive it was me who jinxed it every year when fall would roll around I would post about "it being hunting season and how I love (and look forward to) it and how I hoped to post venison recipes soon"… blah-blah-blah… all that equals no deer for FIVE YEARS! And wouldn't you know it, this year I didn't even mention it and poof! we have venison.
But it's not like Pat hasn't been hunting. LORD knows he's been out there in the woods, every fall (translate: spends every weekend from October 1st until the end of November) but this year I'm so excited because he shot an 8-point and my freezer is now well stocked with ground venison burger, backstraps and sausages. I'm in heaven.
First thing on the menu was this venison and mushroom pappardelle. It's sort of like beef (or venison) stroganoff meets stew meets pasta. It's a soul warming comfort meal and I served it with a green salad and thick slices of buttered sourdough bread. I die.
Start by dicing up 1 yellow onion, two carrots and two celery stalks and mince up 3 to 4 cloves garlic.
Next finely mince up 1 (8 ounces) container cremini mushrooms to yield 2 cups.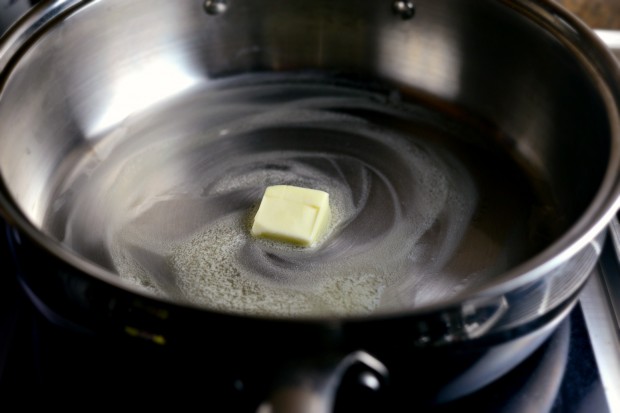 Then in a deep 12-inch skillet or Dutch oven, melt 2 tablespoons unsalted butter over medium-low heat.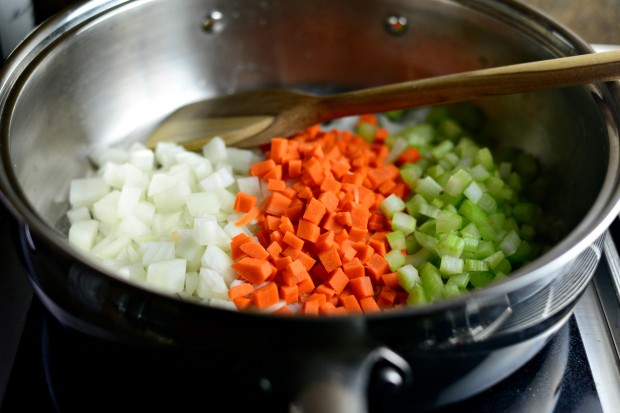 Once melted add in the trio of vegetables and a pinch of kosher salt.
Then stir to coat the veggies in butter and cook, stirring occasionally, for 10-12 minutes or until tender.
Next add in the fresh garlic, stir and cook for 1 to 2 minutes.
Then add in all those mushrooms and stir.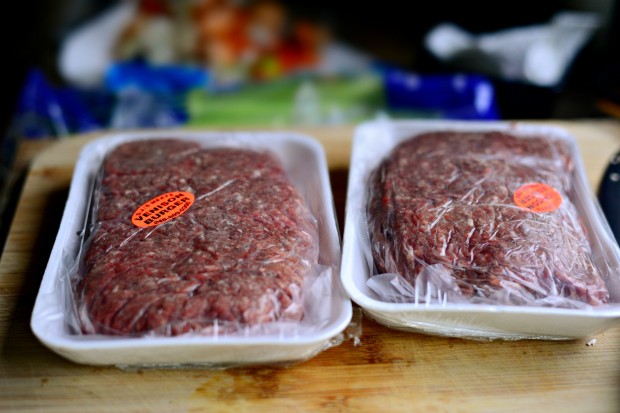 Next, you'll need about 2 pounds of ground venison. If you don't have venison, go on ahead and use ground sirloin or chuck. However, you just might need to drain off some fat once it's cooked.
Next add the ground venison into the pan. Then use a wooden spoon to break the venison into small crumbles and then cook until no longer pink.
Then add in 3 tablespoons of tomato paste, stir and cook for a minute or two.
Next pour in 1/4 to 1/2 cup of dry red wine and simmer until reduced by half.
Then pour in 2 cups of beef broth and then season with kosher salt and black pepper.
Next nestle 4 sprigs of fresh thyme and 1 bay leaf into the sauce, then stir and simmer for 25 minutes on low heat.
Heat a pot of salted water to a boil. Once the time is up on the venison ragu, I kill the heat under that skillet and thendrop in the pasta and cook until al dente. Remember to reserve a cup of the pasta cooking water before draining.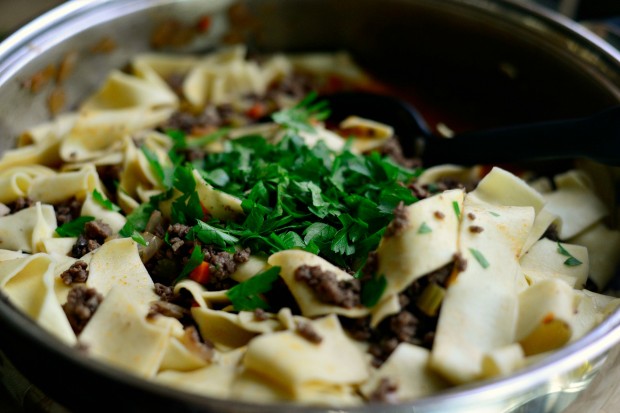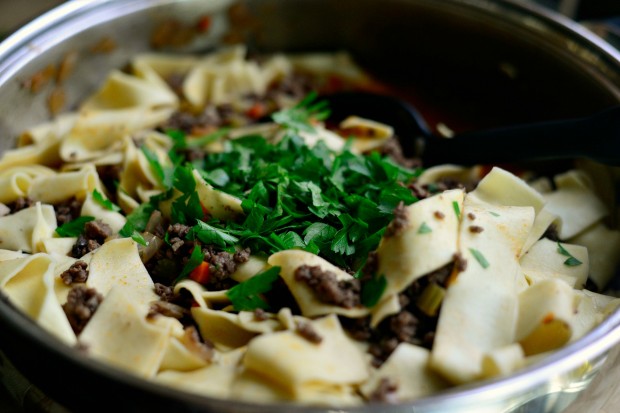 Before serving, add the cooked pasta into the sauce along with 1/2 cup of chopped fresh parsley.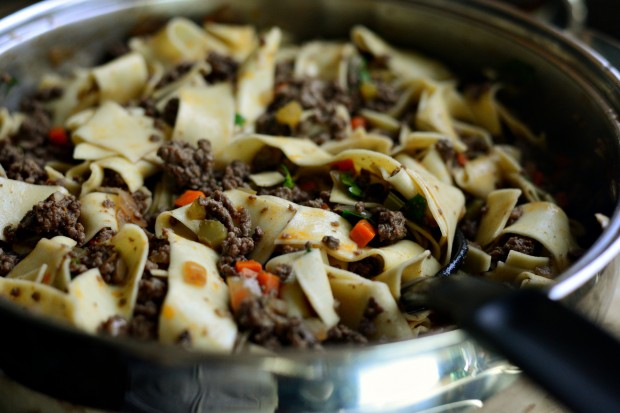 Gently toss to coat. Add in up to a cup of reserved pasta sauce to loosen the sauce up a bit.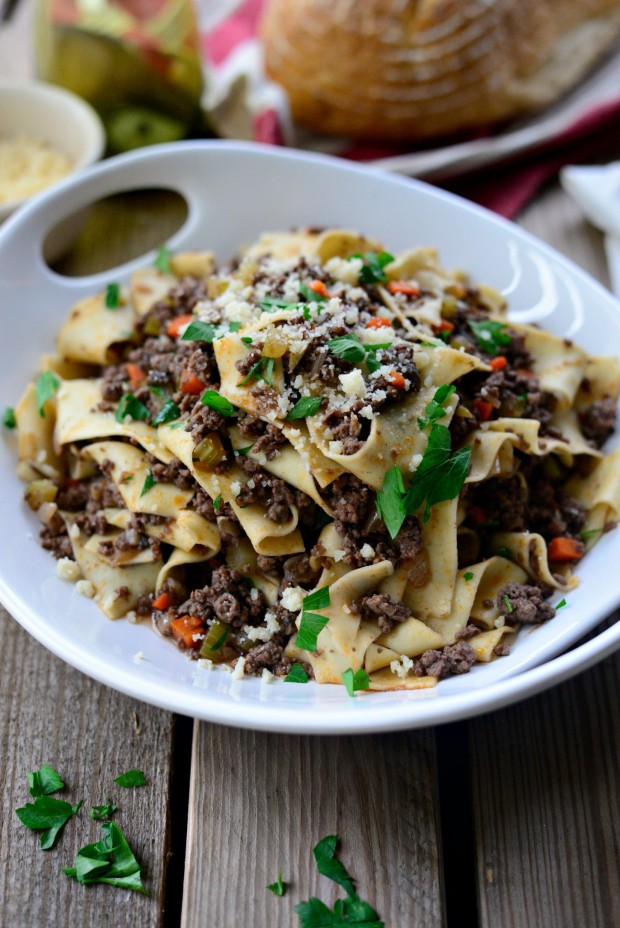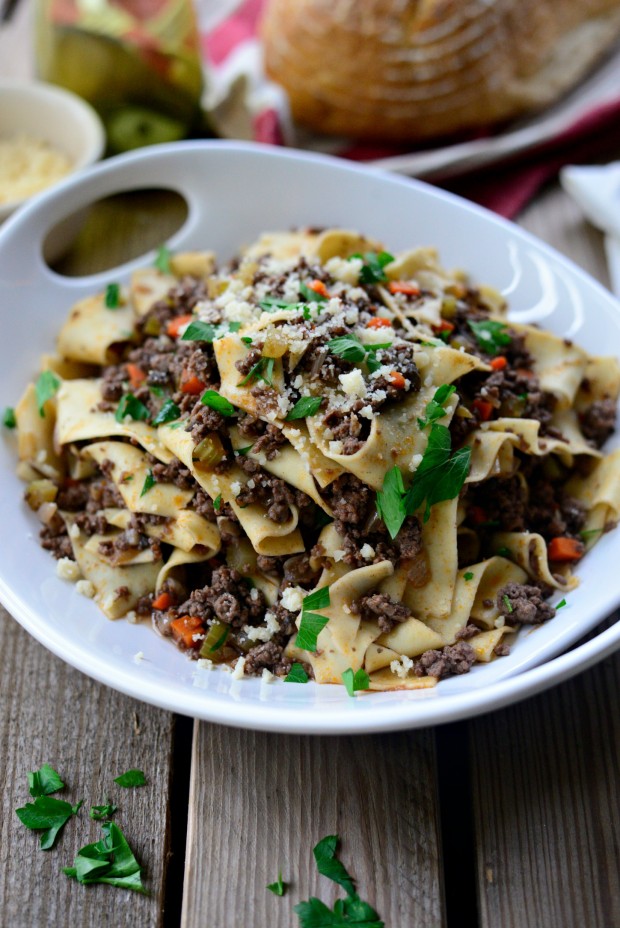 Serve the Venison Mushroom Pappardelle with more chopped parsley and LOTS of fresh crumbled Parmesan Reggiano cheese.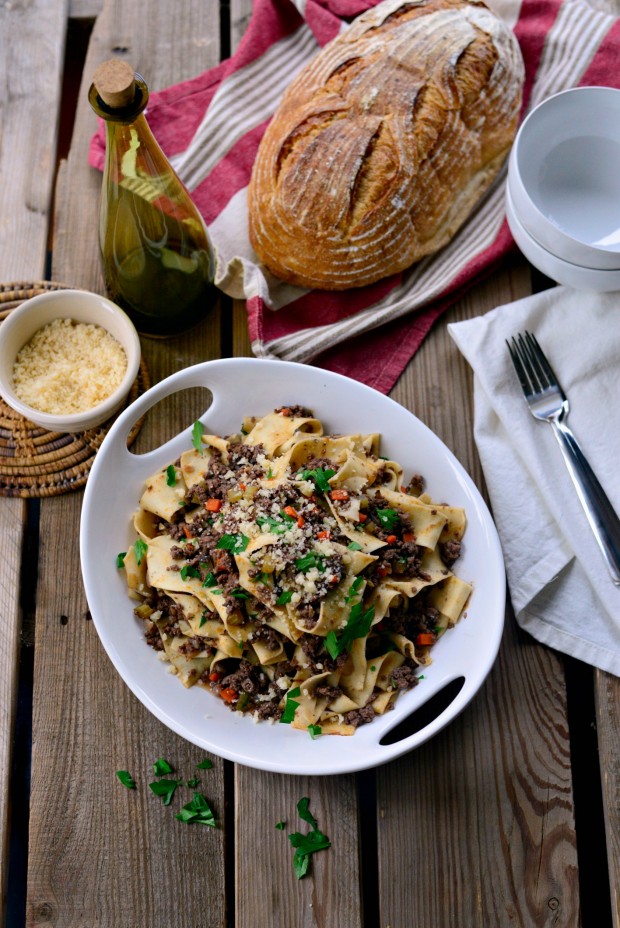 Delicious!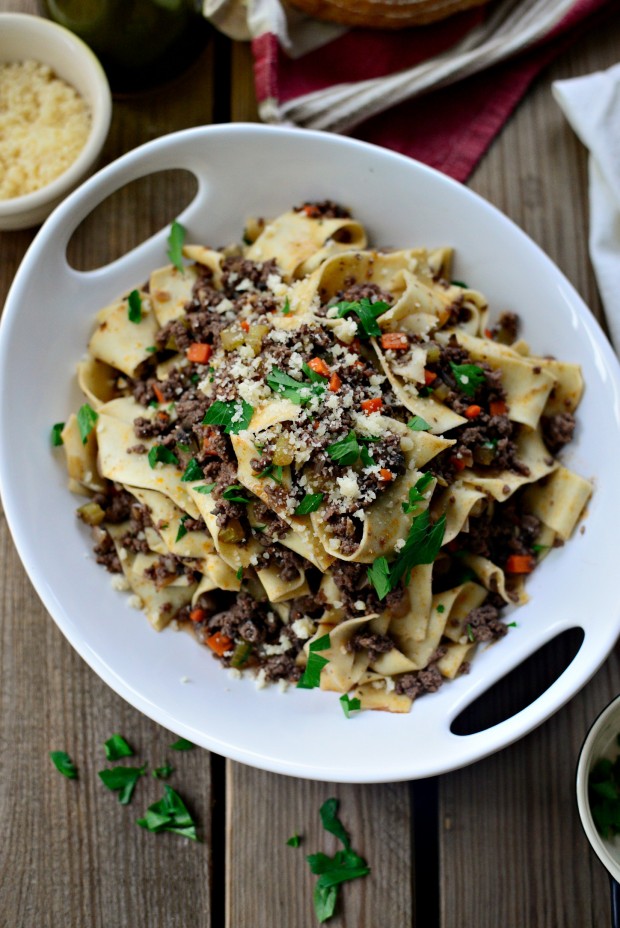 What are your favorite venison recipes? Leave them in the comments or inbox me using the "Contact" button and who knows maybe I'll share it on SS! 🙂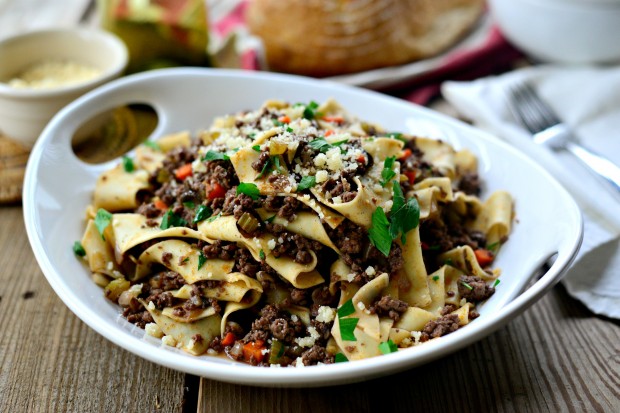 Enjoy! And if you give this Venison Mushroom Pappardelle recipe a try, let me know! Snap a photo and tag me on twitter or instagram!
Yield: 8 servings
Venison Mushroom Pappardelle
A trio of vegetables and venison is simmered in wine and broth for a deliciously hearty pasta dish.
Ingredients
2 tablespoons unsalted butter
1 cup diced yellow onion
2 carrots, diced small
2 celery stalks, diced small
4 cloves garlic, minced
2 cups finely chopped cremini mushrooms
2 pounds ground venison, or beef
3 tablespoon tomato paste
1/2 cup dry red wine, like merlot
2 cups beef broth
4 sprigs fresh thyme
1 bay leaf
1 teaspoon kosher salt
1/2 teaspoon black pepper
1/2 cup chopped fresh parsley, plus more for serving
12 ounces pappardelle pasta, 1 cup reserved pasta cooking water
1/2 cup Parmesan cheese, for serving
Instructions
Melt 2 tablespoons of butter in a deep, 12-inch skillet over medium-low heat. Stir and sauté onion, carrot and celery until tender, about 10-12 minutes.

Add in garlic, and cook for 1 to 2 minutes. Add in the mushroom and stir.

Next add the venison to the pan and use a wooden spatula to break it into small crumbles. Cook until no longer pink, about 8 minutes.

Add in the tomato paste, stir and cook for 1 to 2 minutes. Pour in wine and reduce by half. Add in the broth, thyme sprigs and bay leaf, season with salt and pepper, stir and simmer for 20-25 minutes.

In the meantime, bring a pot of salted water to a boil and cook pasta according to package directions. Reserve at least one cup of pasta cooking water.Toss past, 1/2 cup parsley and desired amount of pasta liquids in with the venison.

Serve with more chopped parsley and lots of crumbled Parmesan Reggiano cheese.
Serving: 1g, Calories: 435kcal, Carbohydrates: 37g, Protein: 35g, Fat: 15g, Saturated Fat: 7g, Polyunsaturated Fat: 1g, Monounsaturated Fat: 3g, Trans Fat: 1g, Cholesterol: 138mg, Sodium: 771mg, Potassium: 771mg, Fiber: 3g, Sugar: 4g, Vitamin A: 3148IU, Vitamin C: 10mg, Calcium: 132mg, Iron: 5mg
[this post contains affiliate links.]
This post may contain affiliate links.
Buy the Cookbook: Simply Scratch : 120 Wholesome Homemade Recipes Made Easy Now available on Amazon »
THANK YOU in advance for your support!