In this Vegetable and Goat Cheese Flatbread recipe, naan is topped with sautéed garlicky spinach and mushrooms, grilled onion, asparagus, fresh tomato and goat cheese. To serve, drizzle with balsamic glaze and fresh basil. This perfect summertime snack serves 6 in well under an hour.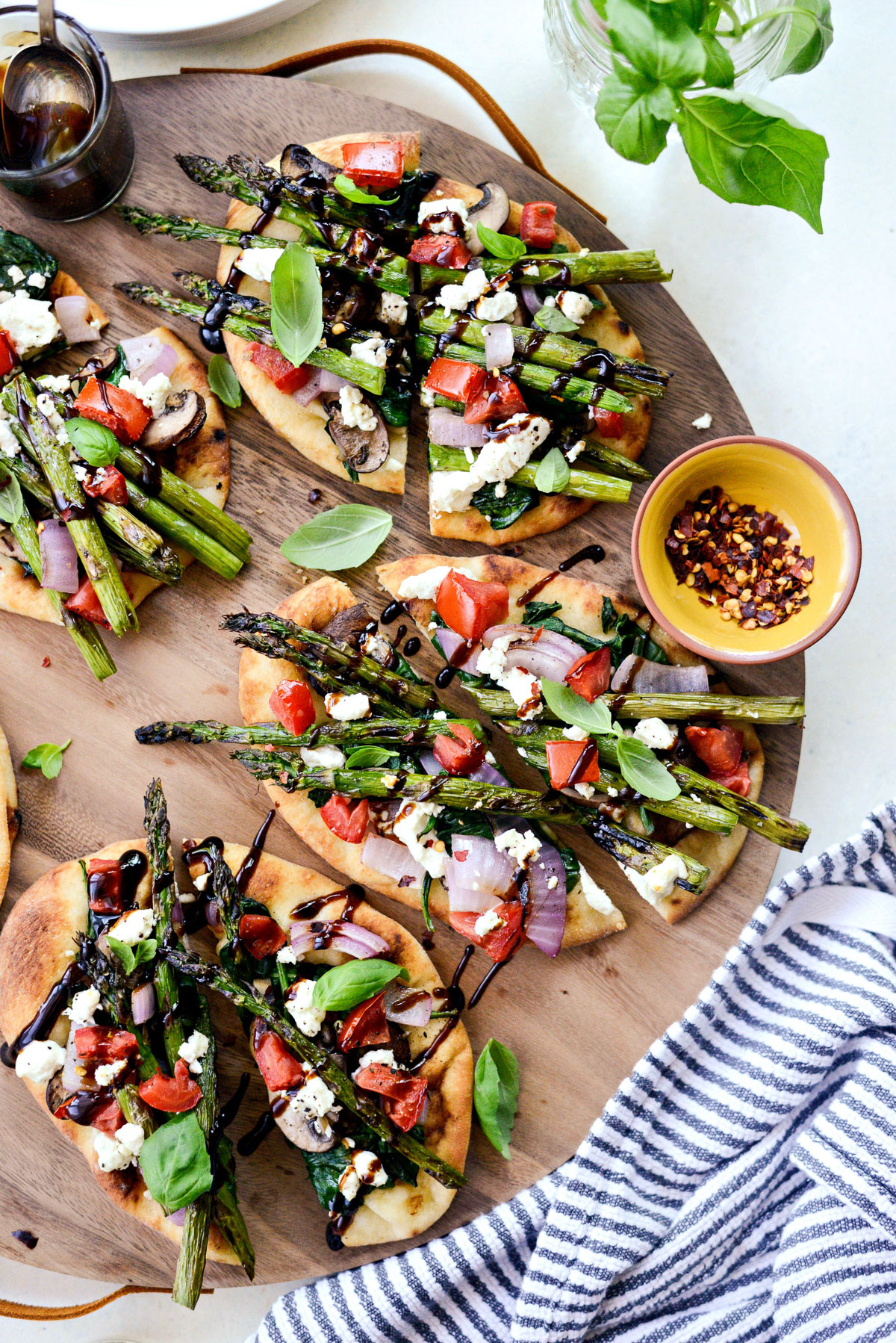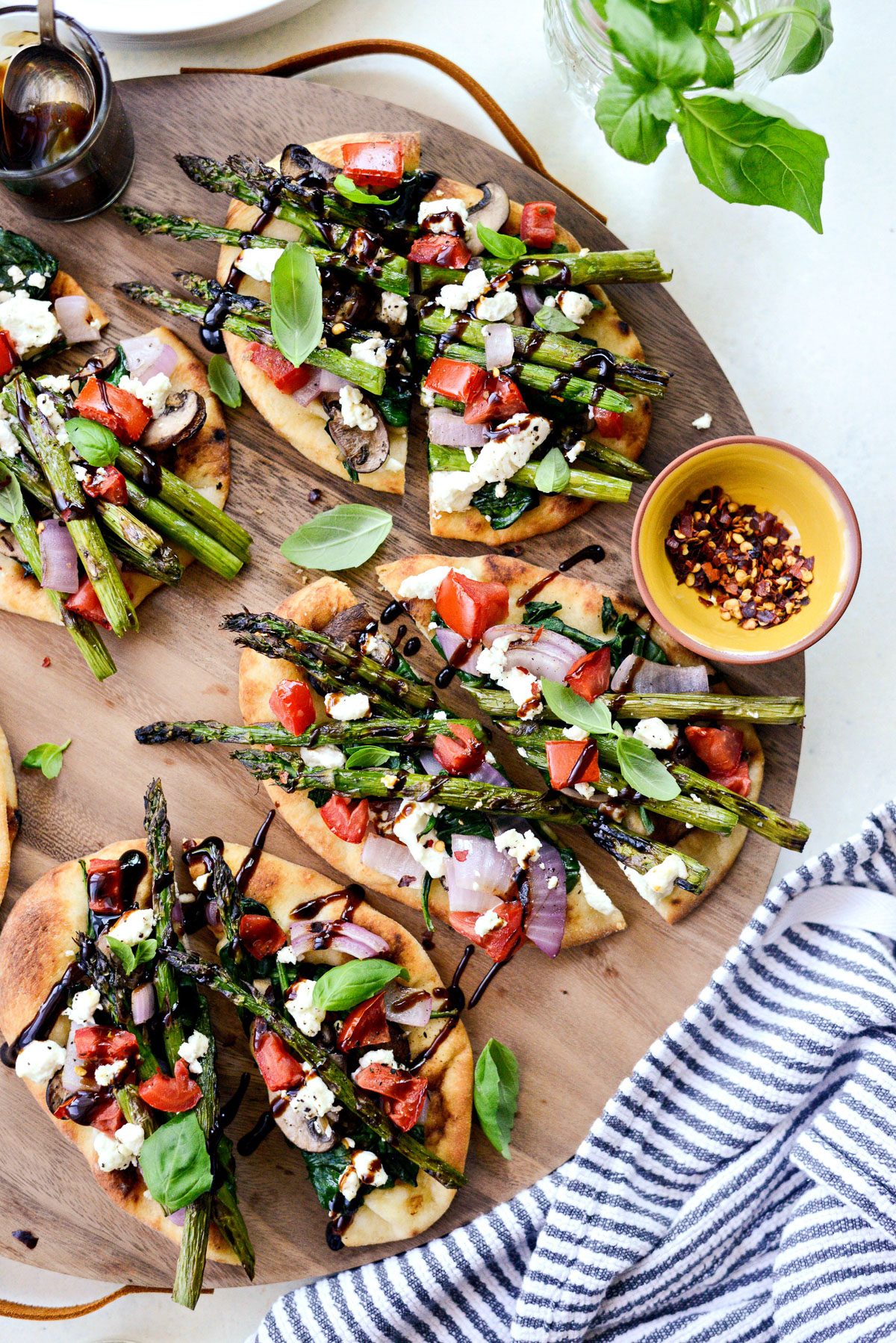 This Vegetable and Goat Cheese Flatbread is a summer MUST! When I was visiting with my sisters in Maryland we ate a lot of delicious food, I left so inspired and addicted to a certain avocado toast. But that's another story. On our last night, us four went out to dinner and my sister Christine and I shared the grilled vegetable flatbread off of the appetizer menu. We maybe or maybe not have split a burger and fries also. I'll never tell.
Needless to say, it was delicious. So delicious in fact that when I got home, I jotted down the recipe and promised myself that as soon as summer arrived I would make it and share the recipe here. I love a veggie loaded pizza and this is sort of like that. The more veggies the better! And because who doesn't love vegetables? I mean sure, this may not be something my husband would like. However I know quite a few friends of mine that would be all over this.
Hence the reason why we are friends. 😉
To make these vegetable and goat cheese flatbreads you will need:
1 bunch asparagus
1 small red onion
5 mini naan loaves
olive oil spray
2 cloves fresh garlic
6 ounces mushrooms
5 ounces baby spinach
1 Roma tomato
2 to 3 ounces goat cheese (log)
balsamic glaze
fresh basil
The first step is to preheat your grill to 400-425°. Lightly mist a bunch of asparagus and red onion slices with olive oil and place onto your preheated grill grates. Grill until the edges of the asparagus caramelize and th onions have grill marks.
Next spray a skillet with olive oil and sauté 6 ounces of mushrooms (pick your favorite – I'm using cremini). Season with kosher salt and black pepper, stir and cook until tender and fragrant.
Not a mushroom fan?
Try it with zucchini or yellow squash! Or feel free to leave them out completely.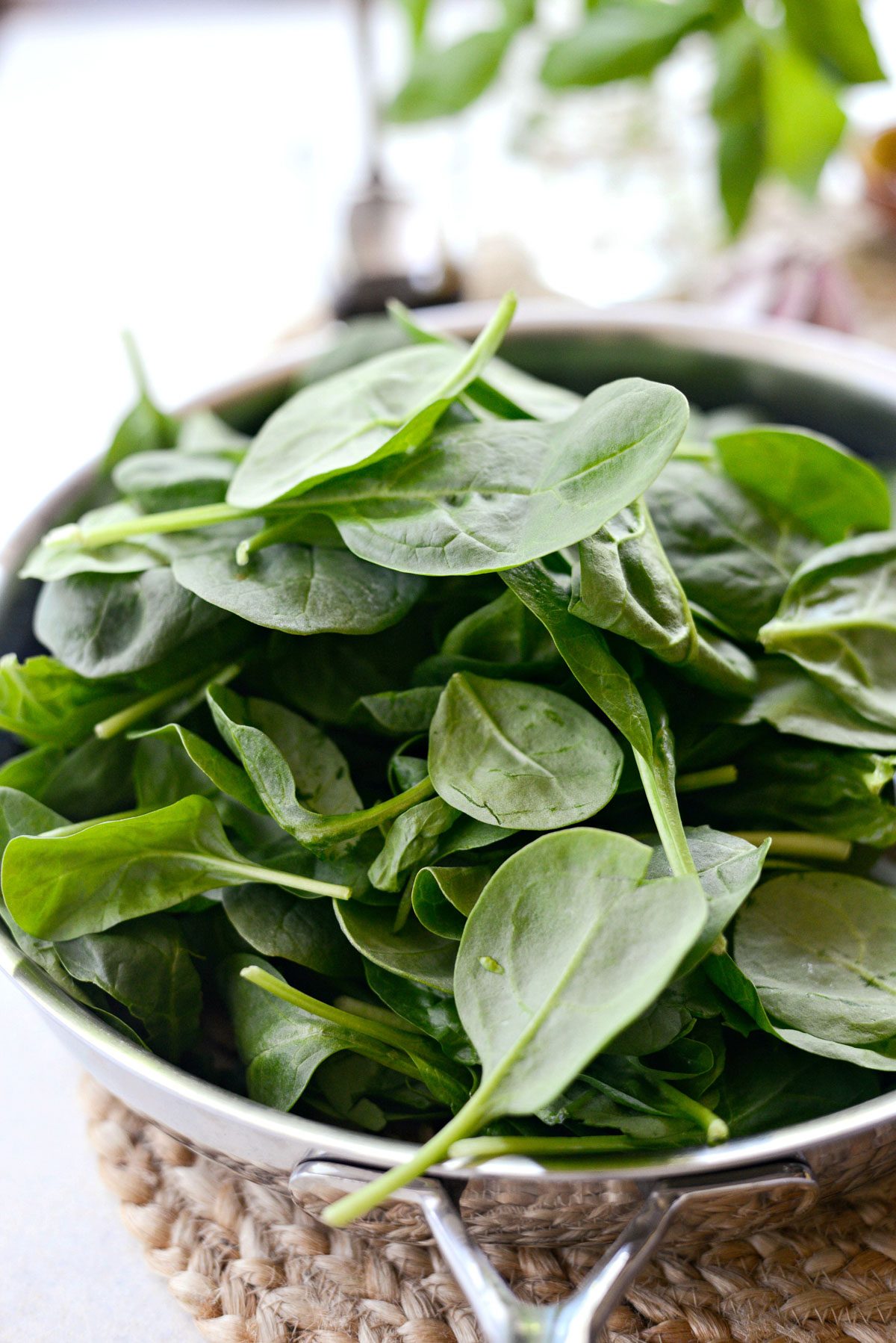 Then add in all of the spinach. I know this seems like a lot, but I promise you it will cook down and be the perfect amount for 6 individual flatbreads.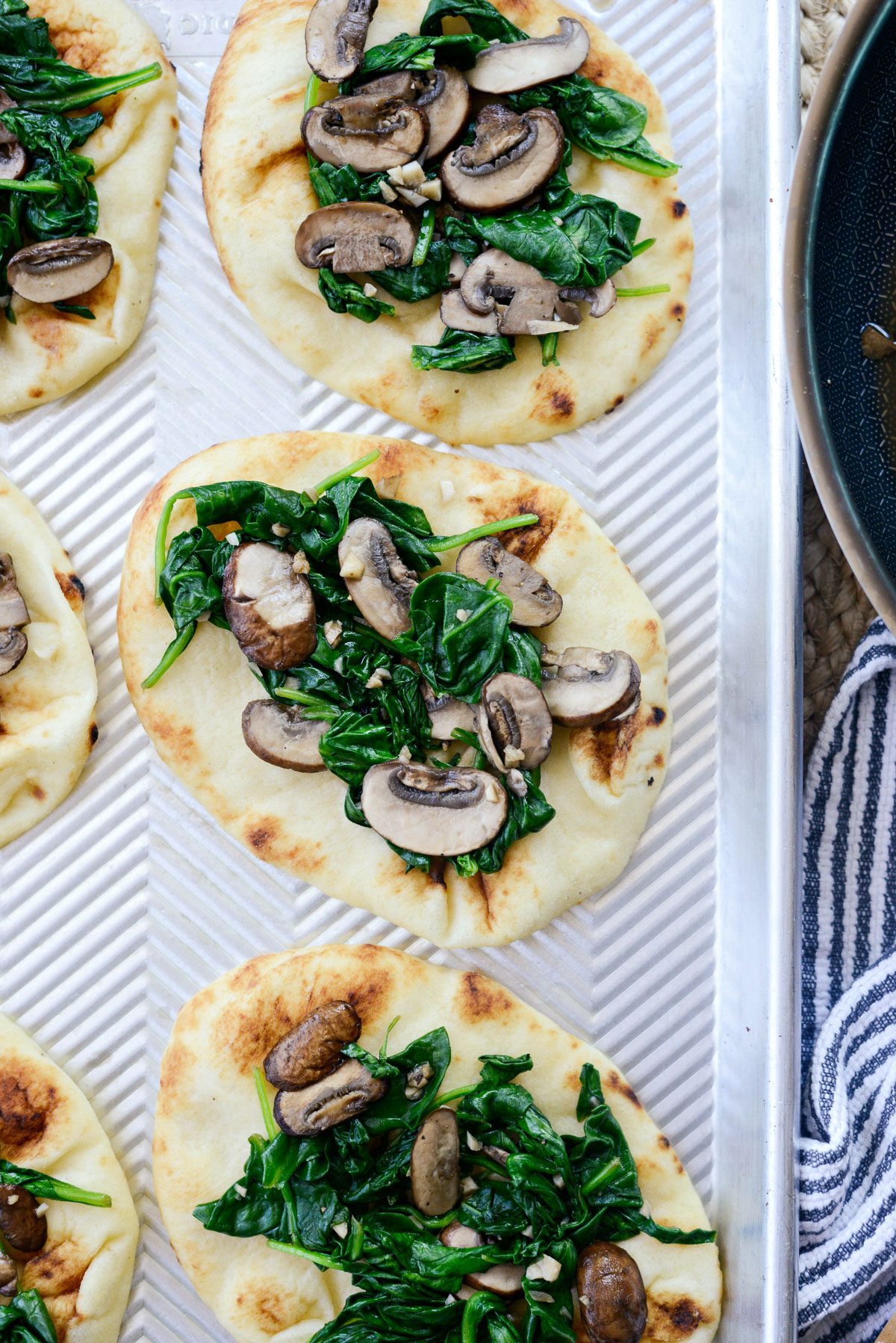 Next, preheat your oven to 400° and place 6 of the small naan onto a lightly sprayed, metal baking sheet. Then divide the garlicky spinach among each of them. Lastly, top with the grilled asparagus and onion, fresh tomatoes and then crumble the goat cheese over top.
Then bake the flatbreads on the middle rack of your preheated oven for 10 to 12 minutes.
Finally cut the vegetable and goat cheese flatbreads in half, drizzle with balsamic glaze and scatter fresh basil over top. I typically go for the smaller basil leaves, but you can most definitely thinly slice larger leaves.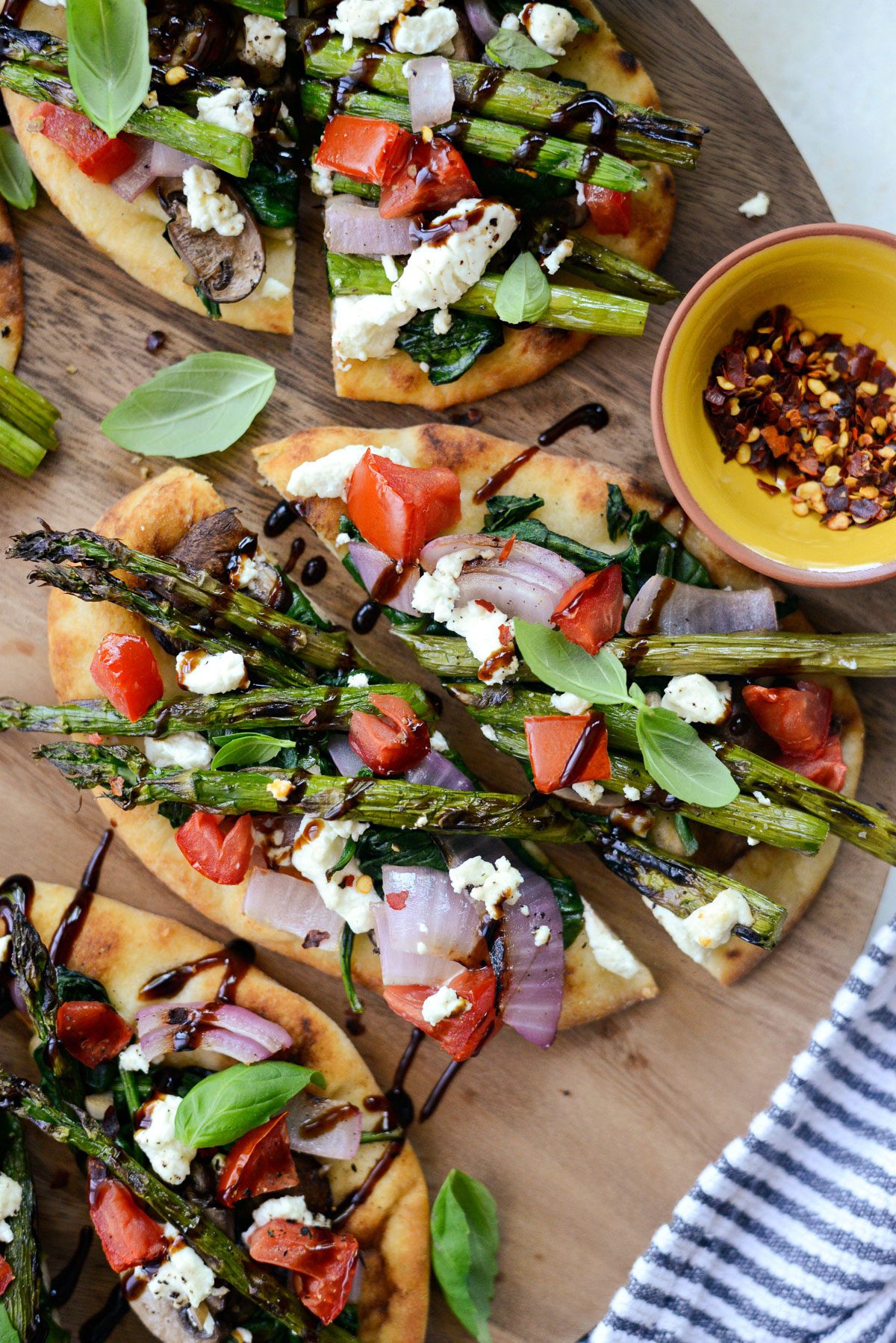 The basil, goat cheese and balsamic glaze is so crazy delicious because you get the sweet and tanginess mingling with the herbaceous basil. However I will say that I also like mine with a sprinkle of sea salt and red pepper flakes too.
Because appetizers are meant to be shared, serve with your best friends and your favorite beverages!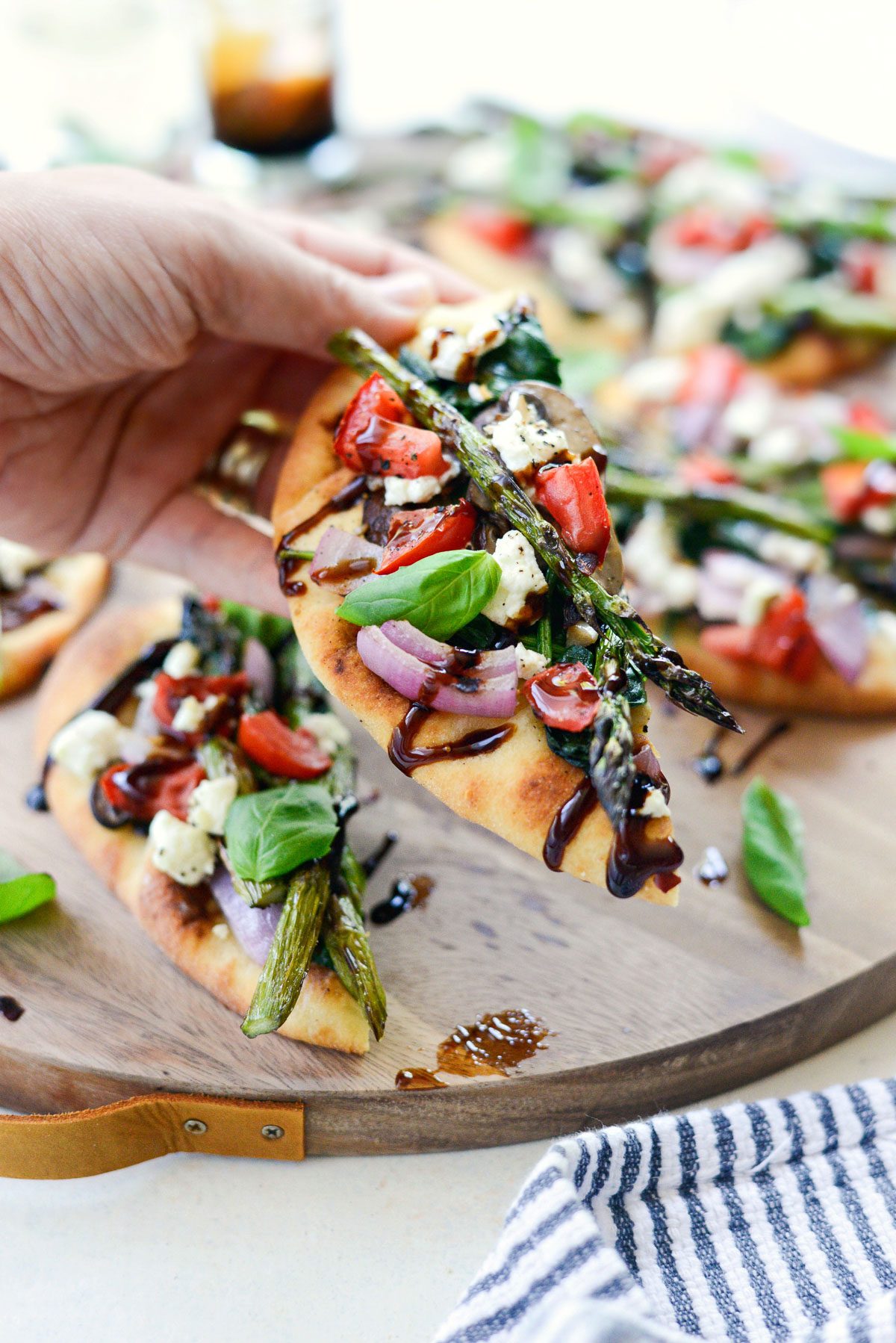 Enjoy! And if you give these Vegetable and Goat Cheese Flatbreads a try, let me know! Snap a photo and tag me on twitter or instagram!
This post may contain affiliate links.
Buy the Cookbook: Simply Scratch : 120 Wholesome Homemade Recipes Made Easy Now available on Amazon »
THANK YOU in advance for your support!