This roasted garlic potato soup is deliciously simple! Smooth and creamy potato soup that is ready in no time!
I don't think potato soup get's any easier or more delicious, than this.
This creamy and luxurious roasted garlic potato soup is so extremely easy and tastes as if it was ordered at restaurant. I'm not even kidding. My taste buds were not prepared for it's deliciousness. I swiped a spoonful to taste after pureeing it in my blender and my eyes literally rolled into the back of my head, and I must give all credit to my friend, Julie.
Julie Wampler, the talented blogger behind Table For Two. I have known Julie through the blogosphere for years. I found her and her blog via Tasty Kitchen and have admired her gorgeous photography and creative recipes ever since. Now Julie has gone on to write a beautiful cookbook: Dinner For Two spotlighting- you guessed it… dinner for two! In this book you'll find, and I'll quote her cover- easy and innovative recipes for one, two, or a few. Brilliant.
Even though this cookbook is titled Dinner for Two, the recipes can also be easily doubled for a larger family, which I love. When I first got the advanced copy I post-it noted roughly 20 recipes. Then I went back and noted 15 more. And then I went back… There's just so many recipes to love: Honey Sriracha Lime Chicken Skillet,Creamy Sun-Dried Tomato Fettucine, Eggplant Boats and Bacon and Shaved Brussels Sprouts Salad with Honey Lemon Vinaigrette. I absolutly love that she has a Breakfast For Dinner chapter… because if you know me at all, then you know that I love me some breakfast- especially for dinner.
Speaking of LOVE, this soup!
What drew me to this recipe was the short ingredient list and the method in which it's prepared. Translation: it's SO easy! ( Have I mentioned yet that it's easy? 😉 ) While you're roasting the garlic you bring a pot of water to a boil, throw in cubed potatoes and when those are tender, you toss in… Actually, how about you see for yourself?!
To Make This Roasted Garlic Potato Soup You Will Need:
whole head of garlic
olive oil, plus more for serving
kosher salt
russet potatoes
white onion, diced (about 1/2 cup)
low-sodium chicken broth
heavy cream
kosher salt
freshly ground black pepper
fresh chives, for garnish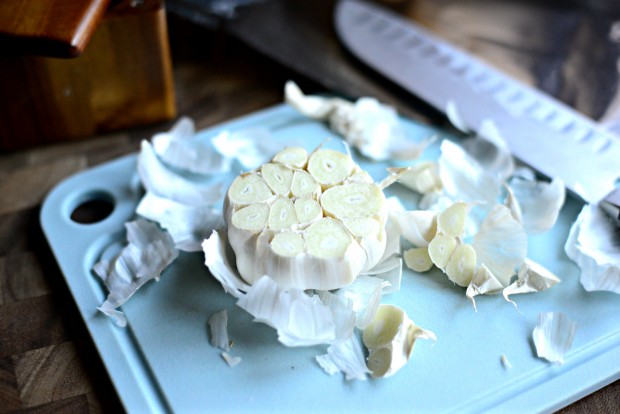 First peel the outer layers of a good-size head of garlic, then lob off the top.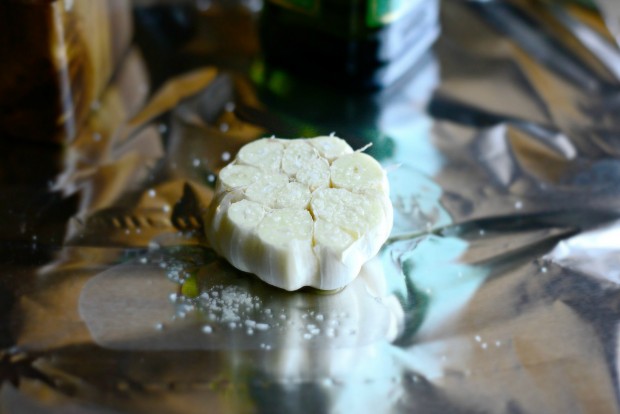 Place it onto a sheet of aluminum foil, drizzle with olive oil and sprinkle with salt.
Crimp the foil together to make a pouch and roast at 400 degrees for 30 to 40 minutes. See? Easystreet! Once the garlic is roasted and has had a chance to cool, I squeeze them out and into a bowl.
In the meantime fill a pot with water a little over half way, cover and bring to a boil.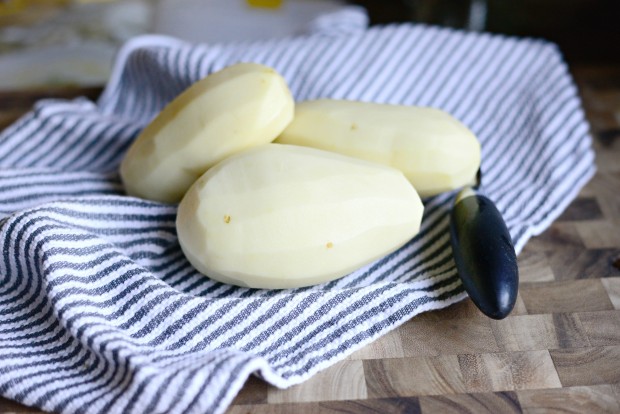 While the water is coming to a boil, peel 3 medium-ish russet potatoes.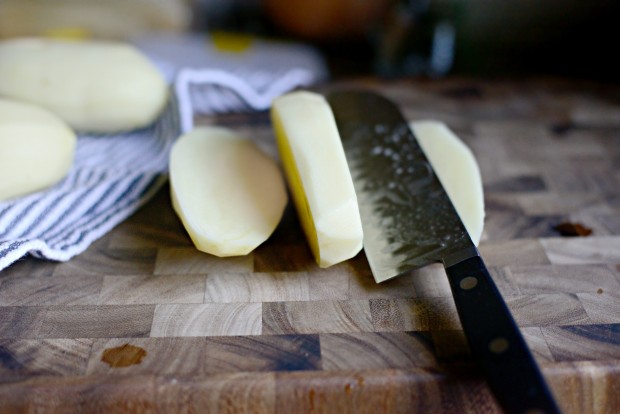 Slice into planks…
Then into sticks…
And then into cubes.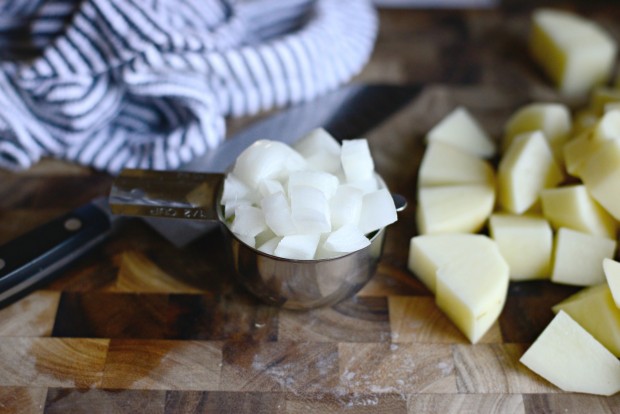 Then dice up 1/2 cup of white onion.
Add the potatoes to the pot of boiling water, then reduce the heat and cook uncovered for about 20 minutes.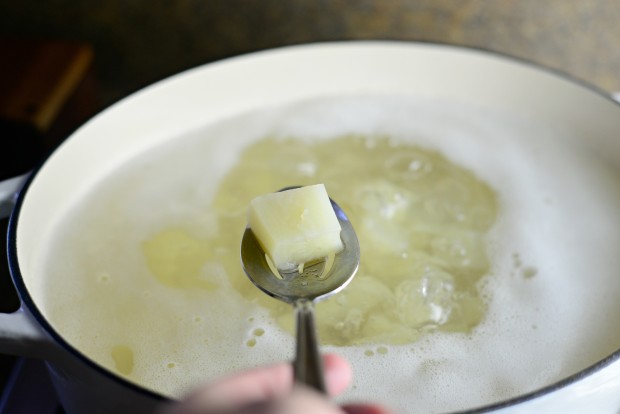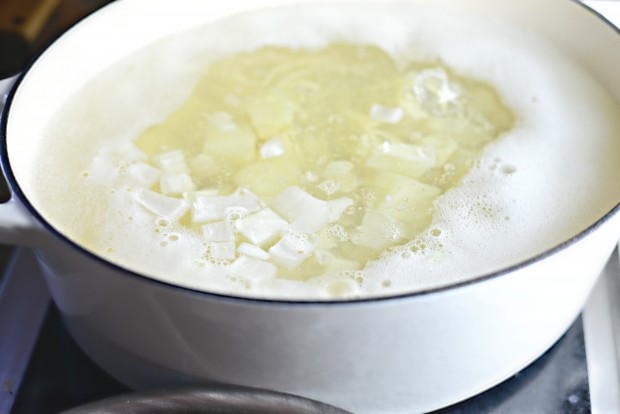 When the potatoes are just about fork tender and at 15 minute mark, add the onions in with the potatoes. THIS is where I fell in love. You add the onion TO the pot where THEY will soften!!! No second pan needed. It's so simple, yet I'm amazed.
While the onions are softening, add 2 cups chicken broth to a blender or food processor.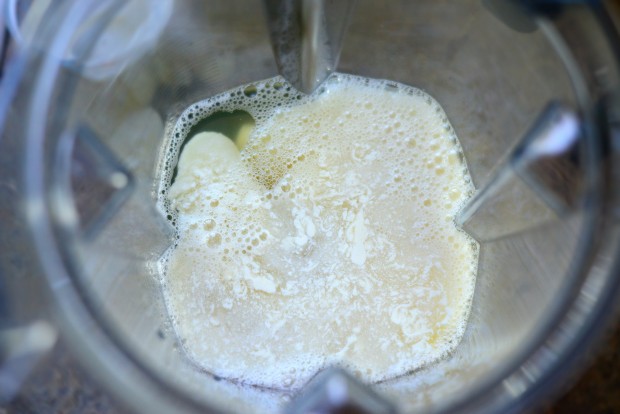 …along with 1 tablespoon heavy cream.
Then drain the onions and potatoes in a colander set into a sink.
Toss them to the blender.
Then throw in the cloves of roasted garlic, 2 teaspoons kosher salt and 1/2 teaspoon freshly ground black pepper.
If using a blender, remove the center plug and cover with a towel. Puree until smooth.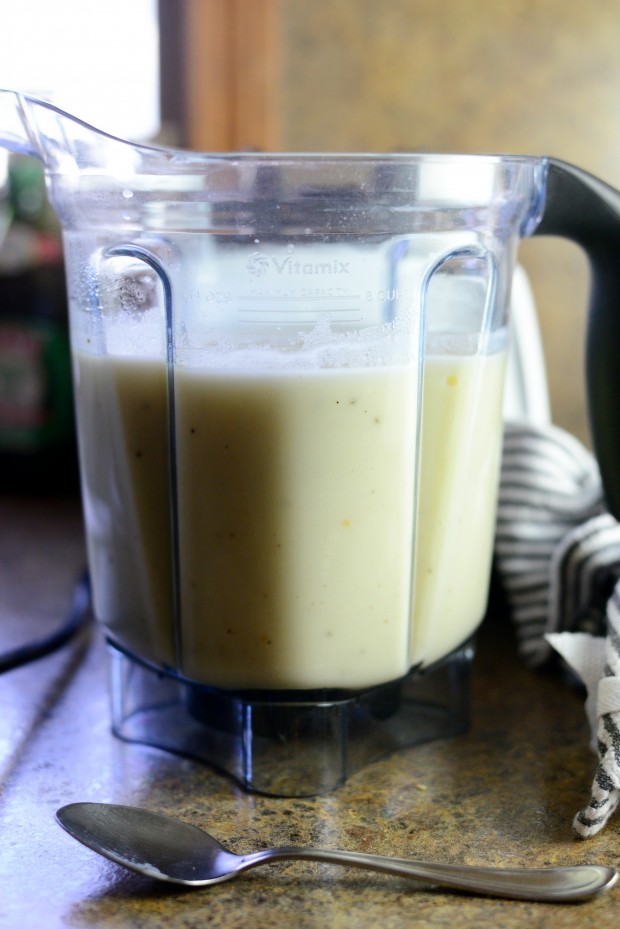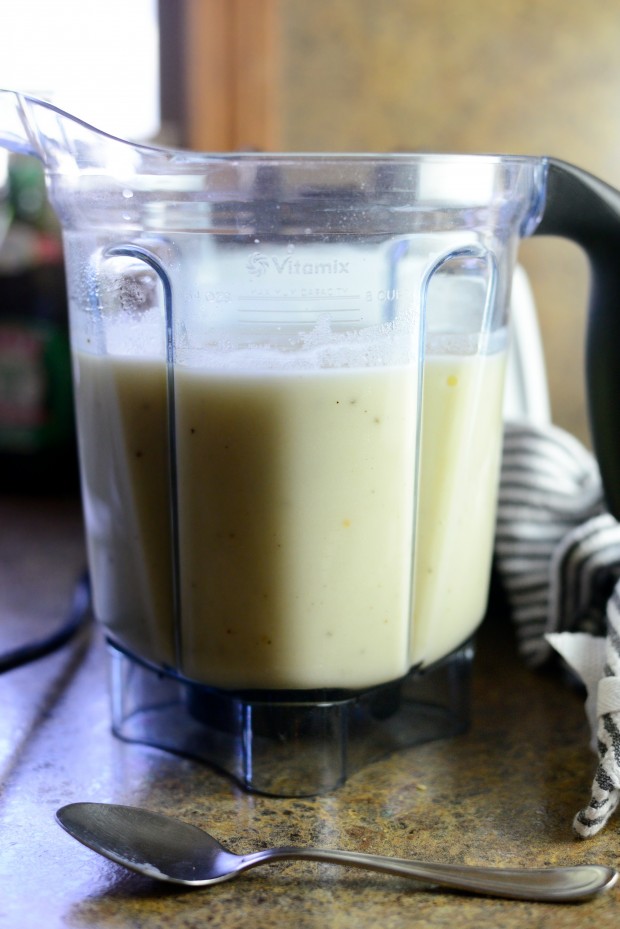 Someone hand me a straw.
I transferred the pureed roasted garlic potato soup back into the pot to keep warm.
That is it my friends. It's easy with simple ingredients and flavor for dayyyys!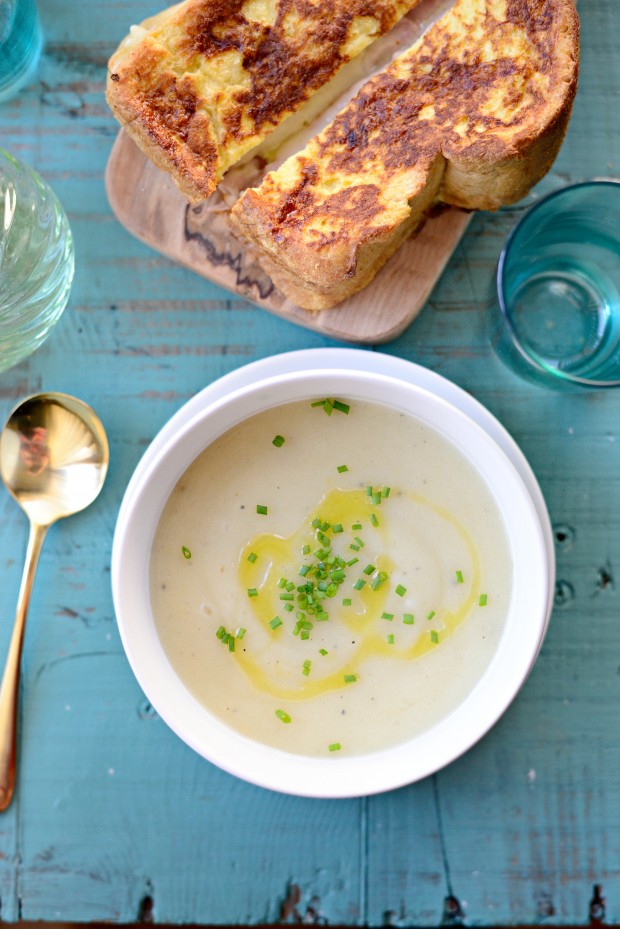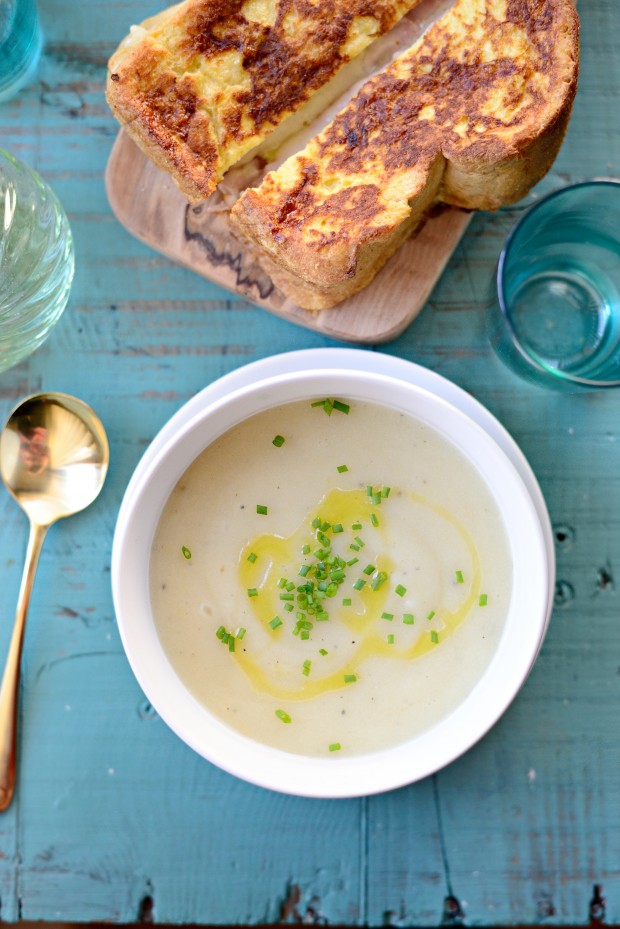 Just like Julie, I ladled spoonfuls of the roasted garlic potato souup into bowls, drizzle a little olive oil over top along with freshly snipped chives. Poifect! It's such a creamy, velvety soup and the roasted garlic doesn't over power the potatoes at all, you taste both distinctly and deliciously.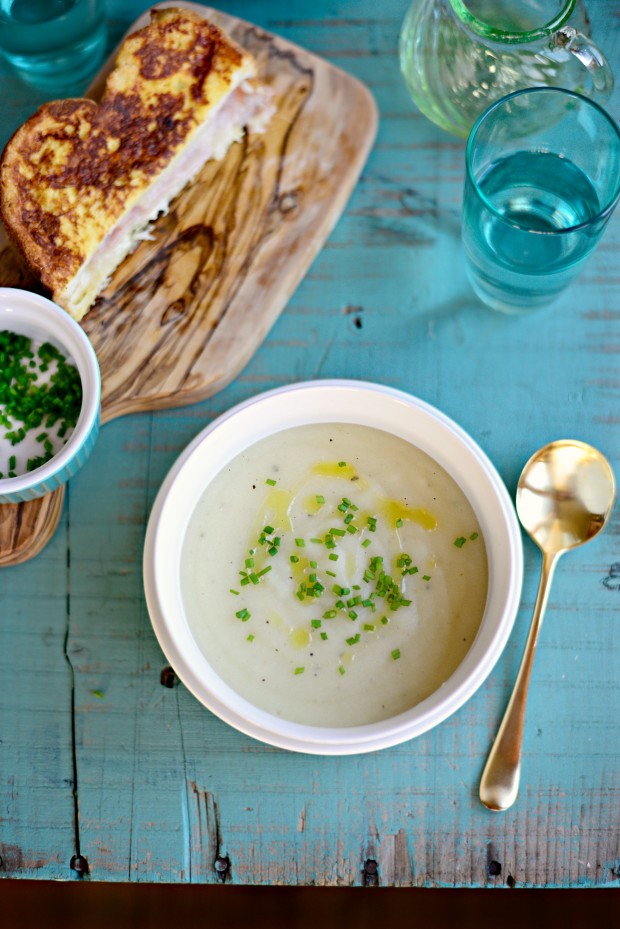 This roasted garlic potato soup recipe made enough for my entire family and so we had it for dinner alongside Julie's Ham and Gruyere Stuffed French Toast. (For that recipe you'll need to get Julie's book!) My husband is a big fan of this soup and was more than happy when I couldn't finish mine.
You'll find more recipes just like this throughout Julie's book. Every recipe has a full-page color photo and when the book is open, it lays flat on the counter so you won't lose your place while cooking. This cookbook has a trove of delicious recipes in it and I just know you'll enjoy cooking from for years to come. Promise.
Congratulations Julie!
Enjoy! And if you give this Roasted Garlic Potato Soup recipe a try, let me know! Snap a photo and tag me on twitter or instagram!
Yield: 2 servings
Roasted Garlic and Potato Soup
This soup is packed full of flavor and is so easy to make. The velvety smooth texture is unbelievable!
Ingredients
1 head garlic
olive oil, plus more for serving
kosher salt
3 medi medium russet potatoes, peeled, rinsed and cubed
1/2 small white onion, diced (about 1/2 cup)
2 cups low-sodium chicken broth
1 tablespoon heavy cream
2 teaspoons kosher salt
1/2 teaspoon freshly ground black pepper
fresh chives, for topping
Instructions
FOR THE GARLIC:
Preheat oven to 400°.

Peel away the outer layers of the garlic bulb, but leave the individual skins on the cloves intact.

Using a sharp knife, cut off of the top 1/4 to 1/2 inch of the garlic, exposing the individual cloves. Place the head of garlic on a sheet of aluminum foil, drizzle olive oil over top and sprinkle with a little salt. Then wrap it up, and place inside your oven on the middle baking rack. Roast for 35 to 40 minutes. When the garlic is cool enough to touch, squeeze the entire garlic bulb over a small bowl and set aside.
FOR THE REMAINDER OF THE DISH:
While the garlic is roasting, bring a pot of water to boil. Add the potatoes to the pot and reduce the heat to medium-high. Cook until potatoes are softened and easily fall apart when pricked, about 20 minutes. After 15 minutes, add the onion to the pot to soften for about 5 minutes. Drain mixture and set aside.

In a blender or food processor, add chicken broth, heavy cream, roasted garlic, potatoes and onions, salt and black pepper. If using a blender, remove the plastic piece in the lid, and place a towel on top to let steam escape.

Process mixture until smooth.

Serve warm with a side of bread or in a bread bowl, and sprinkle with chives on top, if desired.
Serving: 1g, Calories: 349kcal, Carbohydrates: 68g, Protein: 13g, Fat: 5g, Saturated Fat: 2g, Polyunsaturated Fat: 1g, Monounsaturated Fat: 1g, Cholesterol: 10mg, Sodium: 2419mg, Potassium: 1644mg, Fiber: 5g, Sugar: 4g, Vitamin A: 118IU, Vitamin C: 25mg, Calcium: 91mg, Iron: 4mg
This post may contain affiliate links.
Buy the Cookbook: Simply Scratch : 120 Wholesome Homemade Recipes Made Easy Now available on Amazon »
THANK YOU in advance for your support!