In this roasted strawberry milkshake, strawberries are roasted in vanilla sugar. Then blended with ice cream for the ultimate strawberry milkshake!
So first things first. The new blog. I LOVE IT!
Lindsay really knows her stuff when it comes to this blog redesign business. She basically held my hand through this (to me) ginormous transformation and was ever so patient with my ridiculous and sometime completely stupid questions. And if I could give her a giant hug I would! She's fabulous… absolutely fabulous!
If you ask me, blog redesign is sort of like pregnancy and child birth. You make the decision to do it. Wait months, anxiously wondering what it's going to be and end up looking like. Then finally the birth of the blog arrives. It's exciting, scary and once it's finally here it's all you can seem to think about. And then there's those sleepless nights aka reformatting and getting use to the new way of things. But there is a bonus… no stretch marks! ha!
But I'm happy to say this blog is exactly what I dreamed it to be. Thank you Lindsay, you are a genius!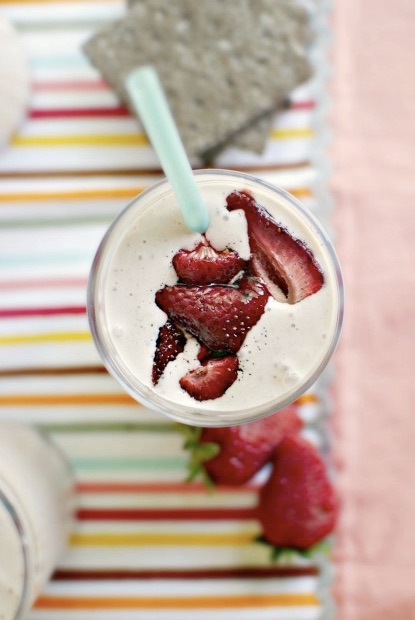 As a giant THANK YOU to all of you patiently waiting yummy food laden posts and wondering what the heck happened to me, I've decided I'm treating you to shakes. But these aren't your regular run-of-the-mill shakes. I mean yeah, they call for strawberries… but that's just the beginning.
TO Make This Roasted Strawberry Milkshake You Will Need:
strawberries
vanilla bean
granulated sugar
sea salt
vanilla ice cream
whole milk
Start of by washing and trimming 1 pound of strawberries.
Throw them into a Pyrex baking dish. Any size will do.
Split 1 vanilla bean in half and with the back of your knife scrape out all those tiny little seeds.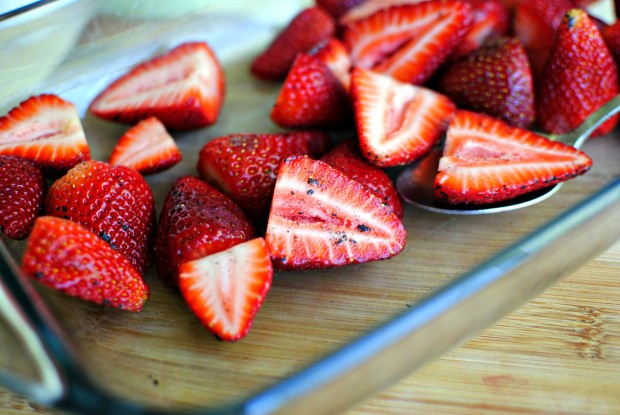 Add them in with the strawberries and toss them around so they get evenly distributes among the berries.
Sprinkle with 1/4 cup sugar and a pinch of kosher salt. Now pop them into a preheated oven for 2 hours. Yeah… I know!
Mean while don't throw that pod away! Dump two cups of sugar in a large jar…
Throw you bean pod in into the sugar….
…and give it a couple of good shakes. Let it chill-out and POOF! Soon you'll have vanilla sugar! I'm saving mine for something special. More to come on that in the future.
Now your strawberries should smell freaking amazing! Remove them from the oven and let them cool completely.
The moment those strawberries have cooled, grab your blender and throw in 1 pint of ice cream. When it comes to what kind of ice cream to buy, you need to buy on with a high fat content. Something about a dense ice cream makes for better milkshakes. Low fat and/or lesser quality ice cream could result in a runny shake since it's contains mostly air.
Add in three-quarters of the strawberries and reserve the rest of the strawberries for garnishing these pups.
Add 3/4 cup whole milk.
And give it a go. You might want to put the lid on … but I think that goes without saying… no?
I made this Roasted Strawberry Milkshake just before my girls hopped off the bus. They told me I was the bestest… like totally!
They also said these were the bestest milkshakes they've ever had….
I think they're right. Because this Roasted Strawberry Milkshake is like reeeeally good. Better than ANY shake I've ever tasted. And I don't even like strawberry shakes, usually.
Roasting strawberries really brings out the fruits inner berry-ness and the vanilla beans and that warm touch. I've always been a chocolate shake kind of gal but I think I'm moving on.
Unless you can slow-roast chocolate… yeah, probably not.
Enjoy! And if you give this Roasted Strawberry Milkshake recipe a try, let me know! Snap a photo and tag me on twitter or instagram!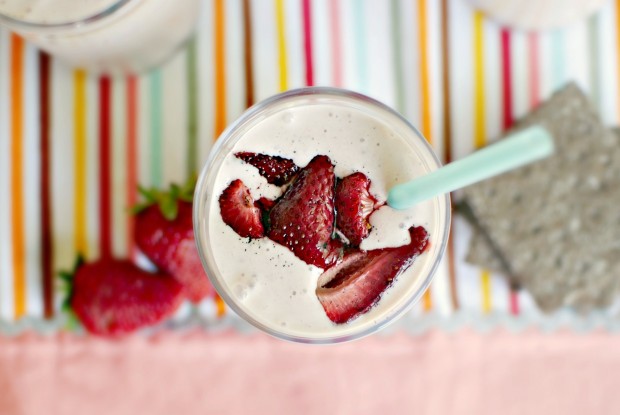 Yield: 2 servings
Roasted Strawberry Milkshake
In this roasted strawberry milkshake, strawberries are roasted in vanilla sugar. Then blended with ice cream for the ultimate strawberry milkshake!
Ingredients
1 pound strawberries, hulled and halved
1 vanilla bean
1/4 cup sugar
1 pinch kosher salt
1 pint vanilla ice cream, use premium ice cream with high fat content
3/4 cup whole milk
Instructions
Preheat your oven to 275°.

Split the vanilla bean in half and scrape out the seeds, reserve the pod.

Place halved strawberries in an oven safe dish. Add the sugar, salt and vanilla bean seeds, toss and place into your preheated oven. Slowly cook the strawberries for 2 hours uncovered. Remove and let cool.

In a blender add the ice cream, milk, three quarters of the strawberries and their juice. Blend until smooth.

Pour into glasses and too with a few of the remaining strawberries.

Sip and enjoy!
Notes
Don't throw the vanilla pod away. Use it to make vanilla sugar! Just throw the pod in a jar with two cups of sugar!
Serving: 1g, Calories: 716kcal, Carbohydrates: 103g, Protein: 13g, Fat: 30g, Saturated Fat: 18g, Polyunsaturated Fat: 2g, Monounsaturated Fat: 8g, Cholesterol: 113mg, Sodium: 251mg, Potassium: 940mg, Fiber: 6g, Sugar: 91g, Vitamin A: 1171IU, Vitamin C: 135mg, Calcium: 443mg, Iron: 1mg
This post may contain affiliate links.
Buy the Cookbook: Simply Scratch : 120 Wholesome Homemade Recipes Made Easy Now available on Amazon »
THANK YOU in advance for your support!