Save your pumpkin seeds and make these sticky sweet pumpkin seeds for a delicious crunchy snack!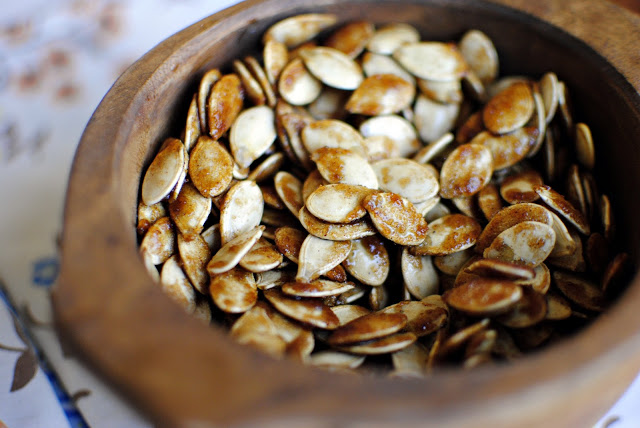 Today, I got ahead start on my pumpkin puree making.
I've planned to make some Thanksgiving pies and other recipes soon, and I particularly like to use the seeds from "pie" pumpkins for roasting and such.
So, when we were purchasing our pumpkins for carving, the lady at the pumpkin stand waved her hands towards these pumpkins, saying they're great for pumpkin pies and they have a ton of seeds inside them. So I bought two. Pat dropped one while juggling, literally juggling both of them, and busted it open so we left in our back woods for the nearby critters. Leaving me with one lonely pumpkin. Expecting to see a zillion seeds in the center of my pumpkin when I cut into it, I was sadly mistaken! Well, if a cup of seeds is a ton then I guess my perception of a ton is way off. However this recipe is easily doubled or quadrupled to suit your needs… I just had to scale down my recipe and all was great in the world of pumpkin seed baking.
To Make These Sticky Sweet Pumpkin Seeds You Will Need:
raw pumpkin seeds
dark brown sugar, divided
kosher salt
pumpkin pie spice
cinnamon
ginger
1 tablespoon extra light olive oil
1 tablespoon honey
As a kid I always looked forward to plain old salty pumpkin seeds.
Now and again I like them a little spicy… or savory. But candied is where it's at. My husband never even liked pumpkin seeds until I came up with this recipe. After they're made them I just leave them on the sheet pan and as we passed by we'd snag a few and graze on these all day long.
The easiest way I found to get those nasty orange fibers off of the pumpkin seeds, is to submerge them in a bowl of water. The seeds will float to the top and the pumpkin fibers will sink to the bottom.
Place 1 cup washed raw pumpkin seeds onto a lined baking sheet. Having a silpat makes this recipe super easy.
Spread them out and pop them into a preheated 300° oven for 20 minutes, stirring half way through.
In a small bowl add 3 tablespoons of dark brown sugar, 1/4 teaspoon pumpkin pie spice, 1/4 teaspoon ground cinnamon, 1/4 teaspoon ground ginger and 1/4 teaspoon kosher salt.
Stir to combine.
Once the seeds are out of the oven let them cool slightly.
Once cool enough to handle, I scooted the seeds to the center of the silpat and poured them into a small bowl so it would be easy to add to the pan later.
In a medium skillet over high, heat up the olive oil.
Then drop in the pumpkin seeds.
Next add the remaining tablespoon of brown sugar.
And then the honey.
Next, stir constantly while the sugar and honey bubble and thicken about 45-60 seconds.
Then remove the seeds and place them in a large bowl and add the brown sugar/spice mixture.
Next, toss around to coat.
Then spread back out on the silpat to cool completely.
If not eaten immediately they can be stored in an airtight container for up to one week.
Sticky Sweet Pumpkin Seeds and only slightly addicting.
Click Here For More Pumpkin Seed Recipes!
Enjoy! And if you give this Sticky Sweet Pumpkin Seeds recipe a try, let me know! Snap a photo and tag me on twitter or instagram!
This post may contain affiliate links.
Buy the Cookbook: Simply Scratch : 120 Wholesome Homemade Recipes Made Easy Now available on Amazon »
THANK YOU in advance for your support!