These steak and egg breakfast burritos are filled with steak, mushrooms, scrambled eggs and homemade steak sauce for the most epic breakfast burritos ever!
I have no idea what it is about steak and eggs but I crave it like all the time. So much that I purposefully don't finish all of my steak so I can then have it for breakfast.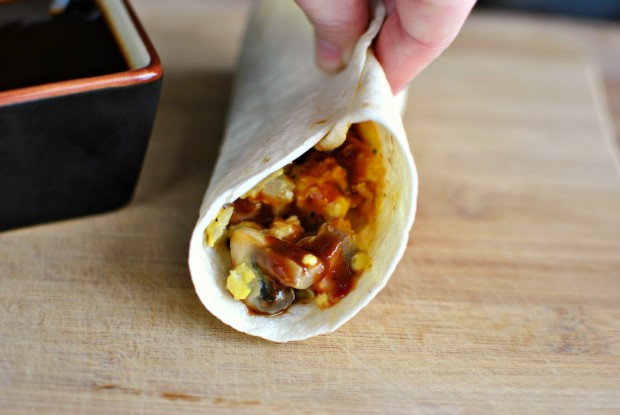 Like I've said a gazillion times… I'm a big fan of steak. But I'm not so much of a fan for it reheated… it's just not the same. So when looking at my leftover steak, naturally my mind went to breakfast… steak and eggs style. So I cubed it, added it to some scrambled eggs with sauteed mushrooms and onions, drizzled it with a little, okay a lot of homemade steak sauce and wrapped it into a warm, soft tortilla. Bingo-bango.
It took me about 2.6 seconds to inhale this crazy good breakfast burrito… and the best part about it all (besides being utterly amazing} is there were 3 more servings left for moi for breakfast. It's just a shame the rest of my family doesn't dig mushrooms… oh well, more for me!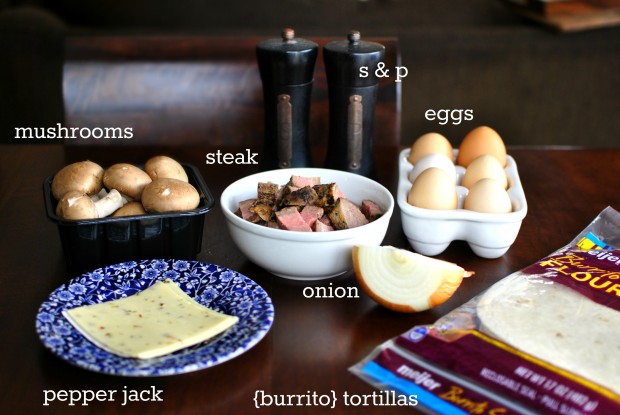 Ribeye… check. Pepper Jack cheese… check-check. Onions, mushrooms, eggs, and tortillas… checkity-check!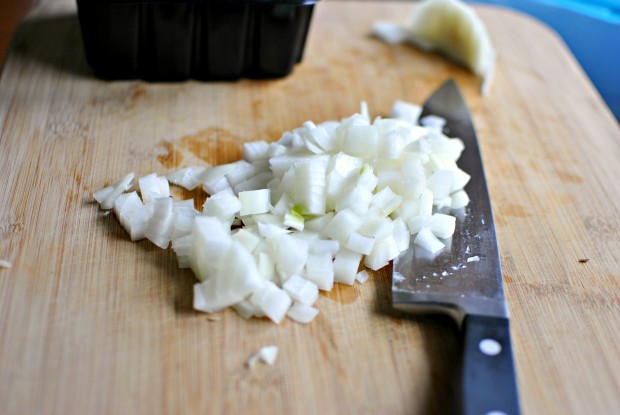 Start this party off right by chopping up half of a yellow onion.
Then trim, quarter or eighth if they're biggins' to equal a cup of mushrooms. I'm using baby bellas… they are my absolute fave. But button mushrooms work the same.
Melt a couple of tablespoons in a large skillet.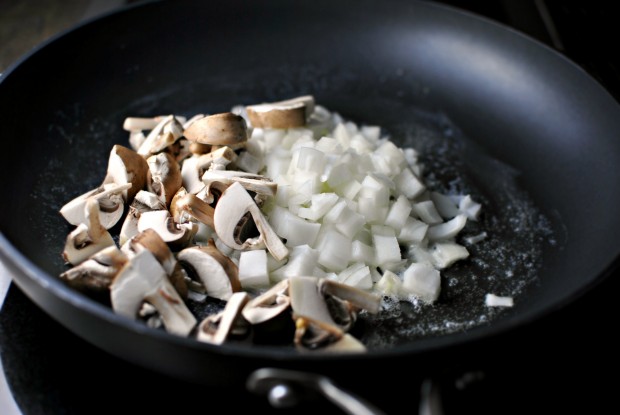 Once it starts to bubble and sizzle, throw in the chopped onion and mushrooms.
Saute for about 5 minutes or so until both are soft, slightly golden and smell amazing!
Remove to a plate or any old dish you got for just a moment. Immediately you'll want to reduce the temp of your pan, you'll be adding the eggs into the same pan that the mushrooms and onions were just in and you want the pan to cool down a few before doing so, otherwise you'll get a burnt eggs, and burnt eggs just won't do.
In a medium bowl, or a large measuring cup, crack in 6 eggs. I got lucky on the first egg and cracked a double-yolker! It's weird the past couple times I've cracked eggs they had double yolks… what does it mean??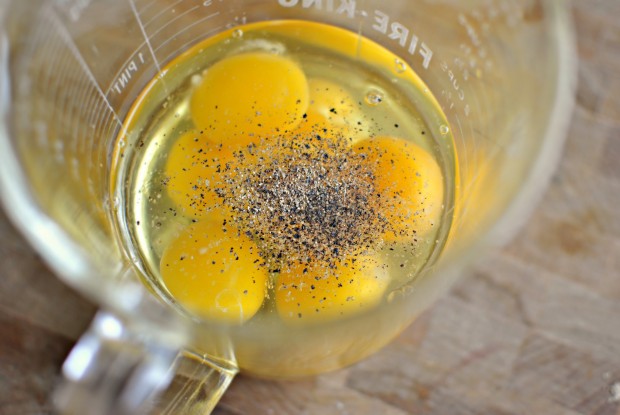 Sprinkle in a generous amount of salt and black pepper.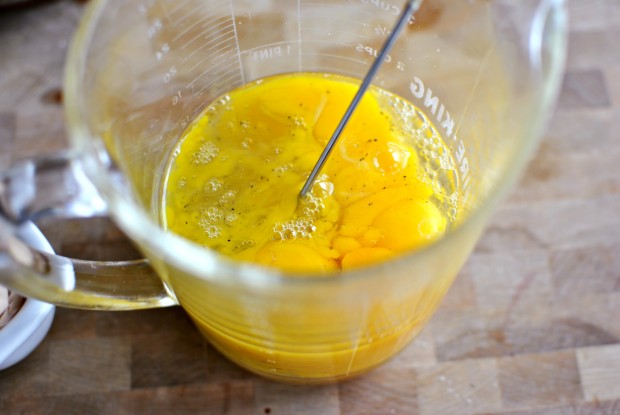 Then whip those into submission.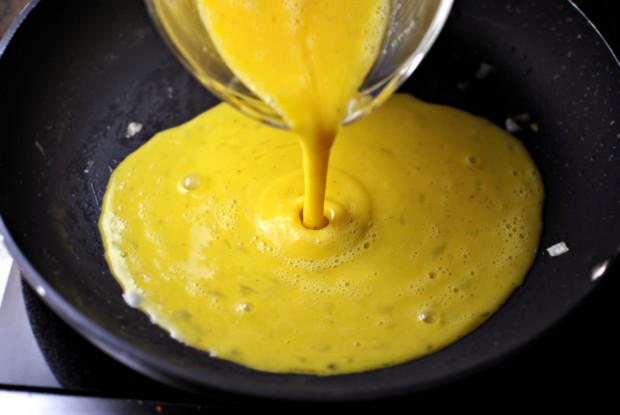 Pour the eggs into the cooled down pan.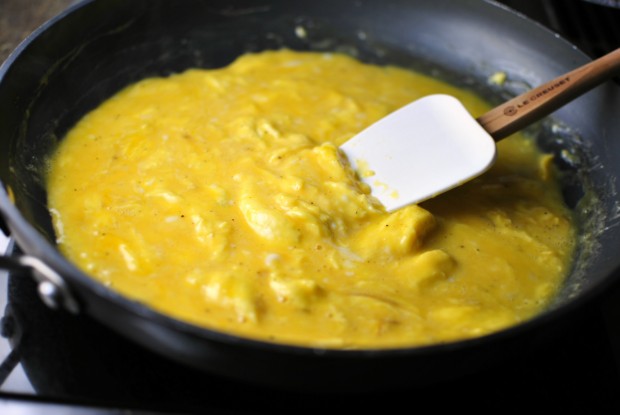 Use a rubber spatula to scrape the pan underneath the eggs as they slowly cook and scramble.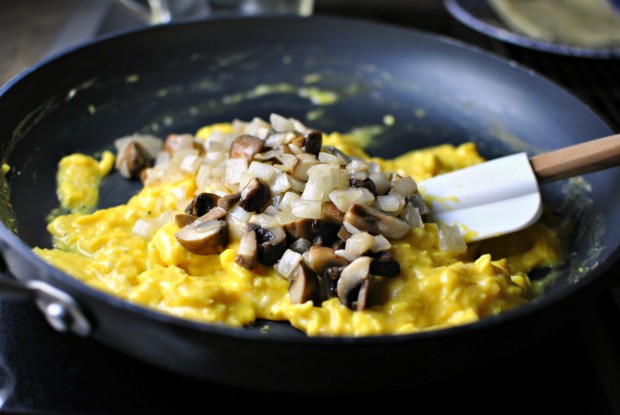 Once the eggs are just about set, throw in the mushrooms and onions in.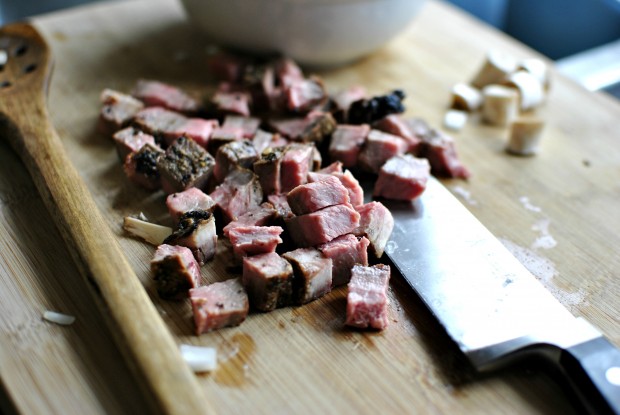 I cut the grilled ribeye into smaller more bite-sized pieces.
Add the steak in with the eggs and top all with two slices of pepper jack cheese. I really like the subtle heat this cheese gives to the whole thing, but cheddar or even Colby Jack would work just as well.
Give it all a good stir until the steak is heated through and the cheese is all melty.
Warm up a few burrito-sized flour tortillas and spoon a healthy portion of that into the center.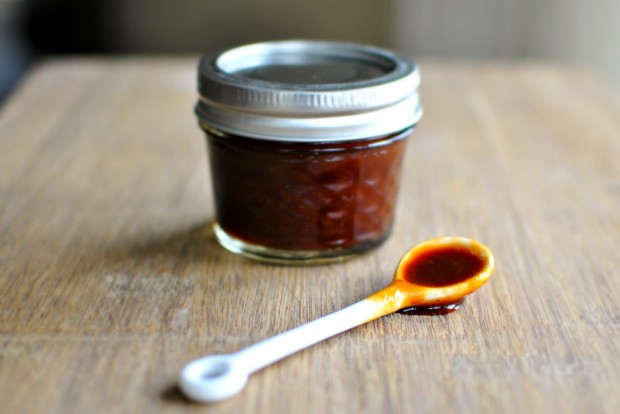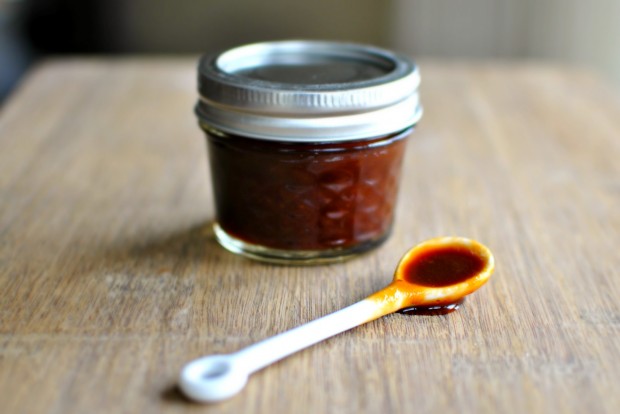 Remember this homemade steak sauce? Well guess what??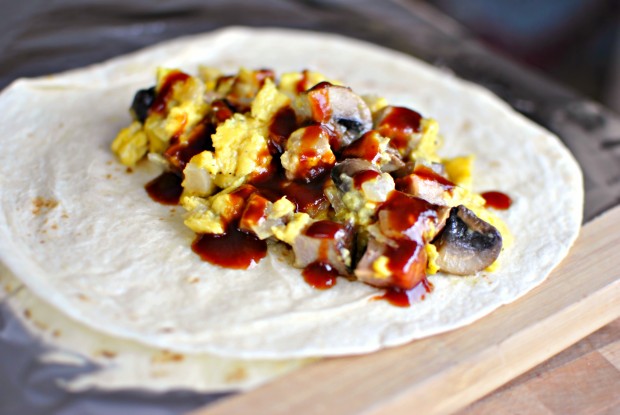 You're gonna want to drizzle it all over these steak and egg breakfast burritos.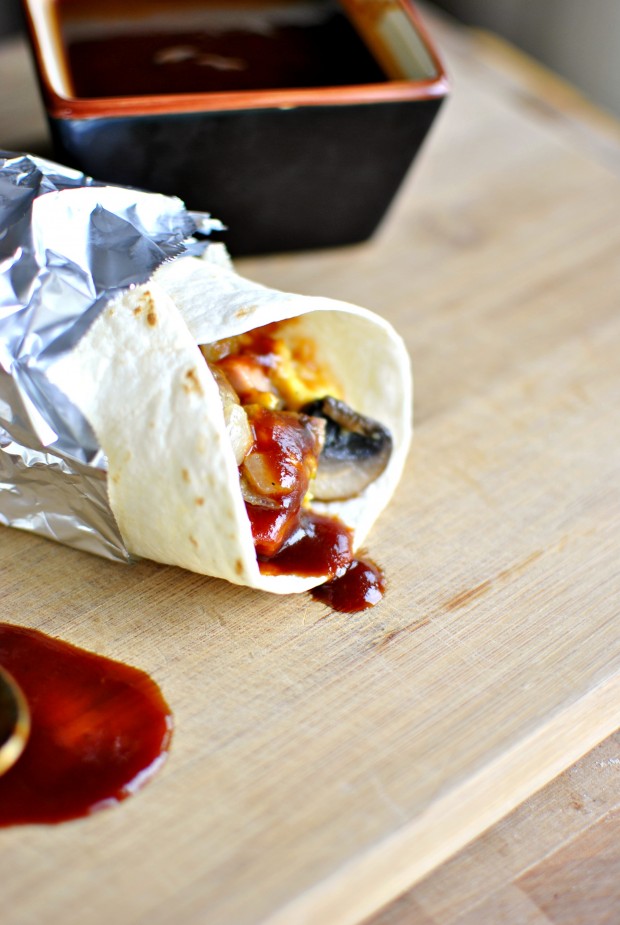 Feel free to add a little extra for kicks.
Enjoy! And if you give these Steak and Egg Breakfast Burritos a try, let me know! Snap a photo and tag me on twitter or instagram!
My cookbook Simply Scratch : 120 Wholesome Homemade Recipes Made Easy is now available! CLICK HERE for details and THANK YOU in advance!
Yield: 4 servings
Steak and Egg Breakfast Burritos
A hearty hand-held breakfast filled with steak, mushrooms and cheesy scrambled eggs!
Ingredients
2 tablespoons butter
1/2 yellow onion, diced
1 cup quartered cremini mushrooms
6 eggs
kosher salt
freshly ground black pepper
grilled steak, cubed
2 slices pepper jack cheese
4 soft flour tortillas, warmed
1 recipe Homemade Steak Sauce
Instructions
In a large pan over medium heat saute the onions and mushrooms in butter. Remove them to a plate once they are soft and the mushrooms have released most of their moisture. Reduce the temp to medium.

Beat together the eggs, salt and pepper. Give the pan some time to cool down before pouring in the beaten eggs. With a rubber spatula, turn the eggs... scraping the bottom of the pan. Cook until the eggs are just about set.

Top with the mushrooms, onions, steak and pepper jack cheese. Mix everything so the steak is heated through and the cheese is melted.

Divide the scrambled egg mixture among 4 flour tortillas and drizzle with the homemade steak sauce. Wrap and enjoy!
Serving: 1g, Calories: 196kcal, Carbohydrates: 3g, Protein: 12g, Fat: 15g, Saturated Fat: 8g, Polyunsaturated Fat: 2g, Monounsaturated Fat: 5g, Trans Fat: 1g, Cholesterol: 270mg, Sodium: 212mg, Potassium: 203mg, Fiber: 1g, Sugar: 1g, Vitamin A: 613IU, Vitamin C: 1mg, Calcium: 125mg, Iron: 1mg
[this post contains affiliate links.]
This post may contain affiliate links.
Buy the Cookbook: Simply Scratch : 120 Wholesome Homemade Recipes Made Easy Now available on Amazon »
THANK YOU in advance for your support!