My love for Spicy Three Cheese Italian Sausage and Red Pepper Pizza knows no bounds! So gloriously delicious and cheesy!
Dear Pizza,
I really like you. You're saucy, crusty and oh-so-cheesy. And I get to fold you in half and eat you with my hands. I love you deep dish, thin crust, cheese, meat lovers or topped with pesto and even pineapples (yet not necessarily together, of course). I think about you all the time and what I love most about you is that I can make you at home without having to buy a Digiorno and pretend it's delivery.
You're the real deal and I love you.
Sincerely,
Laurie [aka your bff]
Ps. I like your corners
It's true. I love pizza.
And I think I wrote about it once (or eighteen hundred times, but who's counting?). Do you remember me saying something about it being the one last thing I'd bring to a desert island? It's still true.
This is one of those recipes that I kinda did the whole supermarket sweep deal. Just grabbed and went in a mad hurry. I was all "ohh sausage! oooh and red onions with red peppers!!!" You totally get it. However I swear this pizzas deliciousness is all about those three cheeses. Wanna know what's horrible with three cheeses? Absolutely nothing.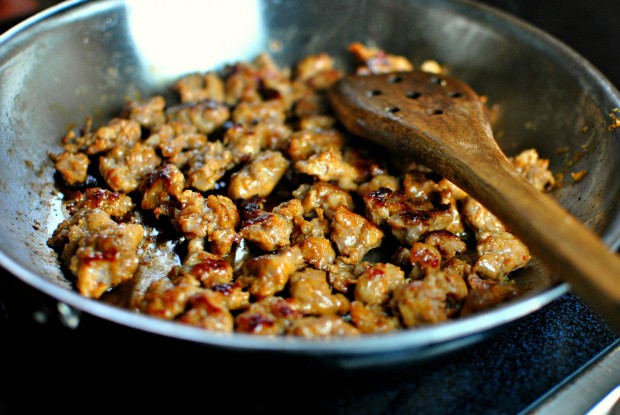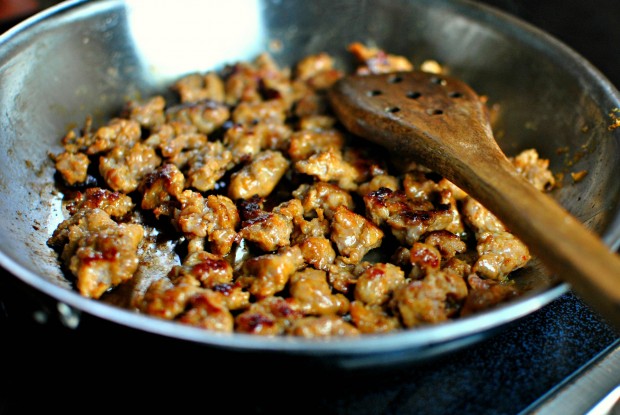 Prep The Toppings:
I was planning to make two medium pizzas. So I started by taking the casing off of some medium-spiced Italian sausages and broke them up into a hot pan that had a touch of olive oil in it and cooked them until there was zero pink left. I then removed them to a clean bowl and made the sauce with the remaining sausage fat. Oh yes I dee-ud.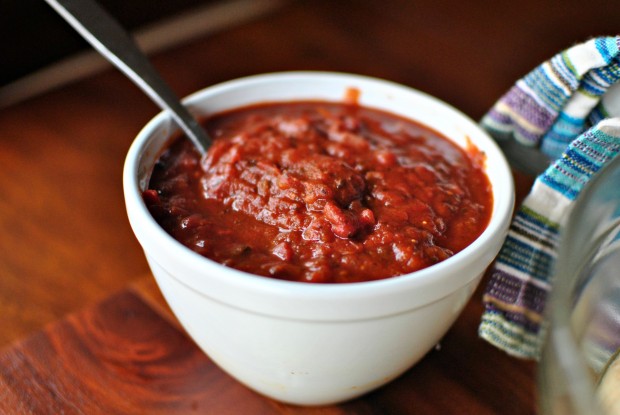 The sauce I made was from a post earlier in the year. It has gotten a lot of love on here and so I made it again, I just sautéed the onions and garlic using the sausage grease instead of the olive oil. Amazing.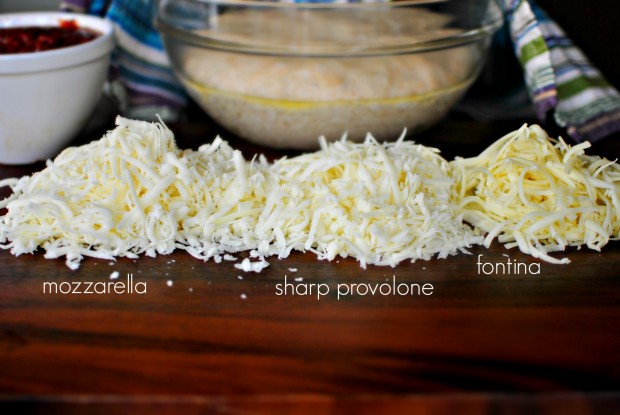 Next, grate some mozzarella, sharp provolone and fontina.
Also making whole wheat pizza dough or you could make the regular.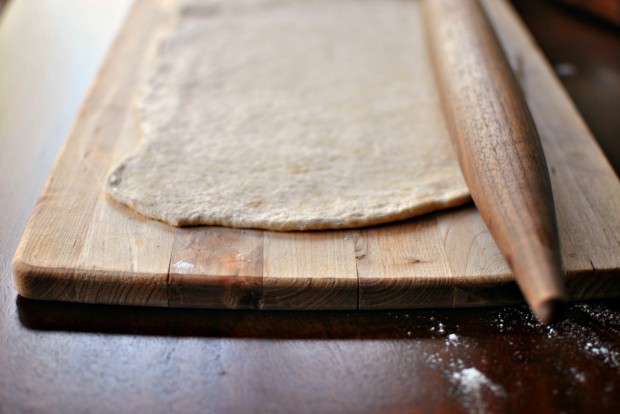 I divided the dough in half and then rolled it out thin.
Next carefully rolled it onto my rolling pin…
And then gently lay it down onto a well-oiled rimmed, baking pan. The oil will help in crisping the bottom of the crust which isn't a bad thing either.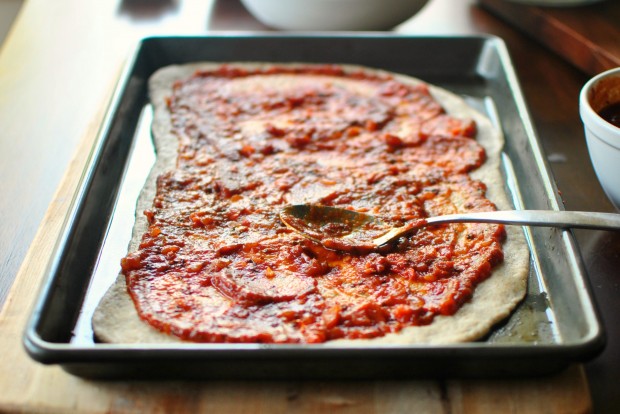 Next, spoon on some sauce.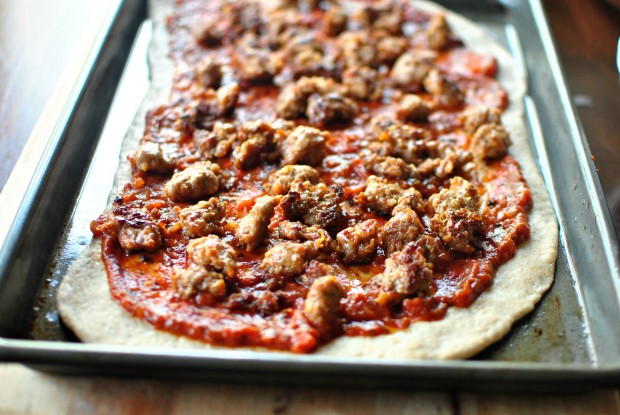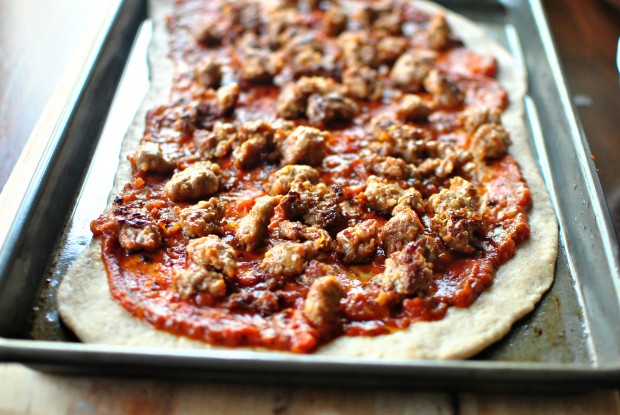 Then top that with the cooked and crumbled Italian sausage.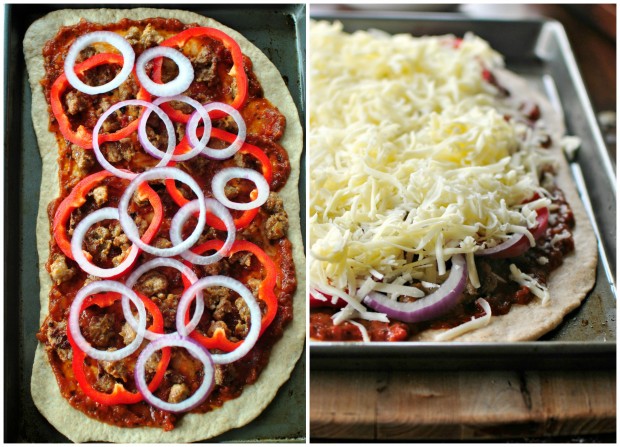 Next scatter with the slices of red bell pepper, red onion and piled on the cheeses.
And then pop it into a hot 450° oven for 15-20 minutes.
Keep an eye on it so it doesn't burn.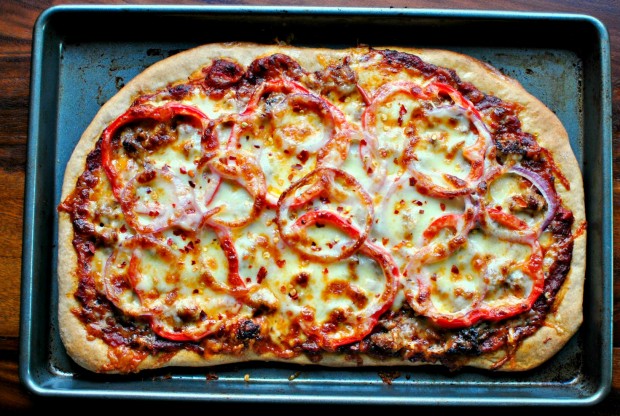 Next, sprinkle generously with lots of red pepper flakes and let it rest for 5 minutes. Serious pizza perfection.
Slice the three cheese italian sausage and red pepper pizza.
And finally serve.
The flavor combination is out of this world. Yum.
Enjoy! And if you give this three cheese italian sausage and red pepper pizza recipe a try, let me know! Snap a photo and tag me on twitter or instagram!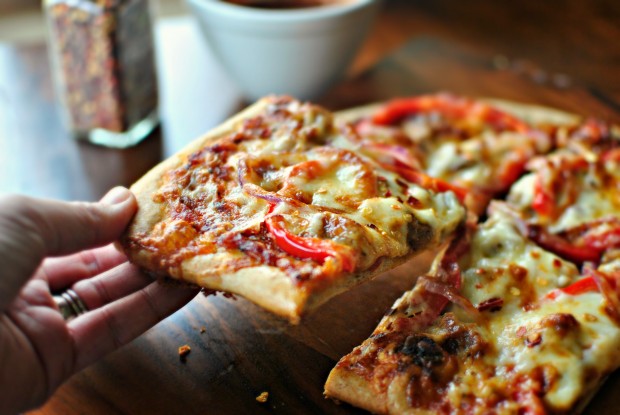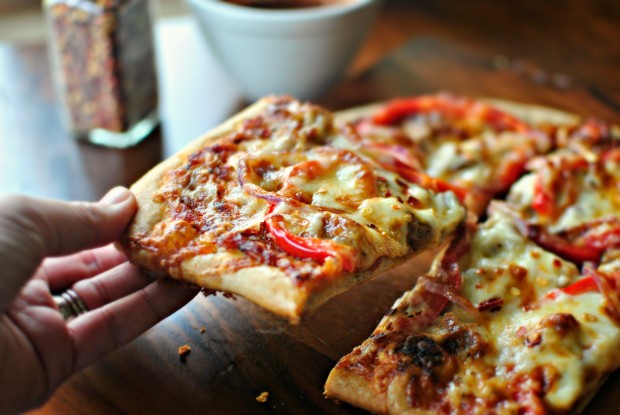 Yield: 8 servings
Spicy Three Cheese and Italian Sausage Red Pepper Pizza
A delicious pizza with sausage, peppers and three kinds of cheese.
Ingredients
1 recipe whole wheat or regular pizza dough, links are in above post
1 recipe pizza sauce
4 links hot or mild Italian sausage, casing removed, crumbled and cooked
1 medium red onion, sliced into rings
2 medium red bell peppers, sliced into rings, seeds and stems discarded
8 ounces freshly grated mozzarella cheese
8 ounces freshly grated sharp provolone cheese
8 ounces freshly grated fontina cheese
crushed red pepper flakes
Instructions
Preheat your oven to 450° and use olive oil to grease two rimmed baking sheets generously.

Divide the dough in half and on a lightly floured surface, roll thin using a rolling pin.

Transfer the dough to the prepared pan(s) and top with pizza sauce.

Divide the cooked sausage among both pizzas and top with slices of red pepper and onion.

Divide the cheese among both pizzas and bake at 450 for 15-20 minutes, rotating the pans if necessary.

Remove and sprinkle with red pepper flakes. Let the pizzas rest for 5 minutes on the pan before transferring to a cutting board and slicing into pieces.
Serving: 2slices, Calories: 542kcal, Carbohydrates: 13g, Protein: 30g, Fat: 41g, Saturated Fat: 20g, Polyunsaturated Fat: 4g, Monounsaturated Fat: 14g, Trans Fat: 1g, Cholesterol: 117mg, Sodium: 1115mg, Potassium: 304mg, Fiber: 1g, Sugar: 3g, Vitamin A: 1632IU, Vitamin C: 40mg, Calcium: 529mg, Iron: 1mg
This post may contain affiliate links.
Buy the Cookbook: Simply Scratch : 120 Wholesome Homemade Recipes Made Easy Now available on Amazon »
THANK YOU in advance for your support!