Slow Cooker Chicken and Vegetables aka my dear friend Heidi's "chicken in a pot" is a ridiculously simple and soul warming, slow cooker meal. In it, a whole chicken cooks with carrots, onions and celery until incredibly tender. Serve with mashed potatoes for a comforting meal.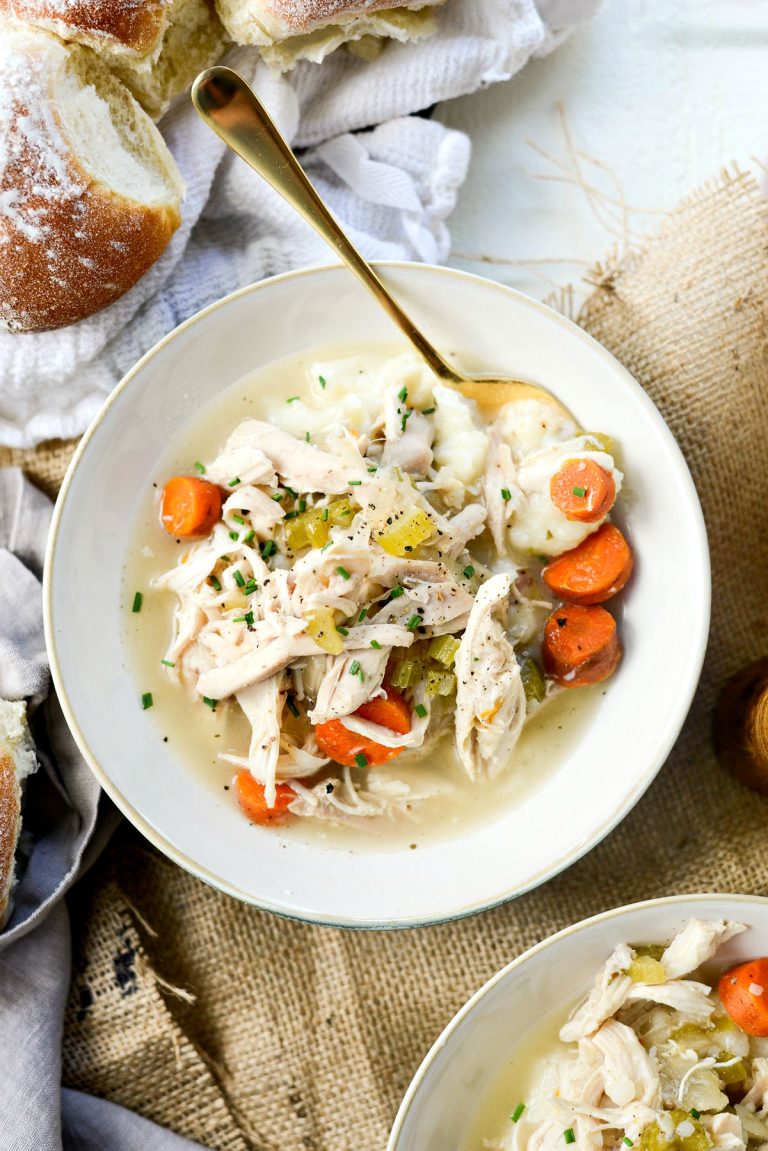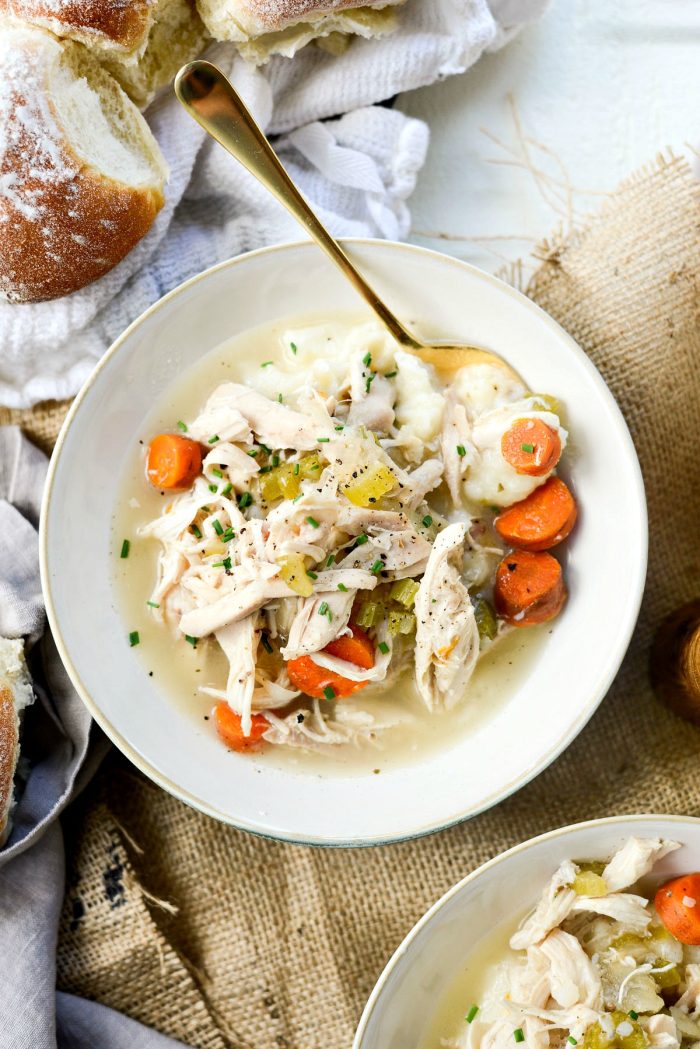 This recipe was given to me by my dear friend Heidi. Back in early September, when our weather had hit a cold streak, we were talking about our favorite go-to cozy fall foods. She told me about this easy slow cooker recipe that she makes all the time. It has minimal prep (she isn't wrong) and all the cooking is done in the slow cooker.
Sign. Me. Up.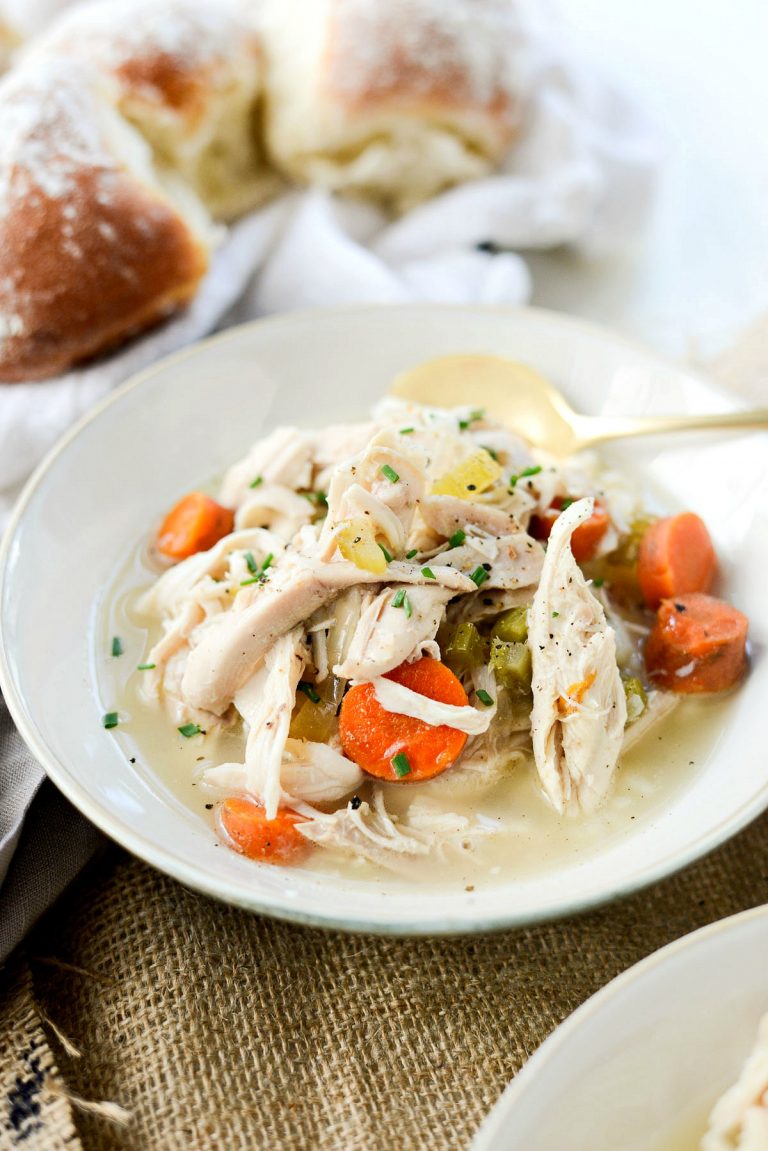 Would you believe me if I told you that I've never made a whole chicken in the slow cooker? For a while there, I wasn't the biggest fan of the slow cooker and unwilling to really make anything in it. Over the years, my opinion has changed immensely. So when she told me about her chicken in a pot recipe, I was SO excited to try it.
And with her blessing, I'm sharing it on here for you to experience the ease of this delicious home cooked meal.
To Make This Slow Cooker Chicken and Vegetables You Will Need:
carrots
celery
onion
a whole chicken
low-sodium chicken broth
koshers salt
freshly ground black pepper
dried basil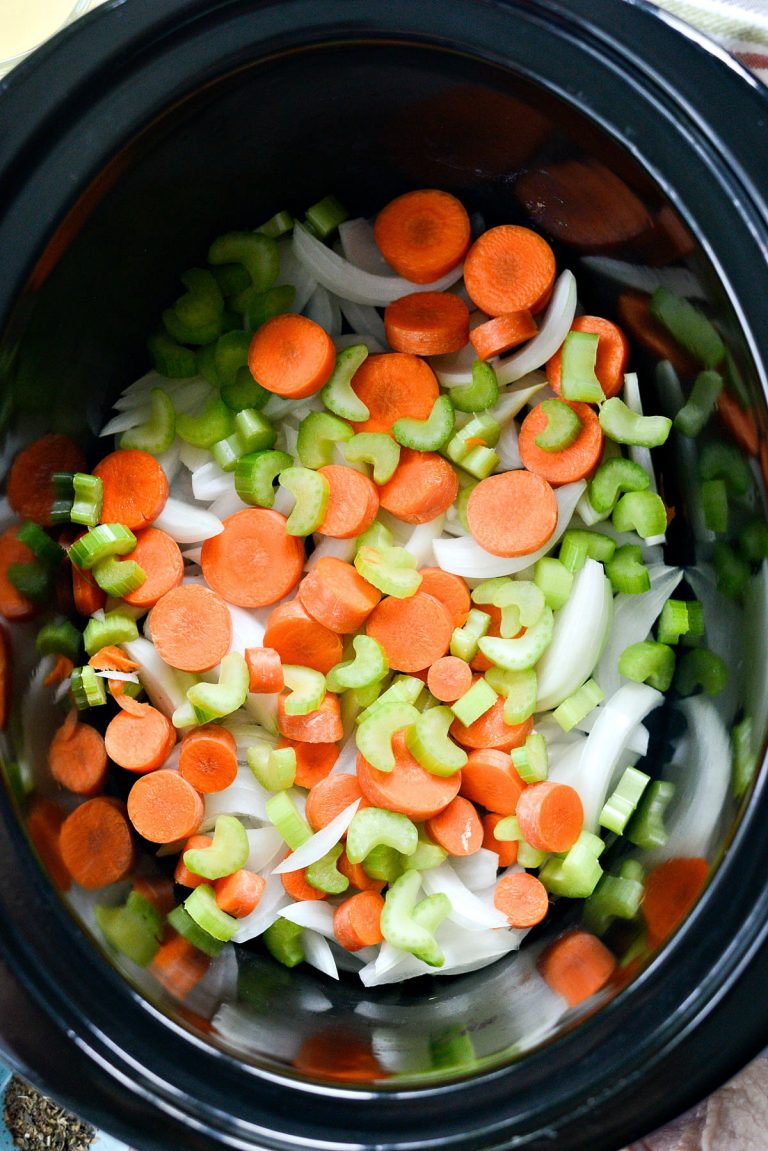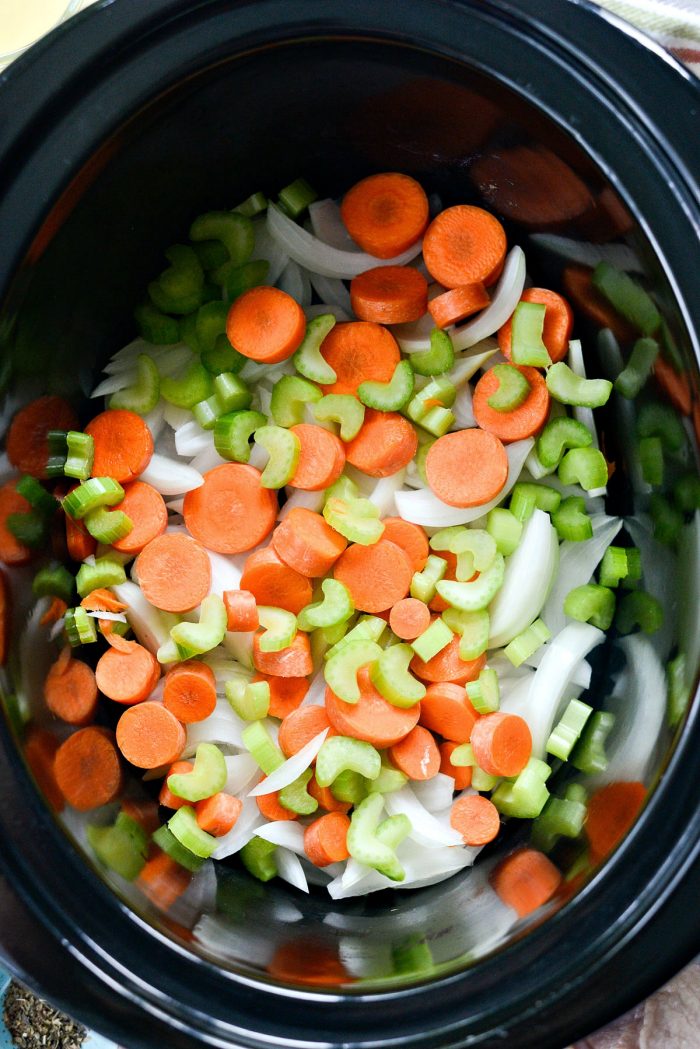 Start by slicing 2 carrots, 2 celery and 2 medium onions and add them into your slow cooker.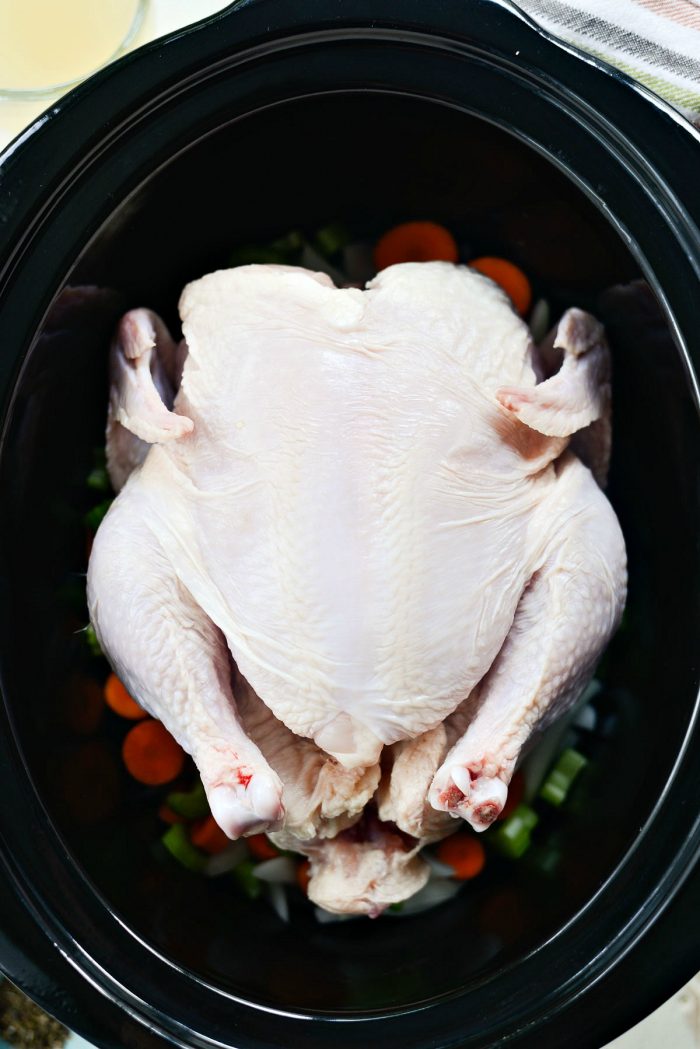 Place a 4 pound whole chicken (or a cut up chicken) on top of the vegetables and pour 1 cup of low-sodium chicken broth over top.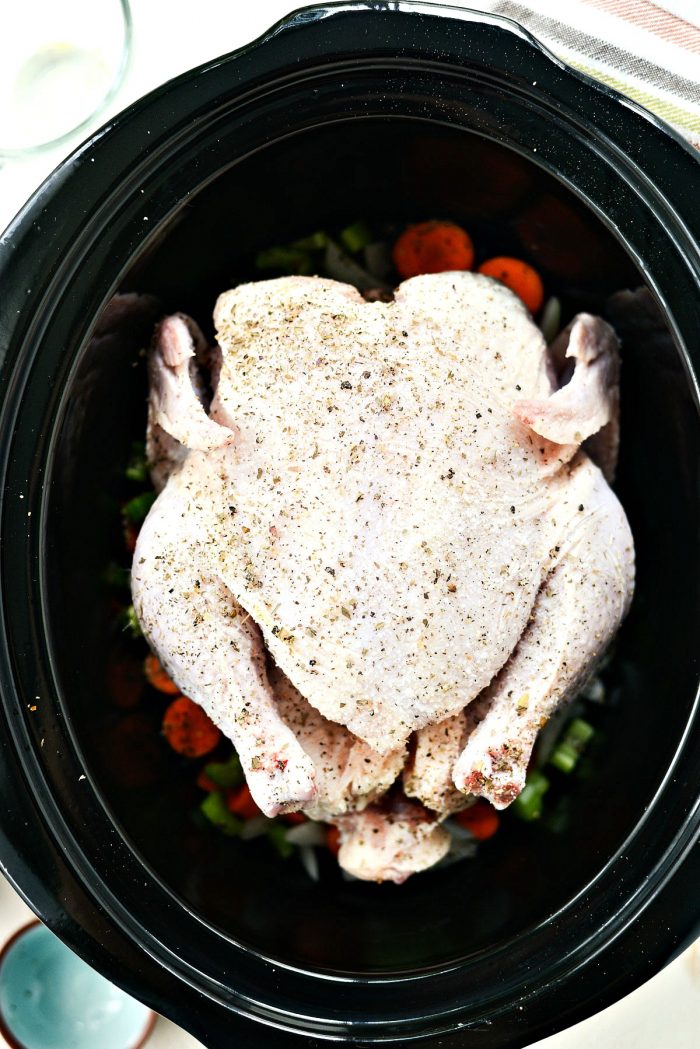 Season everything with 2 teaspoons kosher salt, 1/2 teaspoon freshly ground black pepper and 1/2 teaspoon dried basil.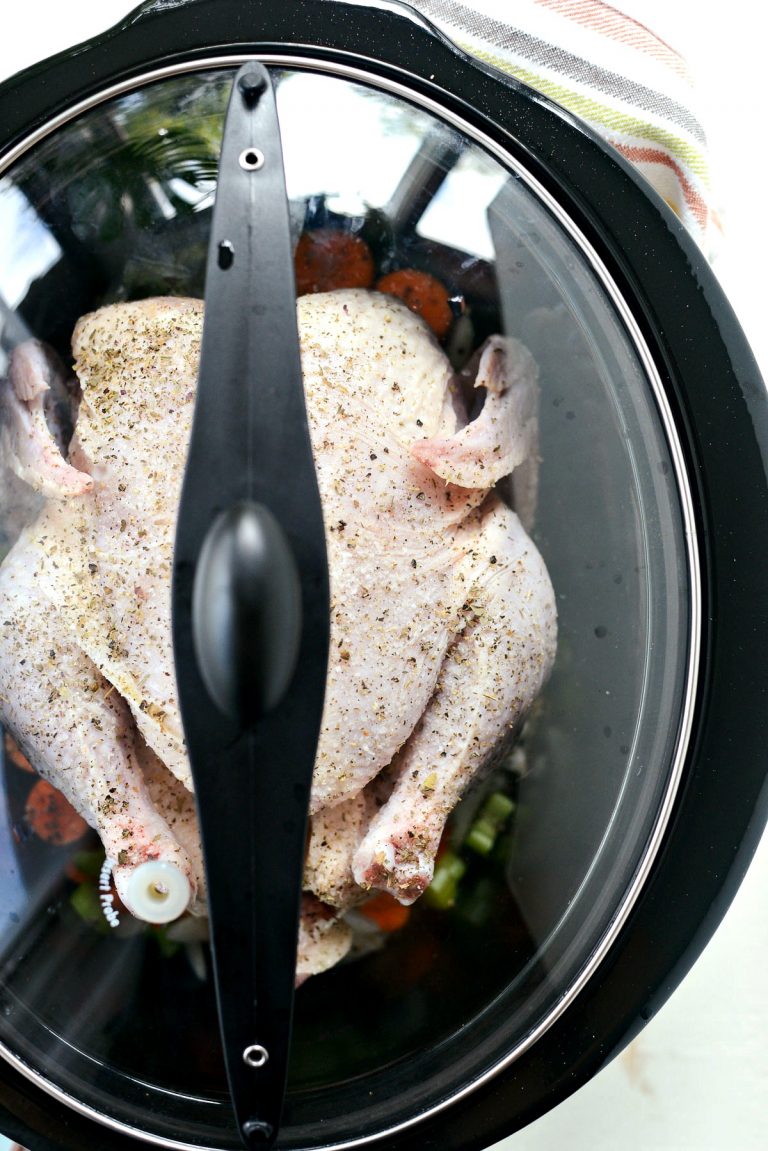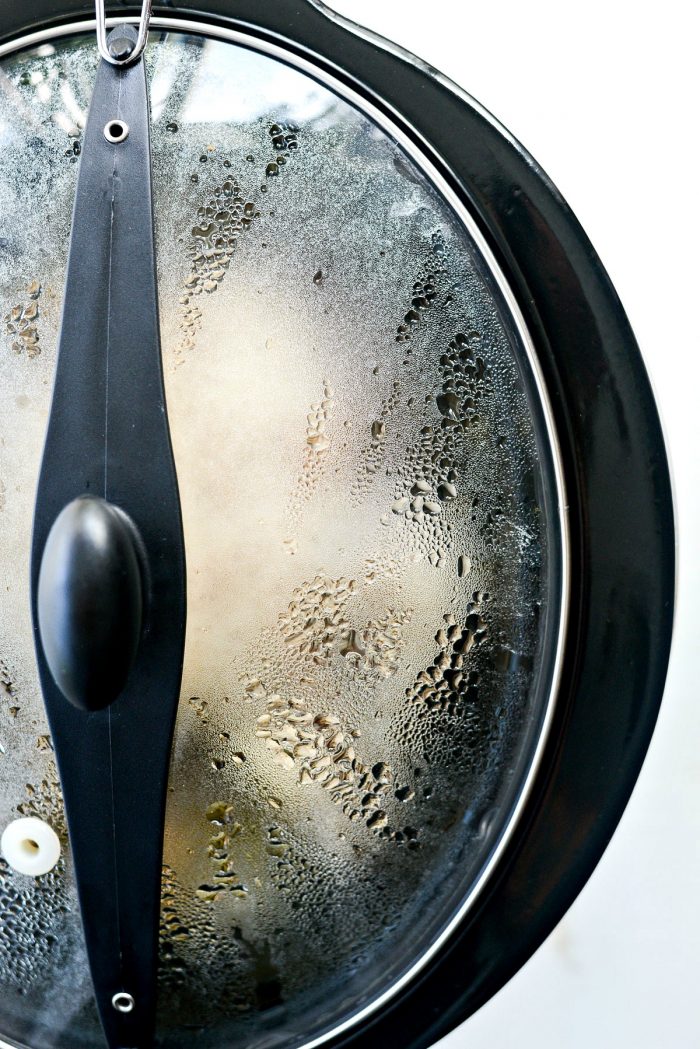 Cover and cook on low for 7 to 10 hours and high for 3-1/2 to 5 hours.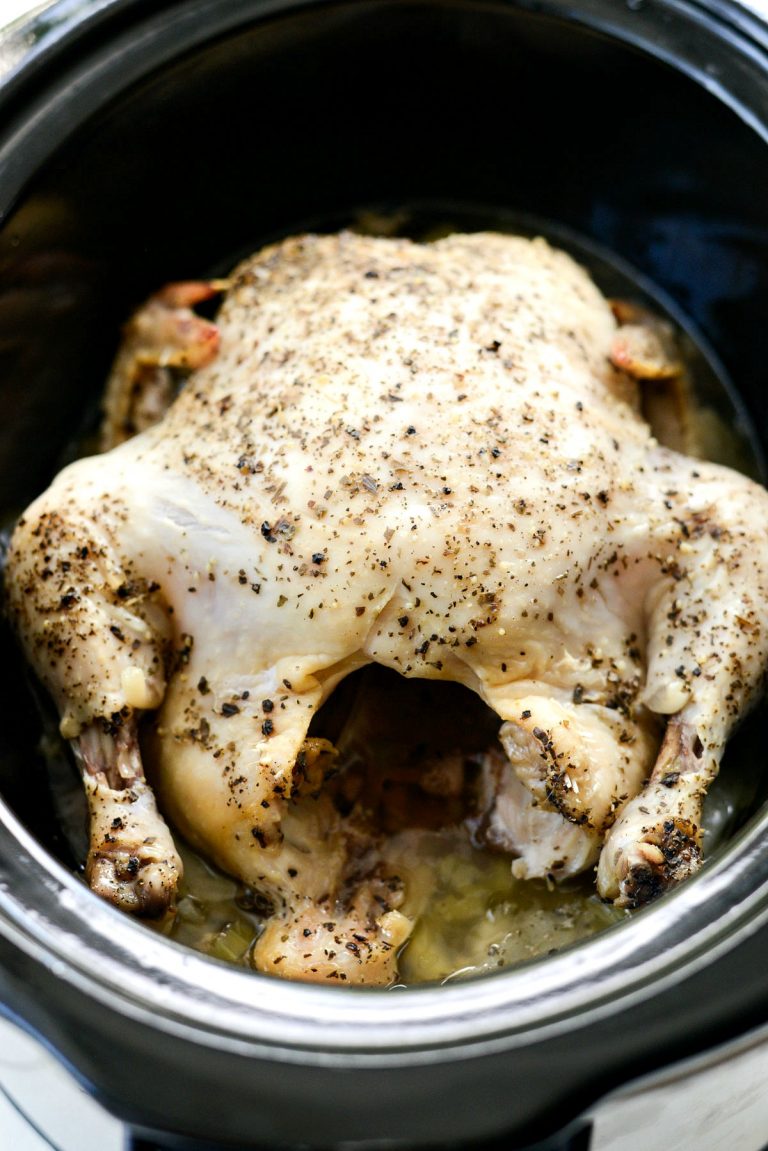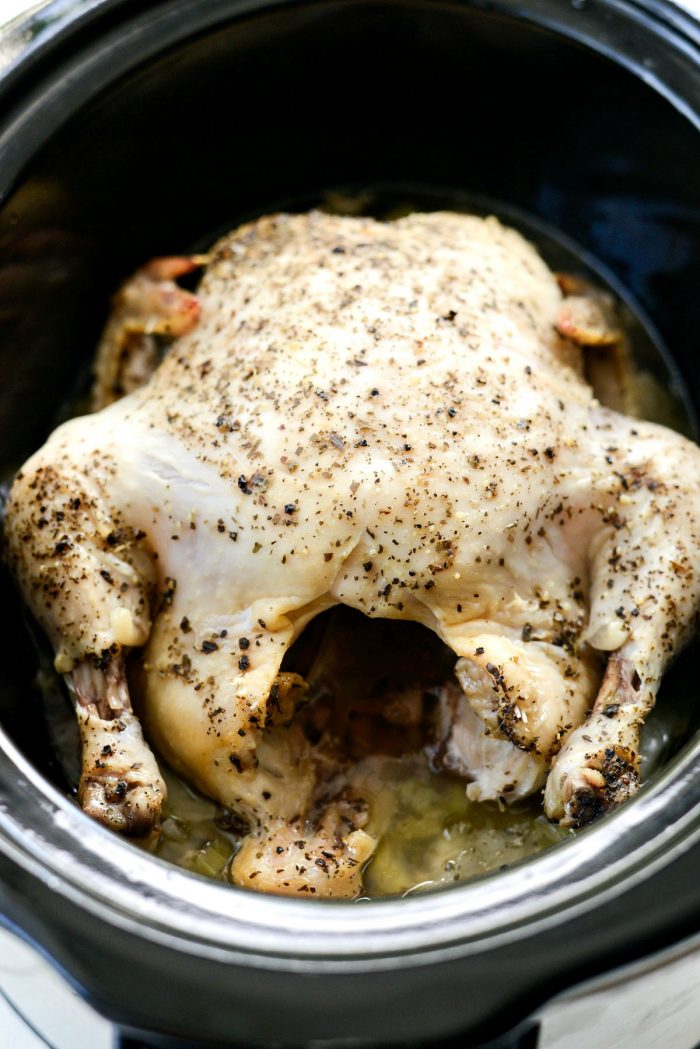 It should be falling off the bone.
Heidi serves the chicken with mashed potatoes, gravy and a crisp green salad. Which you could and should do! However, I had a different plan.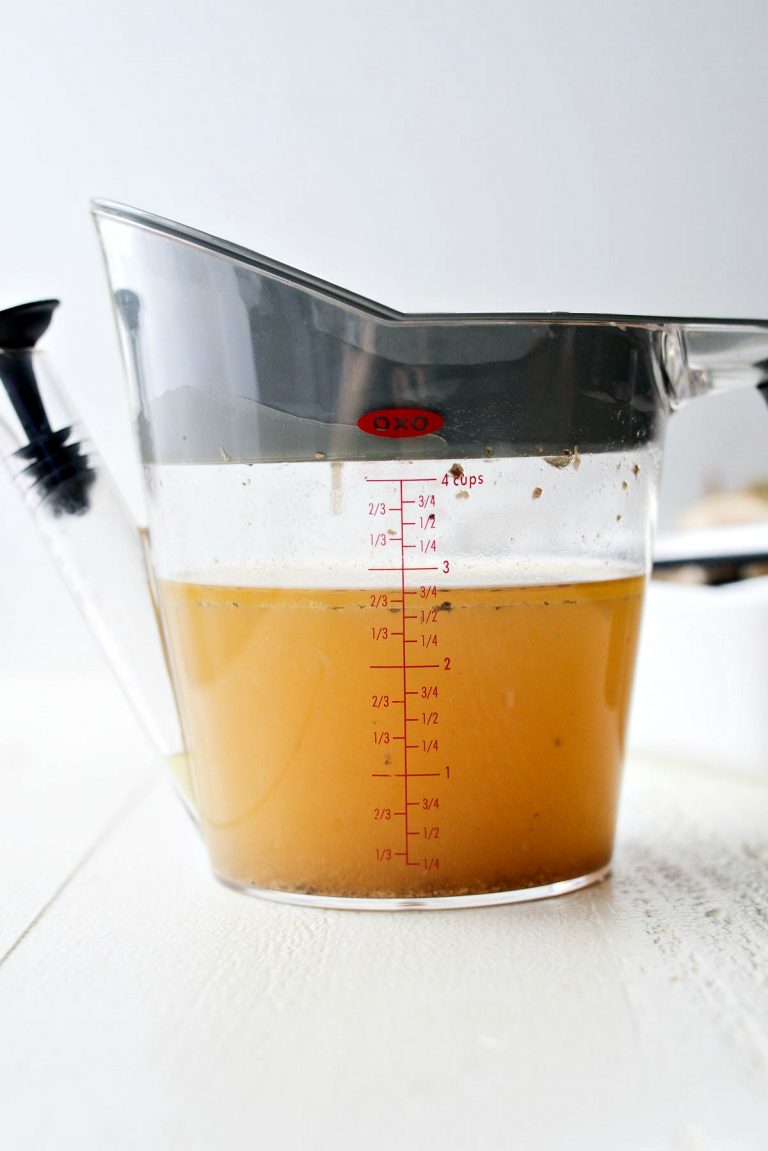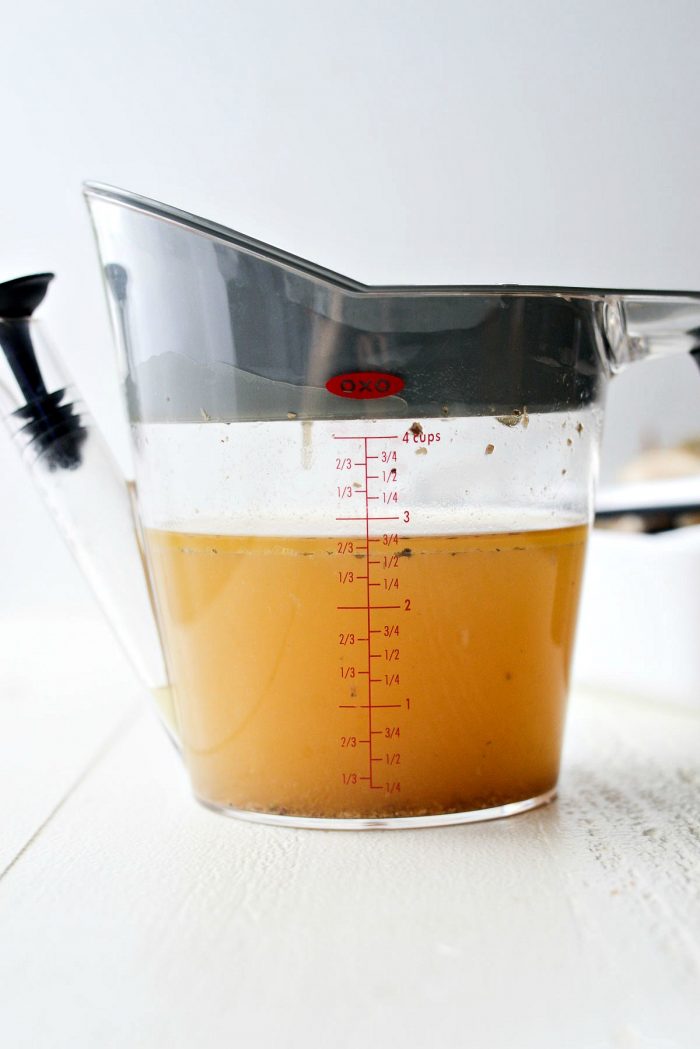 Carefully remove the chicken from the slow cooker, discard the skin and pick the meat off the bones. You can save the bones to make stock or discard. Pour the cooking liquids through a strainer set into a large bowl to catch the veggies.
Add the vegetables back to the slow cooker and pour the liquids into a fat separator (I'll link the one I own below in the recipe printable).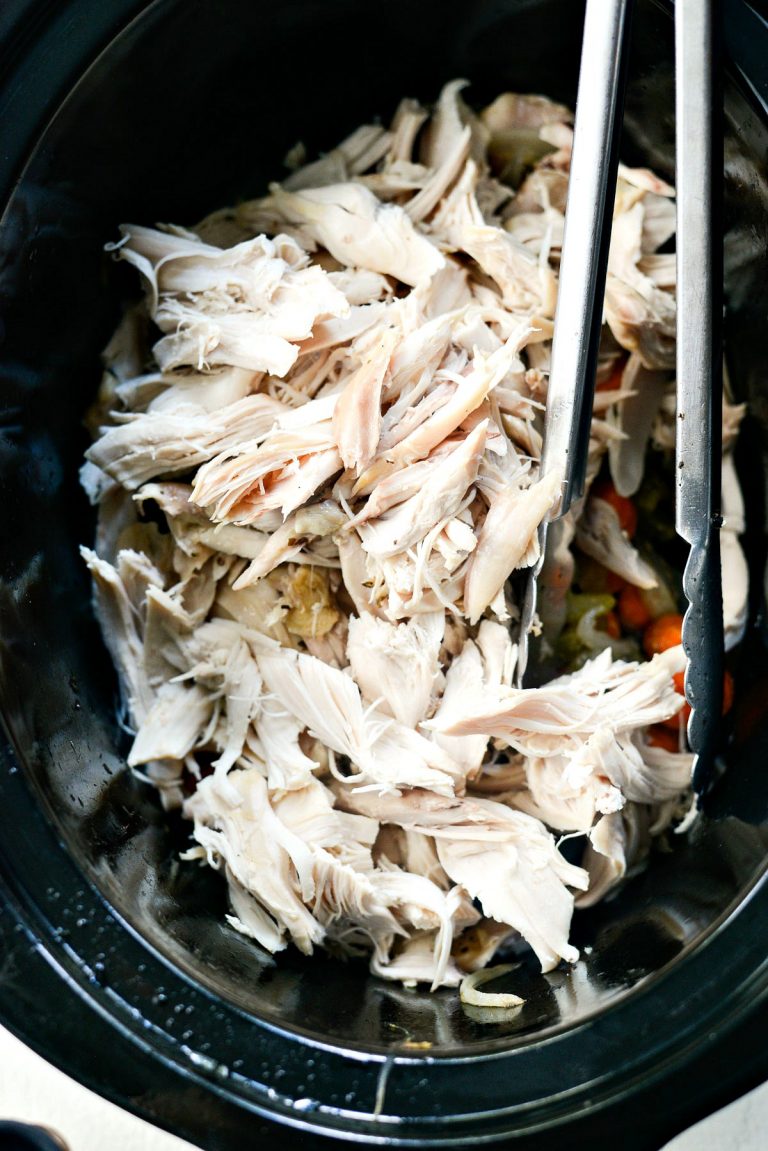 Shred the chicken into large bitesize pieces and add it to the vegetables in the slow cooker.
Once the fat has risen to the top, pull out the stopper and pour the desired amount of broth/juices back into the slow cooker – leaving the fat behind in the separator.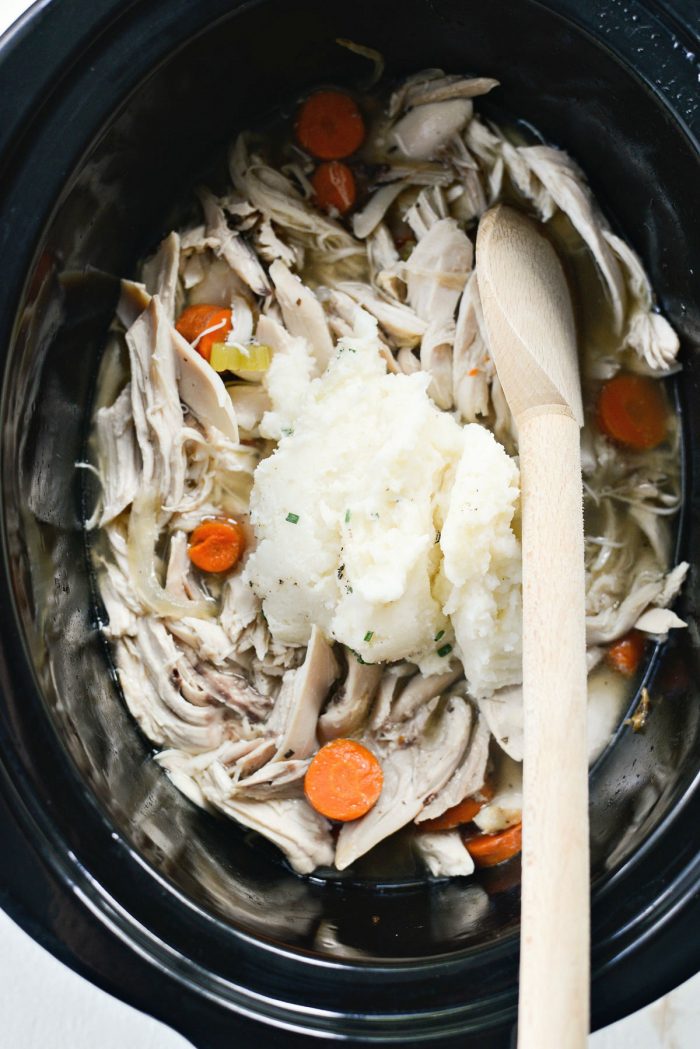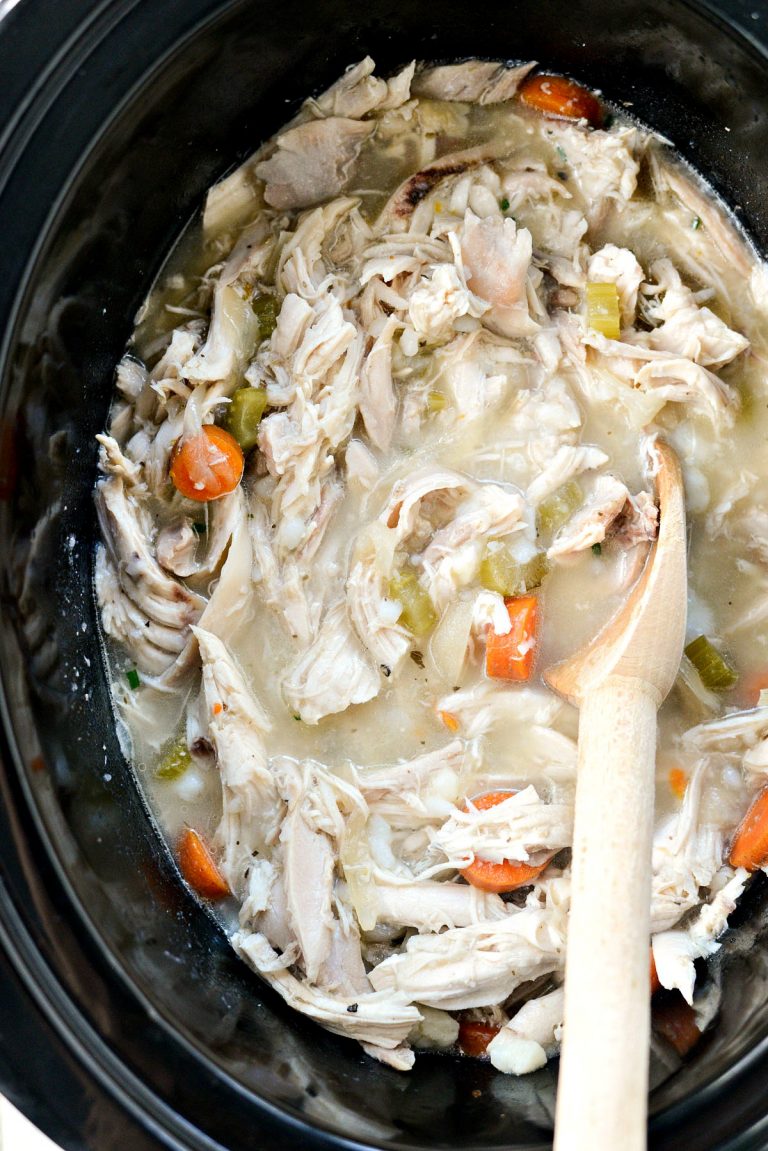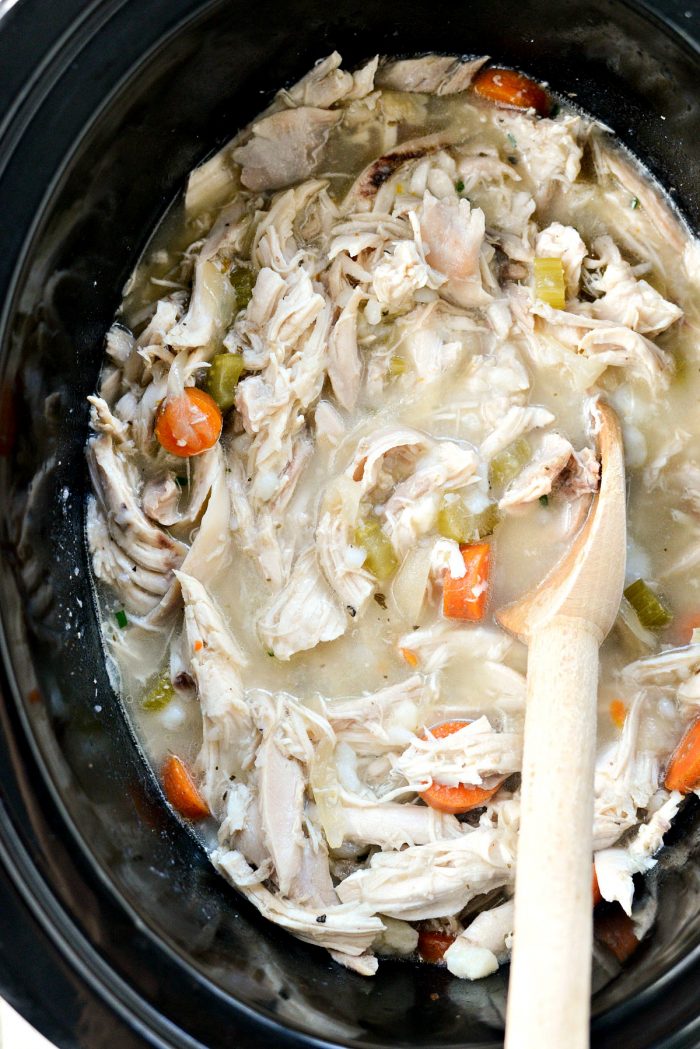 When the chicken had about an hour left, I whipped up a batch of mashed potatoes. Then I added 1 cup of them to the slow cooker with the chicken. This adds a creaminess to the sauce. Taste and season with more salt and pepper as needed.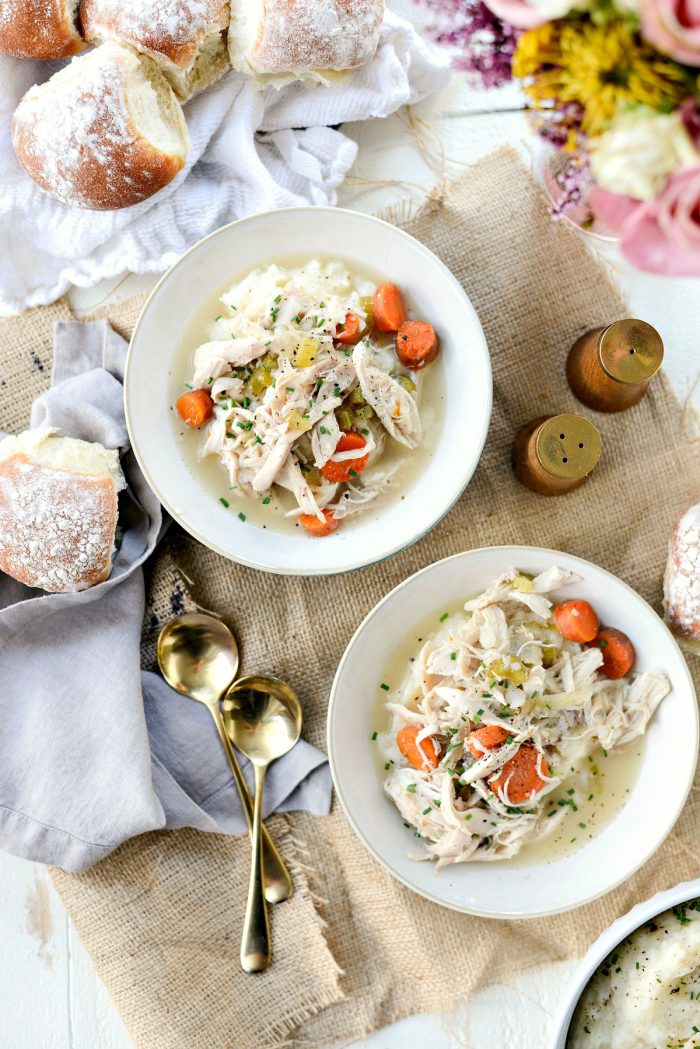 Scoop some mashed potatoes and add theminto bowls and serve with a few labels of the slow cooker chicken and vegetables.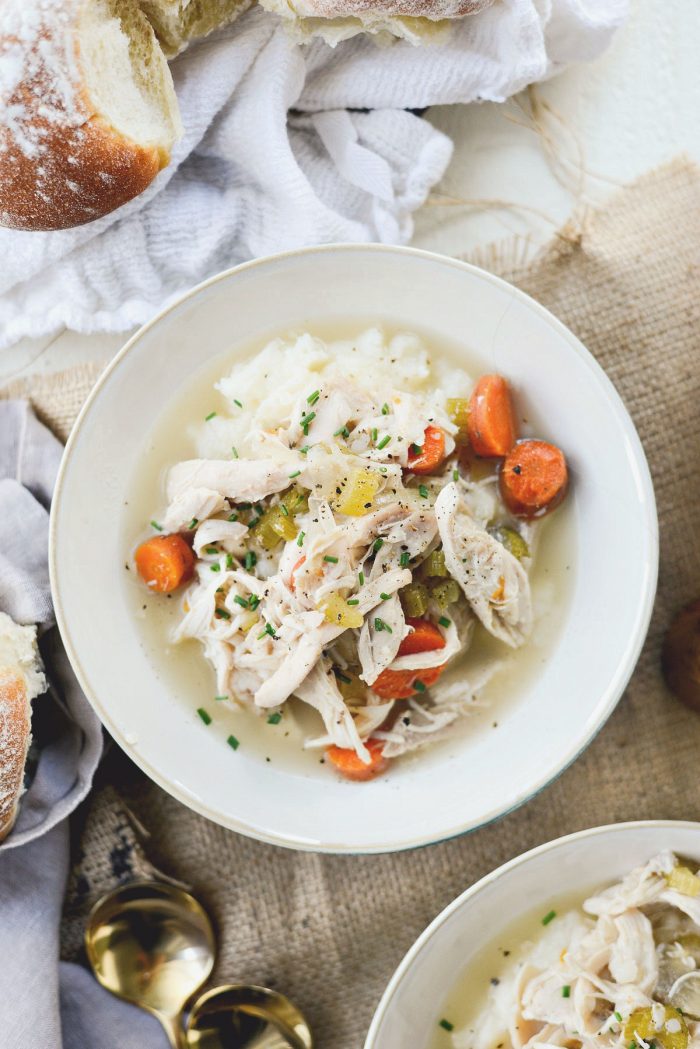 I served this with soft rolls and everyone LOVED it!
Cozy and comforting and SO easy.
Thanks for sharing this incredible recipe, Heid! 😘😘 (!!!)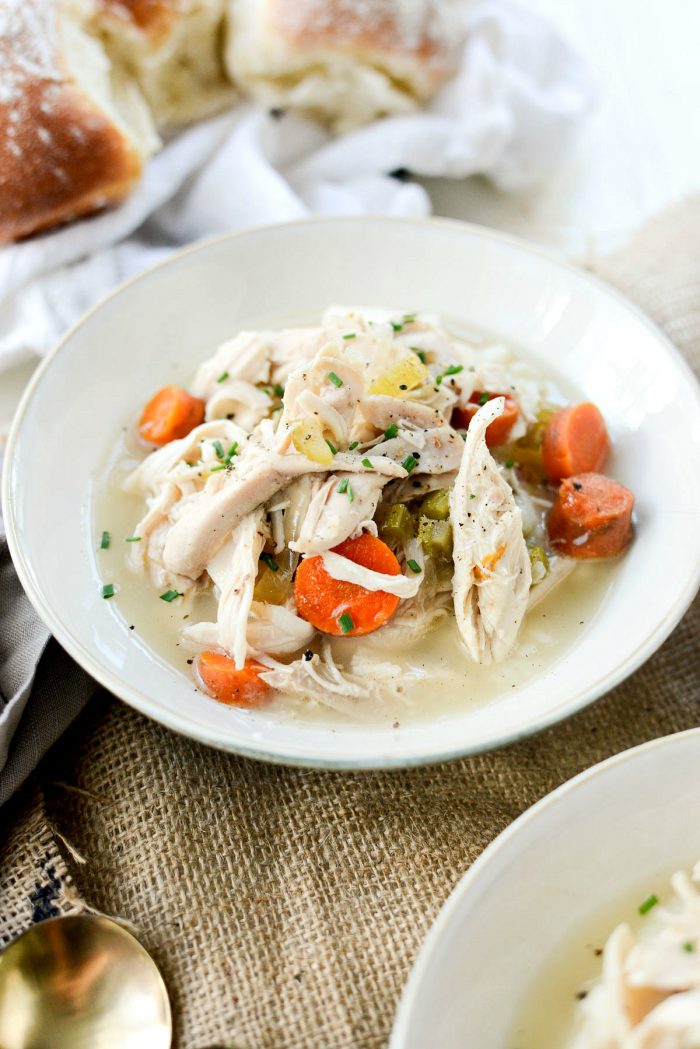 Enjoy! And if you give this Slow Cooker Chicken and Vegetables recipe a try, let me know! Snap a photo and tag me on twitter or instagram!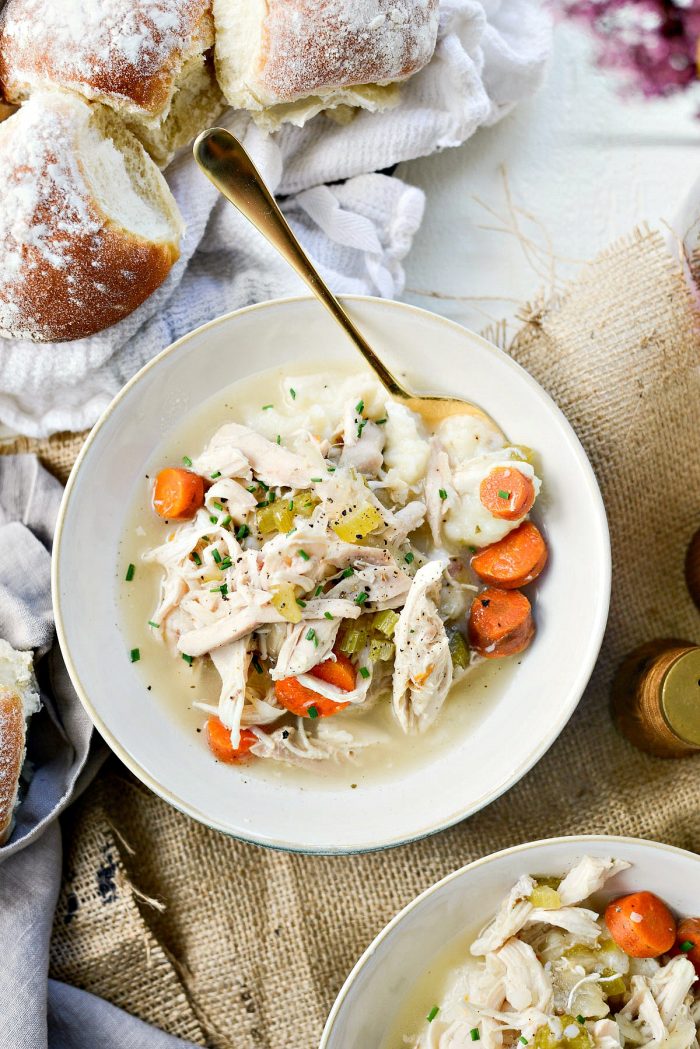 This post may contain affiliate links.
Buy the Cookbook: Simply Scratch : 120 Wholesome Homemade Recipes Made Easy Now available on Amazon »
THANK YOU in advance for your support!