Lighten up your mashed potatoes by adding cauliflower! In this Buttermilk Cauliflower Mashed Potatoes recipe, tender cooked cauliflower is blended and mixed into mashed potatoes for a less starchy side dish.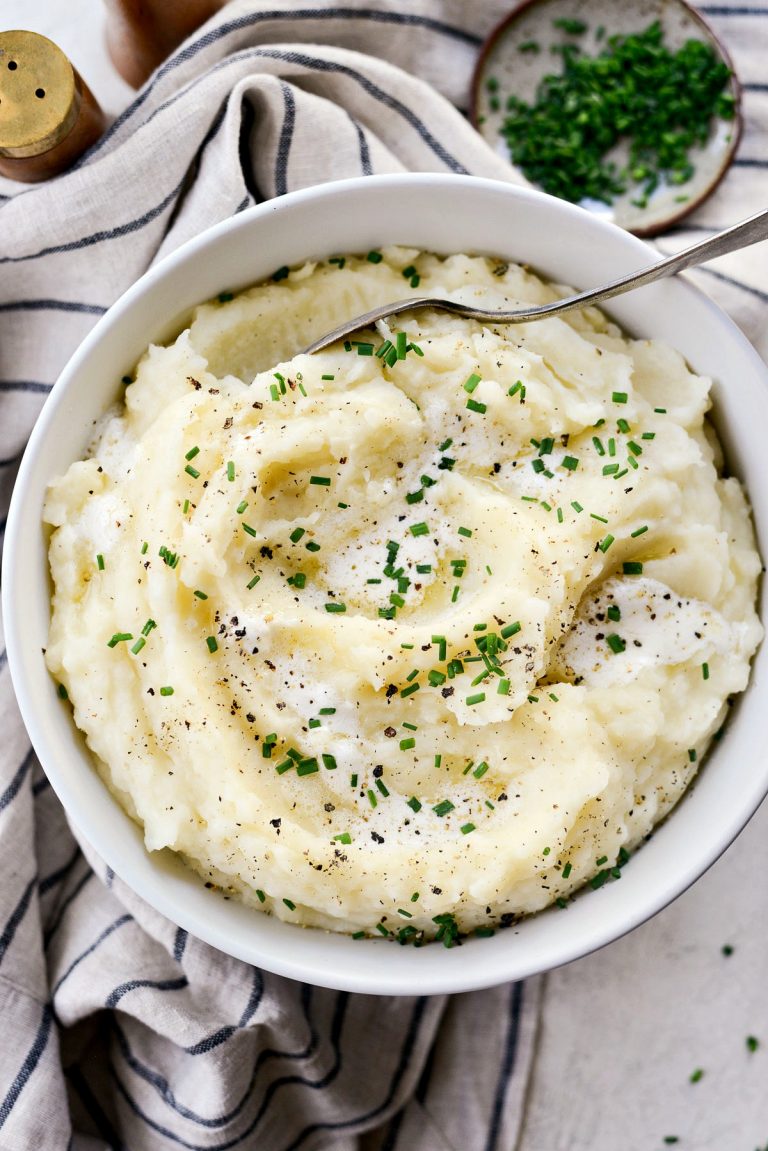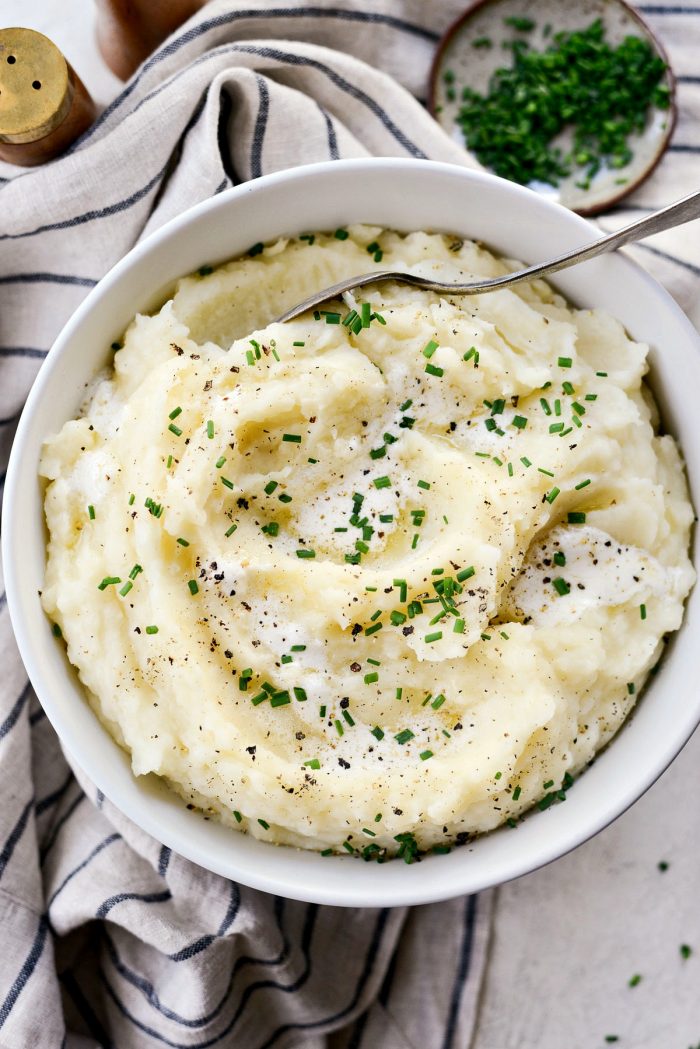 It's mashed potato season!! Fall has officially arrived and these past few weeks I've had a major craving for comforting meals, especially anything served with mashed potatoes. If only Michigan's weather would start cooperating! However this past weekend and I was going to make some, 80° weather be darned.
If I have one weakness (besides dinner rolls and coffee and wine 😉) it's mashed potatoes. Creamy, pillowy potatoes are the perfect side to just about anything. In this lightened up version, russet potatoes are mashed with cauliflower, low-fat buttermilk, plain greek yogurt and a little butter for a creamy, crave-worthy side dish.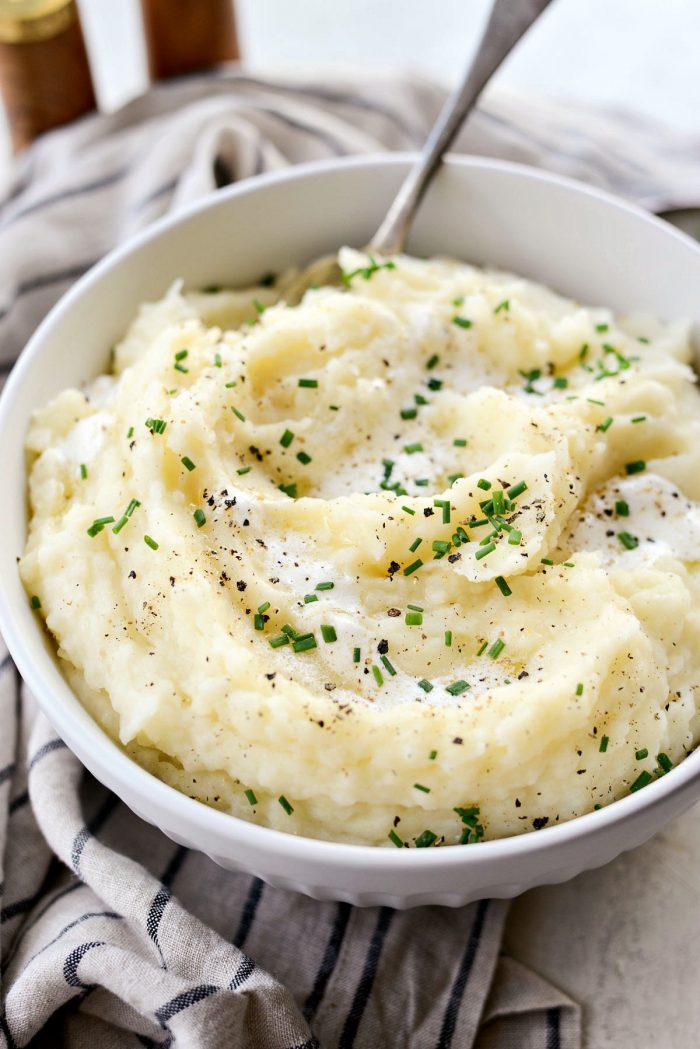 It doesn't get much better than this.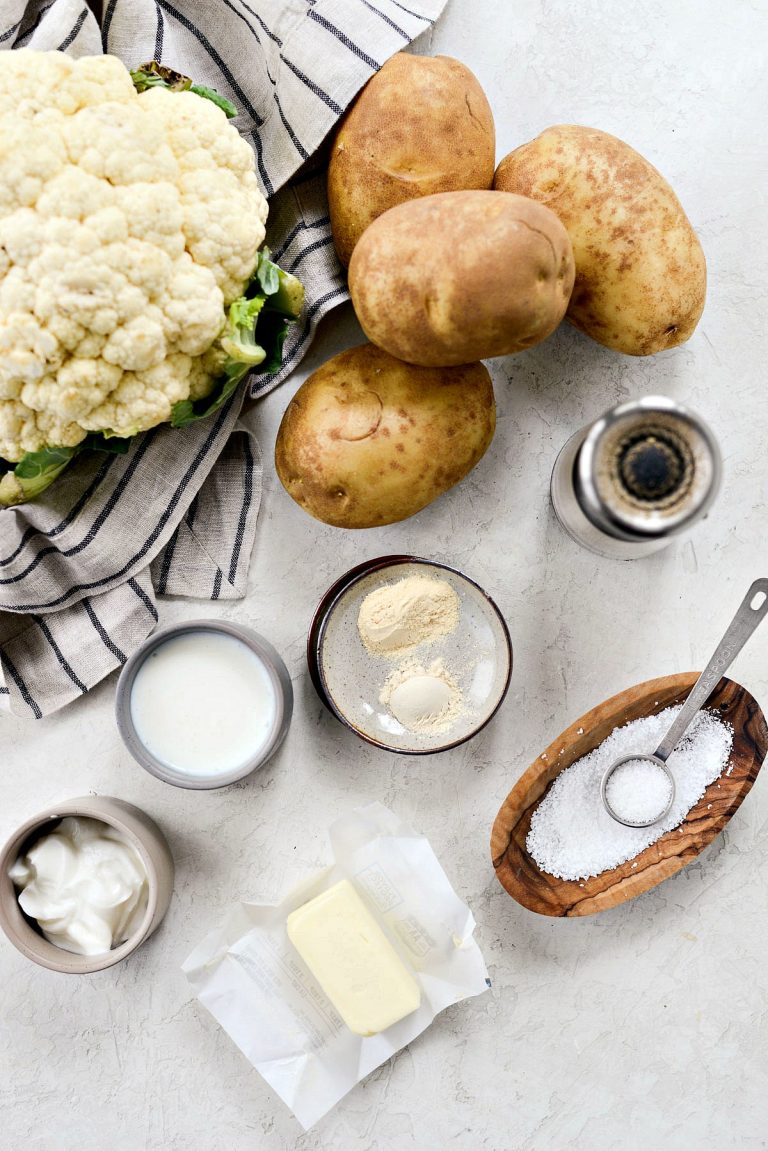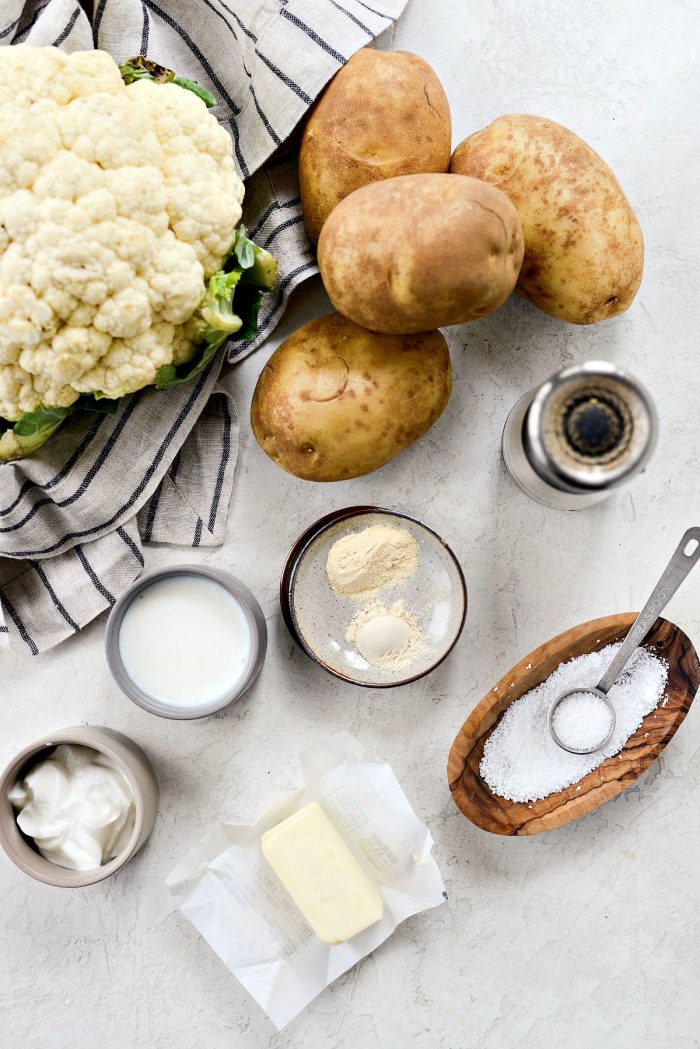 To Make This Buttermilk Cauliflower Mashed Potatoes You Will Need:
russet potatoes
cauliflower
buttermilk
plain nonfat greek yogurt
unsalted butter
kosher salt
black pepper
garlic powder
onion powder
snipped chives, for serving (optional)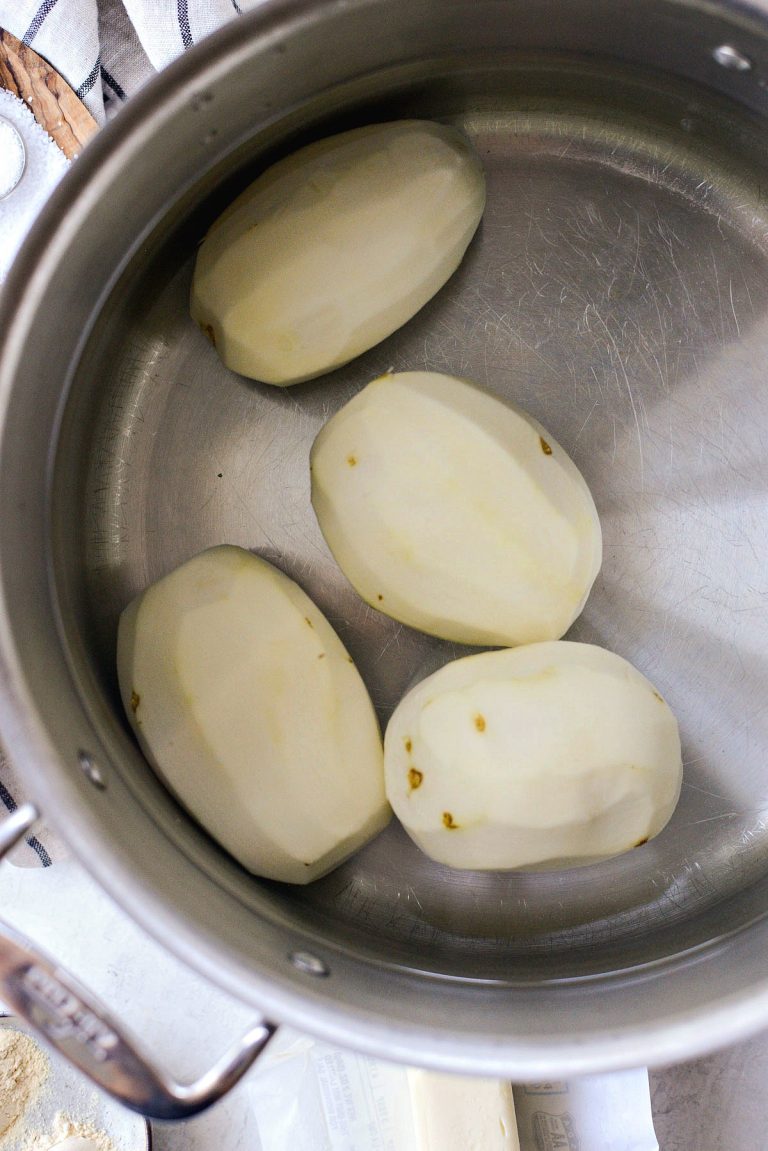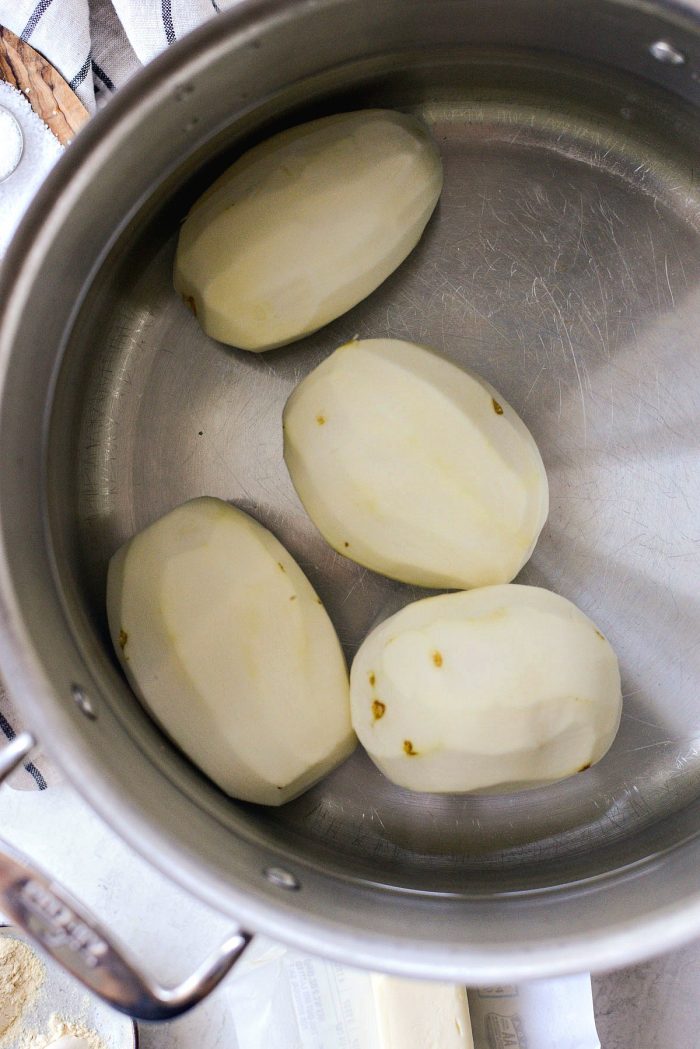 Start by peeling 2 pounds russet potatoes. Place them whole into a large pot, cover with water by 2 inches, cover and bring to a boil. Once boiling, crack the lid and cook until the middle of the potatoes are just about tender.
Add in 1 pound cauliflower florets into the pot (with the potatoes) and cook for 6 to 8 minutes or until fork tender. Remove a little of the cooking liquids and set it off to the side.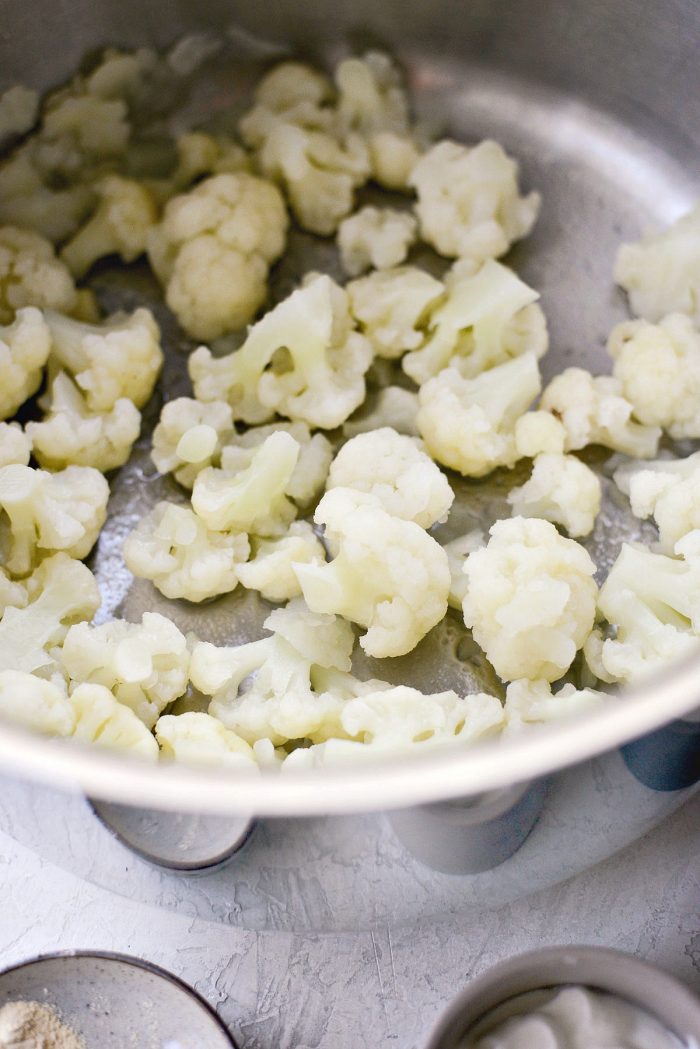 Use tongs to remove the whole potatoes and place them in a dish or on a cutting board. Drain the cauliflower (and any pieces of potato that may have broken off) into a colander. Then add the cauliflower back into the pot with a splash or two of the cooking liquids.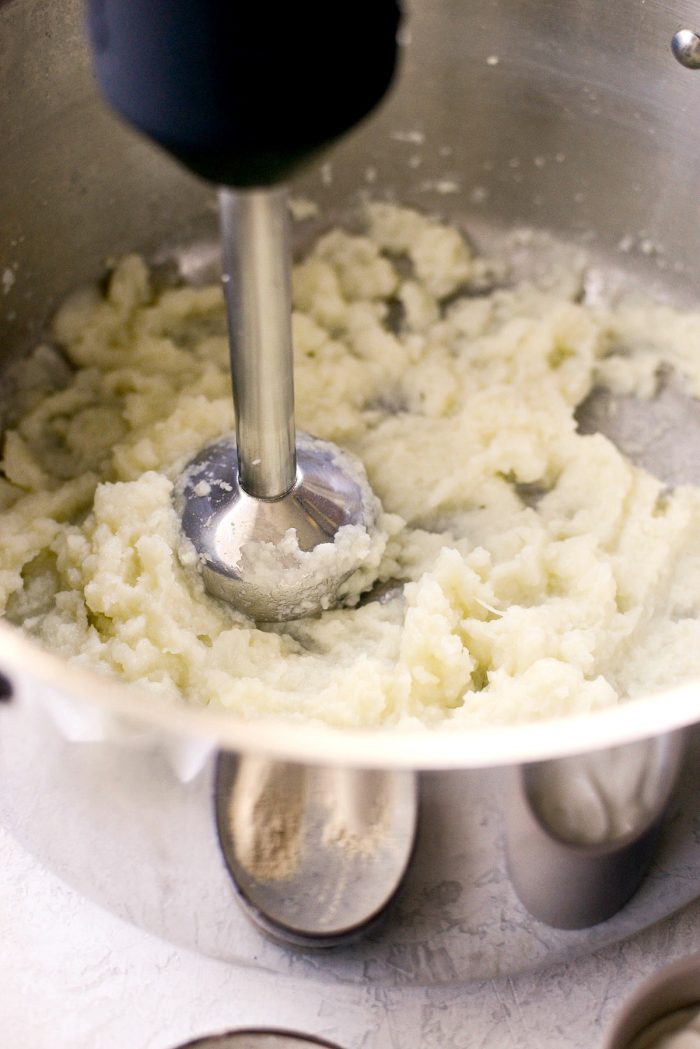 Blend the cauliflower with the cooking liquids using a stick blender or emersion blender. Alternatively, you could do this in a regular blender or food processor.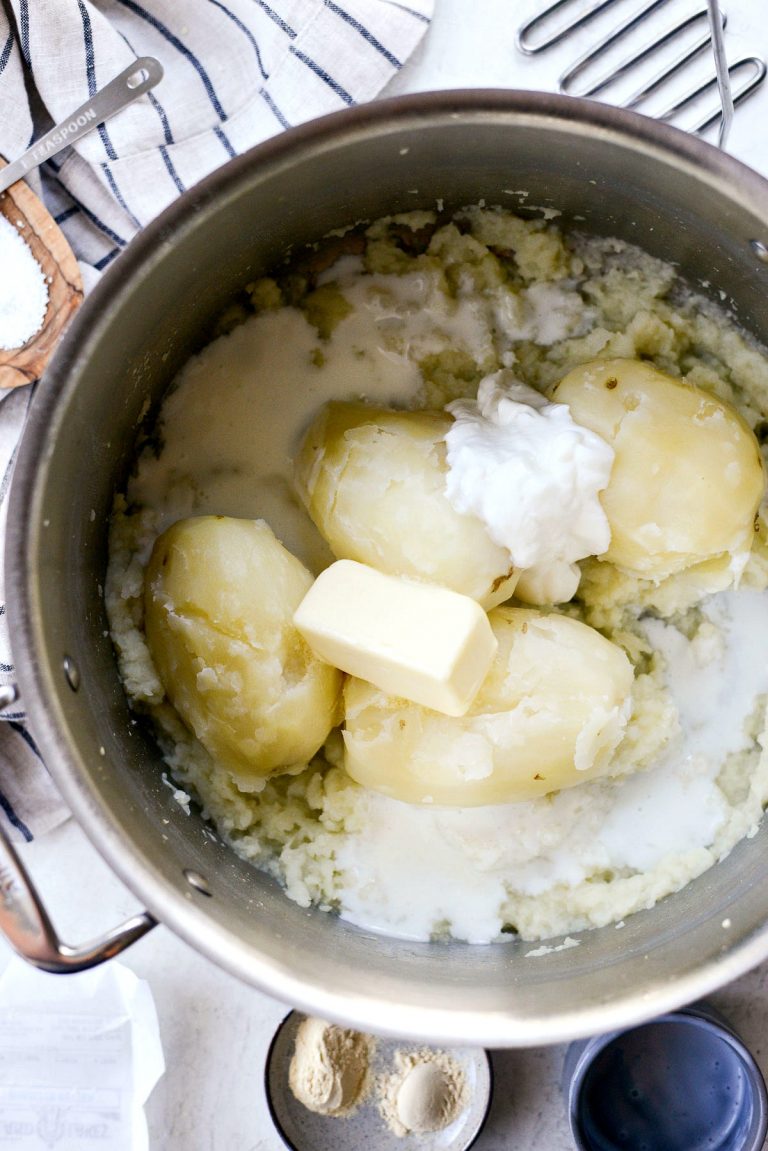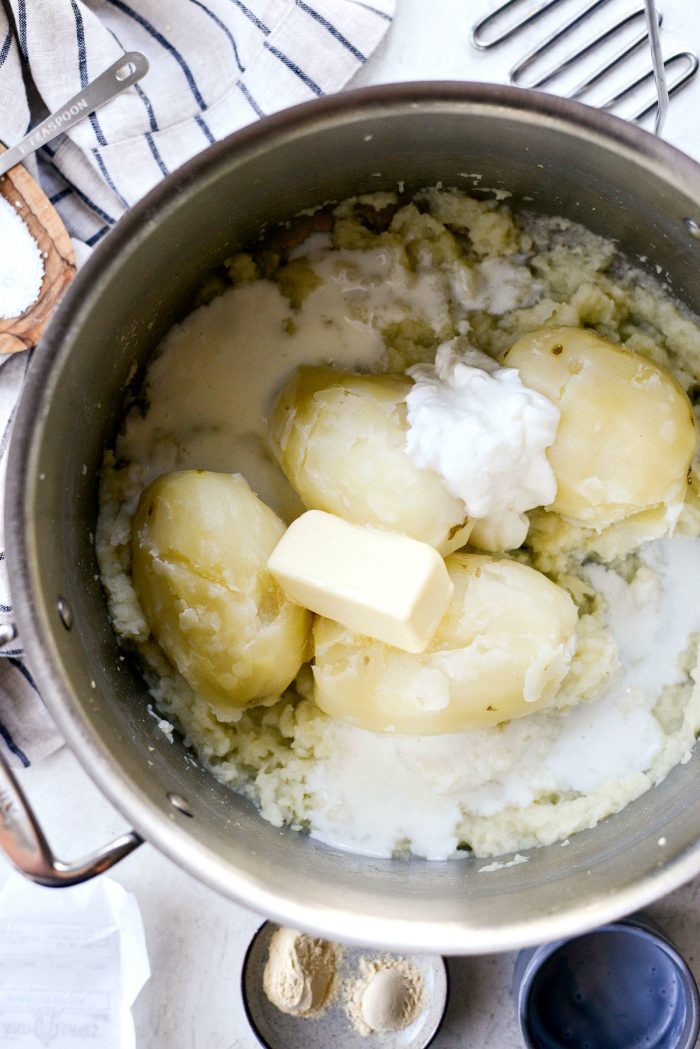 Add the potatoes, 1/3 cup buttermilk, 1/4 cup greek yogurt and 1/4 cup unsalted butter into the pot with the cauliflower.
Grab your potato masher and mash until smooth or desired consistency.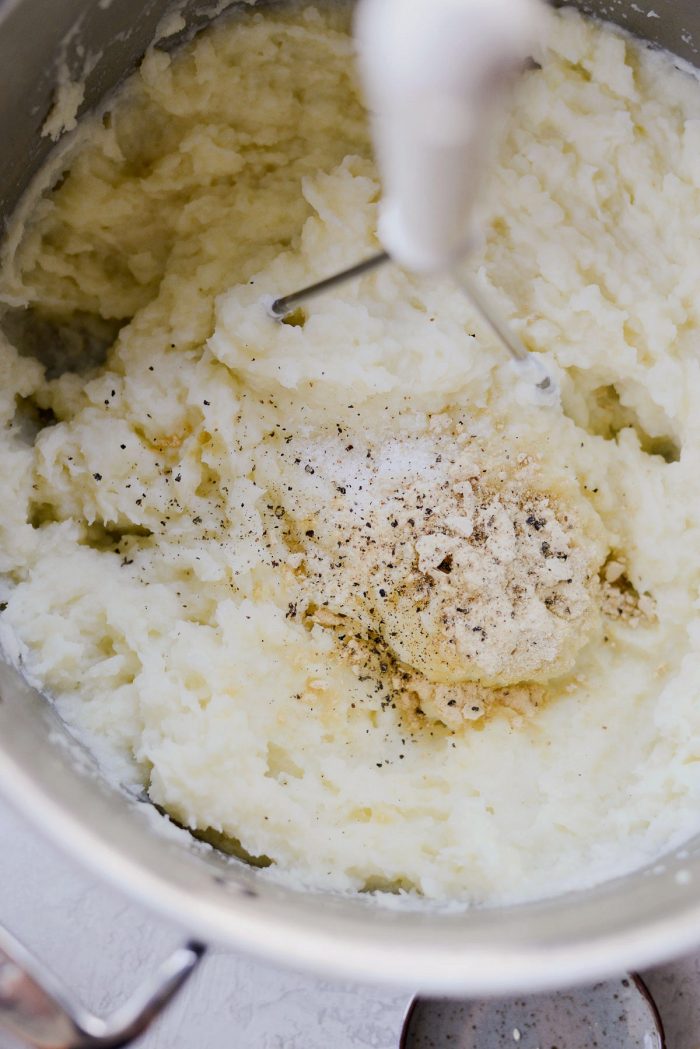 Season with kosher salt and freshly ground black pepper and add in 3/4 teaspoon garlic powder and 1/2 teaspoon onion powder, stirring to combine. Heat through until piping hot.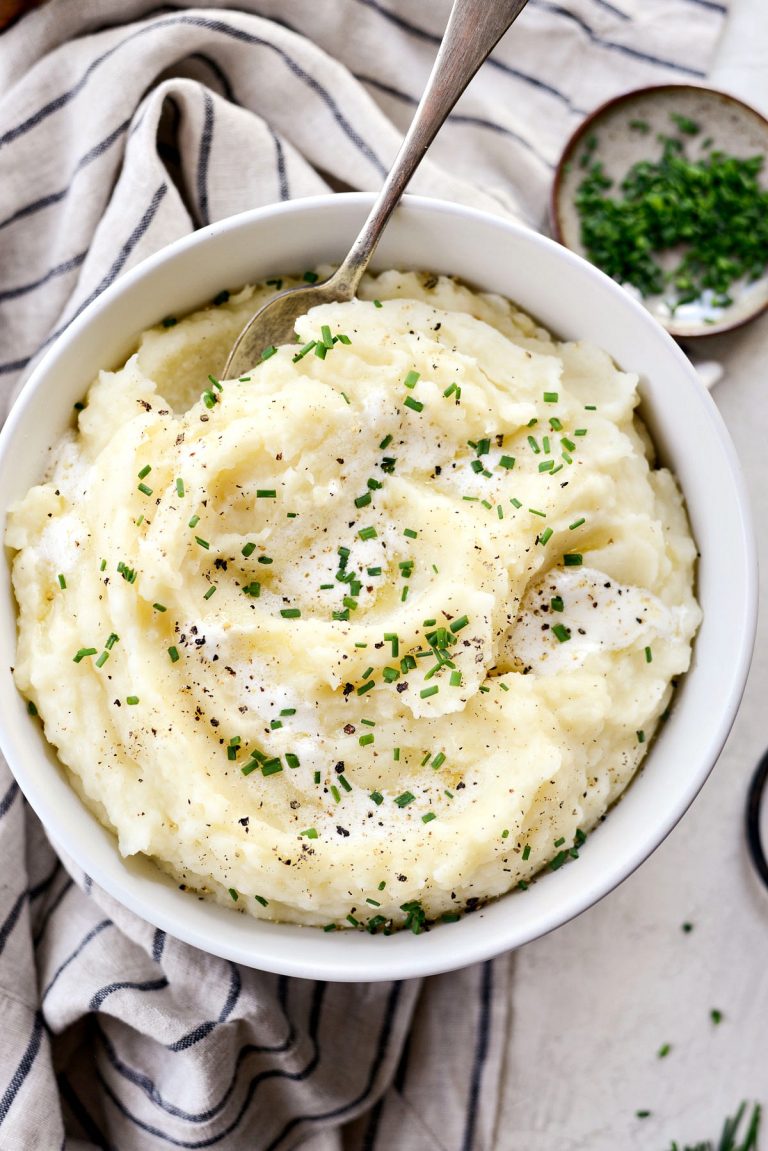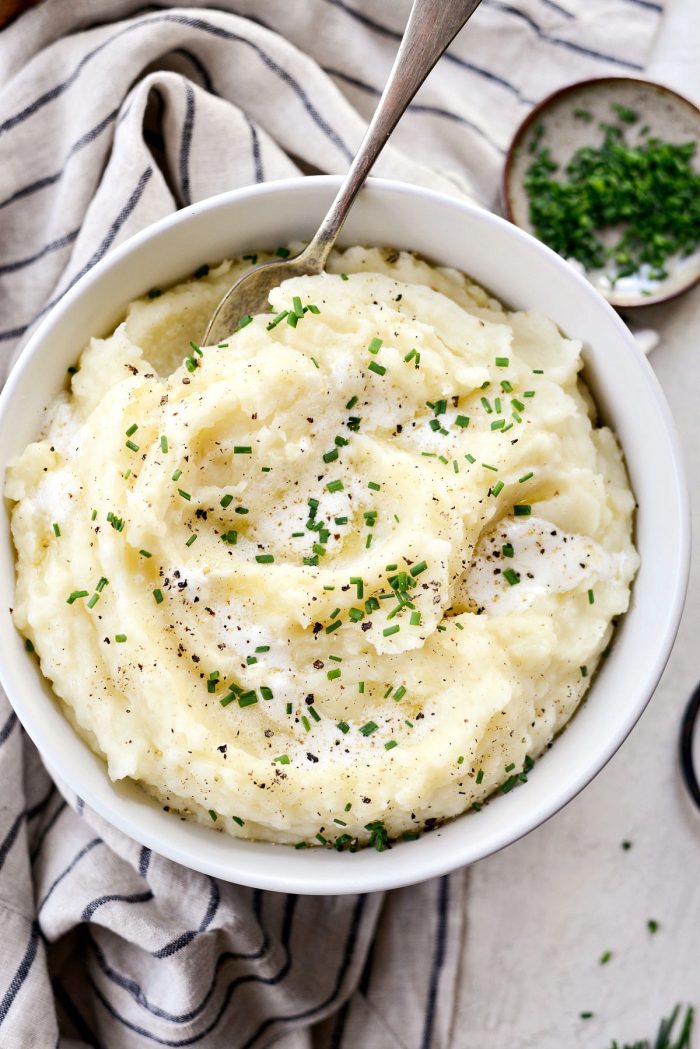 Serve in a bowl, make swoops with the back of a spoon and add a little pats of butter to melt into pools.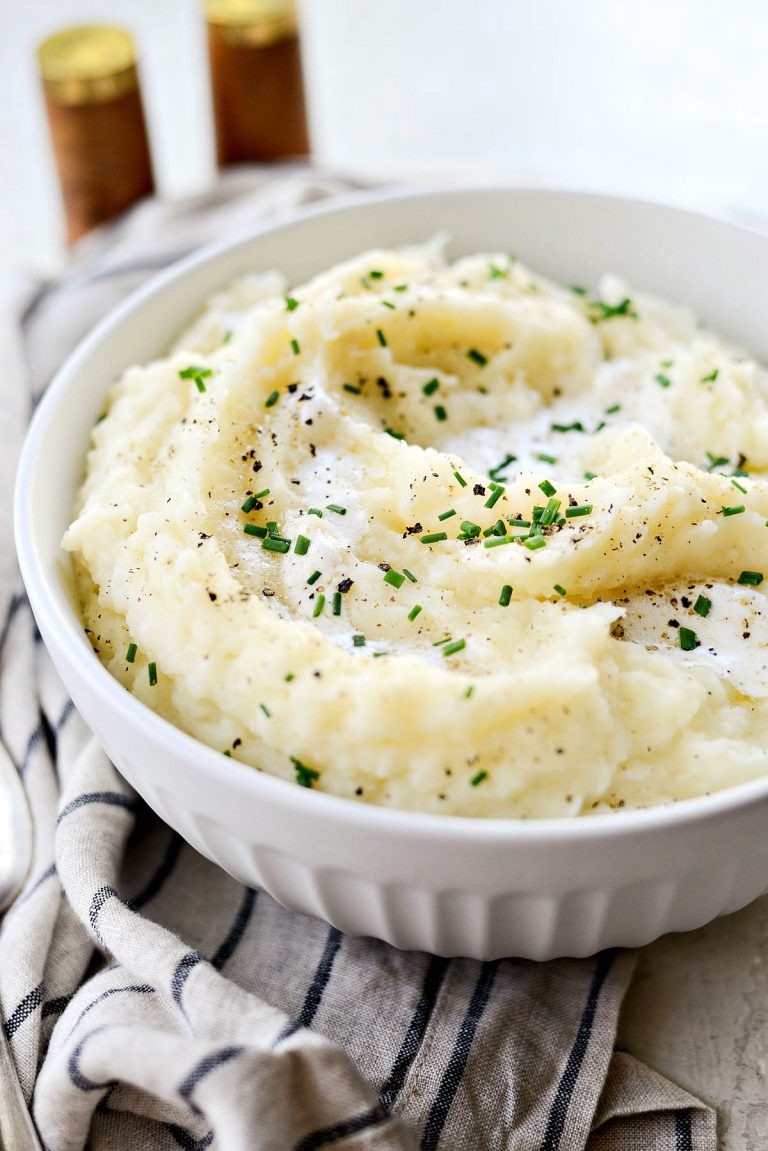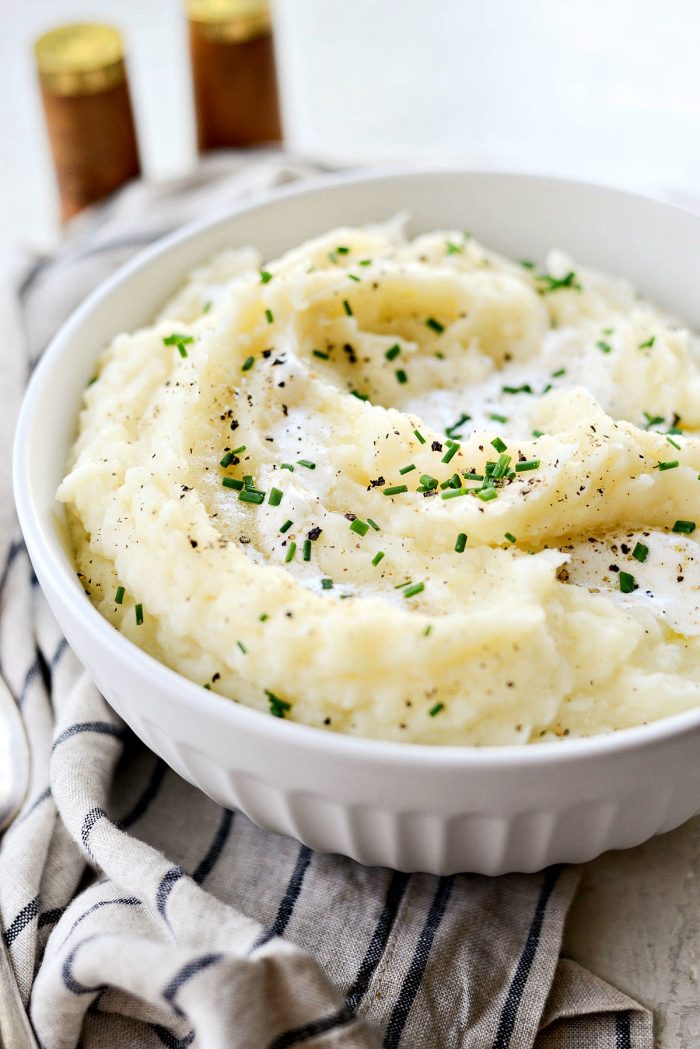 Garnish with fresh snipped chives and extra black pepper.
Creamy mashed potatoes made lighter without compromising flavor.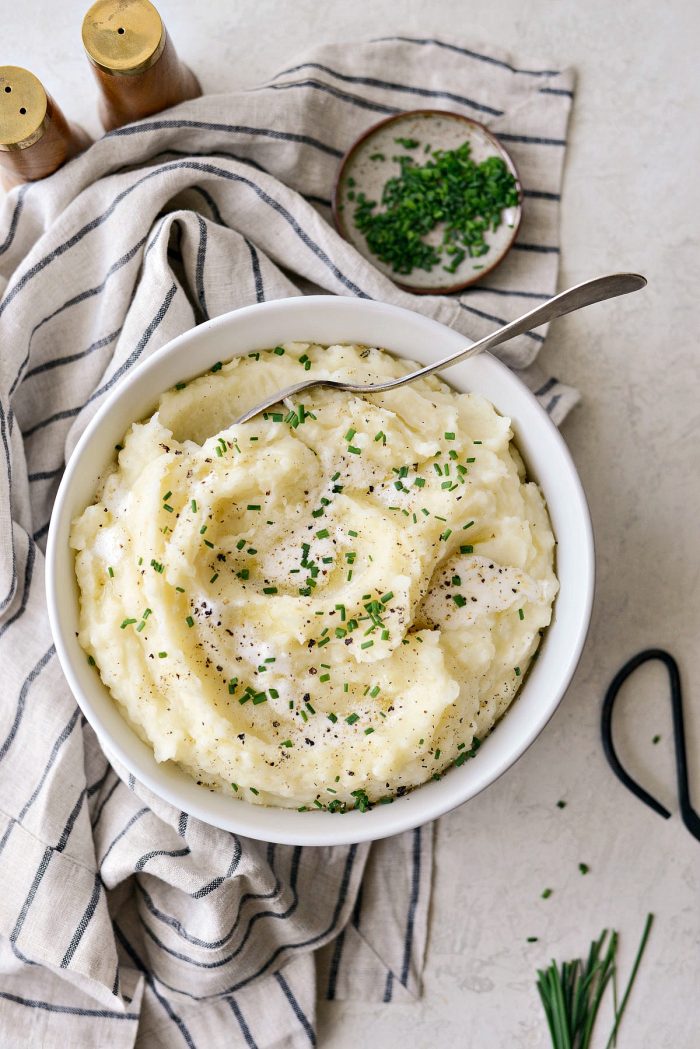 Enjoy! And if you give this Buttermilk Cauliflower Mashed Potatoes recipe a try, let me know! Snap a photo and tag me on twitter or instagram!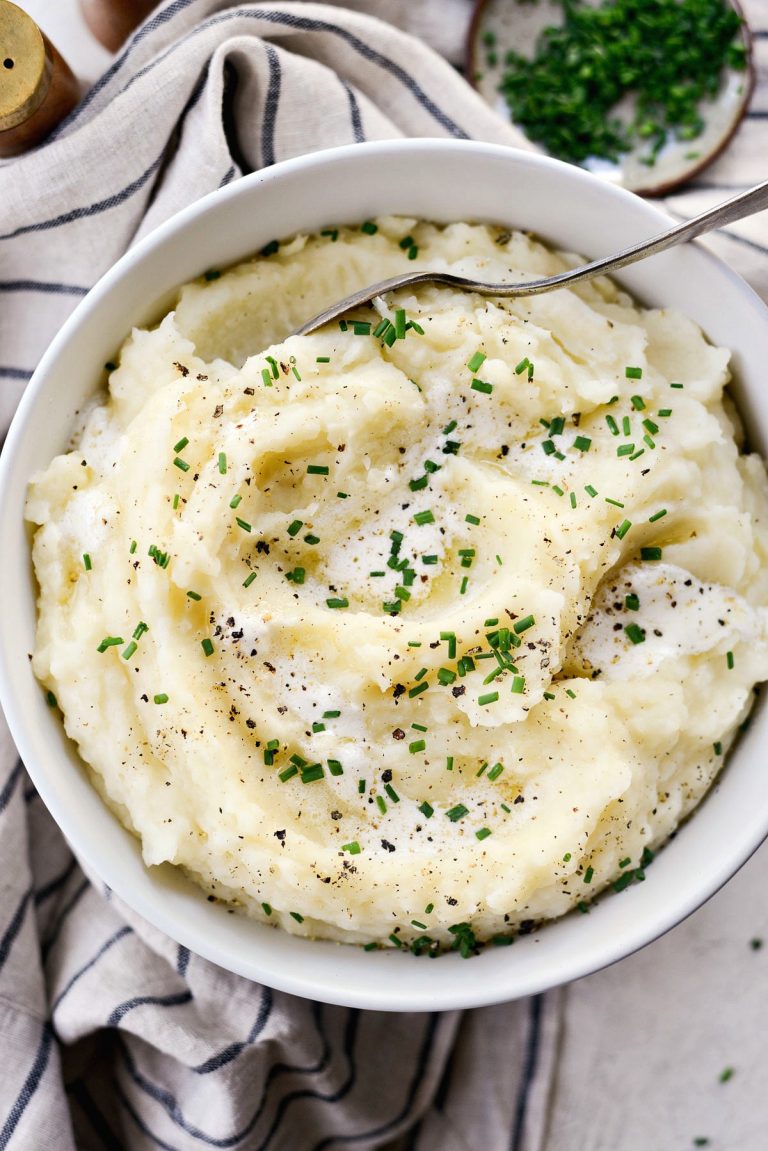 This post may contain affiliate links.
Buy the Cookbook: Simply Scratch : 120 Wholesome Homemade Recipes Made Easy Now available on Amazon »
THANK YOU in advance for your support!