Maple Bourbon Banana Pudding Cake is an incredibly easy and cozy fall dessert. Imagine a moist banana cake that melts into a maple-y, bourbon and brown sugar pudding! Delicious served warm with a scoop of vanilla ice cream. Serves 6 in under an hour.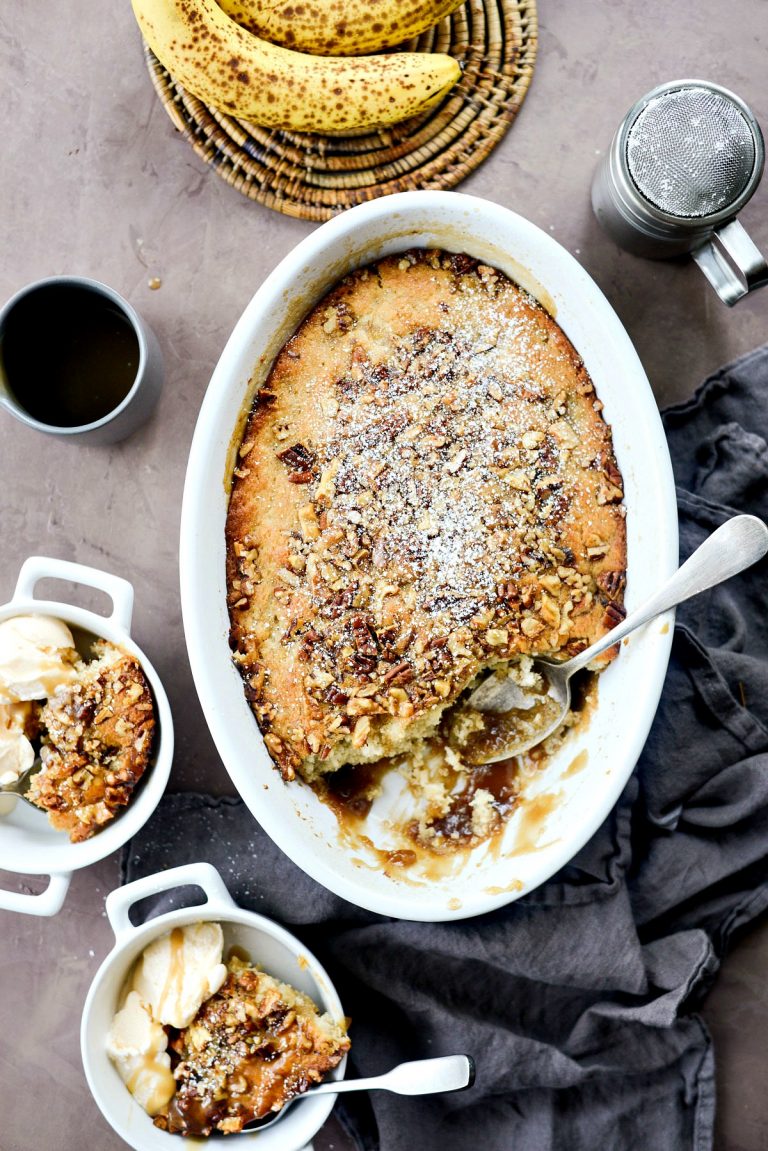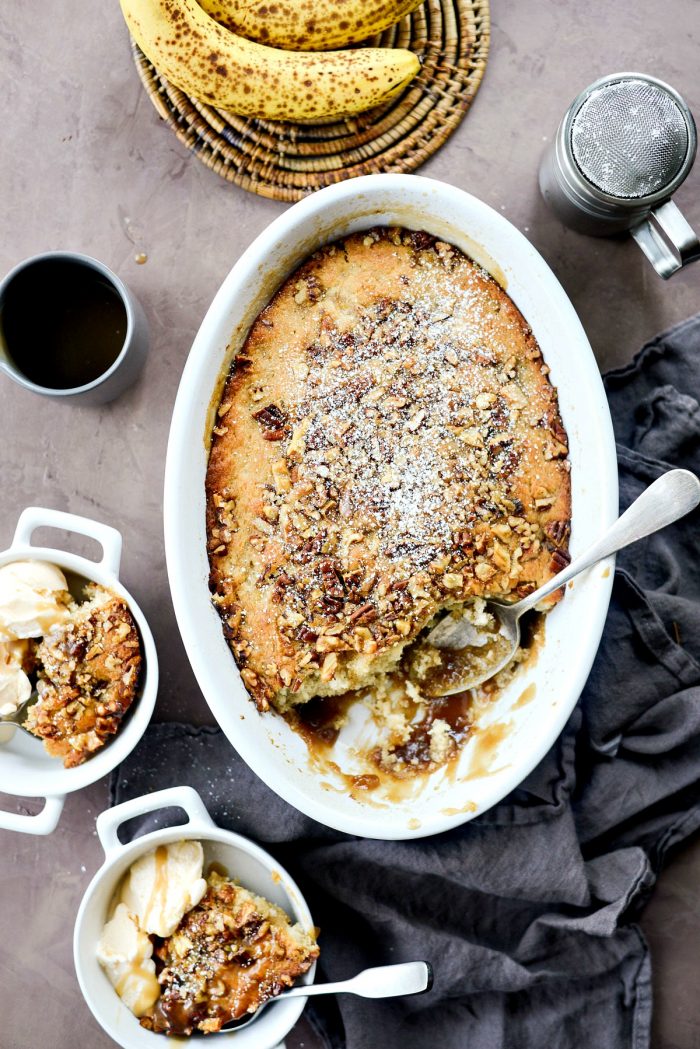 You guys.
I made one of my favorite pudding cake recipes to date. I love making these desserts, almost as much as I like to eat them…almost. Pudding cakes are easy yet impressive, deliciously retro and I like that you essentially get two desserts in one. win-win.
Would you believe me if I told you that this banana pudding cake recipe makes 5 pudding cake recipes on SS? There's just something magical about a moist cake that melts into a gooey pudding and I can't seem to stop recreating. I have 2 other recipes for pudding cakes written out that have yet to be tested. Obsessed much?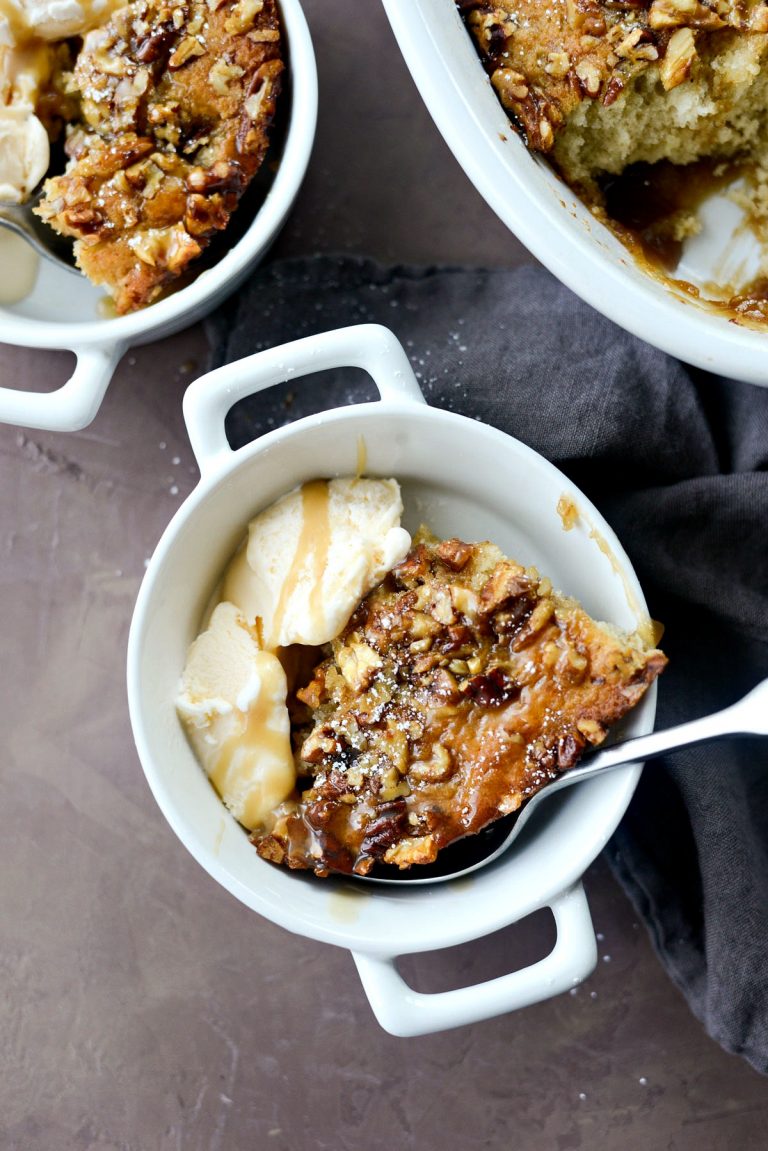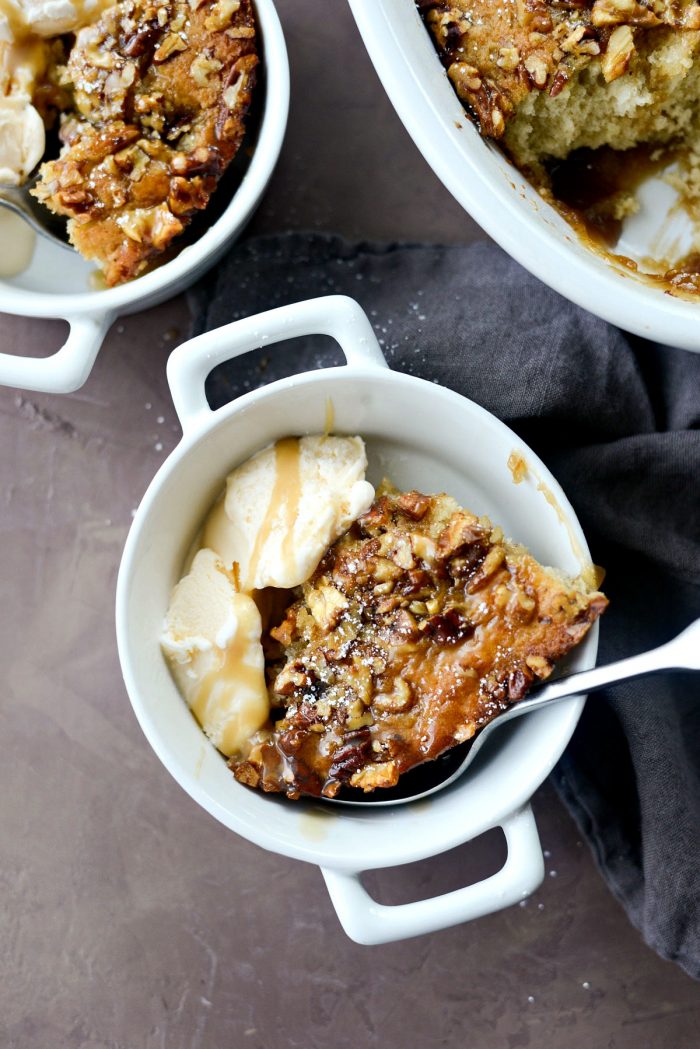 Yes, yes I am.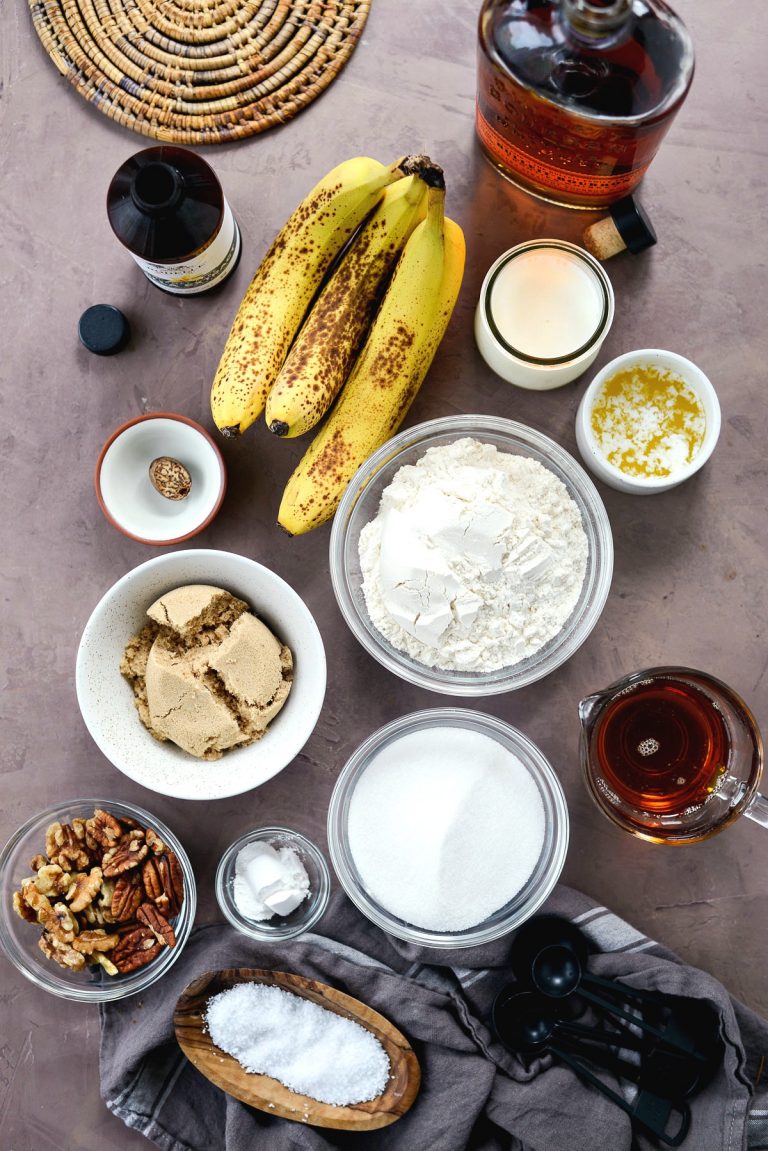 To Make This Maple Bourbon Banana Pudding You Will Need:
unbleached all-purpose flour
granulated sugar
baking powder
salt
nutmeg
banana
milk
butter (melted)
brown sugar
hot water
maple syrup
bourbon
pure vanilla extract
pecans
walnuts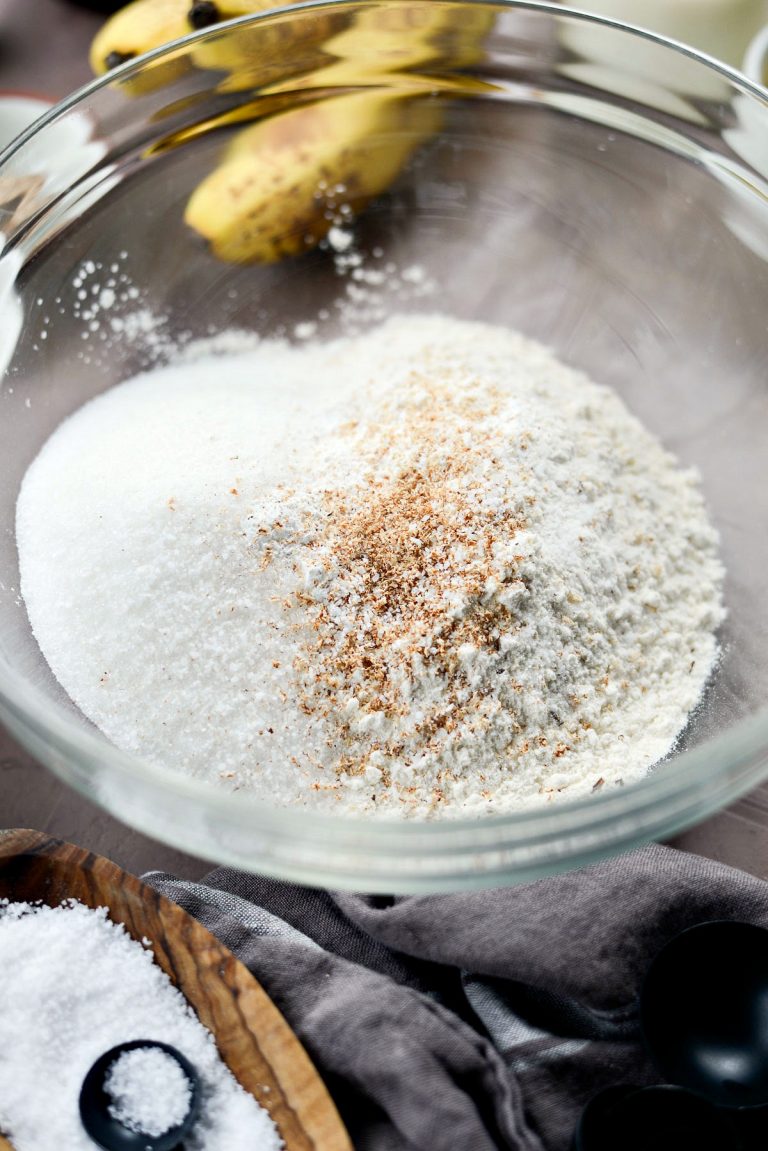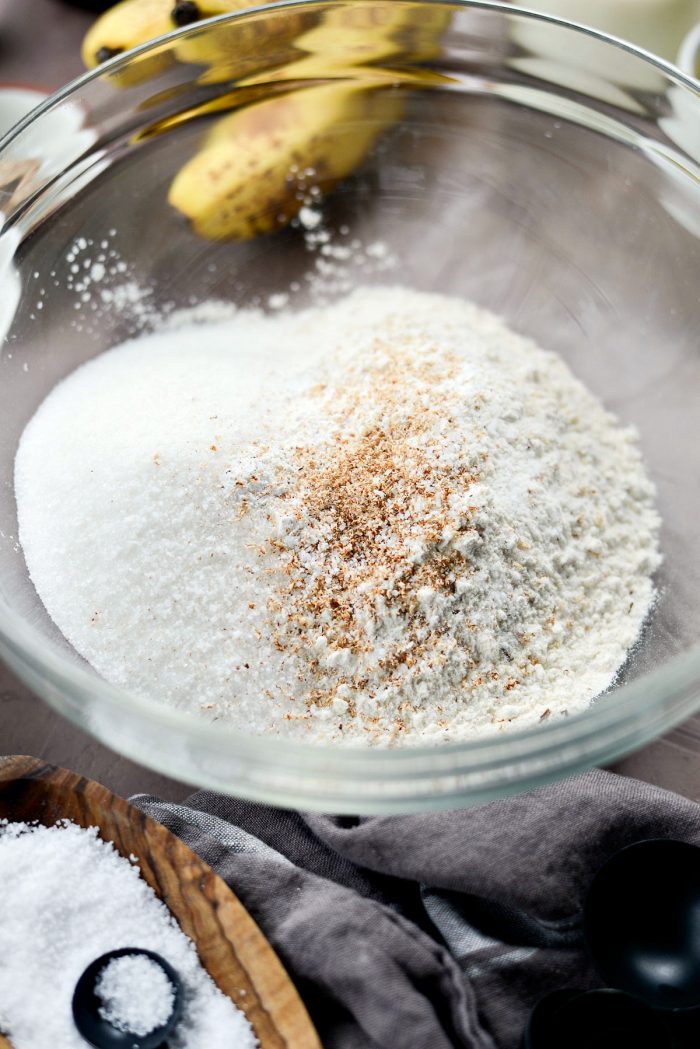 Start by measuring and adding 1-1/4 cup unbleached all-purpose flour, 3/4 cup granulated sugar, 2 teaspoons baking powder, 1/2 teaspoon freshly grated nutmeg, and 1/2 teaspoon kosher salt into a mixing bowl.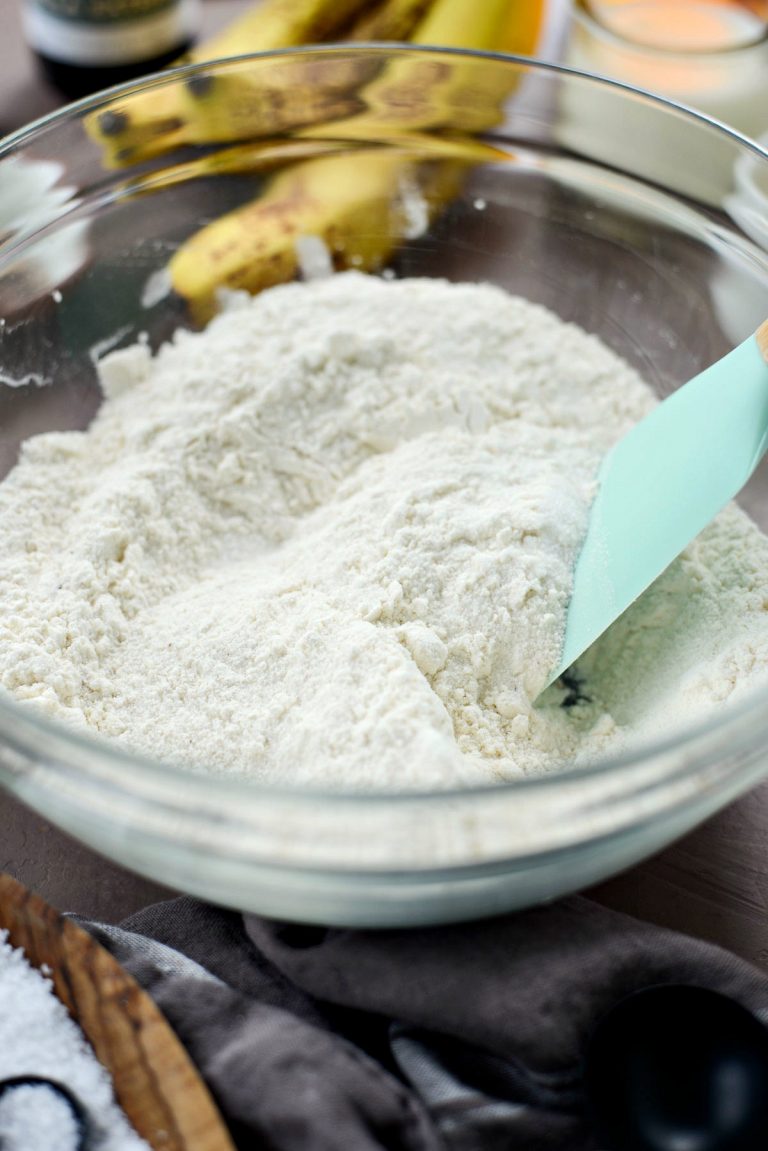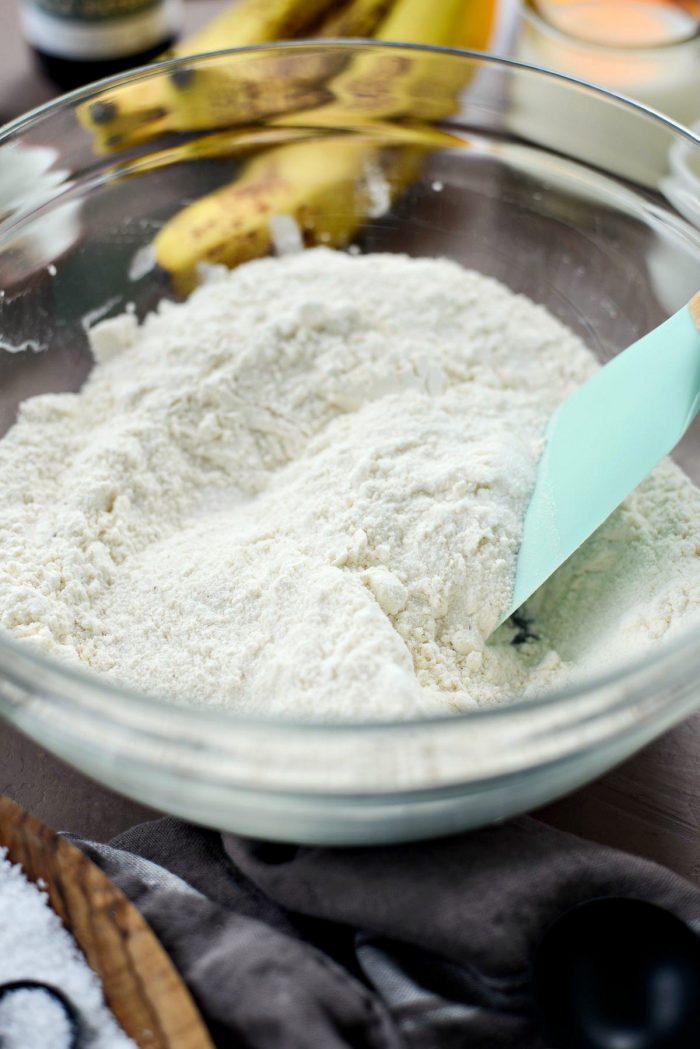 Stir to combine and move off to the side.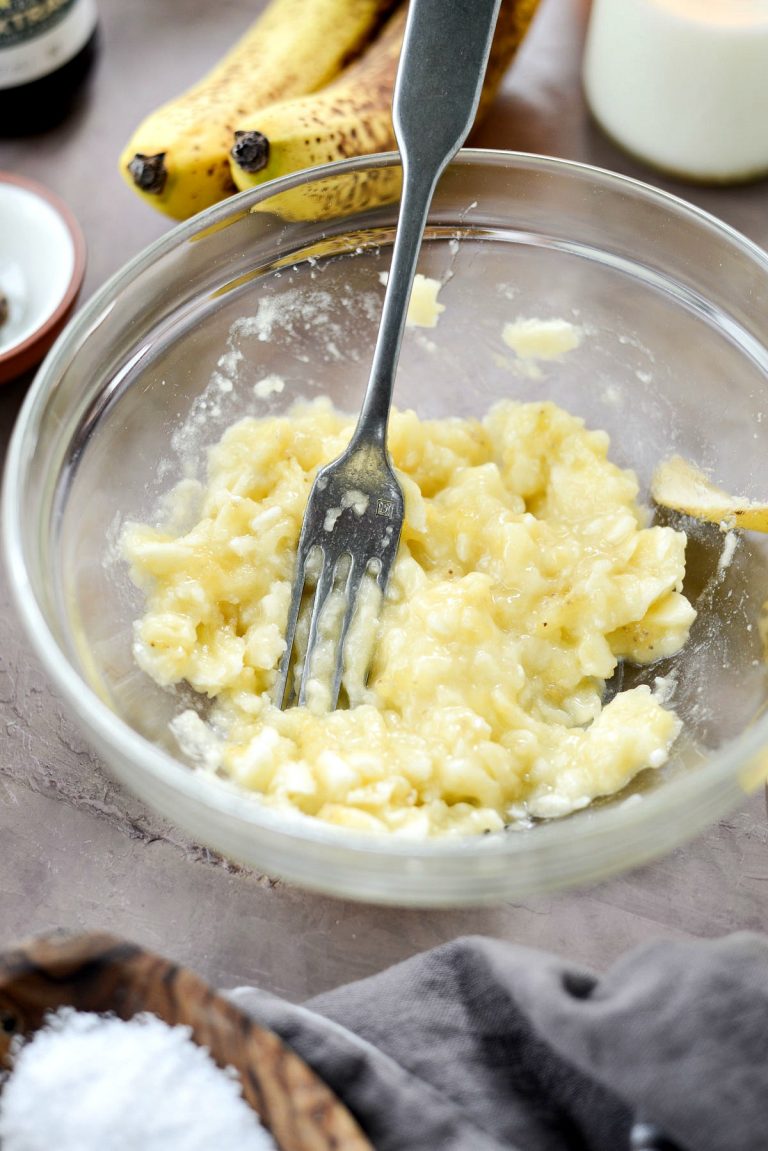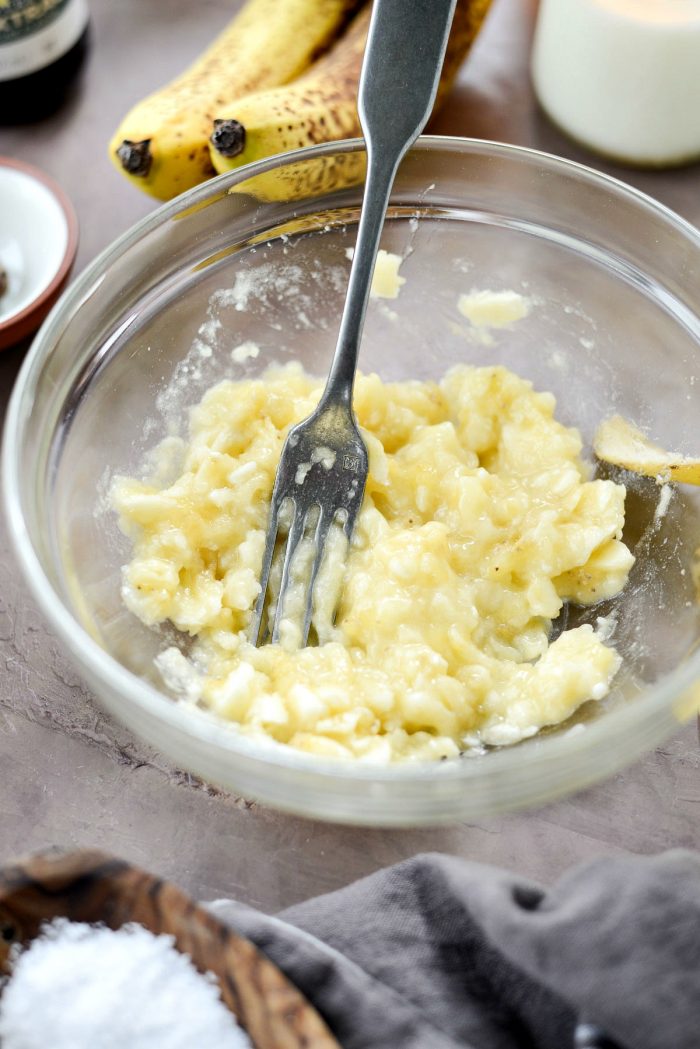 In a separate bowl, add a large banana and mash well with a fork.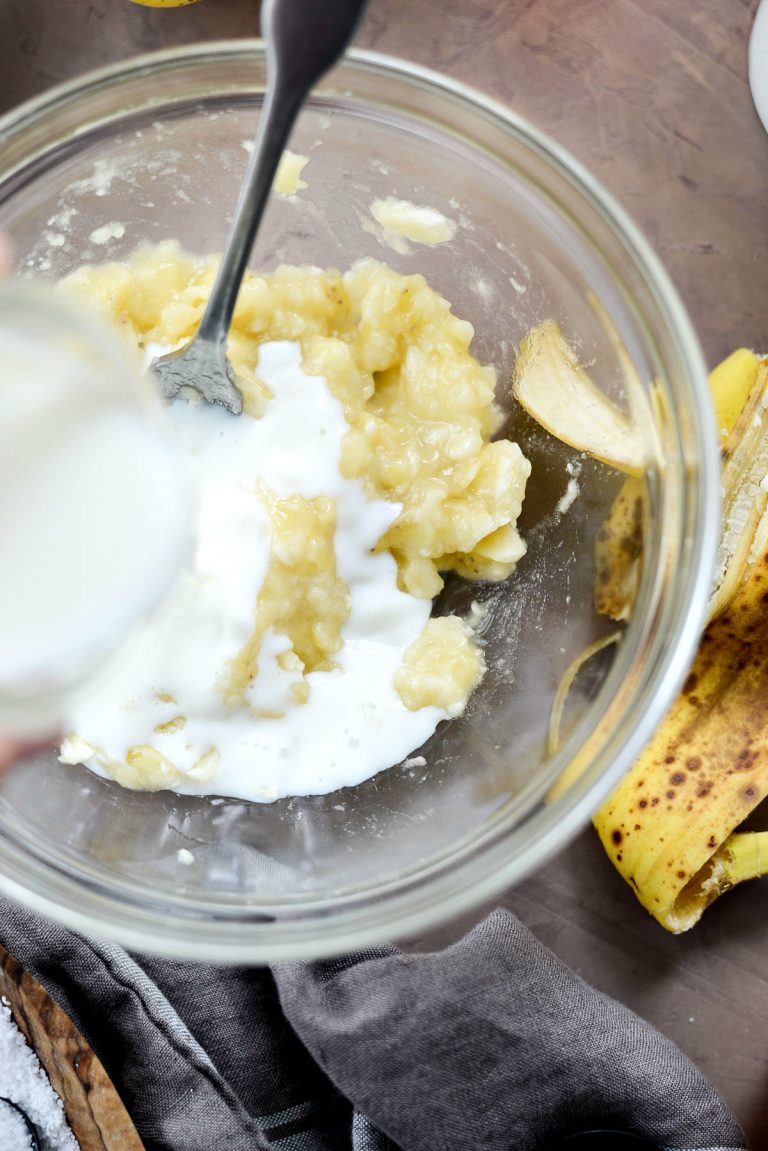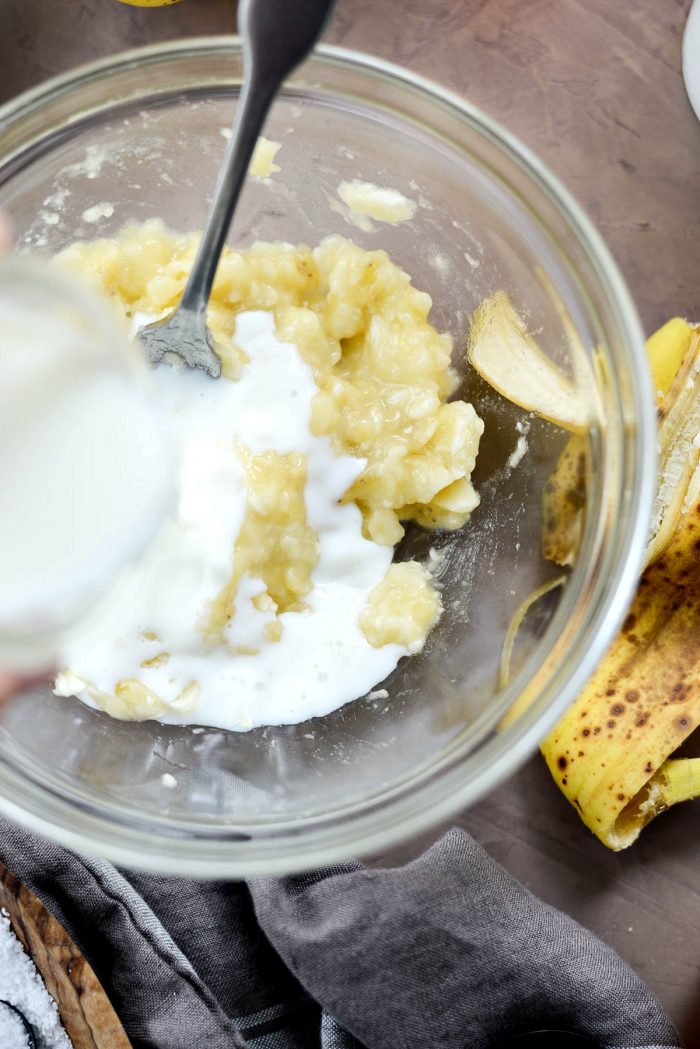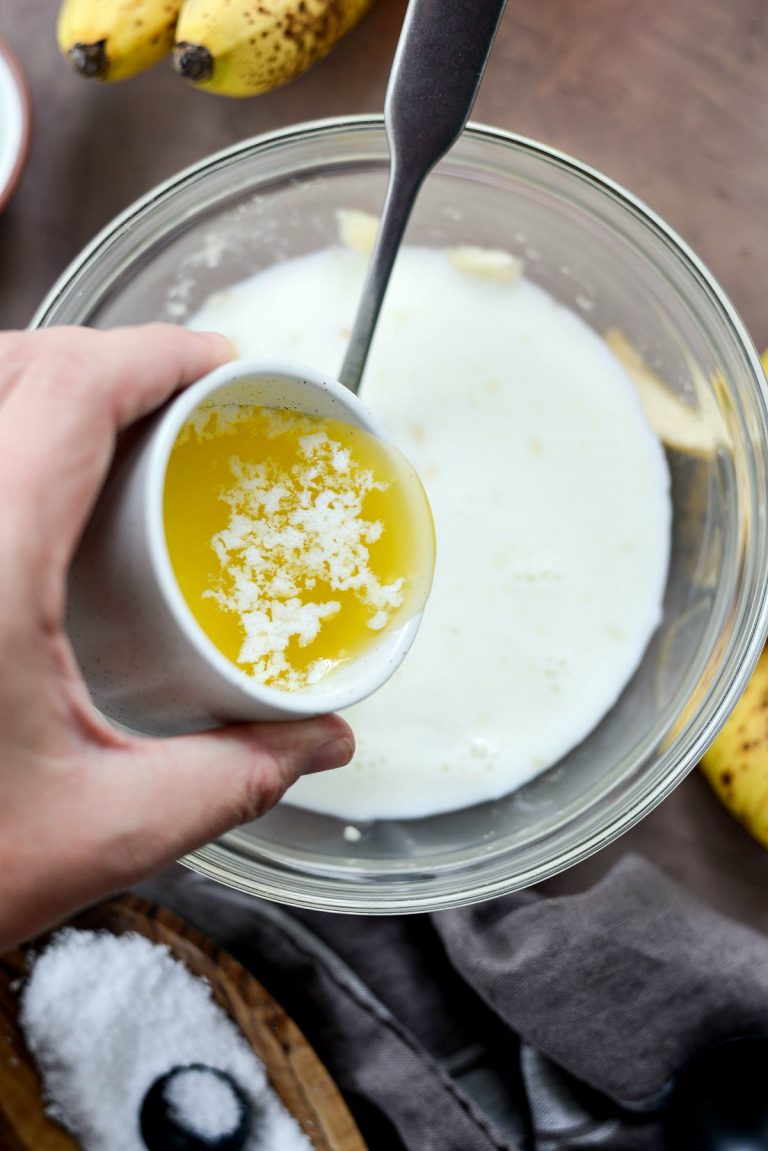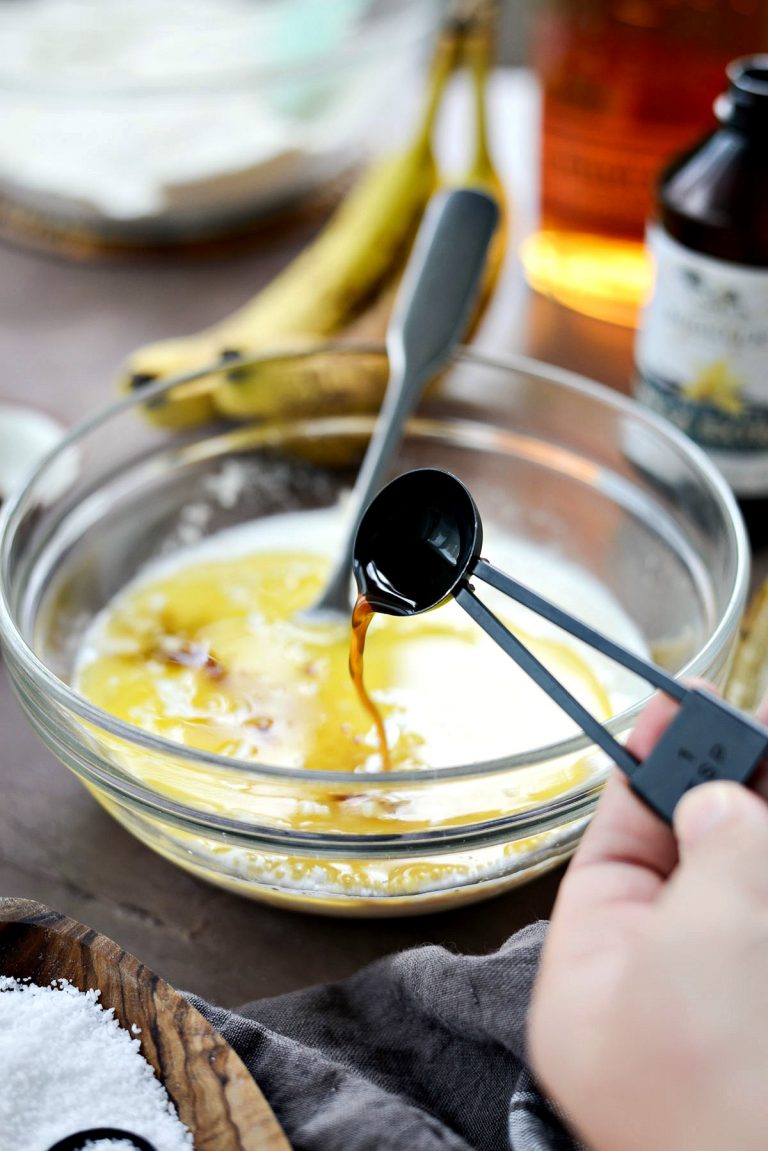 Next add in 1/2 cup milk, 1/4 cup (melted and cooled) unsalted butter and 1 teaspoon pure vanilla extract.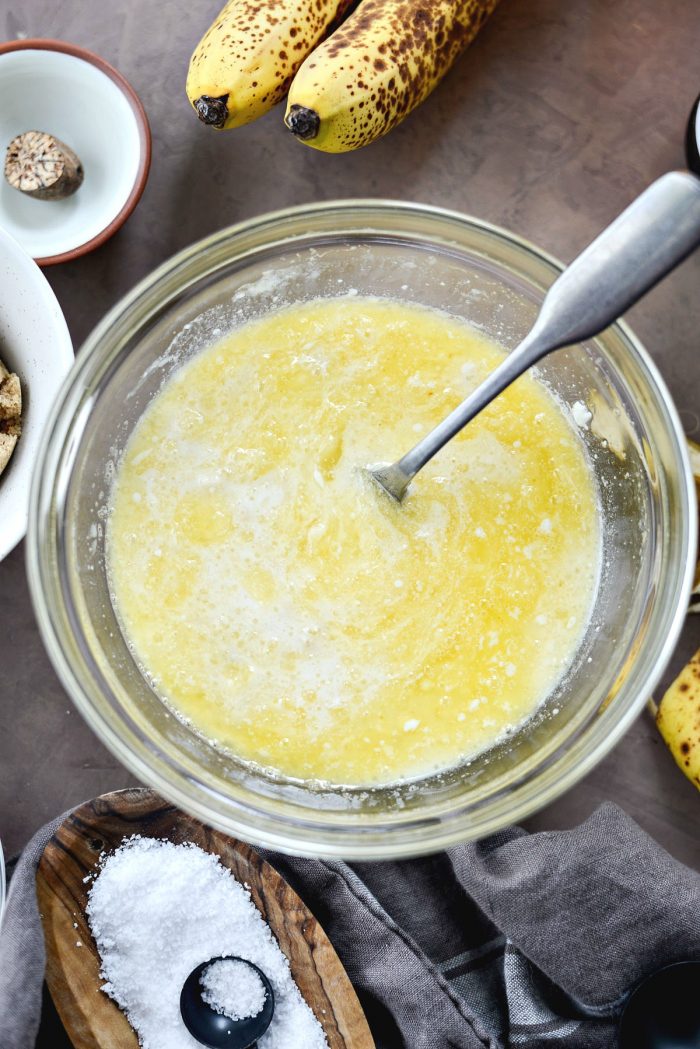 Stir well to combine. If the butter solidifies a little, don't worry.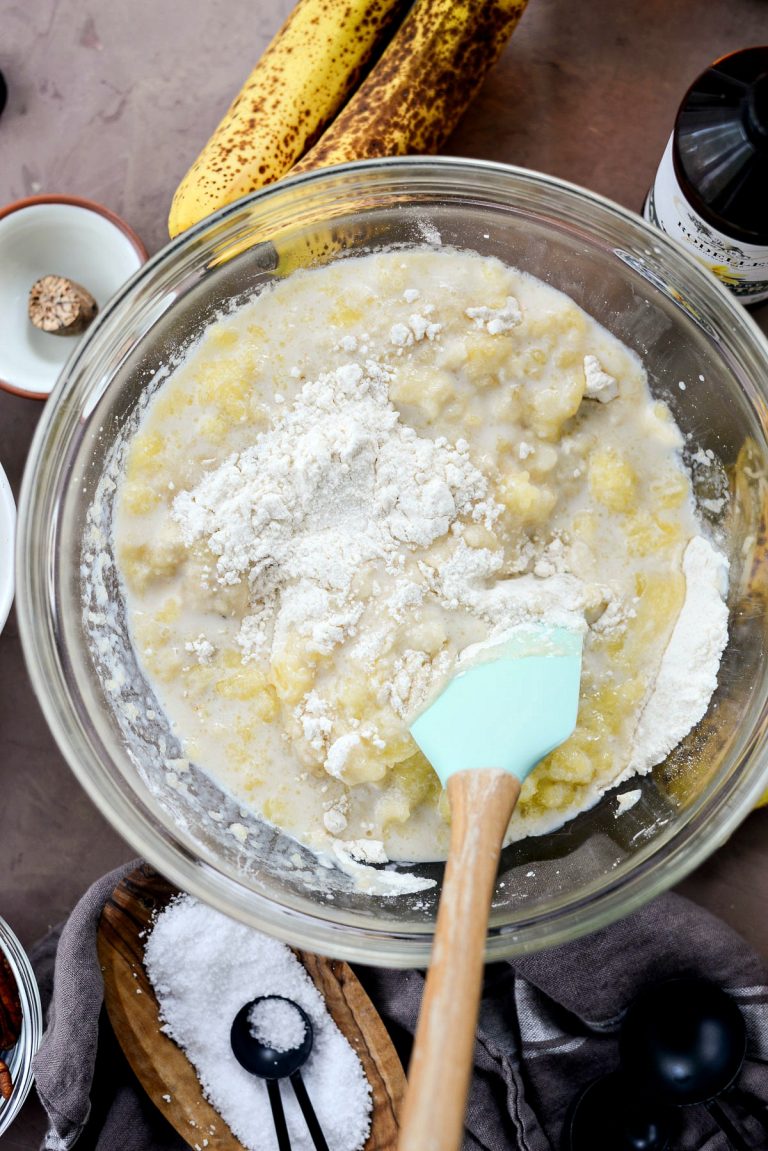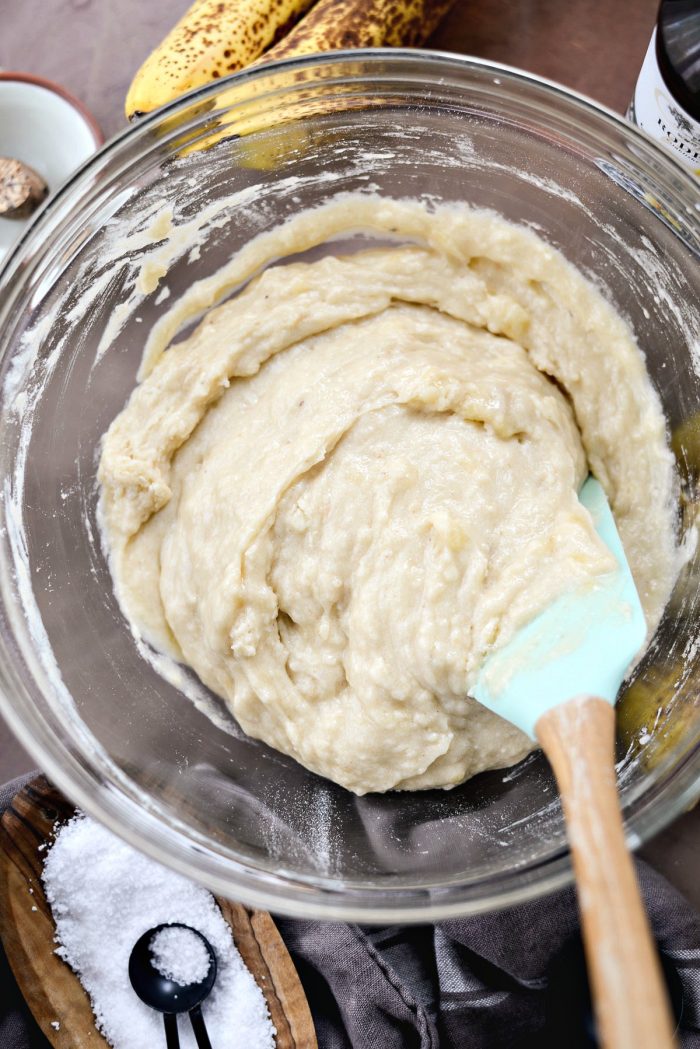 Add the banana mixture into the bowl with the dry ingredients and mix until just combined.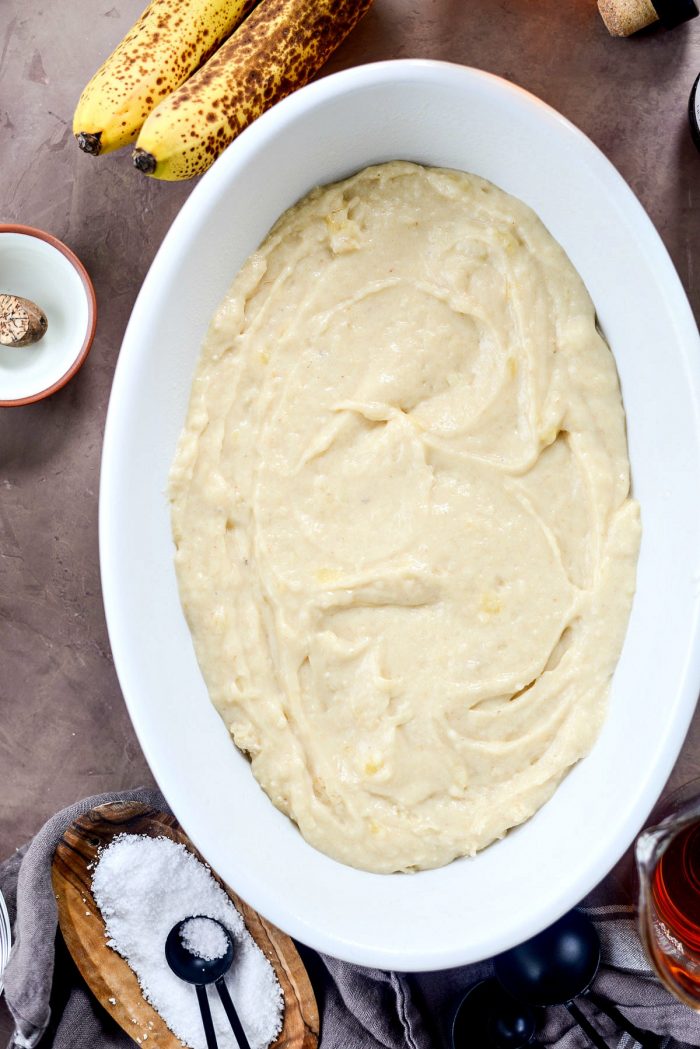 Transfer the cake batter to a greased 3-1/2 cup oven-safe baking dish. I linked to the one I use in the recipe printable.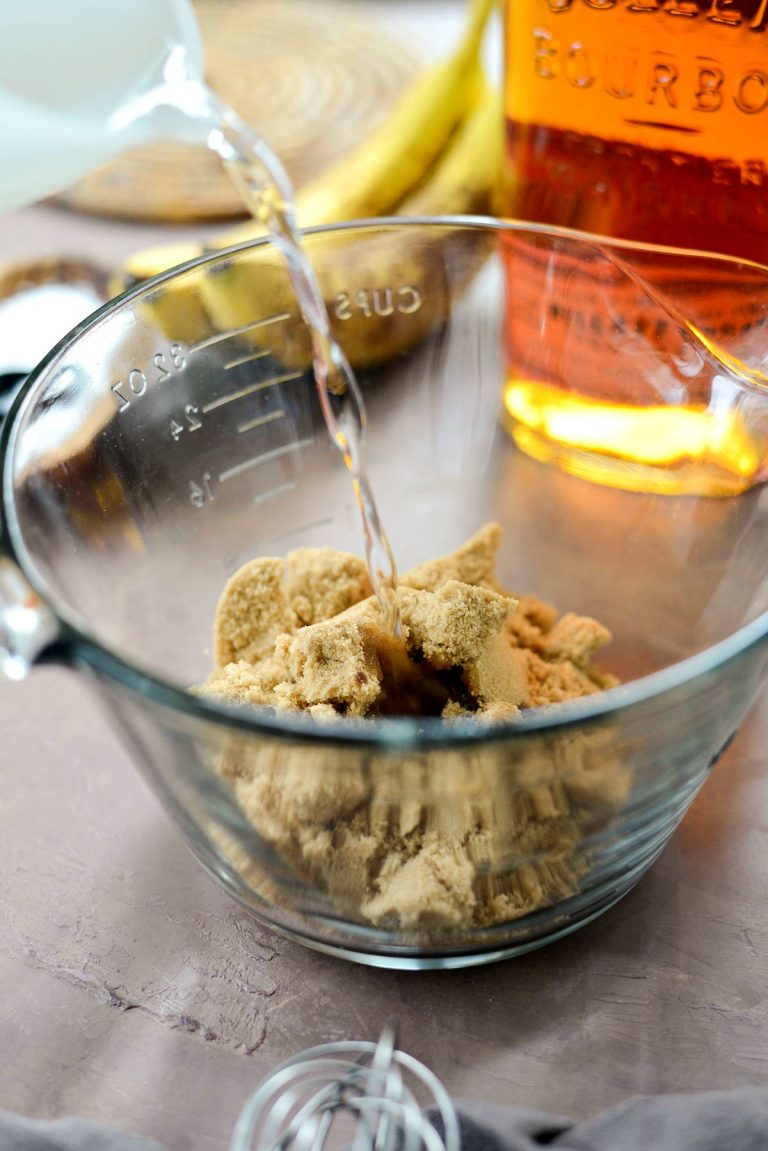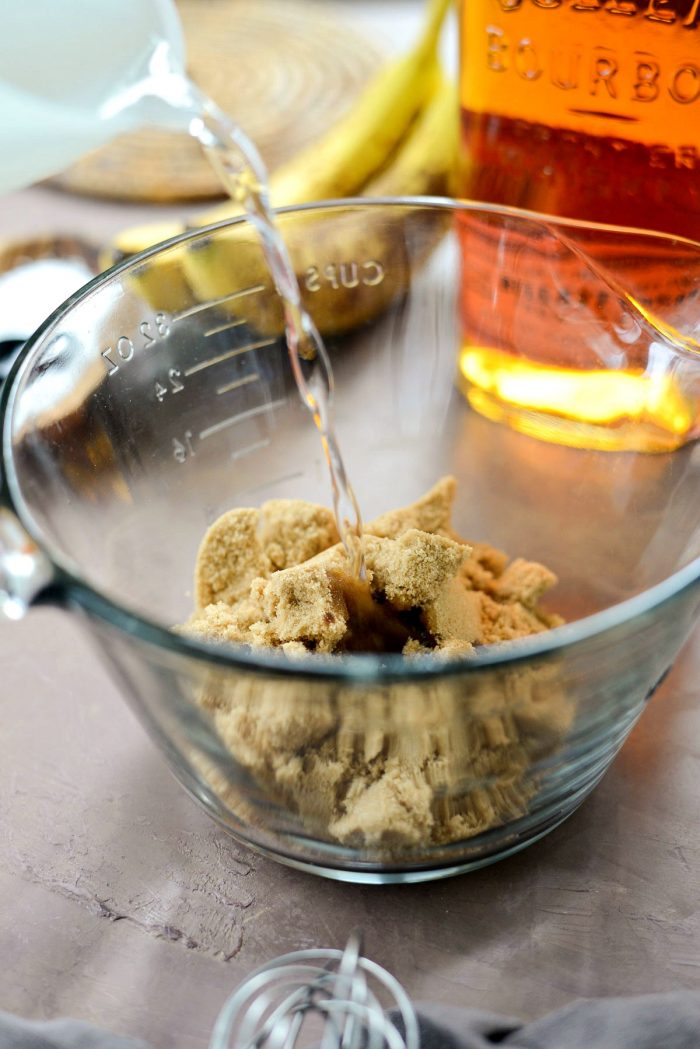 Then in a separate mixing bowl, add 1/2 cup light brown sugar and pour in 1/2 cup hot water.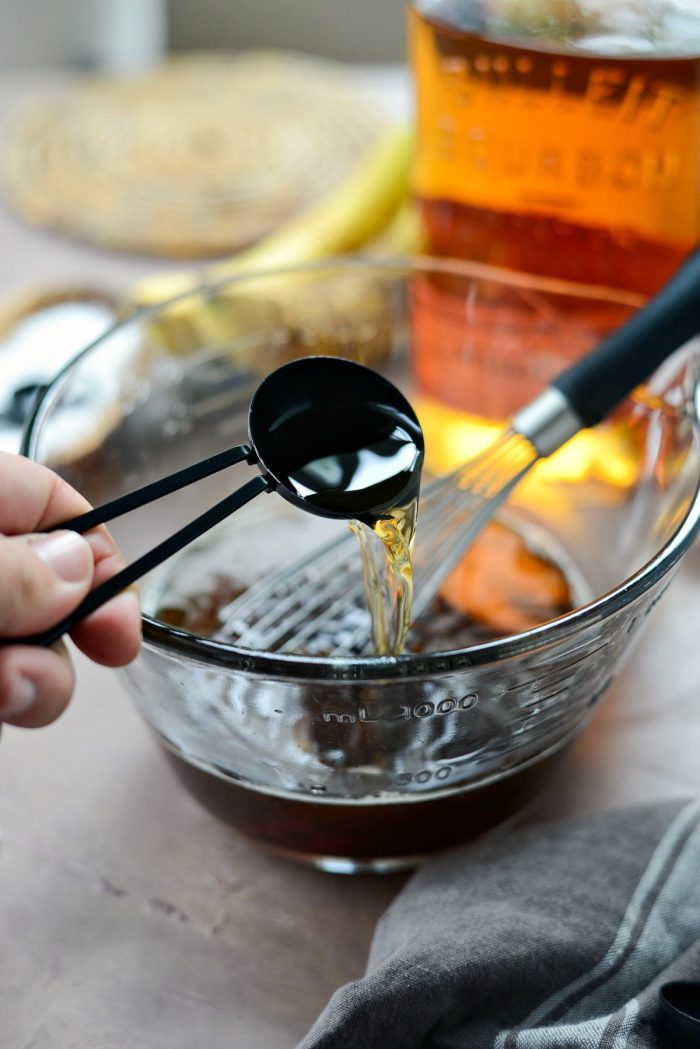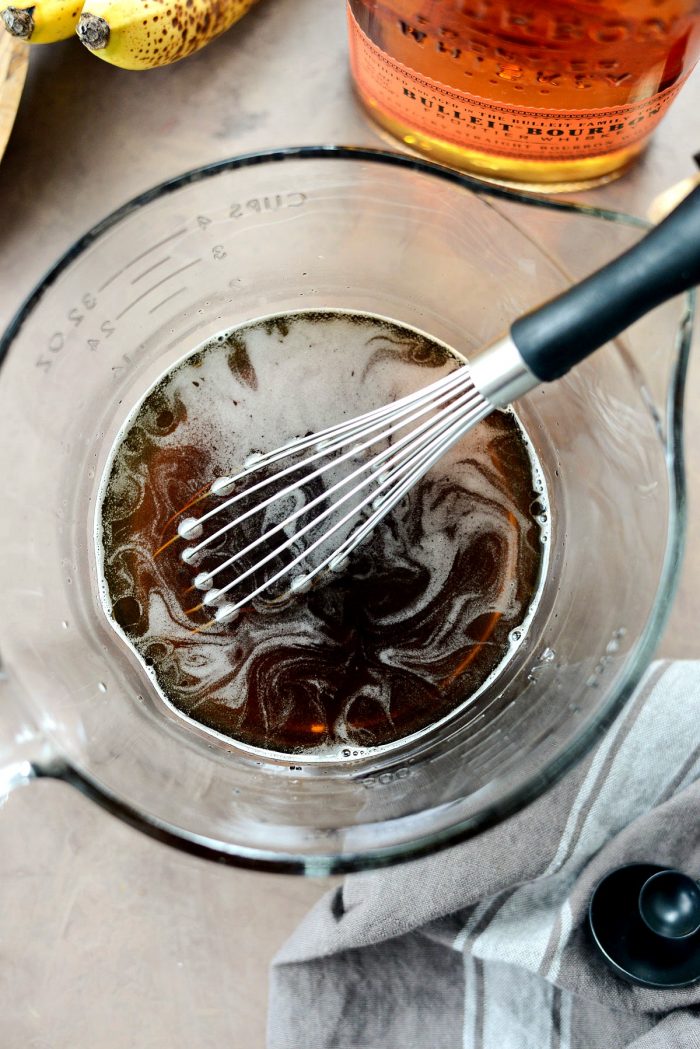 Measure and add in 1/2 cup pure maple syrup and 2 tablespoons bourbon. Whisk well until the sugar has dissolved.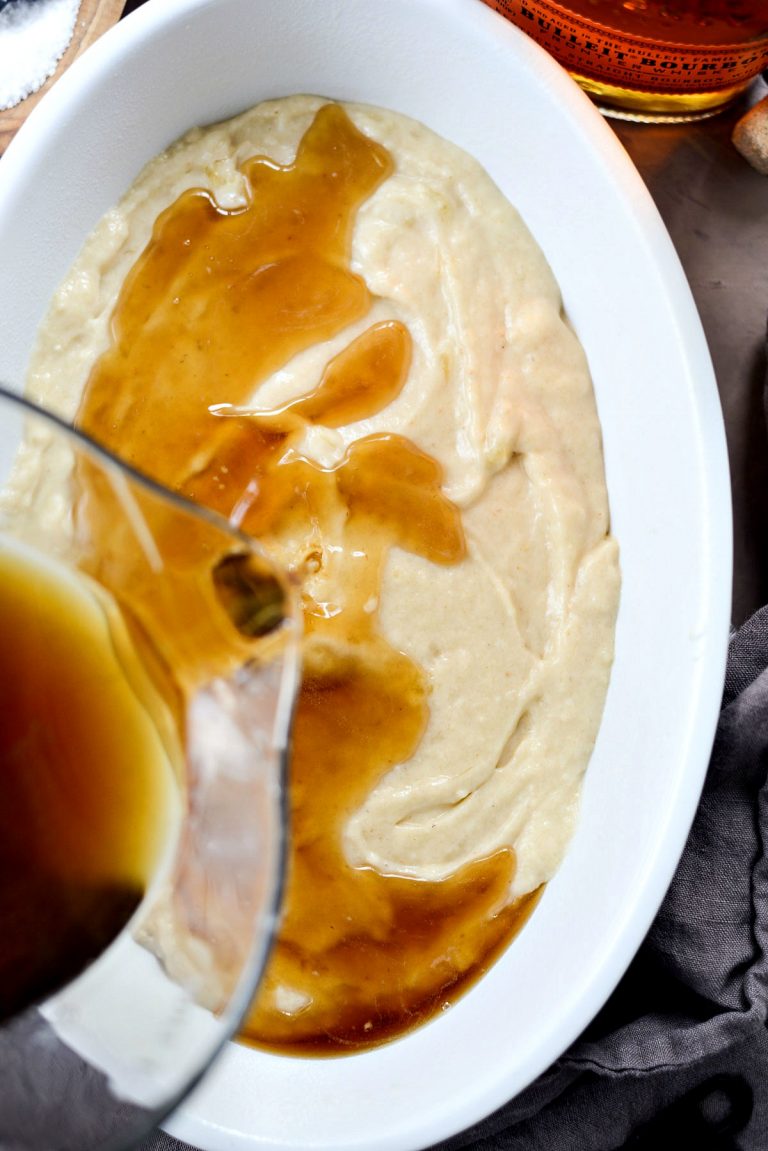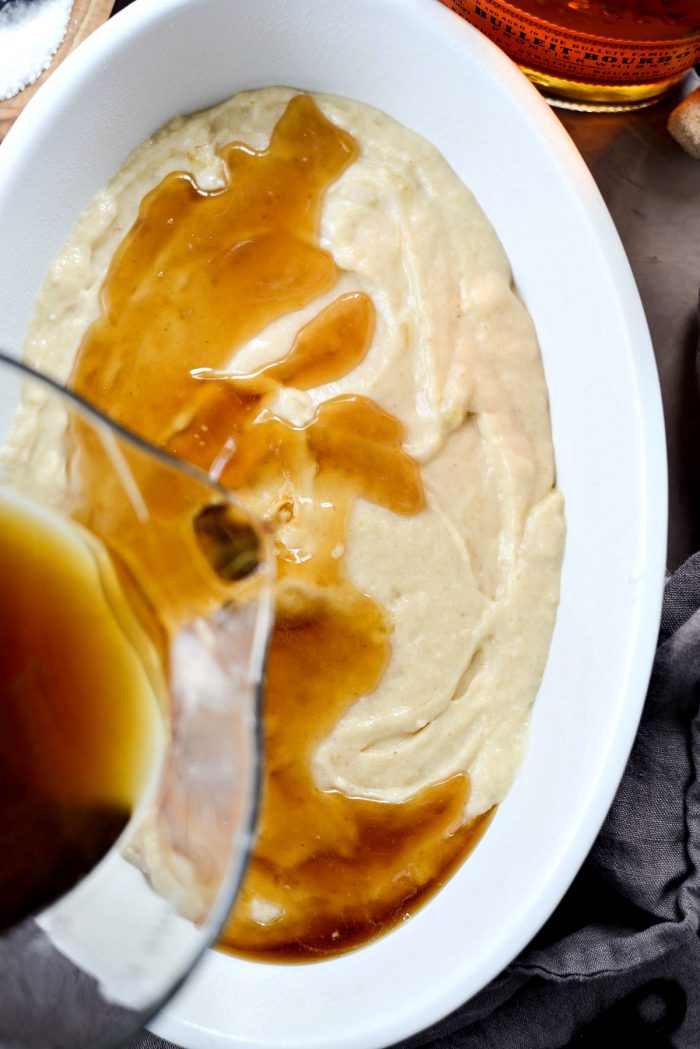 Pour the maple bourbon liquids over top of the cake batter.
Do Not Stir!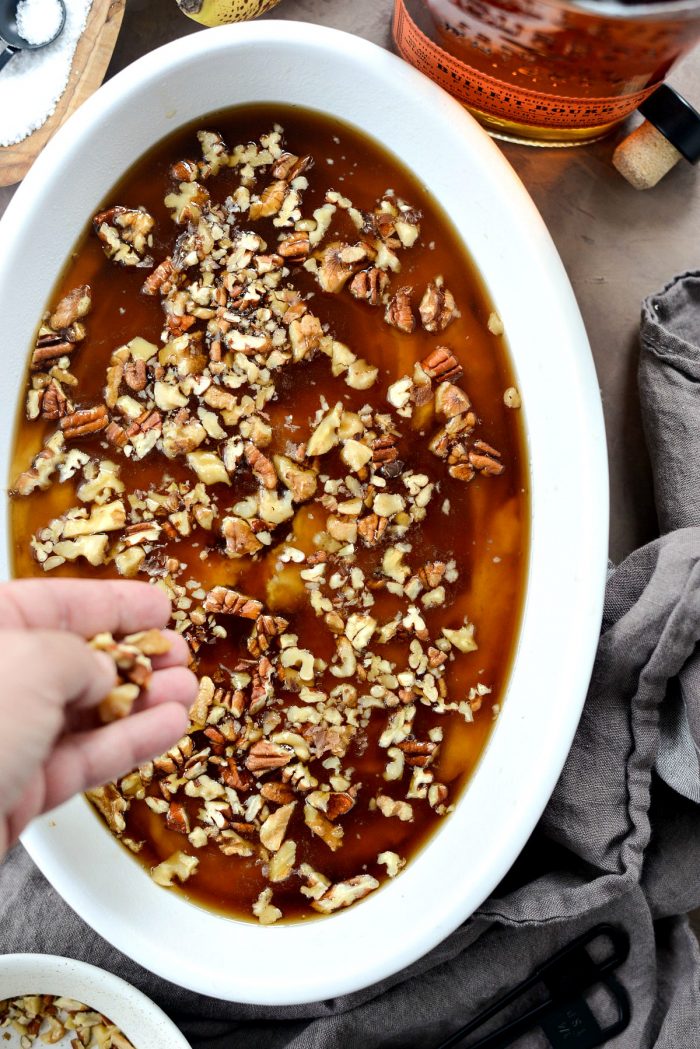 Lastly, sprinkle the chopped pecans and walnuts over top. Bake on the middle rack of your preheated 350° oven for 35 to 40 minutes.
Why two kinds of nuts?
When I was writing out this recipe, I couldn't decide whether to use pecans (because bourbon) or walnuts – I do love walnuts in banana bread! So I decided to make this banana pudding cake with both. Something I'm glad I did because it adds so much delicious and distinctive nutty favor.
The cake should be set, the top and edges should be golden and the pudding bubbling up the sides.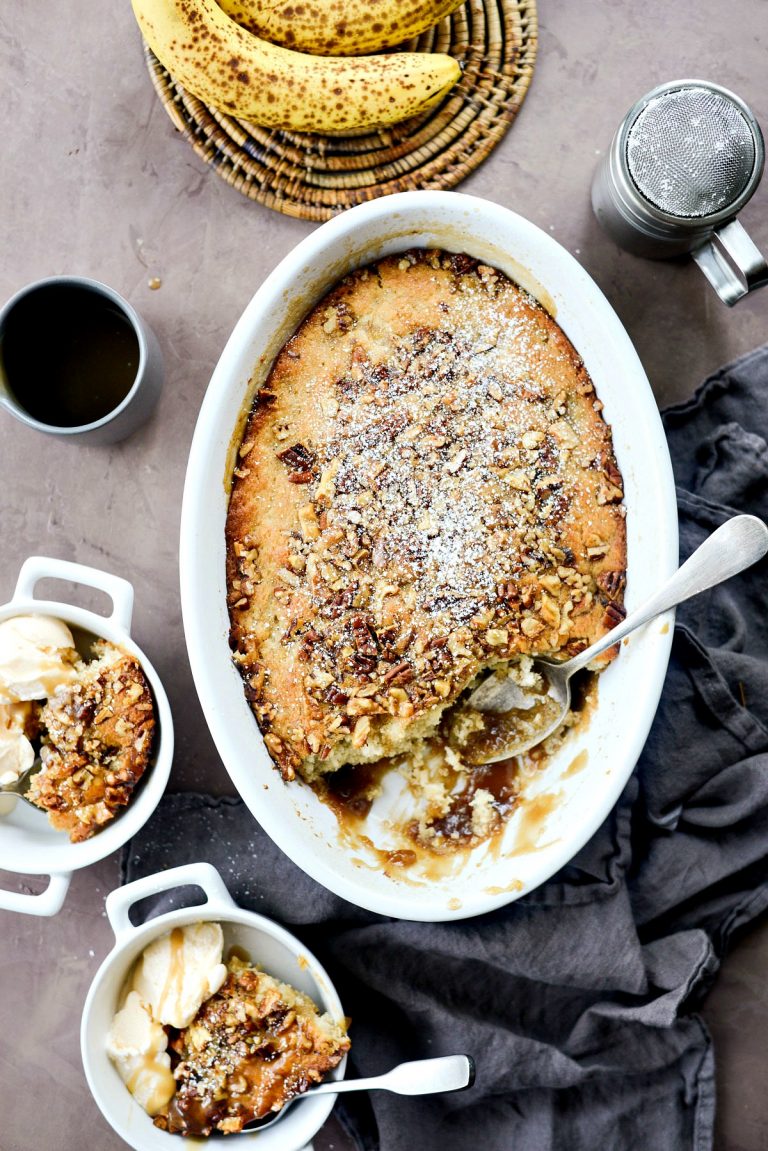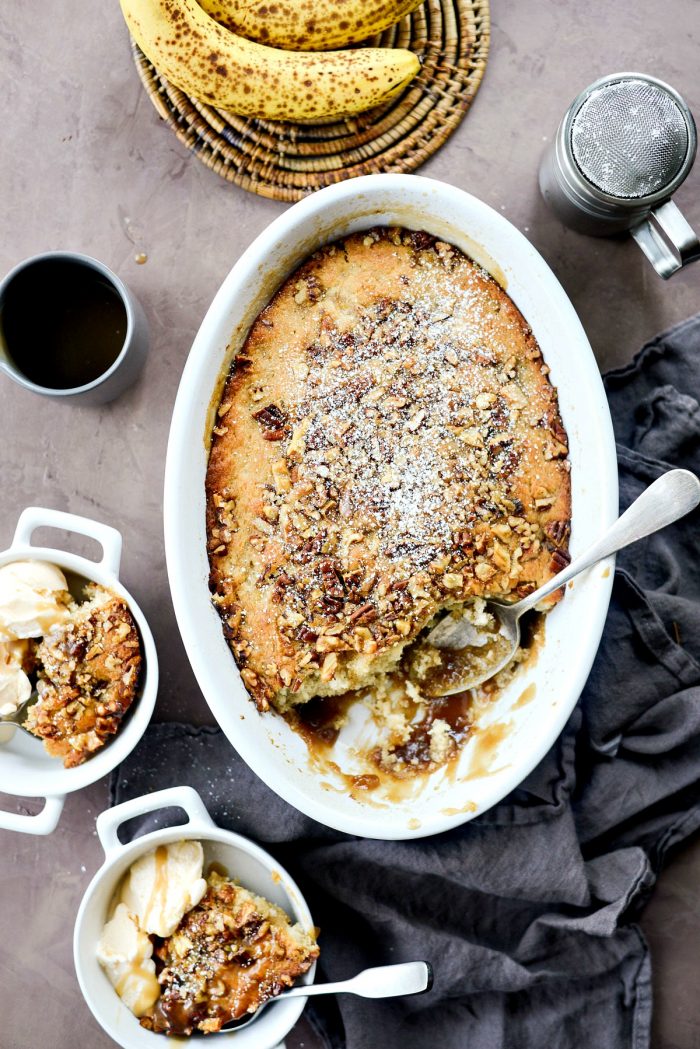 Serve scoops of the banana pudding cake into shallow bowls with scoops of ice cream and if you have it, a drizzle of butter rum sauce. Because why the heck not?
Dusting with powdered sugar is optional but pretty!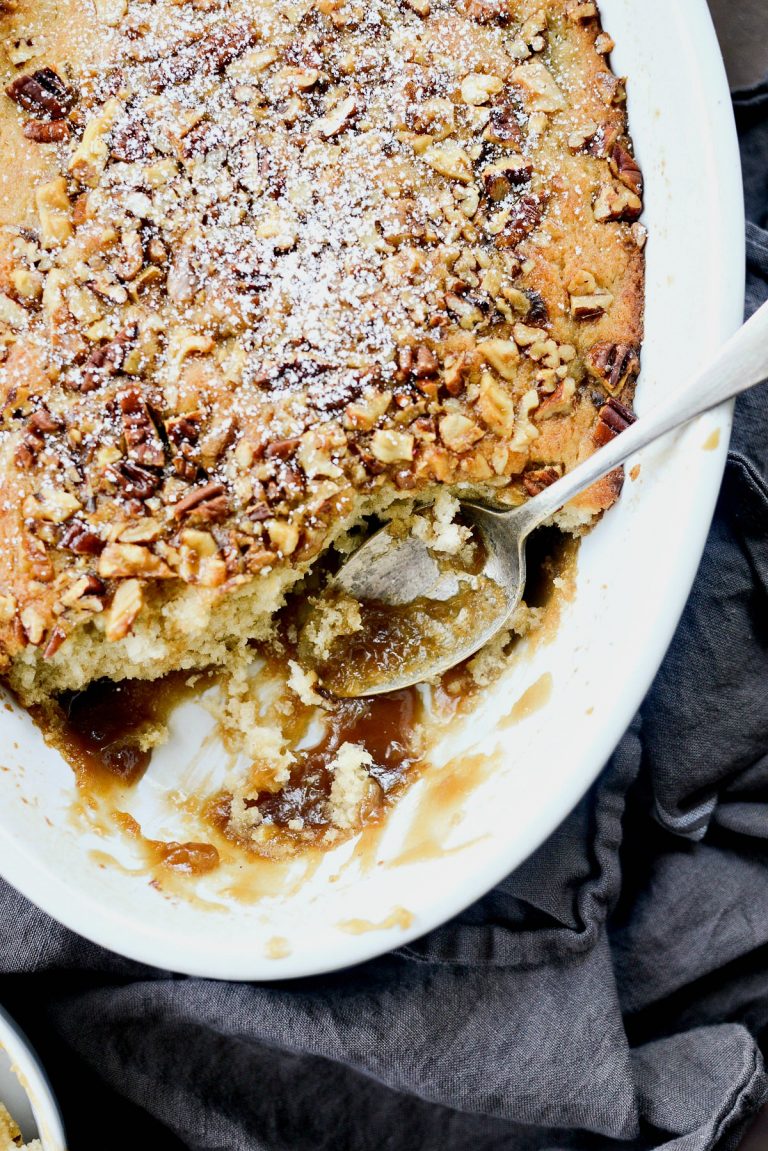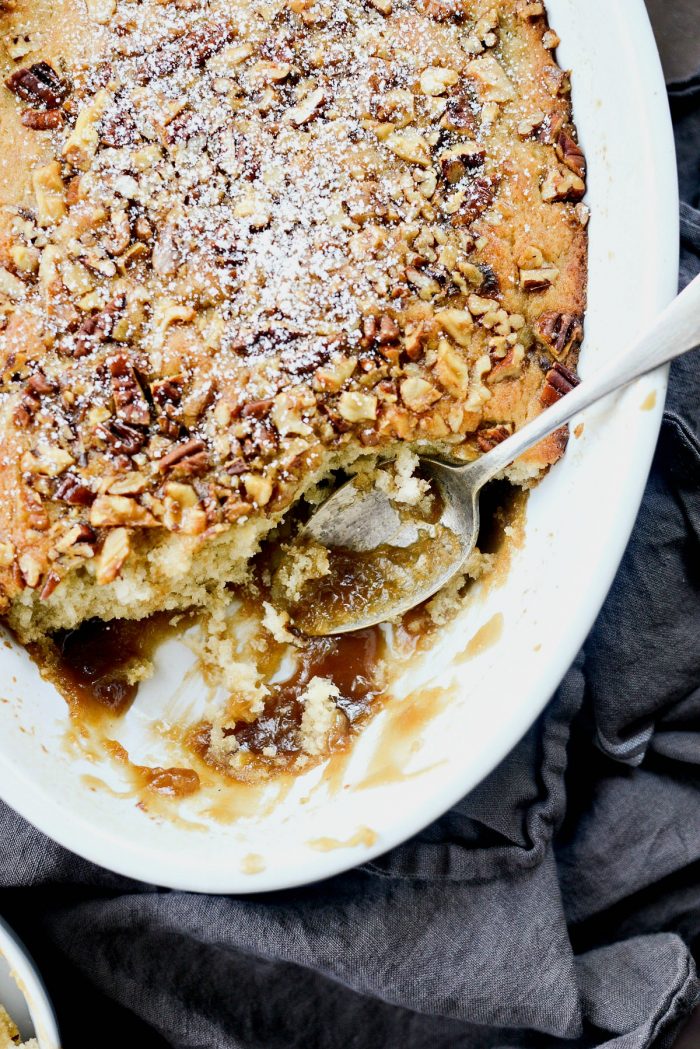 Would you look at that?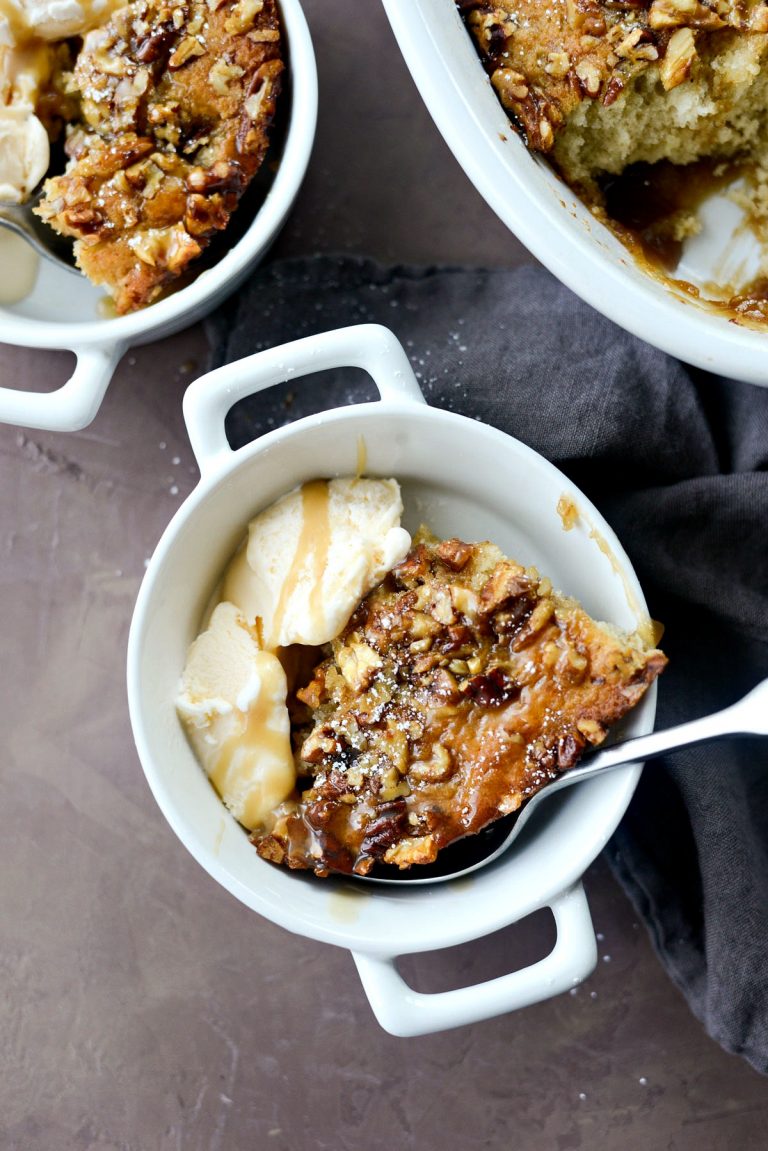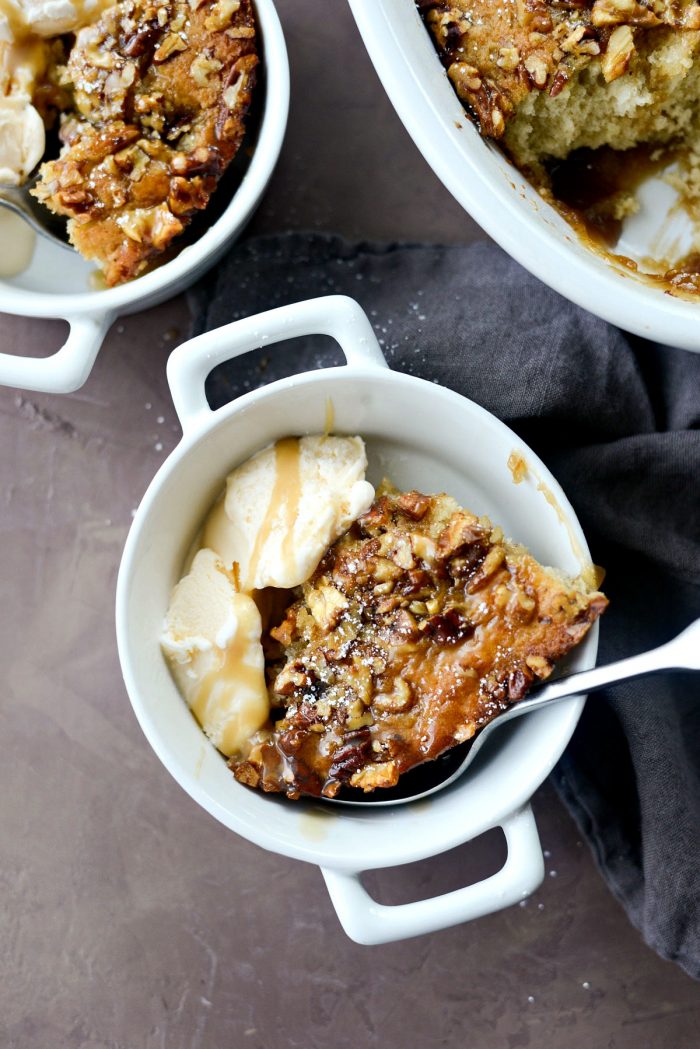 I love me a good crispy edge piece! So good you guys and not overly banana-y.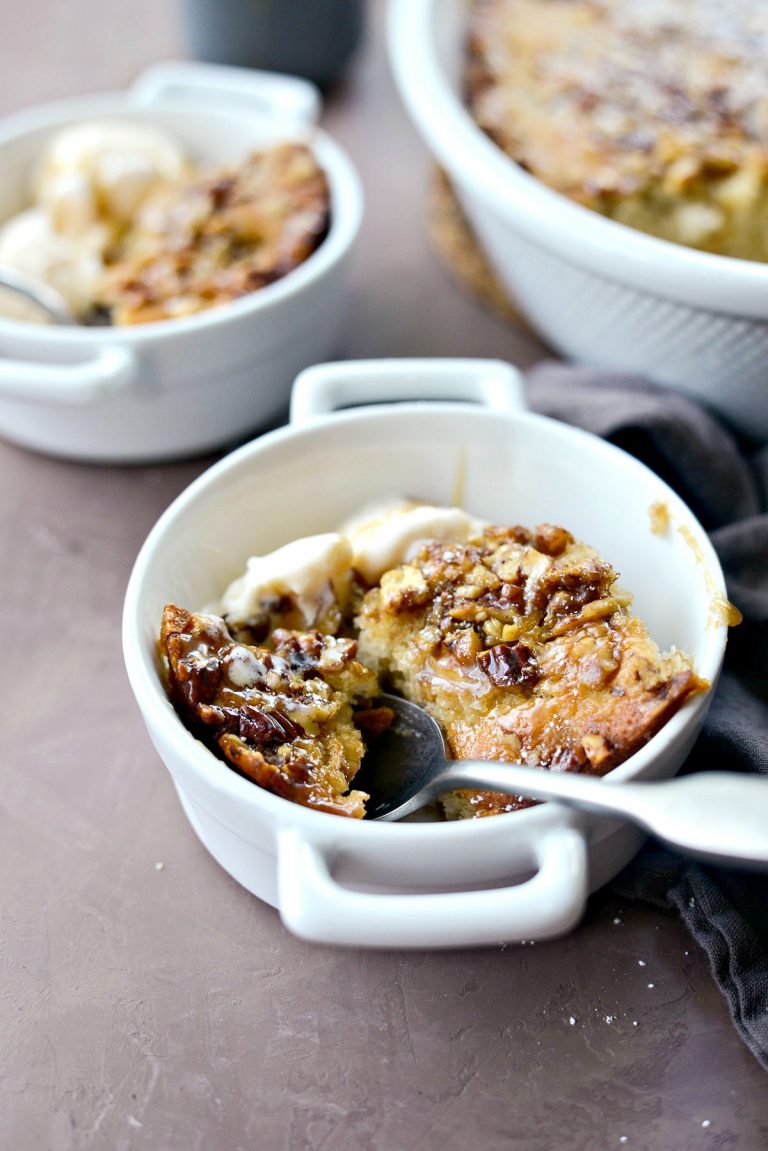 Enjoy! And if you give this Maple Bourbon Banana Pudding Cake recipe a try, let me know! Snap a photo and tag me on twitter or instagram!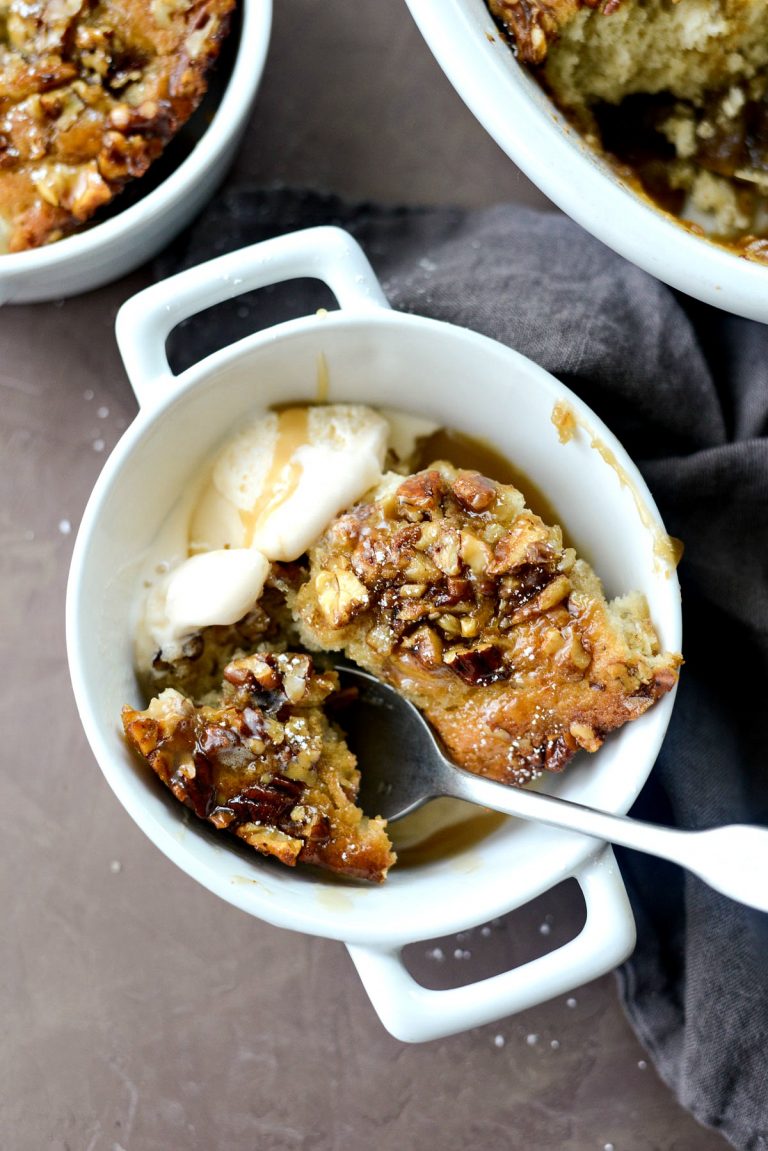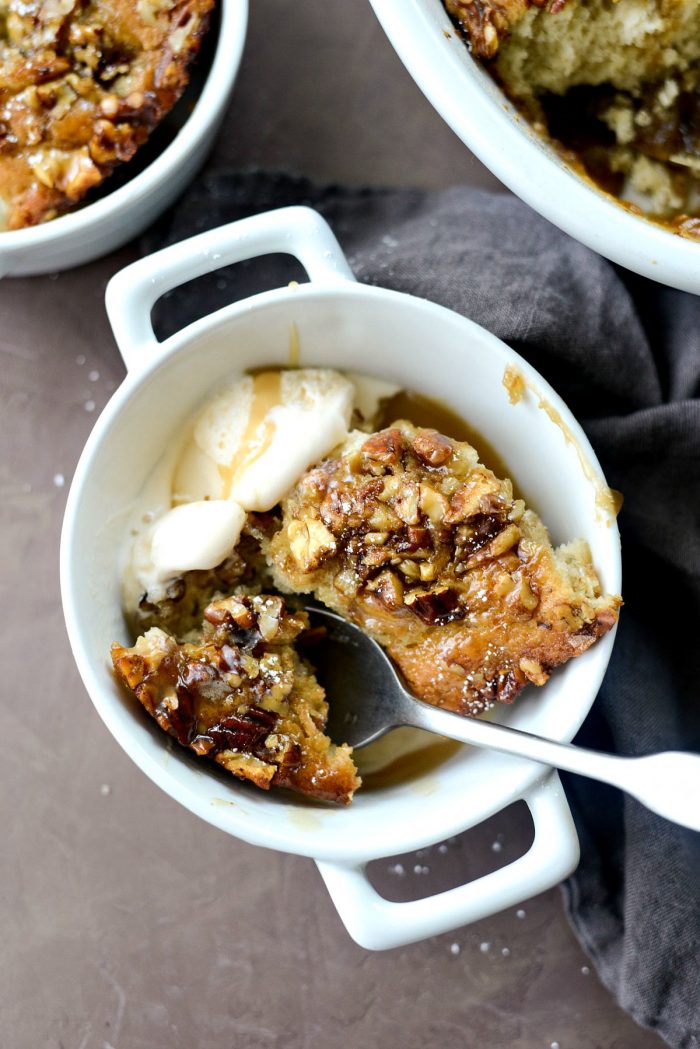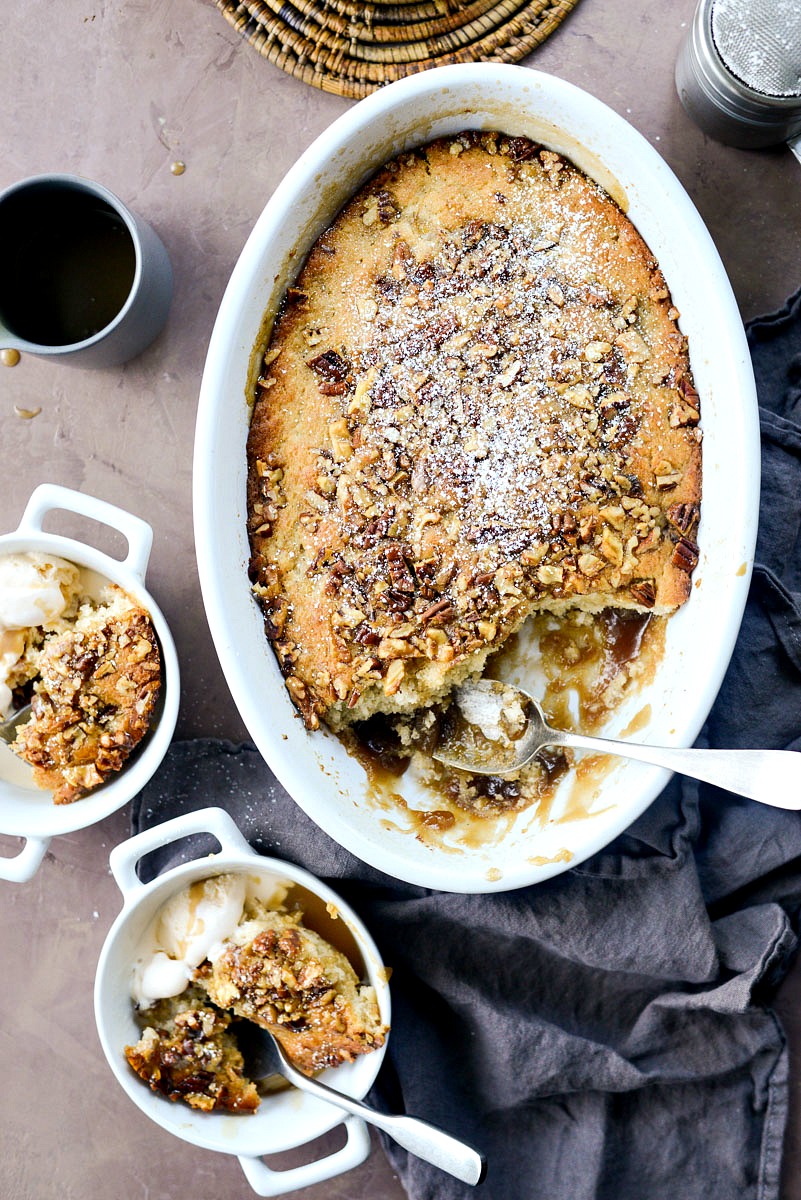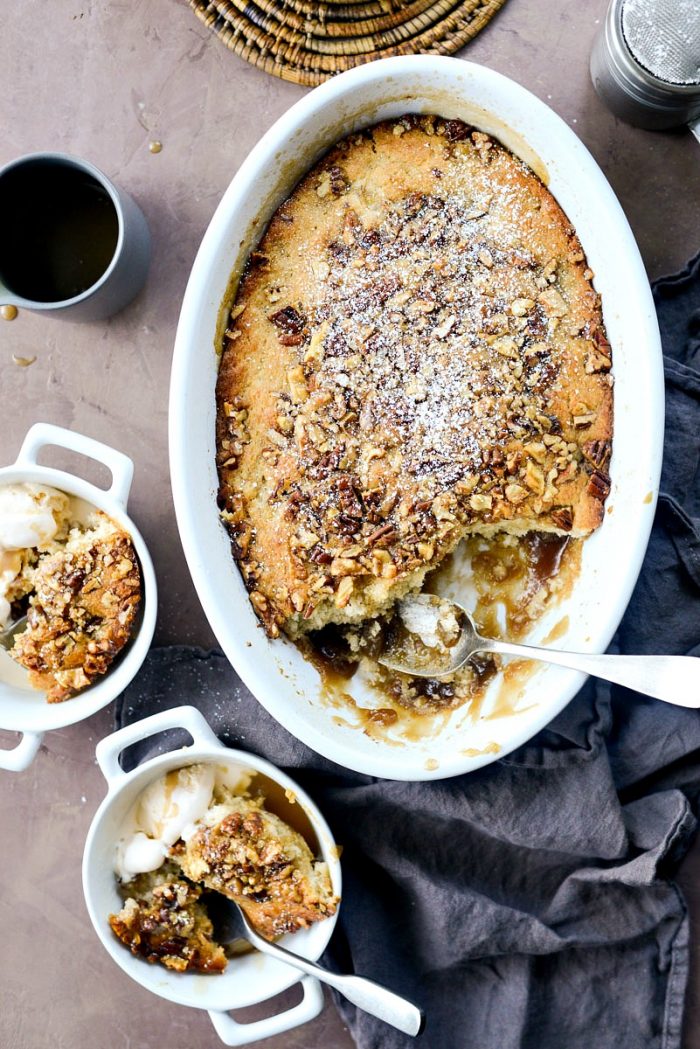 This post may contain affiliate links.
Buy the Cookbook: Simply Scratch : 120 Wholesome Homemade Recipes Made Easy Now available on Amazon »
THANK YOU in advance for your support!