Skillet Chicken Parmesan Meatballs are everything you love about chicken Parm but in meatball form. Loaded with flavor and simmered in marinara for an easy skillet dinner any night of the week. Plate with pasta and/or a green salad and a loaf of crusty bread. Serves 4 to 6 in about 45 minutes.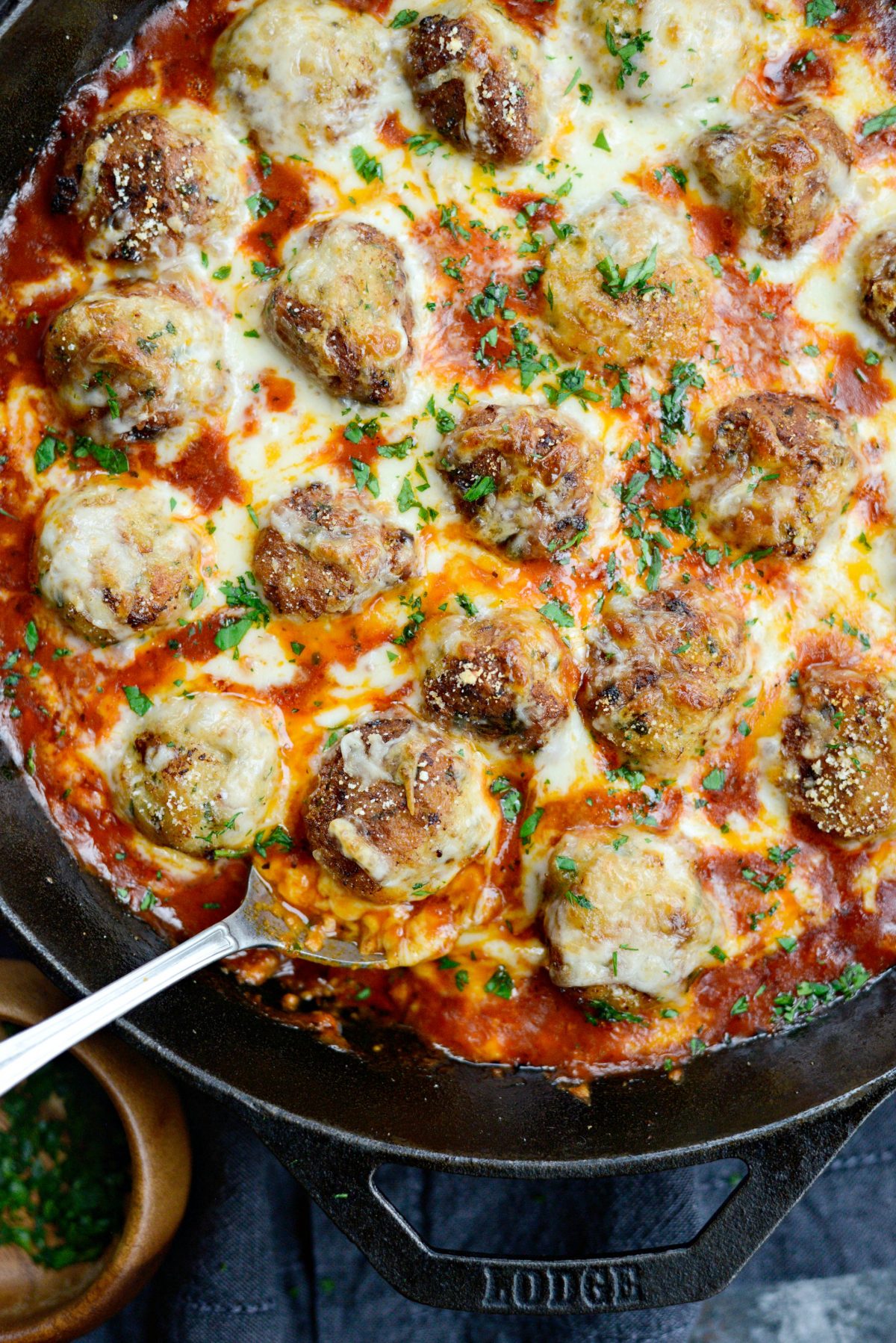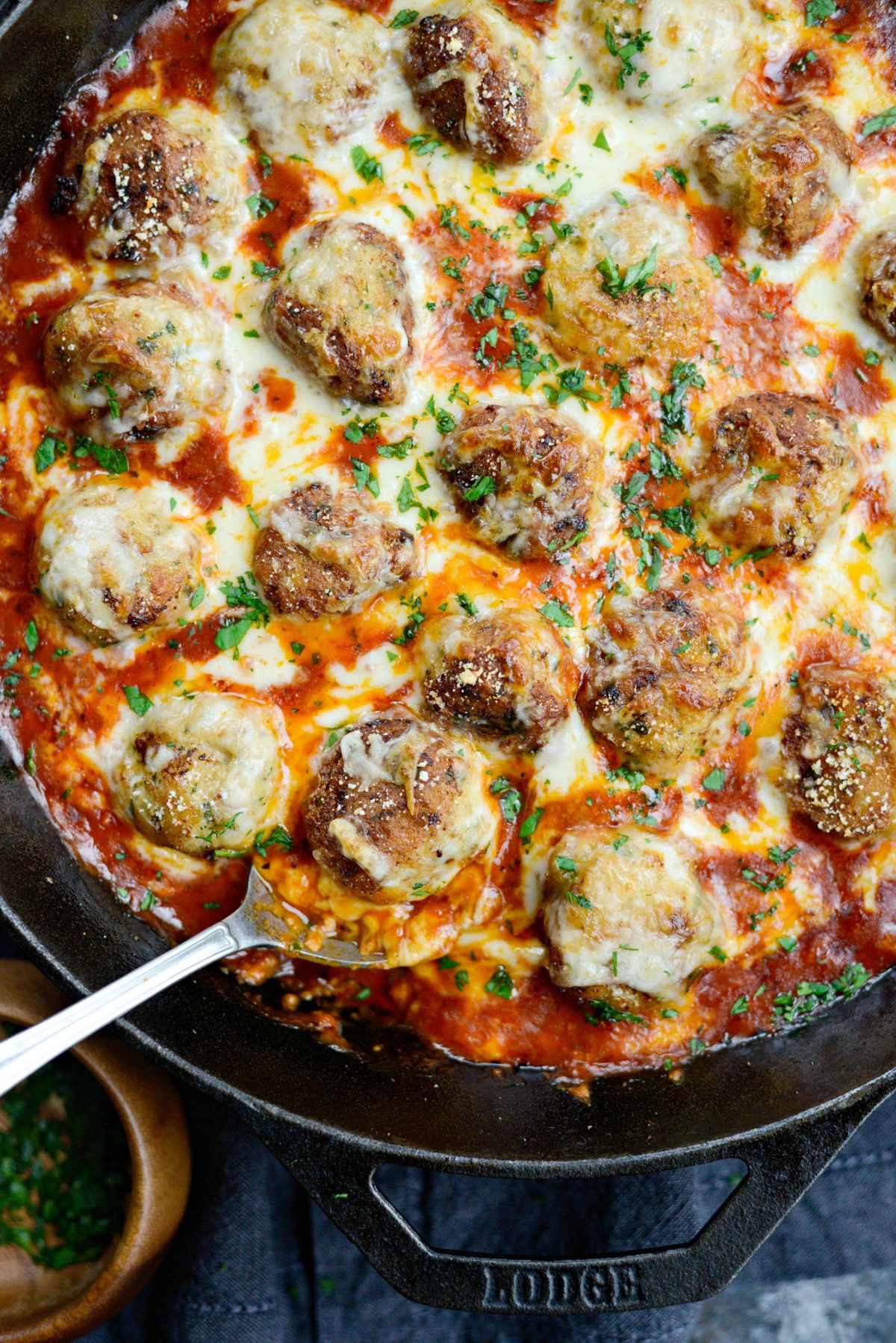 What's easy, cheesy, saucy and made in one skillet?
Why these delectable skillet parmesan chicken meatballs!
If you're in a dinner rut, make these meatballs. Looking for something easy and delicious?Make these meatballs. Love chicken parmesan like nobody's business?Make the meatballs!!
Prepare your tastebuds to be blown away, because these little meatballs are so darn delicious!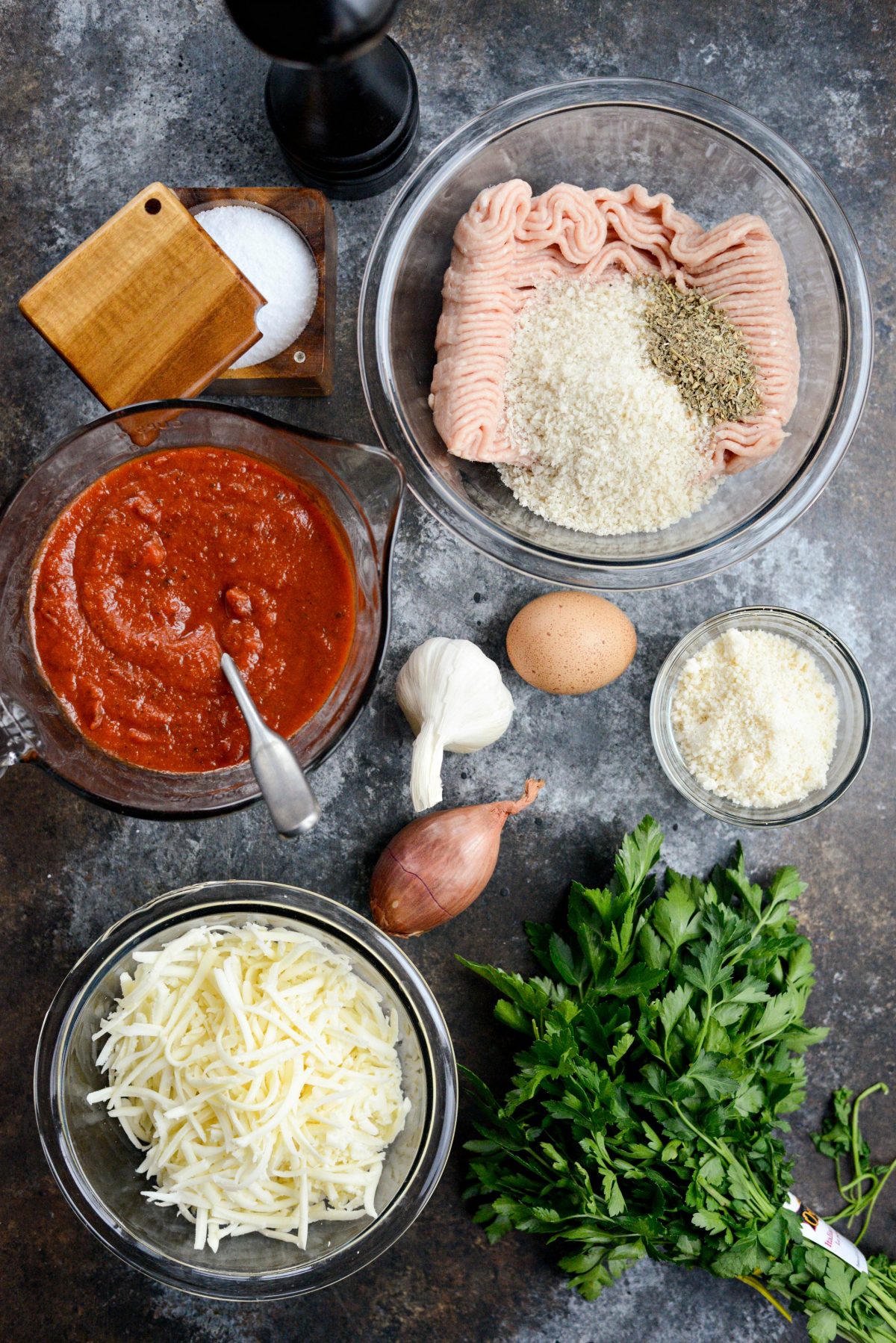 To Make These Chicken Parmesan Meatballs You Will Need:
ground chicken
panko breadcrumbs
an egg
shallot
garlic
parmesan cheese
parsley
kosher salt
ground black pepper
marinara (homemade or store-bought)
mozzarella cheese.
The best part is that you can use any marinara you'd like. Homemade or store-bought it's up to you! I have a simple and straightforward recipe in my cookbook too! Either way, you need 3 cups or 24 ounces.
Making the chicken parmesan meatballs:
Measure and add 1 pound ground chicken, 1/2 cup panko bread crumbs, 1 tablespoon Italian seasoning, 1 egg lightly beaten, 1 medium shallot finely minced, 2 cloves of garlic (grated), 1/4 cup finely grated Parmesan cheese, 2 tablespoons minced parsley, and 1/2 teaspoon freshly ground black pepper and a pinch of kosher salt into a large bowl.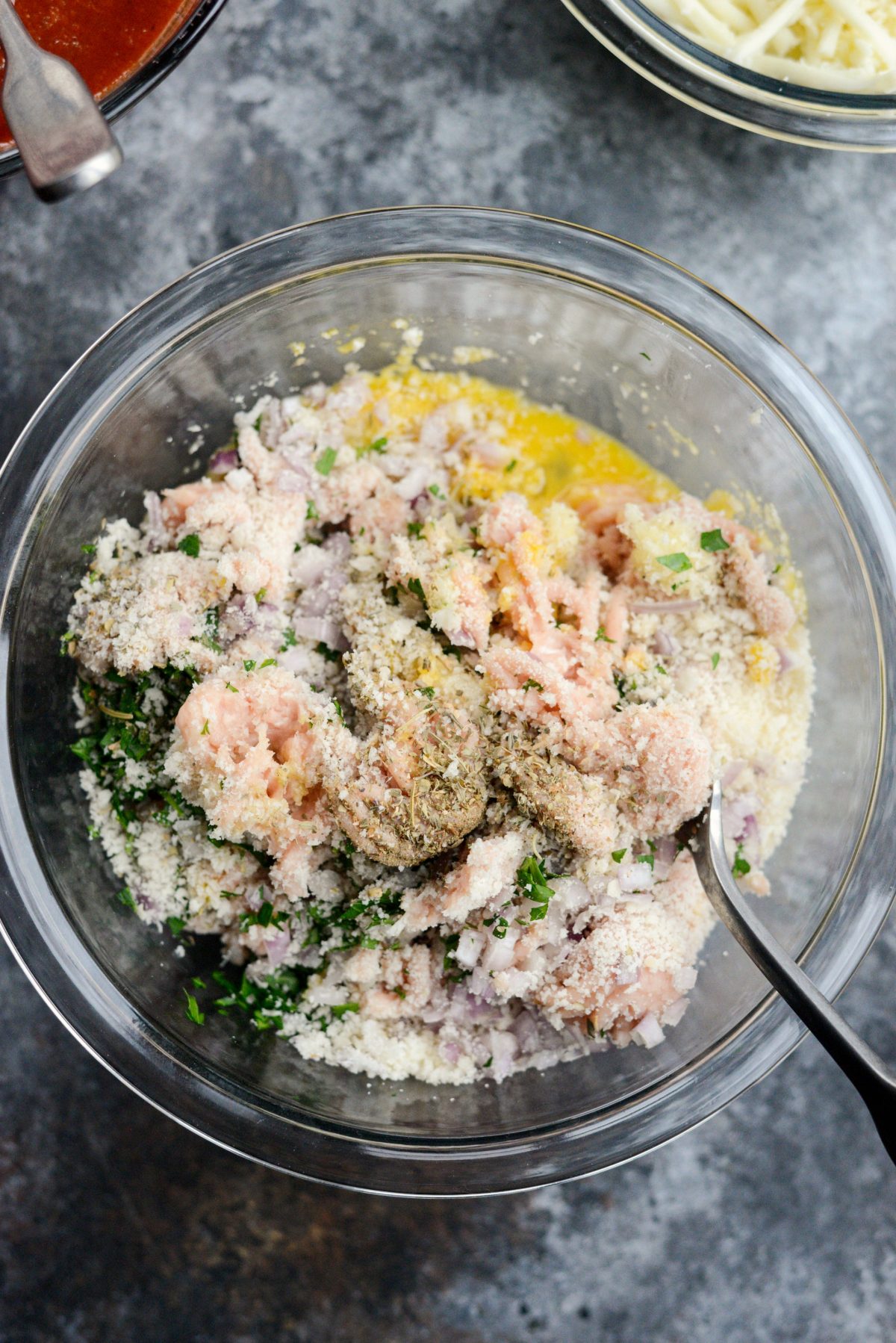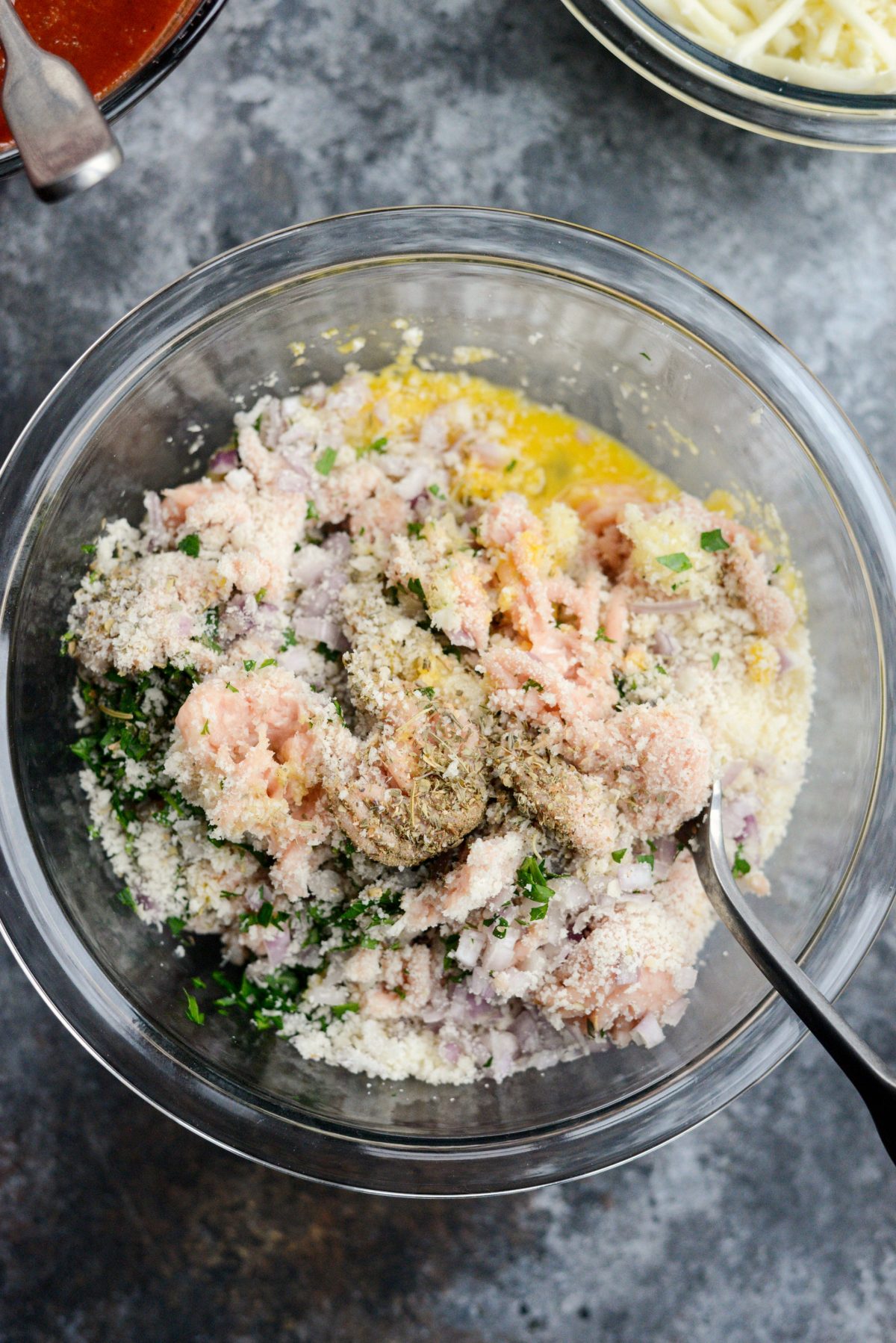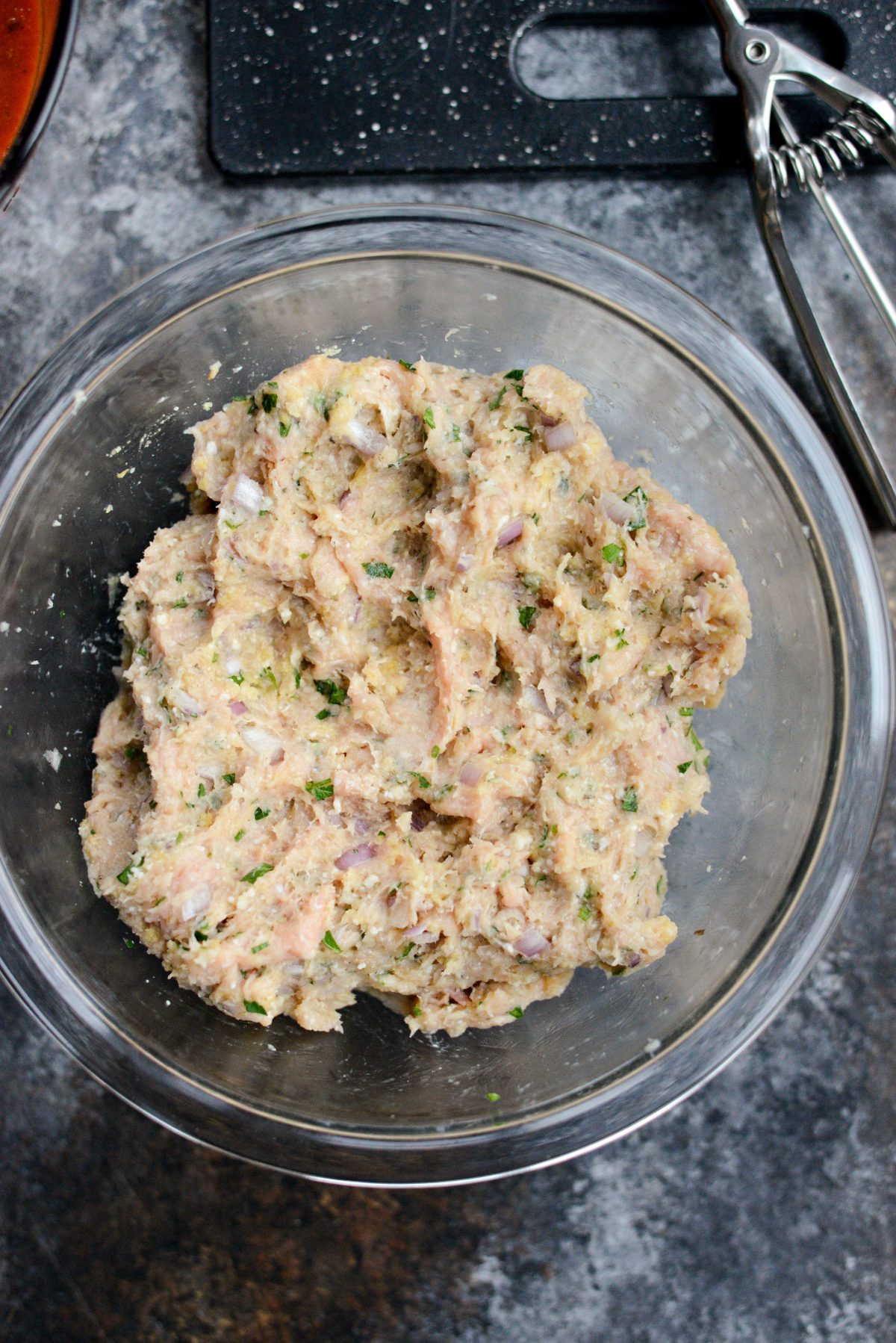 Use a fork to evenly combine the ingredients. Then switch over to your impeccably clean hands and mix well.
Grab a 2-tablespoon scoop to measure out 20 meatballs. Roll each one into a ball and place onto a clean plate.
Meanwhile, in a 12-inch cast iron skillet, heat 1/4 cup of light olive oil on medium-high heat.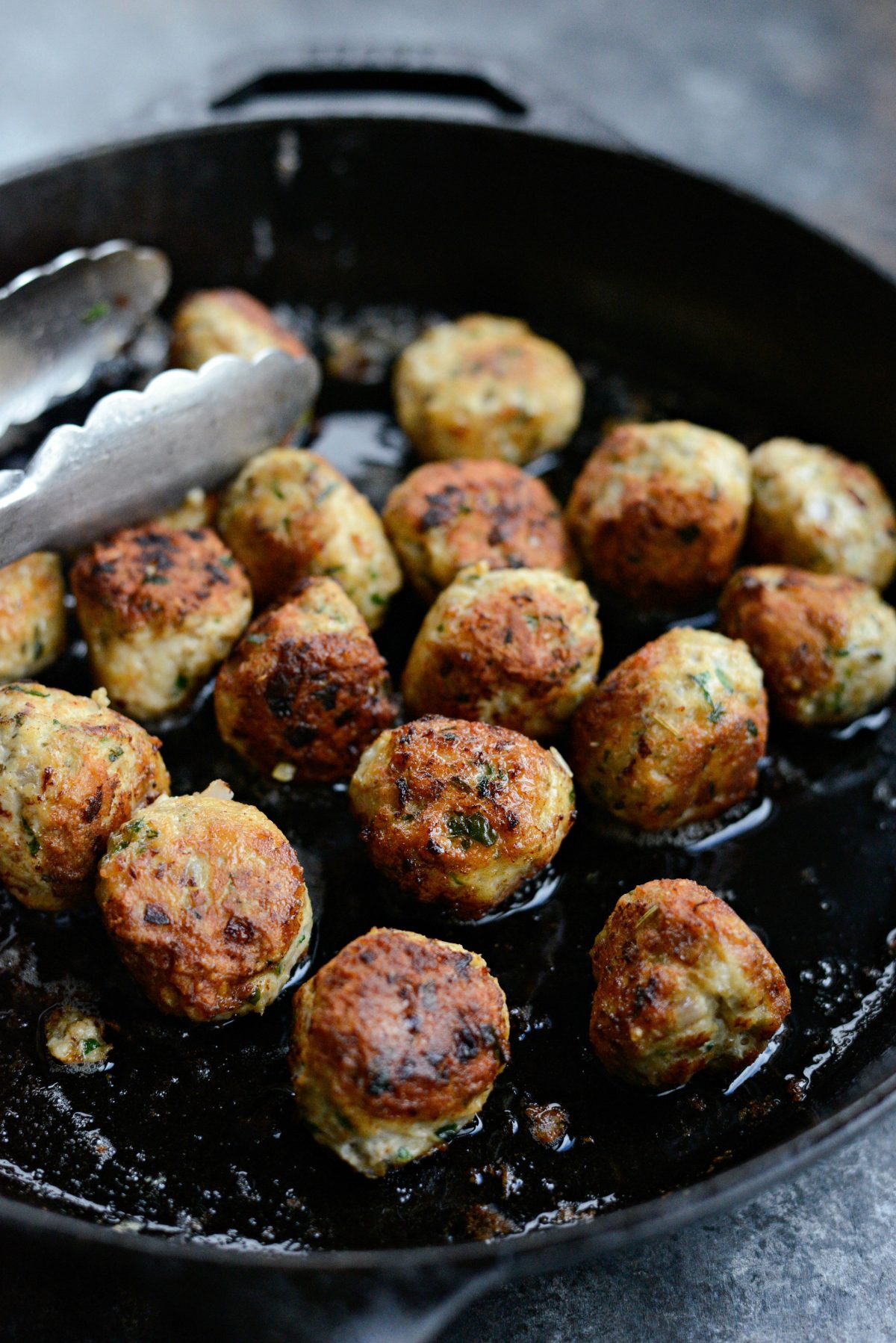 When hot, add in the chicken meatballs and brown on all sides. You will know when it's time to turn them, because they will release easily from the skillet.
Also, cast iron retains it's heat pretty well, so adjust the heat under the pan if it gets too hot so you can avoid burning the meatballs.
Drain off any excess oil and discard. Allow the pan to cool slightly before pouring in the marinara.
Nestle in the meatballs into the marinara and sprinkle with 1/4 cup parmesan cheese.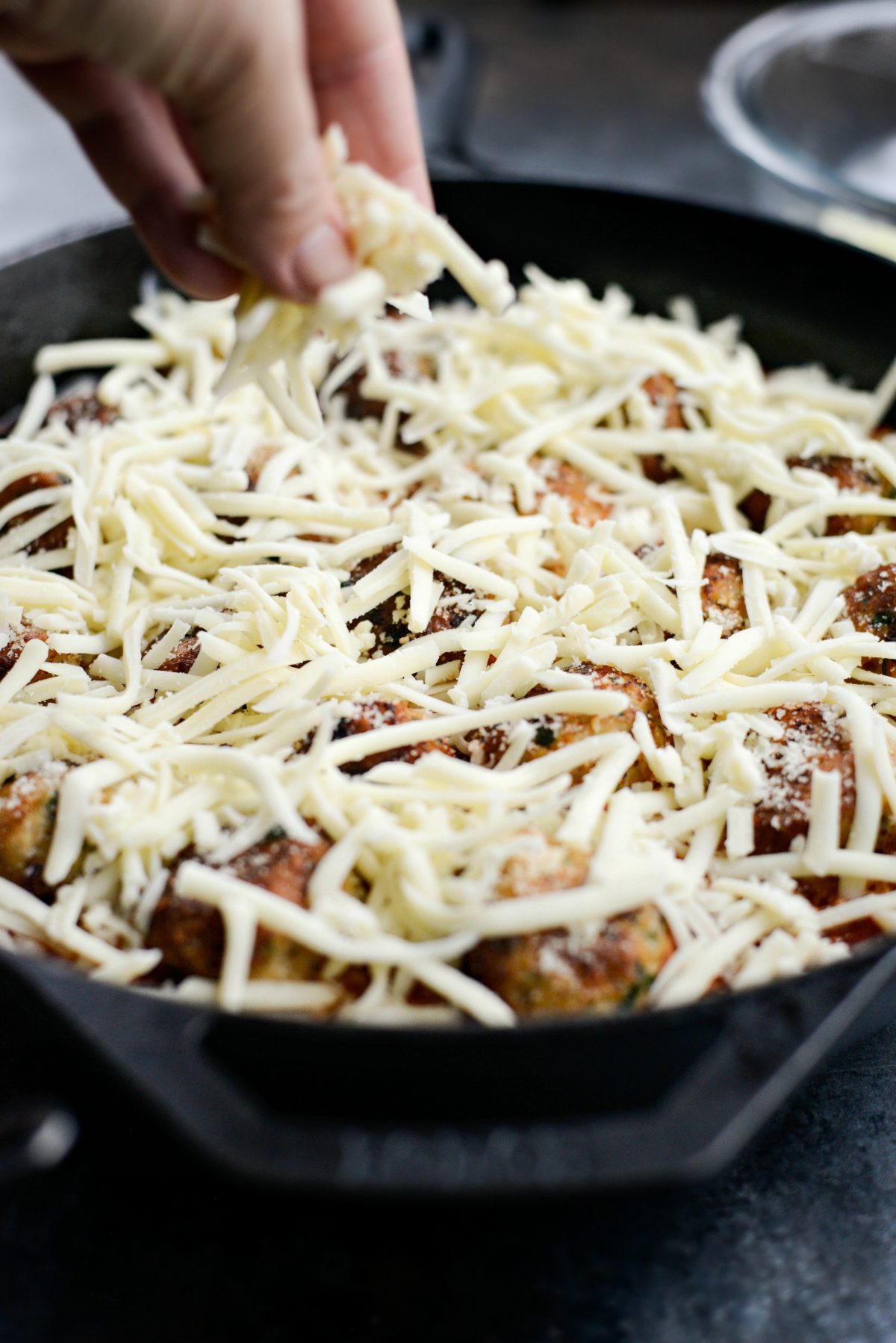 Sprinkle with 1/4 cup Parmesan cheese and then top with 1 cup freshly grated Mozzarella. Things are about to get real cheesy!!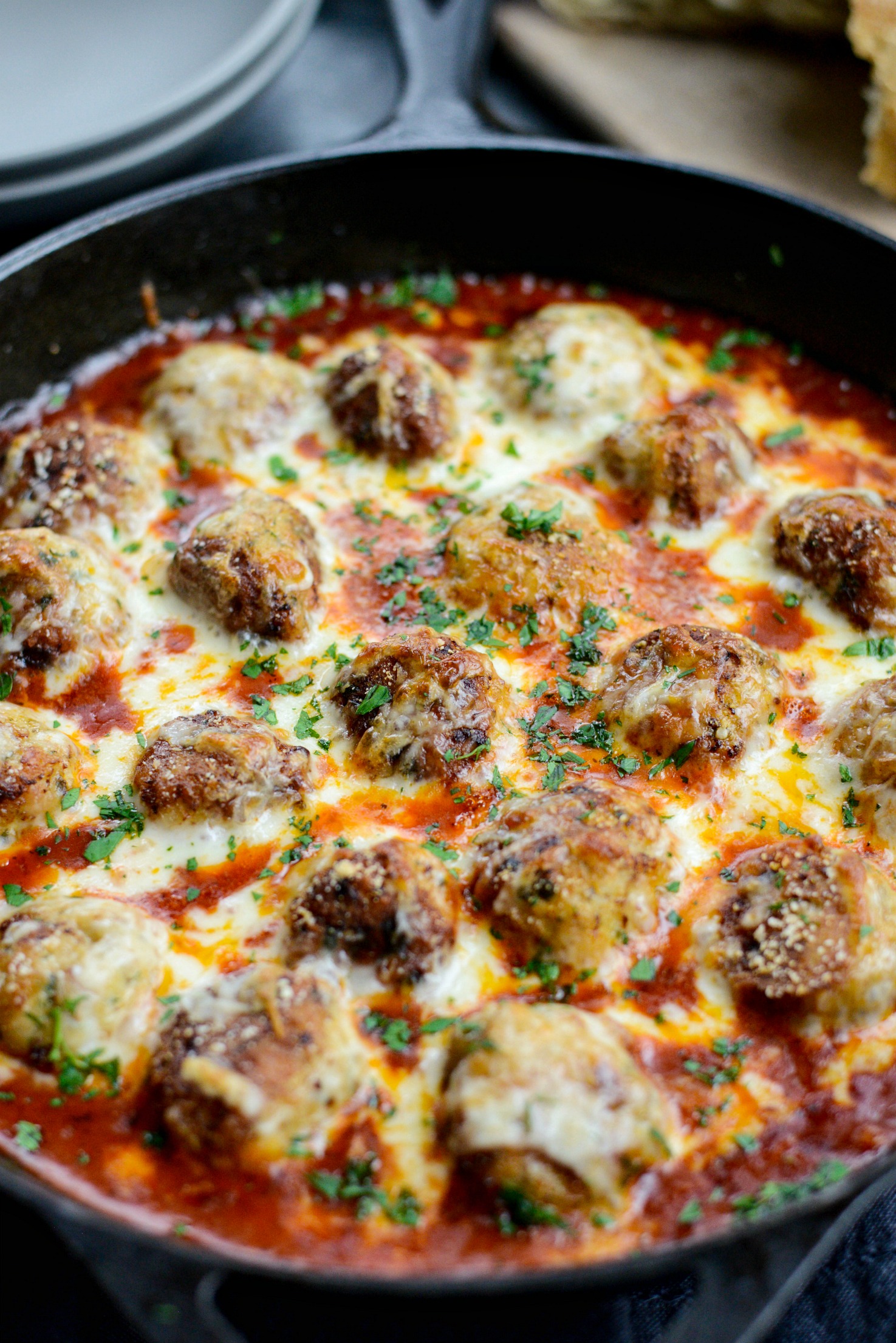 Finally bake the skillet chicken parmesan meatballs on the middle rack of your preheated 400° oven for 15 minutes or until they are fully cooked, the sauce is bubbling and the cheese is melted and a little golden in spots.
It should smell amazing.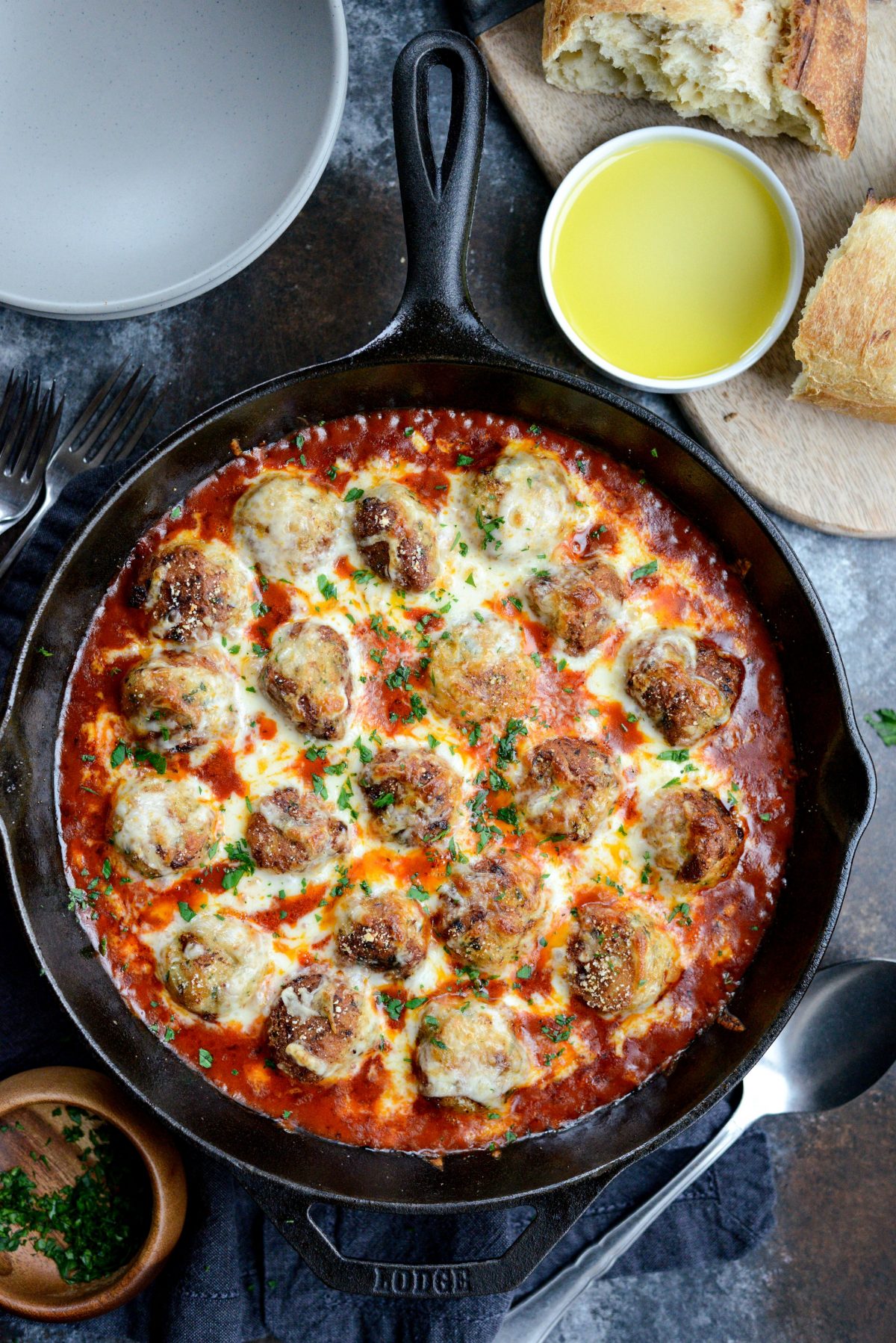 A few Friday's ago I whipped up this little ol' recipe to shoot for the blog. Afterwards, Pat and I sat down and ate this skillet for lunch. Okay so not the whole entire skillet, but about half of it was our lunch. I served mine into a bowl with leftover spaghetti squash "noodles" and Pat used that loaf of crusty bread that you see peeking out in the corner and made himself a chicken parmesan meatball sandwich.
He raved, I weeped. It was beautiful [and delicious].
This just proves there isn't a wrong way to serve these meatballs.
Enjoy! And if you give this Skillet Chicken Parmesan Meatballs recipe a try, let me know! Snap a photo and tag me on twitter or instagram!
This post may contain affiliate links.
Buy the Cookbook: Simply Scratch : 120 Wholesome Homemade Recipes Made Easy Now available on Amazon »
THANK YOU in advance for your support!