This roasted vegetable Freekeh salad with lemon mint vinaigrette is light and wholesome! Add chicken for a protein boost or serve next to your favorite main!
It's salad Tuesday. Yeah, I totally made that one up. But to commemorate this non-holiday, I made us a healthful and wholesome salad.
My pantry is busting at the seams with rice, lentils, grains and such. I'm always purchasing bags of these wholesome grains and just stockpiling them with the rest of my collection, to use in salads like this. So last week I reached for the freekeh. Pronounced free-ka, it's not only fun to say… but healthy and delicious. Freekeh is simply, roasted green wheat. It's pretty dang delicious and I love it.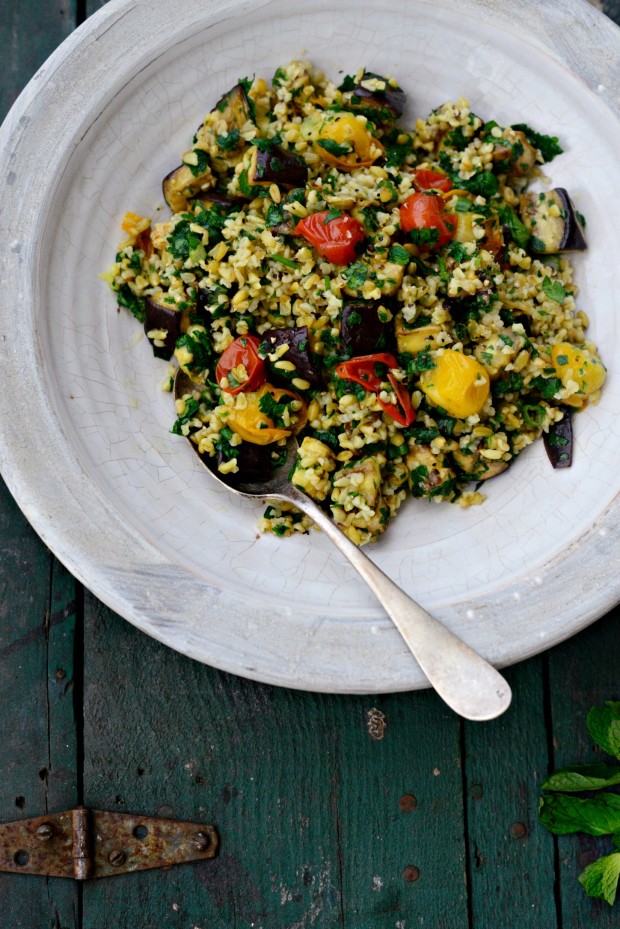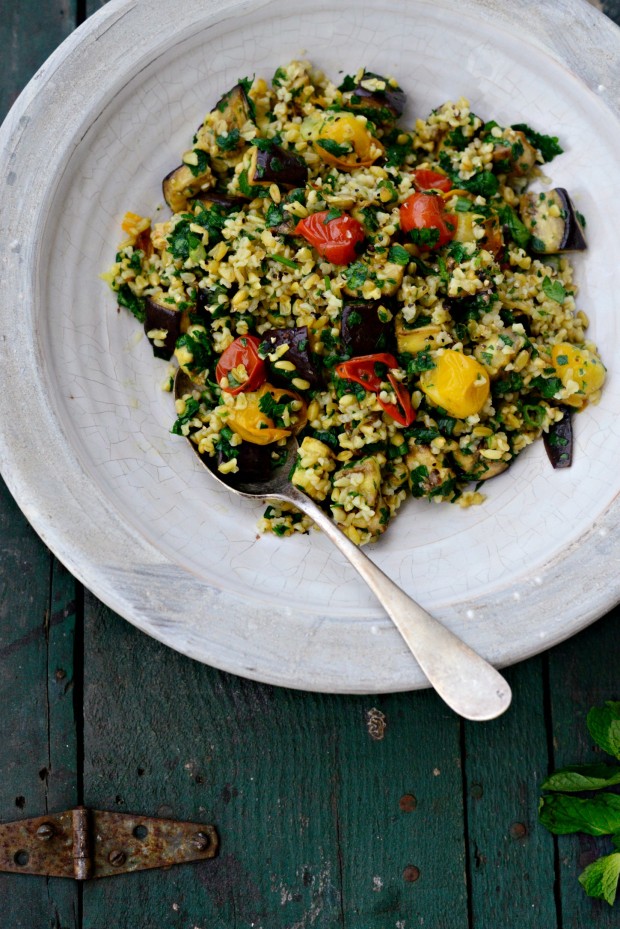 I tossed the cooked freekeh before adding in roasted vegetables, a BUNCH (literally) of fresh parsley, a few sliced green onions before drizzling in a fresh and bright lemon mint vinaigrette. Warm or cold, this salad is so good. I took the leftover Vegetable Freekeh Salad and spooned them onto a bowl this hummus and ate it with pita bread. For dinner.
So SO good.
Gather all the fresh ingredients and let's get going!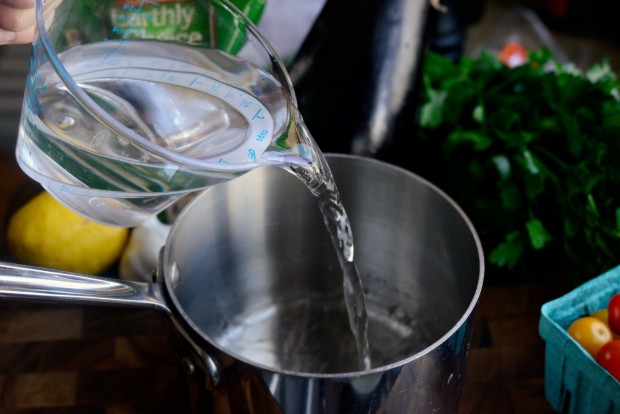 Depending on the freekeh you're using, follow the instructions on the package. On my package, it called for 1-1/2 cup water…
Pour in 1 cup freekeh…
Sprinkle in 1/2 teaspoon kosher salt…
Drizzle in 1/2 tablespoon of olive oil. Bring all of those ingredients up to a boil, cover and reduce to a simmer for about 15 minutes or until tender.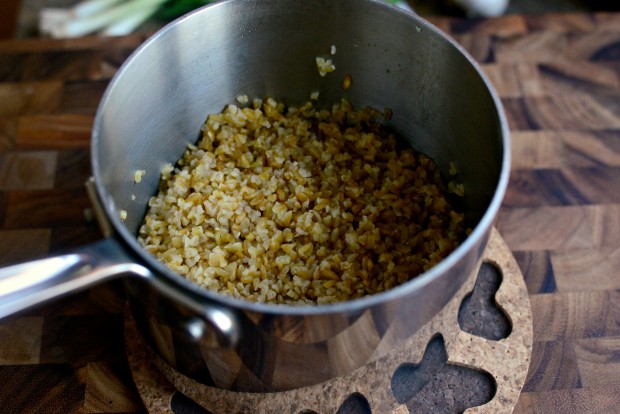 Drain off any excess water and fluff with a fork.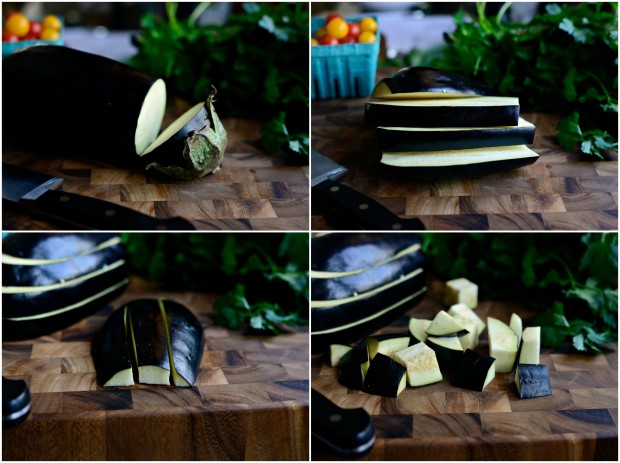 In the meantime prep the eggplant. Trim, slice into planks, then strips and lastly bite-size pieces.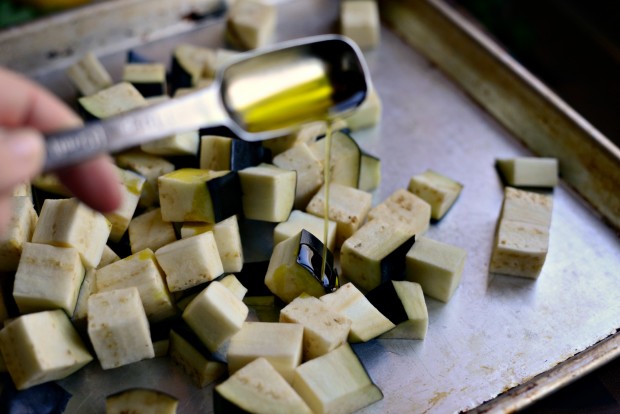 Toss the eggplant with 3 tablespoons of olive oil…
…and a sprinkle or two of kosher salt.
Add 1-1/2 cups (or so) of cherry tomatoes and coat them in one tablespoon oil.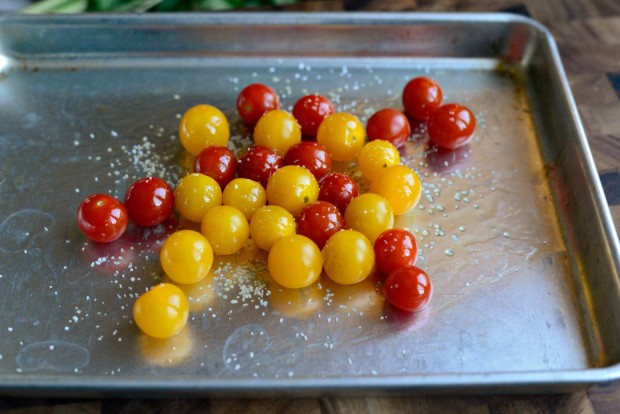 And sprinkle them with pinch of salt. Slide both pans into the oven and roast for 18 to 20 minutes.
Another option is to not roast at all. One variation could be to toss red onion with the fresh tomatoes. Maybe instead of eggplant, use fresh cucumber? The sky is the limit.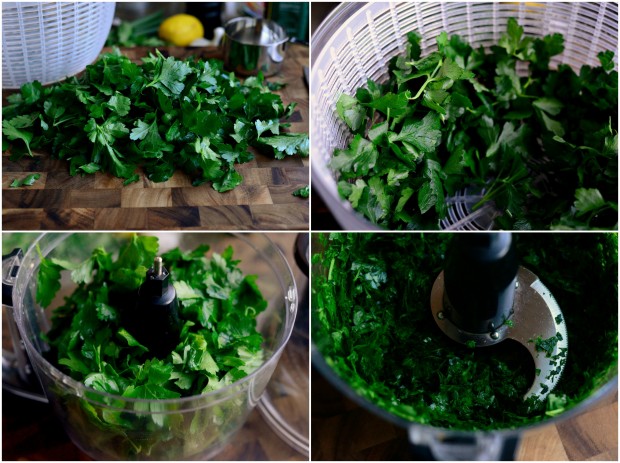 Trim the leaves off a large bunch of fresh parsley or about 4 cups. Give it a rinse and spin or pat dry before throwing it into a food processor and pulsing until finely minced.
After all that… slice up 3 green onions.
To make the dressing, it's as simple as pressing a few cloves of peeled, fresh garlic through a garlic press. Season with salt, pepper and add in the juice of a whole lemon and 1/4 cup of olive oil.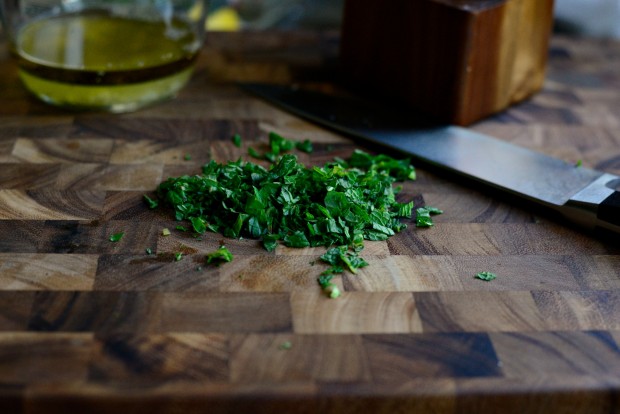 Mince up enough fresh mint leaves to equal 2 tablespoons.
Add it to the dressing. Use a bowl or jar with a tight fitting lid and shake. This vinaigrette is so light and fresh and lemony and minty… I could drink the stuff.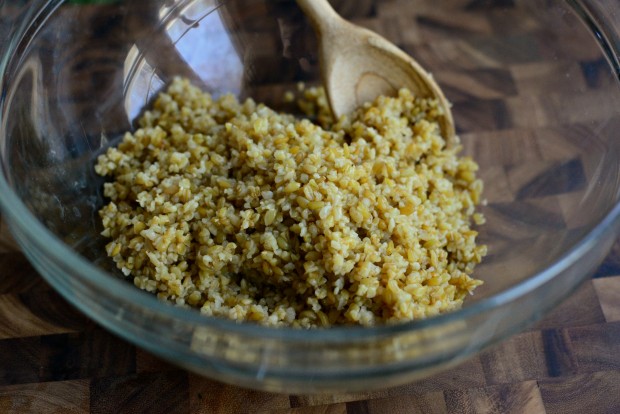 Place the cooked freekeh into a bowl.
Add in the roasted vegetables…
…the parsley and green onions too.
Drizzle in the dressing…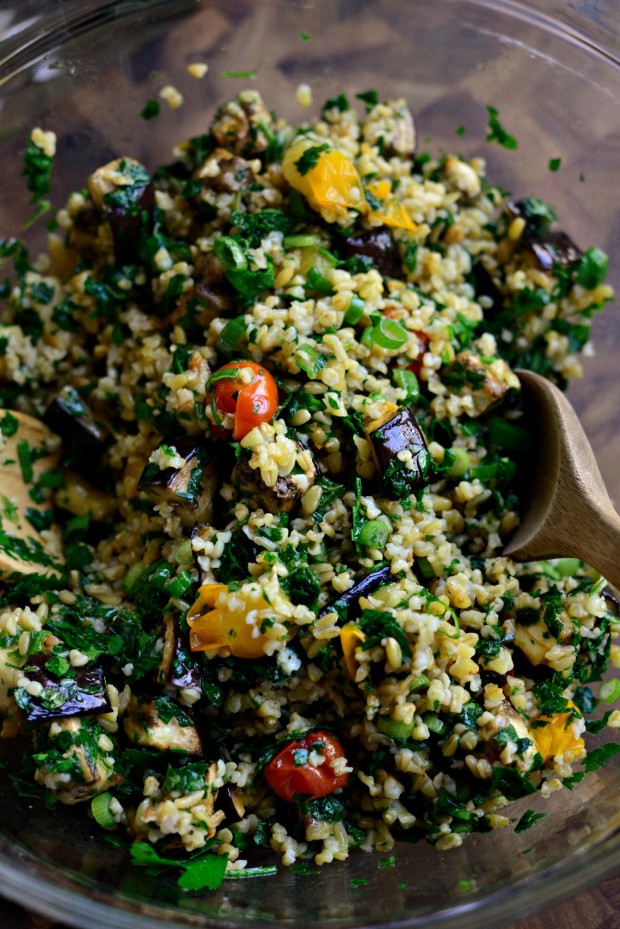 Lastly toss to combine.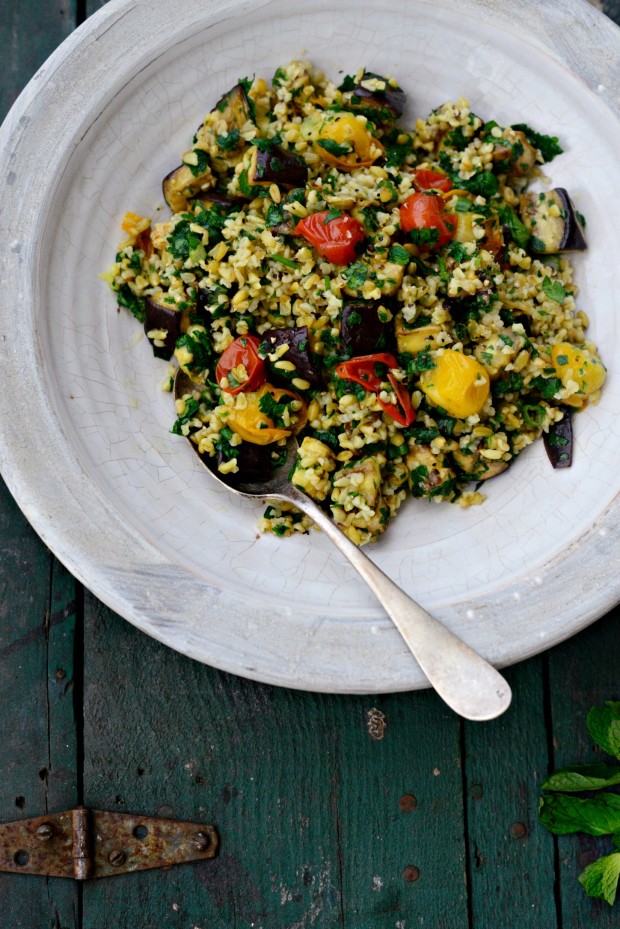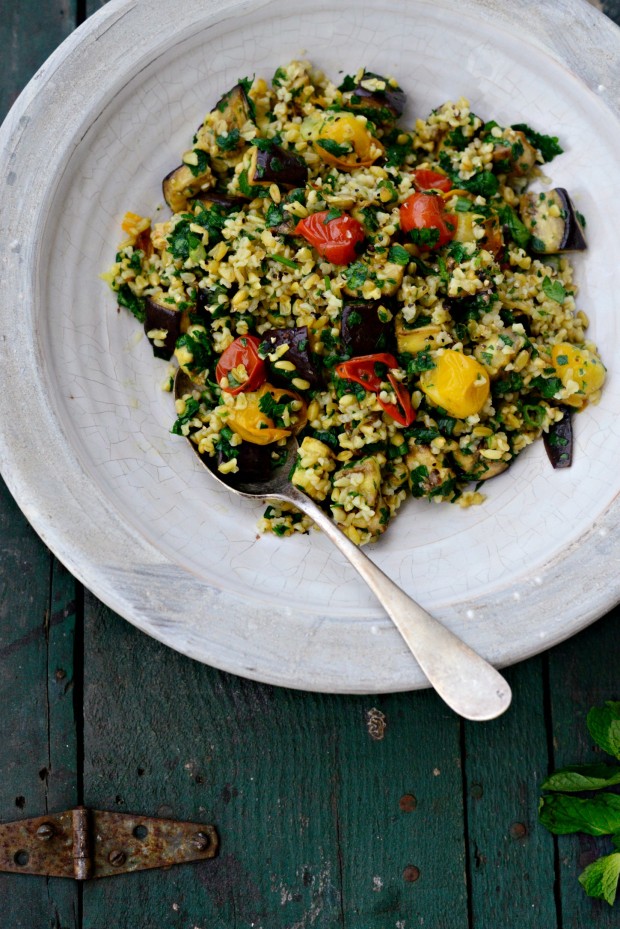 Finally! Serve immediately at room temperature or chill until ready to serve.
This Vegetable Freekeh Salad is fresh, light and so good for YOU! Think tabbouleh.
You will love this salad by itself, or next to hummus where you can combine the two with one swipe from a slice of soft pita bread.
Enjoy! And if you give this Vegetable Freekeh Salad recipe a try, let me know! Snap a photo and tag me on twitter or instagram!
My cookbook Simply Scratch : 120 Wholesome Homemade Recipes Made Easy is now available! CLICK HERE for details and THANK YOU in advance!
Yield: 10 servings
Roasted Vegetable Freekeh Salad + Lemon Mint Vinaigrette
A healthful, vegetable-full, freekeh salad.
Ingredients
FOR THE SALD:
1½ cups cold water
1 cup freekeh
4½ tablespoon olive oil, divided
1¼ teaspoon kosher salt, divided
1 small eggplant, cut into 3/4 inch pieces
1½ cup cherry tomatoes
4 tablespoons extra light olive oil , or avocado oil
4 cups fresh parsley leaves, stems removed, washed and dried
3 green onions, sliced
FOR TEH DRESSING:
2 clove garlic, squeezed through a garlic press
1/2 teaspoon kosher salt
1/4 teaspoon pepper
1 lemon, juiced
1/4 cup olive oil
Instructions
Preheat oven to 400°.

Follow the directions on the freekeh package or combine the water, freekeh, 1/2 tablespoon oil and salt. Bring to a boil, cover and reduce heat to a low simmer. Cook for 15 minutes or until tender. Drain the remaining water (if any) and fluff with a fork.

Toss the eggplant with 3 tablespoons of safflower or sunflower oil and a pinch of salt. Toss the tomatoes in the remaining tablespoon of oil and a pinch of salt. Place vegetables in a preheated oven for 18 to 20 minutes.

Place the washed parsley tops into a food processor, pulse until finely minced.

In the meantime, in a small bowl (that has a tight fitting lid) combine the garlic, 1/2 teaspoon salt, 1/4 teaspoon pepper, lemon juice, remaining 4 tablespoons of olive oil and mint. Secure the lid and shake to combine.

In a large bowl combine, cooked freekeh, roasted tomato and eggplant, green onions and parsley. Pour vinaigrette over top and toss to combine. Taste and season with more salt and pepper as desired.

Serve immediately or refrigerate until ready to serve.
Serving: 1g, Calories: 229kcal, Carbohydrates: 16g, Protein: 5g, Fat: 18g, Saturated Fat: 2g, Polyunsaturated Fat: 2g, Monounsaturated Fat: 13g, Sodium: 426mg, Potassium: 262mg, Fiber: 4g, Sugar: 2g, Vitamin A: 2175IU, Vitamin C: 44mg, Calcium: 54mg, Iron: 2mg
[this post contains affiliate links.]
This post may contain affiliate links.
Buy the Cookbook: Simply Scratch : 120 Wholesome Homemade Recipes Made Easy Now available on Amazon »
THANK YOU in advance for your support!