This za'atar roasted garlic hummus is absolutely delicious! Grab your pita chips and vegetables and get to dipping!
I love hummus. So it should come as no surprise when I tell you I eat it as my meal. In fact I'm pretty certain I said that before… but heck… it's the darn truth.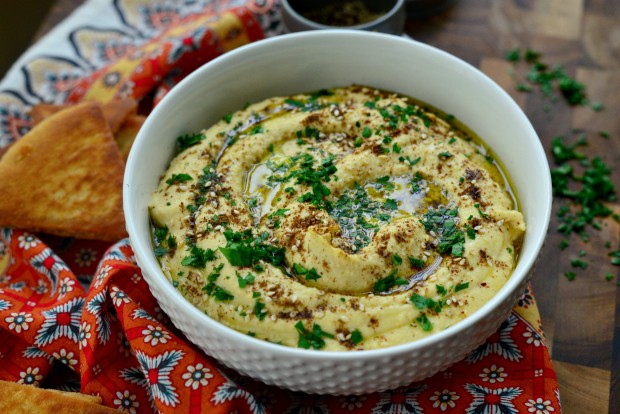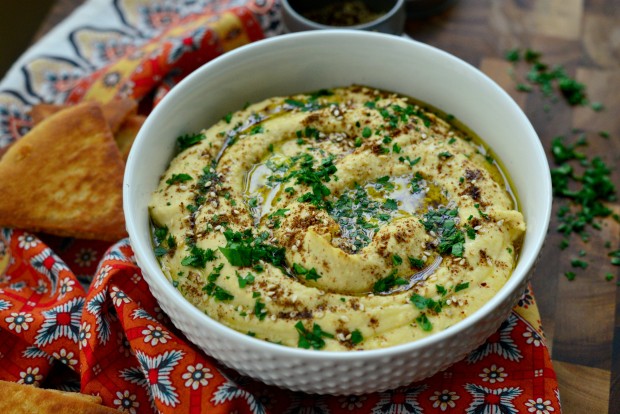 Creamy, dreamy hummus can be spiced up or down depending on how you like it. This is my newest love… roasted garlic and za'atar. Both of which add tremendous amounts of flavor but with the same minimal effort as regular hummus. Roasting the garlic cloves softens its potent flavor, still giving you that garlicky goodness… just a mellow version of itself.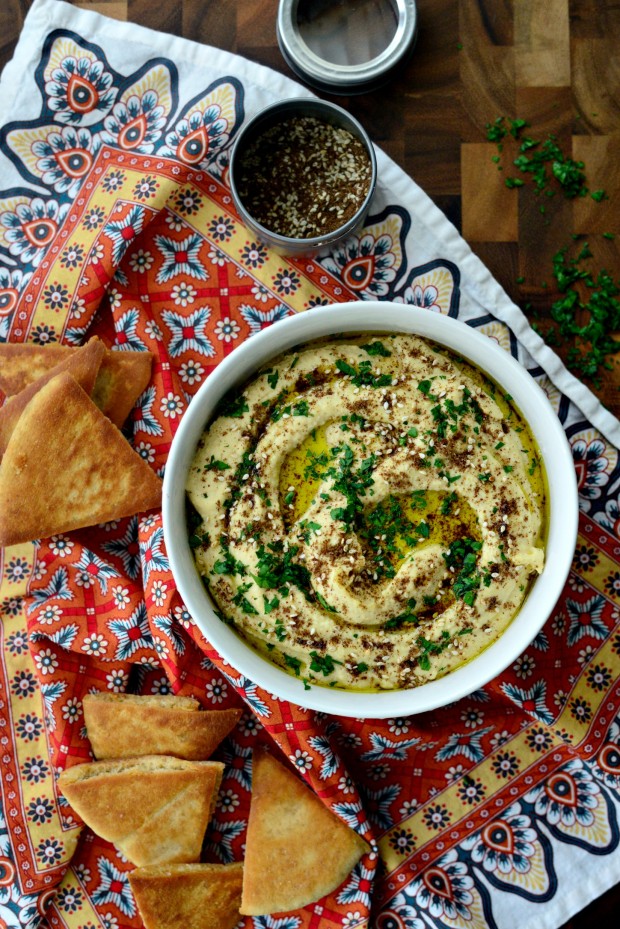 I love all hummus' SO much that I even go to extreme (okay, so it's not so extreme) lengths to make homemade pita chips. Because homemade hummus deserves as much.
Dip and snack… it's how I roll.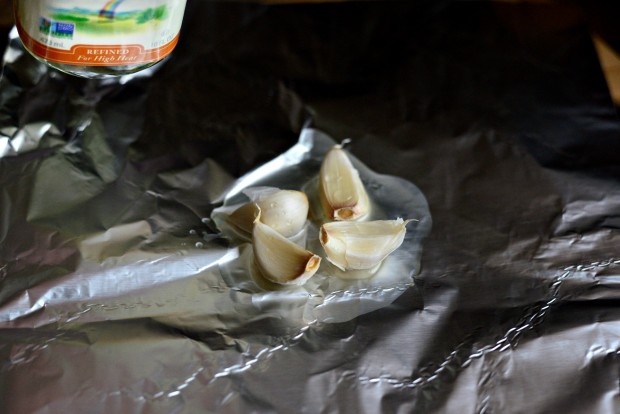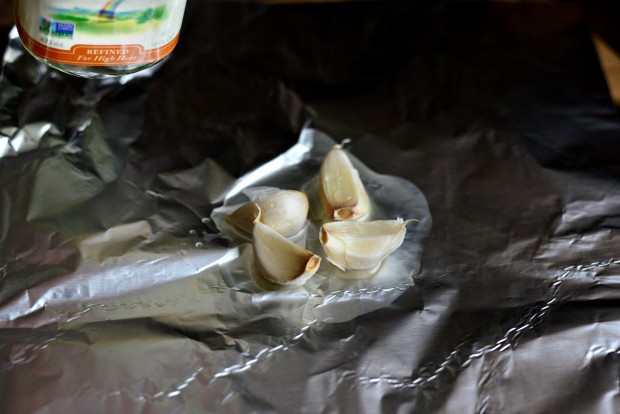 Start by placing 4 to 6 large cloves of garlic on heavy-duty aluminum foil and drizzle with oil. I'm using safflower… but use what you have.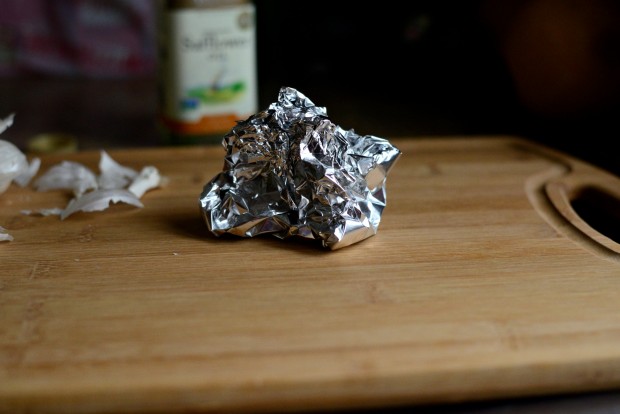 Fold up the sides creating a purse and pop into a preheated 400 degree oven and roast for 30 to 35 minutes. Remove and cool.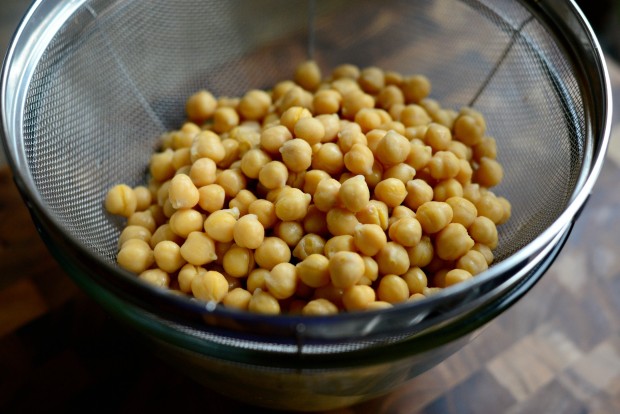 Open two cans of garbanzo beans and place into a mesh strainer set over a bowl to collect the bean liquids. My store has yet to start carrying the dried version… but feel free to soak your own beans and all that.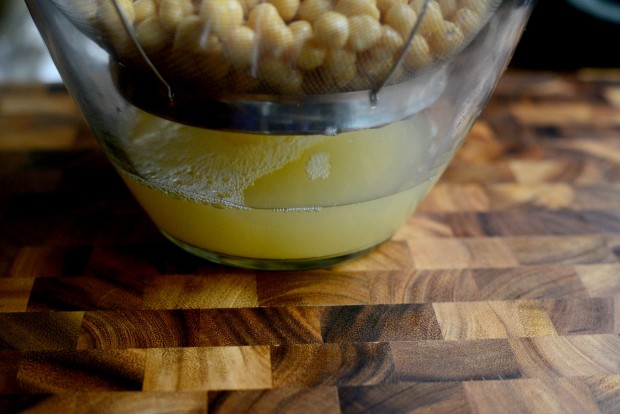 Save this… you'll need it later on.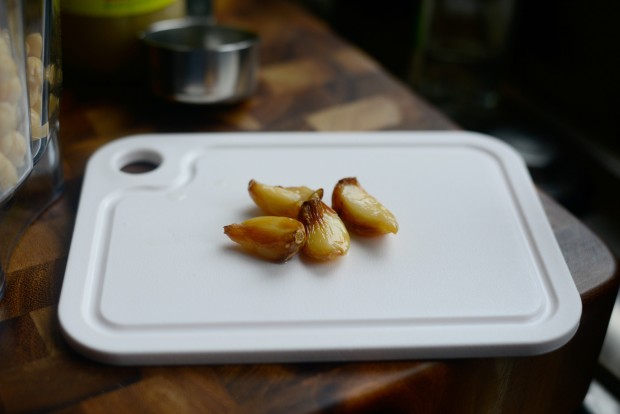 Once the garlic cloves are roasted and cooled, safely peel off the papery skins.
Place the drained chick peas into a blender or food processor.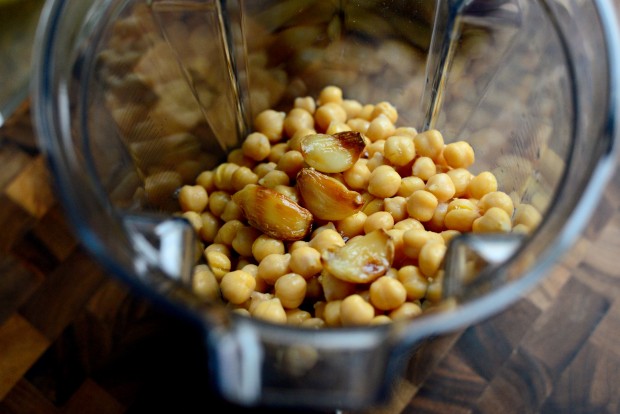 Add in the roasted garlic cloves…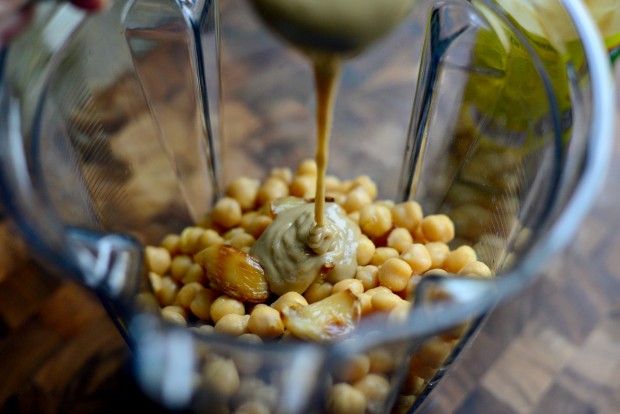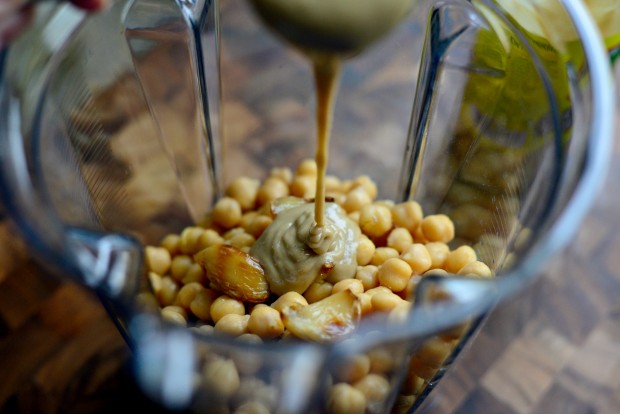 1/4 cup of tahini…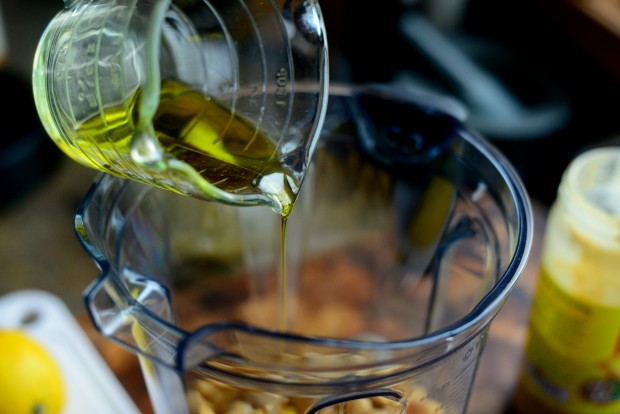 1/4 cup olive oil…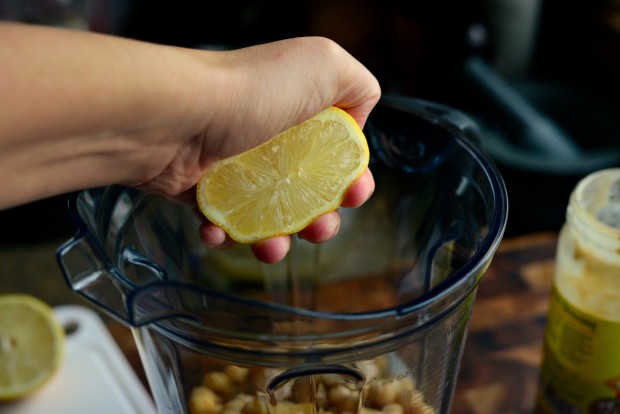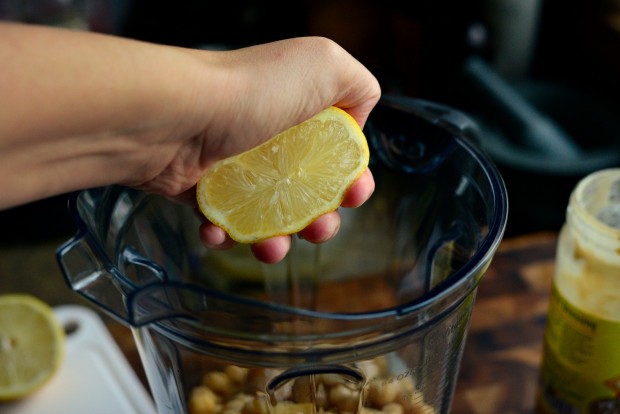 Then squeeze in the juice of half a lemon… feel free to up it to 1 whole lemon if you prefer it that way.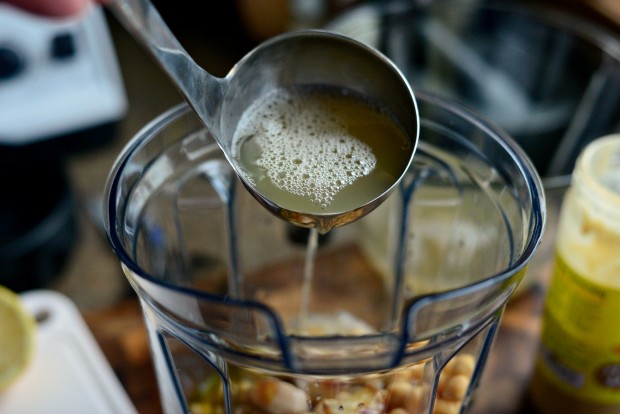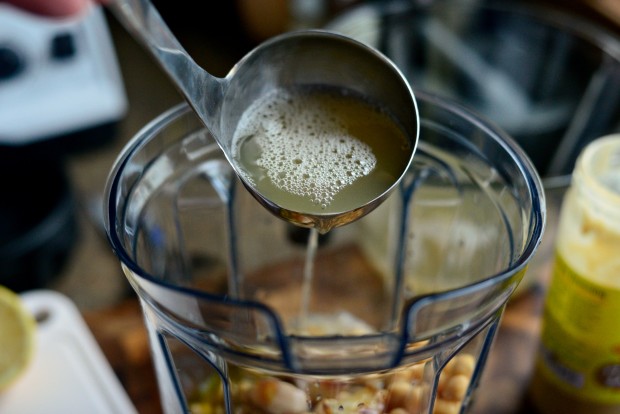 Add in a ladle of the bean liquids. I would say it's about 1/2 to 3/4 cup.
Measure and add in 1 and 1/2 teaspoons kosher salt…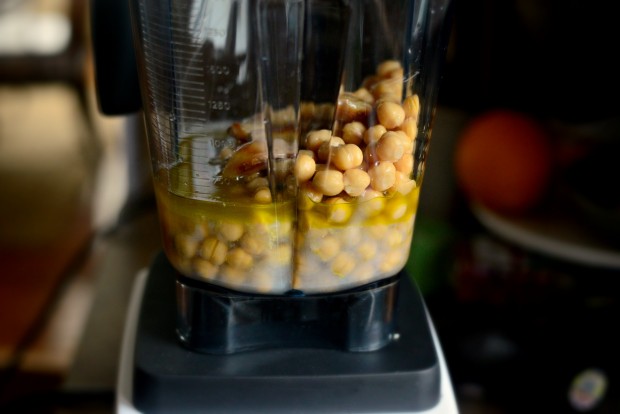 Ready… set…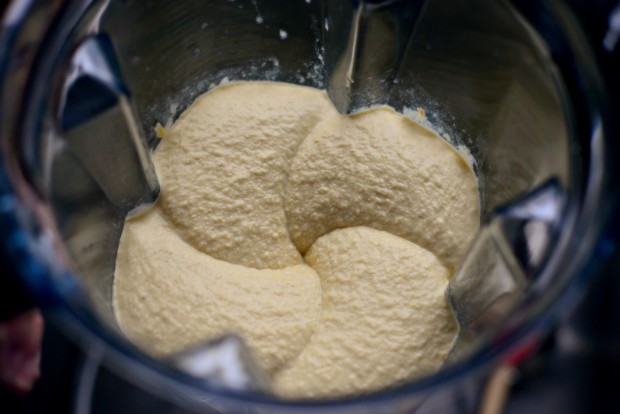 Blend!
Lastly, scrape down the sides and blend until desired consistency, adding a little more of the bean liquid at a time. For me I do 1-1/2 ladles which is about 3/4 cup-ish.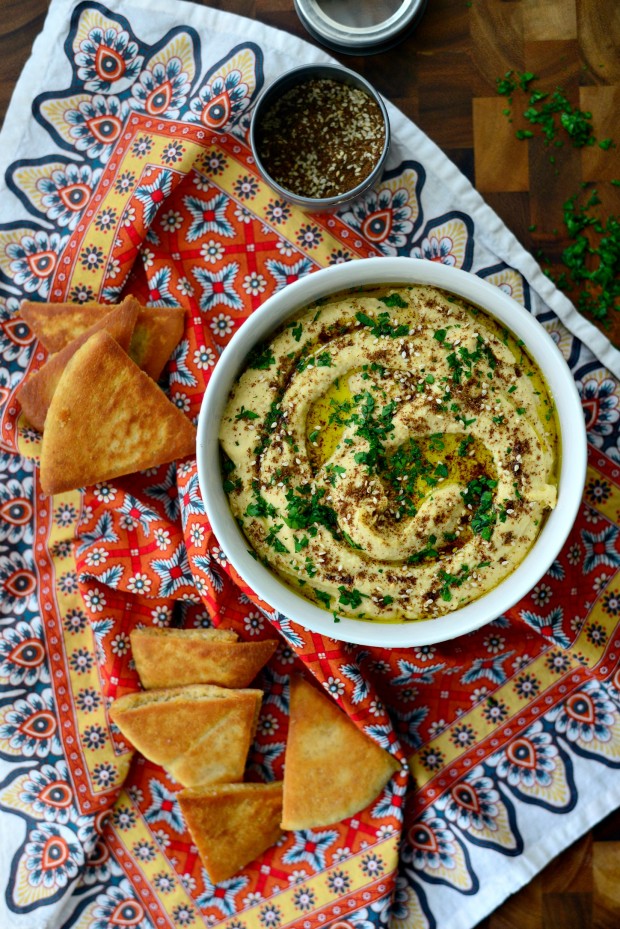 Spoon the za'atar roasted garlic hummus into your personal-size (wink!) bowl and drizzle with a little olive oil before sprinkling with this homemade za'atar and minced fresh parsley.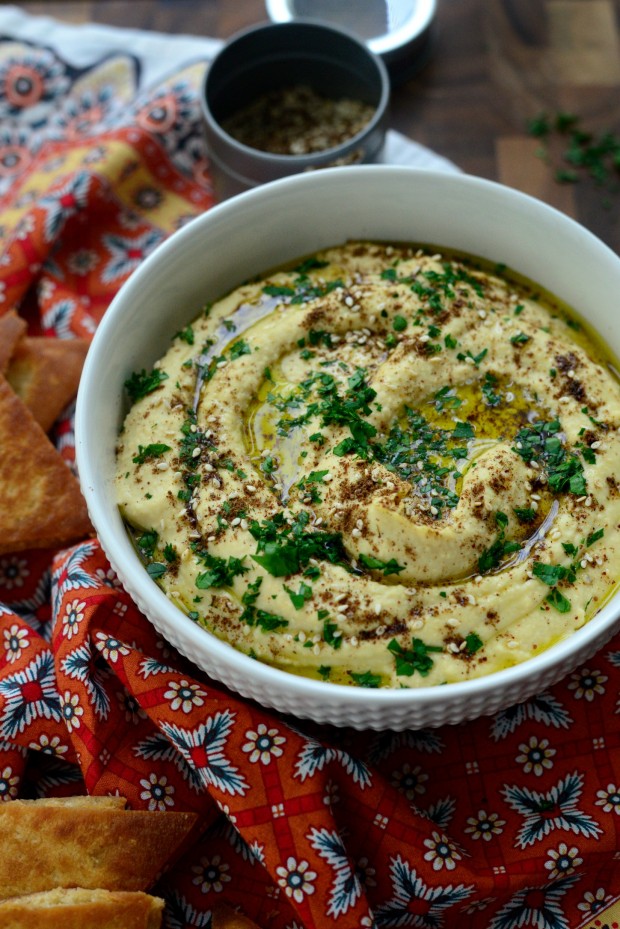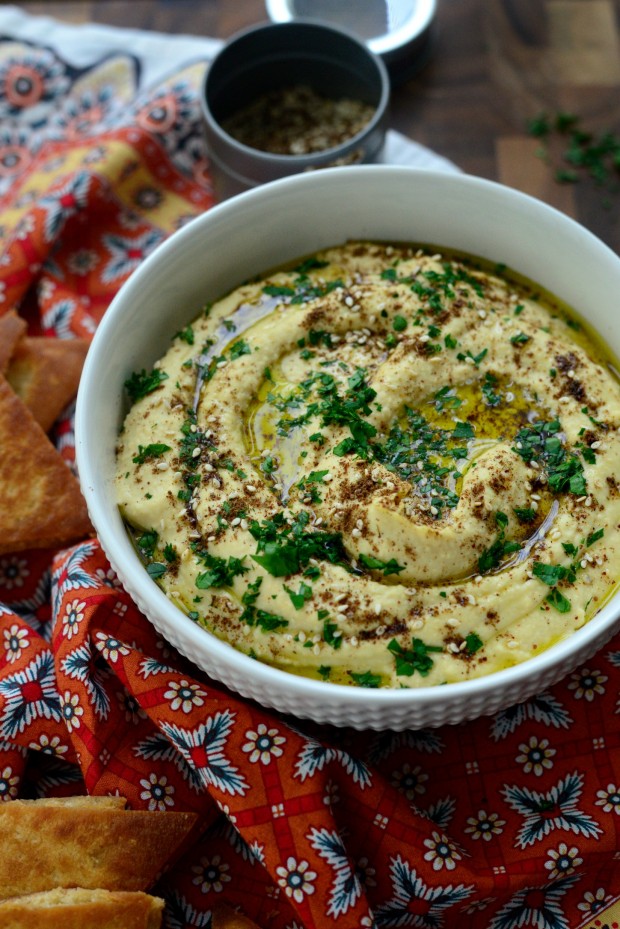 I eventually mix it all up, adding more za'atar to each chip-full-o-hummus… because I'm a za'atar addict and can't really help myself.
Excuse me I have the remainder of this bowl I need to go annihilate.
Enjoy! And if you give this Za'atar Roasted Garlic Hummus recipe a try, let me know! Snap a photo and tag me on twitter or instagram!
My cookbook Simply Scratch : 120 Wholesome Homemade Recipes Made Easy is now available! CLICK HERE for details and THANK YOU in advance!
[this post contains affiliate links.]
This post may contain affiliate links.
Buy the Cookbook: Simply Scratch : 120 Wholesome Homemade Recipes Made Easy Now available on Amazon »
THANK YOU in advance for your support!