This red grape, brie and rosemary flatbread is studded with juicy red grapes, bubbling brie cheese, sprinkled with fresh rosemary and sea salt.
Basically what you have is a crispy flatbread studded with juicy red grapes, bubbling brie cheese, sprinkled with fresh rosemary and sea salt.
It's the perfect savory-sweet-and-salty snackitzer.
Make The Dough:
So first things first, I made some flatbread dough. It's SUPER easy yo's! I spared you all the step-by-step's of this part and plugged the directions into the printable below the post.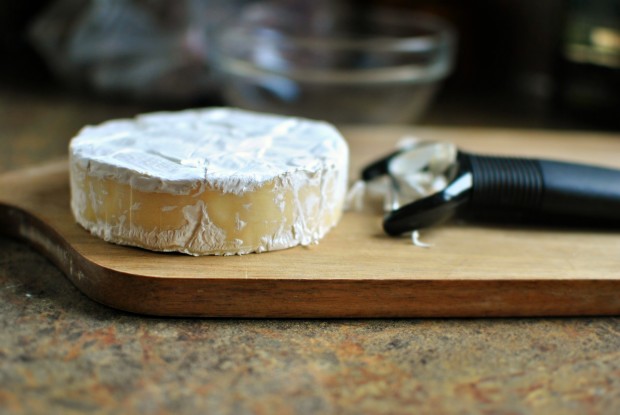 Prep The Toppings:
Then I used a Y vegetable peeler and peeled off as much of the waxy rind I could from the (8 oz.) brie wheel. If you can find those brie logs, those probably would work better. That's what I was looking for actually, but my grocery store was all out. Wah-wah.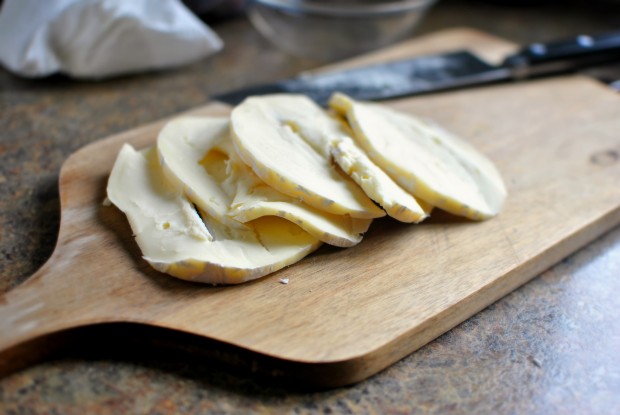 So I awkwardly sliced it pretty thin, so I could then tear it into pieces.
Then I just wash some pretty red grapes… pretty hard stuff right here.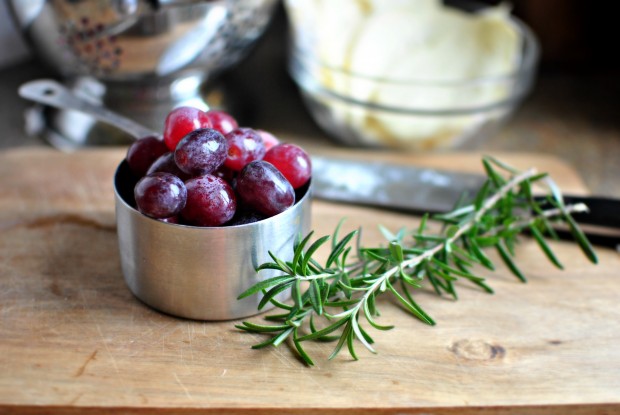 You'll need about a heaping cup… and some fresh rosemary.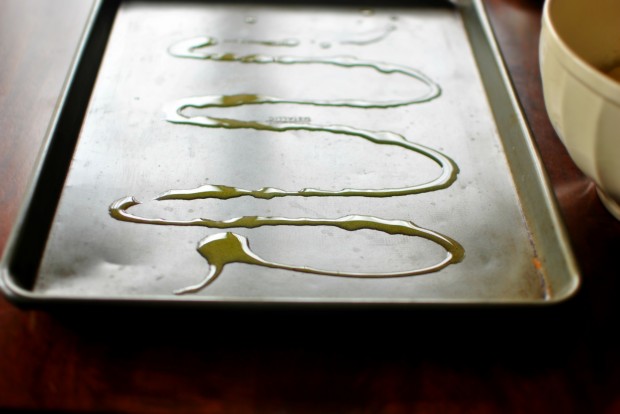 Next I drizzled a rimmed sheet pan with two tablespoons of olive oil, don't skimp, and just rub it around with your hands.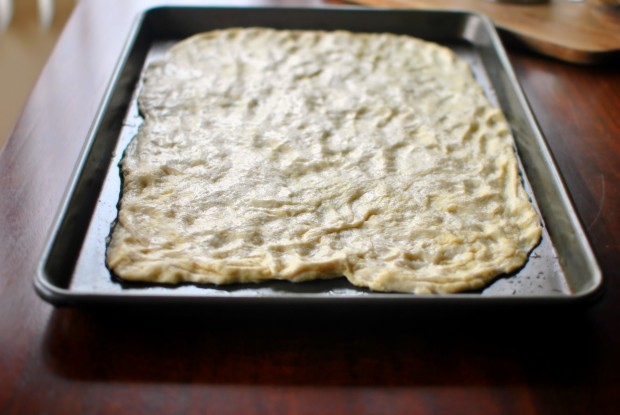 Don't even bother washing the olive oil off your hands before you punch the risen dough down and stretch it out almost to the sides of the pan. Now, go wash. 😉
Then I scattered the torn pieces of brie over the dough.
Then with two tablespoons of chopped rosemary leaves.
Press the grapes into the flatbread dough…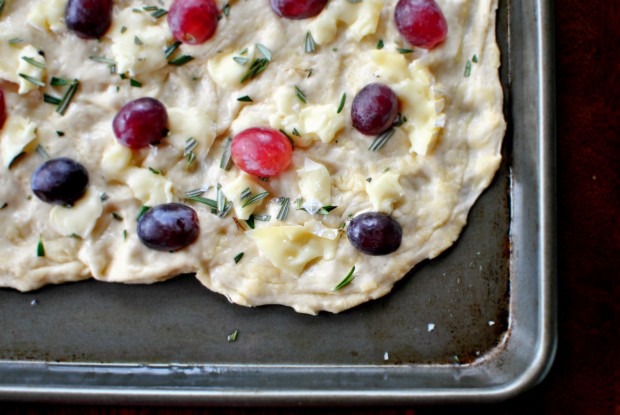 …and lastly sprinkle with the two teaspoons of flaked sea salt.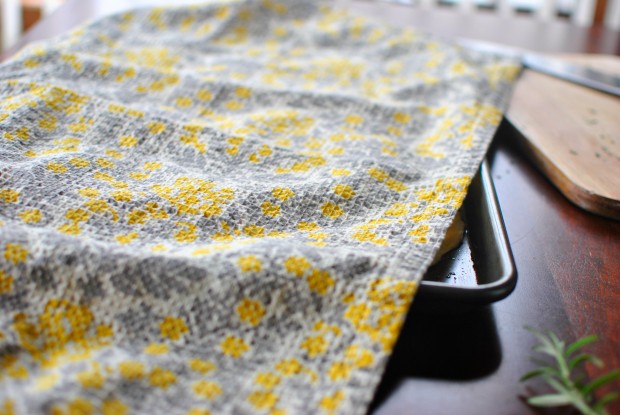 Cover and let rise for 20 more minutes. Bake in a 400° oven for 20 minutes or until the grapes start bursting, the brie is bubbly and the flatbread is perfectly golden and crispy.
Bubbles are a good sign. It means the grapes plumped up until they burst and leave a sweet trail of bubbly juice. Yeah. That's right.
This recipe is perfect for a gathering. It serves 15 or more depending how you slice it and it's sure to be gone in no time.
The crust is crispy, chewy and undeniably addicting. The grapes add a burst of sweetness and baking them along with brie, rosemary and a sprinkle of flaked sea salt really elevates this flatbread to a whole new level.
I'm now considering having a baby, so I can have an excuse to throw myself a shower and eat this entire Red Grape, Brie and Rosemary Flatbread. Amen.
Enjoy! And if you give this Red Grape Brie and Rosemary Flatbread recipe a try, let me know! Snap a photo and tag me on twitter or instagram!
Yield: 16 servings
Roasted Red Grape, Brie and Rosemary Flatbread
Crispy flatbread studded with juicy red grapes, bubbling brie cheese, sprinkled with fresh rosemary and sea salt. The perfect savory-sweet-and-salty snackitzer.
Ingredients
1 cup warm water, 110-115 degrees
1¼ teaspoon active dry yeast, or 1 envelope
2 cups unbleached bread flour
1/2 teaspoon kosher salt
3 tablespoon olive oil, divided
4 ounces brie cheese, rind removed, sliced and torn into pieces
2 tablespoons chopped fresh rosemary
1 (heaping) cup firm red grapes, washed
2 teaspoons flaked sea salt
Instructions
MAKE THE FLATBREAD DOUGH:
In the bowl of your stand mixer fitted with the dough hook; measure in the two cups of bread flour and the 1/2 teaspoon kosher salt. Turn the mixer on low to combine for a few turns.

In a one cup liquid measuring cup, measure out a cup of warm (110-115 degrees) water. Sprinkle in the package of active dry yeast and wait for it to bloom. About 5 minutes.

Turn the mixer on low and slowly pour in the yeast/water mixture. Turn up the speed a bit and continue to "knead" the dough until the dough pulls away from the bowl and starts to climb up the dough hook.

Lightly flour a clean surface and knead the dough into a ball for a minute or two.

Add the tablespoon of olive oil into a clean bowl and roll the dough ball in the oil and up the sides of the bowl to coat. Cover with a clean towel and set in a warm place to rise for one hour or until it doubles in size.
MAKE THE ROASTED GRAPE FLATBREAD:
Drizzle two tablespoons of oil onto a rimmed sheet pan and spread the dough out with your fingers. Punch the dough down and stretch out onto the oiled pan until it almost touches the sides.

Scatter pieces of brie cheese over top evenly and sprinkle with the chopped fresh rosemary. Press the grapes slightly into the flatbread dough and sprinkle with flaked sea salt. Cover again with a clean towel and let it rise for the second time for 20 minutes.

Pop the flatbread into a preheated 400° oven and bake for 20 minutes, rotating the pan halfway through for even baking.

Remove once the grapes have started to burst, the brie is bubbling and the crust is golden and crispy.

Slide the flatbread onto a wood cutting board and slice into 15 pieces.
Serving: 1piece, Calories: 107kcal, Carbohydrates: 12g, Protein: 4g, Fat: 5g, Saturated Fat: 2g, Polyunsaturated Fat: 1g, Monounsaturated Fat: 3g, Cholesterol: 7mg, Sodium: 410mg, Potassium: 37mg, Fiber: 1g, Sugar: 1g, Vitamin A: 50IU, Vitamin C: 1mg, Calcium: 17mg, Iron: 1mg
This post may contain affiliate links.
Buy the Cookbook: Simply Scratch : 120 Wholesome Homemade Recipes Made Easy Now available on Amazon »
THANK YOU in advance for your support!